1 Week in Crete Itinerary: How to see the best part of the island without a car
If you're looking for an amazing Greek island to explore, Crete is the perfect destination. With its stunning beaches, dramatic landscapes, and historical ruins, there's something for everyone on this beautiful island. And don't worry – you can see the best part of Crete even without a car!
In this blog post, I'll outline how to spend one amazing week in Crete without renting a car.
Disclosure: Some of the links in this post are affiliate links. If you click on them and make a purchase, I receive a commission at no extra cost to you. Check my full disclaimer here.
Best time to visit Crete
As a popular summer destination, Crete is mostly visited from June to the beginning of October. This is the optimal time to visit if you want to enjoy the sea and relax on a beach.
But be aware the summers are really hot in Greece, and Crete is the 2nd most southern island of the country, coming behind Gavdos which is located only 80 km away.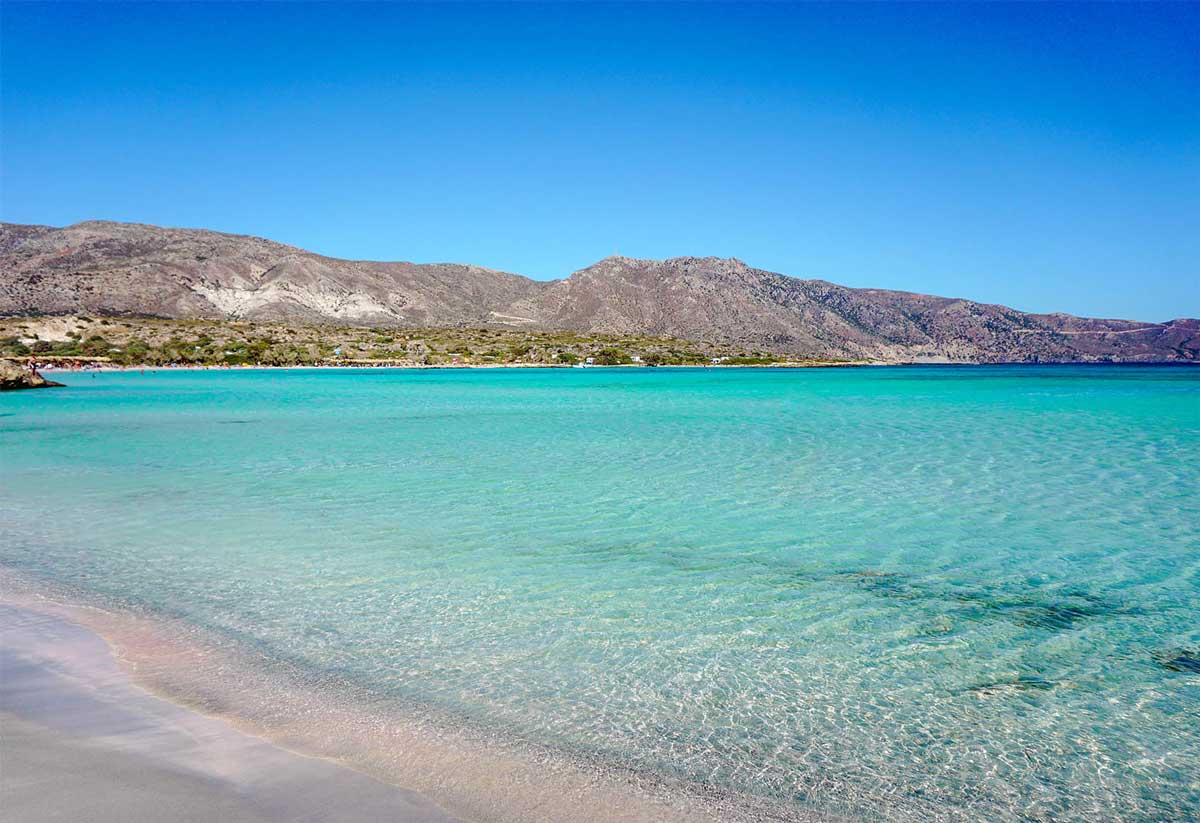 Therefore, the last week of August together with the first two weeks of September is the best time for a beach vacation in Crete, in my opinion. The water is warm enough, the temperatures are slightly decreasing and the crowds are starting to disperse.
I visited Crete, Santorini, Ios, and Lefkada around this time of the year so this comes from my personal experience. I do want to note though, that Santorini is an exception to the rule because it was still pretty busy even as September hit.
If you are not interested in swimming or you have a higher tolerance to cold seawater, you can also visit in May or October.
What part of Crete should you visit?
If you didn't know this already, Crete is both the largest and most populous island in Greece, with an area of over 8300 km2 (3200+ sq mi) and a population of around 640 000. In stark comparison, Santorini's size is just 79 km2 (30 sq mi) and has a population of 10 000 people.
So, most often than not, you will not be able to see most of it during a single trip, even if you rent a car. But which part of Crete should you visit?
When I was planning my trip to the island, I simply divided it into the western part and the eastern part to help me decide, but you can be even more precise as you can see in the image below.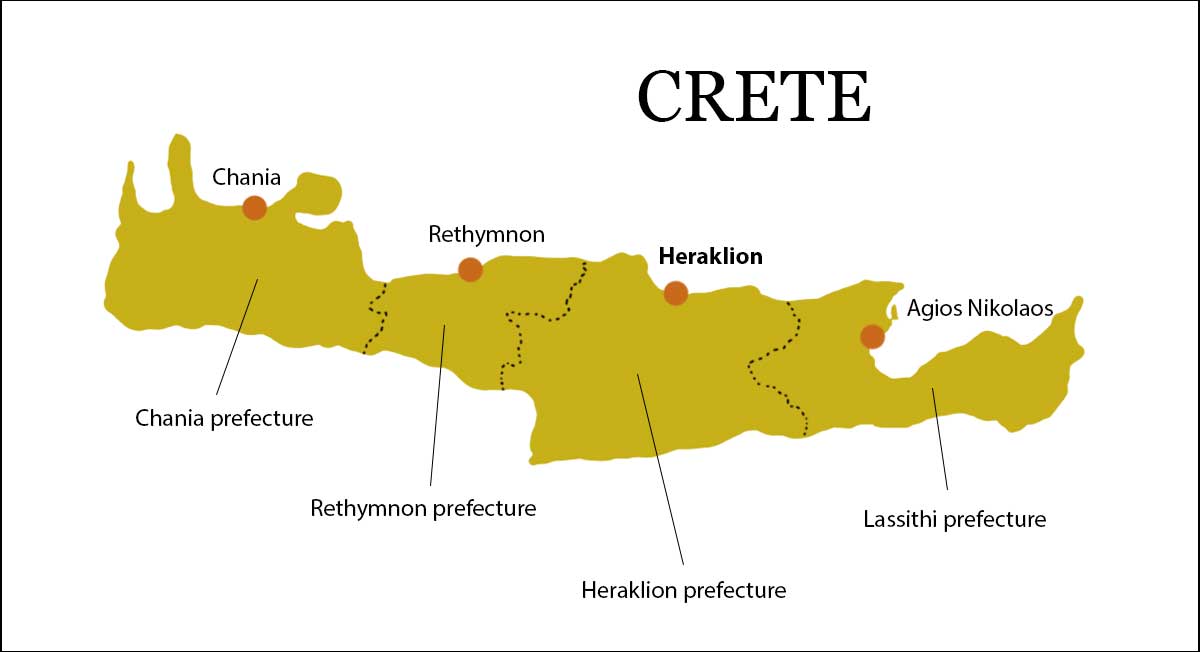 The Chania prefecture in the western part of Crete is the best area to visit in my opinion, especially for first-timers.
Here you will find the best beaches on the island, including the two pink sand ones: Balos and Elafonisi, the picturesque town of Chania, and the beautiful Samaria Gorge.
Honestly, if you do a Google Image search right now, most of the images you'll be presented will be from this part of the island.
Both Chania town and Elafonisi were at the top of my Crete bucket list, so I naturally choose to spend my first vacation on the island in Chania prefecture, which is also the focus of this blog post.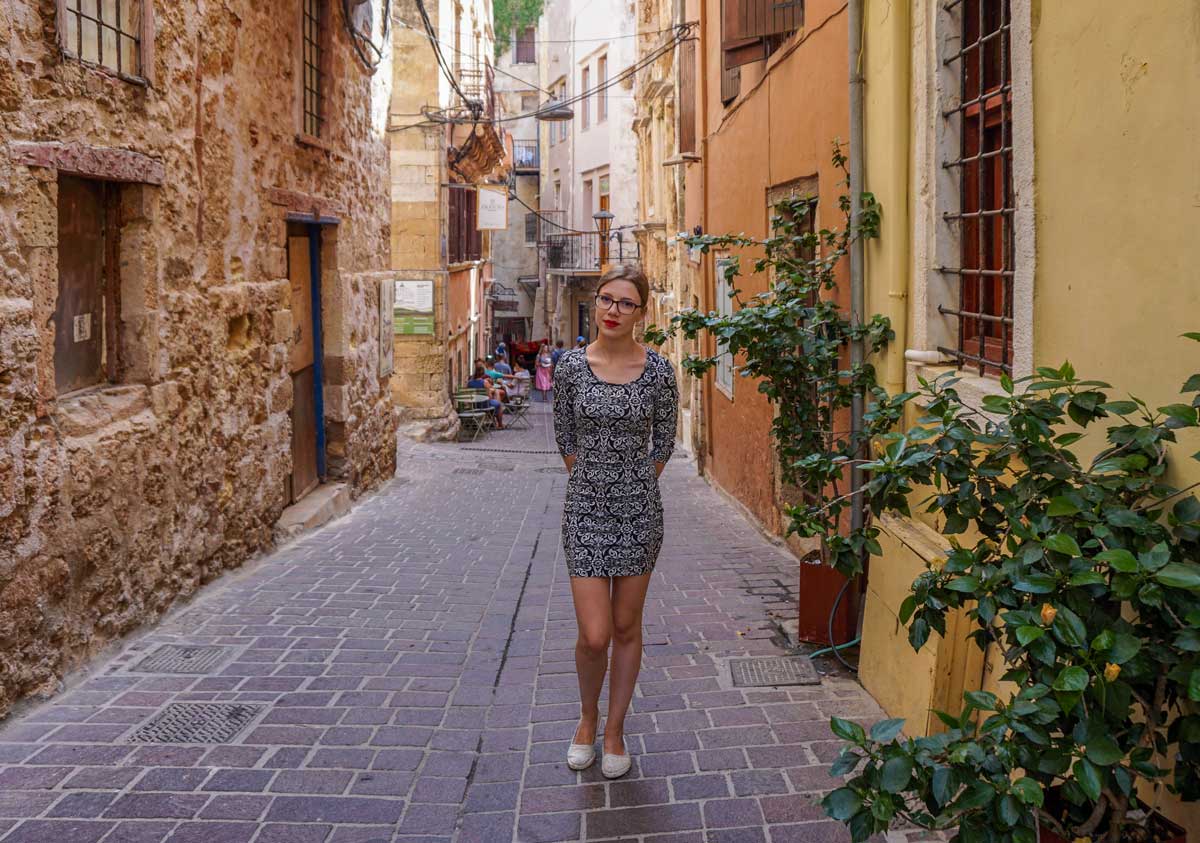 How to get to Crete?
By plane
Arriving on the island of Crete by air is the fastest option. During the high season, many airlines in Europe (including low-cost ones) add direct routes to the island from various parts of the continent.
If you can't find a direct route, you'll most likely have to make a stop in Athens. Flying into either Chania or Heraklion (the two main airports in Crete) from Greece's capital will take around 50 minutes.
TIP: Deliberately choose an overnight stop in Athens to visit the beautiful Acropolis. The Parthenon is truly a sight to behold. Get tickets from here.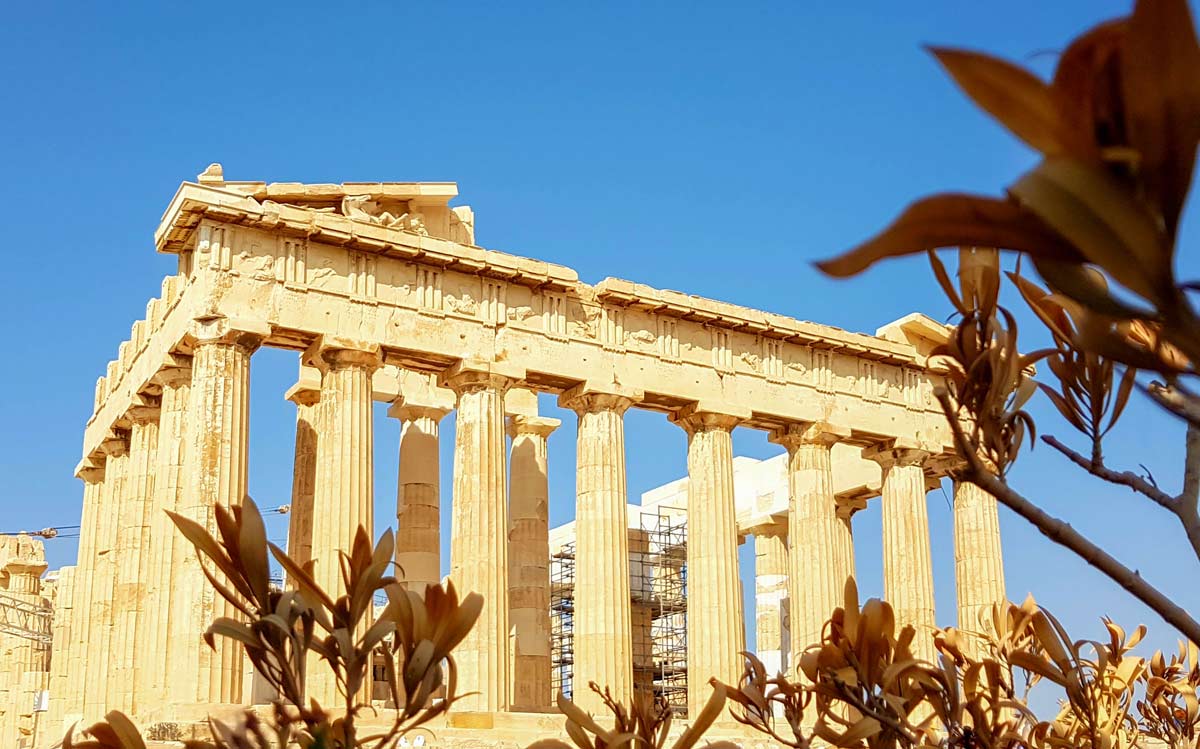 By ferry
Having so many islands, the Greeks use ferries a lot! So of course, they have an extensive network of routes.
The ferries differ: some only take people, others also take all sorts of vehicles, some are fast, others not so much. But the golden rule is this: a smaller, faster ferry will always be more expensive than a slower bigger one. Also, the rides on faster ferries tend to be way bumpier!
So if you are unsure how you will tolerate a bumpy sea ride, my suggestion is to go for the biggest, slowest ferry. And the benefit of this is that it will also save you some money.
There are daily routes from Pireus harbor in Athens in the direction of either Chania (Souda Bay) or Heraklion – you can arrive at Pireus by taking the metro line 1 or the X96 express bus, which operates on a 24h basis.
The majority of the ferries to Crete are operated by Anek Lines, Blue Ferries, and Minoan Lines and they are usually scheduled overnight. They take about 8 to 9.5h depending if they're arriving in Chania or Heraklion and the speed of the ferry.
You can also find routes to Sitia (operated by Aegeon Pelagos, a subsidiary of Anek) and Kissamos (operated by Seajets) twice a week. And Minoan Lines sometimes has a high-speed route to Crete, during the high season only, which takes around 6.5h.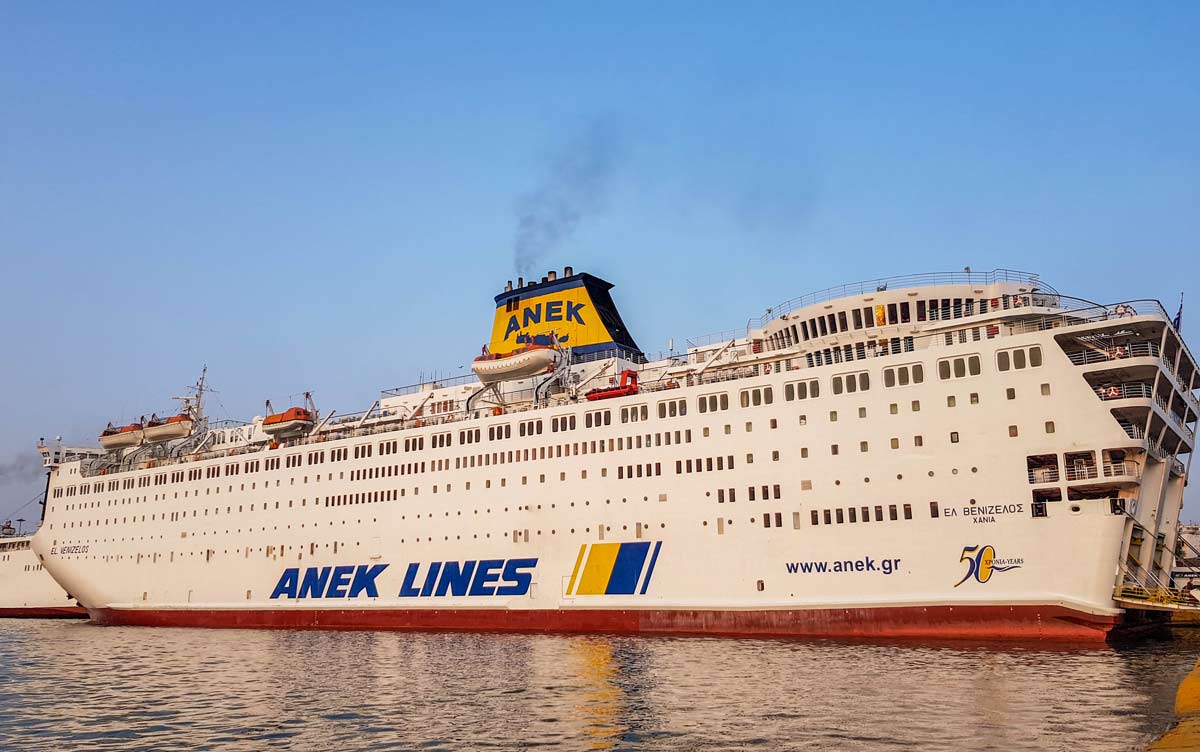 You can check the ferry schedule here. You'll notice that for every route, right next to the logo of the company, it's the name of the vessel. So you can search for it online to see what it looks like.
Travel by ferry from Athens to Crete
I gotta admit, I love traveling by ferry in Greece! It's part of the experience of a Greek island holiday and I'd recommend you to do it at least once. Their style of getting people and cars on these huge boats I can only describe as an organized mess and it truly fascinates me.
It also scares me a little since I'm sure I'll never be able to park a car so tightly under that pressure :)). I mean I literally saw drivers getting out through the passenger door because they had to park their cars inches away from the previous one. I also saw cars that struggled to climb the abrupt ramps inside the ferries.
You can watch the video linked below from my Instagram, to see what embarking and disembarking look like; it's not even a busy boarding.
Athens to Chania, Crete was my first experience by ferry in Greece. I chose this option because there were no direct flights at the time from Bucharest (now there are plenty of routes during the summer) and I don't like flying with stops in Europe.
A second reason for choosing the ferry was because I really wanted to see what it's like :).
After thorough research, I decided to go with Blue Ferries since they usually have quite big ferries. You can choose between deck/lounge chairs (no assigned seat, you sit where you want), airplane-type seats (assigned seat), and different kinds of cabins.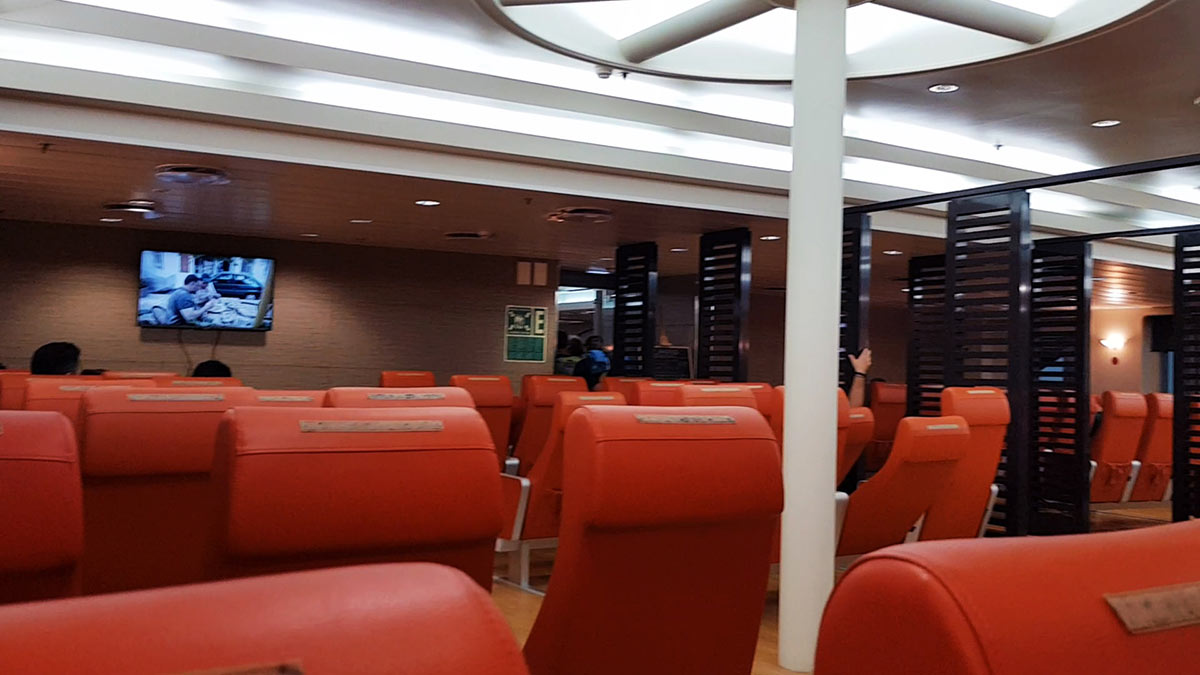 For the Athens to Chania leg, I decided to go with airplane-type seats since I was sure I'll gonna spent a lot of time exploring the ferry, while for the return leg, I went for a 2-person cabin with a bathroom.
I gotta admit it was not so comfortable sleeping in a chair, even though it was pretty big. The main problem was that the lights stayed on and it was kinda cold because of the AC. So we arrived pretty tired in Crete.
On the other hand, the return trip was amazing. We got a bigger ferry from Anek (Blue Ferries serves the routes in collaboration with them, as far as I'm aware) and our cabin was great, felt like a mini cruise.
I should also mention that ferries usually have several restaurants and cafes on board, but you can also bring your own snacks.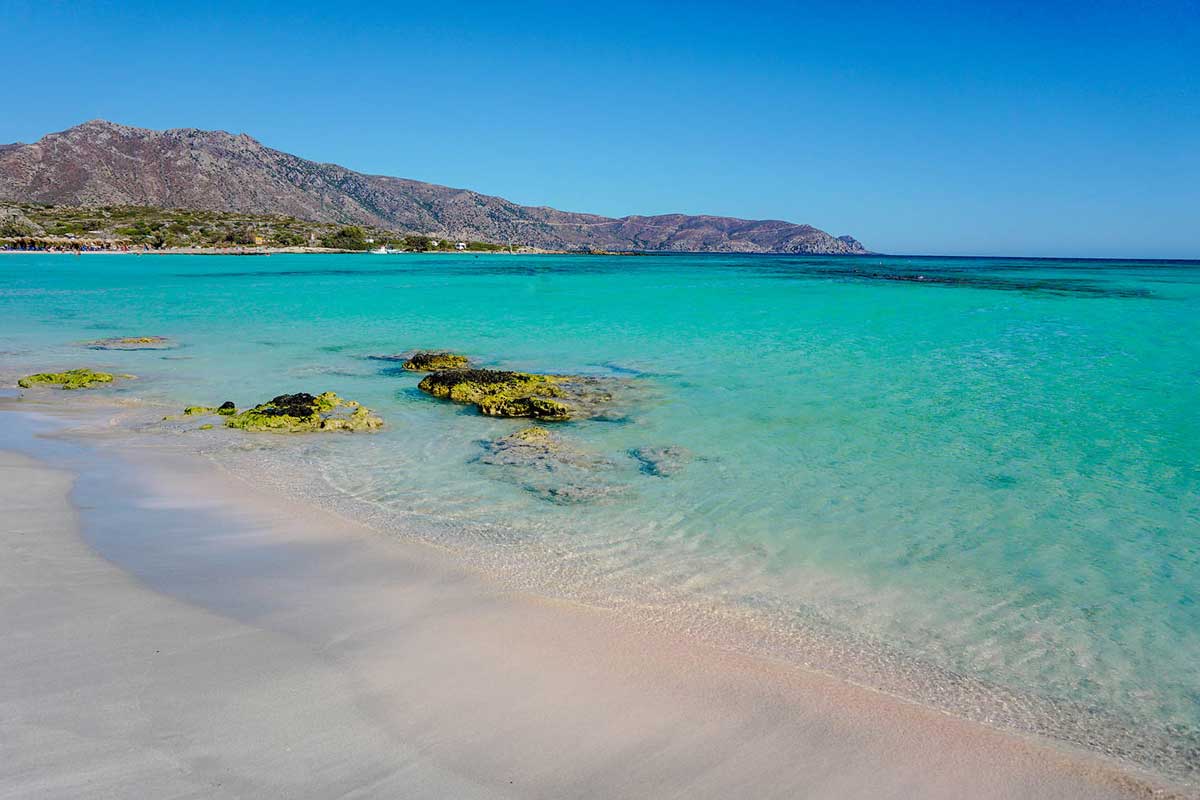 One Week in Crete without a car
Since when we first visited Crete, we didn't have a driver's license yet, we had to plan our itinerary in such a way that we won't need a car.
Day 1-4: Palaiochora and Elafonisi beach
I wanted to spend our first days in Crete relaxing near the sea, so I searched for a location where we will have a lovely beach nearby, but we'll also be able to easily reach Elafonisi Lagoon.
After some research, I settled on Palaiochora, since it had a nice, sandy beach with facilities and there was a boat transfer to Elafonisi available. If you decide to stay in other locations on the island, you'll need t check if there are any tours to Elafonisi Beach available from there.
My suggestion is to split your time in southern Crete between Palaiochora and Elafonisi.
How to get to Palaiochora from the ferry terminal?
Since Palaiochora is located in the south of the island, the easiest way to get there without a car, was by local buses. Our ferry arrived in Souda Port, which is a few km away from Chania, so we had to transfer to the city.
As soon as you exit the Port, turn left and you will find the bus station (it's called Port Souda). You can get your ticket from the machine located in the station, or directly from the driver.
Once we got to Chania we headed to KTEL Chania-Rethimno S.A Public Bus Service central bus station where we bought tickets for the bus to Palaiochora. You can also do this online here.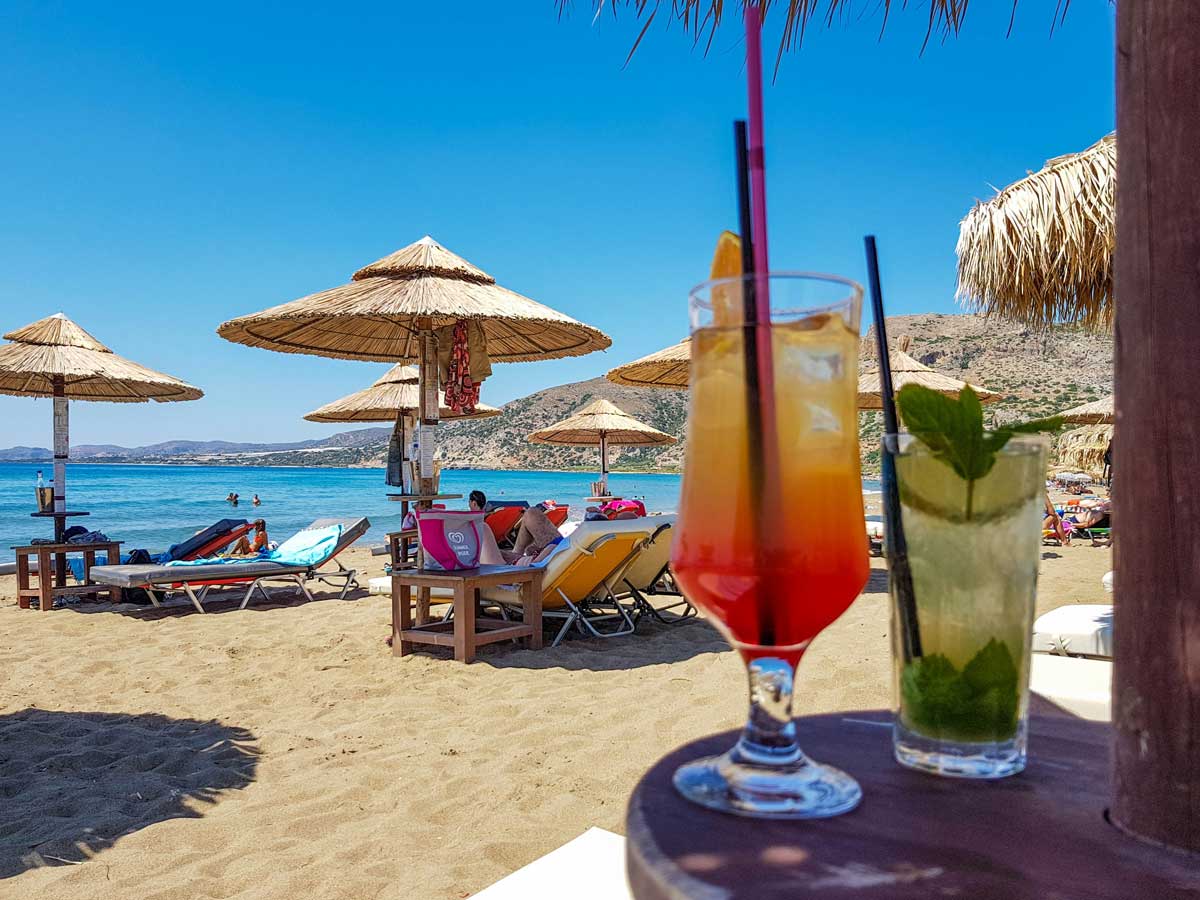 Palaiochora town
To be honest we both loved Palaiochora a lot: it was the perfect, picturesque Greek town. In the center, there were many restaurants and the atmosphere was very lively during the evenings. I really recommend the breakfast at Coconuts Cafe SnackBar, I still remember fondly their Greek yogurt with honey.
I usually enjoy taking an evening walk after a day at the beach, so I really liked the fact that there was an old Venetian fortress (more like its ruins) to which you could climb for a beautiful panorama of both the town and the sea.
The main beach is called Pachia Ammos and it is a lovely sandy beach with sunbeds, umbrellas, and a beach bar. During our stay, we noticed that at times it got a bit windy, which is somewhat of a given in southern Crete.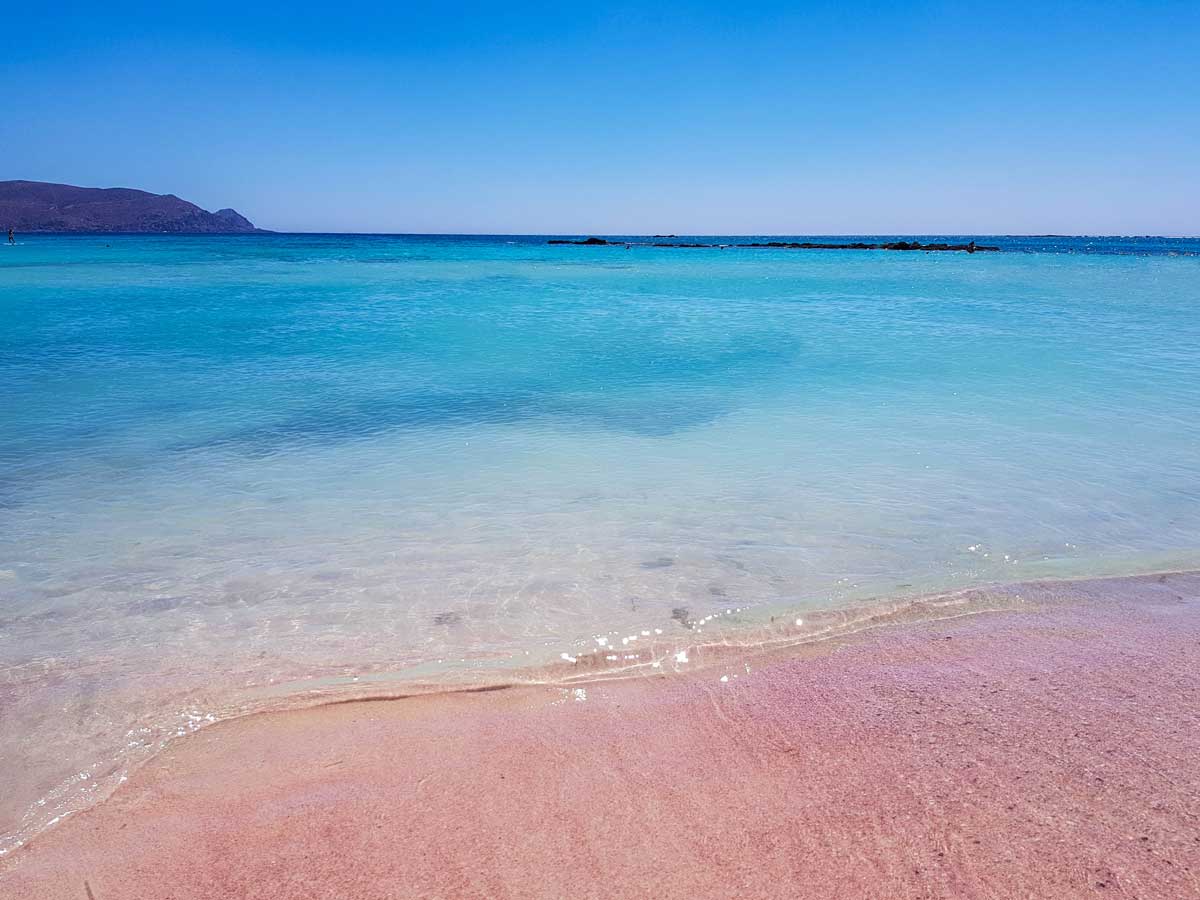 Elafonisi beach and lagoon
Often mentioned as one of the most beautiful beaches in Europe and famous for its pink-hued sand, Elafonisi is, without a doubt, a stunning location and gives off a very exotic vibe.
Its sand is extremely fine and it's actually.. white! 🙂 But in many places, it has pink hues due to the many broken seashells that it contains. How pink it gets depends on various factors including how many people take sand from the beach 🙁 – this is illegal by the way!
The beach has a few sunbeds with umbrellas that usually get occupied in the blink of an eye, so it may not be a bad idea to bring an umbrella with you. There's also a beach bar, toilets, and a parking lot.
As you walk to Elafonisi island through the water, you'll notice there are no facilities here, just you and nature. That's because it's a protected area.
To get to Elafonisi from Palaiochora you need to take a boat transfer. I explain everything in the following blog post: Best ways to get to Elafonisi without a car.
Long story short you can take the daily boat to the lagoon from the town's port which is located on the opposite side of the main beach. There's also the option to visit by speed boat.
Day 5-7: Chania and Balos
The last 3 days of the vacation were spent in Chania. And we used one to visit the other pink beach on the island: Balos.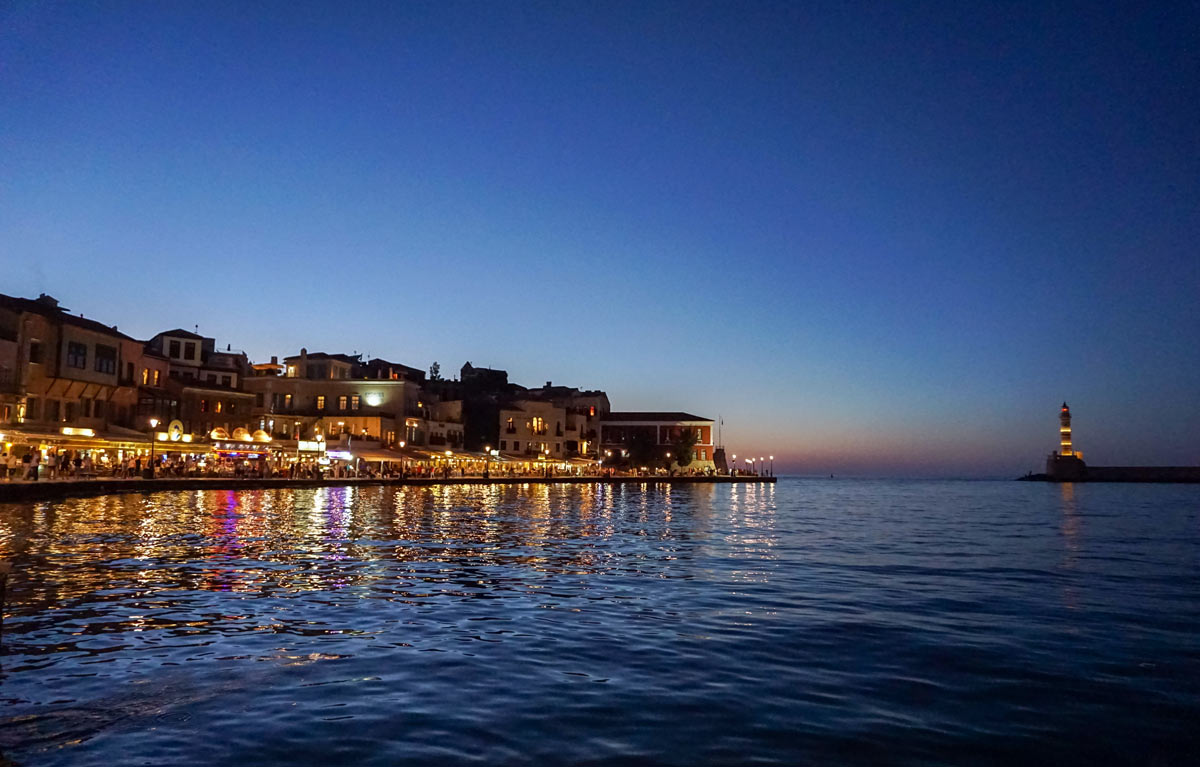 Chania
Chania, pronounced Haa·nee·uh, is the former capital of Crete and a beautiful city, with a rich history. Its old Venetian harbor is extremely picturesque and worth a visit alone. I loved getting lost through its tiny, colorful streets and it remained my favorite Greek city to date.
The town has a slightly ruined look, but I think that only adds to its charm. In fact, on one of the evenings, we ate at a restaurant that was literally located in a ruined building and it was one of the most romantic dinner dates we had. The place is called Mesostrato.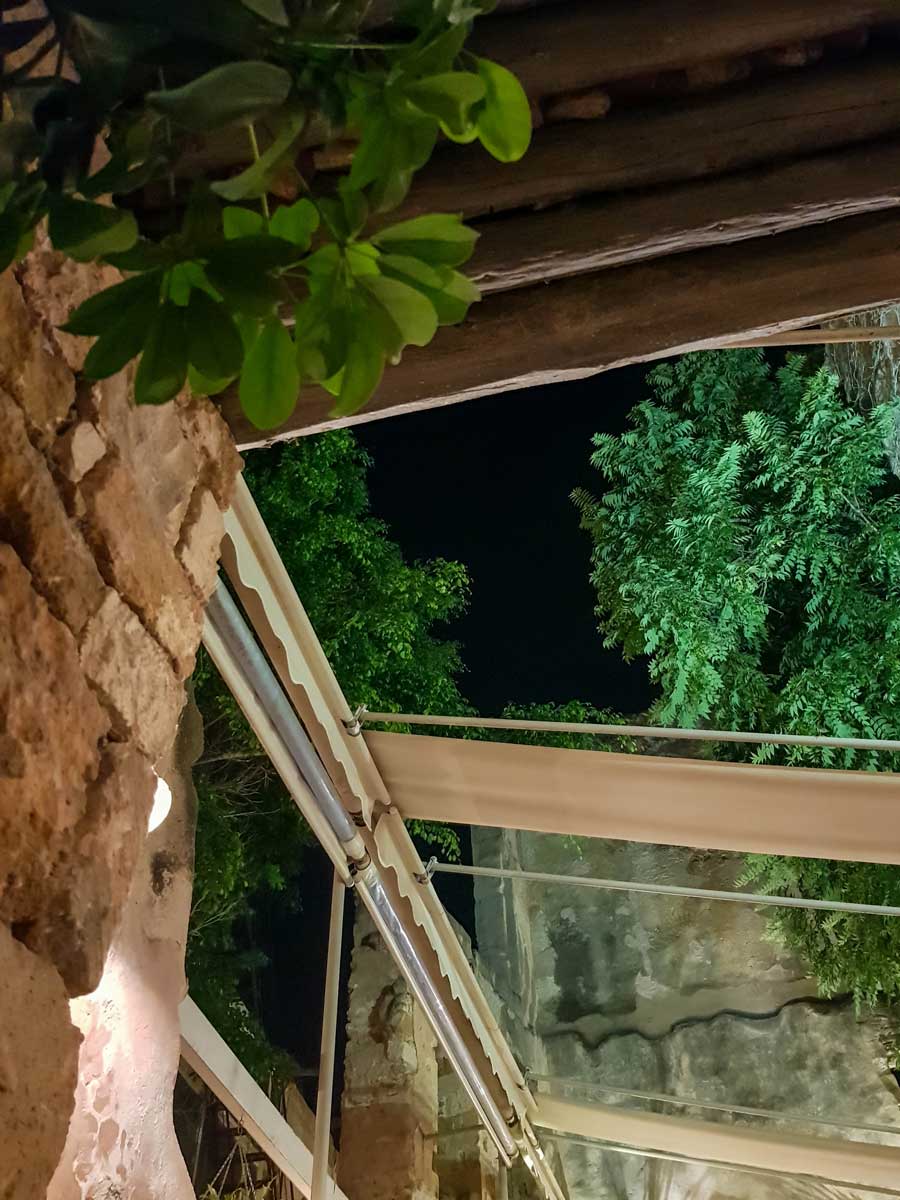 Balos and Gramovousa
As I already mentioned, Balos is the other pink beach in Crete (I found the hues to be a bit more intense than in Elafonisi). It's approximately 50 km away from Chania, so I couldn't miss the chance of seeing it.
There are cruises going to Balos and Gramovousa from Kissamos port, so you can either get there by local bus or book a pickup tour. I'd recommend the latter since it's a bit less of a hassle.
You should also be able to find tours that include both the cruise and pick-up if you wait until you arrive in the Chania. However, be careful with booking last minute during the high season.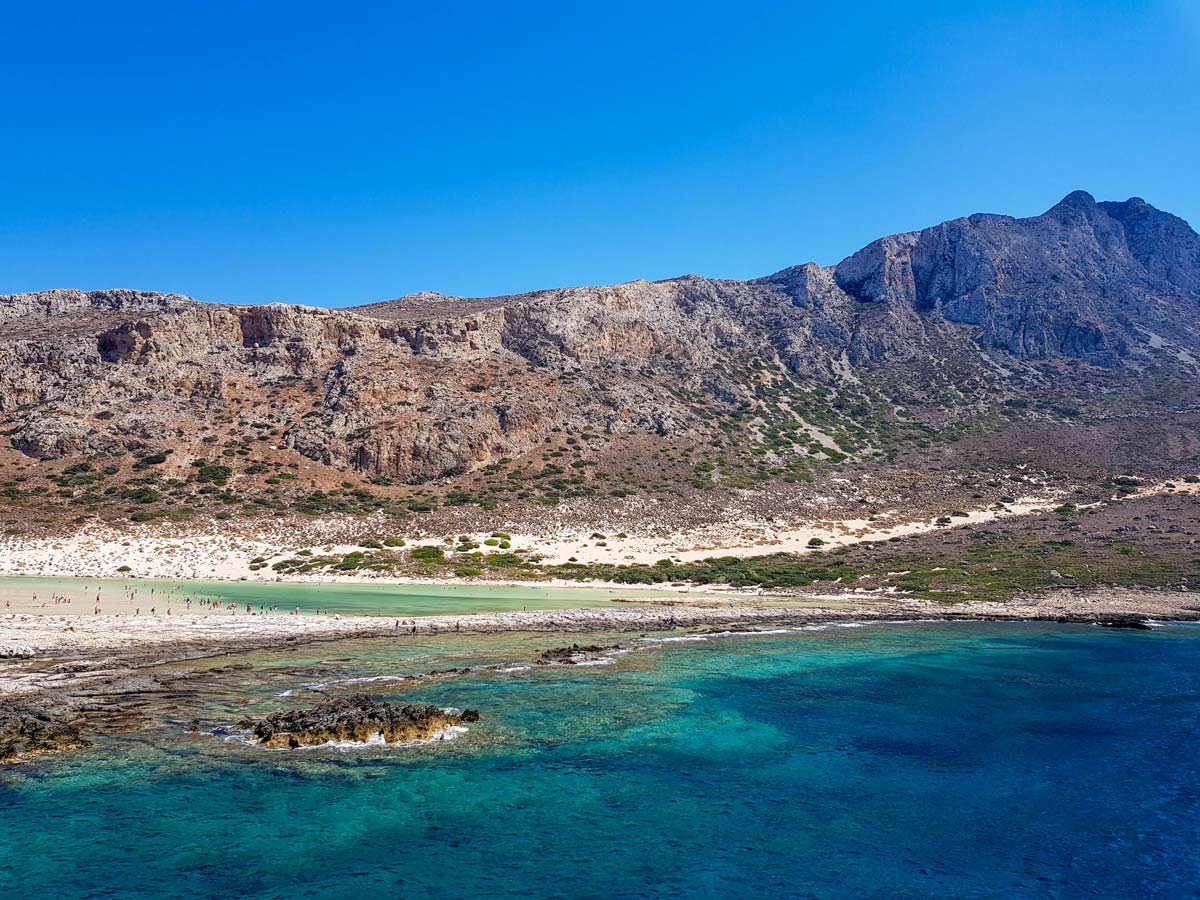 The boat takes about an hour to get to Balos, stays there for around 2,5h, then goes to Gramouvosa island where it waits for about 30 minutes for you to hike up to the old fortress for a beautiful panorama, and then it returns.
It can also do the itinerary in reverse, meaning first Gramovousa, then Balos. I recommend you bring water shoes, since Balos is kinda rocky, in contrast with Elafonisi.
I actually didn't go up to the fortress on Gramovousa, rather I preferred to use the time we had there for one last swimming session since we were leaving Crete the next day.
Even though I wish we had way more time in Balos, the cruise trip was a pleasant and comfortable way to visit the beach.
The alternative is to go by car on a narrow dirt road more suitable for 4×4 cars and then descend a huge slope, which you'll need to climb back upon leaving.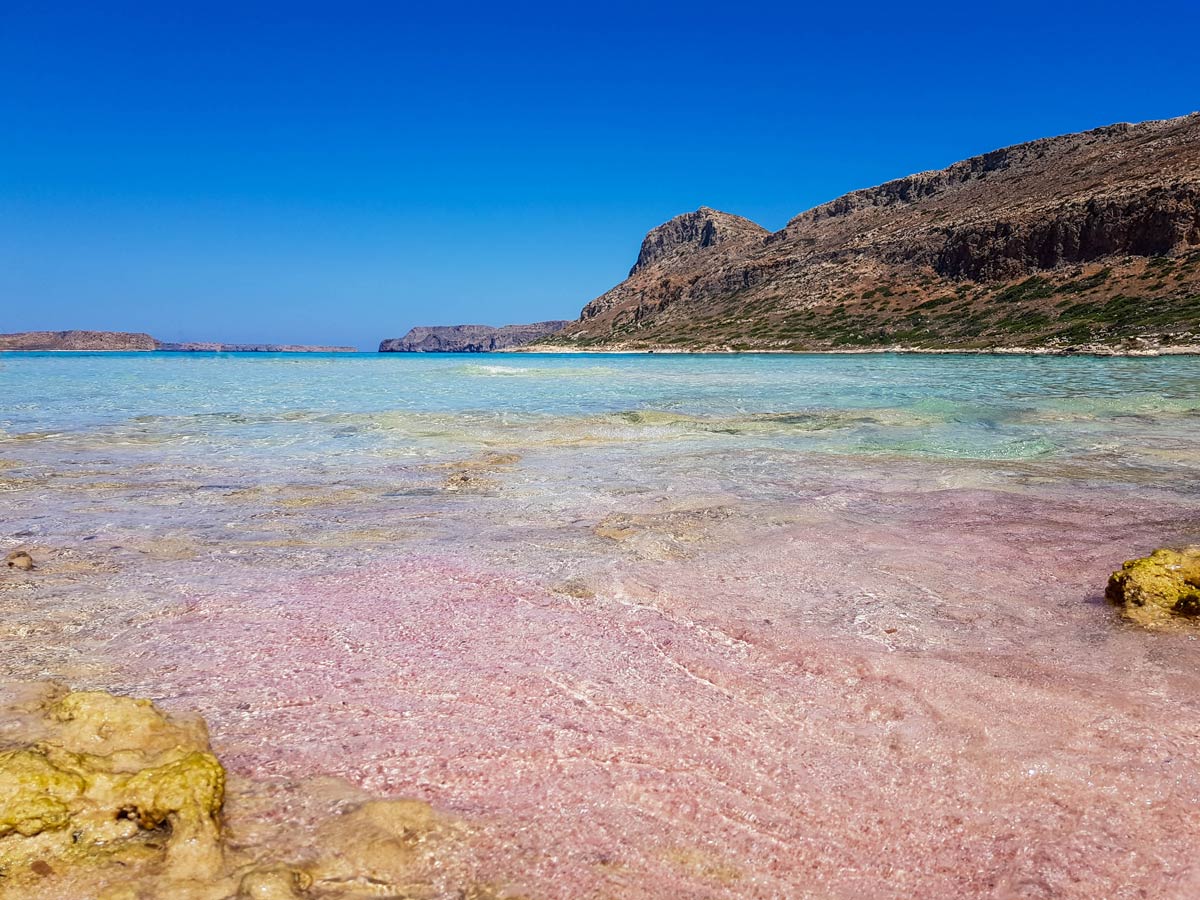 Crete itinerary without a car FAQs
Where to stay in Crete without a car?
If you're visiting Crete without a car and want to do lots of sightseeing then locations like Chania, Rethymno, Heraklion and Agios Nikolaos make great home bases due to their larger bus stations and better connections.
Do you need a car in Crete?
While a car would give you more freedom in terms of what you can visit and when, as you can see from this itinerary, you don't actually need one to visit Crete.
How many days to spend in Crete?
7-9 days are a good amount of time for a Crete vacation that it's a mix of sightseeing and beach time.
How to get around Crete without a car?
Using the local buses is the best way to get around Crete without a car.
Which side of Crete is best?
In my opinion, the western side of the island (where Chania, Balos, Elafonisi, Falassarna and Samaria Gorge are located) is the most beautiful part of Crete.
Is Crete less expensive than Santorini?
Yes, Crete is definitely less expensive than the famous Cyclades island.
Is Crete better than Santorini?
In terms of beaches, yes Crete is better. However Santorini's Caldera has a wow factor that no other Greek island has. So in terms of beauty, I'd probably pick it over Crete, despite my love for the latter.
Which is the prettiest town in Crete?
With its mix of Venetian and Ottoman architecture and its picturesque old harbor, Chania is definitely the prettiest town in Crete.
Crete itinerary – 7 days without a car: Conclusion
Although being able to rent a car would have probably allowed us to see more of the island, we were very happy with our itinerary.
We managed to see all of the important sights using public transportation (except the pickup tour for Balos), and it was a great way to get a feel for Crete's culture and everyday life.
If you're planning on visiting Crete and you don't feel like renting a car, I recommend following these tips on how to get around the island without one – you won't be disappointed!
Happy travels~
---
MORE INFO ABOUT GREECE