If you're looking for a beautiful and historically rich place to visit in Italy, then look no further than Florence. However, you should be aware that the city is packed with things to do and see, so it's better to plan your visit ahead of time, especially if you only have a few days at your disposal.
As someone who's visited Florence more than once, I'll give you the best tips and information on how to make the most of your 2 days in Florence! Let's dive in!
Disclosure: Some of the links in this post are affiliate links. If you click on them and make a purchase, I may receive a commission at no extra cost to you. Check my full disclaimer here.
2 Days in Florence Itinerary (Brief overview)
Day 1
Start your day by visiting the Santa Maria del Fiore cathedral complex: climb on top of Brunelleschi's Dome, visit the interior of the cathedral, and see the Baptistery.
Go people-watch in Piazza Della Repubblica, then make a wish at Fontana del Porcellino.
Admire Piazza Della Signoria and its statues, then visit Palazzo Vecchio.
Eat the most famous sandwich in Florence.
Stroll along Ponte Vecchio.
Stop to rest at Giardino Delle Rose.
Visit Abbazia di San Miniato al Monte.
End you day by admiring the sunset from Michelangelo Square.
Day 2
Start your 2nd day in Florence early to see Michelangelo's David at Galleria dell'Accademia.
Admire some of the most magnificent art pieces at Ufizzi Galleries.
Visit Palazzo Pitti and stroll through Boboli Gardens.
Visit Basilica of Santa Croce.
Watch as Florence lights up from Giotto's Bell Tower.
Best time to visit Florence, Italy
The perfect time to visit Florence is from April to June and from September to October. The weather is pleasant during these months, and you'll be able to enjoy all the city has to offer without having to worry about extreme heat or cold.
However, you should know that Florence is also a good winter destination, especially if you're a history or an art buff. That's because, with so many museums to choose from, you won't spend a lot of time outside in the cold anyway.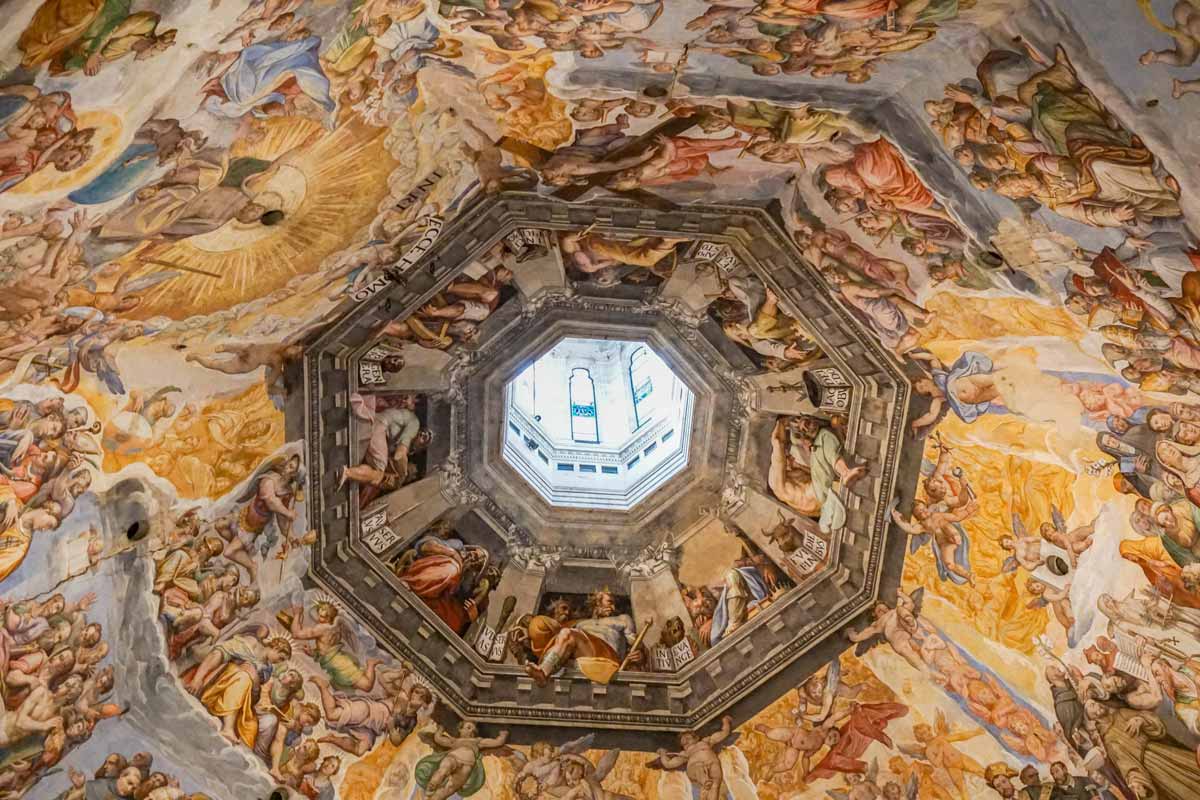 How to get to Florence?
To get to Florence, you can fly directly into the Florence Airport (FLR) or take a train or bus from Rome, Bologna, Pisa, Milan, or any other nearby city. Once you're there, it's easy to get around on foot or by public transportation.
Both Bologna and Milan are big low-cost hubs, so you might find cheaper plane tickets for them than for Florence if you fly from another European city. However, if you want to transfer by fast train, make sure to book your tickets ahead of time!
Their rapid trains are called Frecciarossa and they're pretty awesome (spoiler alert: I kinda like trains.. a lot!).
You can travel between Milan and Florence in just 2h (by car it usually takes between 3 and 4 and a half hours depending on traffic), while the journey from Bologna to Florence takes under 40 minutes (1h 20m – 2h 10m by car).
And it seems that they're ranked 8th among the fastest trains in the world. But here's the catch: they're pretty expensive! Especially if you buy the ticket last minute.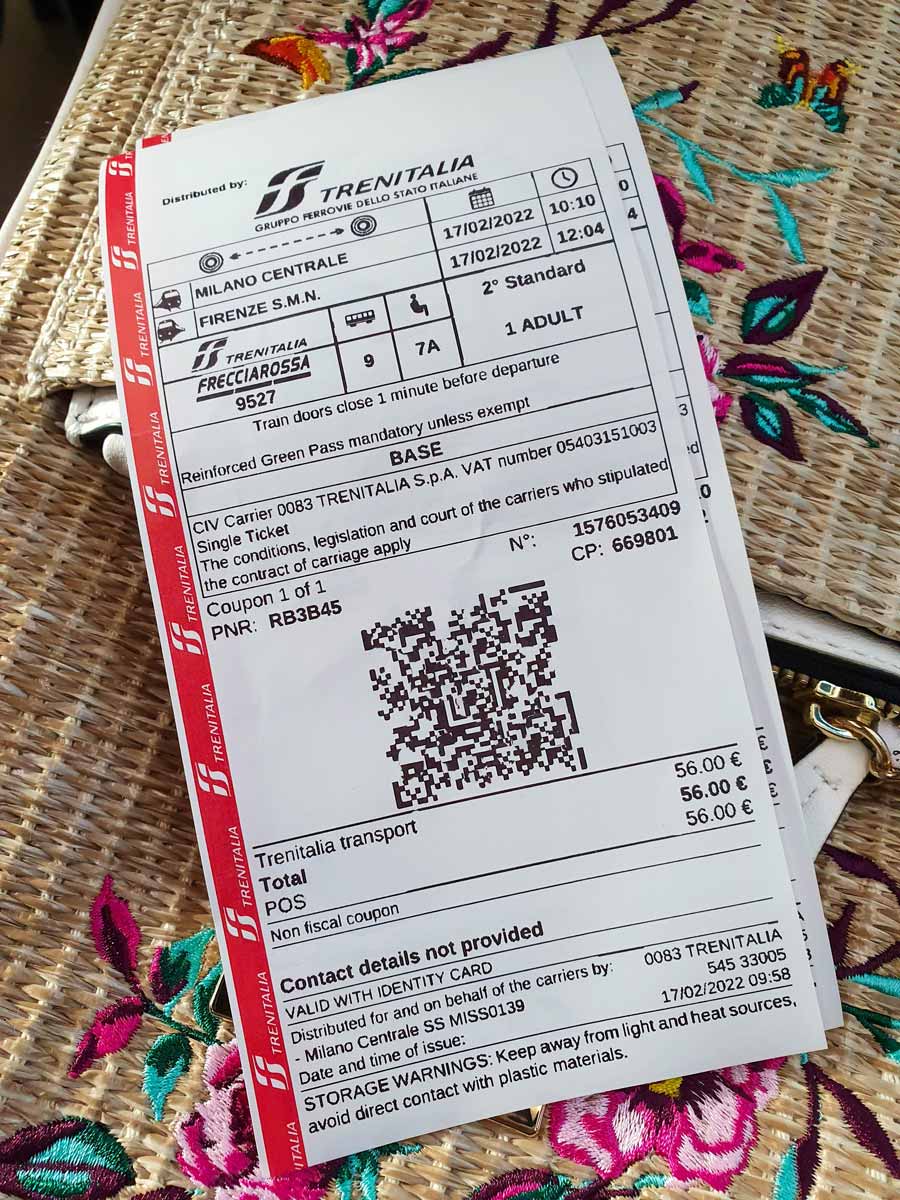 You can also board a cheap bus to Florence directly from Bologna's airport, or a Flixbus from either Milan or Bologna, but obviously, they'll take longer.
A few years ago, when I planned my first visit to Florence, there weren't many direct flights (and not a single low-cost one) between my hometown and the capital of Tuscany, but there were really cheap options for Bologna. So I just flew there and took the bus from the airport to Florence.
The second time, there were many connections to choose from between either Florence or Pisa and my hometown, but because we decided to do this trip spontaneously, the tickets were very expensive.
In a bid to work around that, we opted to fly into Milan and fly out of Bologna, while also spending a day in the latter, since the first time I didn't even get a chance to put my foot in it.
We had planned on transferring by train between cities, but it turned out that the ticket prices for the fast trains varied depending upon when you purchased them.
We didn't know this until after buying our ticket to Bologna, at the train station, and noticed that the price was a few euros higher than what was advertised online less than half an hour before.
How long is the train from Rome to Florence?
The travel time by fast train from Rome to Florence is a little under 1.5 hours. There are multiple direct connections every day between Termini and Firenze Santa Maria Novella stations, making Florence a good option even as a quick day trip from the Italian capital.
Where to stay in Florence?
When visiting Florence, there are a few great places to stay depending on your budget and preferences. If you want to be in the center of all the action, I recommend staying near the Duomo or Santa Maria Novella train station.
These areas are home to some of the city's most famous sights, and they're also within walking distance of many great restaurants and shops.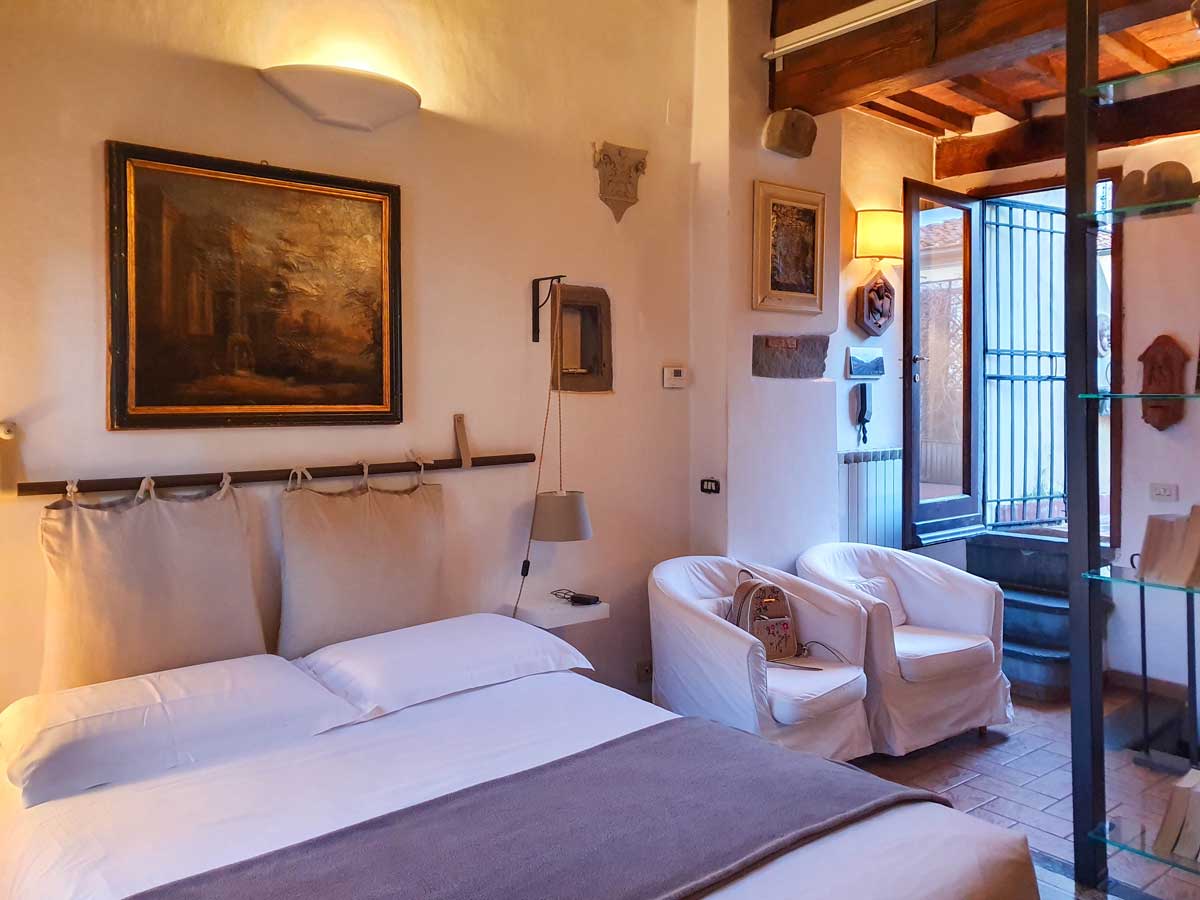 During both my trips to Florence, I stayed at the Yome – Your home in Florence on Via del Corso (they also have a one-bedroom close to Piazza della Signoria and Uffizi Gallery).
The apartments are in a prime location, just a few minutes away from the Duomo, the decor is lovely and they're a really good value for your money. Be warned that the stairs are pretty narrow and steep though (it's an old, historic building after all).
I really recommend the suite on the 4th floor (where I stayed during my second visit) as it has a spacious terrace from where you can see the Duomo over the other rooftops. You can check the tour of the apartment in the video below.
Other good accommodation options in the city center are:
If you're looking for a more affordable option, consider staying in one of the neighborhoods just outside the city center, like San Niccolo or Oltrarno. These areas are still close to all the action but are typically a bit cheaper than hotels and apartments in the city center.
Accommodation recommendation in San Niccolo:
Accommodation recommendations in Oltrarno:
Overall, it's best to stay in or near the historic center, since all the attractions are located very close together and you can walk from one point of interest to another.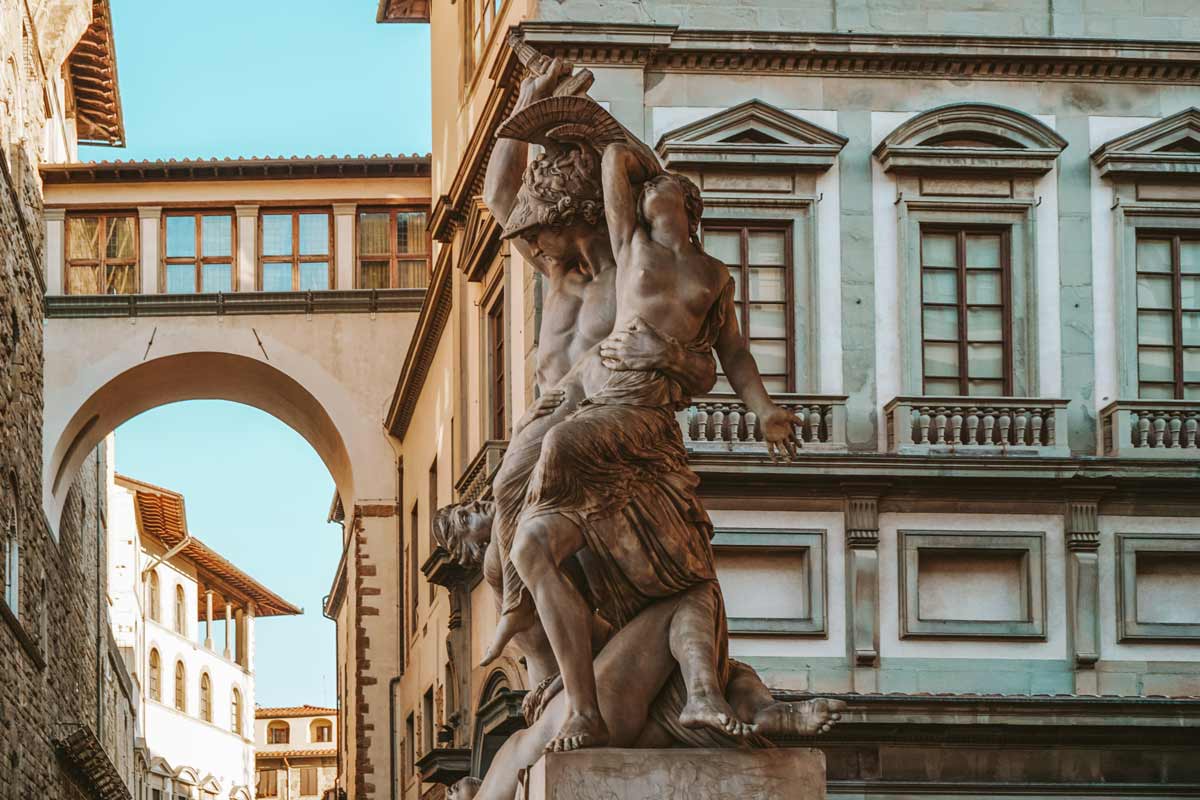 How many days do you need in Florence?
Spending 2 full days in Florence is the perfect amount to get a taste of what the city has to offer in my opinion. But you will need to carefully plan your itinerary to make sure you make the most out of your time.
Also, it may be a good idea to opt for skip-the-line tickets when possible because many sights in Florence usually have long waiting lines.
However, if you like to explore destinations at a slower pace or you are a big art and history buff and you intend to spend a lot of time exploring the museums, then it could be a good idea to add a 3rd day to your vacation.
Or you could use the extra day to take a day trip to one of the nearby towns. I list some of the best options at the end of this blog post.
2 days in Florence: Itinerary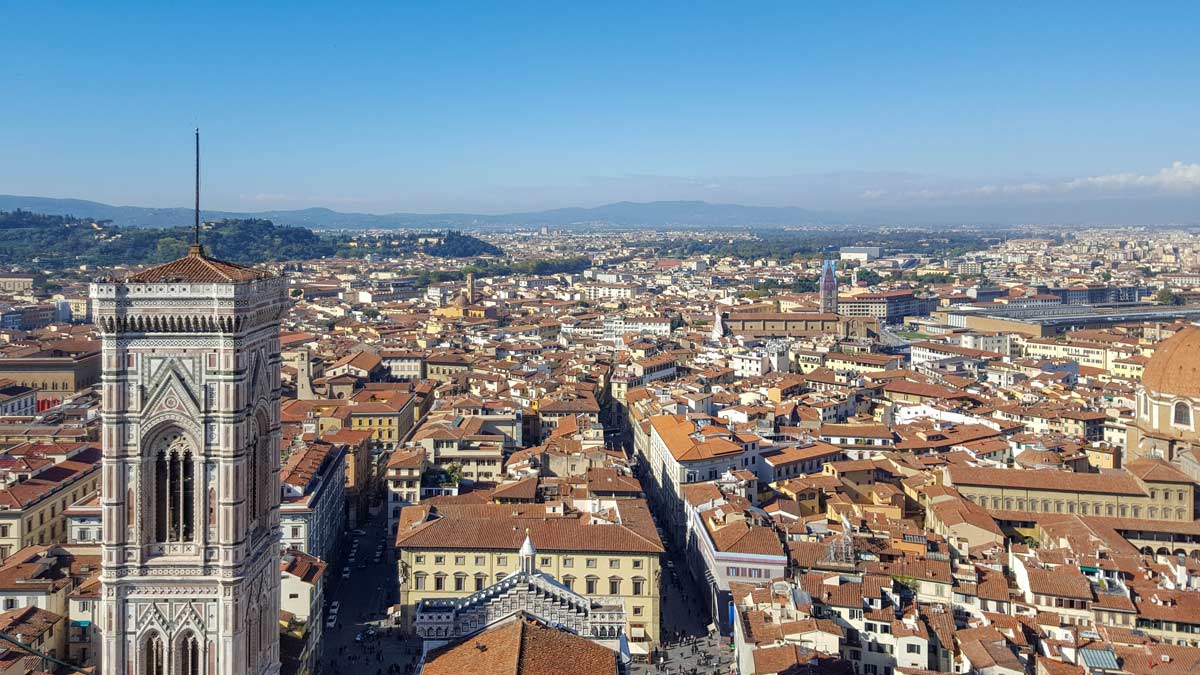 Day 1 in Florence: Top things to do
Start your day by exploring the historic center of Florence. Head to Santa Maria del Fiore Cathedral first and climb to the top of its dome for some amazing views of the city.
With a diameter of 45.5 meters and a height of more than 116 meters, Brunelleschi's Dome is the largest masonry vault in the world and it's the symbol of both Florence and the Renaissance.
The architect's revolutionary design was to build it without any supporting structure and it actually consists of two different domes: an inner one, more than 2m thick with a steeper angle, and an external one, covered by terracotta tiles.
While you can see the interior of the cathedral for free, you will need a ticket to climb on top of the Dome. The pass is valid for 3 days and it includes the following monuments: Brunelleschi's Dome, Giotto's Bell Tower, Baptistery, Opera del Duomo Museum, and Santa Reparata.
But I should warn you that the climb is pretty strenuous, especially the last part when you walk right on top of the inner dome. Also, you shouldn't attempt to do this if you're claustrophobic.
You can also choose a guided tour to explore the Duomo complex. It includes the same attractions, skip-the-line ticket, and a live guide.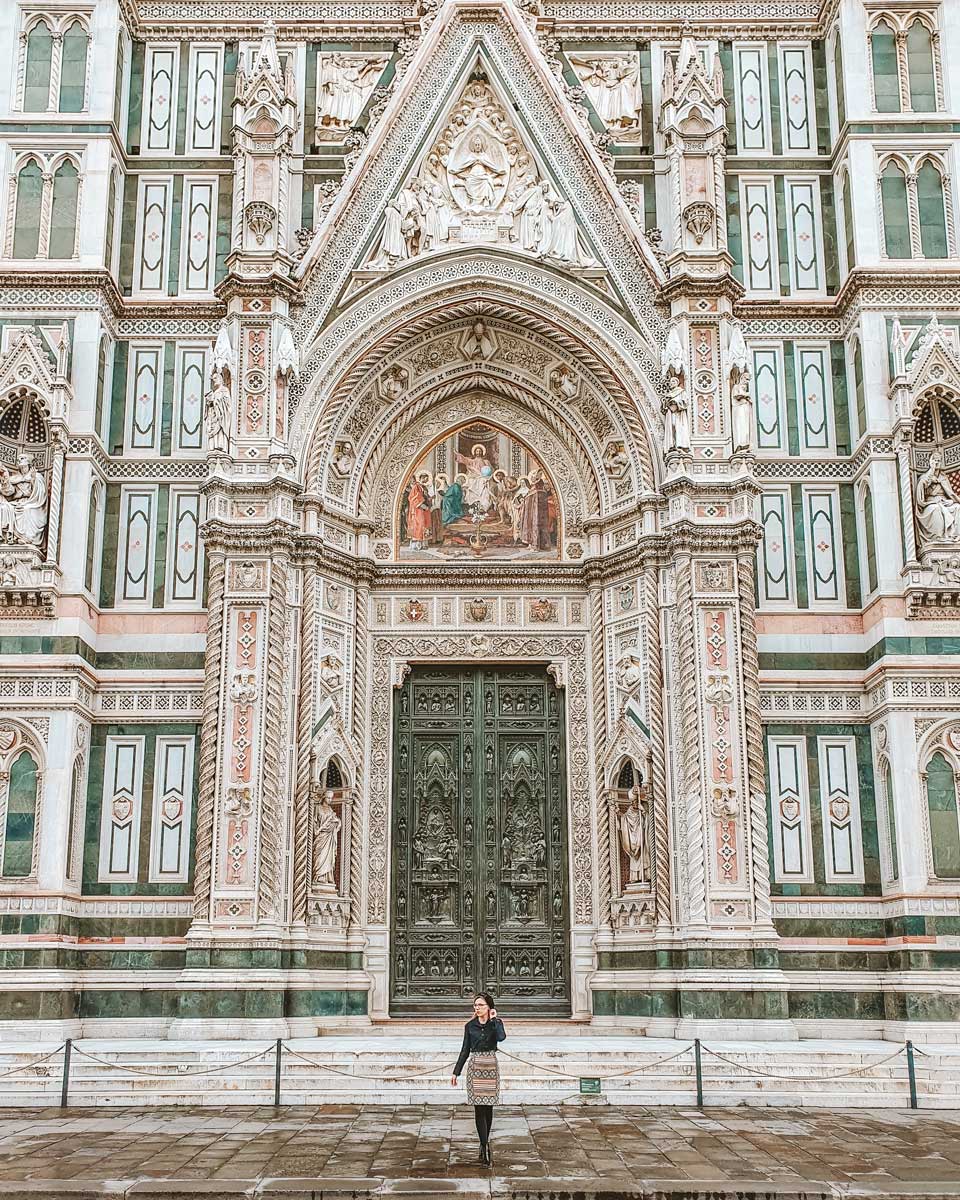 If you don't have enough time to see all of the aforementioned sights, then I'd recommend prioritizing Brunelleschi's Dome, the cathedral of Santa Maria del Fiore, Giotto's Tower, and the Baptistery.
Also, my suggestion is to save the Bell Tower for the next day at sunset – I can tell you from experience that it's better to spread the two climbs (The Dome and the Bell Tower) over different days and visit the interior of the cathedral and the Baptistery now.
If you want to save time or simply don't want to wait in the long lines outside Santa Maria del Fiore, you can purchase a skip-the-line ticket with a tour guide from here.
Next, head to Piazza Della Repubblica where once the Roman Forum was located. From there, turn left on Via Calimala and walk until it crosses paths with Piazza del Mercato Nuovo street.
On your right, you will see the statue of a bronze wild boar, water dripping from its mouth. It's called Fontana del Porcellino and it is said that if you rub the pig's nose, you will return to Florence. For this very reason, the snout of the beast is exceptionally shiny compared to its body.
Another tradition says to think of a wish and then put a coin in the boar's mouth. If the coin falls directly through the grates on the first try, your wish will come true.
After that, walk to the Piazza Della Signoria, home to some of Florence's most famous sculptures. Most of the statues are located in Loggia dei Lanzi, an outdoor gallery right next to Palazzo Vecchio and they're free to visit, while right outside the palace you can find a replica of Michelangelo's David (the original is inside the Galleria dell'Accademia).
The beautiful Fontana del Nettuno is also located in this square.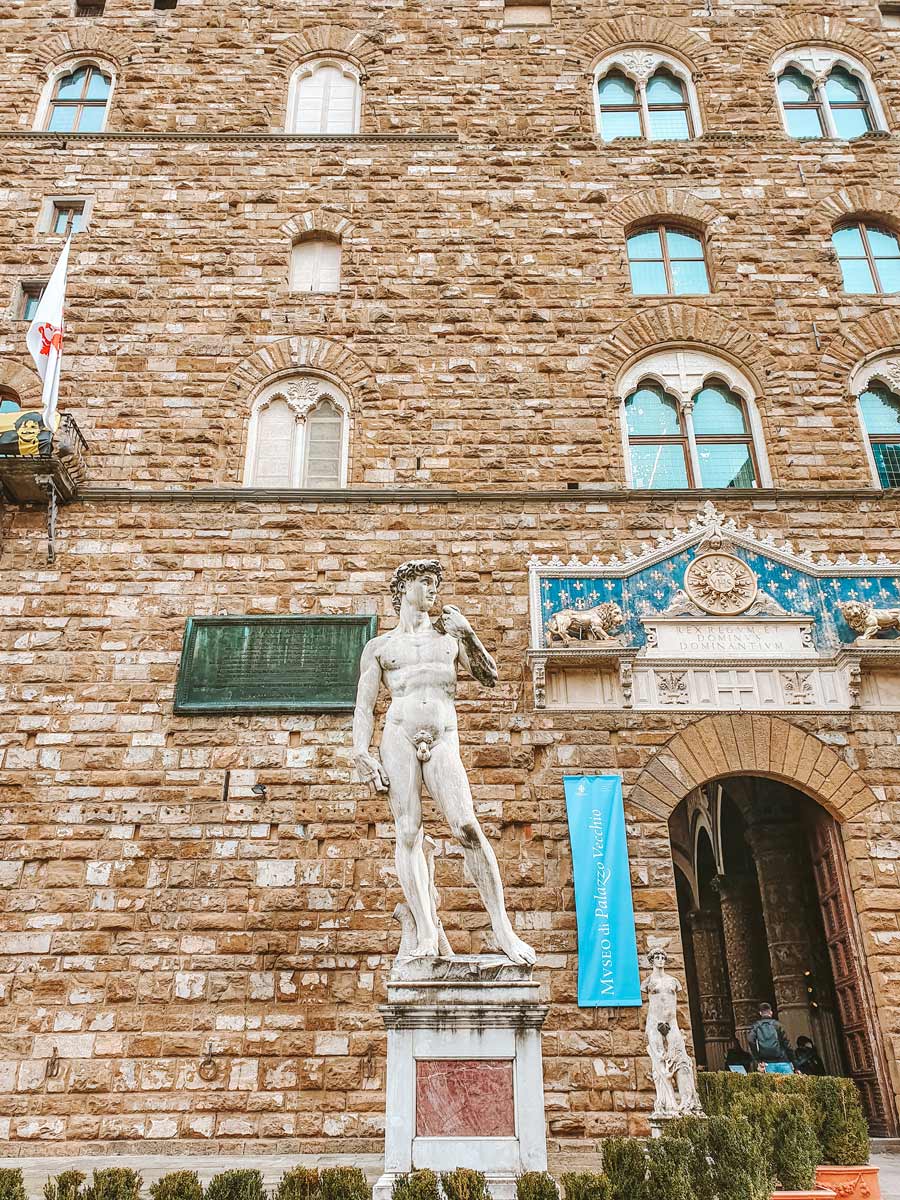 Next on the list is Palazzo Vecchio: while the spacious courtyard is open to the public free of charge, you need a ticket for everything else. There are different options to choose from:
By now you probably got a bit hungry, so it's time to sample the most famous sandwich in Florence at All'antico Vinaio, located on Via dei Neri.
Don't get scared by the queues you see outside the stores, they go pretty fast. However, if you don't want to wait at all, you can go to Antico Salumificio Anzuini, next door to All'antico. I didn't eat there, but many people say their sandwiches are very good as well.
Now, if you do decide to queue at All'antico Vinaio, then I'd recommend you order the Favolosa sandwich (it costs 7 euros), which is their most popular choice.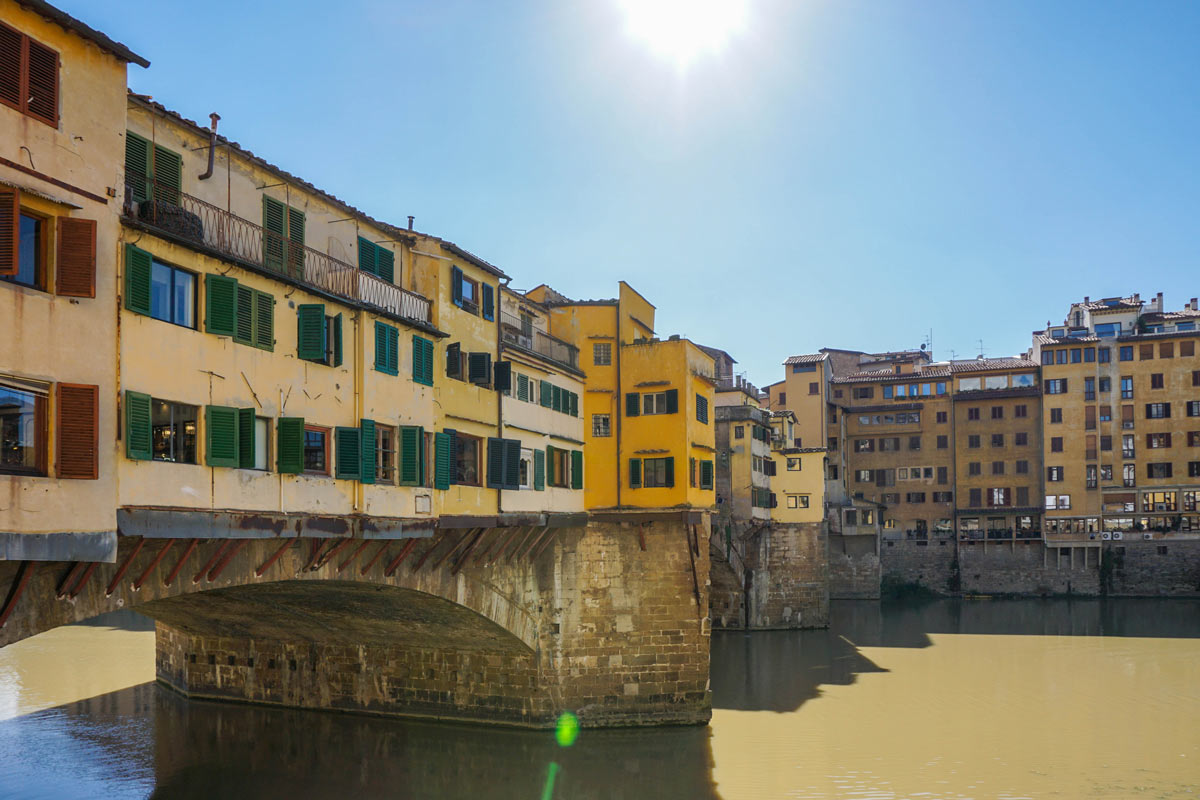 It's time to continue towards Ponte Vecchio, the oldest and most famous bridge in Florence over the Arno river (its name actually translates to "Old bridge"). This medieval bridge is lined with jewelry stores, art sellers, and souvenir shops and offers some incredible views of the Arno River.
TIP: if you want to get a good view of the bridge itself, then head to St Trinity Bridge (Ponte Santa Trinita).
After you cross the bridge, turn left and walk towards Michelangelo square, from where you will witness the sun setting over Florence's skyline.
If you have enough time, I'd recommend you stop on the way to Giardino delle Rose, for lovely views of the city and if you're visiting during the right season, lots of roses. The entrance is about halfway up the steps to the square.
After you leave the garden, I'd suggest making a small detour to see Abbazia di San Miniato al Monte. The small church is really beautiful and it also offers an excellent viewpoint over Florence, from a slightly different angle than the one you get in Piazzale Michelangelo, located below.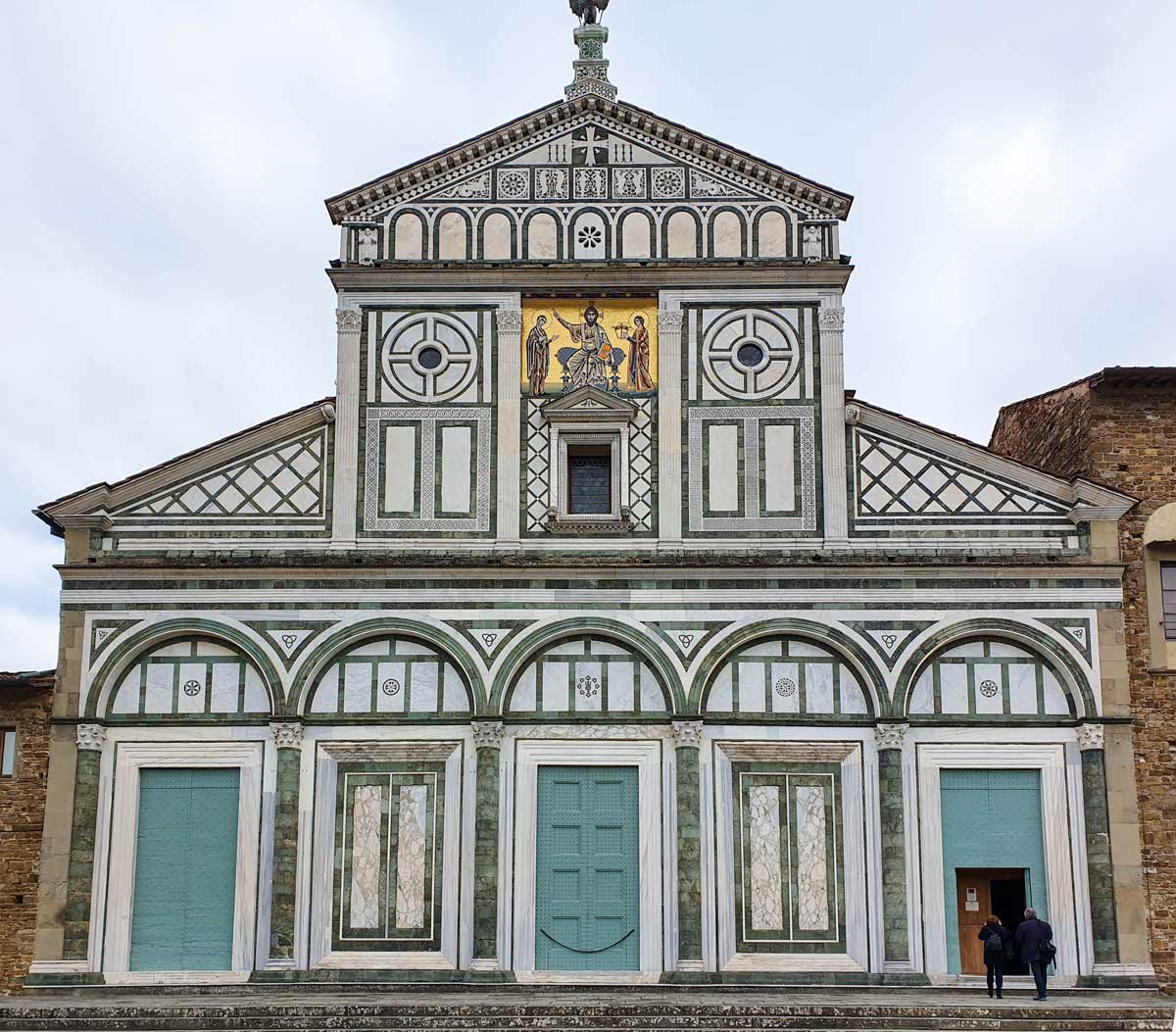 Now you can go down to the square and watch the sunset over Florence from there. TIP: Bring some snacks and something to drink with you and make an impromptu picnic on the steps going down to Vista Panoramica di Firenze.
Day 2 in Florence: Top things to do
You will start your second day in Florence with a visit to Galleria dell'Accademia to see Michelangelo's David. Since most of the time, there are huge lines for the museum, I'd recommend booking your ticket online, even though it costs 4 euros extra (pre-booking fee).
You can also opt for a guided tour with skip the line if you want.
You should also know that on the first Sunday of every month between October and March, admission is free for everyone (the date cannot be booked online).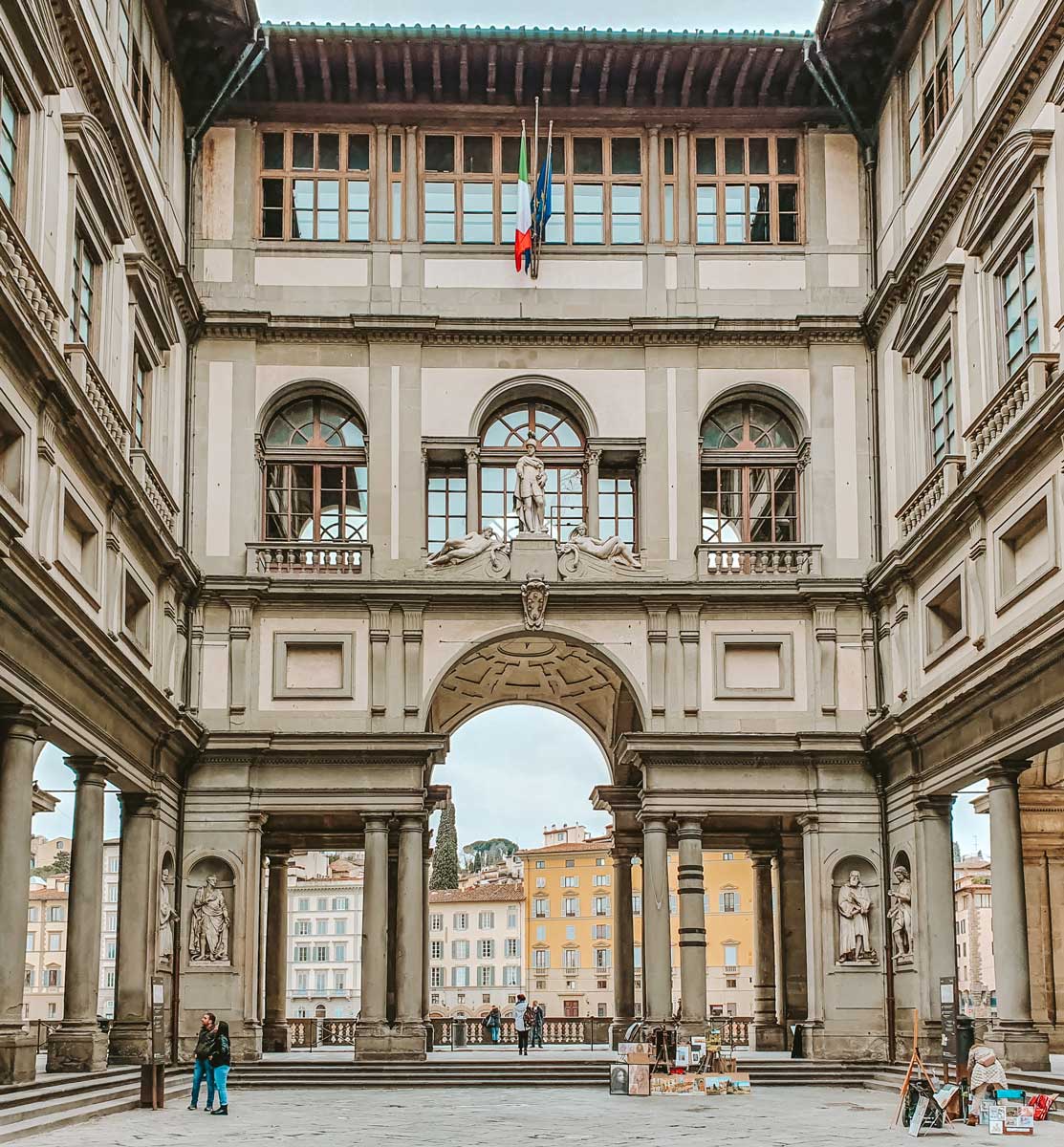 Next on the list is a visit to Uffizi Galleries, one of the most visited and most important museums in Italy. You should set aside at least 3h for this and I highly recommend you buy your ticket online, ahead of time. Or if you prefer a guided tour, you can book it here.
And because the Uffizi is so vast that it can become overwhelming, I've compiled a list of some of the most important masterpieces, that you shouldn't miss during your visit:
Birth of Venus by Botticelli
Venus of Urbino by Titian
Madonna with the long neck by Parmigianino
Madonna of the Goldfinch by Rafael
Annunciation by Leonardo da Vinci
Primavera by Botticelli
Bacchus by Caravaggio
Madonna with Child and two angels by Filippo Lippi
The Holy Family (Doni Tondo) by Michelangelo
Ognissanti Madonna by Giotto
The Duke and Duchess by Urbino Piero della Francesca
After you leave Uffizi, head towards Palazzo Pitti and Boboli Gardens. You can visit both or just one of them.
Once the home of the Medici family, the palace houses now 4 museums: the Treasury of the Grand Dukes (ground floor), the Palatine Gallery and the Imperial and Royal Apartments (1st floor), the Gallery of Modern Art, and the Museum of Costume and Fashion (2nd floor), while the gardens are home to a number of sculptures and fountains, and they are the perfect place to relax and take in the sights of Florence.
You can get tickets for both attractions from here. You can also book guided tours if you prefer: Pitti palace tour, Boboli Garden tour, Pitti Palace, Boboli Gardens and Palatina Gallery tour.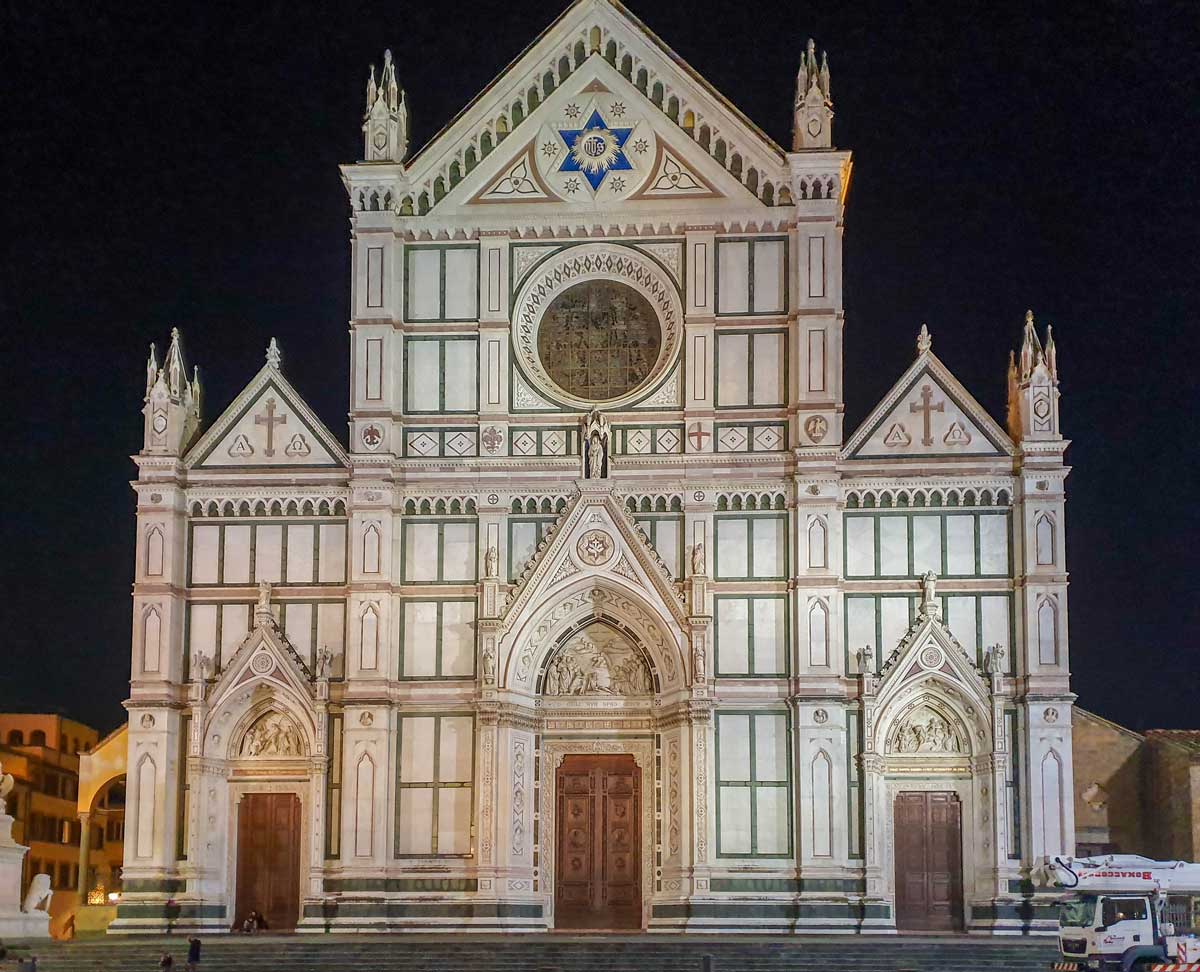 The second to last stop of the day is the beautiful Basilica of Santa Croce, located in the Piazza di Santa Croce, about 800 meters southeast of the Duomo.
The Franciscan church contains the tombs of many famous Italians, including Michelangelo, Galileo Galilei, and Machiavelli. You can buy tickets from either here or here.
For a perfect ending to your trip return to Piazza del Duomo and climb Giotto's Bell Tower to get one last panoramic look over Florence. My advice is to time your visit to the sunset, in order to see the city lighting up as the day turns into night.
Where to eat in Florence?
Florence is well known for good food, so you'll be able to find all sorts of delicious dishes here. From pizza to steak, there's something for everyone. And of course, no trip to Italy would be complete without some delicious gelato.
Here are some of the best places in Florence to get your food fix:
All'antico Vinaio: As I already mentioned, this sandwich shop is a local favorite, and for good reason. The sandwiches here are massive and packed with flavor.
Pizza Napoli 1955: This pizzeria serves up some of the best pizzas in town in my opinion. You can either eat there or take away, which is what we did as we preferred to eat on our apartment's terrace from where we could see the illuminated Duomo at night. If you can't decide what to get, I'd recommend the Bufala: it's simple but very tasty. PS: They also make heart-shaped pizzas.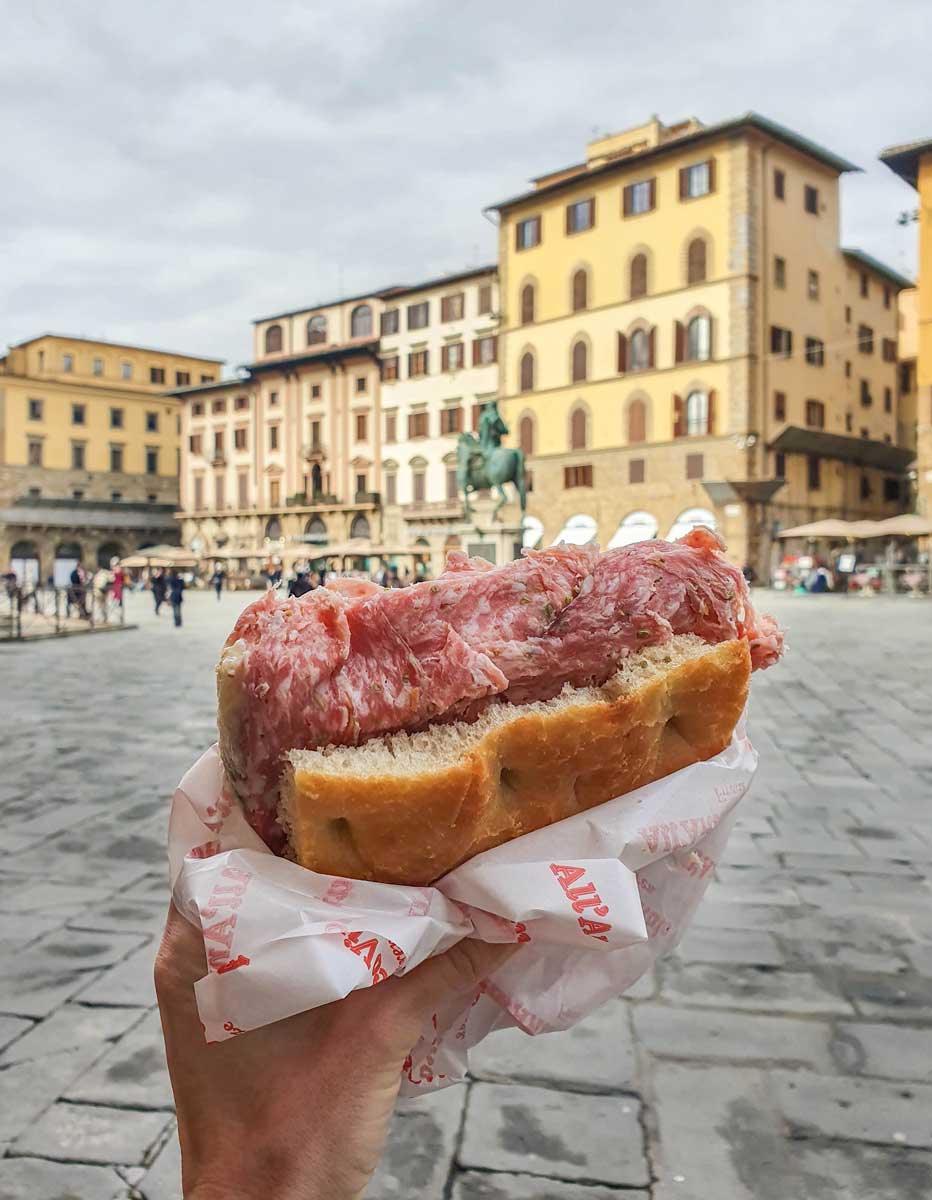 Florence is also famous for its signature T-bone steak (called Bistecca alla fiorentina). Some very good places where you can try this dish are Trattoria dall'Oste Chianineria, I'Tuscani 2 or La Cocotte.
Gelateria Santa Trinita, Gelateria La Carraia, Mordilatte: these gelato shops are the perfect places to cool down after a long day of exploring.
You can also take a food tour or class to learn more about the local cuisine. Here are some great ones available:
Best day trips from Florence
If you have more time in Florence, or if you're looking for some day trips to take while you're there, here are a few ideas:
Pisa
Best known for its world-famous Leaning Tower, Pisa is a popular one-day destination for tourists visiting Tuscany.
You can either check out my guide on how to visit the city on a day trip from Florence or book a tour like this one: Pisa Half-Day Trip with Cathedral and Tower Entry.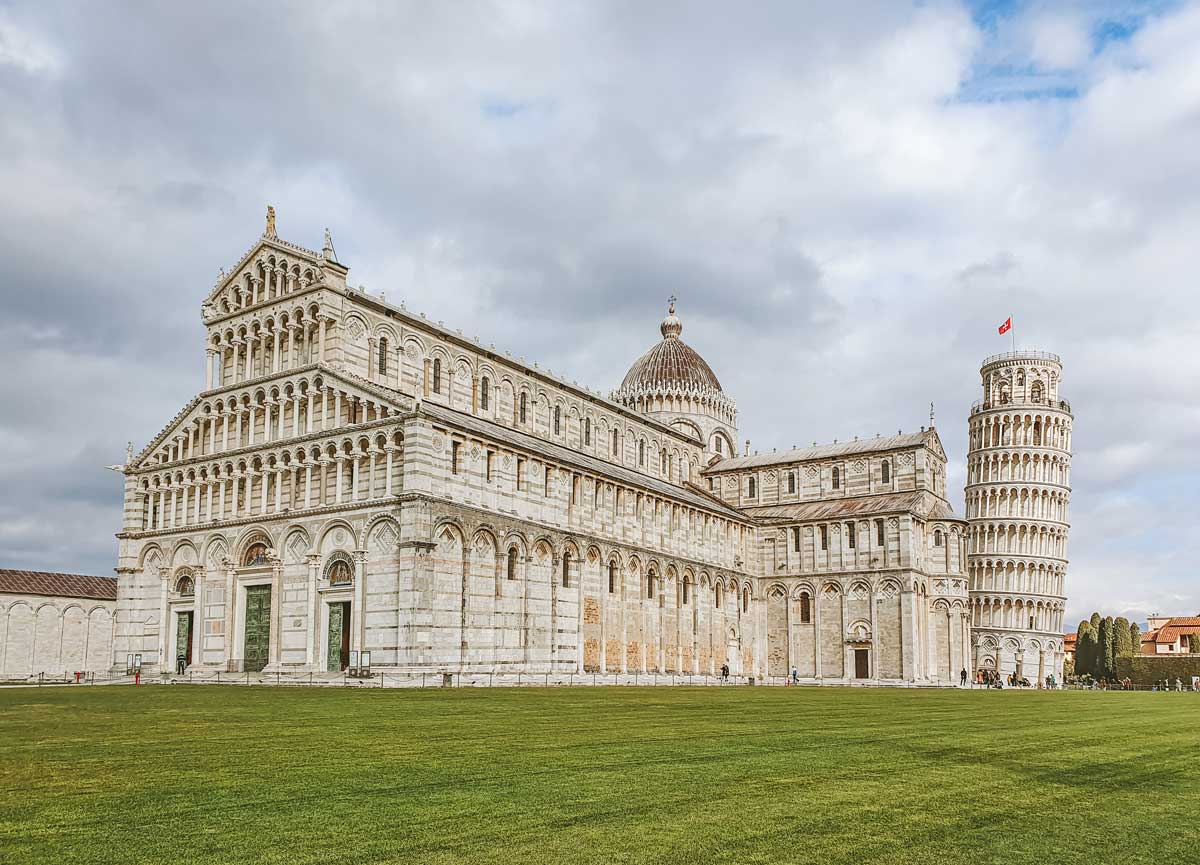 Lucca
Lucca is located about an hour and 20 minutes away from Florence. It's well worth a visit if you have the time, as it's home to some beautiful churches and squares. The best way to see the city is on foot, so be sure to wear comfortable shoes.
If you want to visit both Pisa and Lucca, you might want to check out this 9h long tour from Florence: Pisa & Lucca Day Tour with Buccellato Tasting.
Siena
Siena is a beautiful medieval city located about 1h and 15 minutes south of Florence making it a great place to spend a day exploring. One of the must-see sights in Siena is the Duomo, which is a cathedral that was built in the 13th century.
You can visit Siena on your own by either train or car or you can book a tour. Here are two great ones:
Cinque Terre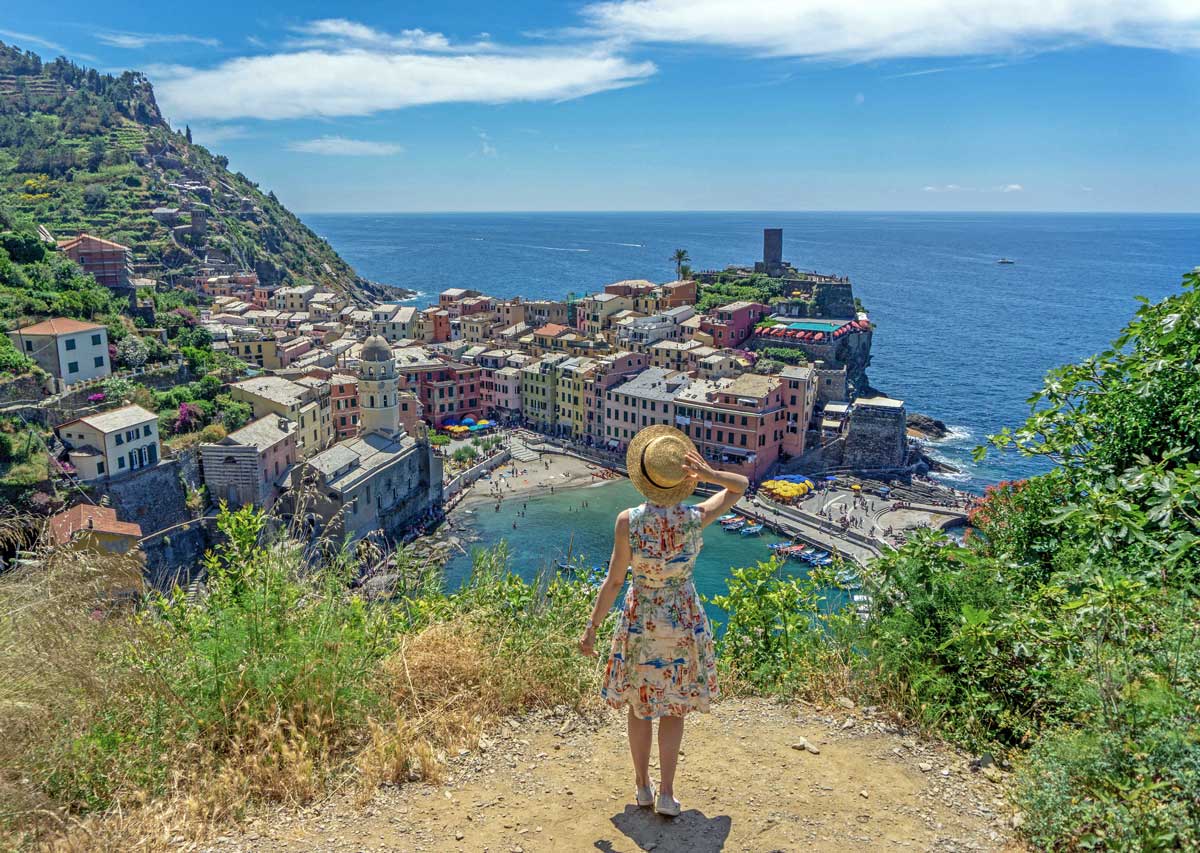 I want to make one thing clear: a day trip from Florence isn't the best way to visit Cinque Terre. I believe that these five beautiful villages deserve more time and attention, so they should be seen for at least 2 days.
However, if you are set on visiting them from Florence, then I'd suggest booking a tour to cut down on travel time as much as possible. Here are a few:
Wine tasting tour in the countryside
With its rolling hills and vineyards, Tuscany is a perfect place for tourists who want to enjoy scenic views paired with Italy's favorite drink.
But unless somebody is willing to sacrifice himself or herself to be the designated driver, then this day trip is only possible by joining a tour. Here are some good options:
2 days in Florence FAQs
What currency is it used in Florence, Italy?
As Florence is part of Italy, the currency used is the EURO.
Is Firenze the same as Florence?
Firenze is the actual name of the city, in the Italian language. So yes, Firenze is in fact the same thing as Florence.
Where is Florence located?
Florence is located in the central part of Italy and it's the capital of the beautiful Tuscany (it. Toscana) region.
What is the main train station in Florence?
The main train station in Florence is called Firenze Santa Maria Novella and it's conveniently located just 10 minutes away on foot from the Duomo Square.
Does Florence have Uber?
Uber is available in Florence, but with limited service, offering only Uber Black and Van. However, you won't really need it unless you have mobility problems, since the city's old town is pretty compact with most of the attractions located close to each other and several streets are pedestrians-only.
2 days in Florence: Final thoughts
If you're looking for a city break that will wow you, Florence is the place to go. With its stunning architecture and amazing culture, you'll be able to fill your days and nights with plenty of activities and sights to see. Just make sure to pack your walking shoes- you'll definitely need them!
I hope this 2-day itinerary for Florence will help you make the most of your time in this beautiful city. And don't forget to check my post on the most Instagrammable spots in Florence for the best photo-worthy spots!
Also, if you have any additional questions just let me know in the comments and I'll be happy to help to the best of my abilities.
Happy travels~
---
YOU MIGHT ALSO LIKE