Mallorca is the largest of the Balearic Islands, an autonomous region of Spain located in the Mediterranean Sea. As the island is an extremely popular holiday destination, it also has a well-built infrastructure for tourism.
This means many resorts to choose from, good transportation, lots of beaches with facilities, and roads in very good condition (albeit often narrow).
We spent most of our Mallorca holiday on the beaches near our hotel. But we also rented a car for 3 full days to explore more of the island.
This blog post will go over our road trip itinerary and any additional locations we wish we had time to visit, so you can use it to plan your own trip to the beautiful island of Majorca.
Disclosure: Some of the links in this post are affiliate links. If you click on them and make a purchase, I may receive a commission at no extra cost to you. Check my full disclaimer here.
Mallorca 3-day itinerary (Brief overview)
Day 1
Grab your rental and drive to the capital Palma (assuming you're staying elsewhere like we did).
From Palma travel to picturesque Valdemossa.
End your day by visiting the tiny village of Fornalux.

Extra options:

If you have time visit Soller as well. Or you can replace Fornalux with either Deia or Sa Calobra Beach.
Day 2
Spend the day at the most beautiful beach in Mallorca: Cala Mesquida
Watch the sunset from Mirador es Colomer viewpoint.

Extra options:

From the viewpoint you can continue to Far de Formentor or even Playa de Formentor. Alcudia and Pollença towns are also nice alternatives.
Day 3
Visit Mondrago Natural Park and its calas.

Extra options:

Other popular options in the area are Calo del Moro, Cala Llombards and Es Pontàs, which is a small stone arch.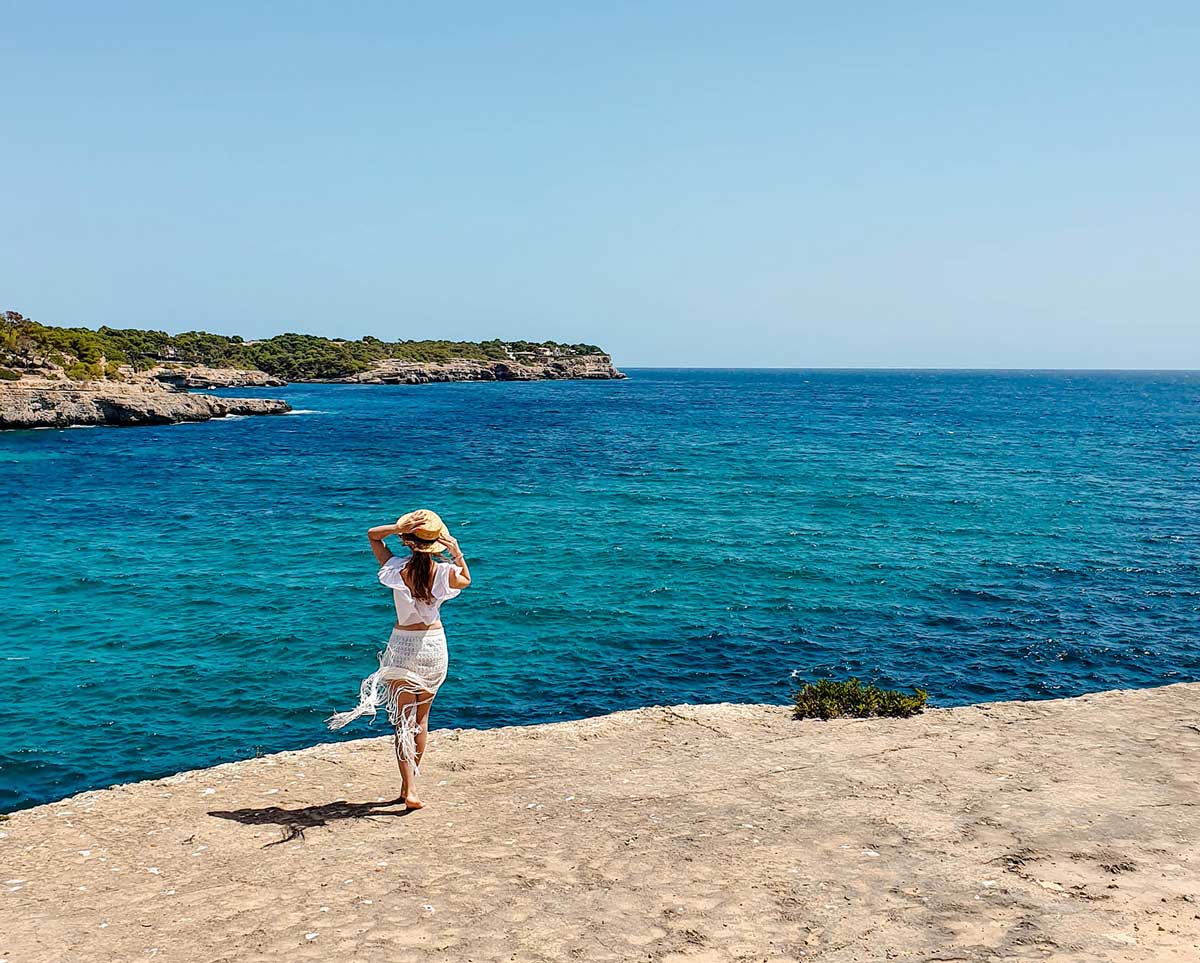 Best time to visit Mallorca
The best time to visit Mallorca greatly depends on the type of holiday experience you're seeking. If a beach vacation is your priority, then late June to September is the ideal time, with sunny skies and warm temperatures perfect for swimming and sunbathing.
However, this period also attracts the most tourists, so be prepared for crowds. For sightseeing, exploring historical sites, and hiking, the shoulder months of April, May, and October are more suitable, offering pleasant weather and fewer tourists.
Alternatively, visiting Mallorca in winter is not unheard of and it can offer quite a unique perspective on the island. With temperatures in the positive, almost no visitors, and a relaxed atmosphere, you will experience a very different face of Mallorca.
Not to mention that you will also save some money as prices are generally lower during this time of year.
Rent a car in Mallorca
Even though the bus system in Mallorca is pretty good, the easiest and fastest way to explore the island is by car.
It takes a little bit over an hour to cross it from north to south or east to west, so you can actually do a lot in a day. Besides, the roads are in very good condition, although we often found them to be a bit narrow for our taste.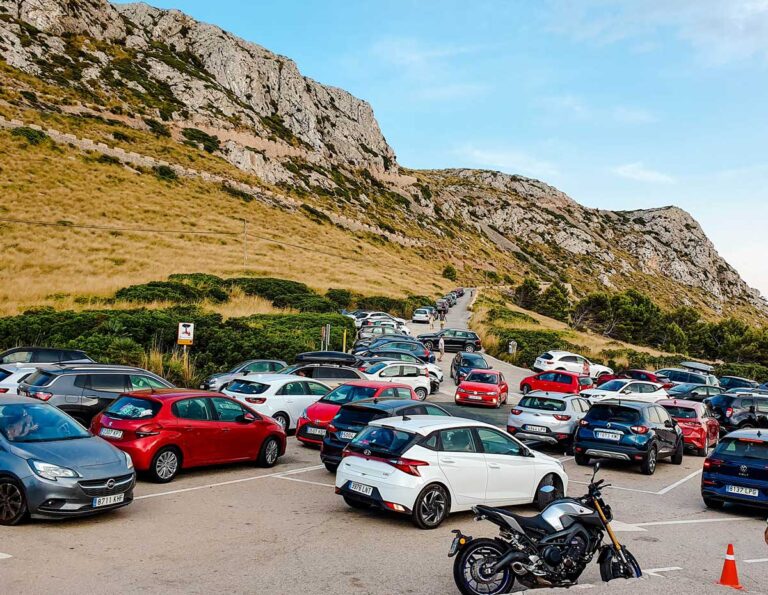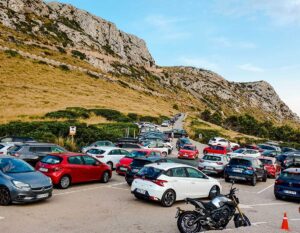 ---
✓ Cheaper rates and insurance
✓ FREE cancellation for up to 48 hours before the reservation
✓ Choose between international and local rental companies
There are plenty of options to choose from when looking to rent a car: most well-known rental companies are present on the island, as well as some local ones.
I would recommend going to an aggregator like Discover Cars and browsing around. Since they negotiate their rates with the rental companies they often offer cheaper rates. Their full coverage is also more affordable than direct.
Additionally, they also offer free cancellation (in the form of Booking credit, or if you prefer an actual refund, you can message them and request it).
The caveat is that since it's third-party insurance, the rental company will still hold a security deposit on your credit card as if you have none.
To see how much it is (as different companies have different requirements) and other important information, just click "Rental conditions" when booking the car.
If you bring back the car without any damage, then they give you back the entire deposit. Otherwise, they'll deduct the repair cost from the deposit and you'll have to make a claim with Discover Cars to refund you (up to $3400).
Do know that sometimes, rental companies might try to sell you their own insurance, even though you already have one from Discover Cars. Just decline. Also, a tip for getting better customer service is to rent the car from a well-rated company (aim for 8+ if possible).
Lastly, since I know it can be a bit scary to deal with 3rd parties, I suggest you check out the reviews section on the Discover Cars website, as well as their reviews on Google (where they have a score of 4.4/5 out of 20,000+ reviews).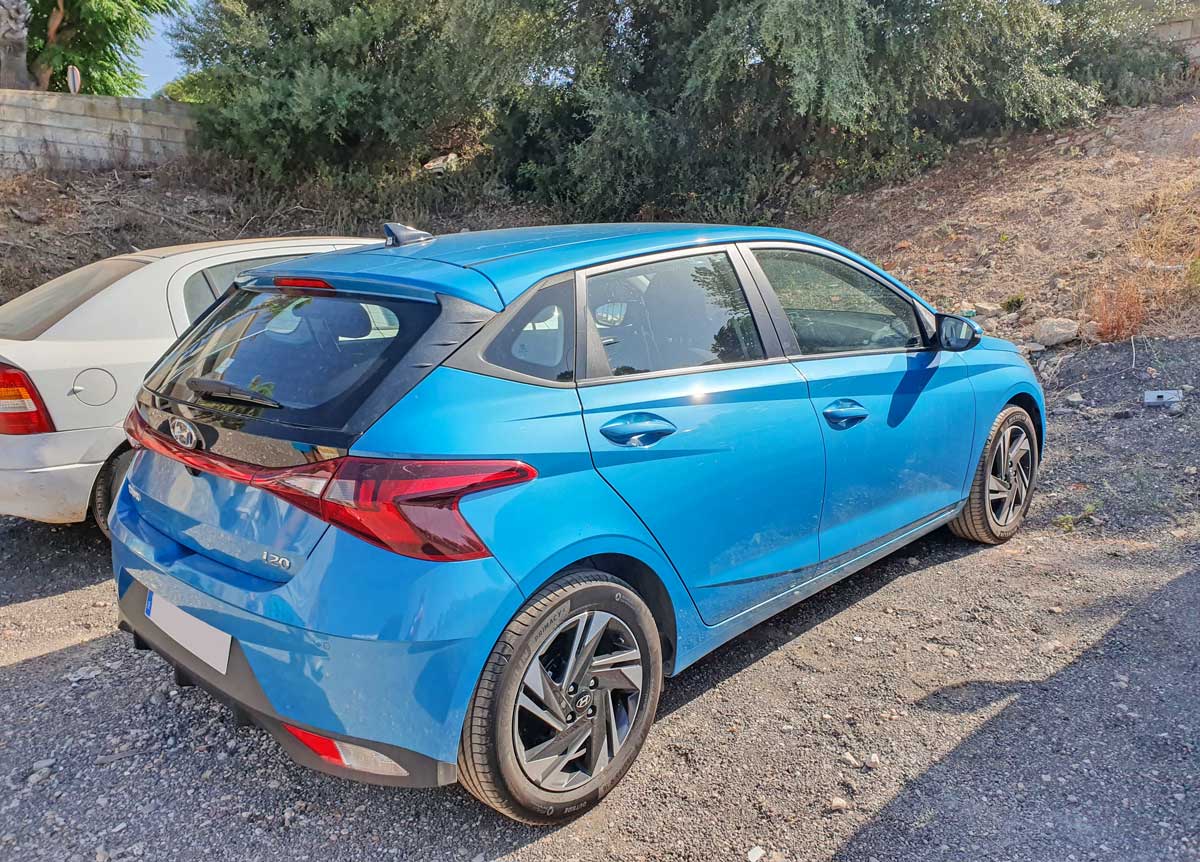 Since we postponed booking the car until the very last minute (and I didn't know about Discover cars at the time), we barely managed to rent a Hyundai i20 for 3 days (with full insurance) for 196 euros from Vanrell, a local company.
When you rent the car you will receive a paper stating that the car is a rental together with other identification data.
You need to display this paper at all times in a visible place (usually the car's dashboard) otherwise, you can receive a fine.
3-Day Mallorca itinerary: Best places to visit in Mallorca by car
This itinerary includes a mix of charming villages, a short visit to the capital, viewpoints, and beaches (calas). A car is required.
Day 1: Palma, Valldemossa and Fornalutx
Palma de Mallorca – the capital of the island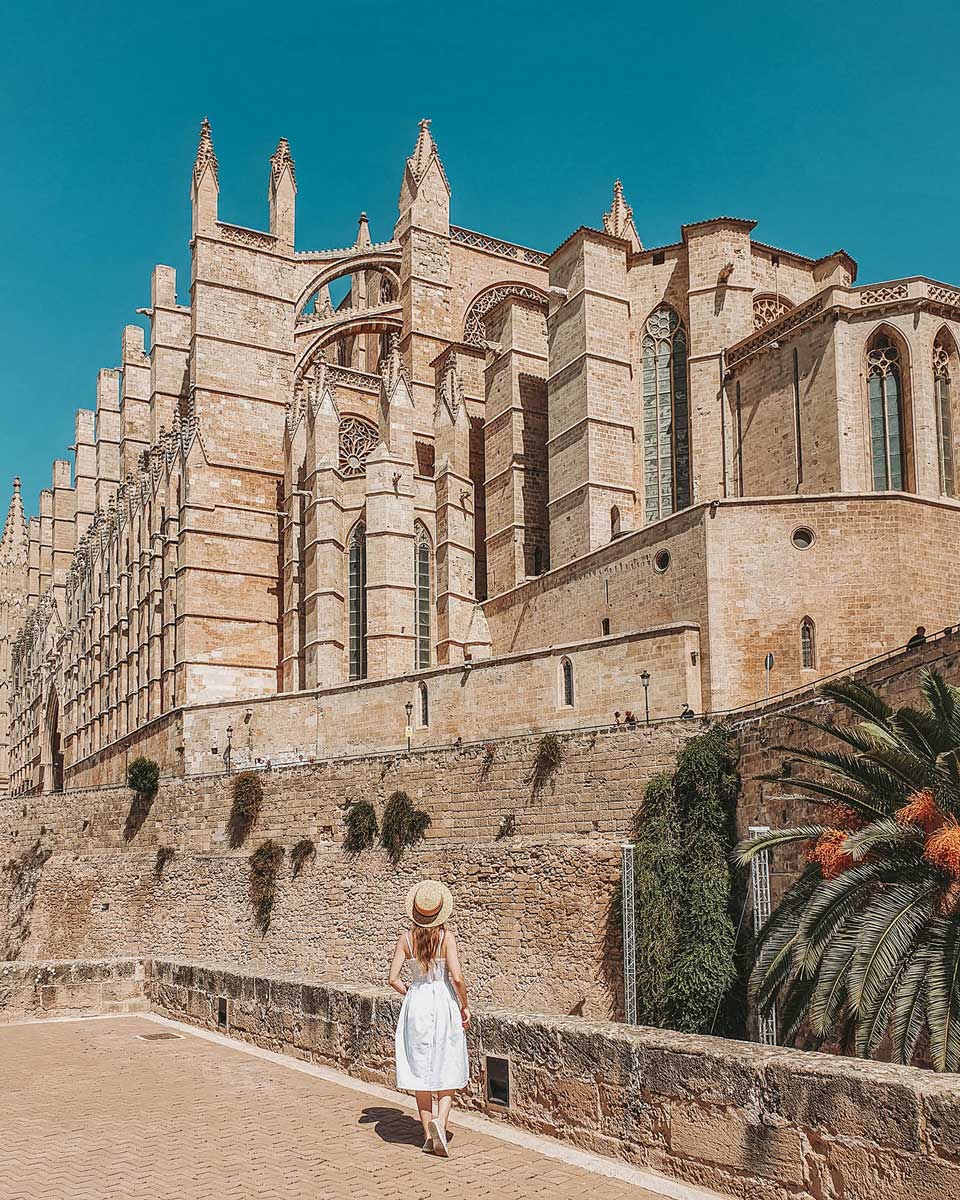 Capital Palma was our first stop of the day. We didn't spend a lot of time in the city as it was scorching hot outside (it was end of august after all).
So we walked around the old town for a while and then we visited the Cathedral of Santa Maria of Palma, more commonly referred to as La Seu. It is a Roman Catholic cathedral near the waterfront with impressive Gothic architecture.
You can just visit the inside of the church or you can also climb on its terrace (in a similar manner to the Duomo in Milan).
Tickets cost 8 euros for the inside of the cathedral (7 euros for people over 65 years of age and 6 euros for students and unemployed) or 20 euros for both.
You can buy the tickets on-site or online from here or here. If you are short on time, it's better to go for the 2nd option as the queues can get kinda long at the ticket booth.
TIP: Visit the cathedral around noon when the sun shines through the huge rose window above the altar, drawing colorful shapes on the floor: it reminded me of Sagrada Familia.
PARKING: We parked our car at Parking Palma Center (see the map below). There are several other parking lots, but I choose this one for its easy access since I didn't want us to drive too much through the city in case there was heavy traffic.
We paid around 5 euros for 2h if I remember correctly (the first hour was free).
When visiting Palma I advise you to carefully check where the ACIRE zones (areas with restricted traffic) are located because you might end up getting a fine if you unknowingly enter one.
Apart from the historic center, there also seems to be a small ACIRE area on the way towards the exit for MA-13 motorway, so be aware of that as well.

Other great things to do in Palma are visiting the Royal Palace of La Almudaina, Bishop's Garden (a free public garden that is only open till 13:30), and the Arab baths. 
There is also a scenic train route to Soller, operated by vintage wooden carriages. The journey takes about 1 hour. Since we were running late and had the car with us, we decided to skip the scenic ride (which I kinda regret as I love trains).
Besides, at the time I also planned to stop at Soller after our visit to Fornalutx. That didn't happen in the end as it was pretty late when we finished visiting the village.
Valldemossa
Valldemossa is a village in the Serra de Tramuntana mountains, about 30 minutes away by car from Palma. It was my favorite stop of the day and I loved getting lost on its charming, narrow alleys. If you can visit only one village in Mallorca, this should be it!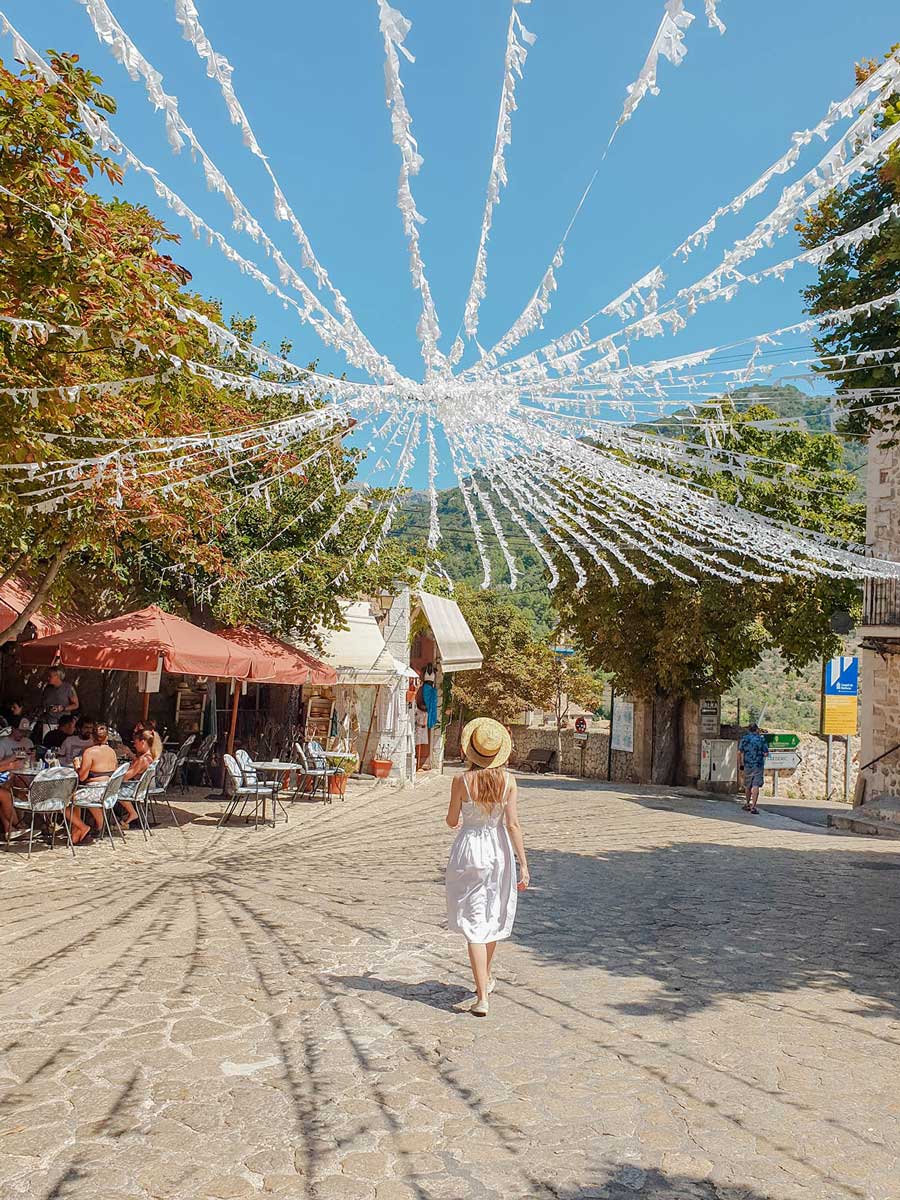 PARKING: We parked our car at a parking lot on Carrer de la Venerable Sor Aina (Parking Valldemossa 2 on the map). The location was perfect for walking around the village and we easily found an empty spot.
Parking needs to be paid in cash beforehand, at the machines located on the premises. Then you need to display the ticket you received on your car's dashboard. You have several options to choose from (1h – 2 euros, 2h – 3 euros, etc).

TIP: There is a nice viewpoint (Sa Miranda Des Lledoners on the map) from where you can see the village at the end of Carrer de Jovellanos Street. You can also find a restaurant there.
On the street below you can find another viewpoint (Mirador Valldemossa) from where you can see the same panorama. I preferred this one for taking pictures as it was pretty much empty.

Fornalutx
Fornalutx is another lovely village in the Serra de Tramuntana mountains, located very close to Soller. It's much smaller than Valldemossa, but still very pretty.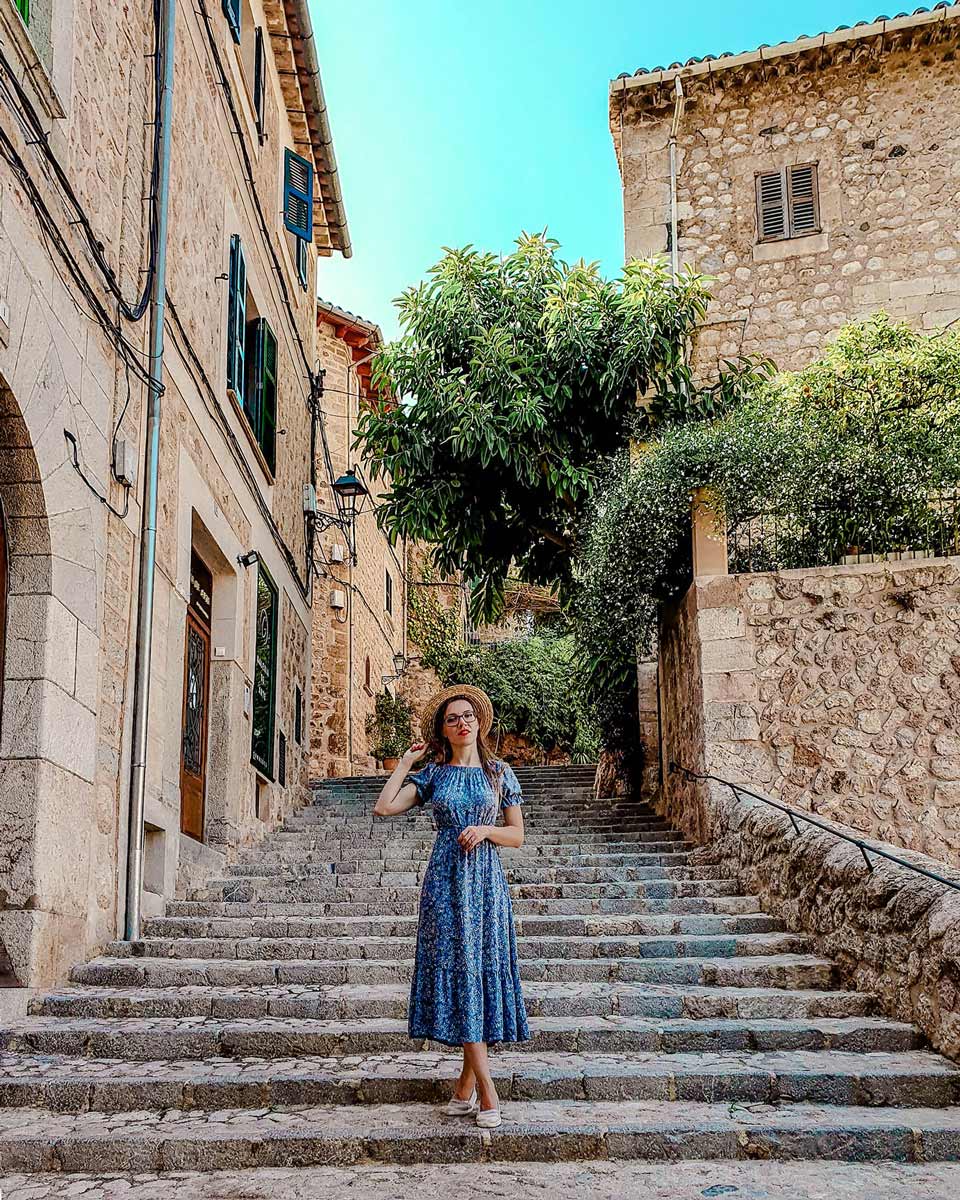 PARKING: We parked our car right at the entrance of the village: there were just a handful of spots, so we were lucky to find an empty one.
You pay by cash at the parking machine and then you need to display the ticket you receive on your dashboard. The maximum time you can leave your car here is 2 hours. We paid 3 euros if I remember correctly.
If you can't find an empty spot here, you can try your luck at the bigger parking lot farther away on Carrer Arbona-Colom (Parkplatz on the map).
I do not recommend trying to park at the parking lot across the village (Pàrquing [Zona blava] on the map bellow), especially if you have a bigger car.
The reason is that the main street changes from a 2-lane into a very narrow single lane in the center of the village.
Extra options
Artsy Deia and Soller are other good options to visit in the area. I hoped we'd have enough time left to stop in the latter after we left Fornalutx, but that wasn't the case.
The main attractions of Soller are the vintage tram that runs between the village and Port of Soller and the vintage train connecting it to Palma.
You can also find Sa Calobra beach 1 hour away from Soller. It is rather small but leaves a striking impression because of the two huge cliffs that surround it.
But be aware that the road going to it, while beautiful, is also pretty difficult to drive on because of how narrow and winding it is.
Day 2: Most beautiful beach in Mallorca (Cala Mesquida) and Mirador Es Colomer
Initially, I wanted to visit the Formentor beach on this day as it was close to Mirador Es Colomer and leave Mesquida for the last day.
But, I quickly changed my mind after reading the reviews on Google for all the parking lots near the beach.
Not only were they expensive (about 0.06-0.07 euros a MINUTE, capping at 18-20 euros per day), but there were lots of people saying that thieves broke into their cars while they were parked there.
However, it turns out that I was worried for nothing as we couldn't have reached the beach by car anyway. That's because, that year, the local authorities had extended the high-season traffic restrictions for Cap de Formentor up to Puerto Pollensa.
While the rules differ from year to year, they usually involve a no-access restriction to Cap de Formentor and limited access to Formentor Beach (and sometimes to Mirador es Colomer as well) during the day.
To avoid any potential fines and nuisances, I suggest you just leave your car in Puerto Pollensa (there's a parking lot near the bus station) and take bus no. 334 to whatever destination you want to get to on the Formentor peninsula.
Cala Mesquida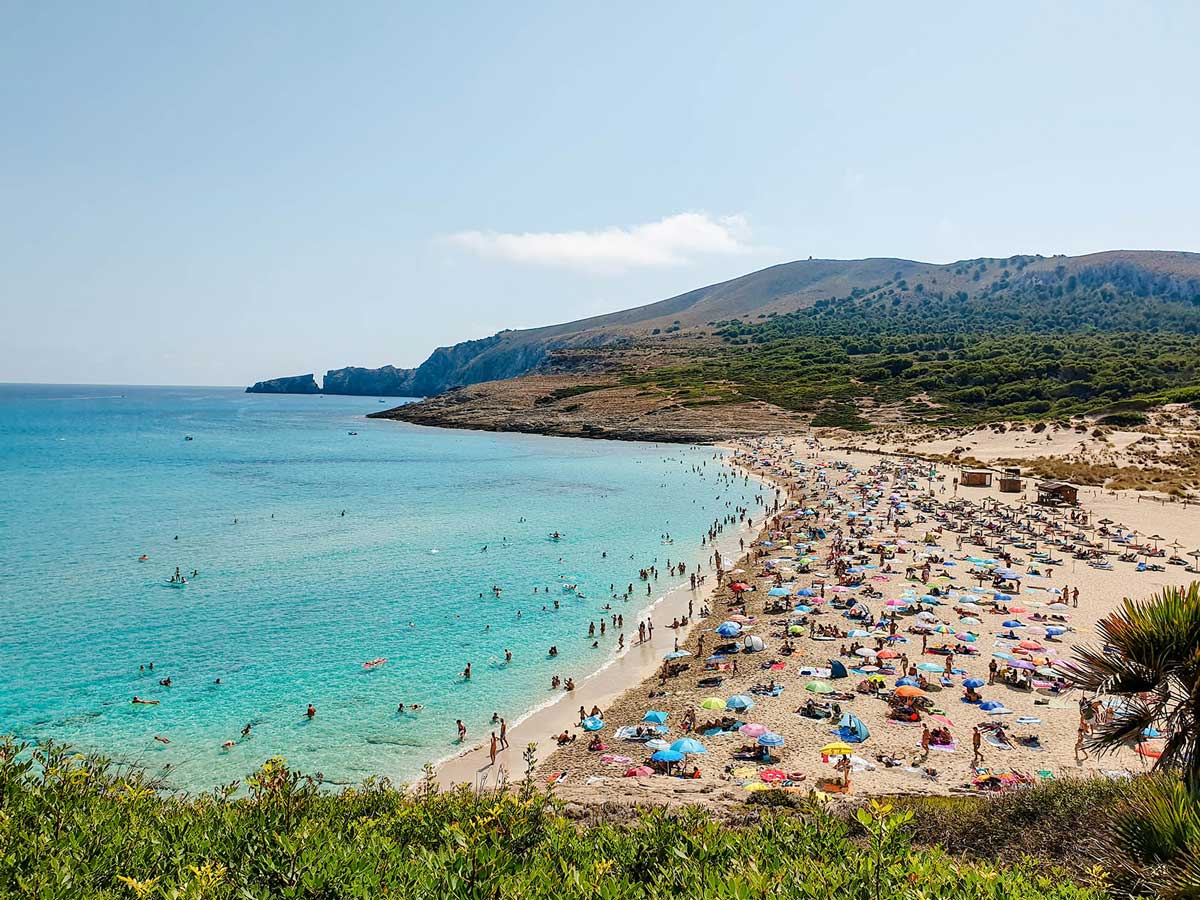 Cala Mesquida is a sandy beach situated in the northeast of Mallorca that has unbelievably clear water. It was my favorite beach for swimming and without any exaggeration, it reminded me of Maldives.
There is a lifeguard on the beach, a few lounges (16 euros for two lounges and an umbrella), and a beach bar. I saw no showers or toilets though. At the other end of the beach, there is a small section for nudists.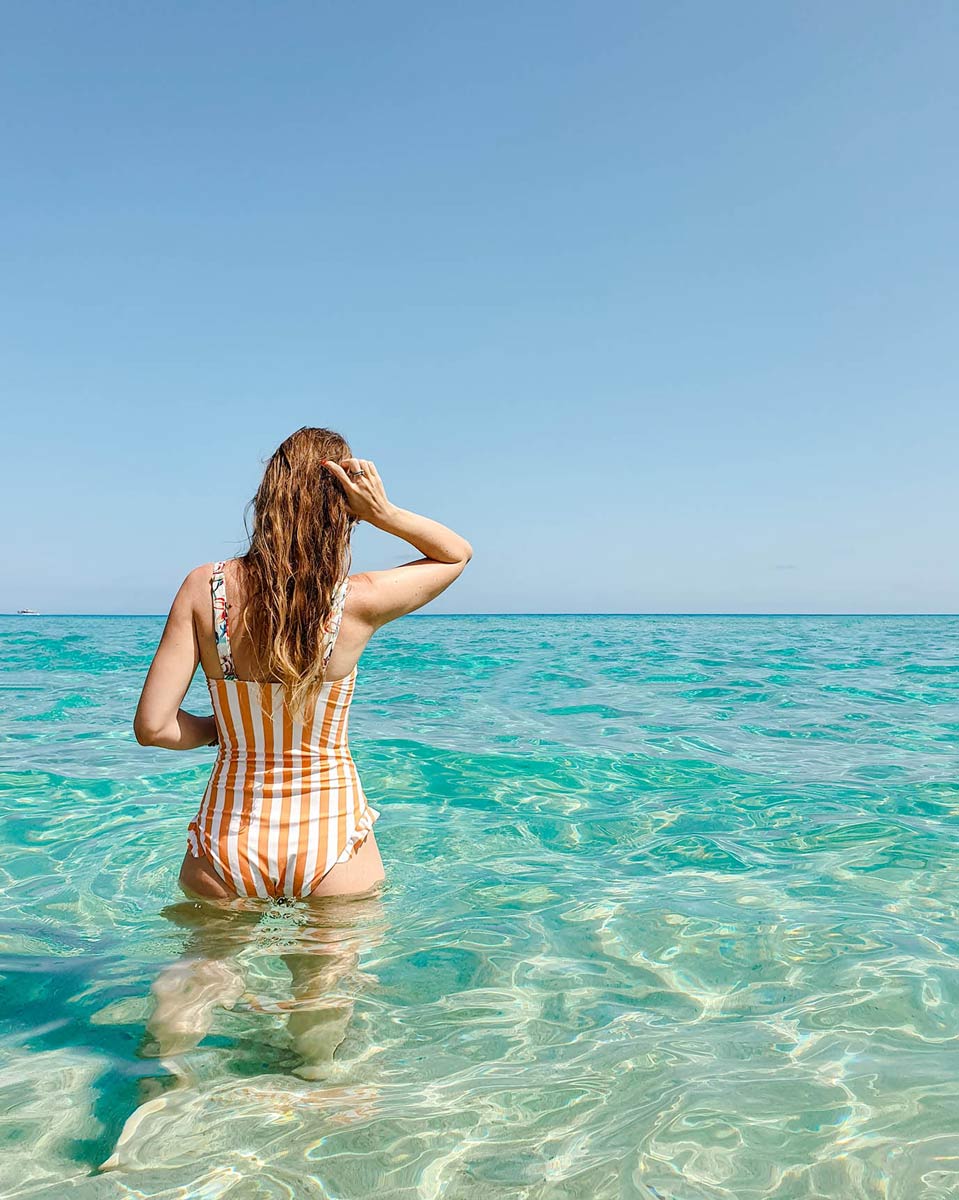 PARKING: There are several parking options near Mesquida Beach. We found an empty spot in the lot marked with a yellow car icon, on the map below. Parking was free, as confirmed to us by a local.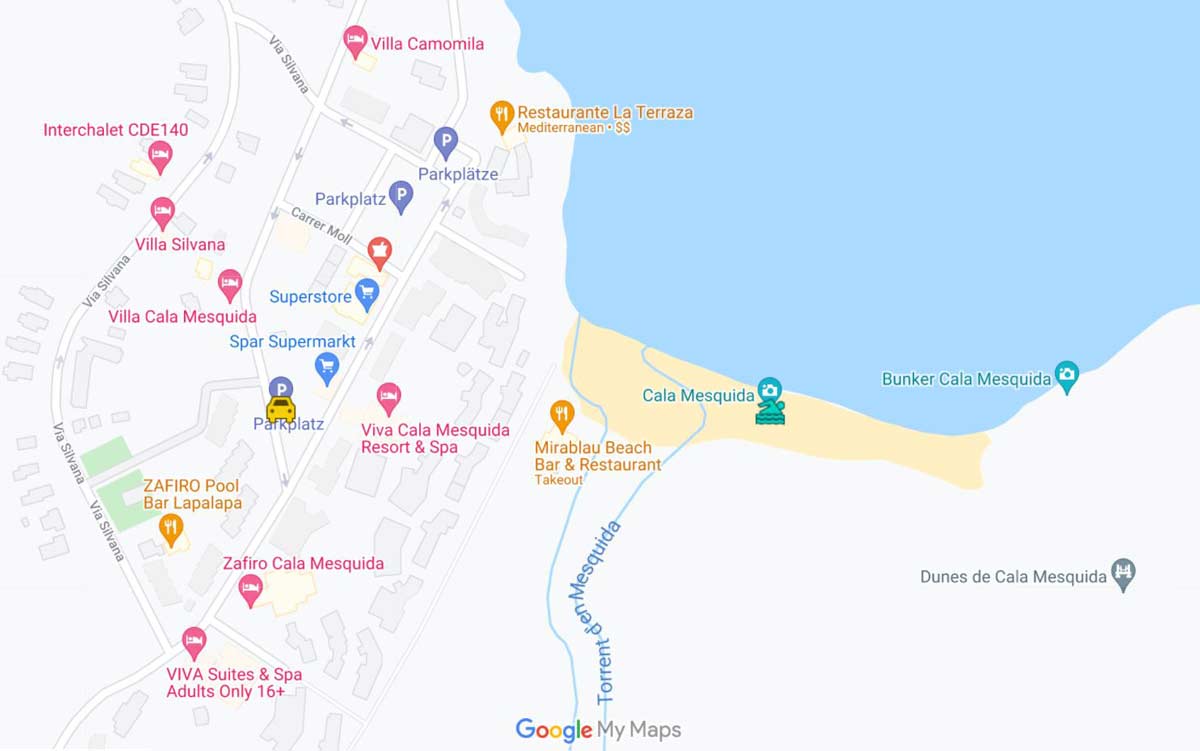 Mirador Es Colomer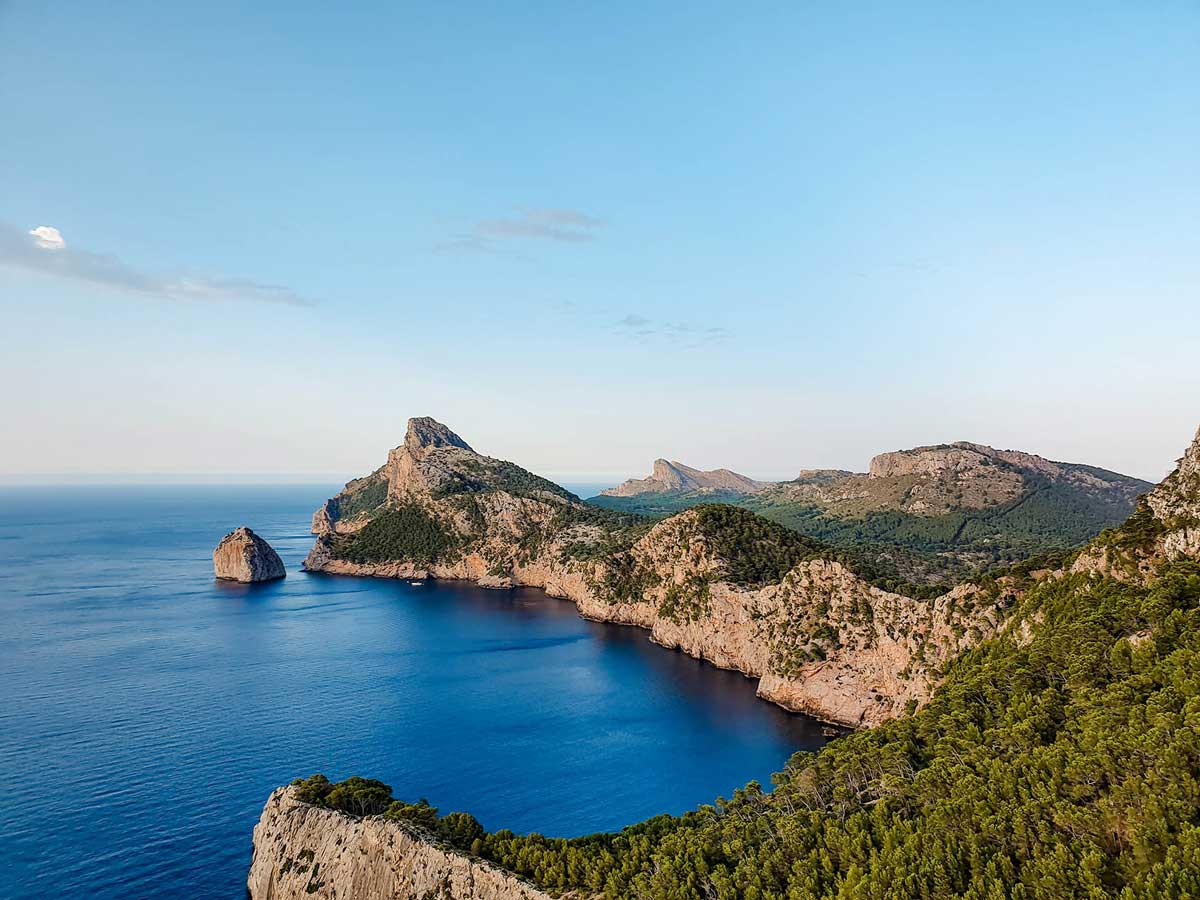 Mirador Es Colomer is a viewpoint on Cap de Formentor that offers stunning views of the rugged cliffs and the sea below.
The viewpoint is very popular, so it naturally gets visited by a lot of people. This tends to be an issue, because the road leading there is pretty narrow and winding, while parking space is pretty scarce.
We visited at sunset and initially thought that this was the reason why it was so crowded (many people came after a day at the beach to witness the sunset there).
But I now know that it was probably because of the Formentor peninsula traffic restrictions, of which I spoke a few paragraphs above.
Another thing to bear in mind is the fact that the road leading up to the viewpoint is very popular with cyclists. We only encountered 2 or 3, but the numbers might be higher if you visit in the morning.
PARKING: As I already mentioned, parking space is pretty limited and we were lucky a car left just as we were trying to figure out what to do.
Because we were on quite a narrow slope, had parked cars on our left, nothing on our right, cars waiting to advance behind, and bad prospects of turning around in front, as there were already 2 cars struggling to do so further away.
Still, it was not an easy feat trying to lateral park in such conditions and I'm sure I got some grey hairs just by standing in the right seat. I still don't understand how my fiance was so calm.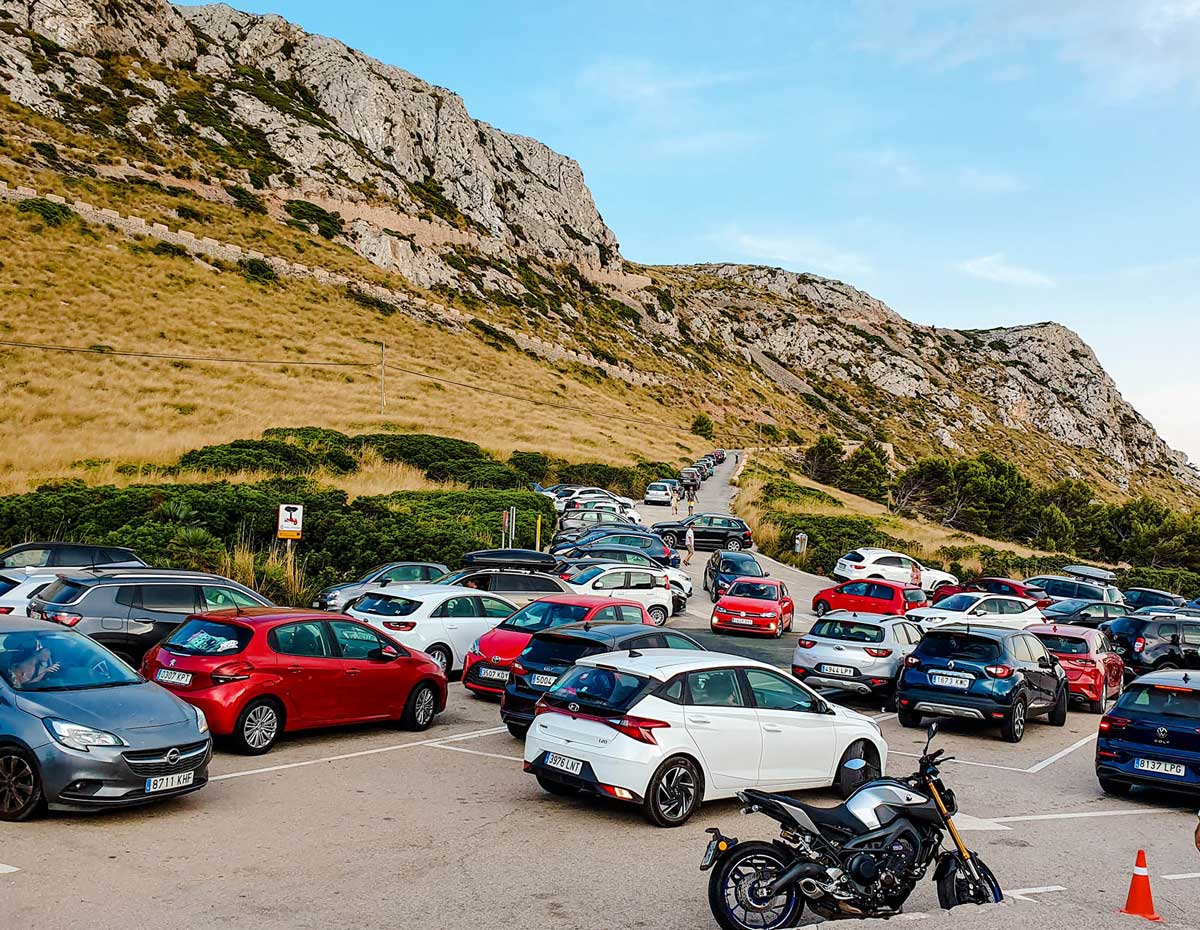 As I already mentioned, if you want to avoid any stress, it's probably better to leave the car in Puerto Pollensa and continue by bus. If I were to visit again, that's probably what I'd do!
However, if you want to drive there yourself, here's something to remember: the smaller the car, the easier it is to maneuver it. We saw a Fiat 500 literally turning around on the spot where it was parked, a feat impossible for our Hyundai i20.
Bigger cars like SUVs could barely pass without touching the parked cars. Also don't forget that during the high season, you can't drive a private vehicle on the peninsula between 10 AM and 7 PM!
Extra options
From Mirador es Colomer you can continue to Playa de Formentor, one of the popular beaches on the island, and Far de Formentor, an active lighthouse from where you can also admire the rugged coast of the peninsula.
Further away inland, you can find Pollensa and Alcudia towns with charming old architecture. Platja d'Alcudia and Platja de Muro (not the same one as Platja del Muro) with their wooden jetties are popular spots to lay on the beach and soak up the sun.
We actually visited Alcudia Beach on a separate day, by local bus. The beach is pretty big with fine, white sand.
It has showers and many lounges (6.5 euros for one, 13 euros for two – 10 AM to 6 PM) and the water was nice and clean, but not very clear when I visited. There are several beach bars as well.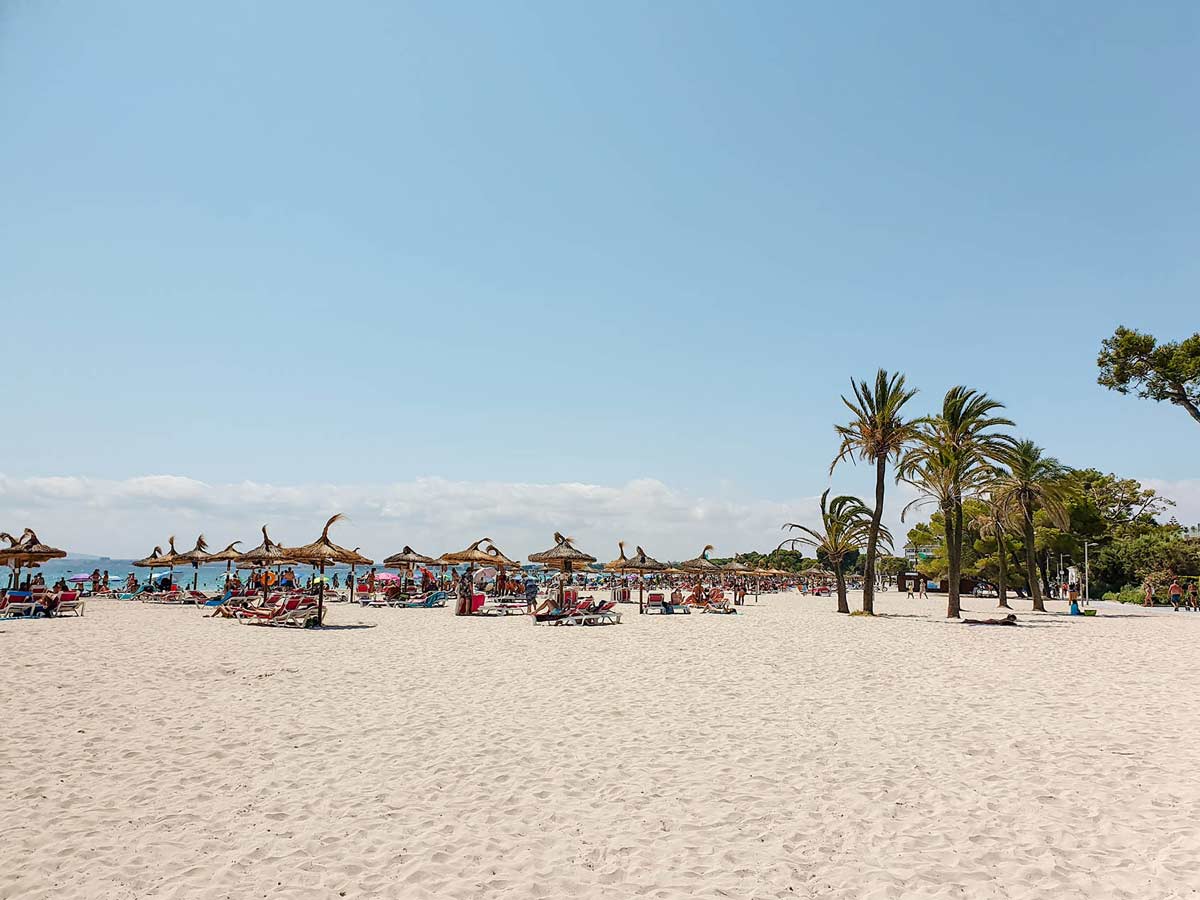 Day 3: The Calas of Mondrago Natural Park
For the last day, I decided to visit a few more picturesque calas: think of small, sandy bays with rugged cliffs on either side.
I knew I didn't want to move from one beach to another by car, because if I were to swim, my bathing suit would take ages to dry enough to not wet the car seat.
After a bit of research, I settled for the 3 calas of the Mondrago Natural Park: S'Amarador, Cala Mondrago, and Calo D'es Borgit, which many people seemed to praise for their beauty.
I also liked the fact that I could walk from one beach to another and there was a parking lot pretty close, with good reviews on Google.
S'Amarador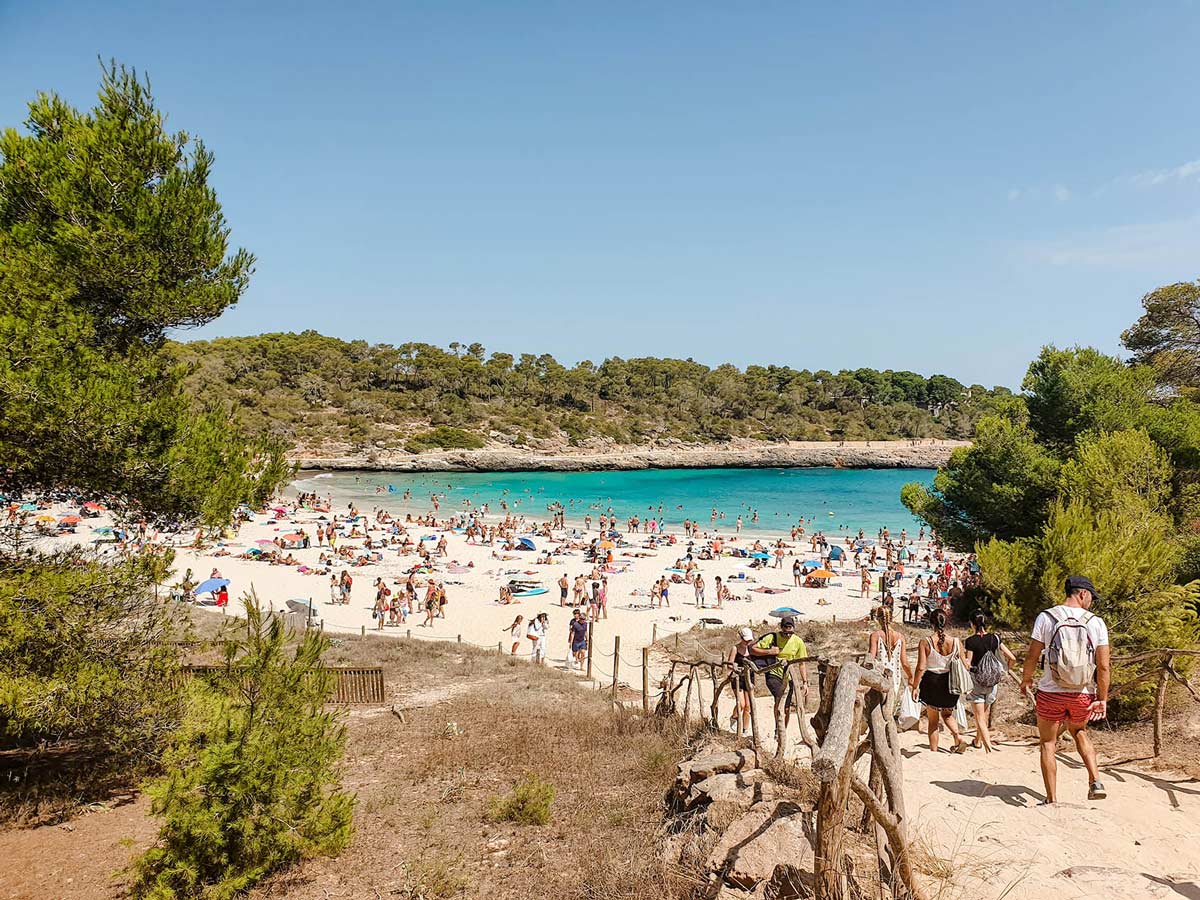 S'Amarador seems to be the most popular out of the three beaches and it's also the biggest. It has a few lounges and a bar. The water was not the cleanest when we visited as it was pretty windy, but had a beautiful color.
If you turn right on the dirt path in the forest (just before you reach the beach), you'll find a viewpoint from where you can spot Cala Mondrago.
From here you can continue on the trail for as long as you want, occasionally leaving it to get close to the cliffs bordering the sea and admire the views. But be very careful with your steps to not injure yourself! 
Cala Mondrago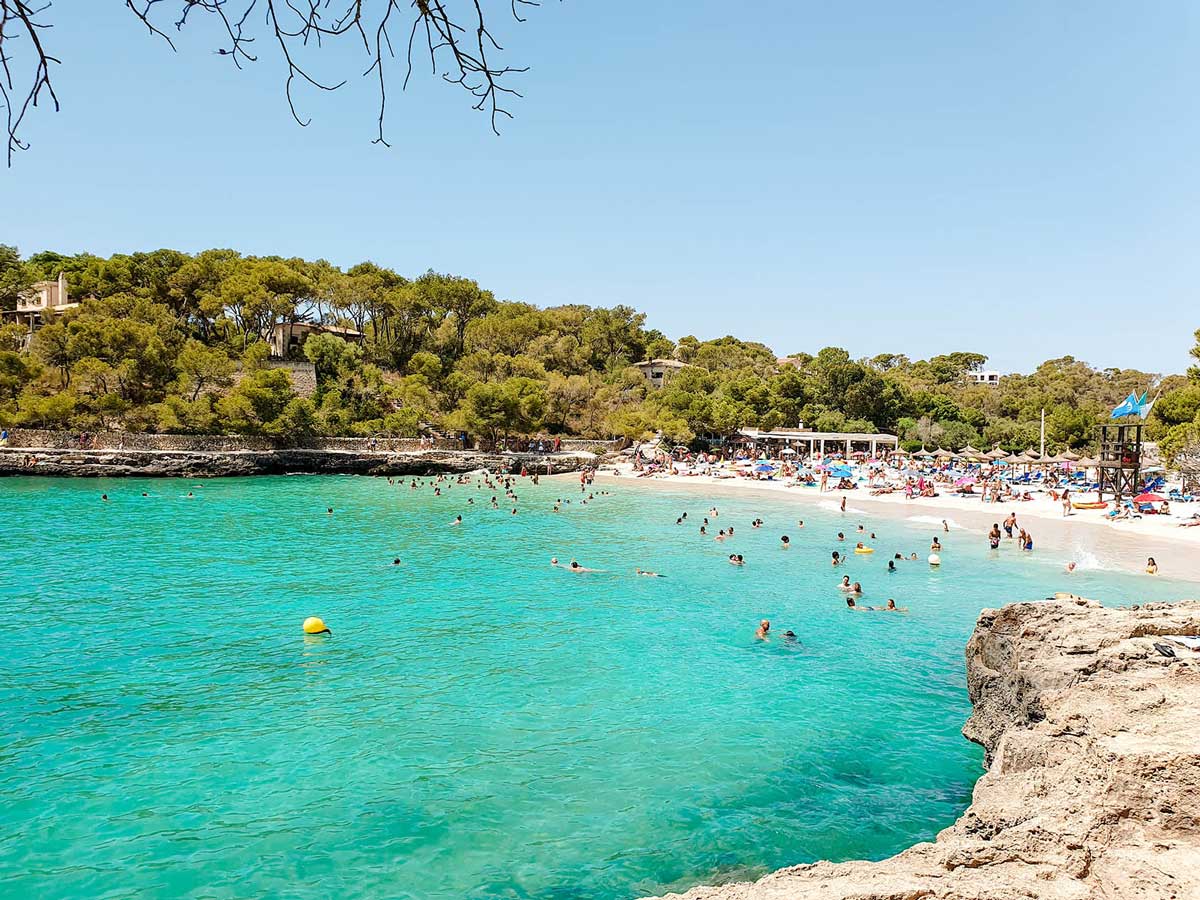 Cala Mondrago is connected to S'Amarador by a cement path. It is a bit smaller, has lounges, a lifeguard and there's a small restaurant where you can eat.
The showers didn't work when I visited, but there are toilets near the picnic area located in the forest, on the other side of the beach.
I took a nice, refreshing swim here after I finished with my little sightseeing tour. The water was cleaner than at S'Amarador, but not clear either.
Also be aware that since they're little coves, there is a faint smell of stalled water lingering around.
You can use the hiking trails near the beach to go to Calo D'es Borgit or simply admire the landscape surrounding the bays.
Calo D'es Borgit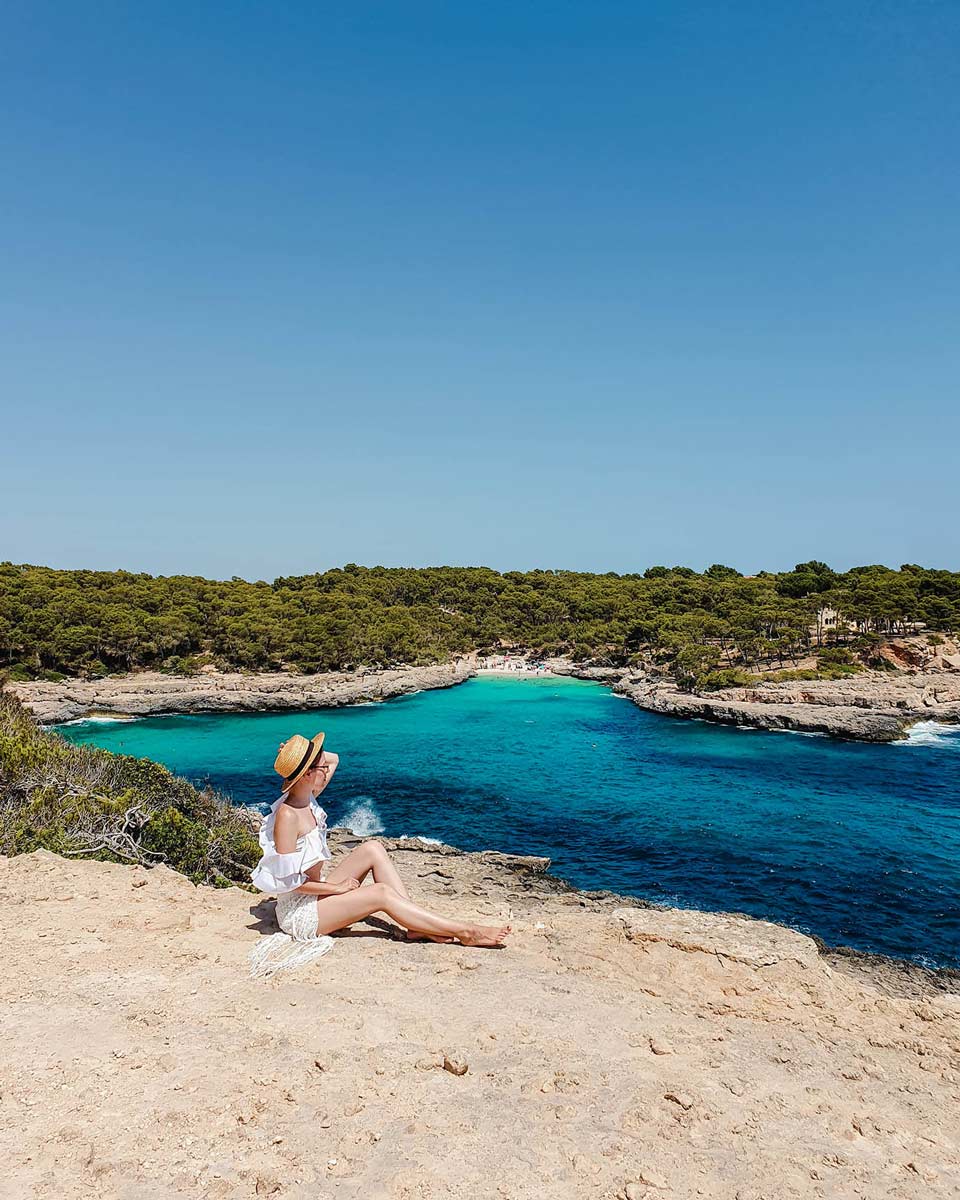 Calo D'es Borgit is by far the smallest of the 3 beaches. But it also seems to be less crowded as it's harder to reach.
On your way there, you can stop at the spot marked on the map below (Punta de Sa Guardia) from where you can get a beautiful view of the beach.
PARKING: There is a huge paid parking lot fairly close to S'Amarador (marked with the yellow car icon on the map below). It was 6 euros for the whole day and I liked the fact that there were several people there, guiding you where to park.
It also felt more secure – I still remember the awful reviews about cars broken into that the parking lots near Formentor Beach had.
Extra options
There are a few other beautiful calas in the area if you are willing to drive a bit more. The most famous of them is Calo del Moro.
Also, near Cala Llombards you can find Es Pontàs, a small stone arch that might remind you of Malta's Azzure Window before it collapsed.
3 Days in Mallorca FAQs
Is 3 days enough in Mallorca?
3 days in Mallorca are enough to do some sightseeing, but they're not enough for a beach holiday.
Is Palma de Mallorca worth visiting?
Yes, Palma de Mallorca is worth visiting even if only for its beautiful La Seu cathedral.
How long does it take to drive across Mallorca?
It takes slightly over an hour to traverse Mallorca island from north to south or from east to west with a car.
What is the difference between Majorca and Mallorca?
There's no difference since both names refer to the same island. Mallorca is the official name, however, while Majorca is an Anglicised version.
Mallorca 3 day itinerary by car: Wrap up
There you have it: my perfect road trip itinerary for 3 days in Mallorca. Hope you found inspiration in it and if you have any questions just drop them below, in the comment section.
Happy travels~
---
YOU MIGHT ALSO LIKE