Discover the best things to do on a 4-day trip to Vienna
Vienna is a great city to explore, rich in history and culture. Whether you're a first-time visitor or have been before, I've put together my list of the top things to do in Vienna based on my own experience. From visiting the imposing Schonbrunn Palace to having fun at Prater, there's something for everyone in this city!
Also, don't forget to check my blog post on the best Instagrammable spots in Vienna and how to reach them in order to get the most beautiful photos during your trip.
Disclosure: Some of the links in this post are affiliate links. If you click on them and make a purchase, I may receive a commission at no extra cost to you. Check my full disclaimer here.
Best time to visit Vienna, Austria
The best time to visit Austria's capital is from April to May and September to October. The weather is still nice enough for sightseeing, but the city is not as busy as in summer.
People looking to enjoy the Christmas Markets in Vienna should aim for a visit in December when the fairs are open.
How many days should you spend in Vienna?
Vienna is a very good destination for a city break. It can easily be visited over a weekend if you are short on time, but 3 days is preferred because the extra time will allow you to see it at a more relaxed pace.
If you spend 4 days in Vienna, you can also add a day trip to stunning Hallstatt which is more than worth a visit.
Transportation in Vienna
Vienna is pretty easy to navigate and has a good public transportation network. My recommendation is to install the WienMobil app on your phone, before the trip. The app allows you to buy single tickets as well as day tickets and other options. It can also store your card details if you want, which speeds up the process of getting a ticket.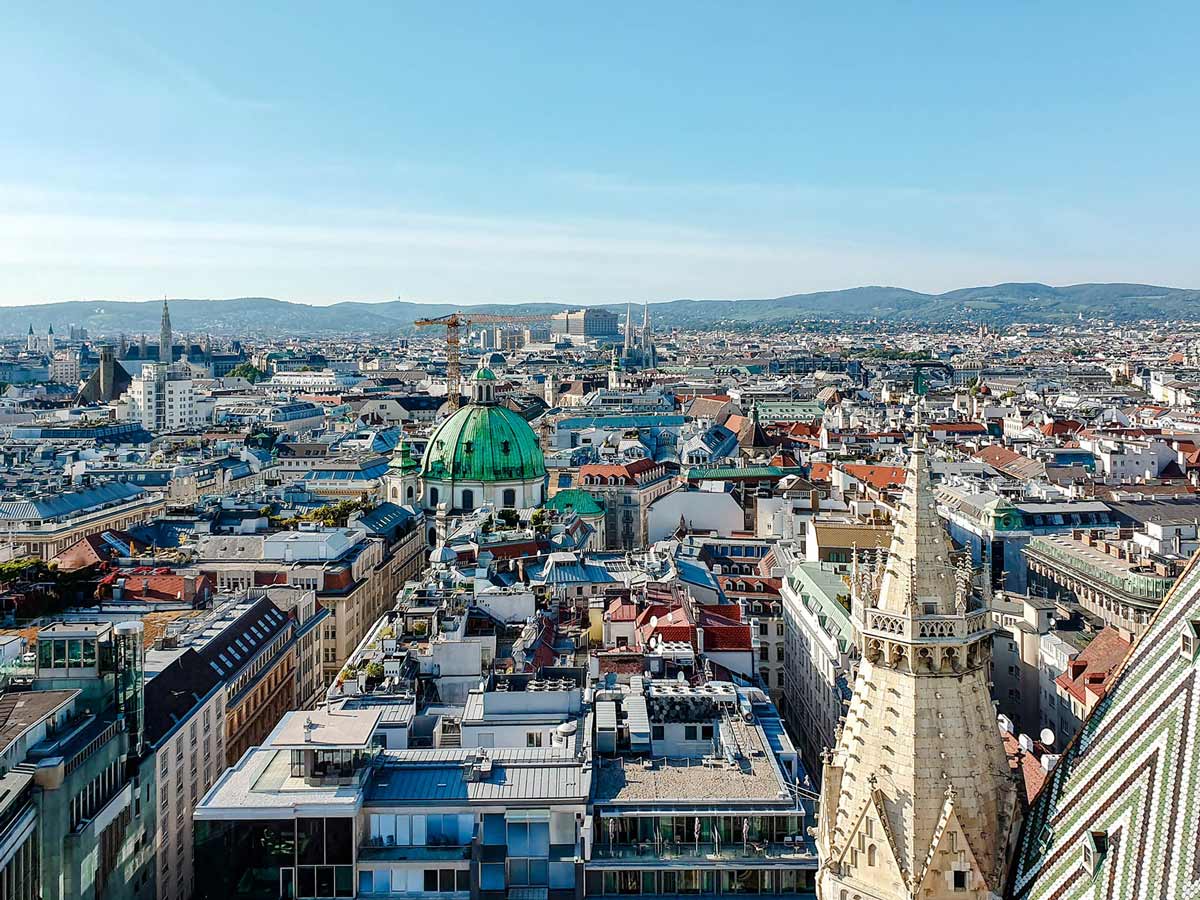 Just remember: a single ticket is only valid for one non-stop journey, in one direction, in the core zone of Vienna. Usually, it's better value to get a timed ticket like a day ticket if you know you'll need to change transportation or make more than 2 trips.
Accommodation in Vienna
I can't recommend the place where I stayed, because I actually didn't book any accommodation for both of my visits to Vienna. The first time I was in the city, it was actually a day trip to the Christmas market and during my second visit, we stayed at our friends' apartment.
But I did some research for you and here are some great accommodations in the heart of the city:
But if you don't mind accommodation that it's a bit farther away from the busy city centre of the Austrian capital, here are some nice options:
4 days in Vienna itinerary: Day 1
I suggest using your first day in Vienna to explore the historic city center. It is surrounded by the Ringstrasse, which is a circular boulevard that serves as a ring road around The Old Town and can easily be visited on foot. Just bring comfy shoes.
Applaud the beautiful architecture of the City Hall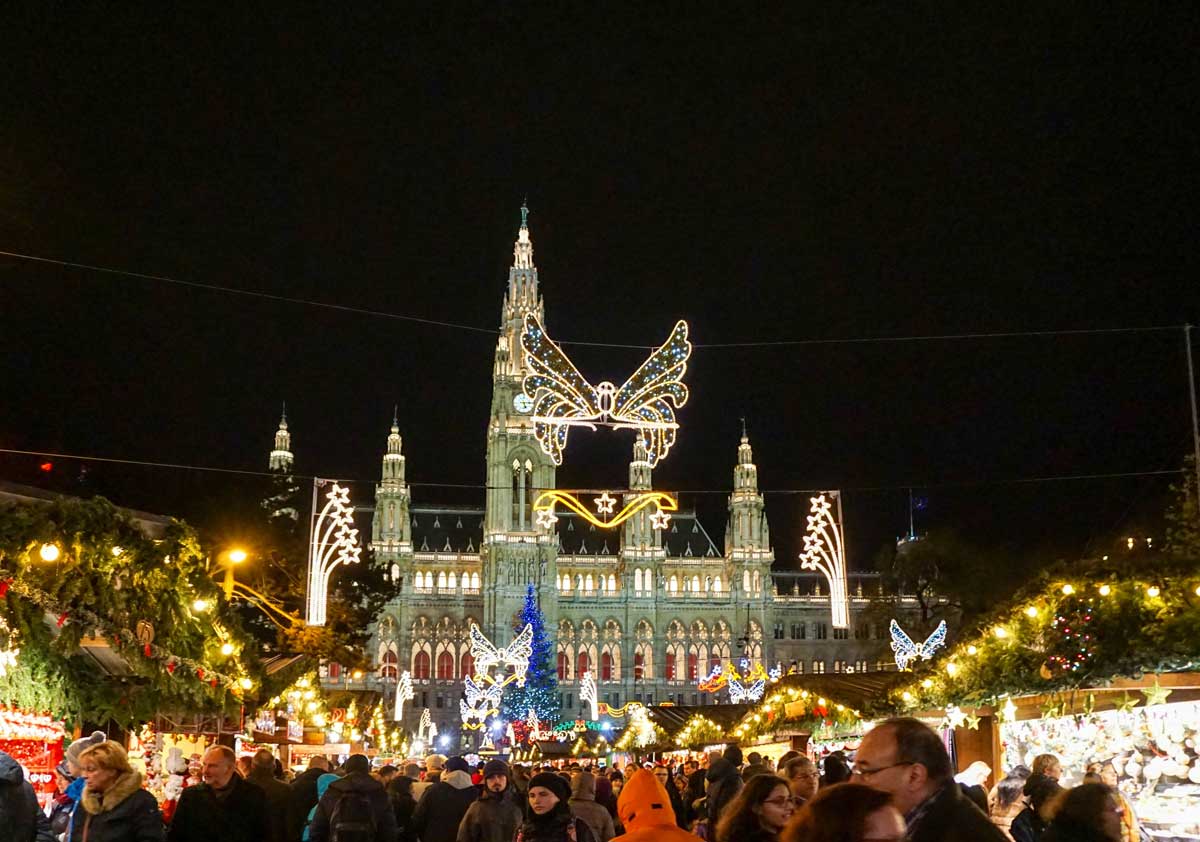 Vienna City Hall (Rathaus) is a stunning Neo-Gothic building constructed from 1872 to 1883. It features five towers including the central tower which has a height of 98 m.
During the advent season, both the square in front of the City Hall (called Rathausplatz) as well as the park (Rathauspark) are occupied by a big Christmas market with a lot of stands offering decorations, mulled wine, and sweets.
Admire the roses in Volksgarten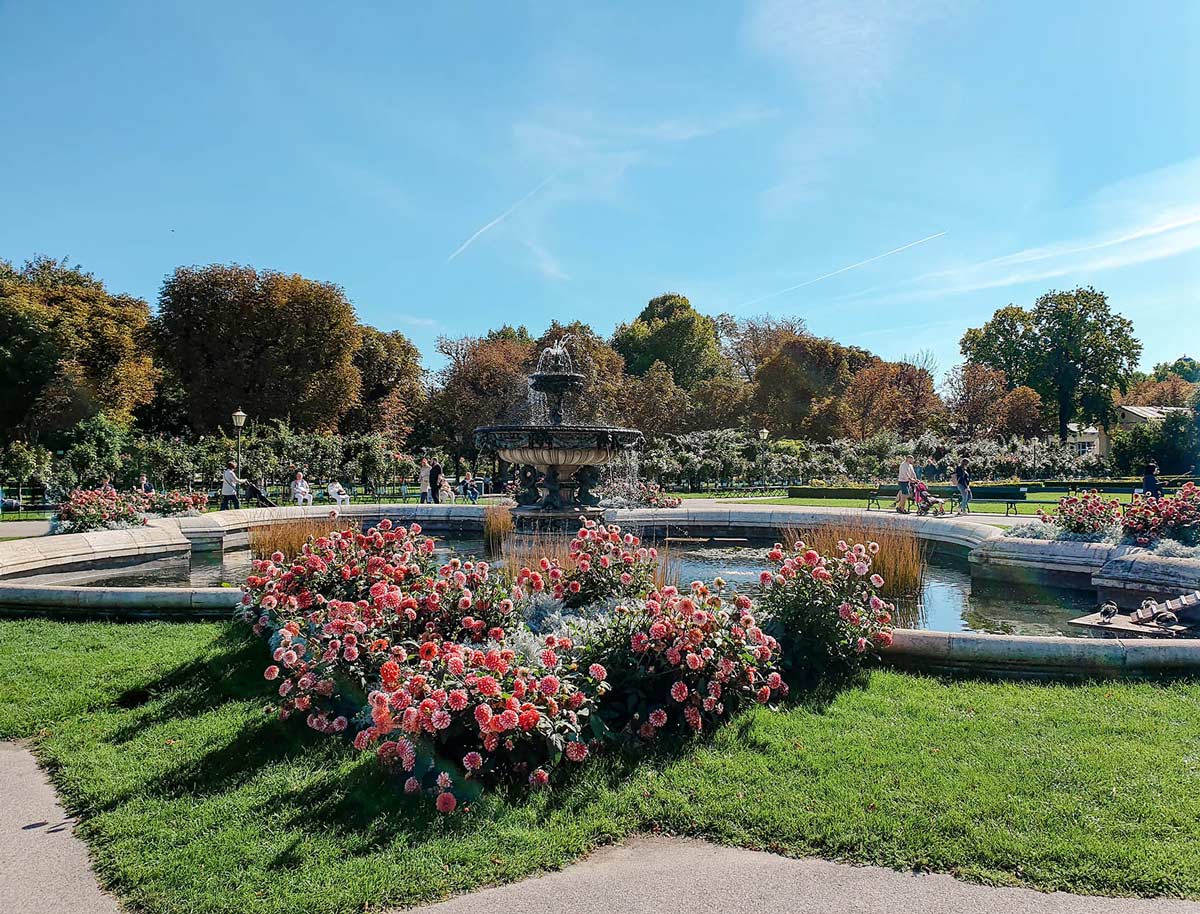 Volksgarten is a public park built over the city fortifications destroyed by Napoleon and his troops in 1809. Originally intended to be a private garden for the archdukes, the area was later turned into the first public park of Vienna, at the proposal of the court garden administration.
The park is famous for its beautiful rose garden that has over 3 000 rose bushes.
Inside Volksgarten, visitors will also find a memorial dedicated to Franz Joseph's beloved wife, Empress Elizabeth (nicknamed Sisi).
At one end of the memorial sits a statue of the Empress made of white marble, hands resting in her lap. The figure is marked by a simple inscription that reads: "Elisabeth. Kaiserin von Österreich", which translates to "Elizabeth. Empress of Austria".
Visit Hofburg Imperial Palace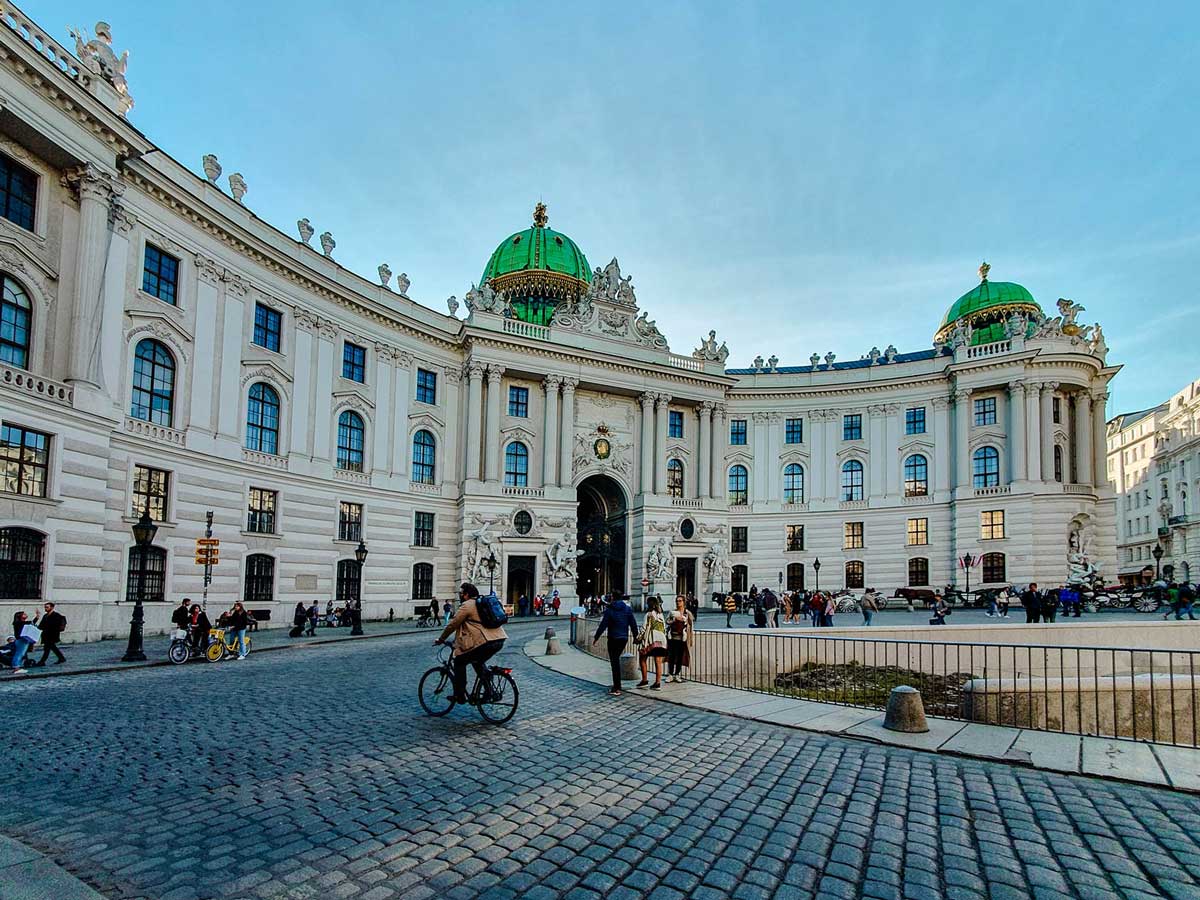 Hofburg is the former main imperial palace of the Habsburgs. Located in the city center, it was built in the 13th century and was expanded several times afterward by several Austrian rulers.
Hofburg also served as the imperial winter residence, while Schonbrunn Palace was the summer residence. Today, the spectacular palace is used as the official seat of the president of Austria.
Visitors are able to explore 3 imperial highlights when visiting this site:
the Imperial Apartments which were the apartments of Emperor Franz Joseph and his wife, Elisabeth (Sisi)
the Sisi Museum which has objects belonging to the late Empress
the Silver Collection featuring items required for the court household as well as its organization.
Tickets can be purchased online from here.
Enjoy a walk on Graben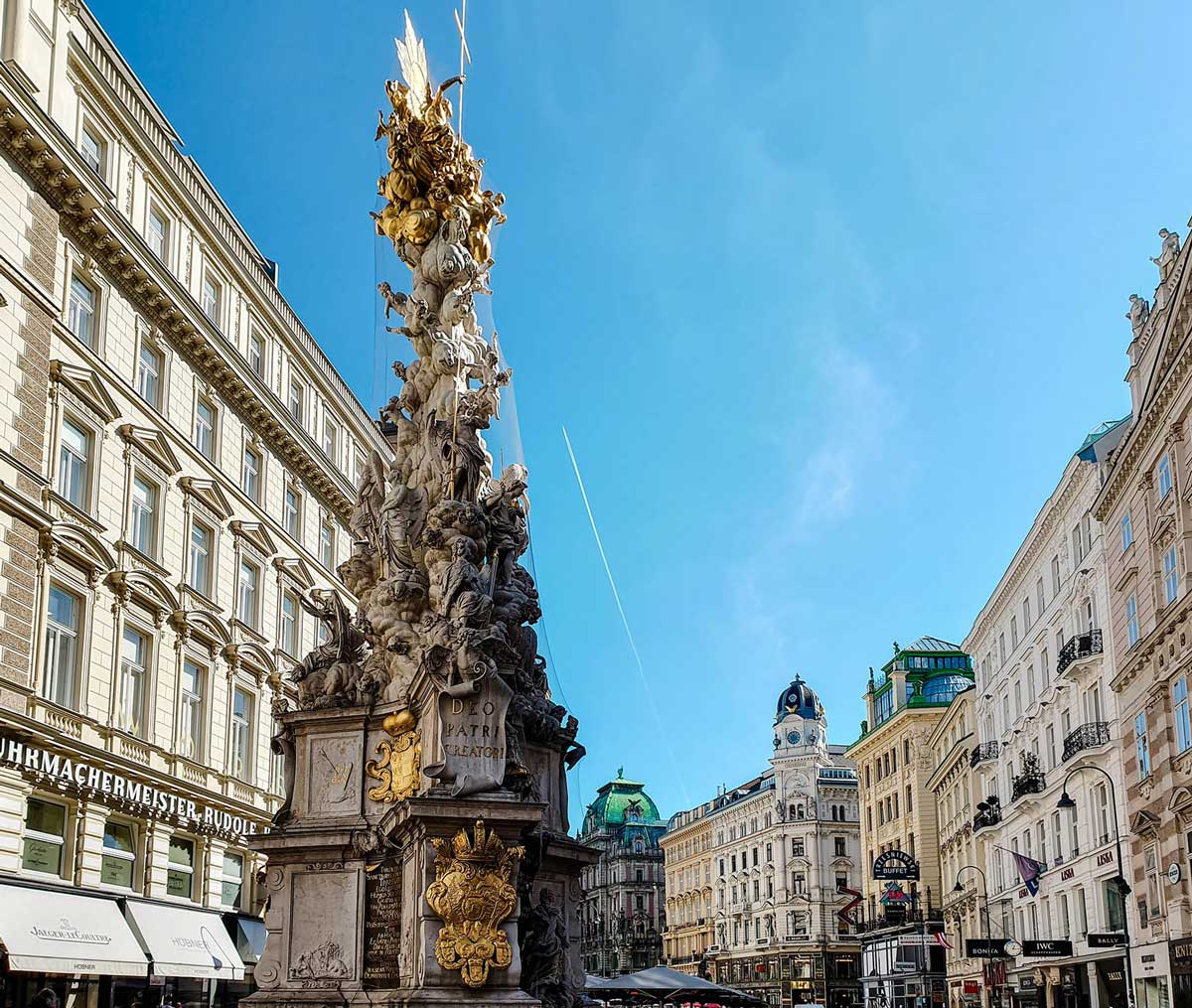 The Graben is a famous street in Vienna's city center, lined with shops and restaurants. It begins at Stock-im-Eisen-Platz next to the Palais Equitable and ends at the junction of Kohlmarkt and Tuchlauben.
Eat at a Wurstelstand
You can find small stands selling sausages scattered across the whole city center. There are several options to choose from, but I'd recommend you try Kasekrainer, which is a large, thick sausage filled with small chunks of cheese (Kaze in German, hence the name). It is usually served with different types of mustard and a small slice of bread.
Visit St. Stephen's Cathedral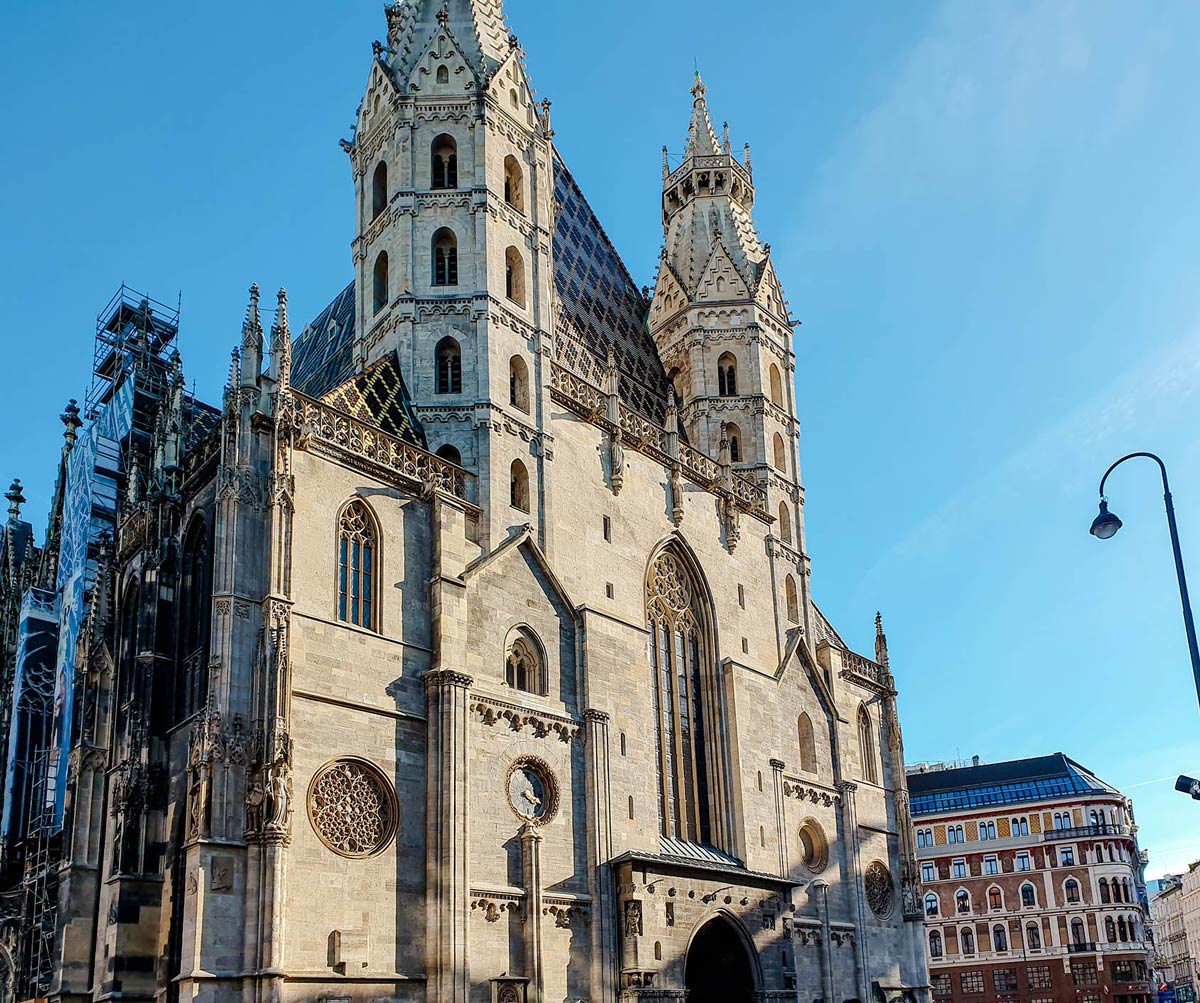 St. Stephen's Cathedral (Stephansdom) is one of Vienna's most recognizable symbols. It is located in Stephansplatz square. You can get separate tickets to visit the cathedral, the catacombs, south, and north tower, or buy a combo ticket for all.
Enjoy a low sugar ice cream at a 2D gelato shop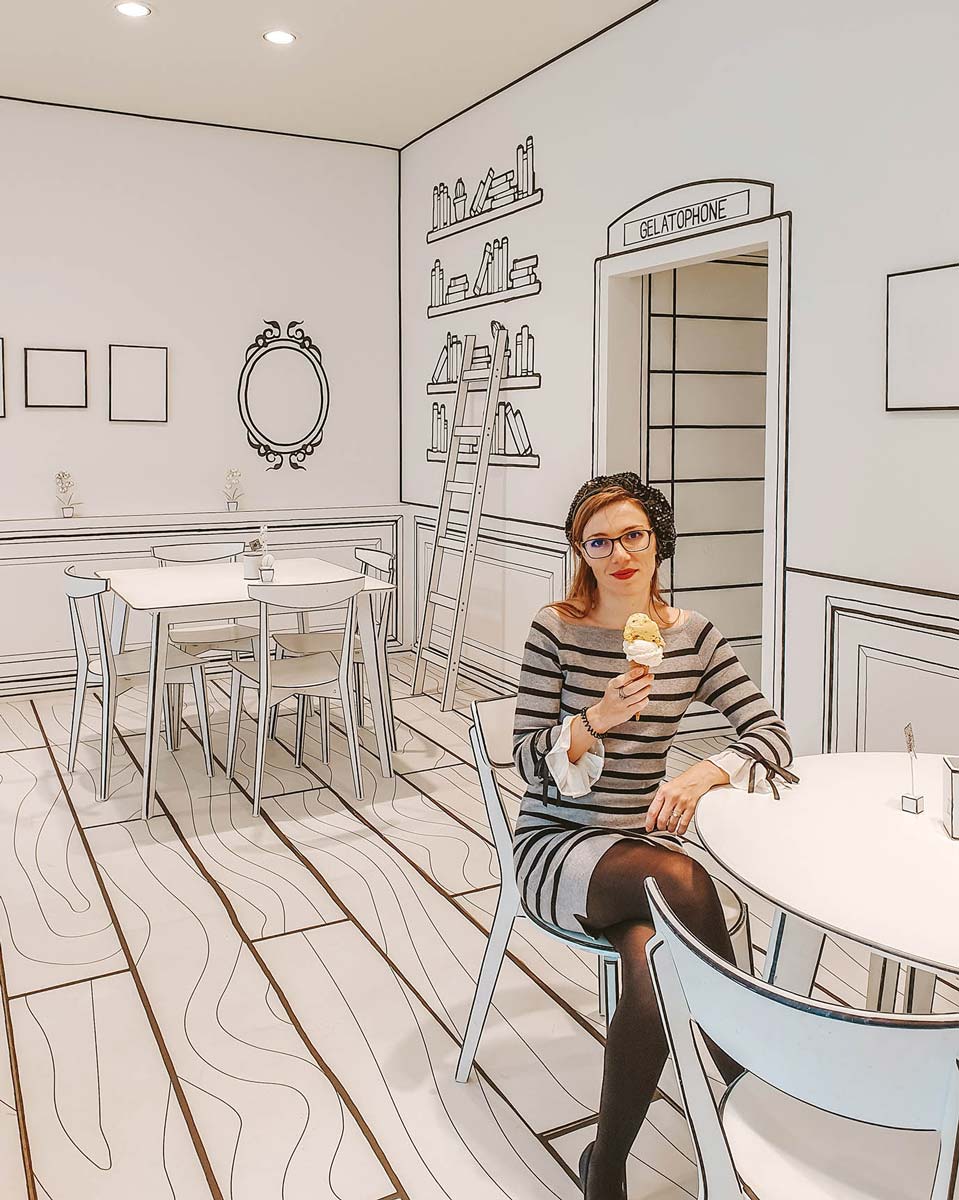 Helliundleo will make you grab your camera as soon as you spot it because of its 2D design. You can find this trendy ice cream shop at Rotenturmstraße 16-18, 1010 Wien. Their products are low sugar which is an added bonus.
Have coffee in an icecream cone
It's time for a coffee break and Fenster Cafe has the best coffee-to-go in Vienna! Their specialty, called Fensterccino is served in an ice cream cone coated with chocolate. But be aware that there are no seats available (just take-away) and they only accept cards.
4 days in Vienna itinerary: Day 2
On the 2nd day of your trip, you will combine history with having fun. The sites listed below are grouped together in an order that will make visiting them easier.
Visit Belvedere Palace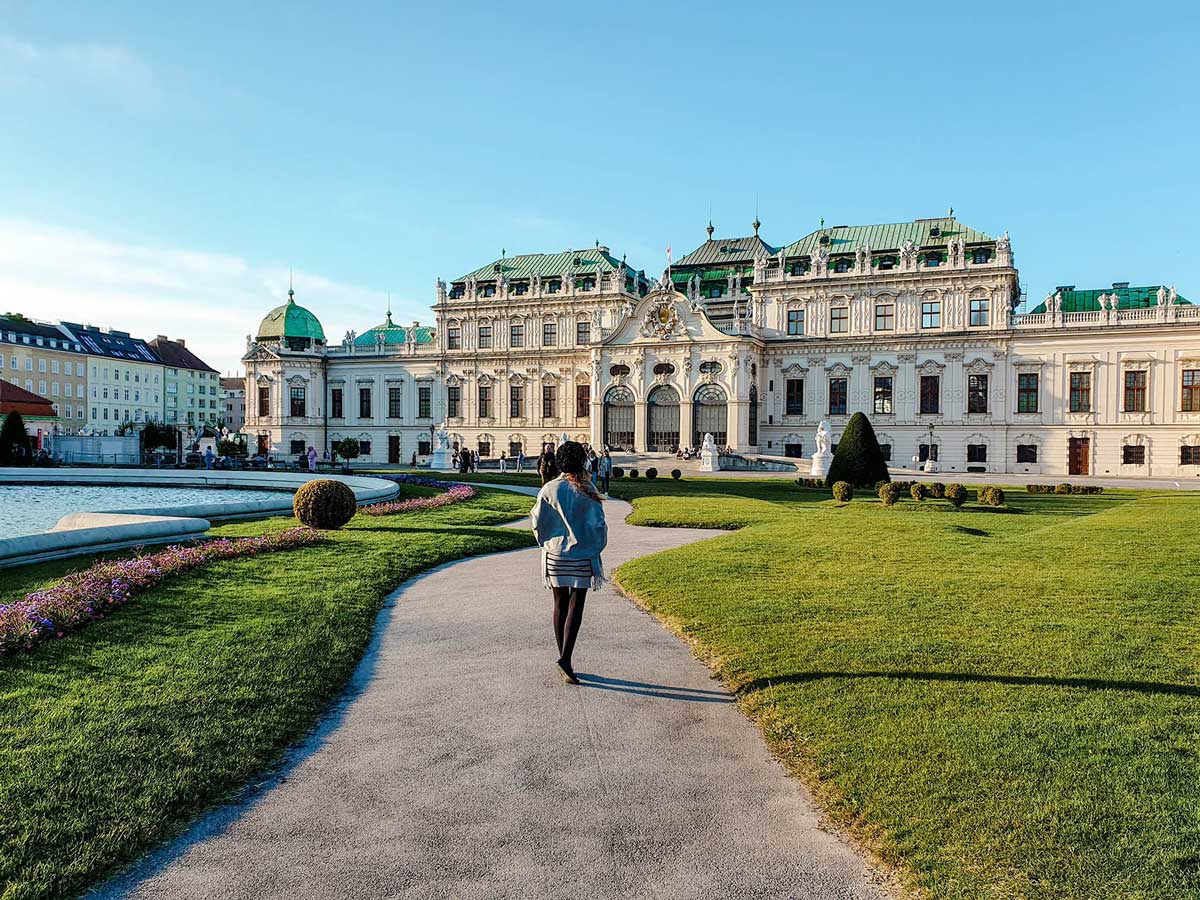 The Belvedere is a historic building complex consisting of two Baroque palaces (the Upper Belvedere and the Lower Belvedere), the Orangery, and the Palace Stables.
The two palaces were built in the 18th century by the famous baroque architect Johann Lucas von Hildebrandt to be used as the summer residence of Prince Eugene of Savoy. Nowadays they are museums.
The garden is free to visit. As for the museum itself, you can get your tickets from the official website for cheaper than on-site.
Visit Karlskirche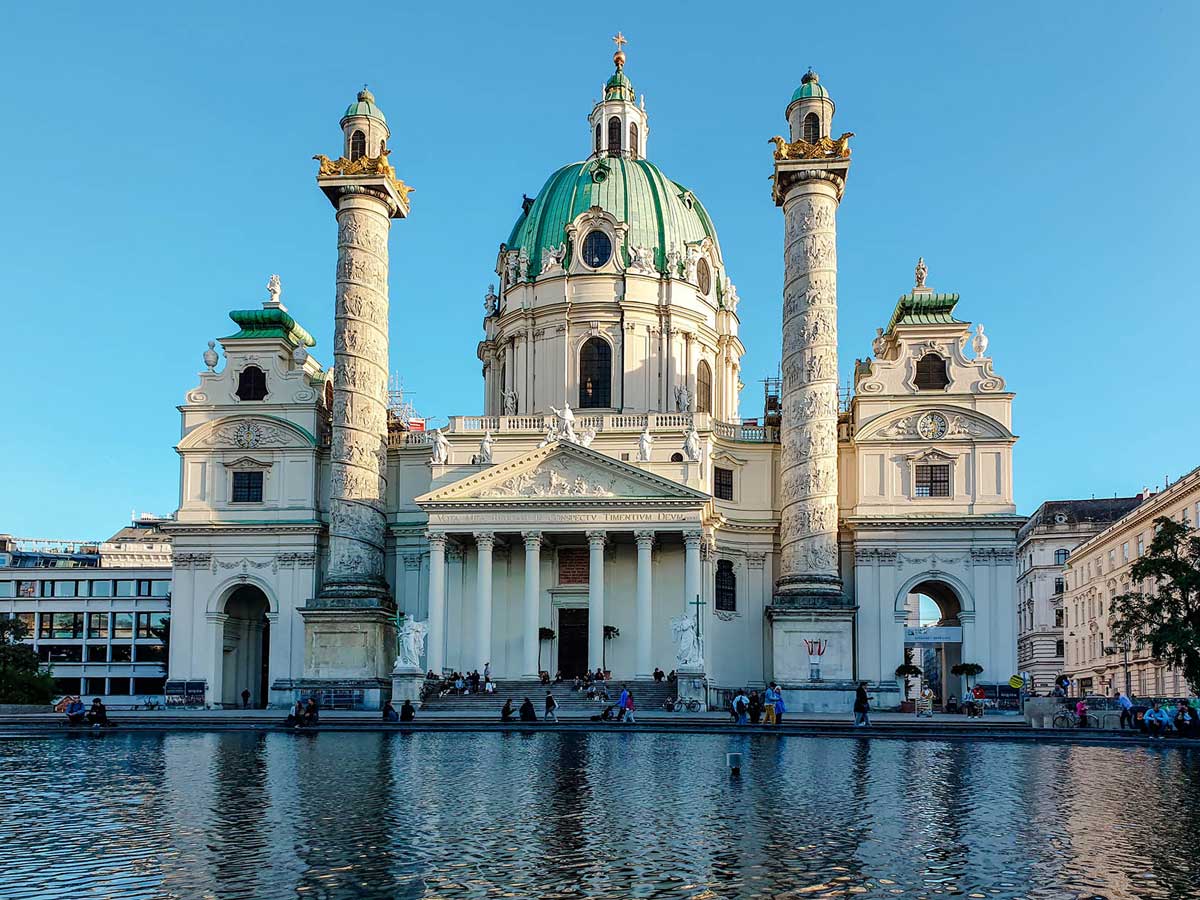 Karlskirche (Rektoratskirche St. Karl Borromaus) is an outstanding Baroque church located on the south side of Karlsplatz, Vienna. A ticket is required to enter outside of church services.
During your tour of the church, you can climb to a viewpoint between the towers and see the plaza from there.
Take a picture of the Hundertwasserhaus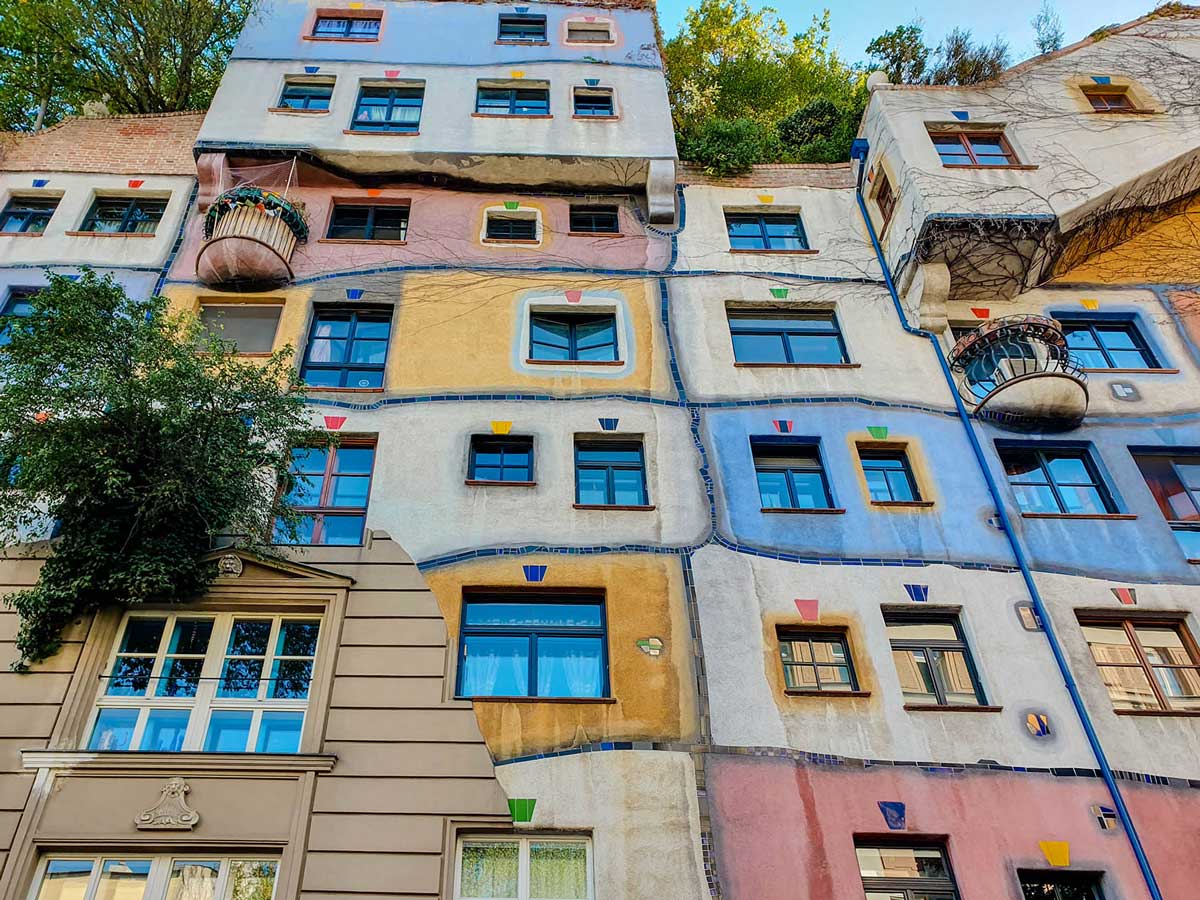 Hundertwasserhaus is an apartment building in Vienna built after the idea and concept of Austrian artist Friedensreich Hundertwasser. This colorful house is very popular with tourists and is one of the main attractions in Vienna.
The Hundertwasserhaus can only be viewed from the outside.
Have some fun at Prater park
If you are into amusement parks, then you'd probably want to visit Prater as well.
Prater is a large public park in Leopoldstadt where you can find The Wurstelprater, which is an amusement park that is often simply called "Prater". Its best-known attraction is the Wiener Riesenrad, a giant Ferris wheel.
4 days in Vienna itinerary: Day 3
You will spend most of this day at Schonbrunn Palace, so make sure you bring comfy shoes as you'll be doing a lot of walking.
Visit impressive Schonbrunn
Schonbrunn Palace (German: Schloss Schönbrunn) was the main summer residence of the Habsburg family and it is located in Hietzing, Vienna. One of the most visited tourist attractions in Austria, the 1441-room Rococo palace is of utmost importance from an architectural, cultural, and historic point of view.
Its history begins with Holy Roman Emperor Maximilian II who purchased a large floodplain of the Wien river beneath a hill where he built a mansion called Katterburg.
A century later, Eleonora Gonzaga received the property to be used as her residence, after the death of her husband, Ferdinand II. She added a palace to the Katterburg mansion and in 1642 came the first mention of the name "Schonbrunn" (meaning "beautiful spring") on an invoice.
The Schonbrunn Palace in its present form was built and remodeled during the reign of empress Maria Theresa who received the estate as a wedding gift.
Franz Joseph (, the longest-reigning emperor of Austria, was born and also died at Schonbrunn. Following the downfall of the Habsburg monarchy, the palace became the property of the newly founded Austrian Republic and was preserved as a museum to date.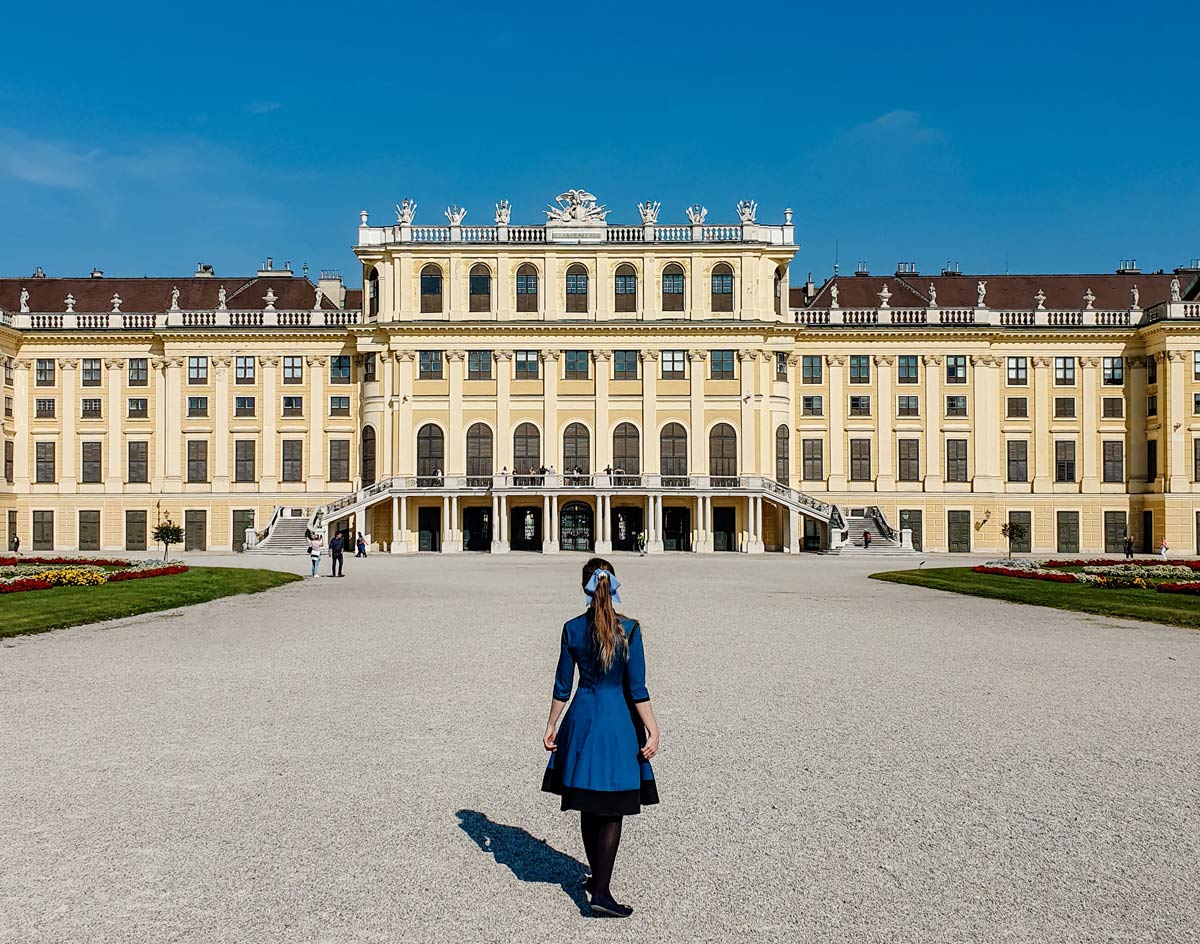 Schonbrunn Palace is open every day and there are 2 main tours to choose from when visiting:
the Imperial Tour: it will allow you to see the state rooms and private apartments of the imperial couple, Franz Joseph and Empress Elizabeth, better known as Sisi
the Grand Tour: it is a continuation of the Imperial tour during which you will also see the 18th-century interiors from the time of Maria Theresia
The palace also hosts the Children's museum which gives you a glimpse into the life of imperial children, from how did they dress to how they greeted the Emperor and Empress.
The vast gardens of the estate are free, but several attractions located on the premises require a ticket. These are:
Privy Garden
Orangery Garden
Maze: It is a great place to feel like a kid again and also one of the highlights of the baroque gardens
Gloriette: situated on a hill, the Gloriette has been used as a viewing point since the beginning of the 19th century. Today visitors can still climb the steps to its roof to enjoy the beautiful view over Schonbrunn Palace and the city behind it
Schonbrunn Zoo
Desert Experience
Palm House: Featuring plants from around the world, it is the most prominent of the four greenhouses in Schonbrunn Palace Park and it consists of a 28-m high central pavilion and two lateral pavilions which are 3m lower.
You can also opt for combo tickets that include several of these attractions.
For those interested in the life of Empress Elisabeth of Austria, nicknamed Sisi or Sissi, you can opt for a dedicated tour. The Sisi Ticket Deluxe includes 4 imperial experiences at the price of 3: Schonbrunn Palace, the Sisi Museum in the Vienna Hofburg, the Vienna Furniture Museum, and Schloss Hof Estate. However, be aware that Schloss Hof is a palace located in Marchfeld, Austria near the border of Slovakia!
We chose to do the Grand Tour which is longer and walks you through 40 rooms of the palace. Audioguide is included in the price, but sadly you are not allowed to take pictures inside the palace. The tour took us about an hour.
We also did the Maze, which was very fun and I highly recommend it to you as well. It consists of 3 hedge labyrinths that will bring the inner child in you out to play.
You should not leave the premises without a long walk through its huge park. And there's no exaggeration in saying that the gardens are very big. So bring the comfiest shoes you own!
End your day with a horse-drawn carriage ride
The two-horse-drawn carriages also known as Fiakers are part of Vienna just as much as St. Stephen's Cathedral and the Giant Ferris Wheel.
You can find fiaker stands in different areas of the city: Stephansplatz, Heldenplatz (occasionally Michaelerplatz), Albertinaplatz, Petersplatz, Burgtheater, and sometimes even in front of Schonbrunn Palace.
4 days in Vienna itinerary: Day 4 – Day trip to Hallstatt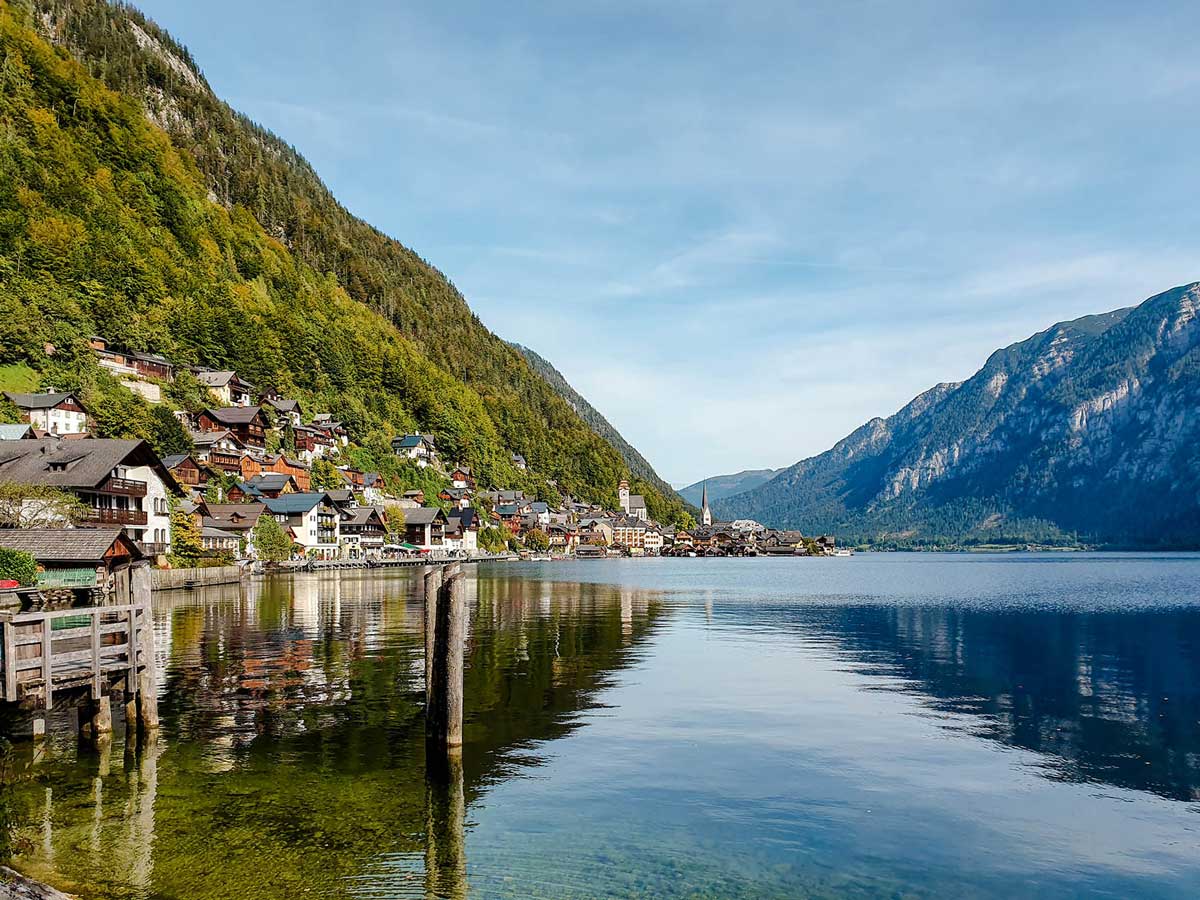 It's time to leave Vienna and take a day trip to stunning Hallstatt, a village on Lake Hallstatt's western shore in Austria's mountainous Salzkammergut region, which is famous for its salt production.
The tiny, picture-perfect village is a very popular touristic spot, so the best thing to do is to arrive very early to avoid crowds as much as possible. Visiting off-season is also a good idea.
I actually wrote a more in-depth blog post on how to visit Hallstatt from Vienna as a day trip, but you can also keep reading below for the short version of that.
How to arrive at Hallstatt from Vienna
You can arrive at Hallstatt by car, train, or tour, with the car being the most comfortable option. However having a car with you means that you need to find a parking spot and while there are 3 big parking lots in Hallstatt, the spots get occupied fast.
So make sure you get on the road as early in the morning as possible.
What can you do in Hallstatt?
Despite Hallstatt's small size, there are a few things to do here to keep you occupied during your visit. The most obvious of them is of course exploring the picturesque village and taking lots of photos.
During your stroll, make sure not to miss the following two photo spots marked Hallstättersee Schifffahrt and Aussichtspunkt Hallstatt (the classic postcard view) on Google Maps.
I also recommend you to see Hallstatt from above. For this, just climb to Hallstatt Skywalk (you can hike for about 1 hour, but it's way easier to take the lift there) where you'll be rewarded with amazing views of the village below together with the lake, and the surrounding mountains.
You do need to buy a ticket to visit though.
If you remember, I mentioned a few paragraphs above that Hallstatt is famous for its salt production. Well, you can visit here the oldest salt mine in the world. But do know that the salt mine tour and the round trip on the funicular will take about 2.5 hours, so if you are short on time, you might want to skip this.
To end the day, you can rent a paddleboat and admire the picturesque village from the water.
---
I hope you found this 4 days in Vienna itinerary helpful. And for more travel guides you should check my Destinations page.
Happy travels~