Considering a trip to beautiful Santorini? Here's how to get from Athens (where you'll most likely land) to Santorini in the best way possible!
There are two different alternatives: whether you're looking for the cheapest option or the fastest, I've outlined them both for you. So read on for all the info you need to make your journey as smooth as possible!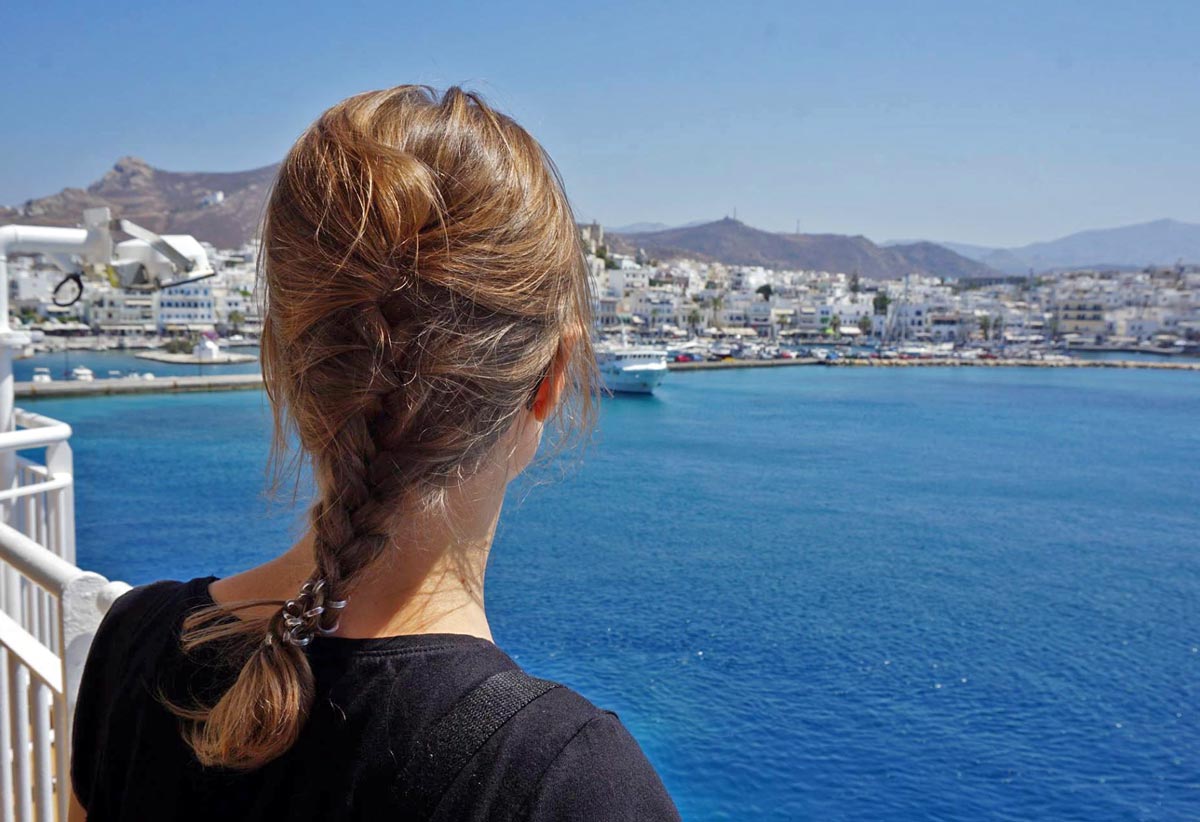 Disclosure: Some of the links in this post are affiliate links. If you click on them and make a purchase, I may receive a commission at no extra cost to you. Check my full disclaimer here.
Flying into Santorini
Flying to Santorini is the fastest option even if you take into account the time you'll be spending at the airport. Travel time is around 45-50 minutes and during the summer there's usually an increase in the number of flights connecting the island with the capital.
Regarding the costs, they can vary depending on the airline. Aim to fly with low-cost carriers like Ryanair to score better deals instead of going for the national Greek airline, Aegean. Click here to search for cheap flights to Santorini.
How to get to and from Santorini airport
There are 3 ways to get to and from Santorini airport: car, public bus (to Fira – you can buy tickets from the driver directly), and taxi. If you plan to explore the island, but you only have a few days to do so, I'd suggest renting a car. This way you'll be able to cover more ground in less time.
While the island is relatively small, you should know that all public bus routes start and stop in Fira (Santorini's capital). So if you were to travel from Oia to Perissa for example, you will need to take a bus to Fira and then continue your journey on another bus to your destination.
This translates into lost time, especially since some routes are not very frequent.
Taking the ferry
There are regular ferries (both fast and regular) connecting Piraeus Port in Athens with Santorini Island. To get to Piraeus from Eleftherios Venizelos International Airport you can either use Metro line 1 or the X96 express bus, which runs on a 24h basis.
How far is Athens from Santorini by ferry?
The travel time with the fast ferries (SeaJets) is between 4h 45m and 4h 50m, while most of the slower, regular ferries (Blue Star Ferries, Minoan Lines) take around 8 hours to reach the island, with some taking even longer (Aegeon Pelagos – subsidiary of Anek Lines, Zante Ferries).
You can also check their schedules and book your tickets on an aggregator like FerryHopper.com.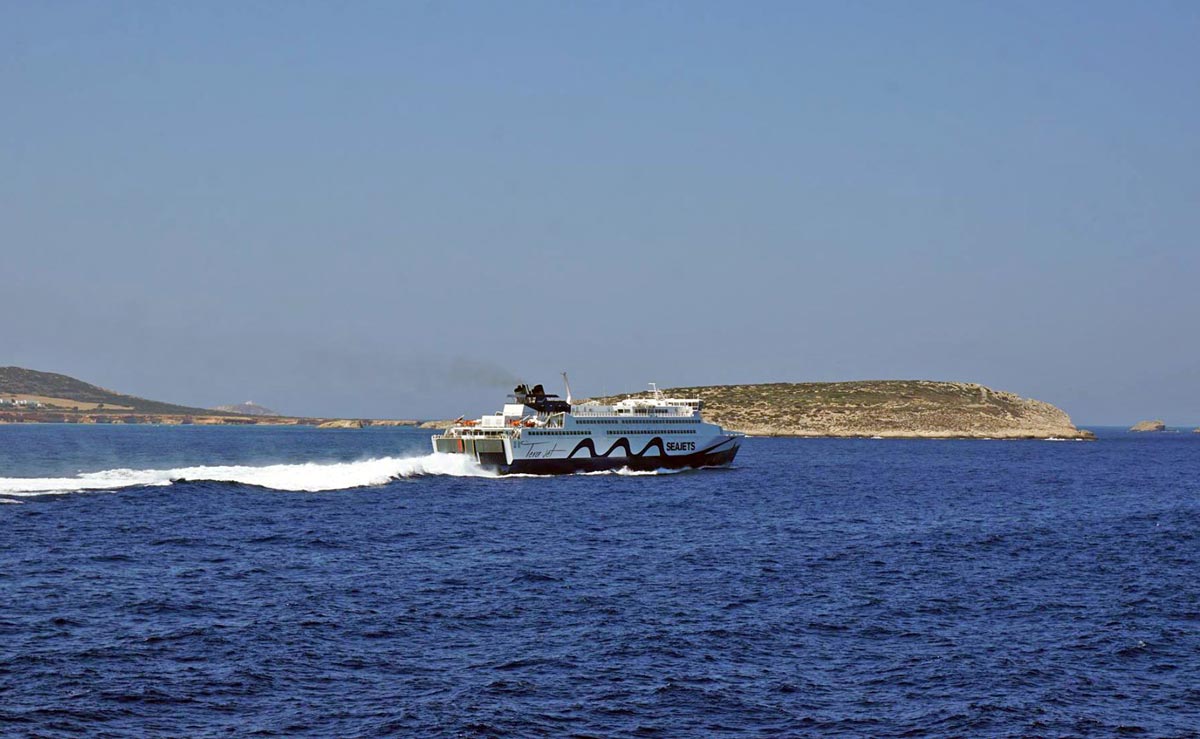 Between the two types of ferries, I recommend the latter, even if the travel time is longer. This is because the ride is usually way smoother. So if you are seasick or simply don't like bumpy rides, then you should definitely avoid the fast ferries.
Besides, the slower ferries are also less prone to get canceled in case of bad weather and they have open decks with seating from where you can enjoy the beautiful sea views and the Santorini island itself as you approach it.
Important: Regardless of which ferry type to choose, if you buy your ticket online, then you need to pass by either the main ticket booth inside the port or the smaller ones near your gate in order to collect your printed tickets. You'll need to present your ID card or your passport.
How to get to and from Santorini port
Ferries arrive and depart from Athinios Ferry Port, which is about 20 minutes away by car from Fira, Santorini's capital town. You can also take the local bus or book a one-way transfer to/from the port.
Sometimes you can also find taxis waiting inside the port for people to disembark the ferries, but these are less reliable than the public bus.
My experience taking the ferry to Santorini
We took a regular Blue Star ferry to Santorini and to be honest I loved every minute with it, even though the journey was long. I spent most of the time on the outer decks admiring the Mediterranean Sea and taking pictures. The ferries also have a few restaurants and bars where you can grab something to eat or drink. The whole experience felt like a short, low-cost cruise.
We booked airplane-type seats which are a bit larger and more comfortable than the cheaper options. These are also reserved seats, while the latter get occupied on a first come first served basis.
I also found the whole process of getting on and off the ferry fascinating. It's a strange organized mess that's actually delightful to watch. You can watch below my reel on what a ferry embarking and disembarking looks like in Greece.
But I got to be honest, I'd probably hate being a driver as it looks really stressful to get a car on the ferries. I actually saw people getting out of their cars through the passenger seat, because they had to park just inches away from another car.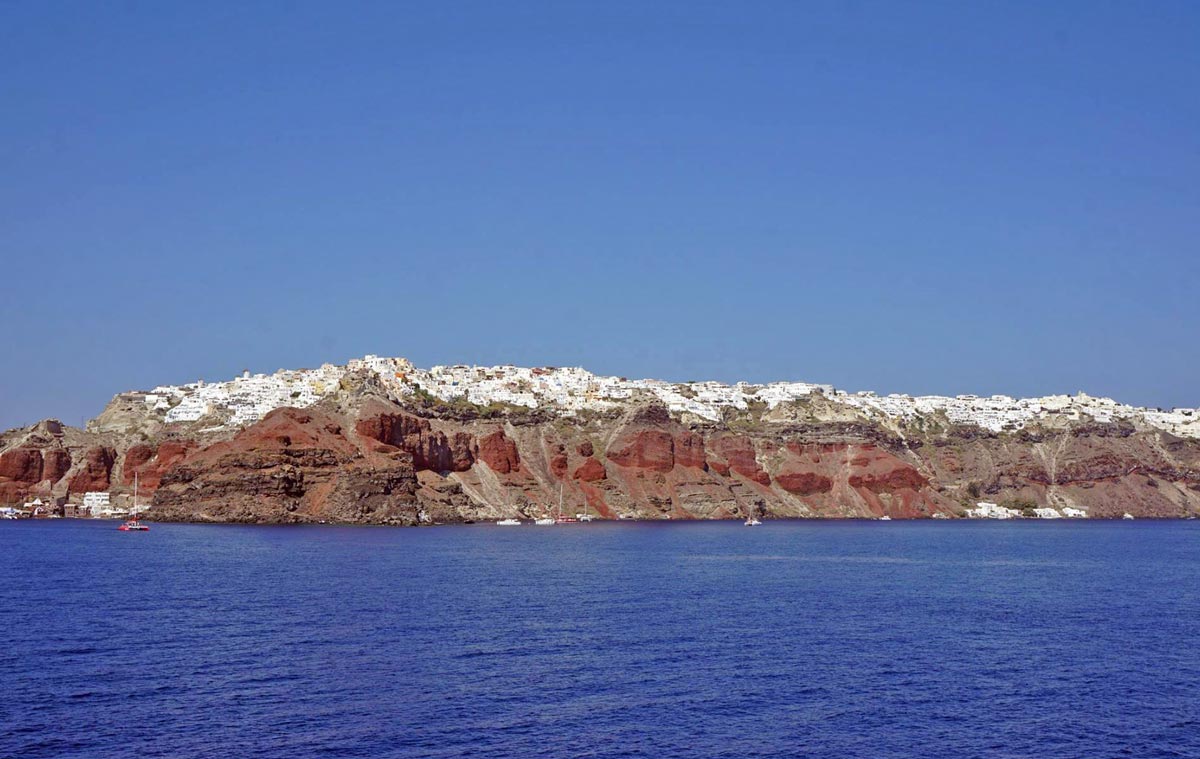 Is it better to fly or take the ferry from Athens to Santorini?
While traveling by ferry takes longer than flying, I really recommend you do it at least once. It's really part of the Greek island experience. Besides, ferries are usually less expensive than planes, so you'll also save some money.
However, if you don't have a lot of time to spend on the island and the budget allows it, then it's definitely better to fly. That's because most of the ferries run during the day, so you'll lose a whole day of exploring.
If the flights are too expensive, you can still save up on the time spent on the island by taking a night ferry.
How to get from Athens to Santorini
If you're looking for the best way to get from Athens to Santorini, I hope you found this article helpful. And no matter which method of transportation you choose, I wish you a safe and happy journey!
Happy travels~
---
YOU MIGHT ALSO LIKE