Are you trying to decide between Bali vs Maldives for your next vacation? While it might seem like these destinations resemble each other in many aspects, in reality, they are actually pretty different.
So read on for a comparison of the two that will help you choose where to travel next.
Bali vs Maldives: Which exotic destination to visit? (Quick answer)
If you dream of white sand beaches, incredible turquoise waters, and a quiet, relaxed holiday, then Maldives is the way to go, no questions asked. However, if you are looking for a budget-friendly destination where you can practice water and outdoor activities, then Bali is better suited.
In regard to my personal experience, while I desired to visit Bali for quite some time before I finally went, my trip to Maldives happened pretty spontaneously.
However between the two, I definitely loved the Maldives islands more, so if you have to choose one, I recommend going with the Maldives.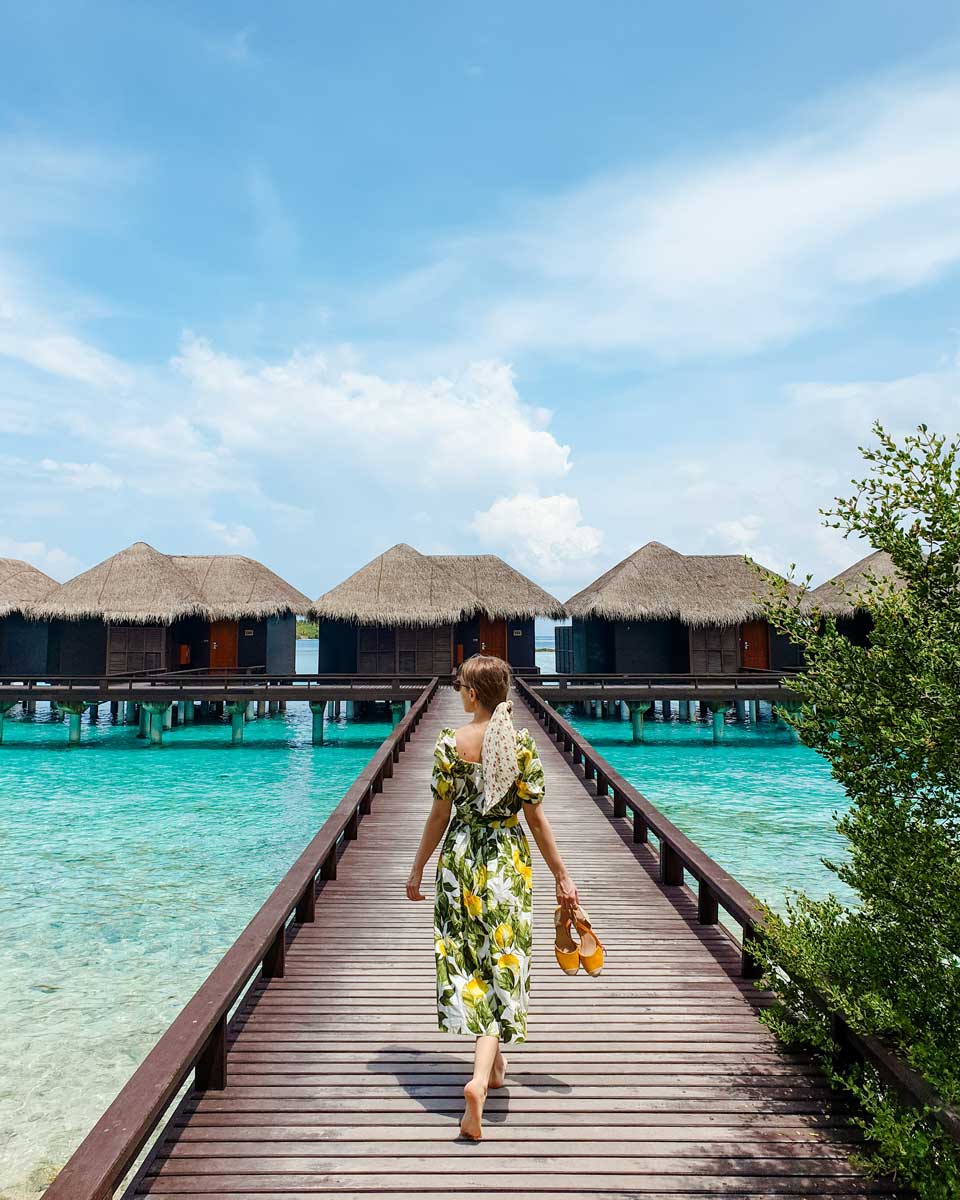 Maldives vs Bali: Costs
The Maldives is famous for being a pretty expensive destination and if you want the resort experience, you'll probably have to shell out quite a bit for it (even though there are still some ways to save money in The Maldives).
At the opposite pole sits Bali, which is widely regarded as a very affordable destination, where even luxury accommodations are decently priced.
In our case, we paid 6745 USD/couple for 7 nights at Sheraton Maldives Full Moon Resort and Spa (over-water bungalow with pool + half board meal plan) and plane tickets – we went through an agency so I can't really separate the two.
But bear in mind that this was in March 2021 when prices were lower on the islands due to the pandemic.
In contrast, for 15 nights in Bali (August – September 2022) at 5-star hotels and private villas with pools, we paid around 2580 USD (I listed our accommodations in my "Where to stay in Bali" post if you want to check them out).
When we add the plane tickets (~2530 USD) which were only this expensive because we wanted to stop in Singapore for a few days first, we get a total of ~5110 USD/couple which is still quite a bit less than our shorter Maldives trip.
Now of course this is without a meal plan, but I didn't find food to be expensive in Bali anyway.
I would also mention that alcohol is pretty expensive in the Maldives and it's only found in resorts and a few floating bars. The reasons for this are both the geographical aspect of the country (tiny atolls spread across the Indian Ocean) as well as its religion (the Maldives is 100% Muslim).
Now while Indonesia is also a Muslim country, over 80% of Bali's population adheres to Balinese Hinduism, so the rules regarding alcohol are not as strict there: you can find alcohol pretty much everywhere.
Winner: Bali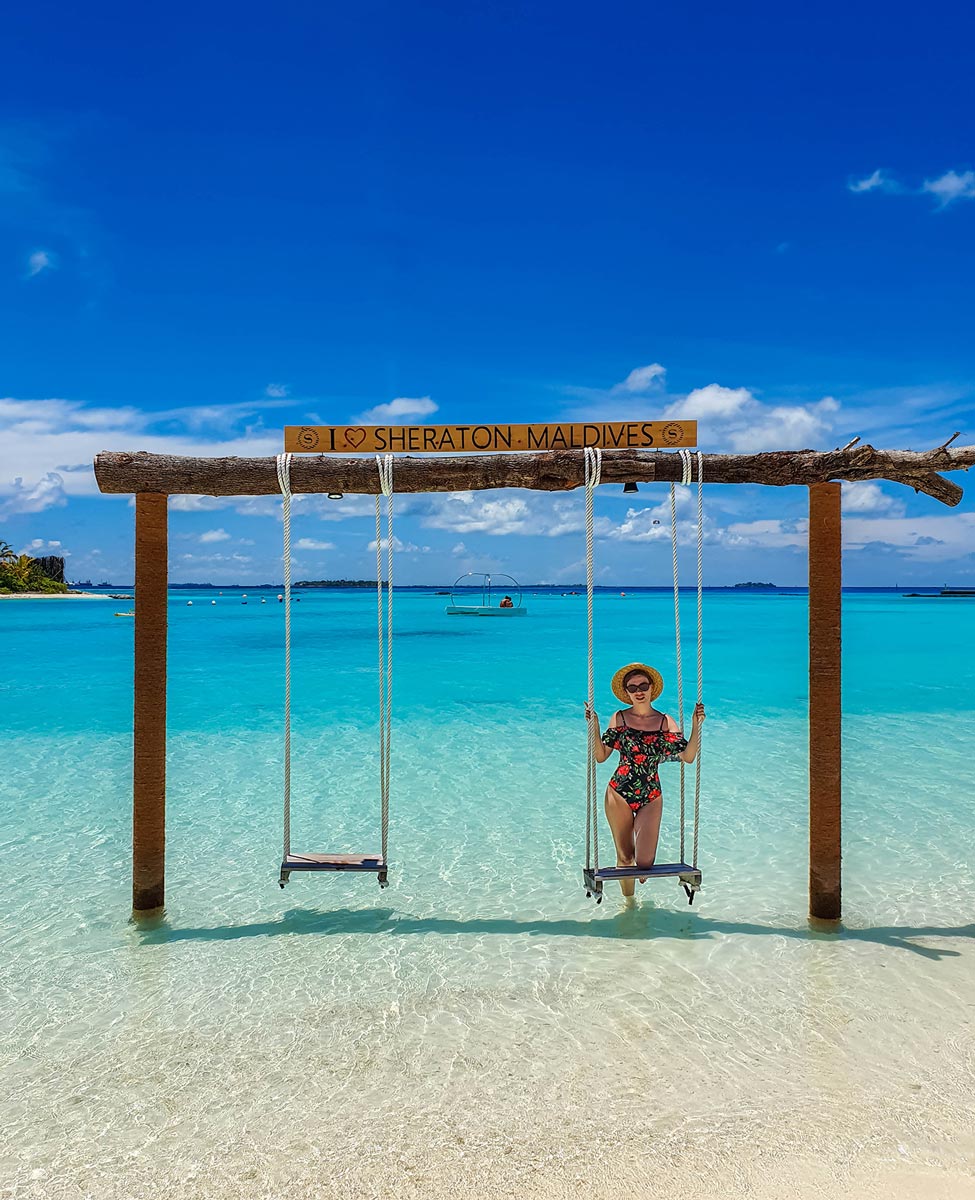 Bali vs Maldives: Ease of getting there
Both destinations have a well-serviced international airport (Male for Maldives and Denpasar for Bali). However, when it comes to getting to your hotel, things are a bit different.
In Bali, you simply hop on a taxi or book a transfer (by the way, if you are looking for a driver during your trip on the island, I recommend Darwin: he's super friendly and speaks English very well).
In Maldives, however, you might need to ride a boat, fly domestically or by seaplane, or even a combination of these. For this reason, I'd say Bali has a bit of an advantage.
Winner: Bali
Maldives or Bali: Accommodation options
While you can find a range of accommodations (from cheap to really expensive) in both Bali and Maldives, I do think that the latter caters more to luxury travelers and honeymoon-goers, while the former has more budget-friendly options.
I would also note that most low-cost accommodations in Maldives are found on the local islands where there are usually a few more rules than in resorts.
Winner: Tie
Which has the best beaches: Maldives or Bali?
Contrary to popular belief, Bali is not an exotic beach destination in the traditional way. This is because some of its beaches can be dangerous for leisure swimming, as the currents and waves are quite strong (on the other hand, it's among the best surf locations in the world).
And if you are dreaming of clear, turquoise water and white, secluded, sandy beaches, then you're in for a surprise: that's not what most of the beaches on Bali Island look like.
The island is volcanic so its sand usually ranges from different shades of gray to tan. Popular beaches can also be very crowded and many are victims of plastic pollution, unfortunately.
The Maldives, on the other hand, excels in the beach department: most atolls have unreal clear water in different shades of turquoise and sand is usually powdery white.
Also, despite being such a popular destination, the resorts strive to offer you a secluded exotic beach experience.
For example, during our time at Sheraton, I was always surprised when we went to eat to see how many people were actually on our tiny island because most of the time we felt like it was our own paradise.
Winner: Maldives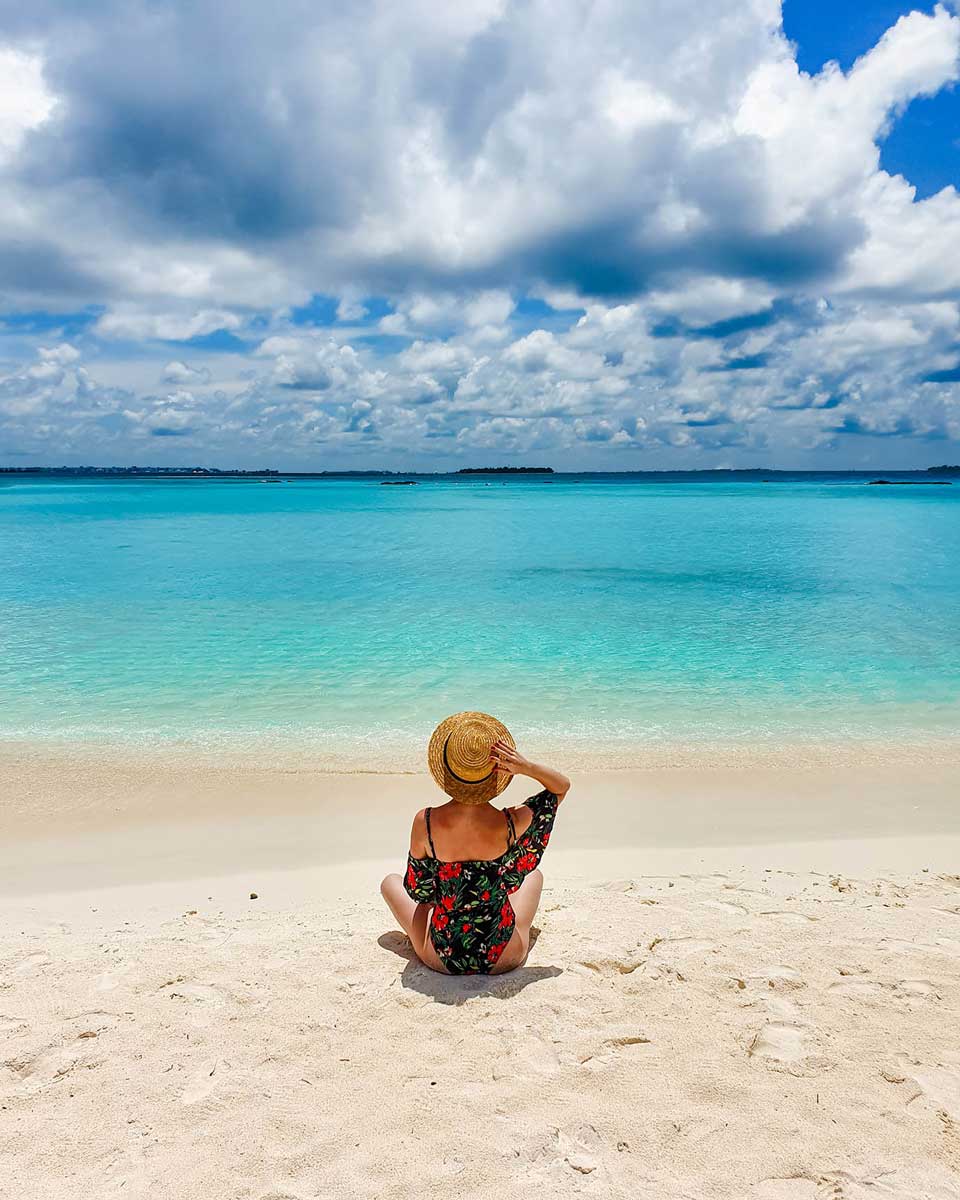 Bali or Maldives: Which is better for water activities?
Both Maldives and Bali offer a variety of water activities and sports from snorkeling and scuba to surfing. While the Maldives might have better underwater visibility, this is pretty much a tie.
Winner: Tie
Bali or Maldives: Outdoor activities
The Maldives is a tropical paradise made up of numerous small, low-lying islands surrounded by crystal-clear waters. While the country is renowned for its stunning beaches and water activities like snorkeling and diving, there are limited options for other types of activities.
Bali, on the other hand, is a destination that offers a diverse range of experiences for travelers. From lush jungles to stunning waterfalls and even active volcanoes, Bali is a nature lover's dream.
Winner: Bali
Bali vs Maldives for honeymoon: Which is better?
When we went to Bali, we actually asked a local if many newlyweds choose the island for their honeymoon (since we were often asked if we are there for ours) and if it was a good honeymoon destination.
He replied that while there are many people who book Bali for their honeymoon, he doesn't think it's a good destination for this type of trip, because the island become pretty much overcrowded in recent years with tourists.
So it's hard to find there the relaxation and romantic secludedness that most newlyweds search for.
The Maldives on the other hand is a famous honeymoon destination and many hotels have specialized in delivering a romantic getaway experience to newly married couples.
Winner: Maldives
Bali or Maldives: Culture
Unless you're visiting or staying on the local islands during your trip to Maldives, you won't have the chance to observe and interact with the locals a lot, much less learn about their culture.
Bali (also known as the Island of Gods) on the other hand is well known for its unique culture, which the Balinese are more than happy to share with you.
Winner: Bali
Maldives vs Bali: Romantic exotic experience
I already mentioned this, but most hotels in the Maldives specialized in delivering a paradisiac and romantic holiday to their guests.
In contrast, Bali is more crowded and hectic and simply can't deliver that exotic secluded experience that many of us long for.
Winner: Maldives
Is there nightlife in Bali vs Maldives?
There's little to almost no nightlife in Maldives, so if that's an important criteria for you, then you're better off picking Bali as your destination.
The island boasts a vibrant and diverse nightlife scene having many beach clubs, live music venues and night markets. In towns like Seminyak and Kuta, you can dance the night away to the tunes of both international and local DJs or enjoy some drinks on the beach, under the stars.
Also, one of the things to know before going to Bali is that it's over 80% Hindu, so alcohol can be easily found on the island and it's way less expensive than in Maldives. But be careful with what drink you order, especially when it involves locally made spirits like arak!
There were several cases in the past where people got methanol poisoning, which often can be deadly. So my advice is to stick to wine, beer or sealed premix drinks when you're unsure of the provenience of the spirits.
Winner: Bali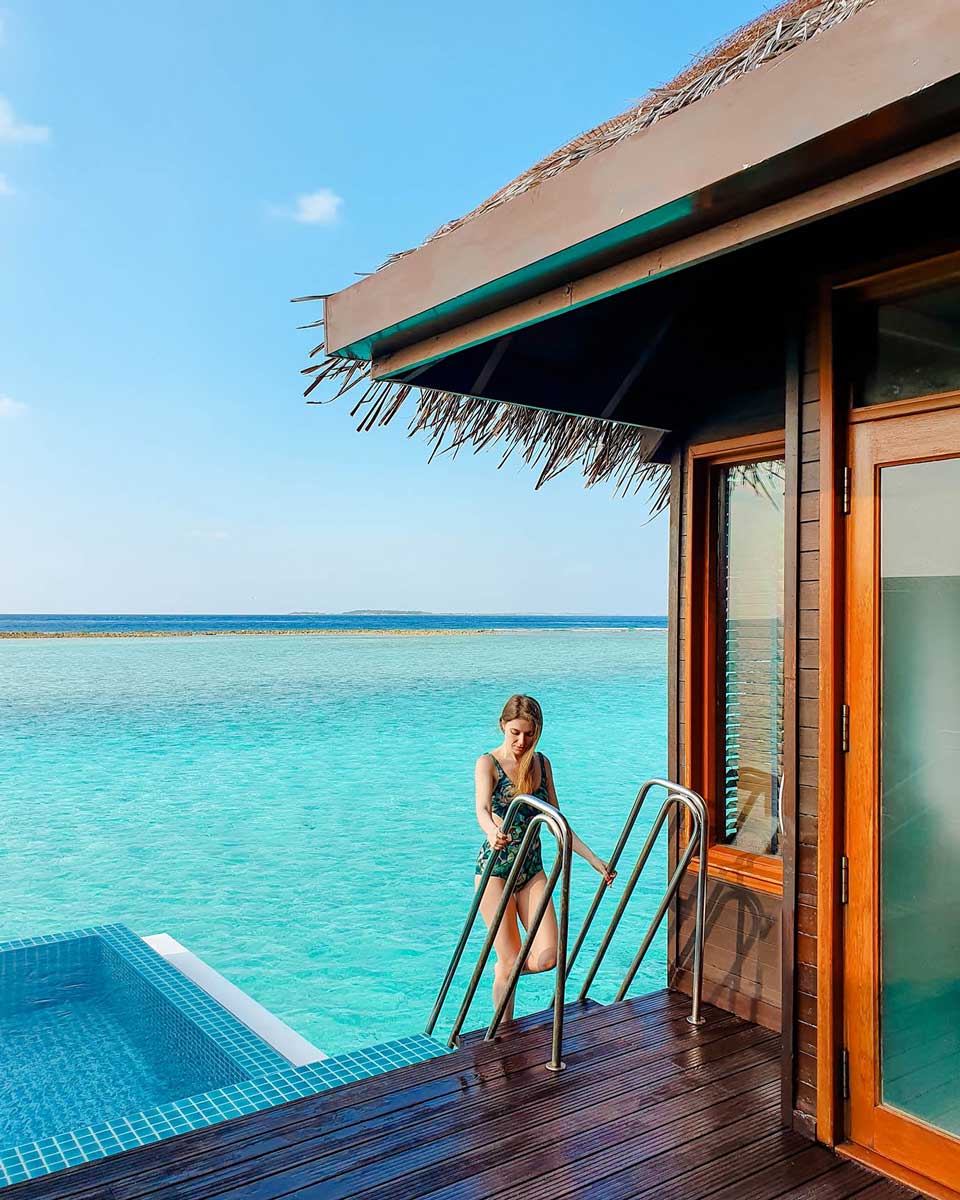 Safety in Maldives vs Bali
Both Maldives and Bali are fairly safe, however, there are some things that it's good to be aware of before visiting.
Crime
Maldives has a pretty low crime rate and if you are staying in a resort (which usually has its own atoll) the chances for something bad to happen are pretty small (but that doesn't mean you shouldn't be careful).
In Bali, petty crime (pick-pocketing, theft, scams) is more likely to happen than in Maldives. So be aware of your surroundings, especially in crowded places and keep an eye on your valuables at all times. A common theft is to have your bag or phone snatched away by someone on a scooter.
Violent crimes, however, are not happening very often.
The ocean
Most atolls in the Maldives are surrounded by shallow waters, making swimming pretty safe even for those not too skilled, but do be careful during the high tide.
As far as marine life goes, there are a few dangerous fish and animals that you might encounter, some more often than others. While it's a good idea to be informed, you don't have to worry a lot about them. Just keep your distance or get as far as you can if you happen to see any of them.
In all honestly, I found Maldives' underwater to be less 'threatening' than in other locations and I'm a pretty paranoid person (for example I was very glad that box jellyfish are not a common sighting there). In the lagoon of our hotel, I only saw a tigerfish and a few small black-tipped sharks.
During my two snorkeling trips, however, I also saw big stingrays, a moray eel (way below on the ocean bed), many surgeon fish, a few more black-tipped sharks, a big Titan tigerfish and our guide also pointed out a white-tipped shark which I totally missed.
Out of them, I was probably most concerned about the tigerfish since they can be pretty territorial at times and they have a strong bite. However, the one in the lagoon pretty much ignored me, despite my suspicions that it sensed when I wanted to enter the water and came near my bungalow to scare me away.
In Bali on the other hand you should be more careful when and where you are swimming, as sometimes currents and waves can be pretty strong. Also, the island has its share of dangerous animals both inland and in the waters.
Now I wasn't looking for a beach holiday for my trip to Bali, but I decided to stick only by the pool when someone told me she saw sea snakes when on a snorkeling trip.
And I do know that while very venomous, the chances for one to bite you when minding your own business is pretty low, but I have a bit of a phobia towards snakes so I preferred to skip snorkeling this vacation.
I would also recommend you get familiar with how the blue-ringed octopus looks like since there were sightings near the shore, in the past, in Bali. While the species is not known as aggressive, its small size and beautiful colors might make people pick it up, unaware of the danger it poses.
Natural disasters
The probability of earthquakes with a magnitude of 5 and above in the Maldives is confined to just its southern parts: Seenu, Gnaviyani, Gaafu Alifu, and Gaafu Dhaalu atolls.
Regarding tsunamis, the geographic position of specific groups of islands is such that they are protected from them. And due to the presence of large coral reefs around the atolls, most are sheltered from wave impact.
However, the islands most prone to tsunamis are the ones along the eastern part of the country.
Bali is part of the Ring of Fire, a horseshoe-shaped band almost around the edge of the Pacific Ocean, where many earthquakes and volcanic eruptions take place, which in turn also attract tsunamis.
The island itself has 3 active volcanoes: Buyan-Bratan, Batur, and Agung, with the latter erupting as recently as 2019. If you are staying in one of the high-risk areas of Bali, it's a good idea to familiarize yourself with tsunami evacuation routes.
Winner: Maldives
Maldives vs Bali FAQs
Is Bali cheaper than Maldives?
Yes, Bali is definitely way cheaper on average than the Maldives. And not only it offers budget-friendly accommodations, but the food and drinks are also less expensive there.
Are Maldives worth it?
Without a doubt, Maldives is a destination totally worth visiting. No matter if you choose to have a more budget-friendly vacation or splurge on a luxury one, you'll be amazed by the country's paradisiac beauty.
How far is Bali from Maldives?
The distance between Bali and Maldives is around 4800 km. There are no direct flights between the two destinations, so the fastest way to fly from one point to another is via Singapore (which takes around 8.5 hours).
Can you do Bali and Maldives together?
You can visit the Maldives for some tropical island relaxation and then move on to Bali for a different kind of adventure, rich in culture and outdoor activities.
Is Bali or Maldives better: Wrap up
I hope this blog post helped you decide which tropical destination to visit between Maldives and Bali, Indonesia. However, if you are still debating, then maybe take it as a sign that you should visit both.
Also, don't forget to take a look at my other Maldives and/or Indonesia content before you leave.
Happy travels~
---
YOU MIGHT ALSO LIKE