If you're planning a trip to beautiful Lake Garda anytime soon, then you're probably wondering what are the best towns to visit in the area.
While I spent a lot of time researching the different options before my own trip there, you don't have to do the same. Just read on to find out the top 5 best towns on Lake Garda that are worth a visit.
Disclosure: Some of the links in this post are affiliate links. If you click on them and make a purchase, I may receive a commission at no extra cost to you. Check my full disclaimer here.
Discover the 5 best towns to visit on Lake Garda
01. Sirmione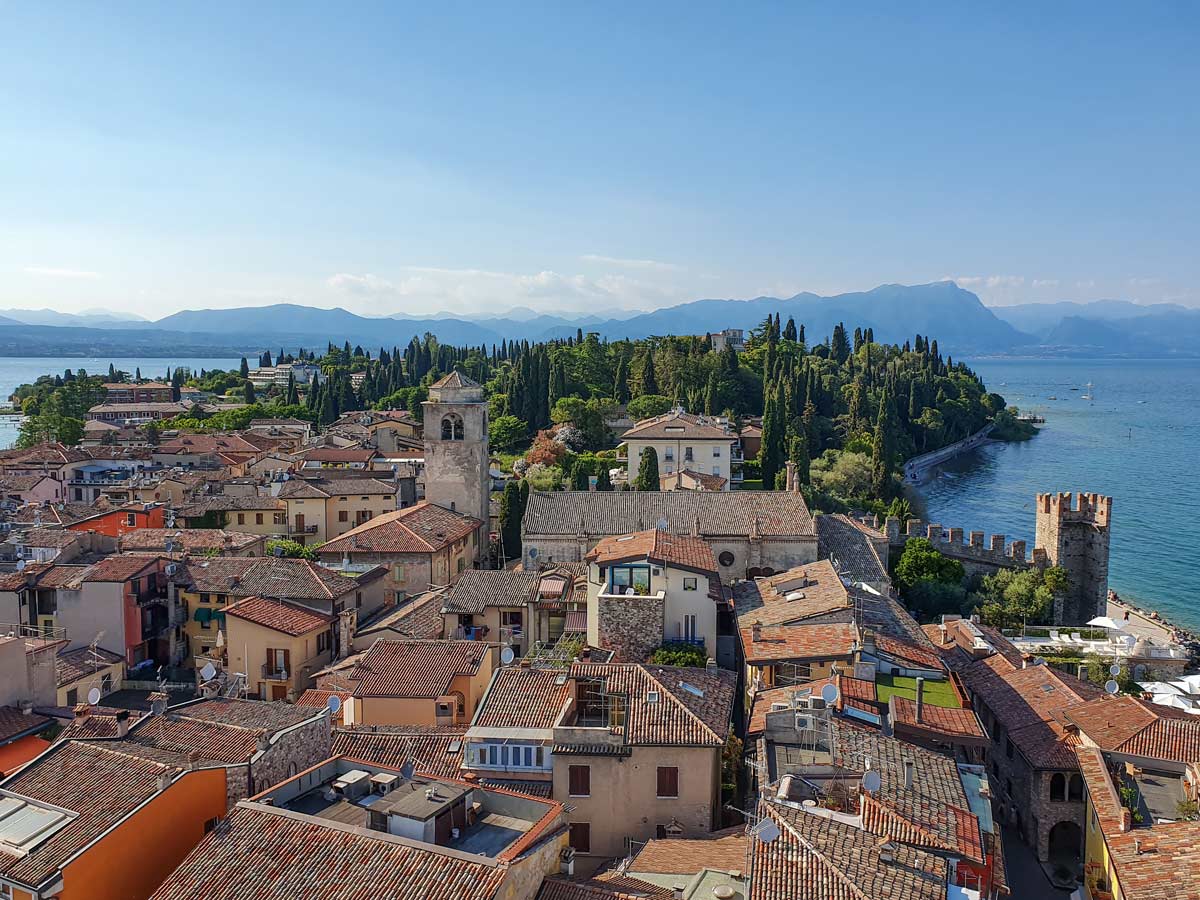 Sirmione is arguably the most famous and picturesque town on the shores of Lake Garda.
Shaped as a narrow peninsula that extends out into the clear waters of Garda, this beautiful destination is perfect for either a relaxing vacation or a more action-oriented trip.
Some of the best things to do in Sirmione, Lake Garda are:
visiting the Scaligero Castle (also known as the Sinking Castle)
wandering around the charming Old Town
hitting the beach
visiting the Grotto of Catullus
watching the sunset
going to the local thermal baths
eating many gelatos
taking a boat trip around the peninsula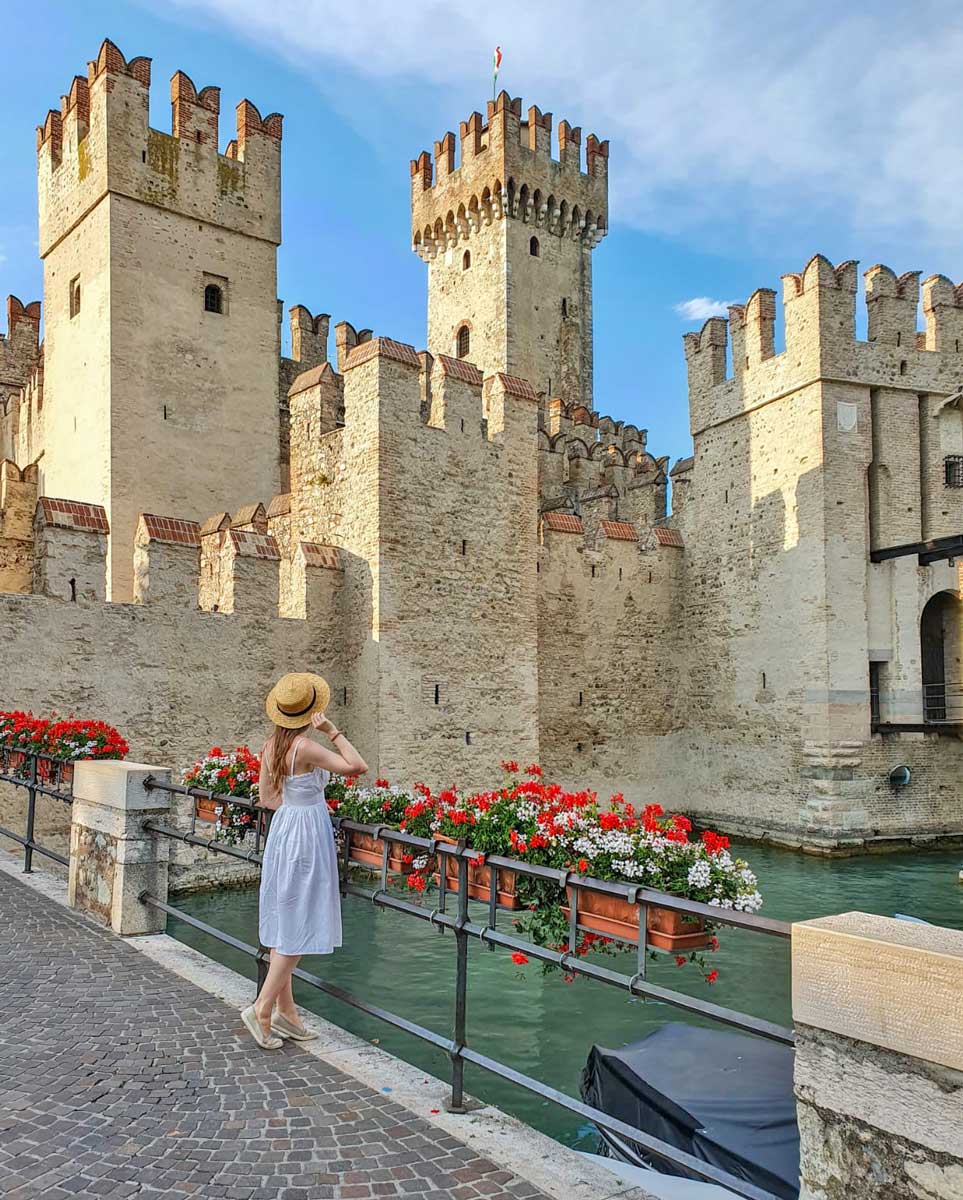 While you can visit Sirmione as a day trip, if you are planning to spend a few days near the lake, then my recommendation is to base yourself here.
Staying overnight will allow you to see Sirmione in a totally different light when the crowds disperse. In addition, it's really easy to visit other towns on Lake Garda by boat, which was very important to me.
My fiance and I spent 4 nights at Hotel Grifone, right next to Scaligero Castle. We booked a room with a terrace and while it was not by any means luxurious (yet it was comfortable and clean), we definitely had a 5-star view.
We also really loved the breakfast that was included in the room rate and the location where it was served.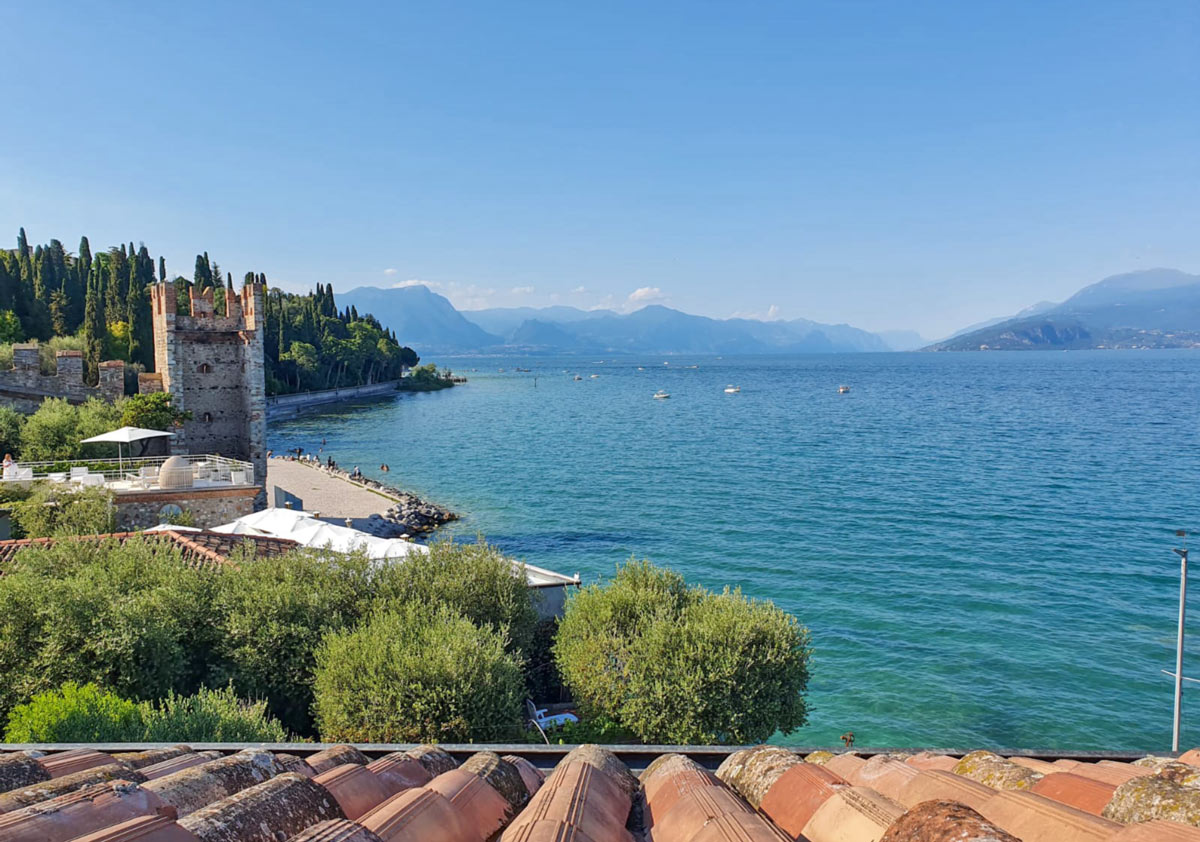 Contrary to some information that you might stumble upon online, Sirmione doesn't have a train station!
So traveling here might be a tad bit more complicated because of this. But just read my post on how to get to Sirmione from different airports and you should be just fine.
02. Malcesine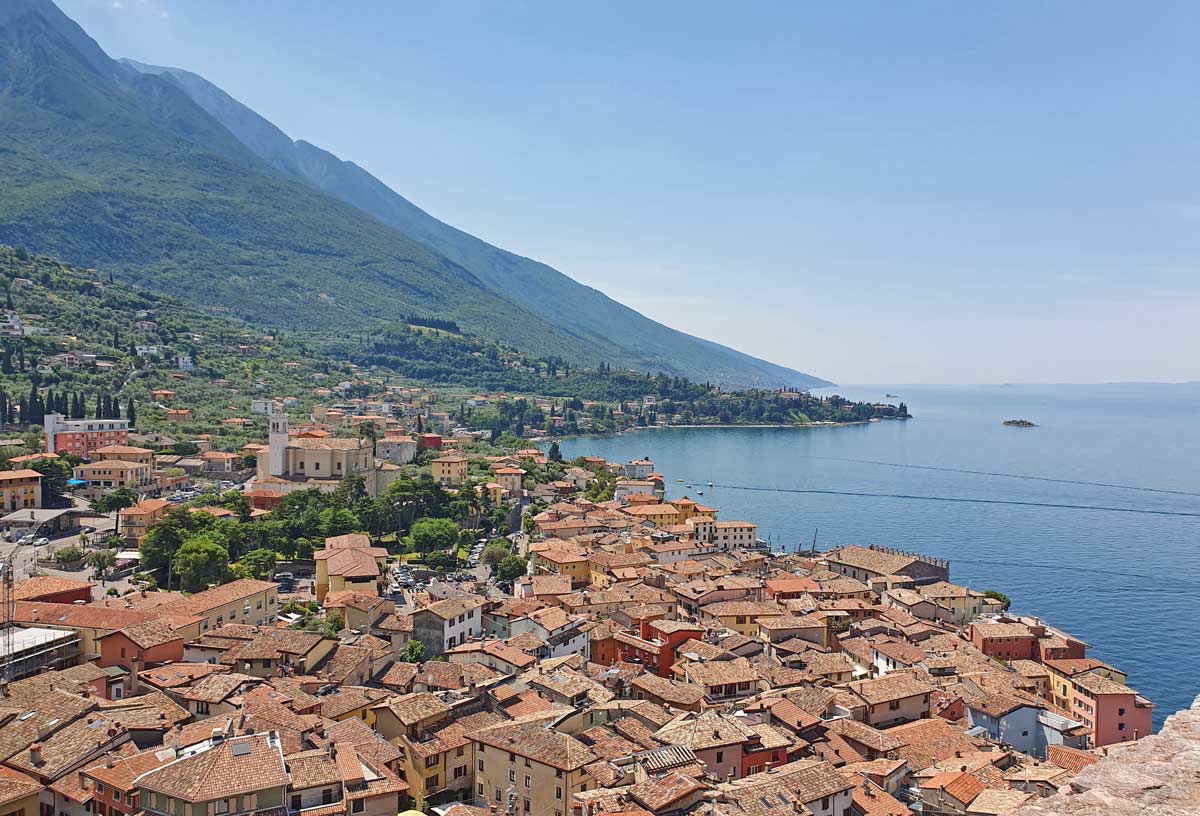 Located in the northern part of Lake Garda, on its eastern shore, picture-perfect Malcesine was my second favorite town to visit in the area, after Sirmione. Here are some of the best things to do during your visit to Malcesine:
climbing at the top of the Scaliger Castle of Malcesine
taking the cable car up Monte Baldo
strolling around the town
visiting the garden of the Palazzo dei Capitani
hiking
doing watersports
relaxing at the beach
To get to Malcesine from other towns around Lake Garda, you can either use the boat or the bus. If you are staying in Sirmione and want to take the water route you can opt for either a fast service as well as a regular ferry.
03. Limone sul Garda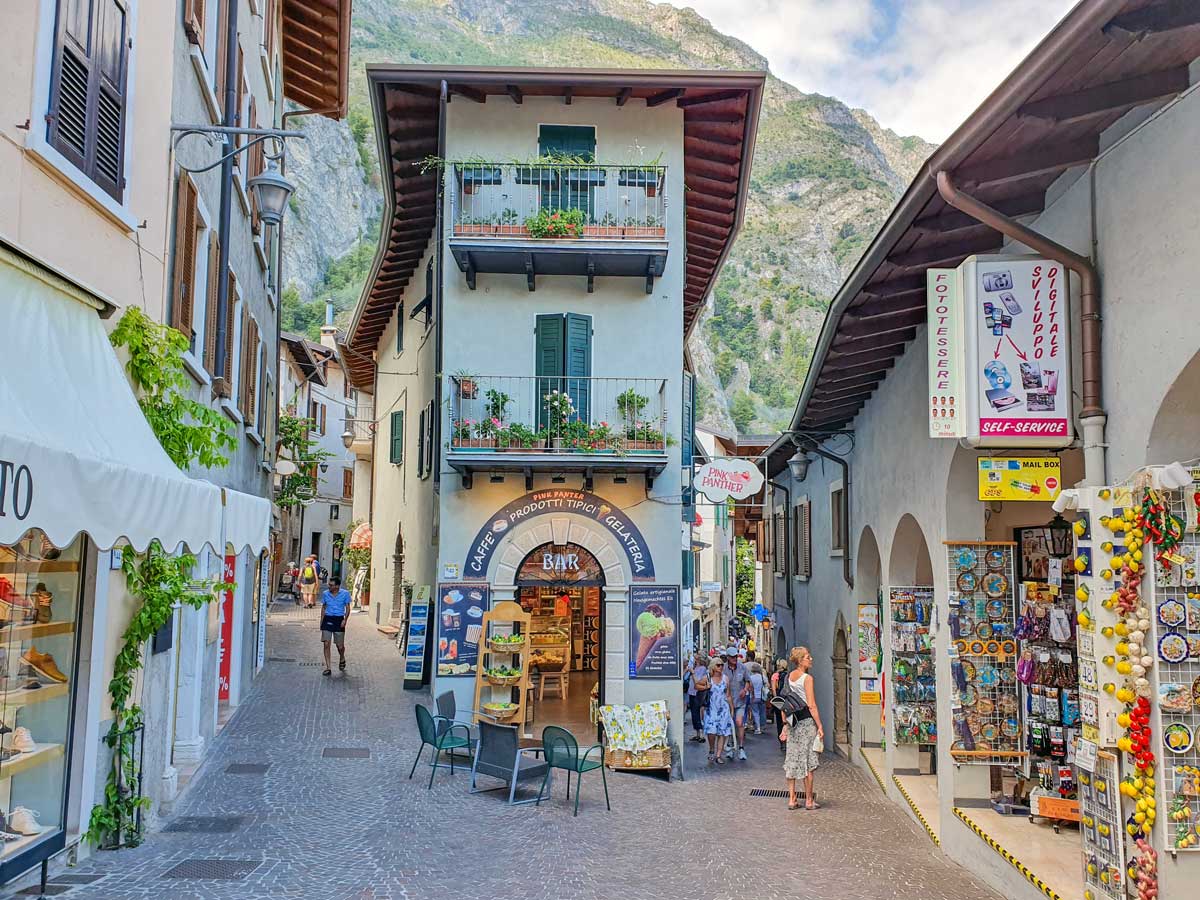 The charming small town of Limone sul Garda is also situated in the northern part of the lake (but on its western shore) and is well-known for its lemon groves (hence the name).
But aside from all things lemon, you'll also find here picturesque cobblestone streets, great viewpoints, and a nice array of bars and restaurants. Here are some of the best things to do in Limone sul Garda:
getting lost on its charming streets
visiting an old lemon grove
cycling on Ciclopista del Garda
relaxing at the beach
shopping for lemon-derived products
As Limone is basically sitting right across the lake from Malcesine, we visited both on the same trip to the northern part of the lake and it was a great choice.
Now, Riva is also located close by and while technically it's possible to see all three towns on the same day if you are traveling by fast boat, my recommendation is to stick to only two and leave the 3rd one for another day.
Otherwise, you'll practically have no time to explore any of the locations.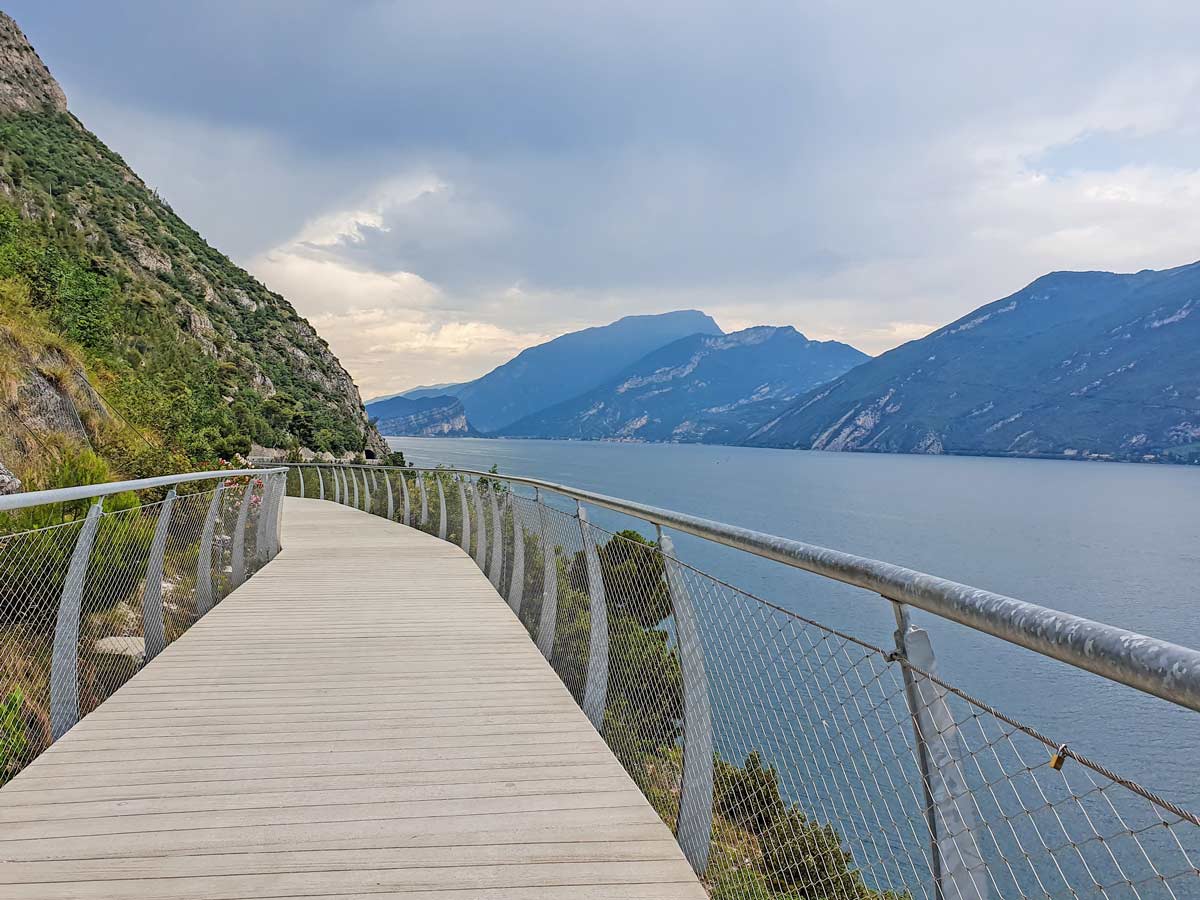 TIP: If you have enough days to split them between Sirmione and Limone or you simply choose to stay here, hire a bike and cycle to Riva on Ciclopista del Garda.
You'll be able to visit another picturesque town and also do something a bit out of the ordinary. Not to mention the views along the way are simply amazing.
However, do be aware that to get to Riva, you'll also be required to bike on the road along cars as the separate cycle/pedestrian path doesn't reach the town. If you're not comfortable with that, then it's better to do what we did: walk. You can then visit Riva by boat.
It takes around 35 to 40 minutes to reach the suspended portion of the pathway (which is the most spectacular part of course) on foot, from Limone.
04. Riva del Garda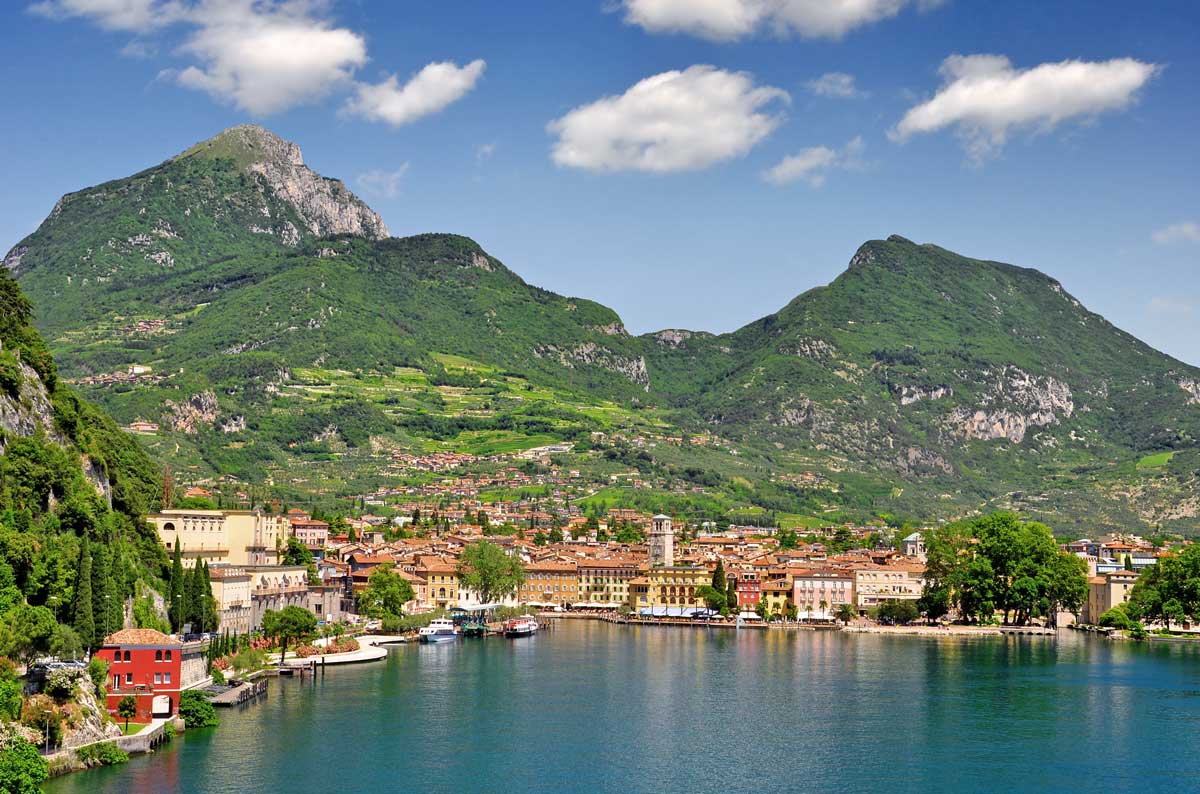 Picturesque Riva is the northernmost town on Lake Garda. Surrounded by tall mountains, it offers amazing views and it's worth a visit for those alone. But there are also other things to do on a visit to Riva del Garda. Here are a few:
strolling along the waterfront promenade
wandering around the old town
taking the panoramic elevator to the ruins of Bastione di Riva
doing watersports, particularly windsurfing
hiking
visiting MAG Museo Alto Garda, which is located inside a medieval castle
relaxing at the beach
hiking up to St. Barbara Chapel for a great view over the town (the trail requires some effort though)
TIP: Since Riva del Garda is located so far up north on the lake, you could even squeeze in a nice day trip to the Dolomites and/or to the famous Lake Braies, given that you spend at least one night in the town and you rent a car.
If you don't want to drive, there's also the option of booking a tour (it is also available from the southern towns, if you can handle the early hours at which it starts).
05. Desenzano del Garda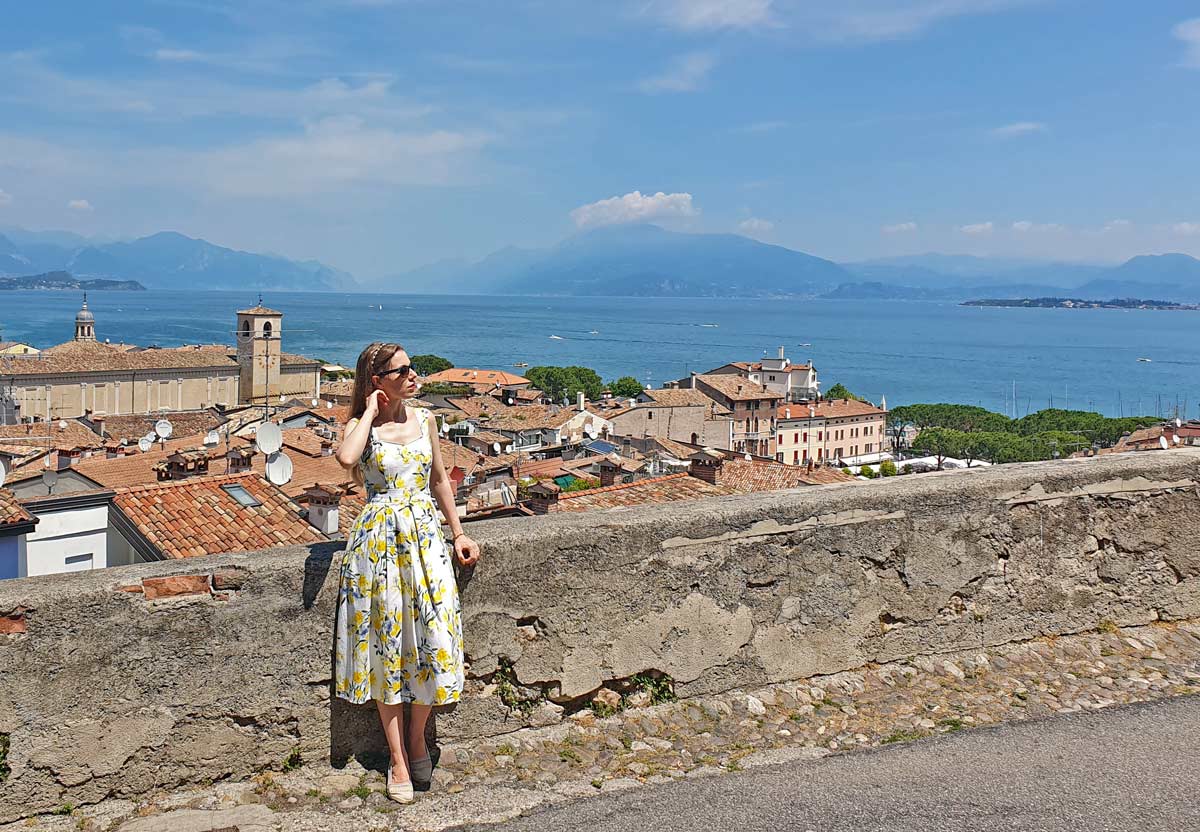 Desenzano del Garda is a cute small town, just a short ferry ride (approx. 20 minutes) away from Sirmione. Less busy and considerably cheaper, it can be a very good alternative as a base from where you can visit other Lake Garda towns. Here are the best things to do in Desenzano:
visiting the Castle of Desenzano
taking a walk along the lake promenade (called Lungolago di Desenzano)
walking around the historic center
hitting the beach
visiting the ruins of the Roman Villa
In contrast with Sirmione, Desenzano has a train station, so it's a bit easier to reach. It also has good boat connections with other Lake Garda towns.
Best towns Lake Garda FAQs
What is the best month to visit Lake Garda?
June is the best month to visit Lake Garda for a variety of activities; it's warm enough for a refreshing swim, but not too hot for sightseeing and the crowds are not as bad as in July and August.
What is the prettiest town on Lake Garda?
With its beautiful old center and the Scaligero Castle (also known as the Sinking Castle) guarding its entrance, Sirmione is hands down the prettiest and the most visited town on Lake Garda.
Is Lake Garda expensive?
I gotta admit, I didn't find Lake Garda to be cheap. However, it still felt less expensive than the more popular Lake Como.
What is the best town to stay in on Lake Garda?
Despite the fact that Sirmione is the most popular and busy town on Lake Garda, it's still the best town to stay in when visiting Lake Garda, in my opinion. Besides, its vibe totally changes in the evening, when the crowds leave.
What is the least touristy town on Lake Garda?
Desenzano del Garda is one of the less touristy towns on Lake Garda. And since it's so close to popular Sirmione (20 minutes by ferry), it can be a good alternative as a base for visiting the lake region.
Best towns in Lake Garda area: Wrap up
I hope this short guide on the best Lake Garda towns helped you decide which ones to visit during your trip to Northern Italy.
And before you go, don't forget to check out my other Italy content as well.
Happy travels~
---
YOU MIGHT ALSO LIKE