Where to get the best waffles in Brussels
If you're looking for a delicious treat while visiting Brussels, then be sure to try out one of the many Belgian waffle places! Whether you are a foodie or just have a sweet tooth, you'll surely love this popular dessert.
There are endless options when it comes to choosing where to get your waffles, but I've compiled a list of the best ones so you can have the best experience. From traditional waffles with powdered sugar and syrup to more innovative flavors, there's something for everyone.
Brussels Waffles vs Liege Waffles
Having originated in Belgium, the waffle is a dessert that has come to be known throughout the world as the "Belgian waffle". But in Belgium, you might be surprised to find out that there are actually different types of Belgian waffles to choose from: Brussels and Liege. Here are the main differences between the two:
| | Brussels waffle | Liege waffle |
| --- | --- | --- |
| Shape and size | Rectangular with well-defined edges and deeper pockets; Larger | Round, with undefined edges; Smaller |
| Taste | It has a more neutral taste when eaten without toppings, it's light and very crunchy | It's made with chunks of pearl sugar which caramelize during baking, giving it a crunchy taste and more sweetness |
| Flavor | Vanilla, but also gets served with a lot of different toppings | Vanilla or cinnamon |
While usually there are a ton of toppings that you can add to your waffle, I also recommend you try them plain at least once, especially when it comes to Liege waffles, which locals eat almost exclusively simple.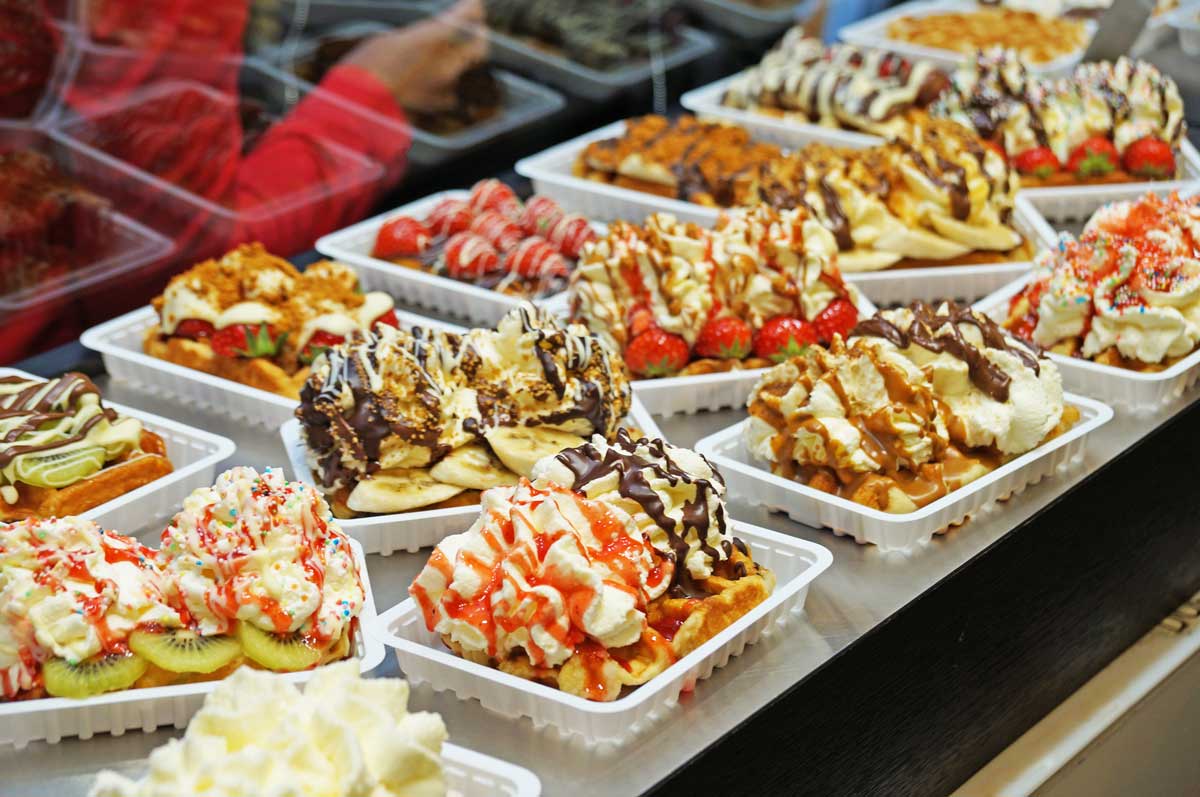 Best places to eat waffles in Brussels
Maison Dandoy
Maison Dandoy serves some of the best waffles in the whole city, but they are kinda on the pricey side (expect to pay around 20 EUR for two waffles with toppings and two coffees). They offer both Brussels and Liege waffles and you can choose to add a topping or you can eat them plain as many of the locals do.
Maison Dandoy started as a small family business way back in 1829, but now has expanded into several locations in Brussels. Their shop on Rue Charles Buls 14 is probably the most visited since it's so close to the City Hall and Grand Place square. However, I also recommend Maison Dandoy – Galeries, which doesn't only have tasty waffles, but a really beautiful interior as well.
Los Churros & Waffle
Don't be fooled by the Spanish name, Los Churros & Waffle know their stuff when it comes to waffles. They sell both the Brussels and the Liege varieties and they also have a wide variety of toppings that you can choose from. Both their shops are pretty close to Grand Place square. Waffles start at 2 EUR (plain).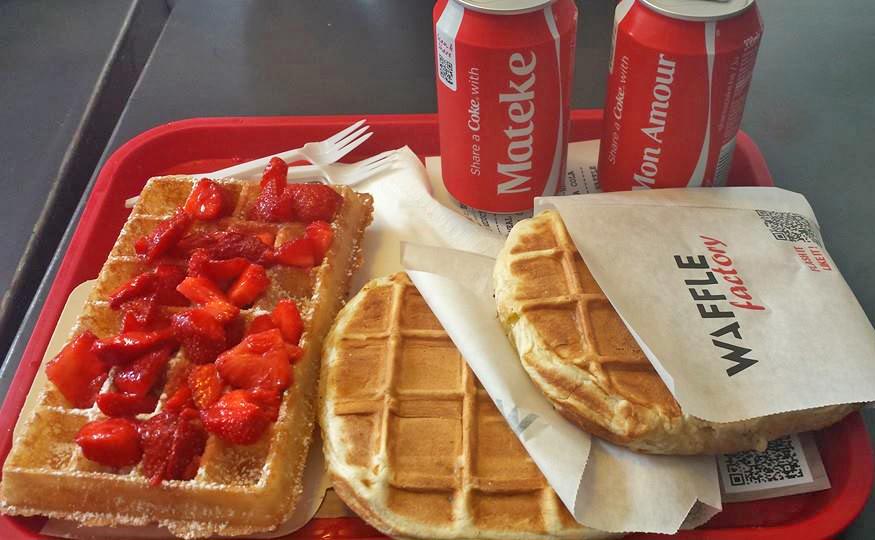 The Waffle Factory
The Waffle Factory has numerous locations in France, but only 3 in Belgium, out of which one is in the Belgian capital, on Rue du Lombard 30, fairly close to Grand Place. An advantage of The Waffle Factory is the fact that it has quite a generous seating area upstairs, a feature not many other waffle shops have.
Their plain Brussels and Liege start at 2.7 EUR and you can add all kinds of toppings to them. They also offer savory options, which you can try for breakfast or as a snack during the day.
Gaston
Gaston is a really popular ice cream shop (some might even say the best in the city), but they also serve very good waffles (both types). You can find it on Quai aux Briques 86 and I highly encourage you to try the ice cream as well if you pay it a visit.
Expect to pay 3.5 EUR for a plain Liege waffle, 6 EUR for a Brussels with icing sugar, and 2.80 EUR for an ice cream scoop.
Vitalgaufre
If you want to try something a bit different, I suggest the filled waffles sold by Vitalgaufre. They're rumored to be the best Liege waffles in town and come in different flavors like raspberry, chocolate, vanilla, cinnamon, or apple-cinnamon.
You don't need to add toppings, since these waffles will be sweet enough on their own because of their filling. This small shop is located on Rue Neuve 23/29 and a waffle costs around 3 EUR.
VeganWaf' – Best vegan waffles in Brussels
If you are looking for a vegan option for the popular dessert, then look no further than VeganWaf'. Not only that, but their products are also gluten-free. A plain waffle here will cost you 3.50 EUR and if you add a topping it's 5 EUR.
The shop is located inside Galerie Agora, which is a 2-minute walk to Grand Place.
---
Now that you know where to find the best waffles in Brussels, what are you waiting for? Grab your partner or a friend and head to Belgium in search of these delicious treats. Let me know in the comments below which waffle spot was your favorite!
Happy travels~
---
MORE INFO ABOUT BELGIUM