How to spend 1 day in Plitvice Lakes National Park
With stunning turquoise lakes and countless waterfalls, Plitvice Lakes National Park is one place you wouldn't want to miss on your visit to Croatia.
When I was planning my trip, I did a lot of research about the park. I only had a day to spare and I wanted to make the most of my time spent there. But with 7 routes to choose from, different entrances, and sections of the lakes, it felt a bit overwhelming trying to find the best way to visit the Plitvice Lakes National Park waterfalls.
In this blog post, I will share the route I ended up taking as well as my tips for an amazing visit to Plitvice Lakes National Park. You'll find out everything from what entrance to choose to how to reach some great viewpoints.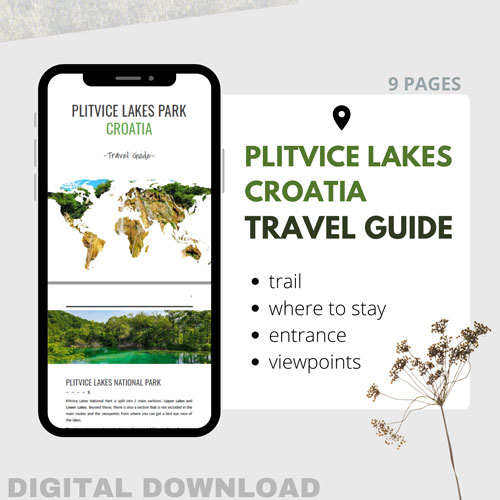 Plitvice National Park: Pocket Travel Guide
You can get the pocket travel guide version of this article for only $5 (excluding taxes). It contains all the important information, but it's in a more digestible PDF format. This way you can download it on your phone to reference it during your trip or even print it out.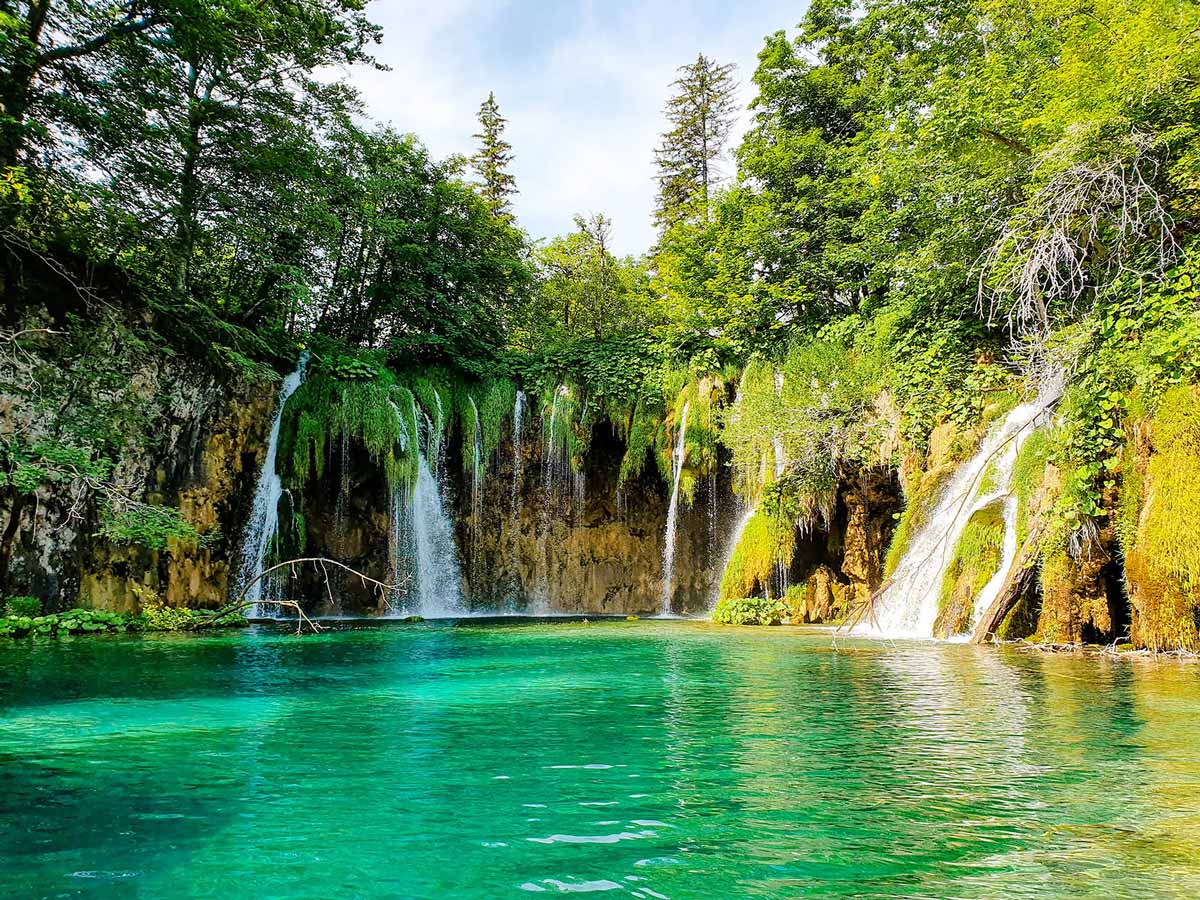 Disclosure: Some of the links in this post are affiliate links. If you click on them and make a purchase, I receive a commission at no extra cost to you. Check my full disclaimer here.
How to get to Plitvice Lakes National Park
The park is centrally located, at almost half the distance between the Croatian capital, Zagreb, and Zadar and it is easily accessible by car.
You can visit Plitvice Lakes National Park on a day trip from Zadar, Zagreb, or even Split, by either driving yourself or hopping on a tour. No matter which option you choose, however, you should be prepared to spend a lot of time in the car.
Not to mention that you'll likely end up arriving at the same time as most tours which means that the paths inside the park will be swamped with people. And if you visit during the summer, it also means that you'll do a lot of walking during the hottest part of the day which is not fun, trust me.
For these reasons, I'd suggest spending a night near the park, meaning that you'll need to drive.
However, if this is not an option, then here are some good tours that you can book:
About Plitvice Lakes National Park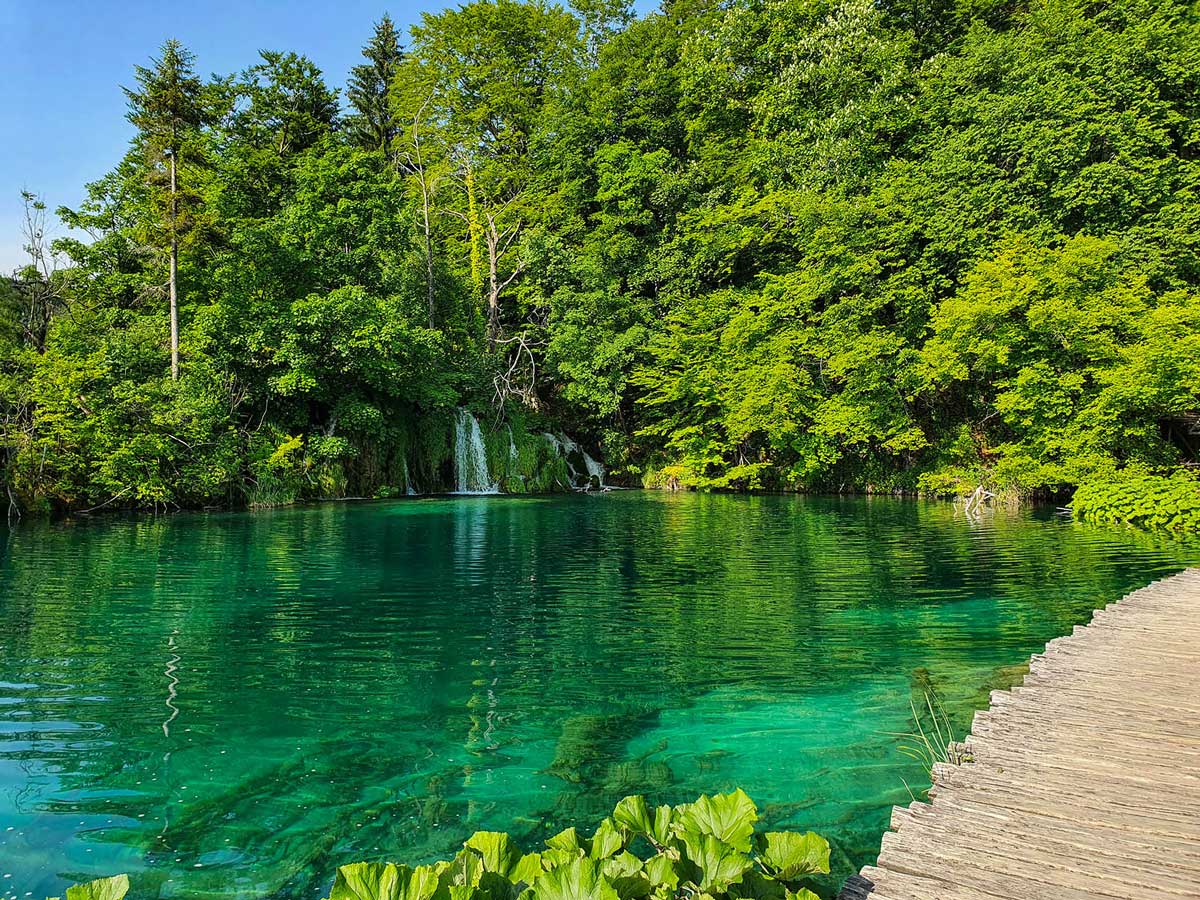 Plitvice Lakes is the oldest and largest national park in Croatia and since 1979 is also a UNESCO Heritage Site.
The park is divided into 2 main sections: Upper Lakes and Lower Lakes. Beyond these, there is also a section that is not included in the main routes, plus some viewpoints from where you can get a bird's eye of the lakes.
The lake system can be visited by walking on 4 hiking trails or 7 routes (programs as they're called on the official website). There is also a shuttle (panoramic train) and boats that can be used to get around the park.
Food and drinks: If you get thirsty or hungry during your visit, you can stop at one of the cafes or buffets scattered around the park. You can also find restaurants there, belonging to the few hotels that are located inside the park.
Parking: Near both Entrance 1 and Entrance 2, there are huge paid parking lots where visitors can leave their cars.
Buy your Plitvice Lakes National Park tickets
Due to its popularity, Plitvice Lakes is visited by a large number of people each year. To make sure that the natural beauty of the park is conserved, a timed ticketing system was introduced.
This means that there is only a fixed number of tickets available each hour for visiting the park and you must choose your preferred time slot for your visit.
It also means that you should buy your ticket ahead of time, online, if you plan to go during the high season. Otherwise, you might have the unpleasant surprise of not finding any tickets left for your chosen time slot, should you decide to buy your ticket directly at the park.
You can buy your ticket from here, just make sure you do it at least 1 day prior to your visit. You can choose between one-day tickets and 2-day tickets.
I opted for one-day tickets because we arrived at the park directly from the airport and I was unsure about the time. It was a perfect choice, since Plitvice Lakes can easily be visited in a day, especially if you start early in the morning.
We entered at 7 AM and we did the whole C program, the viewpoints on either side of the Lower Lakes, the postcard view near Veliki Strap, and most of the F route as we made our way back towards Entrance 1 and we finished at around 2-3 PM.
Start your visit as early as possible
The park opens at 7 AM from June to September and at 8 AM the rest of the time. However, hours may vary, so make sure to check the park's schedule. If you stay overnight near the park, you can start your visit first thing in the morning.
This way you will have about 2 to 3 hours until the bus tours arrive. That means that you can walk on the wooden boards before they get crowded. Besides, if you visit during the summer months, you'll do most of the walking before the heat becomes unbearable.
The best entrance to Plitvice Lakes
There are 2 main entrances to the park (1 and 2) and an auxiliary one (Flora). I recommend choosing Entrance 1 (Lower Lakes) for your visit. It's true that it is more popular than the others, but if you enter the park as soon as it opens, you shouldn't expect crowds anyway.
By choosing Entrance 1, you'll get to face the waterfalls as you go which will save you from constantly turning to see them.
We actually walked the Lower Lakes section from the opposite direction as well (aka towards Entrance 1). And I found it slightly annoying to have to turn around in order to see the waterfalls, especially since near the end of our visit it started to become more crowded.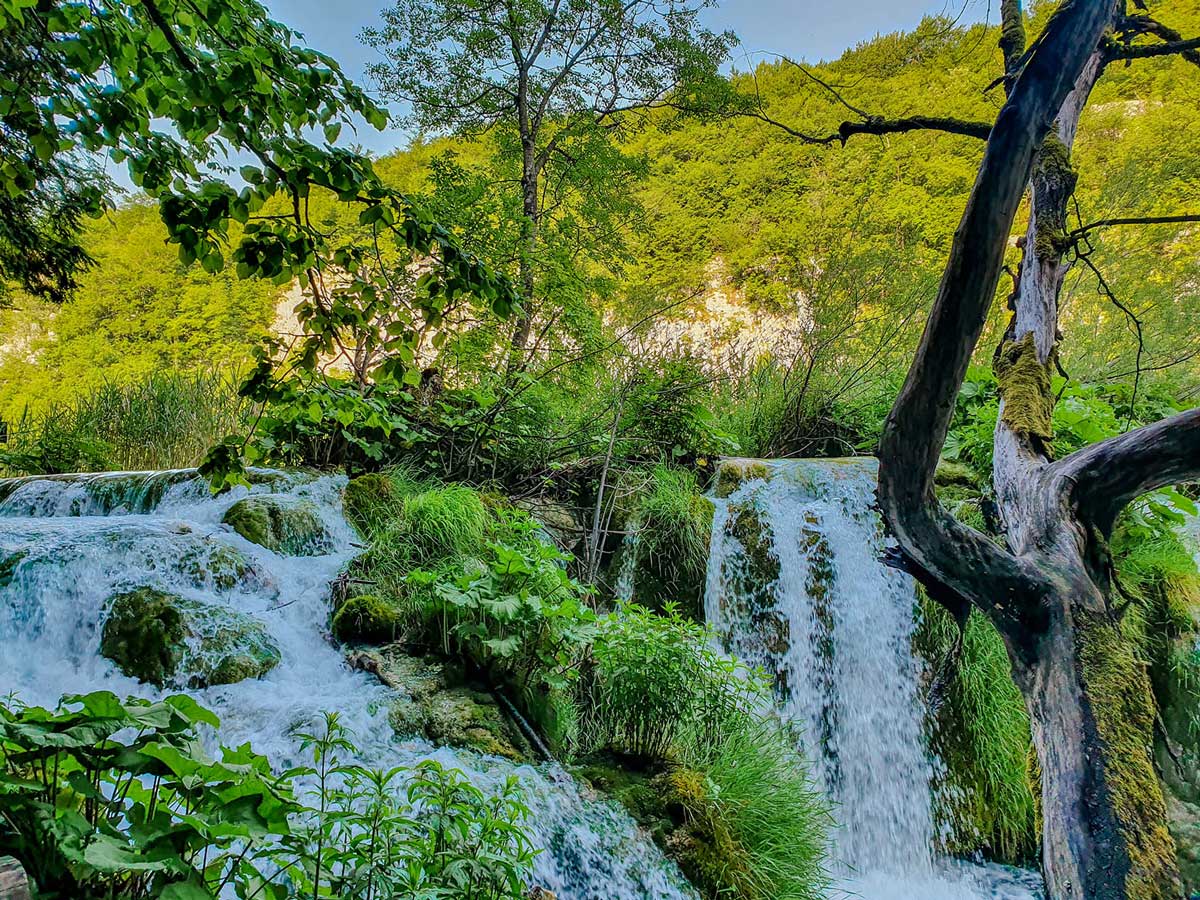 If you are set to start your visit at Entrance 1, first thing in the morning, then you should book your accommodation in Rastovaca.
It's within walking distance of Plitvice Lakes National Park and you can leave your car at the lodging (most offer free parking) if the owner allows it. This way you'll save some bucks on parking.
We stayed at Flora House and it was quite a comfortable stay. Another good option nearby is Pansion Danica.
Where to eat in Rastovaca: If your accommodation doesn't offer food options (ours didn't), don't worry as there's a nice restaurant, right near the parking lot of the park. It's called Licka Kuka and it features traditional Croatian dishes.
Plitvice Lakes National Park routes
There are 7 programs you can take to visit the park. Routes A, B, C start at Entrance 1, while E, F, and H start at Entrance 2. Program K is a full-day hike around the park without taking the boat across Kozjak lake or the shuttle.
Program A: 3.5km, lasts for about 2-3 hours. On this route, you will see the Lower Lakes and their waterfalls and Veliki Slap (the biggest waterfall).
Program B: 4km, lasts for 3-4 hours. It's the same as Program A, just that instead of turning around before the Kozjak Bridge, now you actually cross it and take the boat to the other side of the lake.
Program C: 8 km, lasts for 4-5 hours. This program is a continuation of route B and it allows you to see both the Lower Lakes as well as the Upper Lakes. It's the route we followed and the one I recommend to you as well.
Program E: 5.1km, lasts for 2-3 hours. This program allows you to see the Upper Lakes and their waterfalls.
Program F: 4.6 km, lasts for 3-4 hours. On this route, you will see the Lower Lakes (much like program B, but traveling in the opposite direction) plus a few viewpoints.
Program H: 8.9km, lasts for 4-6 hours. It resembles a lot with route C, but you'll be traveling in the opposite direction. You will see both the Lower and Upper Lakes.
Program K: 18.3km, lasts for 6-8 hours. Can be done from either Entrance 1 or 2 and it allows you to hike around the lakes. You won't ride the shuttle or the boat across lake Kozjak, you'll only take a short electric boat ride to reach the east shore of the lake.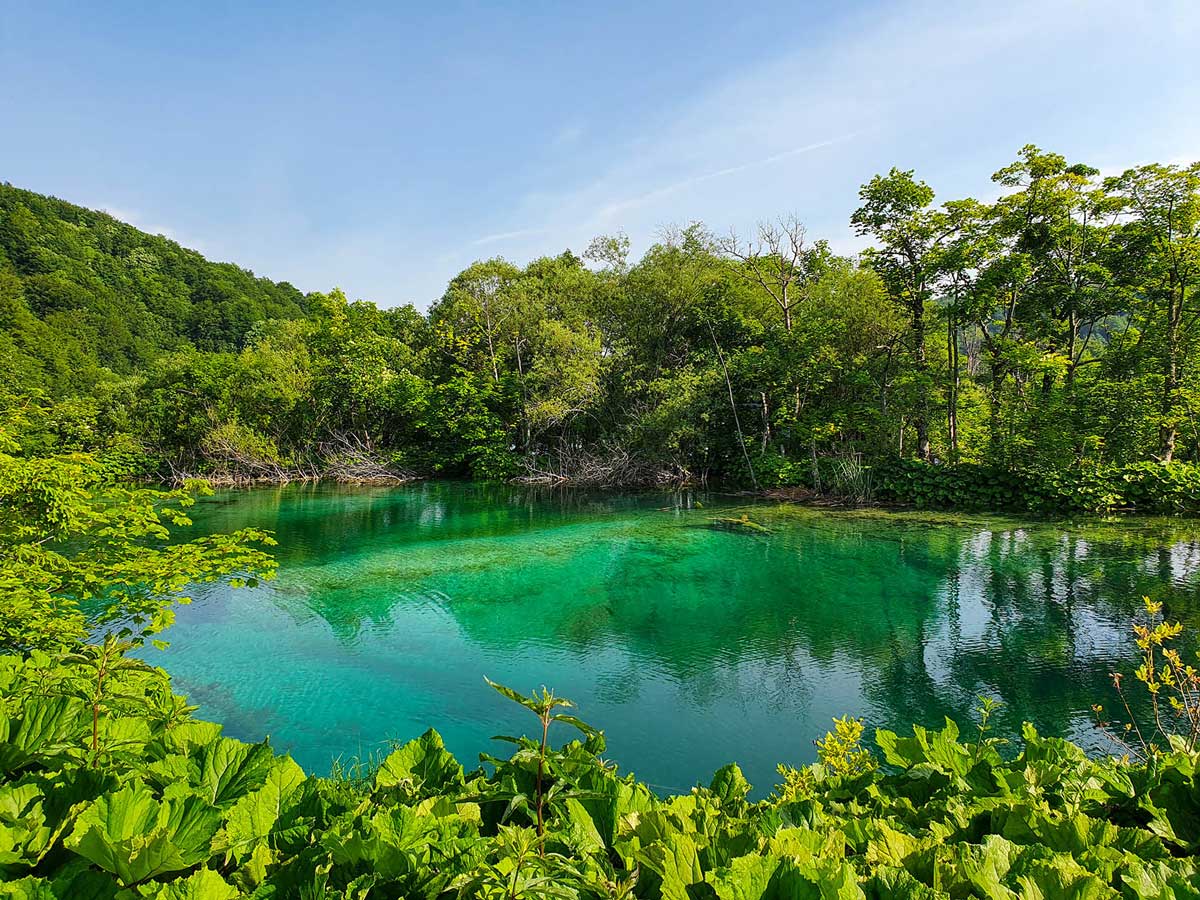 How to spend 1 day in Plitvice Lakes National Park: Best route
In my opinion, the best way to visit Plitvice Lakes National Park waterfalls in a day is to see both the Lower and Upper Lakes, the viewpoints on either side of the Lower Lakes, and the Postcard view.
This itinerary is about 12km long and lasts for about 7 to 8 hours, breaks included. You will take both the electric boat and the shuttle once.
Program C
As I already mentioned, we followed program C during our park visit and this is what I recommend you take as well. It allows you to see both sections of the lakes (upper and lower).
This route starts at Entrance 1 and goes down to the waterfalls of the Lower Lakes. After you cross the lake, you will arrive at a junction. Turn right to take a little detour and see Veliki Slap which is the highest waterfall in Plitvice National Park.
As you approach Veliki Slap, you will see a small staircase on your left. It was closed when we visited, but if it ever re-opens, it's a quick way to climb to the viewpoint over Veliki Slap.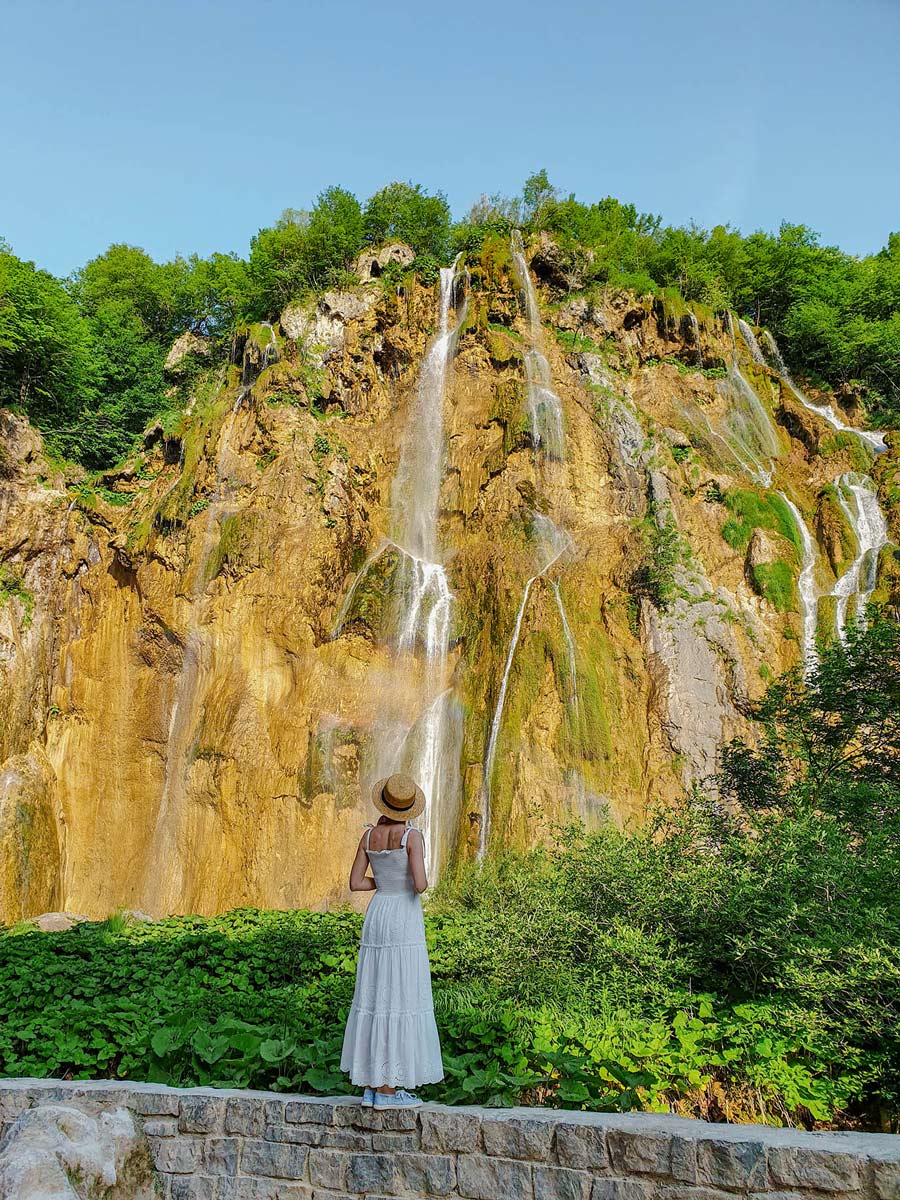 After you saw the Big Waterfall, return to the junction and continue to follow program C.
The wooden boards at the Lower Lakes offer great photo opportunities, especially if you are here early since they will be mostly empty.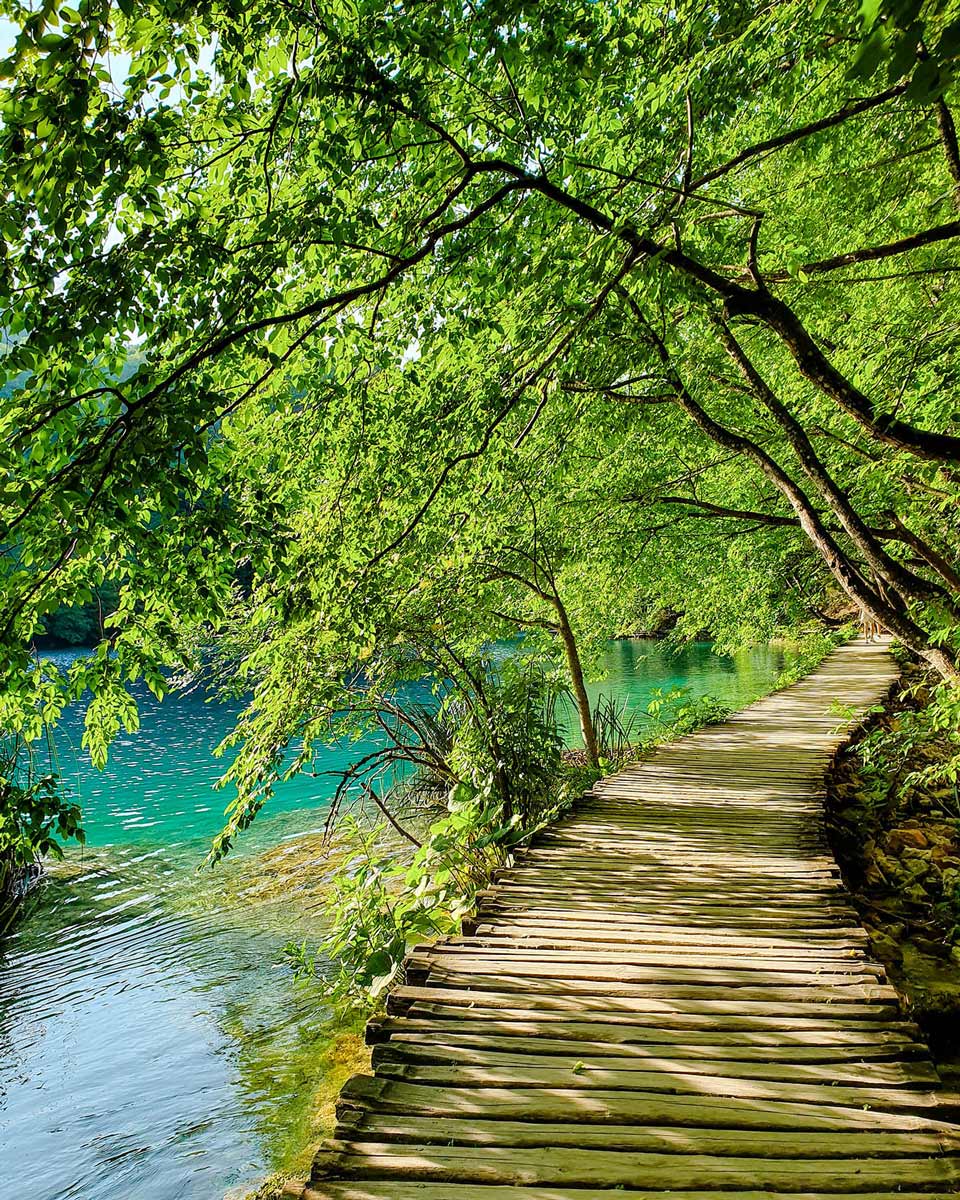 At some point during your walk, you will see a secondary path going to Supljara cave. This was also closed when we visited, but if they open it again, this trail should take you to the viewpoint over the cave, as marked on the map I included further below.
After you cross Kozjak lake you will arrive at an asphalt road. If you were to continue on it, you would walk towards the viewpoints on the right side (as you look from Entrance 1) of the Lower Lakes.
However since you got up early, you don't want to waste time now with the viewpoints (they are mostly empty at any time of the day anyway), so it's best to continue on trail C, towards the electric boat pier.
Depending on how fast you walked the Lower Lakes, you might get here before the boat arrives for the first ride of the day (it runs every half an hour). If that's the case, just grab a coffee or something to nib on while you wait.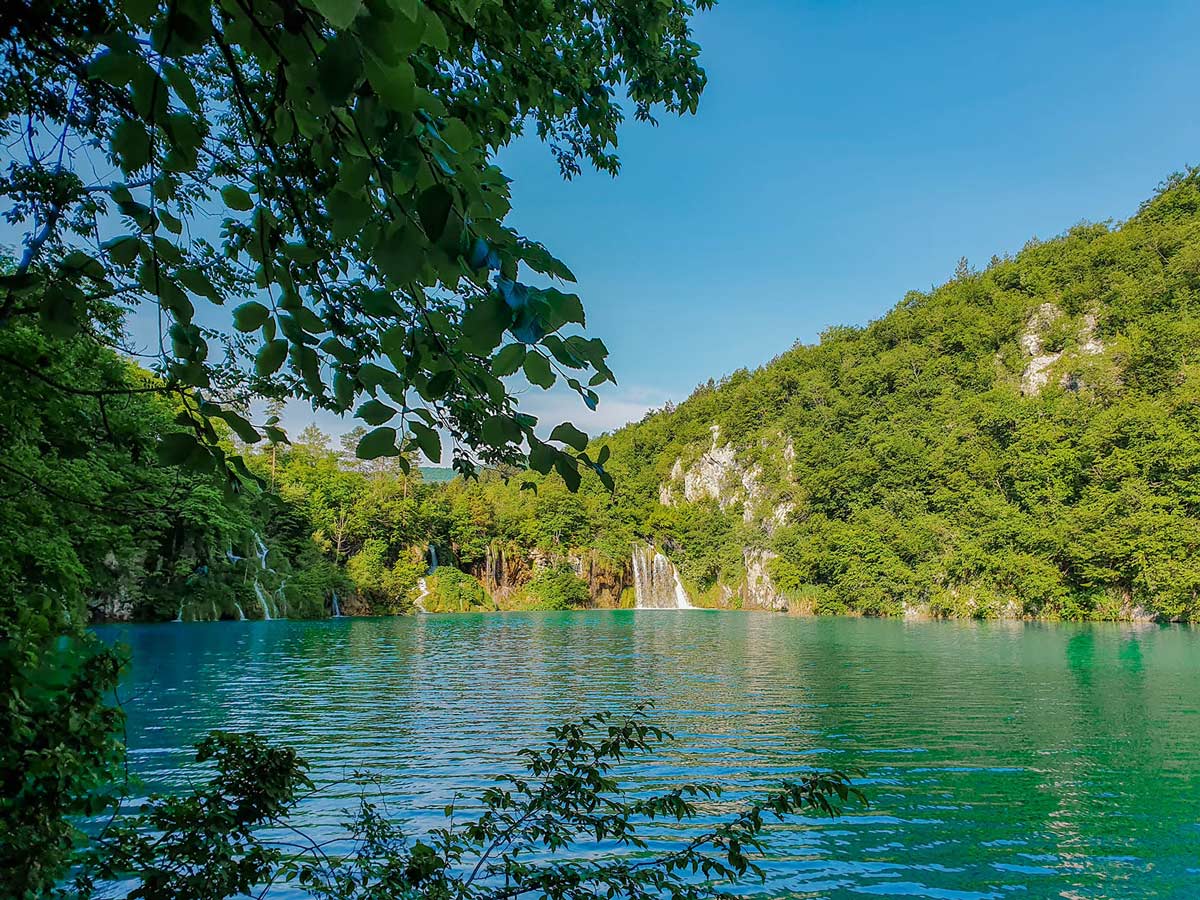 When the journey with the electric boat comes to an end, my advice would be to try to be among the last ones to leave. This way, you will have the wood boards all for yourself, without feeling pushed from behind by other people.
This is especially important, since right after you leave the boat, the scenery is really pretty, with the boards winding above the most stunning emerald green waters.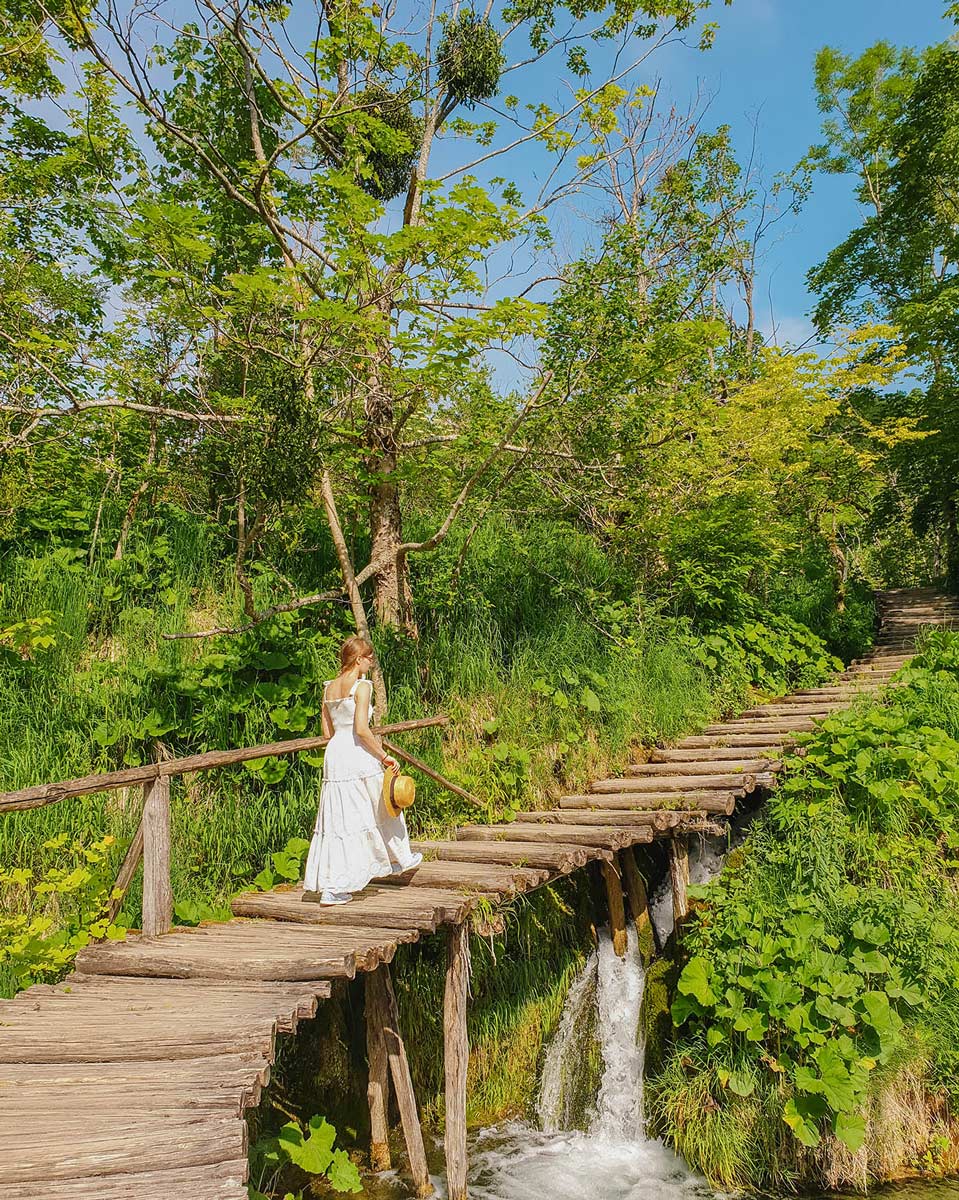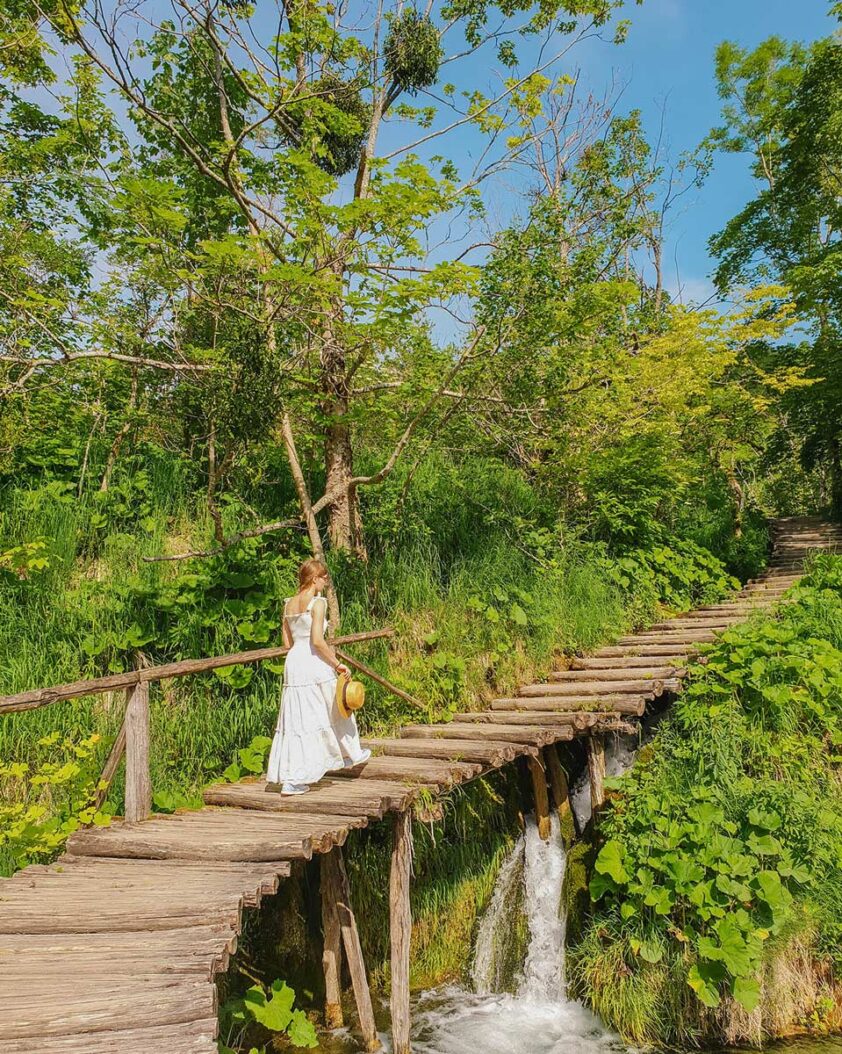 After you pass some of the prettiest waterfalls, you will need to walk on a path that is a bit more rugged, around Galovac lake. By rugged, I mean it's neither a wooden board nor a flat dirt path. In fact, it's the only part of the route that actually looks like a hiking trail through the woods. But it's not difficult, so no need to worry.
You will see a few more waterfalls and then you'll arrive at Labudovac Buffet which also marks the end of route C.
From here (St. 3) you will need to take the panoramic train (shuttle) back to Stop 1. When you arrive at St.1 you can either walk towards Entrance 1 and exit or continue your visit by seeing the viewpoints (my recommendation).
Plitvice Lakes National Park viewpoints
There are quite a few viewpoints on either side of the lower park section, offering beautiful panoramas of the wooden boards and lakes below. If you are not tired after you finished trail C, you should definitely check them out!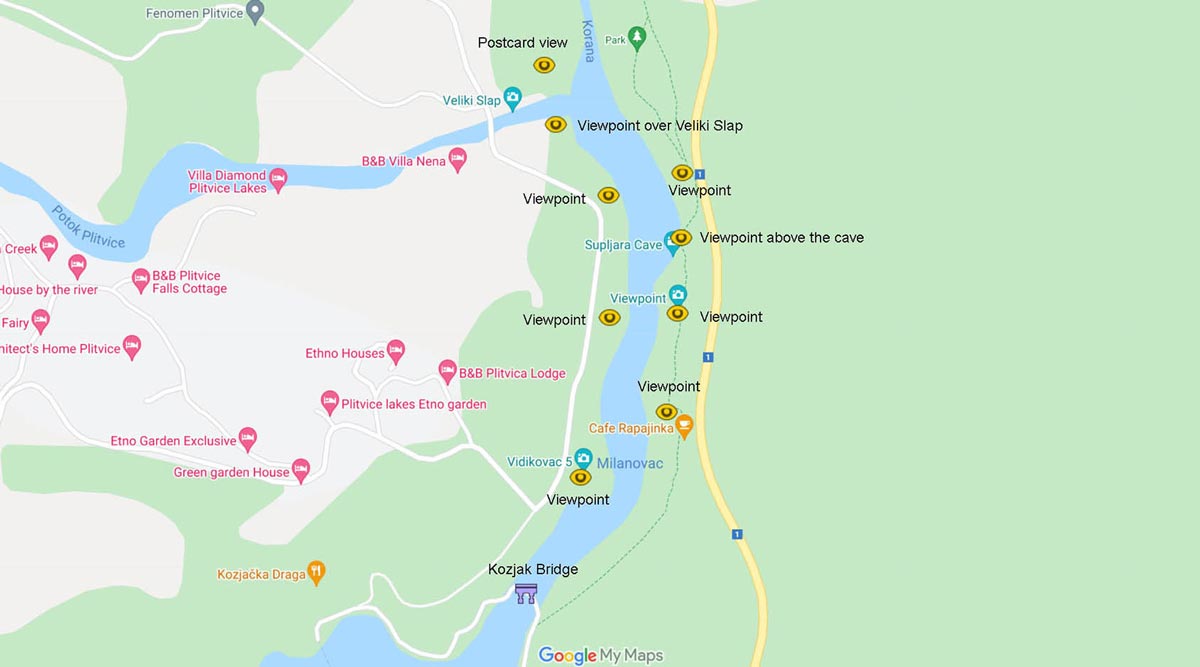 To reach the viewpoints across from you, when you arrive at Stop 1, you have to turn around towards the upper park section. Then go down on the dirt path near Cafe Rapajinka, towards the Kozjak Bridge.
When you reach the bridge, you need to cross it and then follow the asphalt road until you reach a junction. Right after, you will see a dirt path on your right. Walk on it to reach the first viewpoint on this side of the lakes.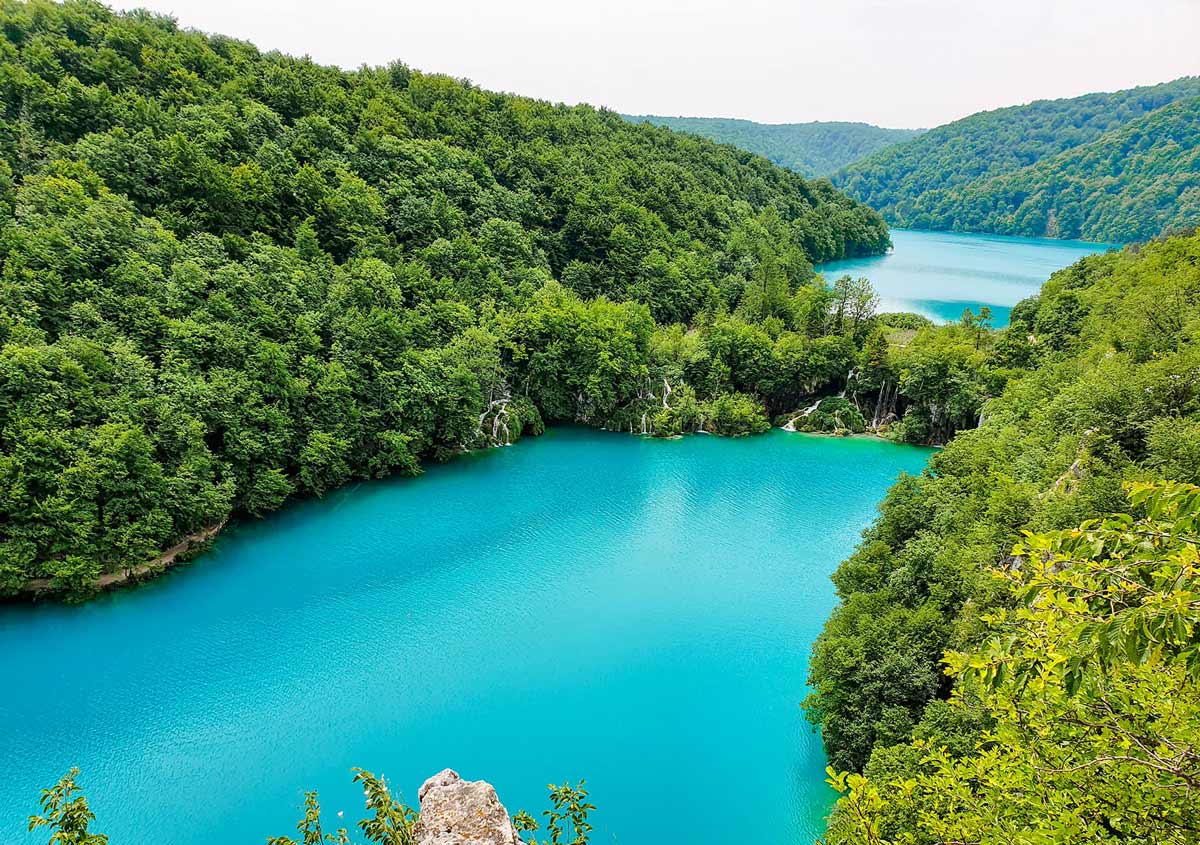 Continue on the dirt trail for the other 3 viewpoints. When you reach the last one (the viewpoint above Veliki Slap) return to the asphalt road and stay on it until you reach a wooden bridge. After you cross it, take the dirt path on your right to reach the Postcard Viewpoint.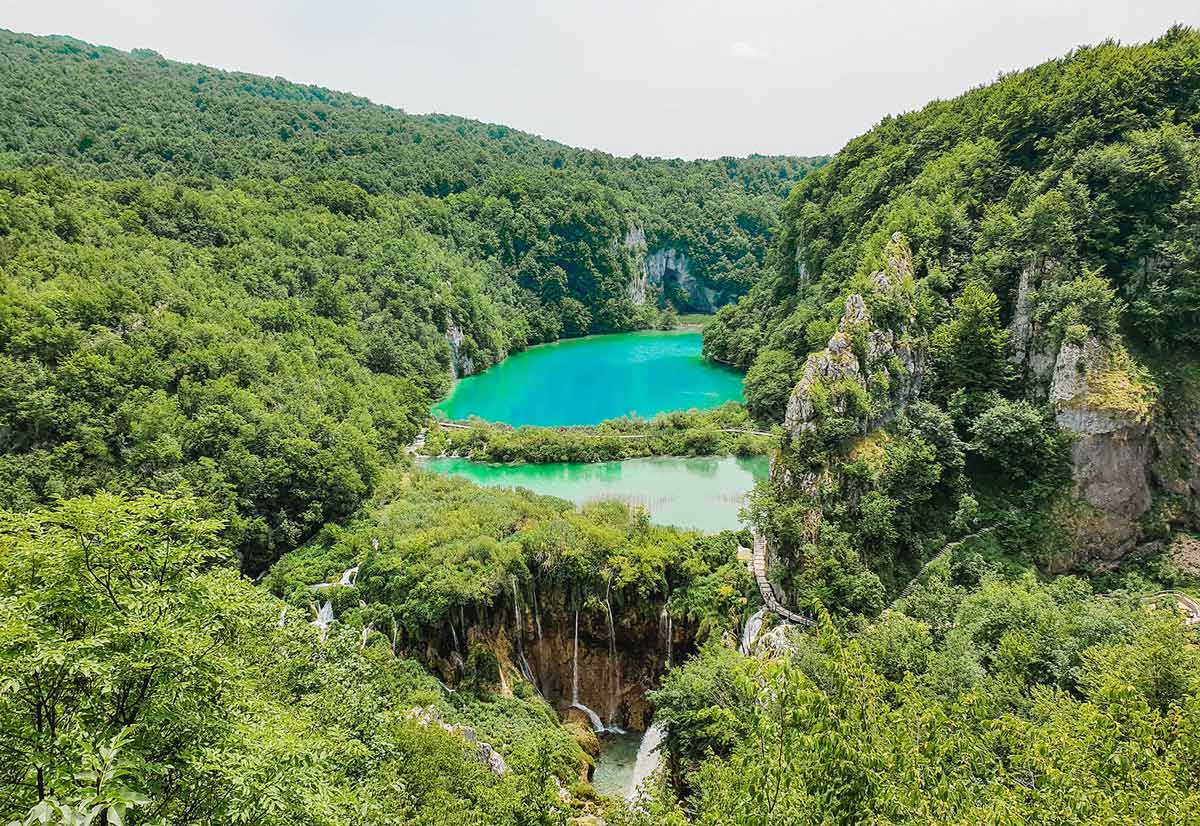 You can return now to Kozjak bridge. Cross it and climb back to Stop 1/ Cafe Rapajinka. From there you will walk towards Entrance 1. On the way, you will find another 4 great viewpoints. Stop for a bit and admire the panoramas they offer.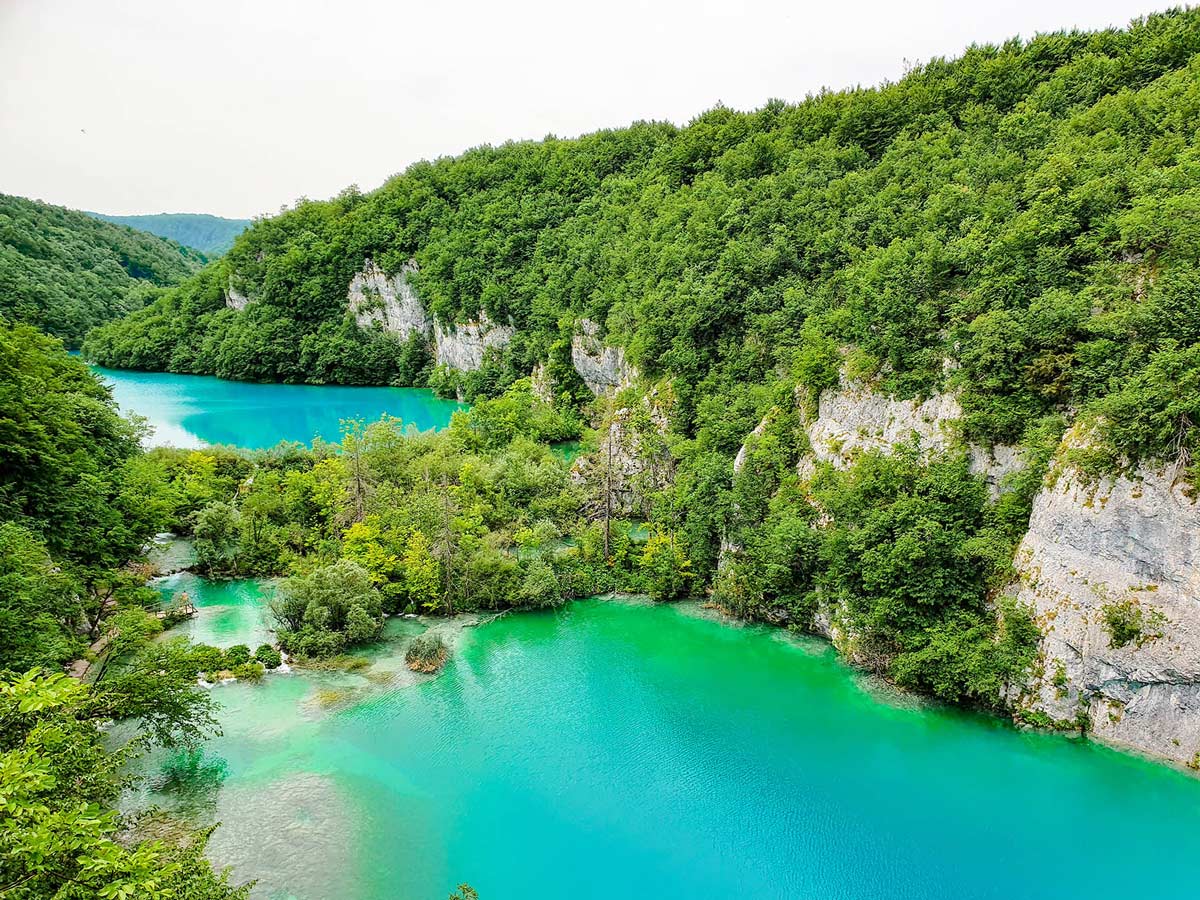 You can now head towards the exit and reward yourself with a hot or cold beverage, depending on when you visit.
As a side note, if the staircase near Veliki Strap reopens, it might be more efficient to see the viewpoints near Stop 1 first, then the ones on the other side of the lakes. At the end you could go down the staircase and head towards Entrance 1, to exit the park.
We actually saw the viewpoints in this exact order as well, the difference being that we returned to Entrance 1 by doing the Lower Lakes again. But since I felt that we did a bit more backtracking, I decided to recommend touring the viewpoints on the same side with Veliki Slap first. Then as you follow the exit trail from Stop 1, you can also see the viewpoints on the other side of the lakes.
Best way to visit Plitvice Lakes
In conclusion, the best way to visit the Plitvice Lakes National Park is to:
Stay overnight near the park, in Rastovaca
Start your visit as soon as the park opens
Begin your visit at Entrance 1
Follow route C to see both Lower and Upper Lakes
Tour the viewpoints on either side of the Lower Lakes
Also, don't forget to check out my other Croatia content for more inspiration.
Happy travels~
---
MORE INFO ABOUT CROATIA
YOU MIGHT ALSO LIKE