How to visit the painted churches of Moldavia
I may not be the most objective person in the world when I say this, but Romania (my country) has a lot of beautiful places to visit.
Bucovina's painted monasteries are some of the most famous ones, so I decided that my first Romania-focused blog post will be a travel guide about them.
What is a painted monastery?
The painted monasteries of Bucovina are Romanian Orthodox churches whose walls depict biblical scenes, many of them also having their entire exterior facades painted.
It was a way to teach people since very few could read in the Middle Ages. It is also what makes them unique and earned them the nickname 'Painted monasteries' or 'Painted churches'.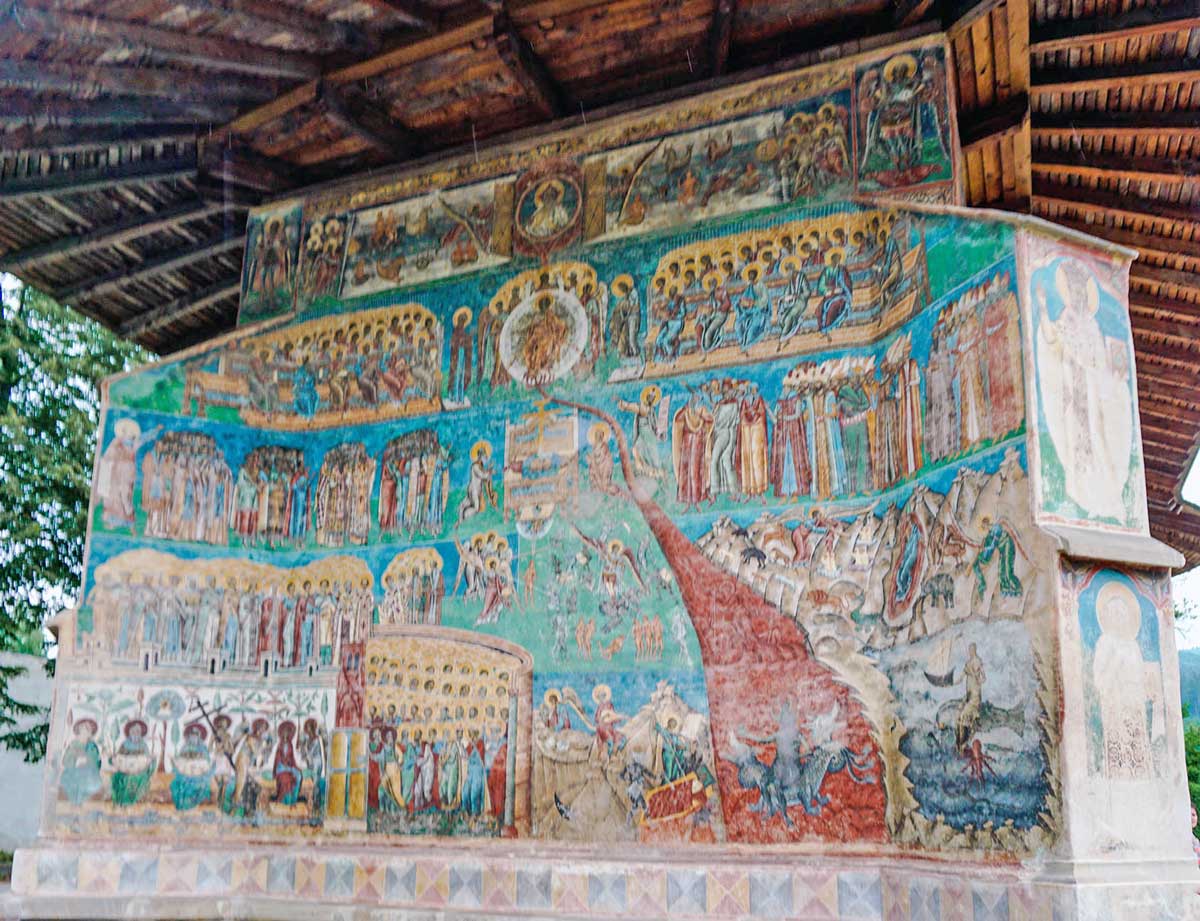 Disclosure: Some of the links in this post are affiliate links. If you click on them and make a purchase, I receive a commission at no extra cost to you. Check my full disclaimer here.
Eight of the monasteries are listed on the UNESCO World Heritage List. These are:
Arbore
Voronet
Humor
Moldovita
Sucevita
Patrauti
Suceava
Probota
However, there are many more churches that are worth a visit in northern Moldova.
Out of all the monasteries in Bucovina, Voronet is by far the most visited and famous. Its beautiful exterior frescoes feature an intense shade of blue, known as Voronet blue.
The color is still a mystery for the modern world and no one knows how to replicate it.
How to visit the painted churches of Bucovina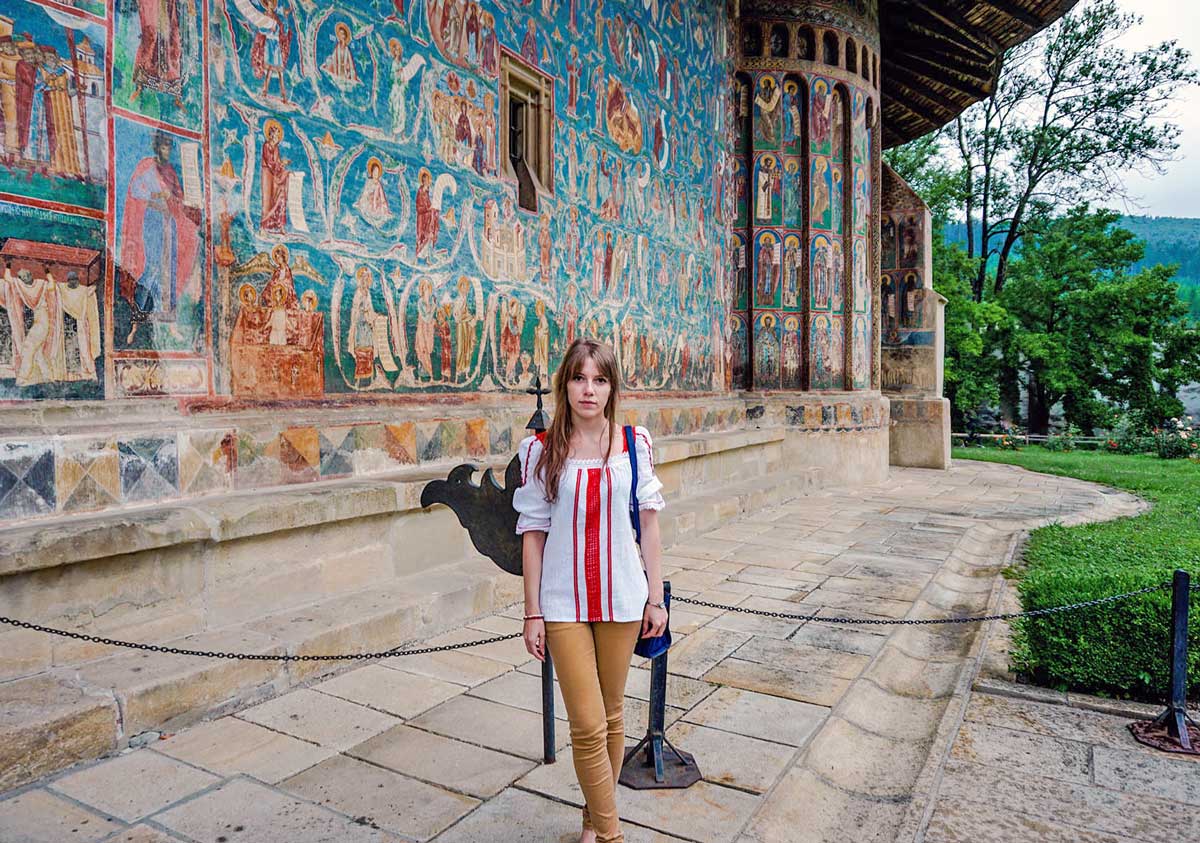 Bucovina's painted monasteries are located, well.. in Bucovina (shocking, I know! :D), which is a region in northern Moldavia (ro: Moldova), Romania.
The biggest airport in the area is in Iasi, the biggest city in Moldova, followed by Suceava.
You can fly, drive or take the train to Bucovina from Bucharest (the capital of the country), which is often the 'gateway' to Romania. Once there, you can either rent a car and drive to the monasteries or use buses.
By far, the easiest and fastest way to visit the painted monasteries of Bucovina is to drive. The car is the most used mode of transportation in Romania, even though most of us have issues with the roads or traffic :)). 
You can also visit the painted monasteries by boarding a tour, there are several options to choose from:
Bucovina's painted monasteries: Which ones to visit?
Voronet Monastery
Access: car, bus from Gura Humorului
Nearest train stations: Gura Humorului
Admission fee: 5 lei (1 eur/1.2 usd)
Voronet is a medieval monastery in the village with the same name, part of the town Gura Humorului. As I already mentioned, it is the most famous and visited monastery, most of the fame coming from the beautiful azure used as a dominant color in its paintings.
Even though the chemical compounds of the color were analyzed in labs and we now know what stood at the base of the paint, it is still unknown how they were mixed to create the unique blue shade.
The monastery was constructed by Stephan the Great (Stefan cel Mare) to commemorate his victory over the Ottoman Empire in the Battle of Vaslui.
The church features Gothic and Byzantine details. Its most important fresco is called The Last Judgement.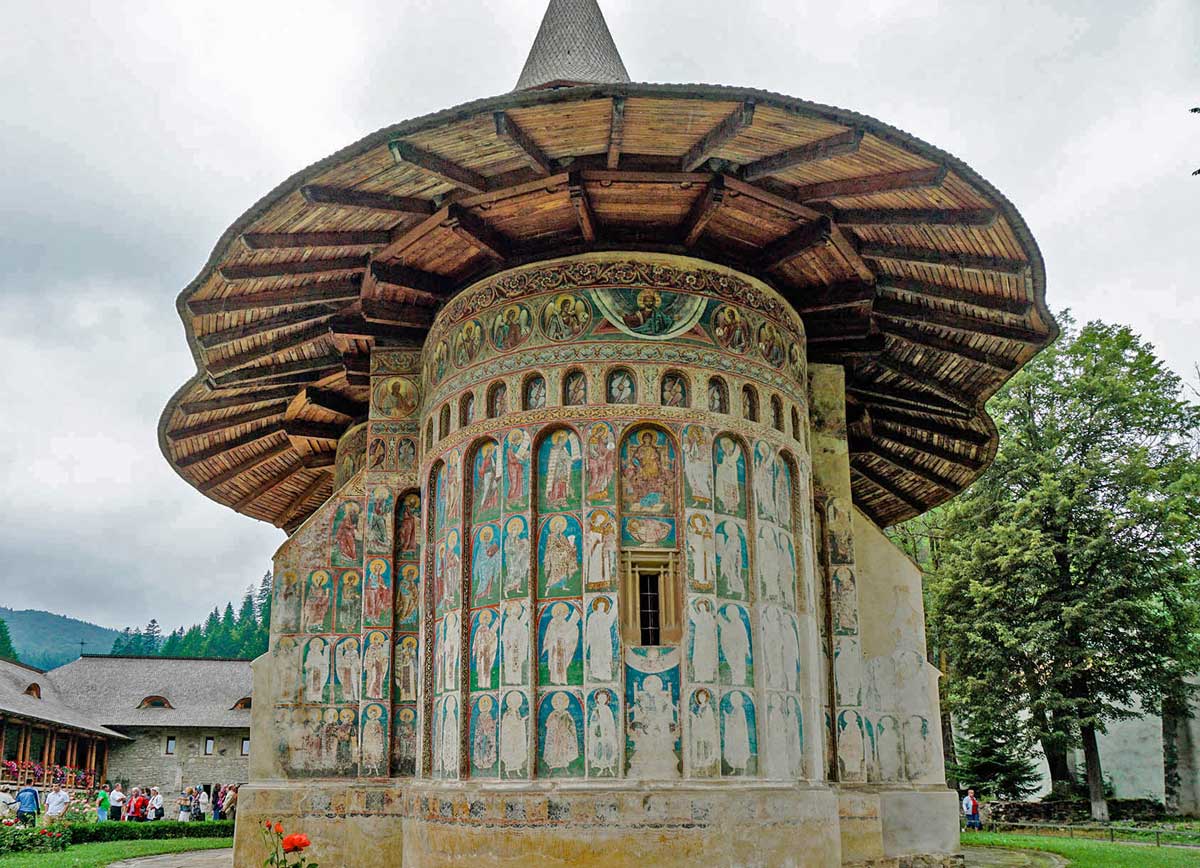 Sucevita Monastery
Access: car, bus from Radauti
Nearest train stations: Radauti, Vatra Moldovitei HC
Admission fee: 5 lei (1 eur/1.2 usd)
Sucevita was my favorite painted church. Its exterior frescoes dating from around 1601 are very well preserved since it was one of the last monasteries to be decorated in the famous Moldavian style of exterior paintings.
The monastery is located near Sucevita river, in the eponymous village. It was  built in 1585 by Ieremia Movila, Gheorghe Movila and Simion Movila.
It features Gothic and Byzantine details, as well as some elements typical to the churches of Bucovina. Its most important fresco is Ladder of Virtues. Its dominant color is green.
The interior court of the monastery is surrounded by a tall and wide wall. Each of its corners features a defensive tower.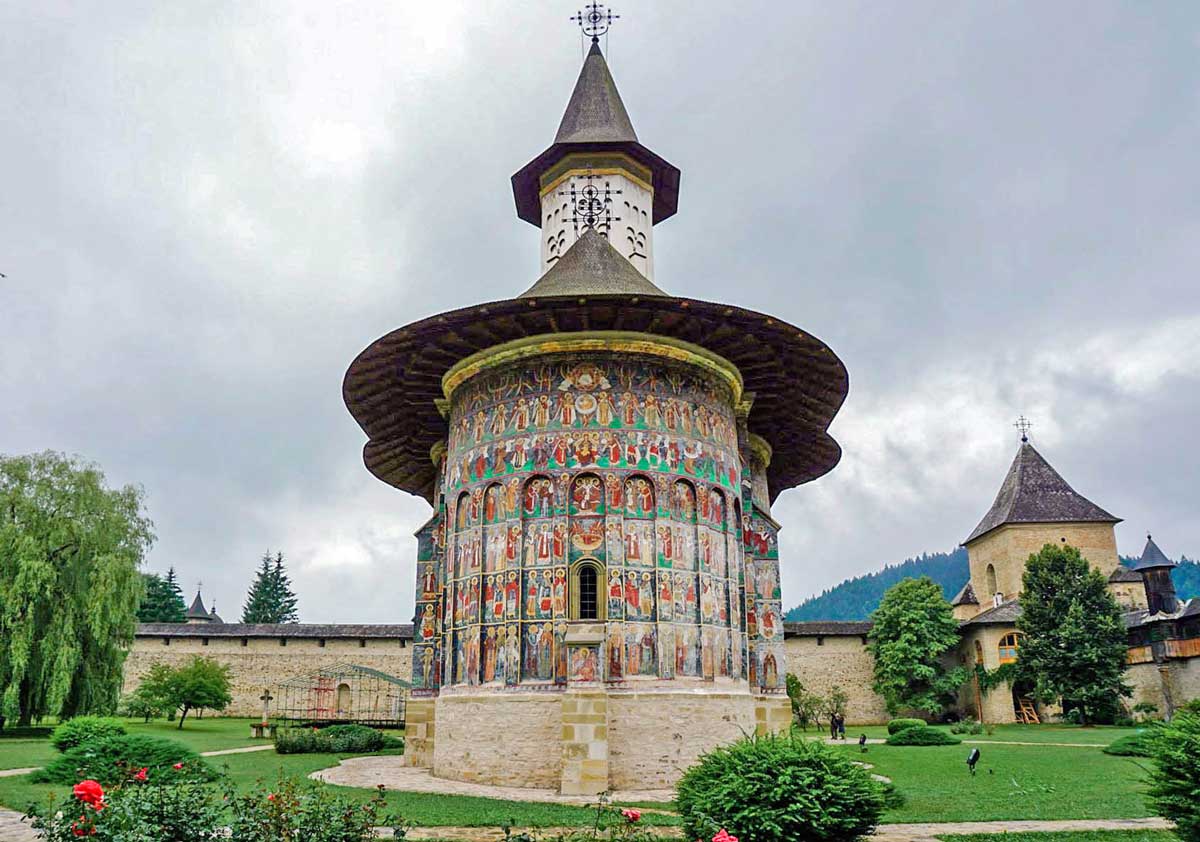 Agapia Monastery
Access: car, bus from Targu Neamt
Nearest train stations: Targu Neamt
Admission fee: 5 lei (1 eur/1.2 usd)
Not exactly a painted monastery, Agapia is located in the commune Agapia, 9 km away from Targu Neamt city. It is one of the biggest nunneries in Romania, coming 2nd after Varatec.
Agapia's church doesn't feature exterior frescoes, but its interior was painted by the famous Romanian painter, Nicolae Grigorescu.
For this reason, the artistic style of the paintings is visibly different from other Bucovina monasteries.
The portraits of saints that he painted look so realistic, that it feels like they're following you with their eyes as you walk inside the church.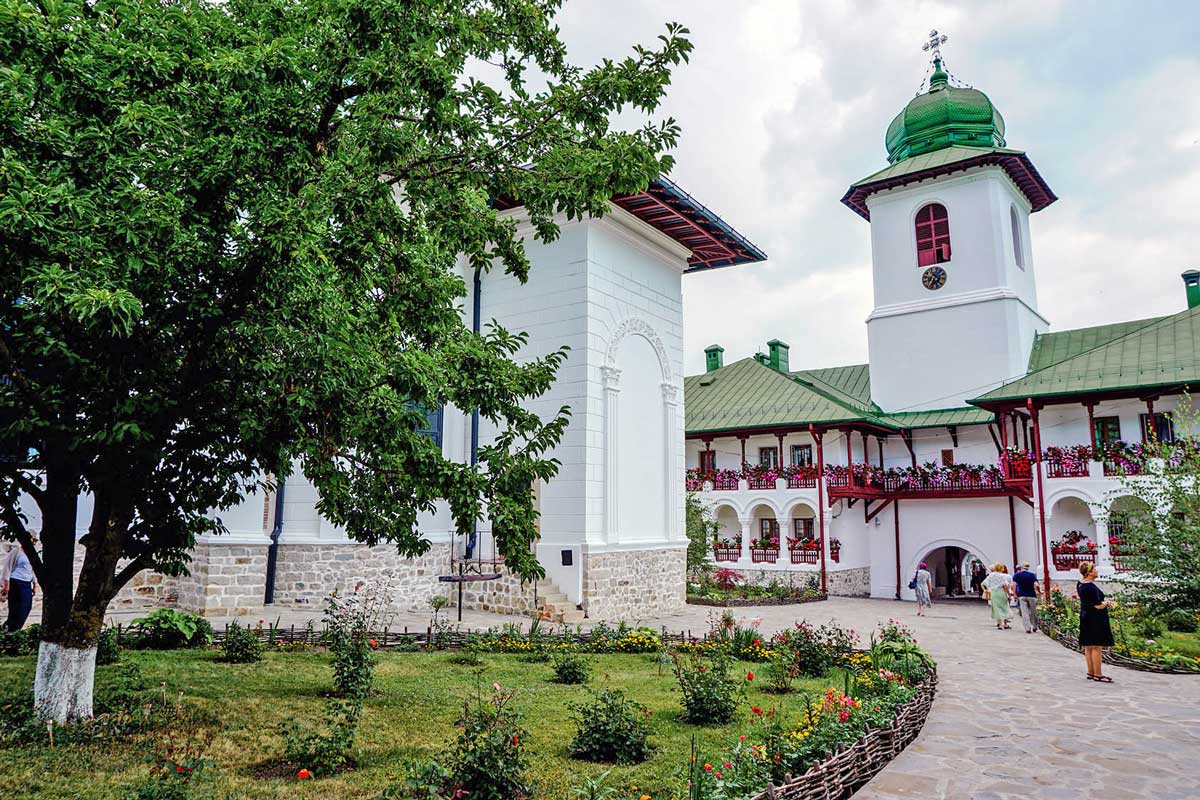 Moldovita Monastery
Access: car, train from Suceava to Vama: 1¼ hours,
and from Vama to Vatra Moldovitei: 35 min.
Nearest train station: Vatra Moldovitei HC
Admission fee: 5 lei (1 eur/1.2 usd)
Moldovita is a painted monastery located in the village of Vatra Moldovitei, Suceava county. It was built in 1532 by Petru Rares, Stephan the Great's illegitimate son. Its dominant colors are gold and deep blue and its exterior paintings are very well preserved.
The Siege of Constantinople, depicting the Ottoman capture of the Byzantine capital is Moldovita's most important fresco.
Humor Monastery
Access: car, bus from Suceva, train
Nearest train stations: Gura Humorului
Admission fee: 5 lei (1 eur/1.2 usd)
Humor monastery is located 5 km away from Gura Humorului town. It has exterior painted walls and its dominant color is reddish-brown.
There is a tower lookout in the same courtyard as the church which can be climbed for a bird's eye view of the surroundings.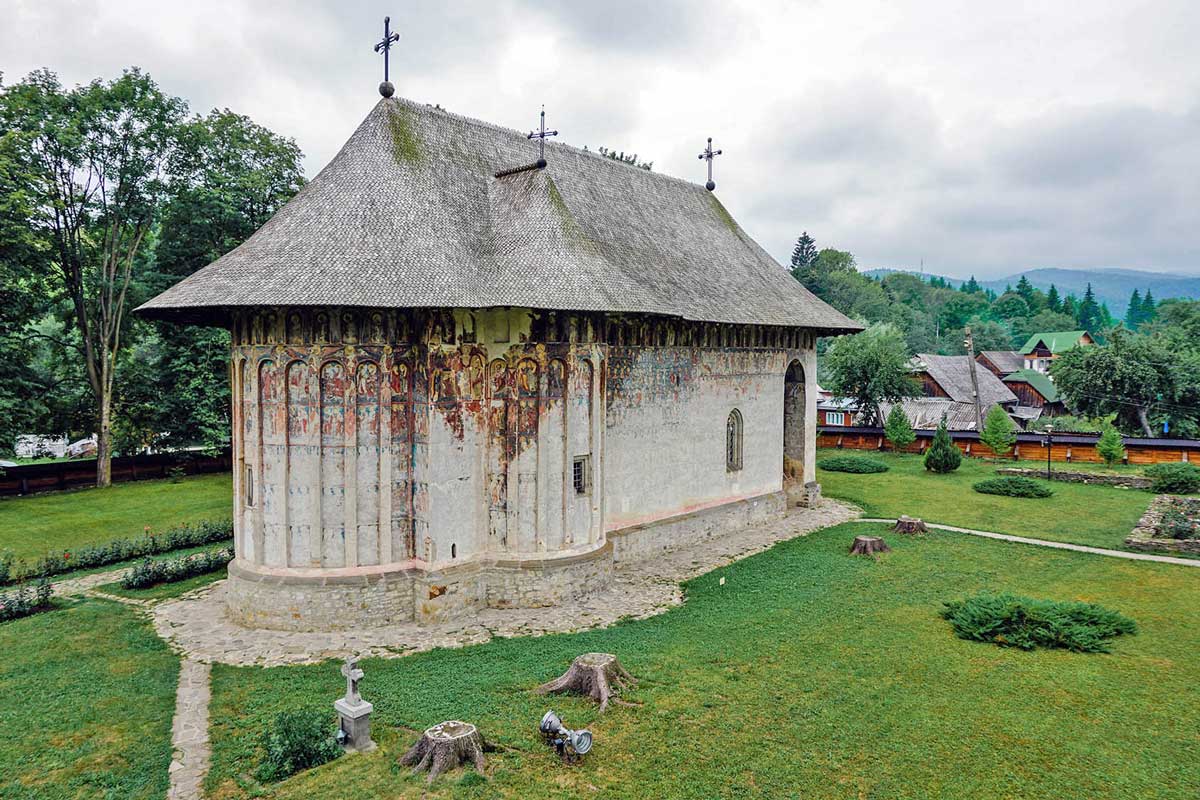 Putna Monastery
Access: car, bus from Radauti, train
Nearest train stations: Putna
Admission fee: The church is free to visit, but no pictures/videos are allowed inside (only outside for a fee of 10 RON). There is also a museum on the premises, available to visit for a fee.
Putna monastery, like many others, was founded by Stephan the Great – it was said that he built a church after each important military victory. After his death, the Moldavian ruler was buried here and so were a few other members of the family.
Sadly, the original church which had its outside walls painted with biblical stories was destroyed. It was later rebuilt by Vasile Lupu.
While the actual Putna doesn't feature exterior mural paintings, the fact that it is the resting place of Stephan the Great keeps it close to the hearts of Romanians.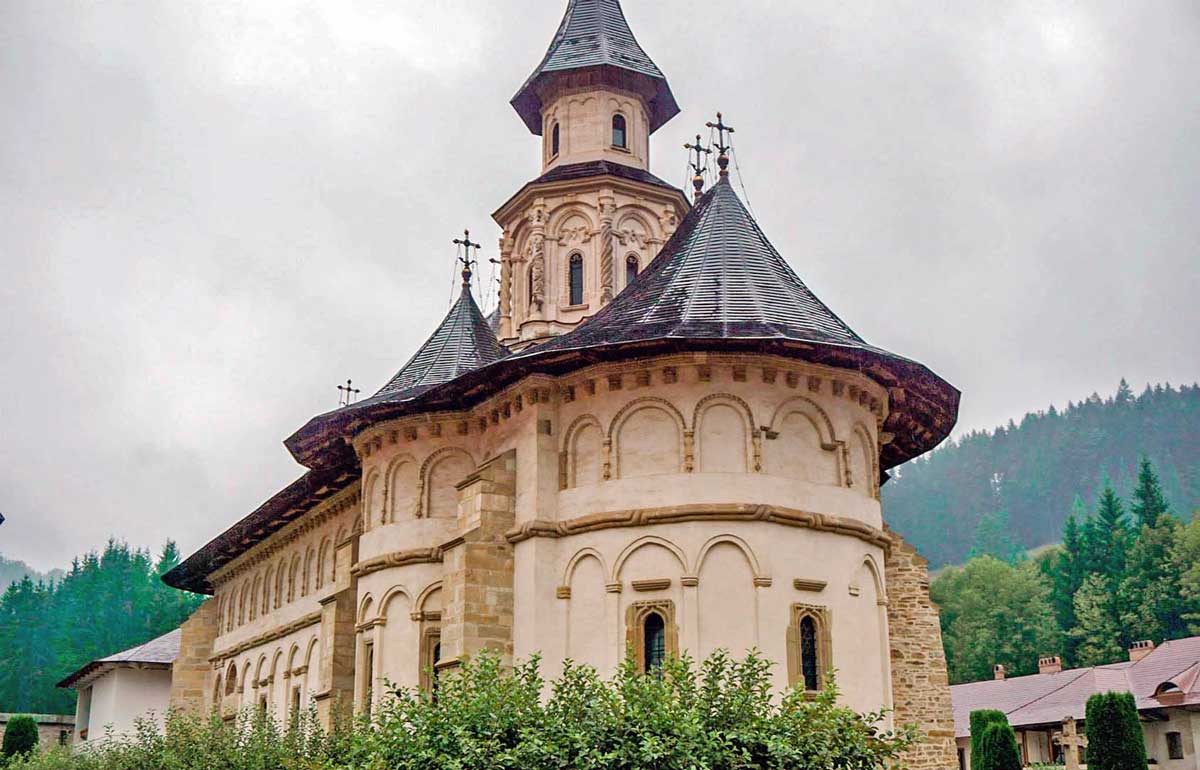 Neamt Monastery
Access: car, bus from Targu Neamt
Nearest train stations: Targu Neamt
Admission fee: 5 lei (1 eur/1.2 usd)
Neamt Monastery is another church built during the reign of Stephan the Great. Its facade is not painted, but it is covered with decorations characteristic of Stephan's time: Gothic windows with enameled disks, colored in green, yellow, and brown.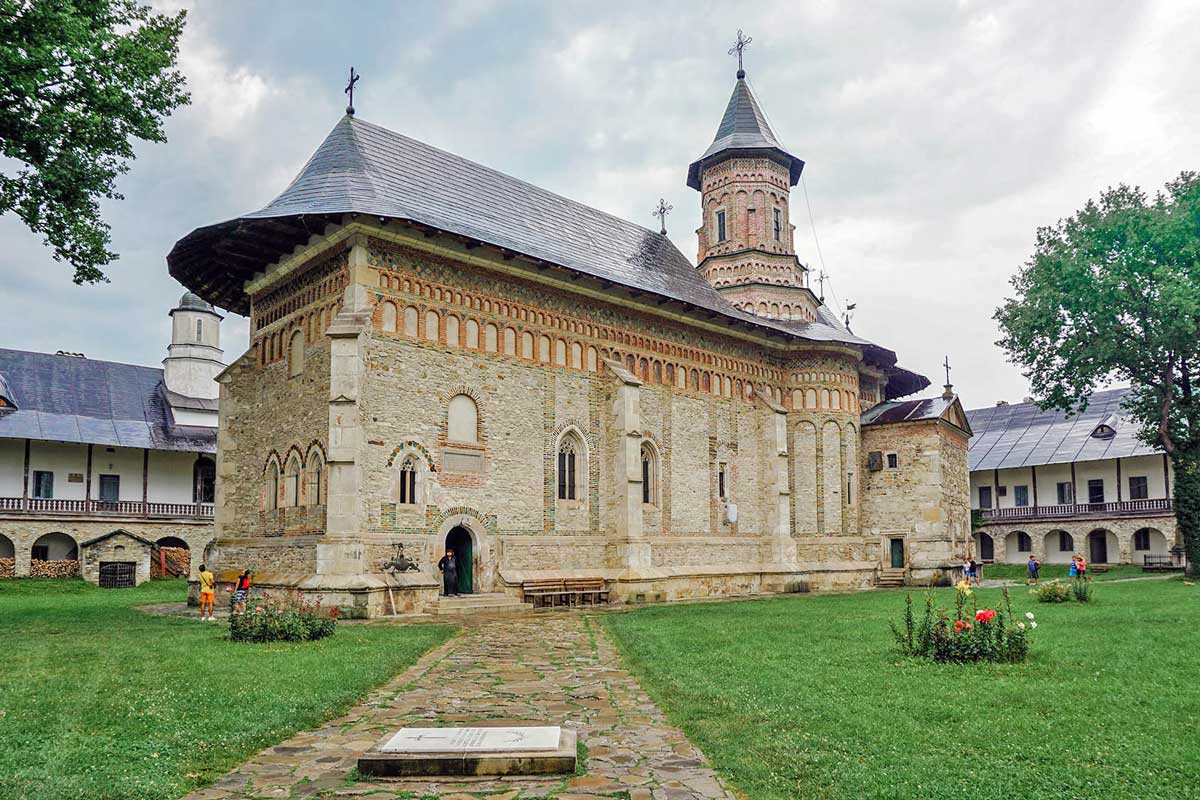 Guide for visiting Romanian Orthodox Monasteries
Being that they are religious sites, most Orthodox monasteries impose a dress code when visiting – this is usually valid for any church from an Orthodox country be it Russia, Romania, or Greece:
MEN: pants over the knee, shirts with sleeves.
WOMEN: skirts over the knee, shirts with sleeves (that don't show considerable cleavage), scarf for covering the head.
Sometimes pants over the knee are also accepted for women, but usually, it's better to go with a skirt/dress. The scarf is not always mandatory. 
Most monasteries provide visitors with sarongs and scarves at the entrance if they are not dressed in accord with the dress code.
---
If you're looking for an off-the-beaten-path destination in Europe, consider Bucovina and its painted monasteries. With a unique history and beautiful landscape, it's definitely worth the visit!
And if you have time to spare, cross the mountains into Maramures, another wonderful gem of Romania.
---
MORE INFO ABOUT ROMANIA