Pack in no time by using this cabin trip packing list
Are you planning a cabin trip this year? If so, make sure you pack everything you need with this Ultimate Cabin Trip Packing List. This list will help ensure that you have everything you need for a relaxing and enjoyable trip without going overboard and packing too much.
When packing for a cabin trip, keep in mind the climate and activities that you will be participating in. If you are going to a cold climate, bring clothing that will keep you warm, such as sweaters, thermal layers, hats, and gloves.
If you will be doing outdoor activities such as hiking or skiing, make sure to pack appropriate gear, such as boots, jackets, and sunscreen. And don't forget snacks and drinks – the cabin trip is definitely not the time to diet!
Here is a suggested packing list for a typical cabin trip:
Toiletries
Food & Drinks
Clothes
Entertainment
Shampoo
Coffee/ Tea/ Hot cocoa
Jacket
Cards
Shower gel
Fruits &
vegetables
Comfy PJs
Board games
Toothpaste &
toothbrush
Wine
Slippers
Kindle/ Books
Medication
Corkscrew
Sweaters
Portable speaker
Soap
Snacks
Ski gear (winter)
Phone & camera charger
Brush
Quick to prepare ingredients
Boots
Camera
Antiperspirant
Seasonings
Cozy socks
Tripod
Bug spray
Sugar
Comfy sweatshirts & sweatpants
Drone
SPF
Water
Laundry bag
Chapstick
Juice
Thermal layers (for cold weather)
Skincare
Grill necessities
Small backpack
Disclosure: Some of the links in this post are affiliate links. If you click on them and make a purchase, I receive a commission at no extra cost to you. Check my full disclaimer here.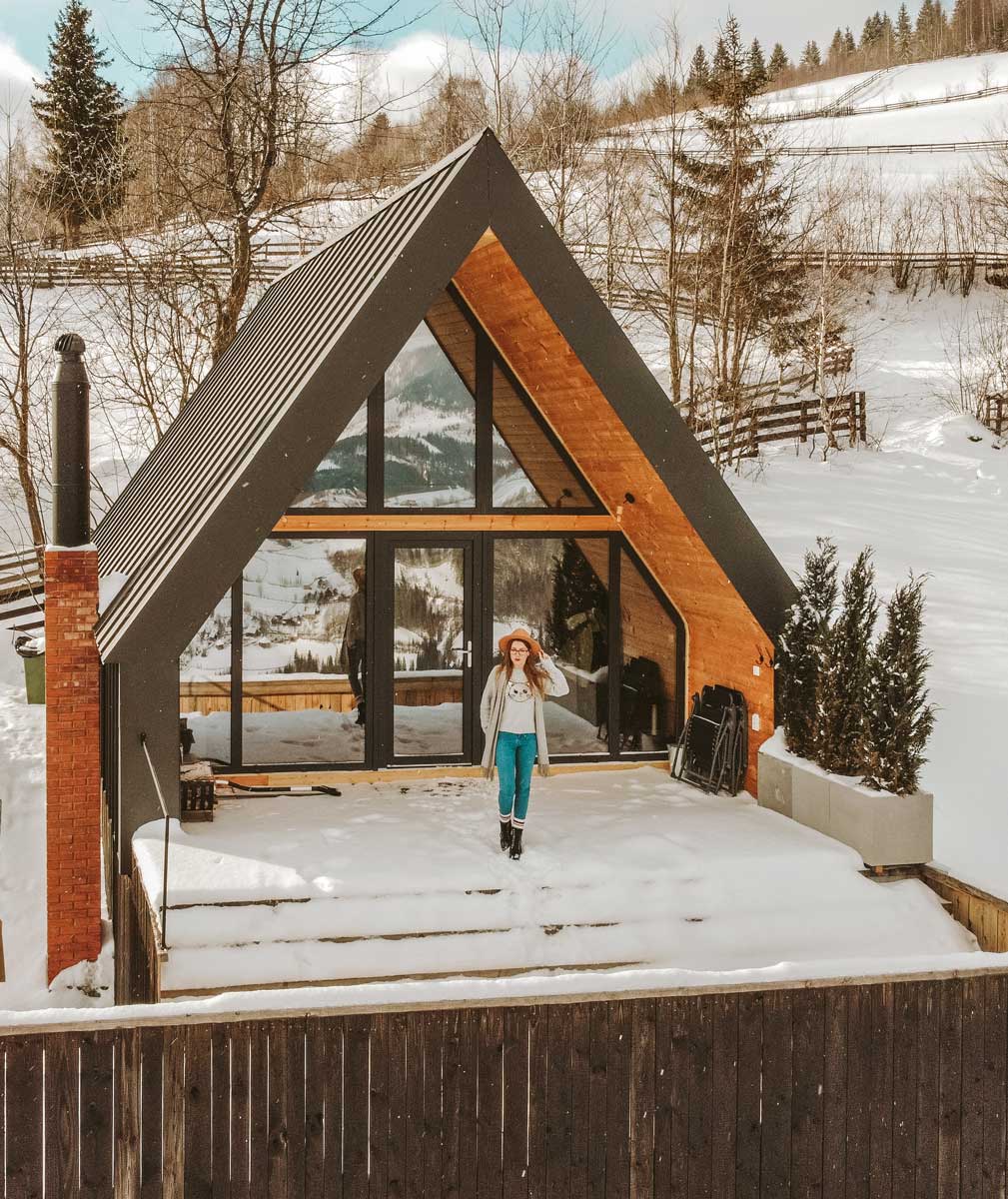 Before you start packing
It's a good idea to print the reservation and have it on you, as well as to make sure you know how to get the key. I'd also advise downloading a map of the area that you can check offline. Cabins are often located in remote places where cell phone service can be bad or nonexistent.
Also, don't forget about other essential items like toilet paper, dish soap & sponge, garbage bags, paper towels, and a lantern or flashlight. Some might already be available at your cabin, so it's worth checking with your host if that's the case.
Toiletries
When packing for a cabin trip, it's important to remember to bring along all of your toiletries. This includes items like shampoo, soap, shower gel, toothbrush and toothpaste, your favorite skincare, hairbrush, antiperspirant, etc. Make sure to pack enough for the entire trip, as you may not be able to find these items at the cabin or nearby stores.
Unless you're going in winter, it's a good idea to bring some bug spray: a natural repellent should be fine for most cabin trips. SPF is also something you shouldn't forget at home as the mountain sun can be pretty vicious. I'd also advise you to bring some medication in case you get a cold or an upset stomach and a first aid kit.
Food & drinks
You want to be sure that you have all the food and drinks you need for a cozy cabin trip. Pack snacks, as well as different ingredients that are quick to turn into breakfast, lunch, or dinner like eggs, milk, cereals, ham, sausages, vegetables, bread, etc.
Most cabins have a small kitchenette with utensils where you can prepare your food, but no one wants to spend too much time cooking while on vacation.
You should also bring some non-perishable foods in case of an emergency. Some good choices include crackers, granola bars, breadsticks, biscuits, cereal bars, chocolate cookies or brownies, etc.
For a fancy and very quick dinner, I like to bring an assortment of cheese which I then lay out on a plate with breadsticks, prosciutto, fruits (usually grapes or figs), and jam.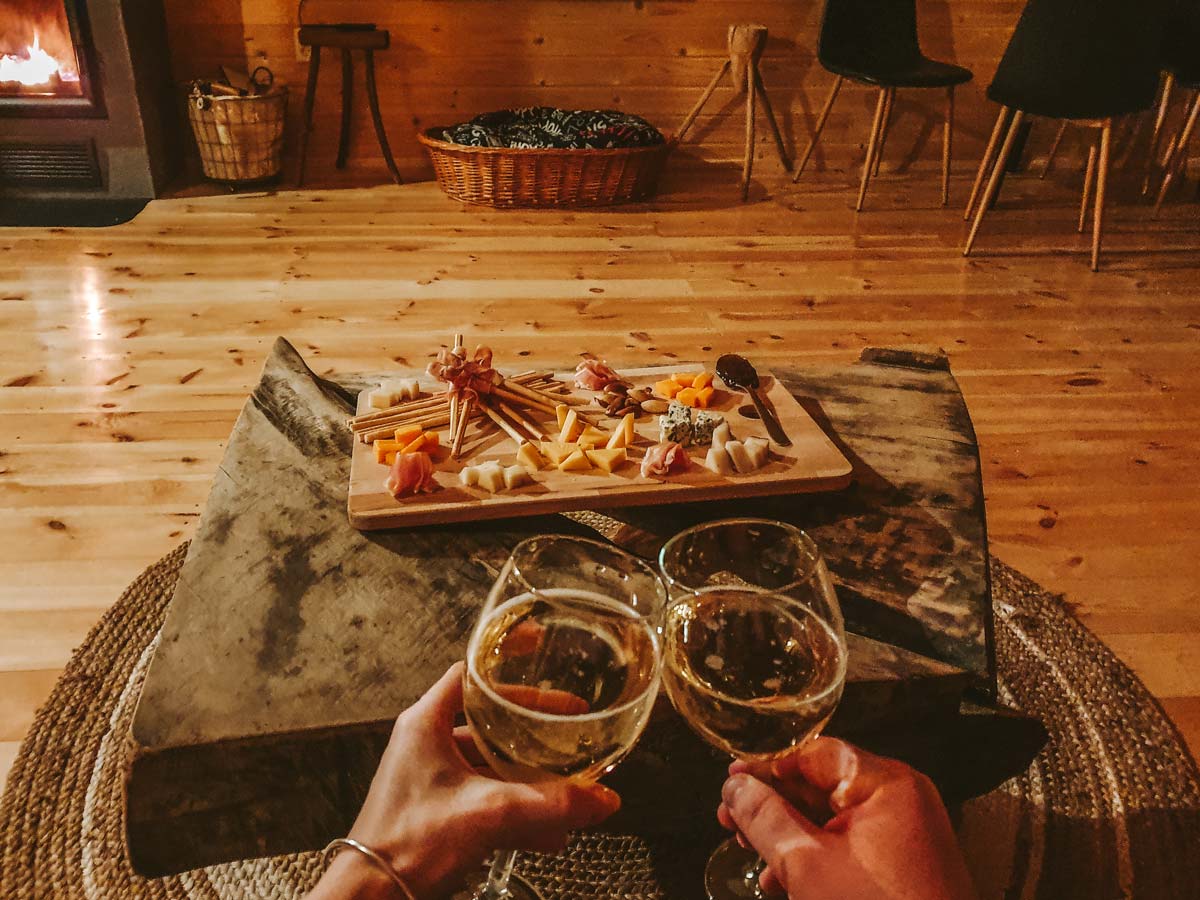 If you're bringing alcohol on your trip then it's best to pack wine instead of beer because it still tastes ok even if you don't have enough room in your fridge to keep it cold. Don't forget to get a corkscrew in case the cabin doesn't have one.
For beverages, other than water just bring your favorite juice. You should also have some tea, coffee, or hot cocoa with you (depending on your preference), which you can drink in the morning while admiring the view.
If you plan to have a grill while at the cabin then make sure you have matches, charcoal, and fire starters. Some tin foil might also be useful.
Clothes
Make sure to pack a variety of clothes appropriate for the time of year in which you are traveling to your cabin. Also, take into account that the weather can be unpredictable even during the warmer months: while it may be warm during one part of the day, there could still be chilly evenings and mornings that require layers. It's also worth checking the weather forecast before you start packing.
For a winter cabin trip, you should bring the following items: ski pants (even if you don't plan or know how to ski), a warm coat, heavy-duty snow boots, as well as gloves, and a hat. You shouldn't forget to bring some thermal layers too to keep you as warm as possible.
In spring or autumn it may rain, so make sure you have a good rain jacket, umbrella and waterproof pants, and hiking boots. Thermal layers should be useful during these seasons as well.
Summers can be moody in terms of the weather so bring both summer clothes as well as things to keep you warm like a sweater or a light jacket. Dress in layers and also don't forget to bring a straw hat to protect you from the sun while you are out and about.
Inside the cabin, regardless of the season, it's all about being cozy, so bring some comfy PJs, wool socks, sweatshirts, and sweatpants. For a winter trip, you can even bring a knitted blanket with you.
Entertainment
You should bring some board games and/or cards to keep you entertained and have a great time. Also don't forget your camera, memory cards, extra batteries, and chargers. If you have a drone, bring it as well, but make sure you are allowed to fly it in the area you are traveling to.
If you like to read bring your Kindle or a good book. I find nothing cozier than reading in front of a fireplace during the cold winter days or while I drink my morning coffee.
---
So there you have it – the ultimate cabin packing list. By following these tips, you'll be able to travel light and still have everything you need for a great trip. What are you waiting for? Get packing!