Are you planning a cabin trip this year and you're wondering what should you bring with you? If that's the case, make sure you pack everything you need with this ultimate Cabin Trip Packing List.
It will help ensure that you have everything you need for a relaxing and enjoyable trip without going overboard and packing too much.
First things first, when packing for a cabin trip, keep in mind the climate and activities that you will be participating in. If you are going to face cold, bring clothing that will keep you warm, such as sweaters, thermal layers, hats, and gloves.
If you will be doing plenty of outdoor activities such as hiking or skiing, make sure to pack appropriate gear, such as boots, jackets, and sunscreen. And don't forget snacks and drinks – the cabin trip is not the time to diet!
Disclosure: Some of the links in this post are affiliate links. If you click on them and make a purchase, I may receive a commission at no extra cost to you. Check my full disclaimer here.
Suggested packing list for a typical cabin trip
Toiletries and medication
Food & Drinks
Clothes
Entertainment and Tech
Shampoo
Coffee/ Tea/ Hot cocoa
Jacket
Deck cards
Shower gel
Fruits &
vegetables
Comfy PJs
Board games
Toothpaste &
toothbrush
Wine
Indoor slippers
Kindle/ Books
Medication and first aid kit
Corkscrew
Sweaters
Portable speaker
Glucose tablets
Granola bars
Small backpack
External battery
Soap and hand sanitizer
Snacks
Ski gear (winter)
Phone & camera charger
Hair brush
Quick to prepare ingredients
Boots
Camera
Antiperspirant
Seasonings
Cozy socks
Tripod
Bug spray
Sugar
Comfy sweatshirts & sweatpants
Drone
SPF
Water
Laundry bag
Jenga
Chap-stick
Juice
Thermal layers
Skincare
Grill or campfire supplies
Sunglasses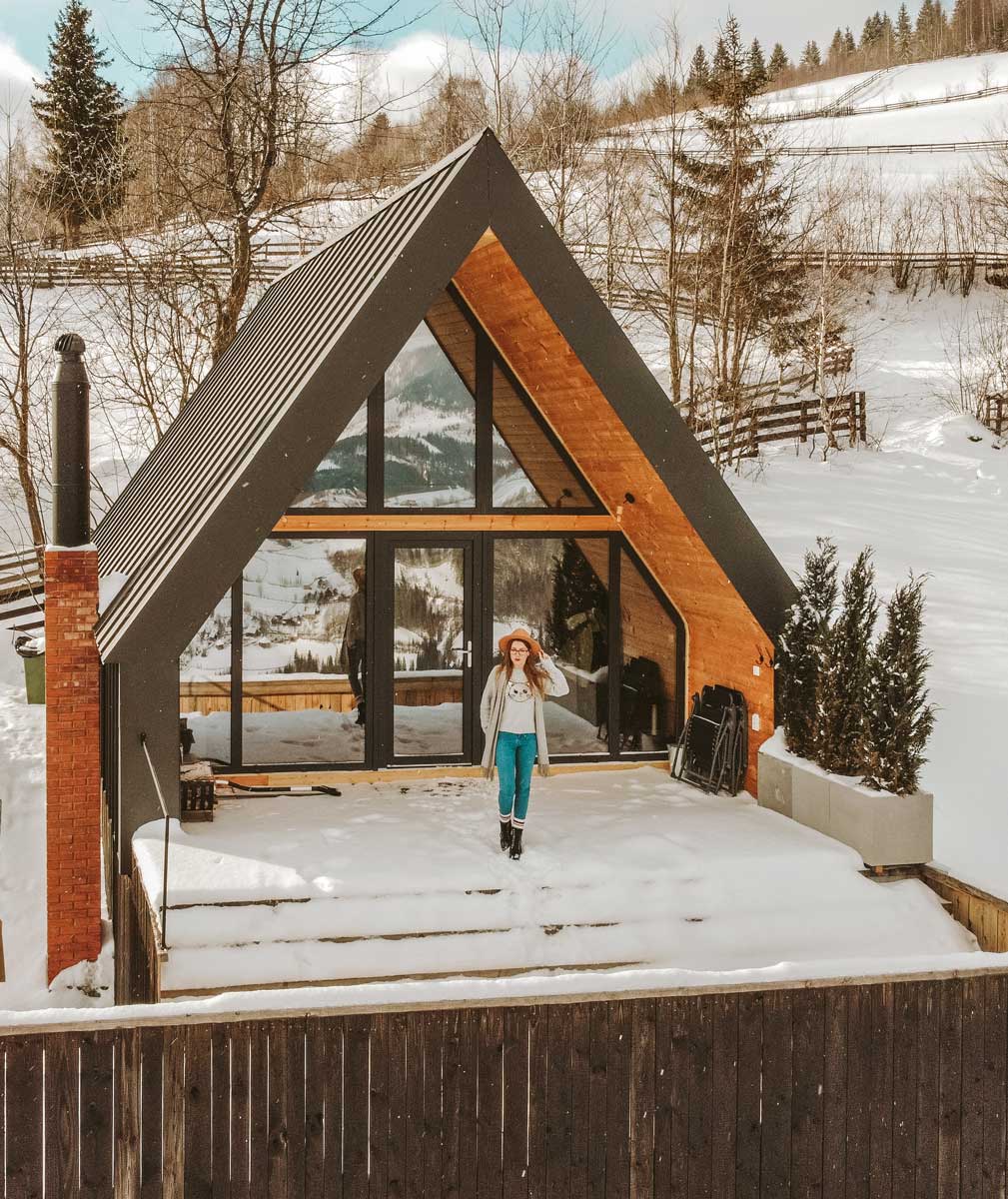 Before you start packing for your cabin trip
Before you start packing for your cabin getaway, you should first take into account what amenities does you accommodation come with, as well as the activities that you're planing to do.
For example, does the cabin have a pool or a hot tub? Does it have a fire place or a grill? Is it close to hiking paths? Will you be skiing? Answering these questions will greatly influence your packing list.
It's also a good idea to print your booking reservation and have it on you, as well as to make sure you know how to get the key of the cabin.
You might want to download a map of the area that you can check offline as well, because cabins are often located in remote places where cell phone service can be bad or nonexistent.
And don't forget to inquire about other essential items like toilet paper, dish soap & sponge, kitchen utensils, garbage bags, paper towels, and a lantern or a flashlight. Some might already be available at your cabin, so it's worth checking with your host if that's actually the case.
Cabin trip essentials: Toiletries
When packing for a cabin trip, it's important to remember to bring along your toiletries.
This includes items like shampoo, soap, shower gel as not all cabins include them, toothbrush and toothpaste, your favorite skincare, hairbrush, antiperspirant, etc. A hand sanitizer can also be handy on the go.
And make sure to pack enough for the entire trip, as you may not be able to find nearby stores from where you can purchase replacements.
Unless you're going in winter, it's a good idea to bring some bug spray: a natural repellent should be fine for most cabin trips, but you can also opt for DEET.
SPF is also something you shouldn't forget at home as the mountain sun can be pretty vicious. I'd also advise you to bring some medication too in case you get a cold or an upset stomach, glucose tablets for hiking, as well as a first aid kit.
A basic first aid kit typically contains the following items:
Bandages: It's essential to have an assortment of sizes to cater to different types of wounds.
Tape: Medical tape is good for securing bandages, gauze, or other dressings in place, ensuring that wounds remain clean and protected from external contaminants.
Cleaning Solutions:

Neosporin: An antibiotic ointment that can help prevent infection in minor cuts, scrapes, and burns.
Alcohol: Useful for disinfecting tools or skin surfaces before an intervention. It can kill bacteria and other pathogens on contact.
Hydrogen Peroxide: Often used for cleaning wounds, it can help to remove dead tissue and prevent infection.

Sterile Pads: These are essential for covering larger wounds or abrasions. They can absorb blood and other fluids, keeping the wound clean and aiding in the healing process.
Tweezers: Good for removing splinters, thorns, or other foreign objects that might embed themselves in the skin.
Analgesic Spray: Products like Dermoplast provide pain relief when applied to minor cuts, burns, and insect bites.
Protective Gloves: wearing vinyl gloves ensures that you can administer first aid without the risk of contaminating the wound or transferring pathogens.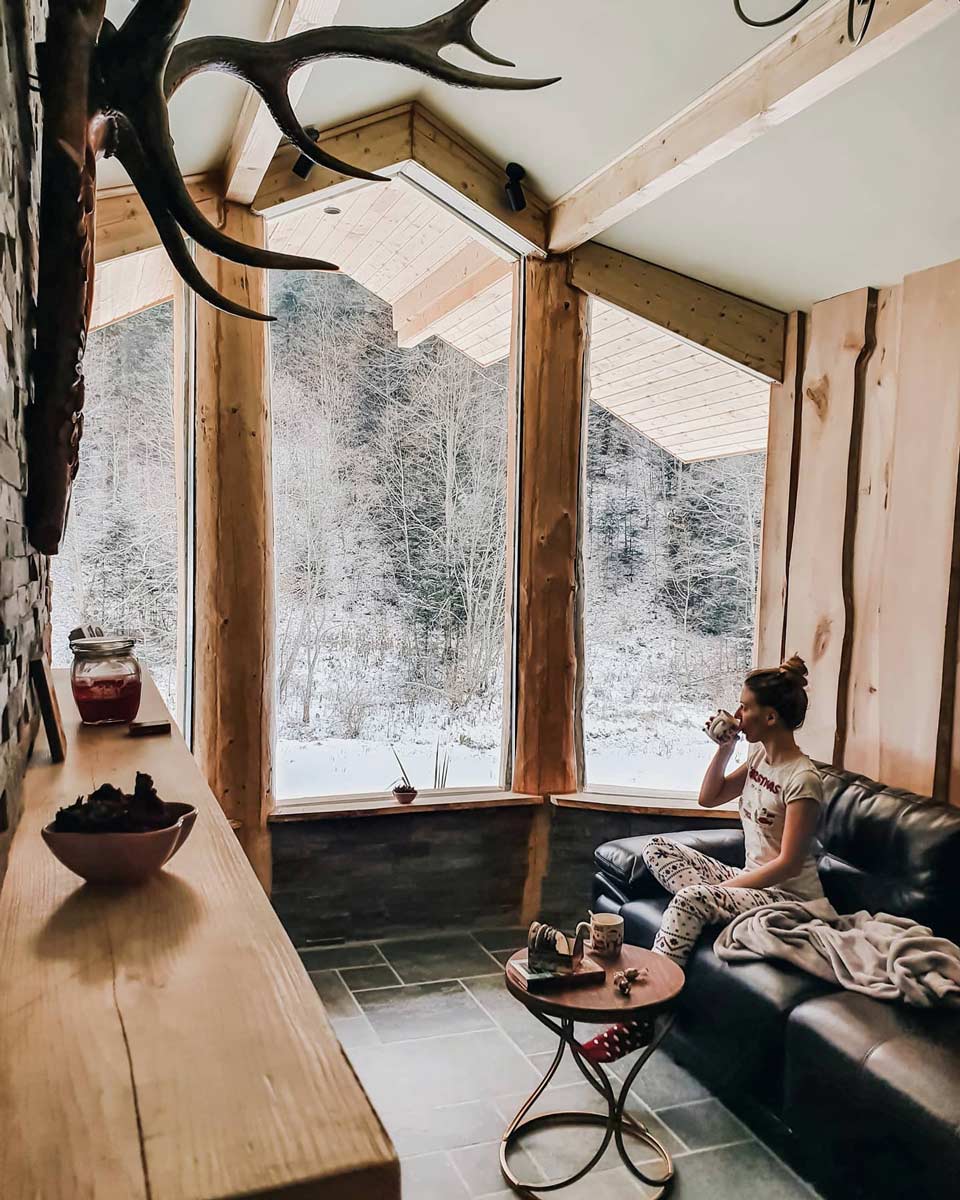 What to bring on a cabin trip: Food & drinks
You want to be sure that you have all the food and drinks you need for a cozy cabin trip, since most of the time you won't have any shops nearby from where you can purchase additional things.
So pack snacks, as well as different ingredients that are quick to turn into breakfast, lunch, or dinner like eggs, milk, cereals, ham, sausages, vegetables, bread, etc. Also, don't forget to take a bit of cooking oil or butter, basic spices (like salt, pepper or garlic powder) and sugar.
Should you bring raw meat, then make sure you transport it in a camping cooler, especially if you're traveling in warm weather.
Most cabins have a small kitchenette with utensils where you can prepare your food, however, most people don't want to spend too much time cooking while on vacation.
If you plan to have a grill or campfire while at the cabin then make sure you have matches, charcoal, and fire starters. Some tin foil might also be useful.
You should also bring some non-perishable foods in case of an emergency. Some good choices include crackers, granola bars, bread sticks, biscuits, cereal bars, chocolate cookies or brownies, etc.
For a fancy and very quick dinner, I like to bring an assortment of cheese which I then lay out on a plate with bread sticks, prosciutto, fruits (usually grapes or figs), and jam. Wine goes great with it, but don't forget your corkscrew home if you bring a bottle or two.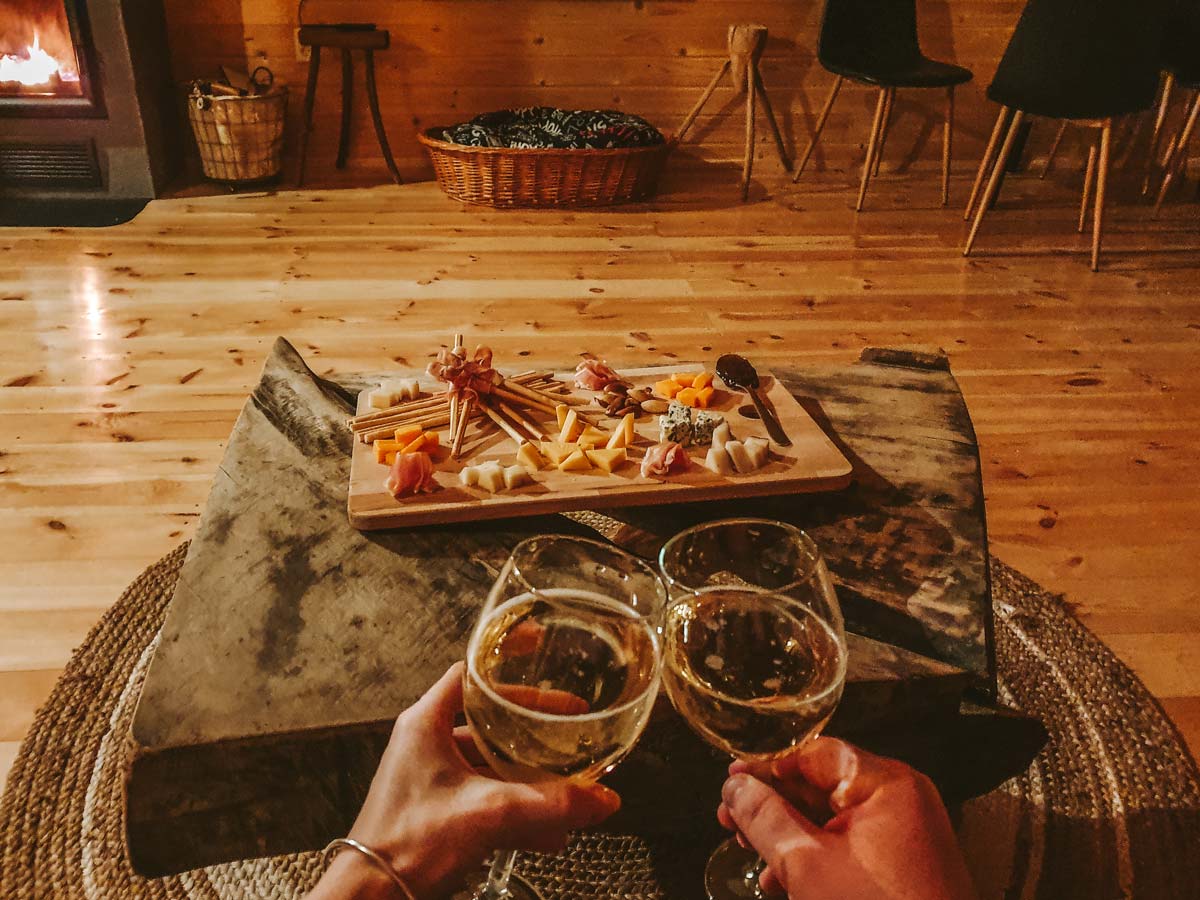 If you're bringing alcohol on your trip then it's best to pack wine instead of beer because it still tastes good even if you don't have enough room in your fridge to keep it cold.
For beverages, other than water, you can bring your favorite juice. You should also have some tea, coffee, or hot cocoa with you (depending on your preference), which you can drink in the morning while admiring the view.
Packing list for cabin trip: Clothes
Make sure to pack a variety of clothes appropriate for the time of year in which you are traveling to your cabin.
Take into account that the weather can be unpredictable even during the warmer months: while it may be warm during one part of the day, there could still be chilly evenings and mornings that require layers. It's also worth checking the weather forecast before you start packing.
For a winter cabin trip, you should bring the following items: ski pants (even if you don't plan or know how to ski), a warm coat, heavy-duty snow boots, as well as gloves, wool sweaters, and a hat. You shouldn't forget to bring some thermal layers too to keep you as warm as possible.
In spring or autumn it may rain, so make sure you have a good rain jacket, umbrella and waterproof pants, as well as hiking boots. Thermal layers should be useful during these seasons as well.
Summers can be moody in terms of the weather so bring both summer clothes as well as things to keep you warm like a sweater or a light jacket.
Dress in layers and also don't forget to bring a straw hat to protect you from the sun while you are out and about. Bringing a pair of sunglasses is also a good idea.
If your cabin trip also involves some water activities, then make sure you don't forget your swimsuit at home either.
Inside the cabin, regardless of the season, it's all about being cozy, so bring some comfy PJs, wool socks, sweatshirts, and sweatpants. For a winter trip, you can even bring a knitted or fluffy blanket with you.
What to pack for a cabin trip: Entertainment
You should bring some board games and deck cards to keep you entertained and have a great time.
Also don't forget your camera, memory cards, extra batteries, and chargers. If you have a drone, you can bring it as well, but make sure you are allowed to fly it in the area you are traveling to.
If the cabin is somewhat remotely located, there's a good chance you'll be able to witness an amazing night sky, so bring your tripod in order to take beautiful photos of it.
Also, it's wise to bring one or two external batteries in case of emergency as sometimes cabins run out of power due to weather conditions (had this happen before).
If you like to read, I'll also recommend you bring your Kindle or a good book. I find nothing cozier than reading in front of a fireplace during the cold winter days or while I drink my morning coffee.
Cabin trip packing list: Wrap up
So there you have it – my ultimate cabin packing list. By following these tips, you'll be able to travel fairly light and still have everything you need for a great and cozy getaway. What are you waiting for? Get packing!
---
YOU MIGHT ALSO LIKE