Discover one of the seven wonders of Romania: Corvin Castle in Hunedoara
Ranked as one of the most beautiful castles not only in Romania but in Europe as well, Corvin Castle (Ro: Castelul Corvinilor or Castelul Huniazilor) is definitely a must-visit for anyone exploring the country.
While it's not the easiest to reach, particularly if you land in the capital (it's a 5-hour and a half drive from Bucharest at minimum), the castle will definitely not disappoint, more so if you have an interest in history and architecture.
Read on to find out how to visit Corvin Castle in Transylvania.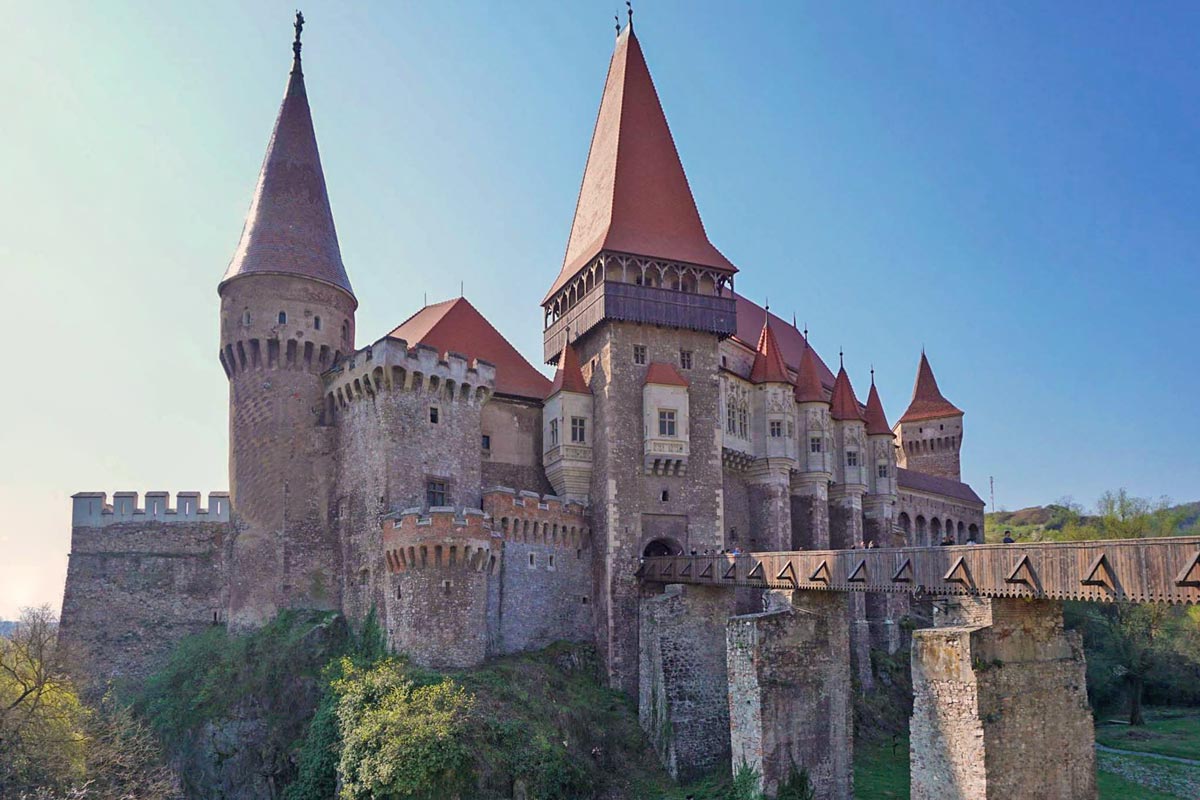 Disclosure: Some of the links in this post are affiliate links. If you click on them and make a purchase, I receive a commission at no extra cost to you. Check my full disclaimer here.
Where is Corvin Castle located?
The medieval castle of Corvin (also known as Hunyadi Castle or Hunedoara Castle) is located in the city of Hunedoara and is one of the largest of its kind in Europe. Its history begins in the 15th century, when Iancu de Hunedoara (John Hunyadi), Transylvania's Voivode at the time, decided to transform an old fortress into an impressive castle.
Built in a Renaissance-Gothic style, the imposing structure has tall towers, bastions, an inner courtyard, and numerous windows and balconies decorated with stone carvings. It proudly sits on a cliff above the small Zlasti river.
How to get to Corvin Castle?
If you visit Romania, most often than not you will begin your journey in the capital, Bucharest. Therefore, if you want to visit the castle you'll have to choose between renting a car, public transport or a tour.
By car
The easiest way to visit the castle is by car. As I already mentioned the driving time starts at around 5.5 hours from Bucharest, but it can take longer if there's traffic ahead (which is often the case) and depending on which route you take.
There are 3 ways that you can choose from if you want to cross the Carpathian mountains into Transylvania:
Prahova Valley (approx. 6h 40m): It's usually the most crowded and has quite a few tight twists as you get close to Brasov. This route is also a bit longer.
Olt Valley (approx. 5h 30m) : This is my recommended passage! You'll drive on the highway from Bucharest to Pitesti, and then again from Sibiu until you almost reach Hunedoara. This valley has milder turns than the other two crossings and the landscape is absolutely stunning as you'll drive through the highest mountains in Romania: Carpatii Meridionali.
Jiu Valley (approx. 6h 20m): There's usually a bit less traffic on this route than on the other two. However, as you cross the mountains the road is more winding than Olt Valley, so you'll have to drive slower.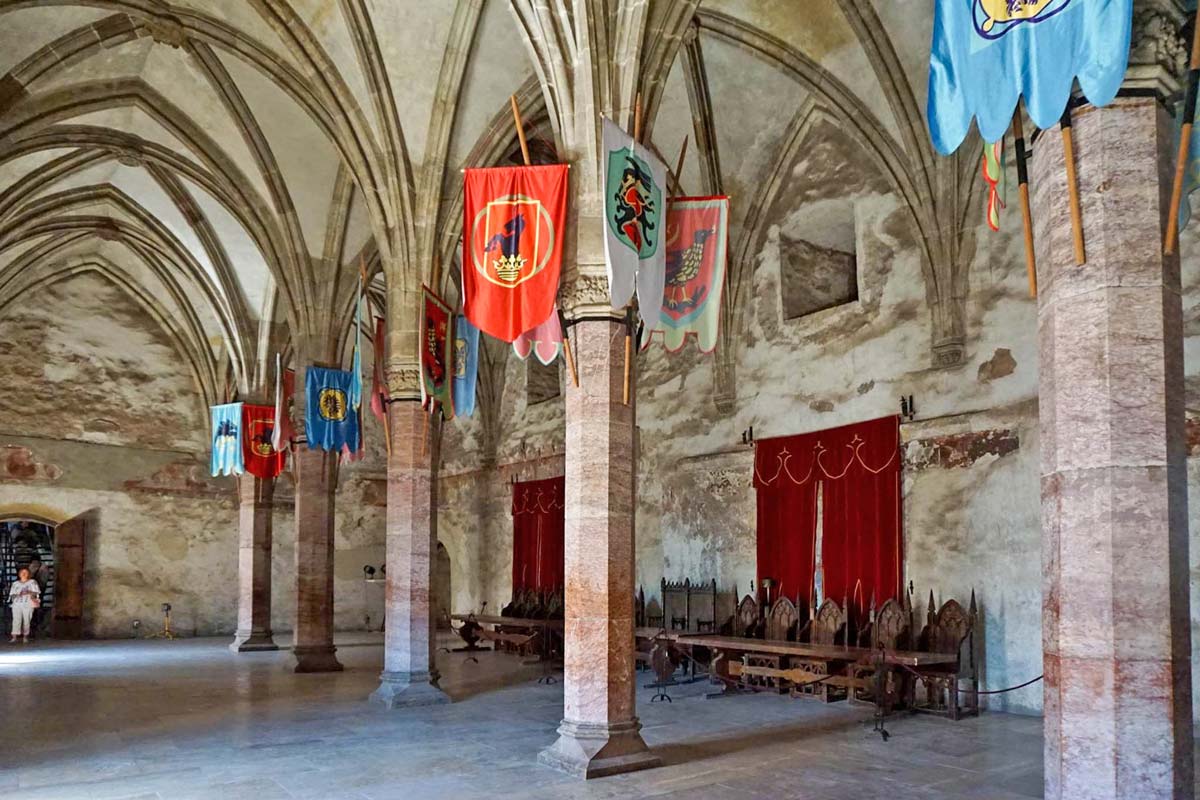 By public transport
There's a direct train from Bucharest Gara de Nord (the main train station in the capital) to Deva, but I should warn you that the journey takes about 9.5 hours. You can check the itinerary and buy tickets from here.
Then, from Deva, you can then take a local bus (or even a taxi) to Hunedoara. Buses leave from Deva Bus station (Ro: Autogara Deva), located fairly close to the train station.
By tour
If you don't want to go through the hassle of planning your own trip, then you can book a tour:
When it's the best time to visit the castle?
Since Corvin Castle has gained quite a bit of popularity in recent years, it is better to visit it during the week, as soon as it opens. This way you will have it mostly for yourself.
This is especially important if you want to take a picture alone on the bridge that goes up to the main gate.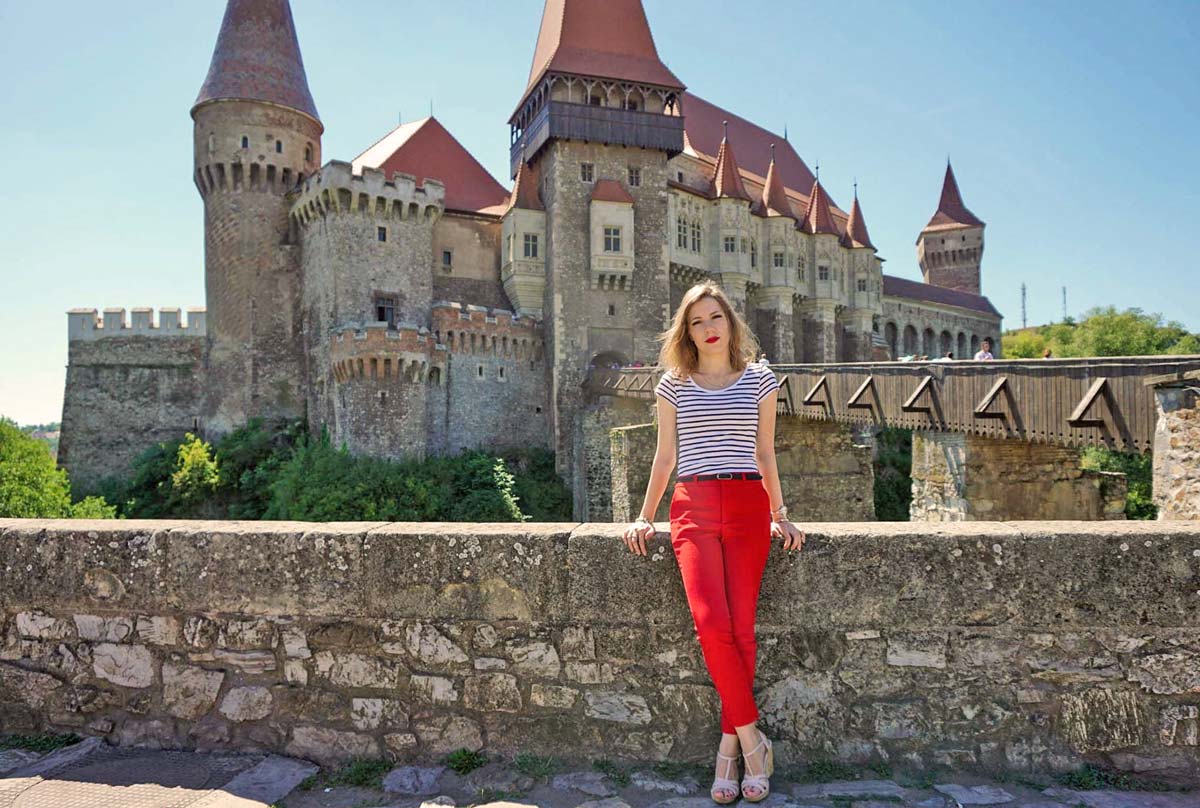 Admission to Corvin Castle
You can buy admission tickets to Corvin Castle both on-site and online. I'd recommend the 2nd option in order to avoid potential queues. However, you should know that there's an additional 10% commission if you do buy the tickets online.
| | On-site | Online |
| --- | --- | --- |
| Adult | 36 RON | 39.6 RON |
| Student | 7 RON | 7.7 RON |
| Retired | 17 RON | 18.7 RON |
| Photo | 5 RON | |
| Video | 15 RON | |
| Guided Tour (Romanian) | 36 RON | |
| Guided Tour (English, French, or Hungarian) | 67 RON | |
*There are reduced prices for organized groups of a minimum of 20 persons
Corvin Castle is open every day from 9 AM to 8 PM, with the exception of Monday when it opens at 12 PM. Pets are not allowed inside.
Where to stay, close to Hunyadi Castle?
I highly recommend Vila Corviniana, a beautiful 4-star property, located extremely close to the gothic castle.
There's free parking available if you arrive by car (like I did) and the decor will literally make you feel like a medieval prince/princess. During my stay there I also ate at their restaurant and I can confirm that the food is very tasty.
Other good options are Curtea Veche or Corvin Guesthouse.
---
In conclusion, if you are looking for an amazing sight to visit in Transylvania, then Corvin Castle should be at the top of your list.
With its imposing structure, beautiful architecture, and rich history, this is one attraction you will not want to miss while in Romania. And I hope this travel guide will help you plan your visit.
Happy travels~
---
MORE INFO ABOUT ROMANIA