If you are looking for a 8-day Croatia itinerary that's a good fit for first-timers, you've come to the right place!
This itinerary, which is based on my own trip there, assumes you'll have 8 days in the country (but not necessarily 8 full days) and it includes the best destinations to visit in Croatia, as well as day trips to both Bosnia and Montenegro.
Disclosure: Some of the links in this post are affiliate links. If you click on them and make a purchase, I may receive a commission at no extra cost to you. Check my full disclaimer here.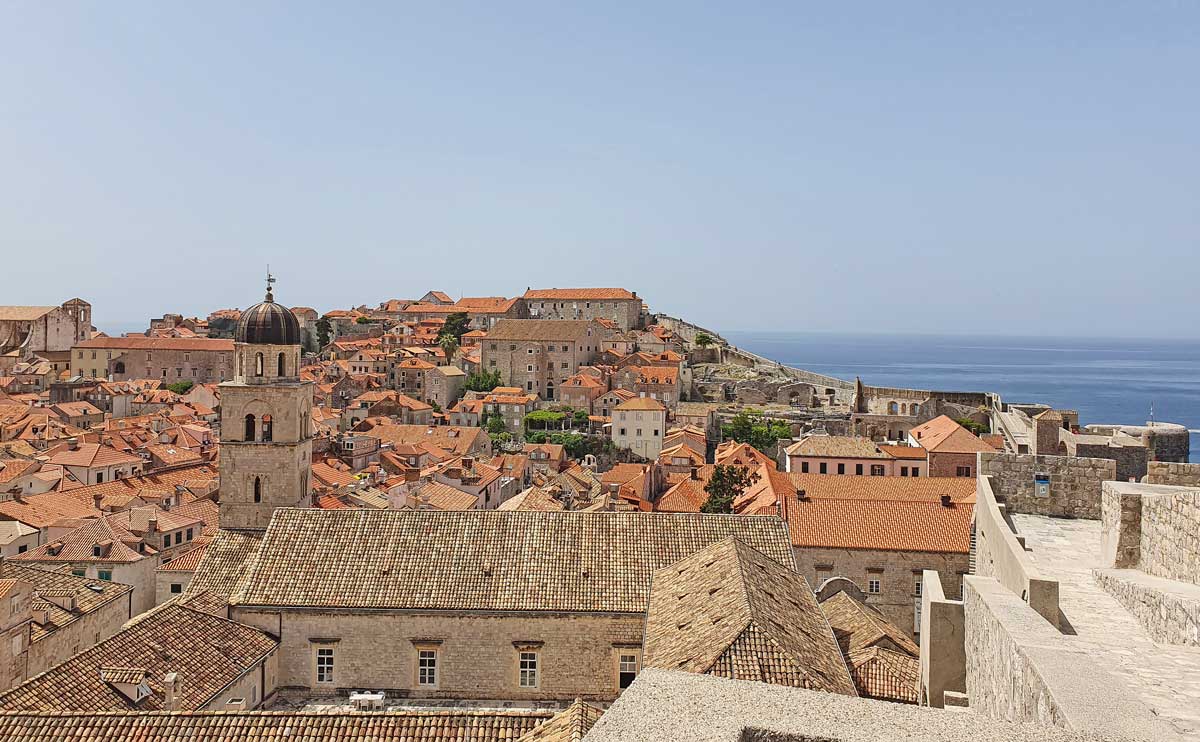 8-Day Croatia, Bosnia and Montenegro roadtrip itinerary (Brief overview)
Day 1: After you land, get your rental and drive to Plitvice Lakes National Park, near which you'll be spending the night.
Day 2: Get up early and visit Plitvice Lakes National Park, then drive to Split.
Day 3: Spend the whole day in Split.
Day 4: Leave Split as early in the morning as possible and drive all the way to Montenegro to visit Kotor and Perast. Return to Croatia in the evening.
Day 5: Spend the day in Dubrovnik Old Town, take a boat trip around the fortifications and to Lokrum Island and see the sunset from Mound Srd.
Day 6: Start your day early to avoid the crowds (and the heat if visiting in the high season) and visit the fortified walls and Fort Lovrijenac, as well as other important sights.
Day 7: Get your rental and head to Mostar, Bosnia & Herzegovnia. At the end of the day you should drive to whatever city you're scheduled to depart from.
Day 8: Depending on when your flight is schedule, you might have enough time for a quick tour of the city.
Driving a rented car in Croatia
First of all, this itinerary assumes you'll be renting a car, so if you cannot do that you can still follow it while using public transportation and tours, but you might need to add some extra time or make some minor adjustments.
Now that that's out of the way, the second most important thing you need to know is what requirements you need to fulfill in order to be able to rent and drive a car in Croatia.
As this will most likely differ from country to country (for example EU citizens don't need an International Driving Permit to drive in Croatia), make sure you do your research diligently from official sources.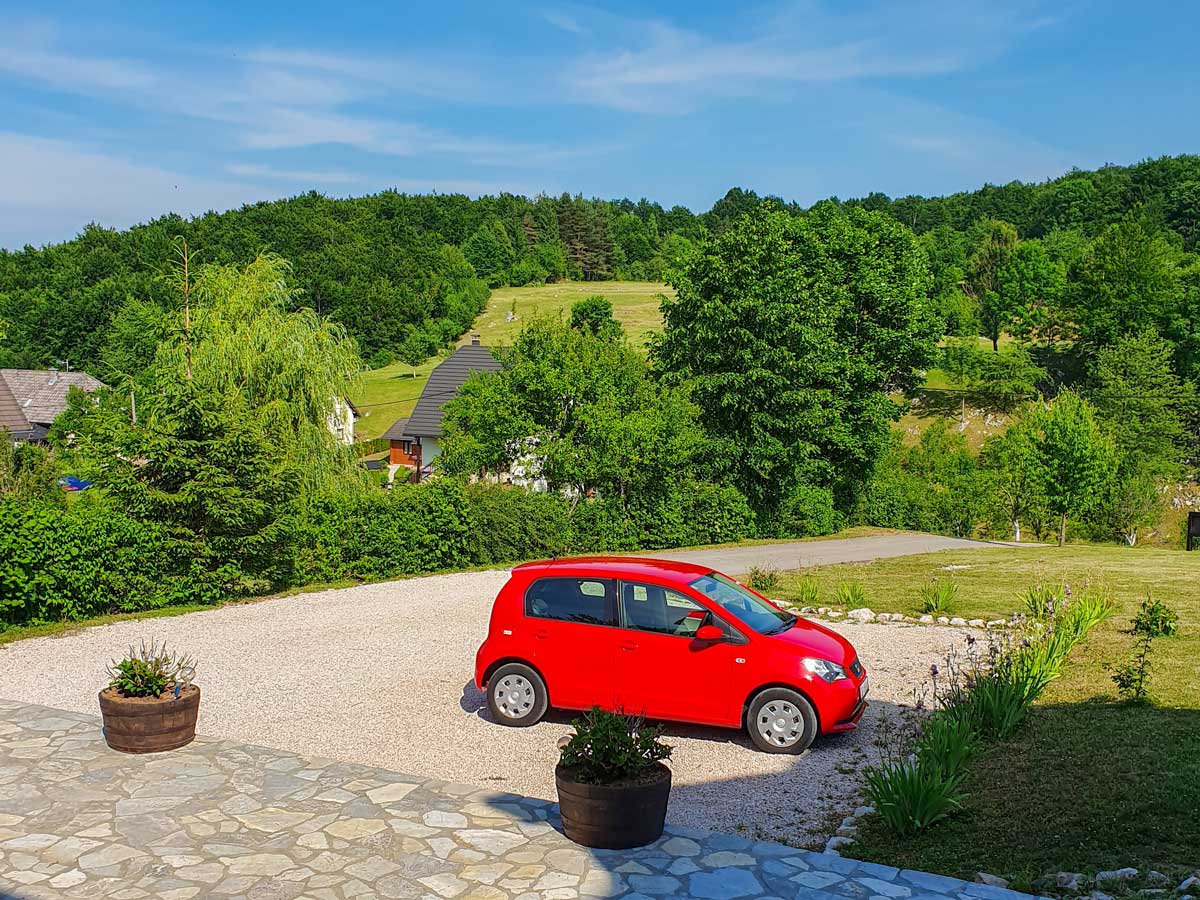 If you plan to leave Croatia using another airport than the one where you landed, then make your reservation accordingly. And since we're on the subject don't be like me and book your car in advance, in order to get a better deal and.. actually get a car.
🚗 Check out car rental prices and availability
I made the mistake of postponing this many times and then somehow we ran out of time so we decided that we'll just get a car upon arrival.
Well, what I didn't take into account was the fact that we landed in Zadar, a town with a fairly small airport. And while there were many car rental booths outside the airports, they didn't seem to have extra cars, just the already reserved ones.
We were getting a bit desperate when we finally found a car: it was a Seat Mini, the only one that the rental company had available.
It ended up being more expensive than the rates I saw online, but honestly, I was glad we got a car. Otherwise, we would have had to go to Zadar and try our luck there. So for your peace of mind, don't follow in my footsteps, even if you fly into a bigger airport.
Lastly, you should let the company know that you intend to take the car out of Croatia and into Montenegro and Bosnia & Herzegovina.
They will provide you with the appropriate documents (the Green card). Also, many rental companies will charge a cross-border fee.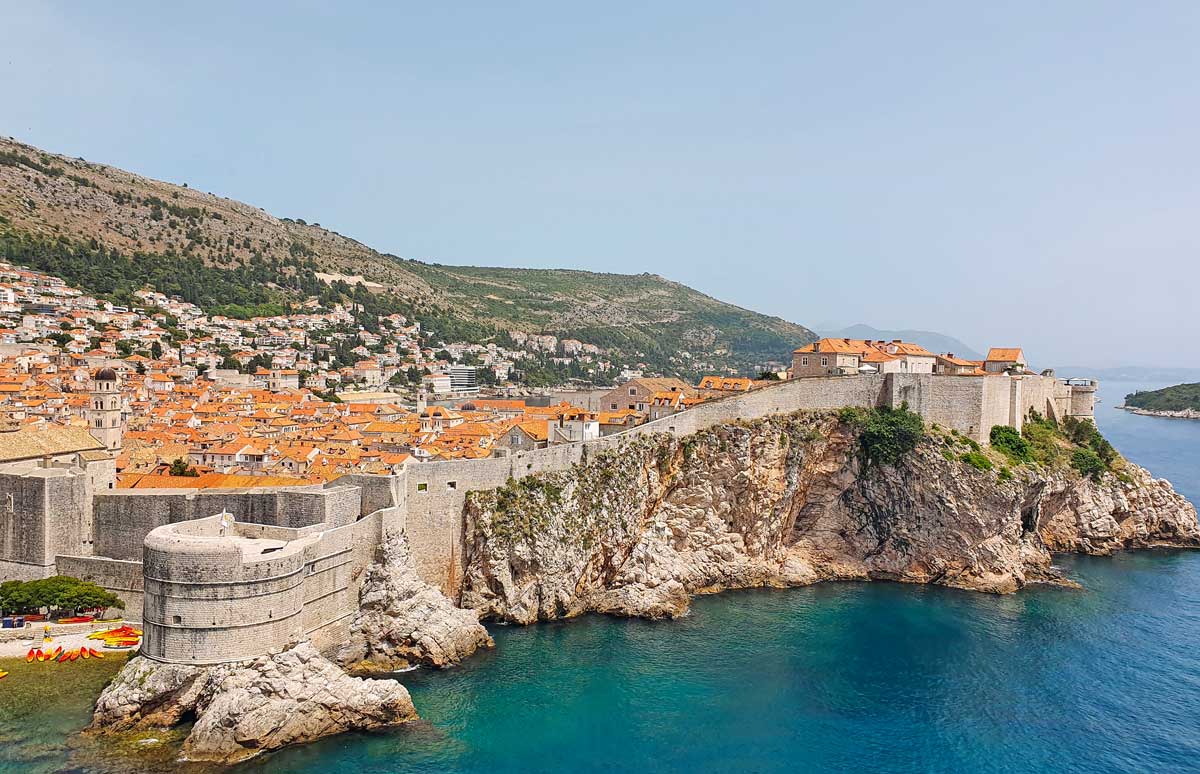 8-Day Croatia, Bosnia, and Montenegro road trip itinerary for first-timers
Day 1: Arriving and getting to Plitvice Lakes National Park
Depending on the location from which you're flying and the connections you find, you can choose to arrive at one of the following 3 airports:
Zagreb Airport (Franjo Tuđman Airport)
Split Airport (Resnik Airport)
Zadar Airport
After you land, you will take your rented car and drive to Plitvice Lakes (Plitvička Jezera) as spending the night before your visit nearby is, in my opinion, the best way to visit Plitvice Lakes National Park.
The approximate driving times from the 3 airports are, depending on traffic conditions, the following:
From Zagreb Airport: 1 hour and 50 minutes to 2 hours and 30 minutes
From Split Airport: 2 hours and 20 minutes to 3 hours
From Zadar Airport: 1 hour and 30 minutes to 1 hour and 50 minutes
So make sure you pick a flight that doesn't arrive too late in the day in order to be able to reach Plitvice in a timely manner, ideally before dark since most people find it quite stressful to drive at night in a foreign country.
Where to stay near Plitvice Lakes
Choosing where to spend the night depends on what entrance you plan to use to visit Plitvice Lakes as there are 3: Entrances 1, 2, and an auxiliary one named Flora.
I recommend picking Entrance 1 (Lower Lakes) since this way you'll be able to face most of the waterfalls as you follow the trails that start here.
I have to mention that we actually walked the other way around as well, as we finished our visit and I found it a bit annoying to have to turn around every few steps in order to give the waterfalls one last look before leaving.
If you opt for Entrance 1, then you should book your accommodation in Rastovača, a small village within walking distance.
Since you can leave your car at the lodging as you hike around Plitvice Lakes, you'll also save some bucks on parking. But make sure you ask the owner and he's okay with this since more often than not, you'll finish visiting the park after check-out hours.
We booked a room at Flora House and it was quite a comfortable stay (and yes, the owner was nice enough to let us leave the car on the premises during the time it took us to see Plitvice Lakes). Another good option that's close to the park is Pansion Danica.
If your accommodation doesn't offer any food options (ours didn't for example), there's no need to worry as there's a nice restaurant right near the huge parking lot of the park. It's called Licka Kuka and it features traditional Croatian dishes.
Day 2: Plitvice Lakes National Park
Honestly, Plitvice Lakes National Park really needs no introduction, but its fame comes with a price: it's often crowded. That's why I recommend in this itinerary that you spend the night before near the park, to be able to start your visit first thing in the morning.
By doing this you'll be able to beat most of the crowds as the day trip tours and most people tend to arrive later in the day.
Not only that but if you visit during summer, you'll also be able to do most of your walking before the heat starts to be too much.
Getting tickets to Plitvice Lakes National Park
I strongly advise you to buy your tickets online ahead of time, especially if you visit the park during the high season. This is because there's a timed ticketing system in place, meaning there is only a fixed number of tickets available each hour.
If the demand is high and you opt for buying your ticket onsite you run into the risk of your preferred hour being sold out before you reach the ticket office.
You can choose between one-day tickets and 2-day tickets. But for this itinerary, I recommend the one-day ticket for the first time slot.
This means you'll enter the park as soon as it opens, so you'll be able to walk on the wooden boards before they get too crowded.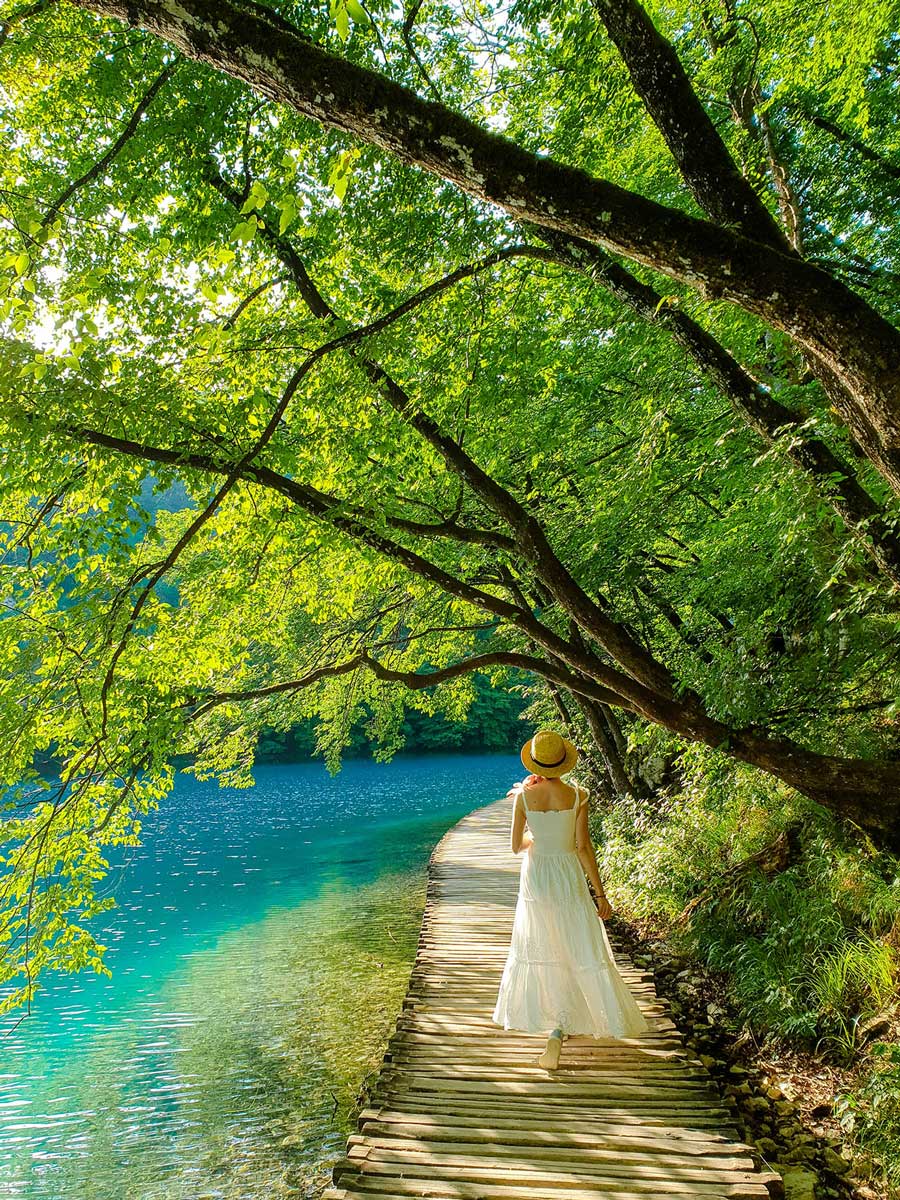 My fiance and I entered the park at 7 AM and we did the whole C route, the viewpoints on either side of the Lower Lakes, the postcard view near Veliki Strap, and most of route F (as we made our way back towards Entrance 1) and we finished with our visit at around 2-3 PM.
Best route to follow in Plitvice Lakes National Park
If you start your visit at Entrance 1, you can choose between trails A, B, and C. There's also the option of taking the K route which is a full-day hike around the park without taking the boat across Kozjak Lake or the shuttle.
Program A: 3.5km, takes around 2-3 hours to complete. On this route, you will see the Lower Lakes and their waterfalls, as well as Veliki Slap (the biggest waterfall).
Program B: 4km, takes 3-4 hours to complete. It's the same as route A, just that instead of turning around before the Kozjak Bridge, now you cross it and ride the boat to the other side of the lake.
Program C: 8 km, takes around 4-5 hours to complete. This program is a continuation of program B and it allows you to see both the Lower and the Upper Lakes.
As I already mentioned, we followed trail C (which I recommend you do as well), with the addition of the viewpoints on both sides of the Lower Lakes. You can read my detailed guide on how to visit Plitvice Lakes National Park for more directions and tips.
Plitvice Lake National Park to Split
After you finish visiting Plitvice Lakes, you can get back to the car and drive to Split where you'll spend the following two nights. Depending on traffic conditions it should take between 2 hours and 10 minutes to 3 hours to arrive.
Day 3: Split
Split is the second-largest city in Croatia and it's best known for its spectacular Old Town which encloses Diocletian's Palace.
This ancient and impressive Roman structure was built between 295 and 305 AD by the emperor Diocletian for his retirement. Its well-preserved ruins now lie right in the middle of Split's lively old town and are, without doubt, its main attraction.
Over time, the palace has been turned into shops, restaurants, and bars, however, you can still see many of the old Roman ruins every turn you make.
I'm usually an advocate for preserving historic buildings, but in this case, I actually loved how people found a way of integrating the palace into their modern life by continuing to inhabit it.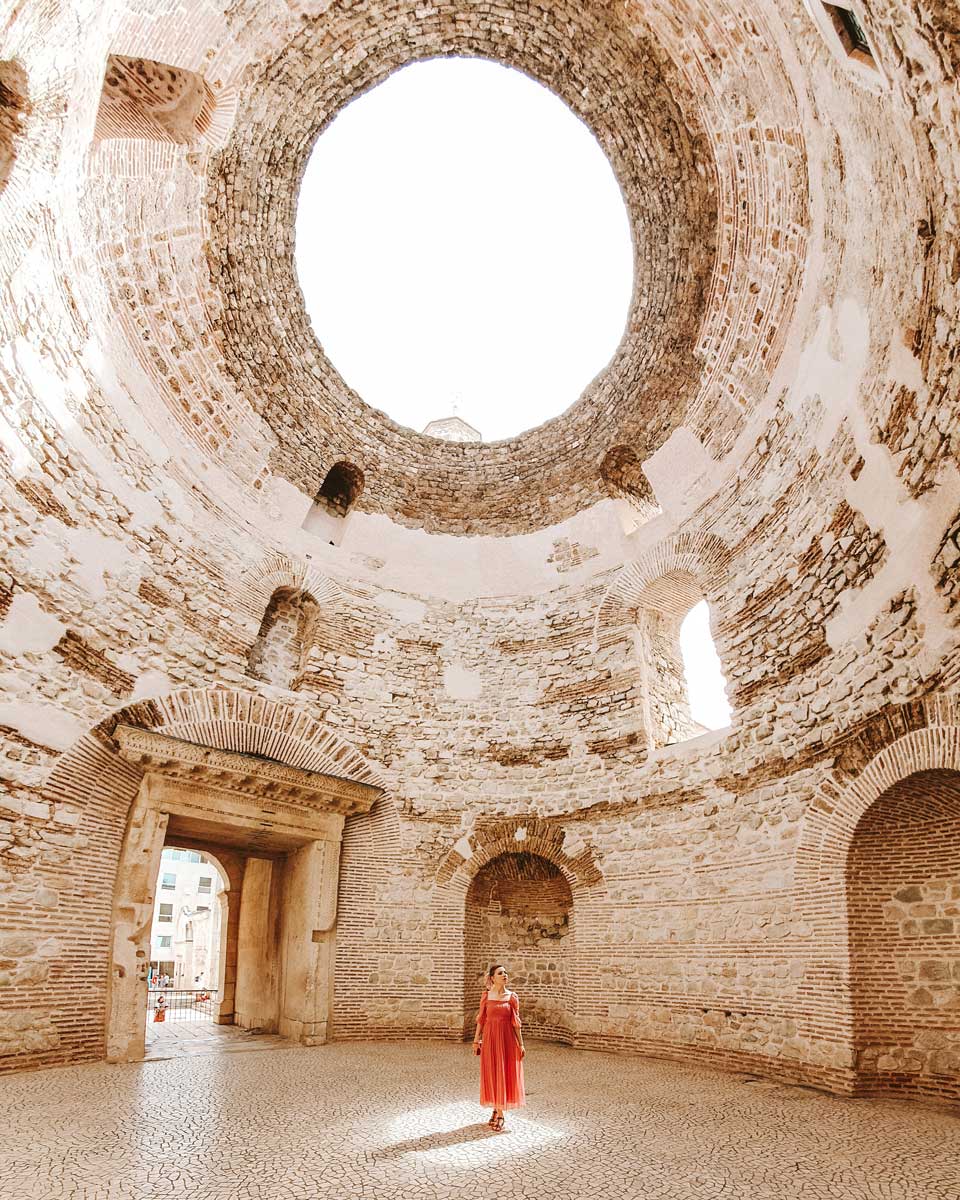 During your time in Split, you should spend some time getting lost inside the maze that the Diocletian's Palace is: it's an excellent way to discover all its secrets! And if you want to explore more of the city, there are plenty of other things to see and do:
stroll along the Riva promenade
climb the tower bell of the Cathedral of Saint Domnius
visit the basement of Diocletian's Palace
go on a Game of Thrones tour
hit the beach
take in the views from Marjan Hill
do a sunset cruise
rub the toe of Bishop Gregory of Nin's statue for good luck
boat trip to Trogir
🌅 Watch the sun going down on a sunset cruise!
Accommodation in Split
In Split, we stayed at The Duke Luxury Rooms a small, but lovely B&B located pretty close to Diocletian's Palace (8 minutes on foot).
I chose it because the rooms looked nice, clean and had really good reviews on Booking. It also seemed pretty straightforward to reach by car.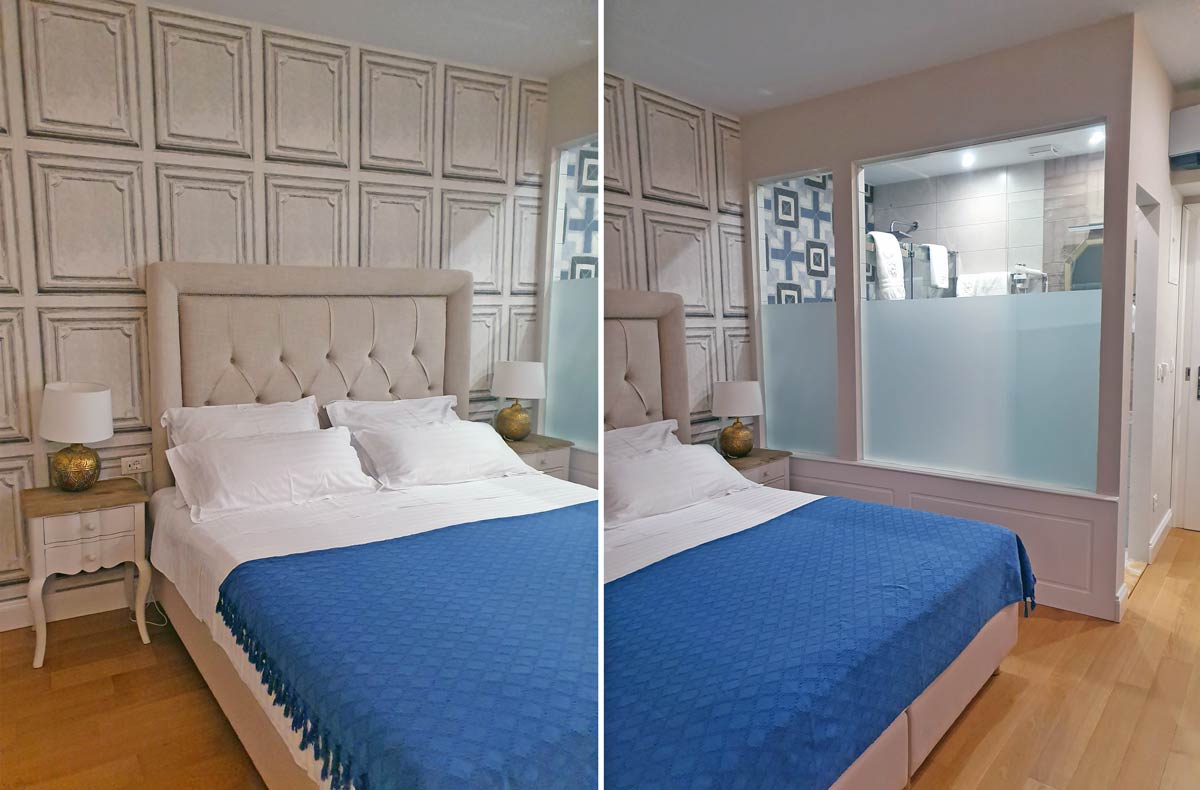 They also offered parking space, though it was not included in the room rate; we paid it separately. The space they 'reserved' for us was on the street, in front of the building, however, I think they could also accommodate one or two cars inside the courtyard.
One thing I want to mention is that the bathroom, while really beautiful, doesn't offer too much privacy. However, our room actually had a matte/frosting sticker on about two-thirds of the glass panels, in contrast to the pictures they have on Booking.com.
They probably added it afterward since people might have complained about the see-through panels. Nevertheless, the bathroom was no issue for me, since I booked the room fully knowing how it looked.
Where to eat in Split
If you are looking for restaurant recommendations, here is where we ate (and we liked it) during our short stay in Split:
I also recommend you try every gelato store you stumble upon.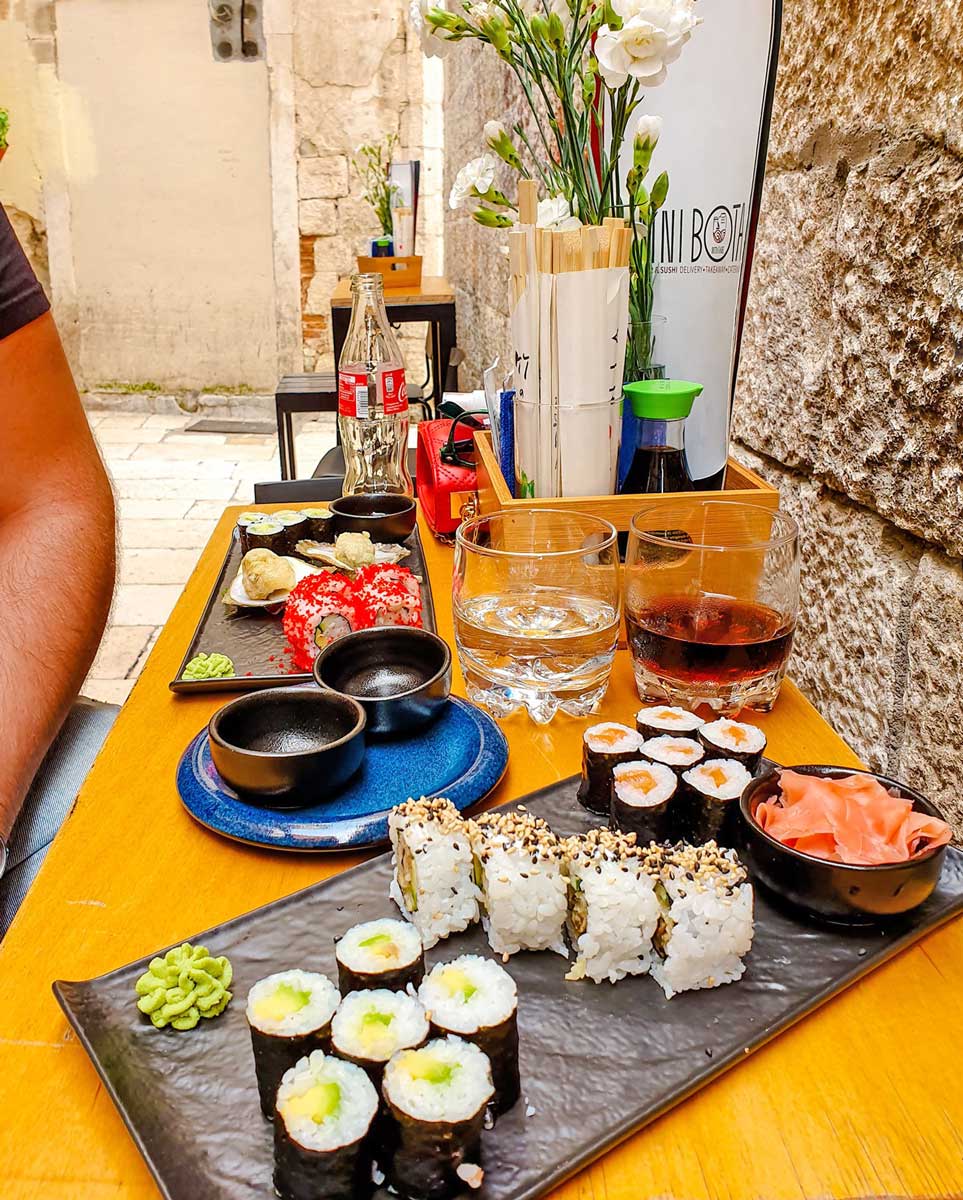 Day 4: Kotor and Perast in Montenegro
During day 4 of your trip, you'll be visiting the beautiful town of Kotor in Montenegro. Situated in the stunning bay with the same name, Kotor is one of the best preserved medieval sites on the coast of the Adriatic Sea and a Unesco World Heritage Site
And if you've got the time, I also recommend you add a stop in Perast on your way back to Croatia. It is a picturesque, tiny town on the outskirts of the same bay, just a short drive away from Kotor.
Since the drive from Split is pretty long (between 4h 30m and 5h 50m depending on traffic), you should start your day as early as possible. I think we left around 6 AM or 7 AM and it was the perfect choice.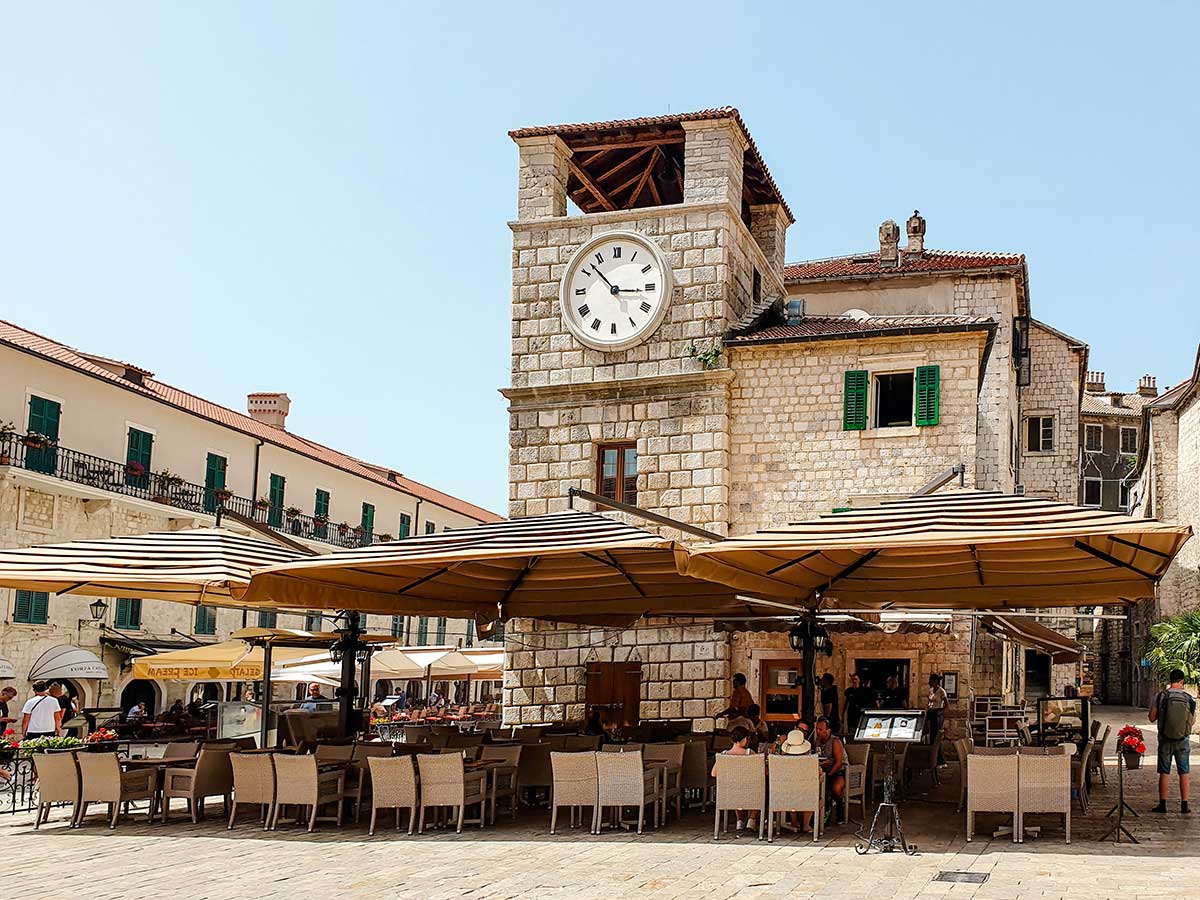 For a more complete and detailed travel guide of both locations, I recommend you read my post on what to do on a Dubrovnik to Kotor day trip. But some of the best things to do in Kotor on a short trip are:
exploring its beautiful old town
hiking up to Kotor fortress (we didn't do this as it was extremely hot the day we visited, but the vistas are probably great from there)
take a boat trip
As for Perast, I recommend you walk along its picturesque waterfront, climb the bell tower or take a boat trip to Our Lady of the Rocks, a tiny man-made island, where you'll find a church and a small museum.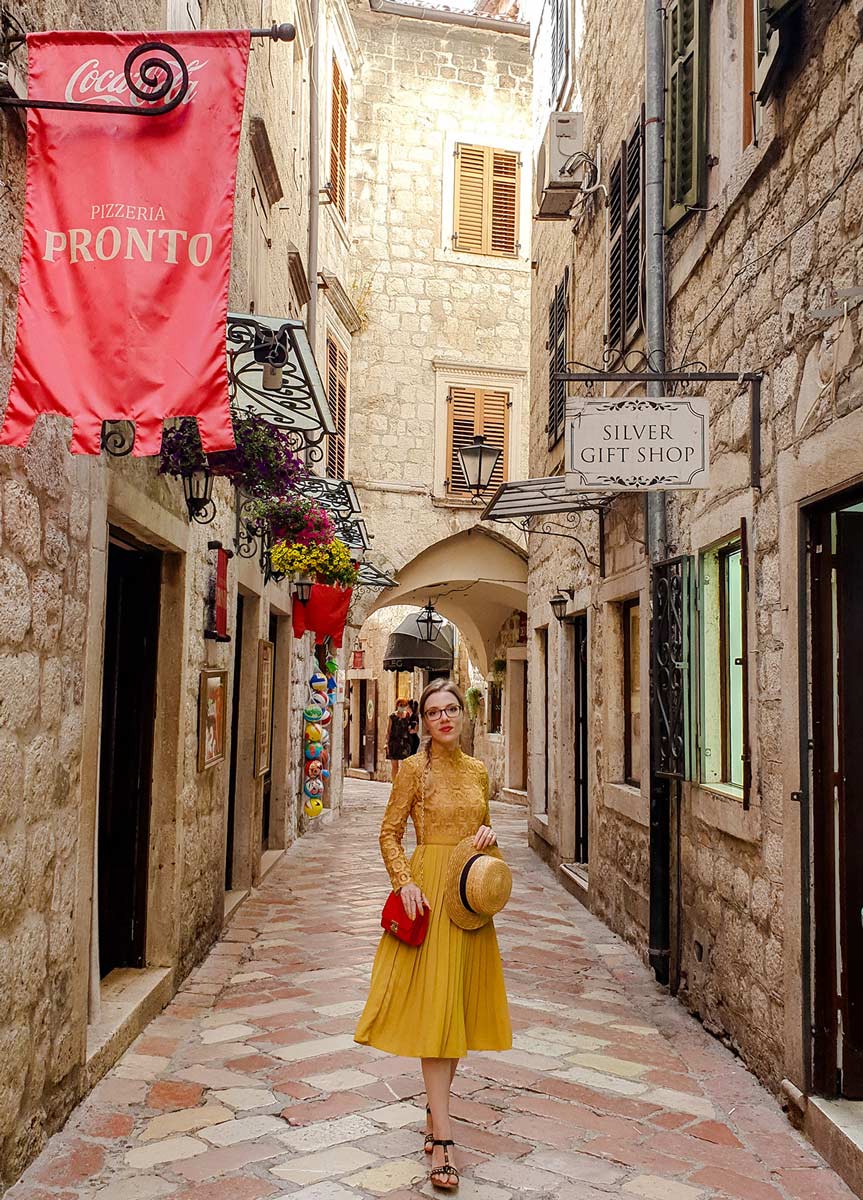 Back to Croatia: Dubrovnik
After you finish your short visit to Montenegro, it's time to drive to Dubrovnik where you'll spend the next 3 nights (or 4 if you are flying out from there). The driving time from Perast is usually between 1h 30m and 2h 10m.
Day 5: Dubrovnik
While I loved all the places that I visited during this vacation, Dubrovnik was by far my favorite and I was so sad when it was time to leave. But first, let's talk about accommodation since it was quite a pain (but worth it) to find something that fulfilled all my criteria.
Accommodation in Dubrovnik
Because I knew that parking in Dubrovnik could be extremely expensive and difficult, I made sure to search for a place that included an easy-to-get-to, private parking spot. Bonus points if the accommodation was also easy to reach by car and had a nice view.
And after days of searching, I finally settled on Amorino of Dubrovnik Apartments, which checked all my requirements. You can see a tour of the apartment on my Instagram Reels, here.
Do know that you'll need to climb and descend some flights of stairs when going in and out of the apartments, but considering it's Dubrovnik we're talking about, it's almost unavoidable.
Things to do on your first day in Dubrovnik
My recommendations for your first full day in Dubrovnik are to walk around the beautiful old town (you can also opt for a walking tour), take a boat trip to see the fortifications from the water as well as Lokrum island, have a refreshing drink at Buza – a unique cliff-side bar and maybe hit the beach for a bit.
As the evening approaches, you can take the cable car up Mount Srd to watch the sunset as well as see the city from above.
And of course, don't forget to take lots of photos: you can check out my post on the top Instagrammable spots in Dubrovnik for inspiration.
Is Dubrovnik really crowded?
I was very lucky to visit Dubrovnik during a time when there were few tourists in the city: it was in June 2021 and Croatia just opened its borders to vaccinated travelers. However, the locals told us that things were usually pretty different.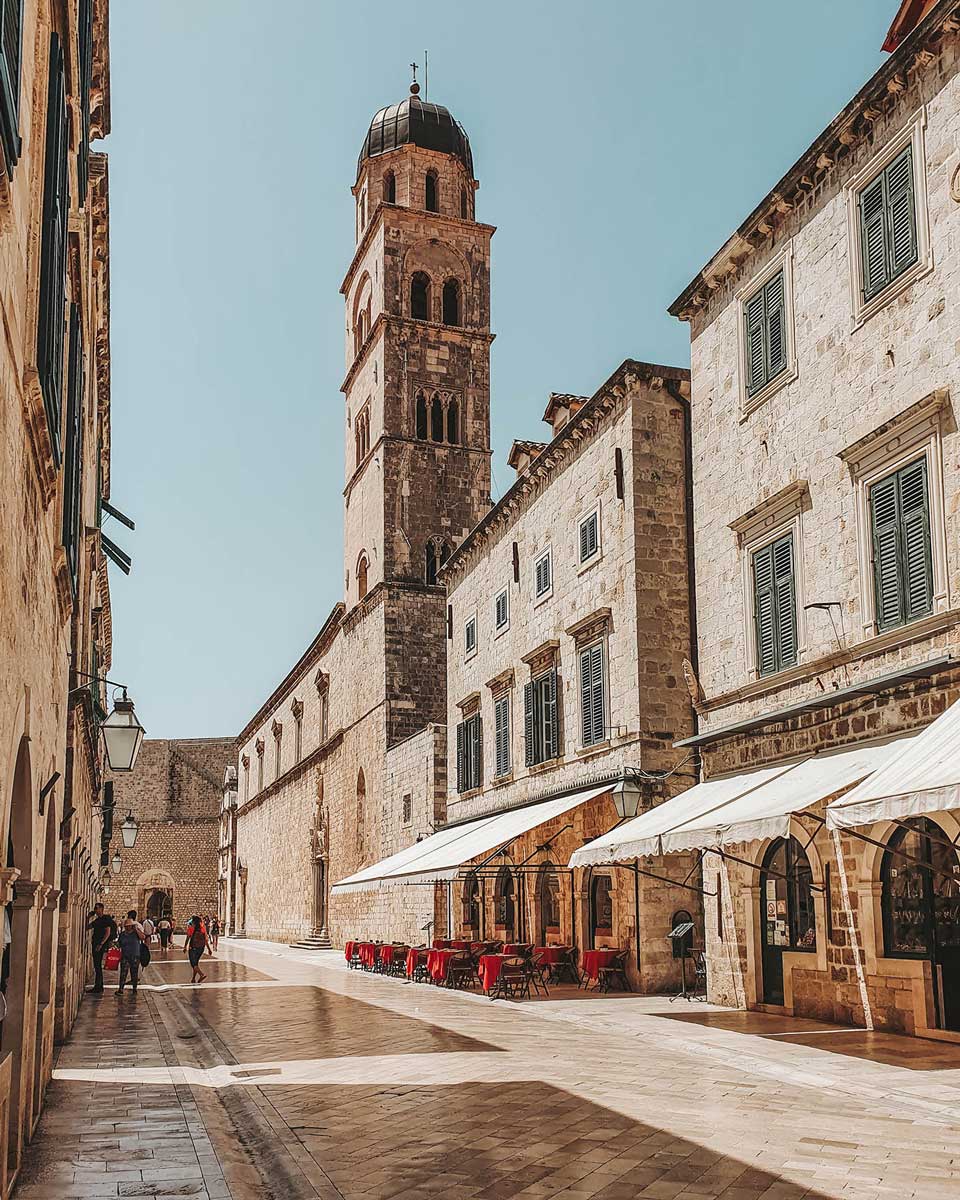 For example, above you can see Stradun, the main street in Dubrovnik Old Town as I experienced it mid-day. Now imagine it so full of people to the point that it would take 20 or even 30 minutes to get from one end to another. That's how busy it can get at times.
And I'm not saying this to scare you off but rather to prepare you, as even if it's crowded, I still think Dubrovnik is worth a visit.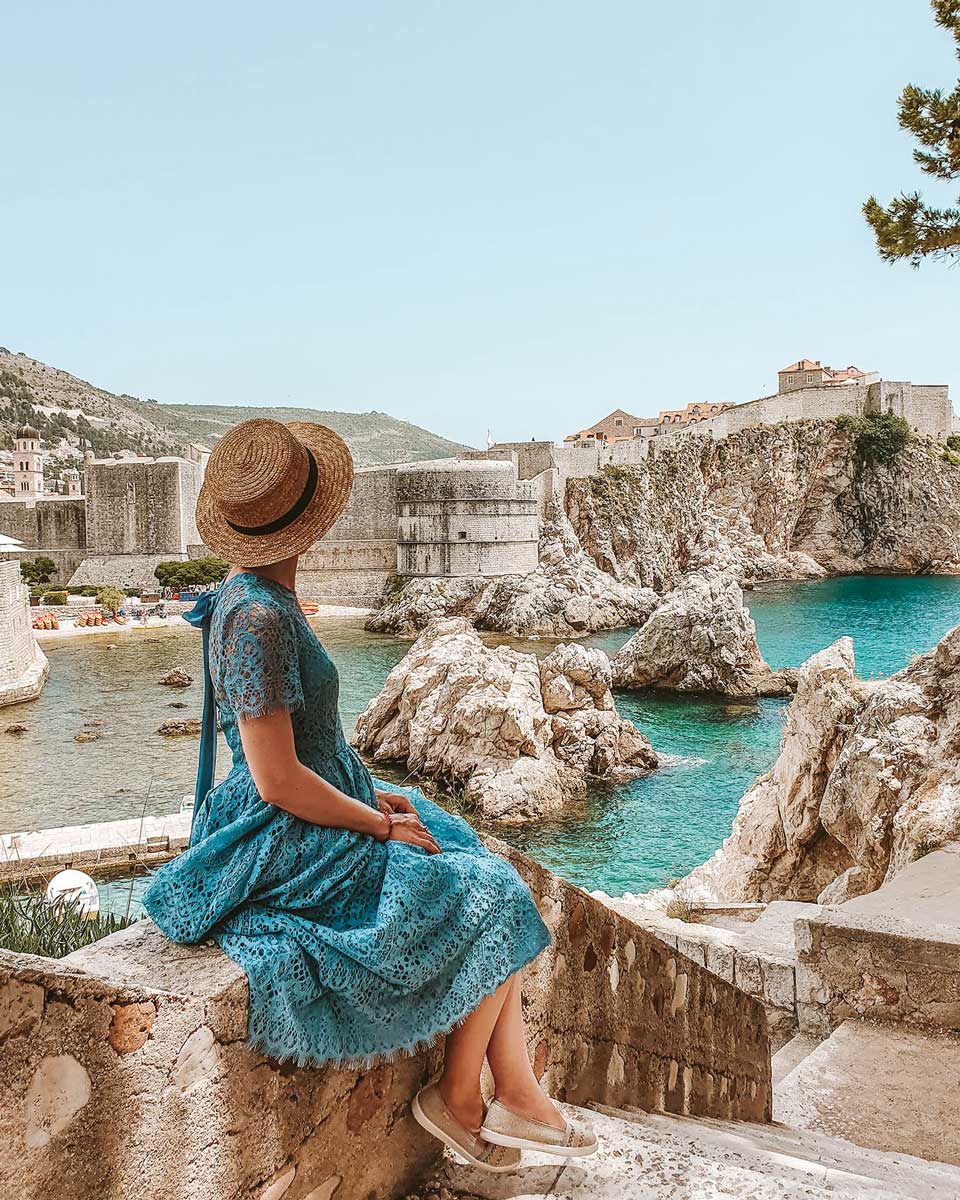 Day 6: Dubrovnik
I suggest you start your 2nd day in Dubrovnik with a tour of the fortified walls, followed by a visit to Fort Lovrijenac (it's included in the same ticket).
Try to go near the opening time to avoid visiting during the mid-day heat since there's almost no shade on the walls to protect you from the sun. However, if you get thirsty during your tour, you'll find a small shop and a bar on the seaside part of the walls.
Dubrovnik Card
Dubrovnik card grants free access to all museums, as well as to the walls. It also includes free bus transportation inside the city.
Game of Thrones fans will probably seize the opportunity to see all the filming locations inside the city and a good way to do this is to book a GOT walking tour.
History buffs on the other hand might prefer visiting the Rector's Palace, touring the Franciscan Church and Monastery, or seeing how everyday life used to look in Croatia under the Yugoslavian communist regime, at the Red History Museum.
Also, don't forget to walk around the old town after dark: it's magical.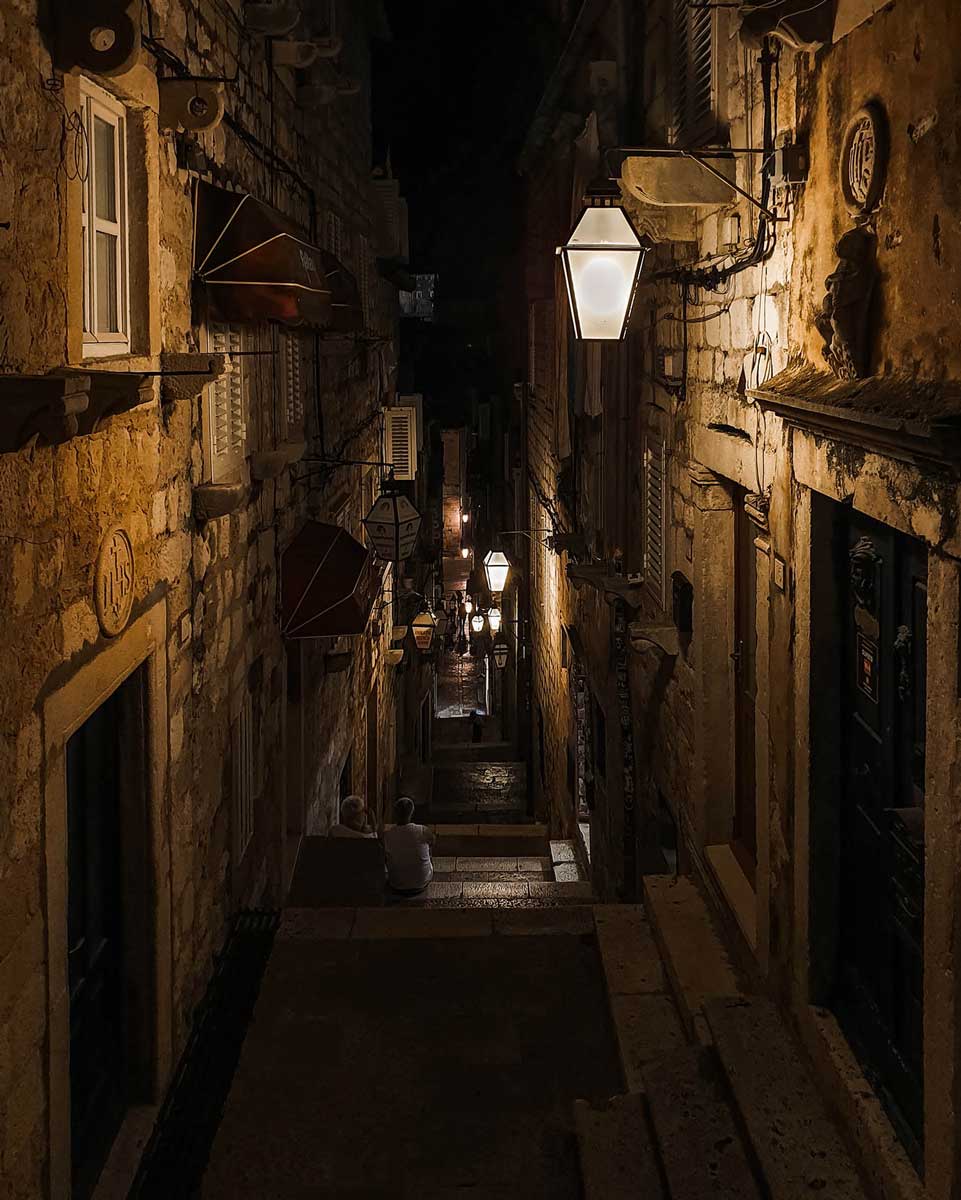 Where to eat in Dubrovnik
During our time in Dubrovnik, we only ate at Portun (usually, when we find a nice restaurant somewhere, we tend to stick to it) and we really liked their tuna steak and calamari dish.
Day 7: Mostar in Bosnia and Herzegovina
Where you'll spend your last night in Croatia depends on the airport from where you'll depart. Good choices are the airports of Dubrovnik, Split, or Zadar. Of course, you can also opt for Zagreb International Airport, but it will be a longer drive to get there.
However, before you head there, you'll be visiting charming Mostar in Bosnia and Herzegovina (by the way, I also have a more detailed travel guide on what to see on a Dubrovnik to Bosnia day trip, which I encourage you to read).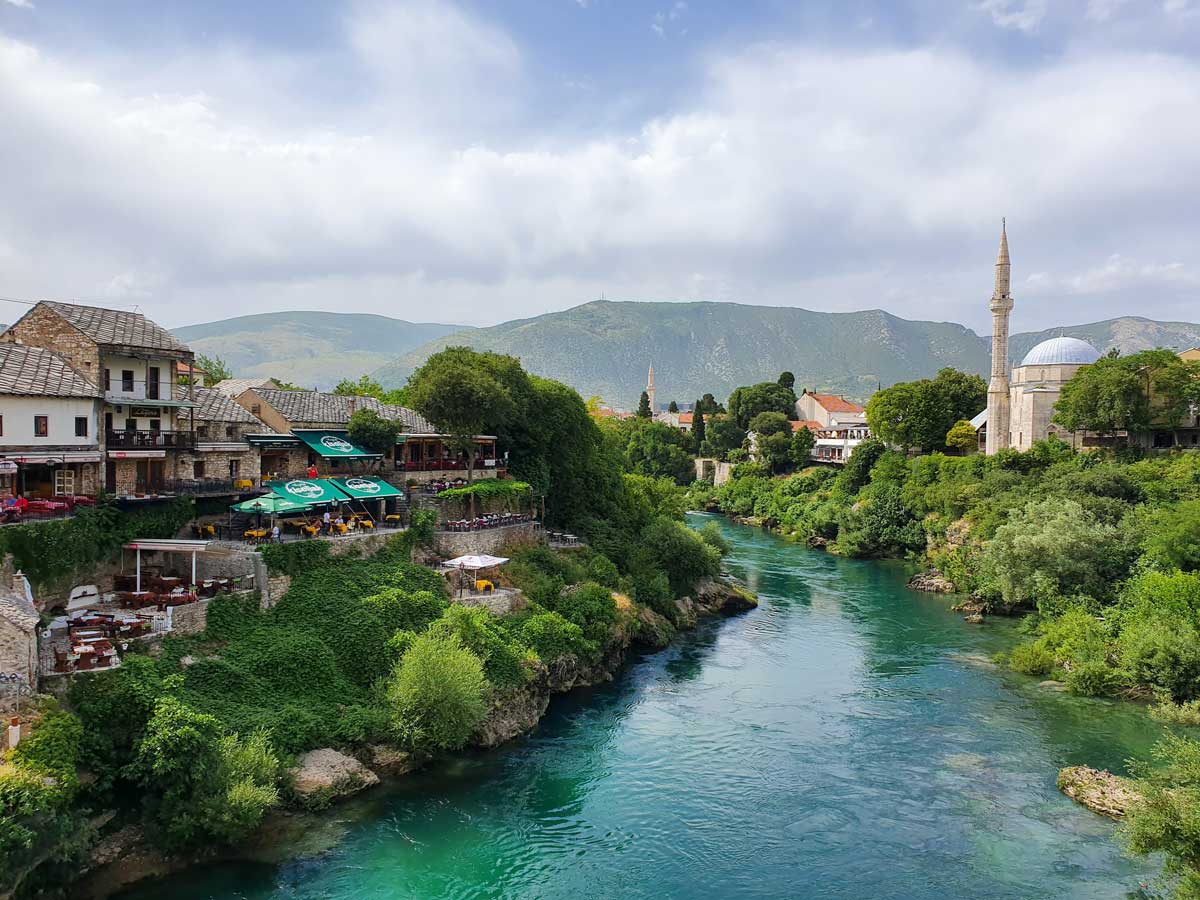 Right off the bat, I want to advise you against trusting Google Maps 100% with the route. We did that and it took us to a border crossing that only the locals can use, so we had to turn around. It was not exactly fun since we had to go up a mountain on a very narrow road.
So do yourself a favor and cross the border near the city of Metkovic to avoid any potential hassle.
As for what to do on a day trip to Mostar here are some suggestions:
walk on the Stari Most bridge
shop in Mostar's Old Bazaar
visit the Koski Mehmed Pasha Mosque
take a boat trip on Neretva River
sample the local food: we ate at Šadrvan restaurant, where we ordered the "National Plate" and we really liked it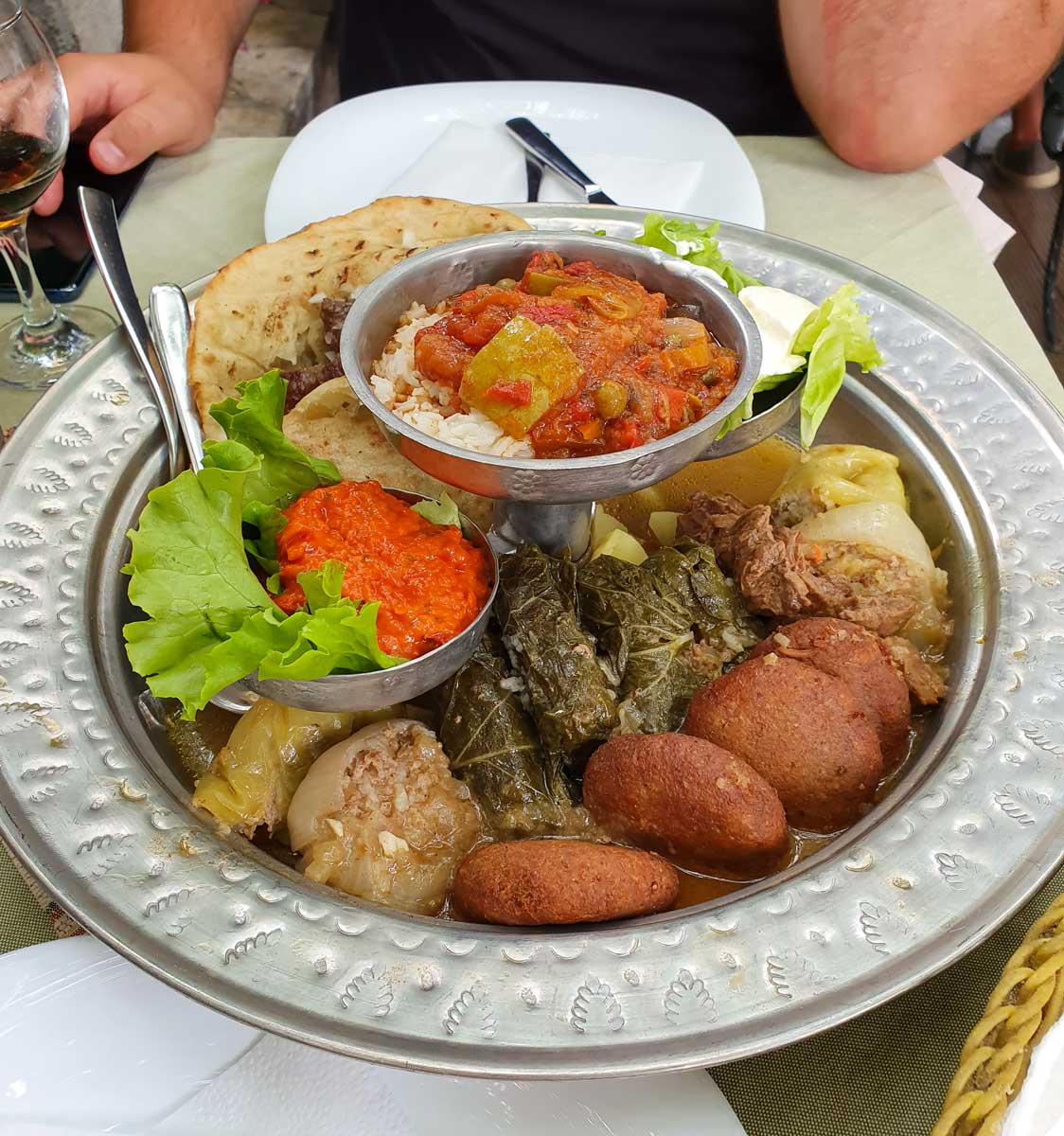 Day 8: One last visit and departing Croatia
Depending on when is your flight home scheduled, you may have time for a last-minute visit to the town you chose to depart from.
We flew out from Zadar and during our limited time in the city we managed to:
walk a bit around the historic center;
listen to the Sea organ (check the YouTube Short below), an artistic installation made of tubes that play music as the waves crash against them;
see the Monument to the Sun, which consists of three hundred solar panels placed on ground level, that light up at night.
A word of warning, make sure you allow enough time before your departure to give back the car, if you didn't already do it the previous evening.
What is the best time of year to visit Croatia?
If the main goal of your trip to Croatia is sightseeing (for which this itinerary is designed), then the best time to visit is during the months of May, June, September, or October.
The reason is that while the weather is pleasant for exploring, you won't find the same crowds as during the high season (July – August)
Currency
In 2023, Croatia officially adopted the Euro as their official currency, so you won't need kunas anymore. You can also use euros in Montenegro since the Euro is the de facto domestic currency there.
In Bosnia and Herzegovina on the other hand the official currency is Konvertibilna Marka (BAM). However, you don't have to exchange money if you just intend to eat and maybe buy a few souvenirs.
You can pay by card at most restaurants in the historic center and in my experience, they usually also accept euros in the Baazar.
Croatia Bosnia Montenegro itinerary FAQs
How many days in Croatia is enough?
If you want to see several locations in Croatia, then look to spend at least a week in the country.
What is the most beautiful city in Croatia?
While this can be subjective, in my opinion, Dubrovnik is by far the most beautiful city in Croatia.
Is it safe to rent a car in Croatia?
Yes, it's generally safe to rent a car in Croatia. Most of the roads are well-maintained, especially the main highways and driving standards are comparable to other European countries.
However, always exercise caution when driving in unfamiliar areas, be aware of local traffic rules, and consider purchasing full insurance for your peace of mind.
8 Days in Croatia Montenegro Bosnia (Itinerary): Wrap up
I hope you found this 8-day Croatia itinerary helpful, and don't forget to check out my DESTINATIONS section for more travel inspiration.
Happy travels~