If you are preparing to take your first cruise trip (or even your second or your third), you might have wondered what are some must-have essentials that would be helpful on the ship. Well, I prepared a list of 20 cruise necessities that will make your days at sea easier.
It includes both important documents that you need to have on you, as well as useful things to bring. So read on!
Disclosure: Some of the links in this post are affiliate links. If you click on them and make a purchase, I may receive a commission at no extra cost to you. Check my full disclaimer here.
Important Cruise Necessities That You Shouldn't Forget at Home
01. Passport
Well, this is kinda obvious, but if you're one of those people that often travel with only their ID (like me), then grabbing your passport before leaving it's not always second nature.
One of the best things to do in order to make sure you don't leave anything at home is to write a packing list. And your passport should go first thing on that list.
Another thing that people tend to forget is to check the expiring date on their passports. A fairly large number of countries require it to have no less than 6 months of validity left.
So make sure you check the legal requirements for your destination and the dates on your passport early enough in order to have time to renew it if you need.
02. Travel Insurance
Travel insurance is one of those things you wish you'll never need, but it's so good to have in case something bad happens. So make sure you have one and specifically check that it covers cruises (that's because some companies don't include cruises in the base package).
03. Visas
Applying for any required visas is also something you need to do early on since the process can last for quite a while in some cases.
So don't leave it last minute, because, with a valid visa, you'll probably not be allowed to board the ship, even if the said visa is just for one of the stops.
04. Medicine
While cruise ships do usually have some basic medication on board like seasickness pills, aspirin, and even some antibiotics, you won't have the variation of a real pharmacy. So make sure you also bring your own medicine with you. If you have an ongoing prescription then this is even more important.
And since we're at it, I would also recommend bringing a first aid kit with you since accidents can happen and medical care onboard a ship can be a tad expensive even for small incidents. Also, don't forget any personal hygiene products you may need. Things are usually expensive on cruise ships.
05. Vaccination Proof
Vaccination is not something that's often required for a cruise trip and for this reason you could easily overlook it. But depending on your destination and other factors, you could need to get some up-to-date shots.
If you don't know where to check what vaccines are mandatory to have for your upcoming vacation, then a good place to start is your cruise line. I would also double-check with any official websites of the countries you'll be stopping in.
Make sure you do this early on as some vaccines require additional boosters for full immunization and that could take a bit of time.
Must-Have Cruise Essentials That Will Make Your Life Easier on the Ship
06. Towel Clips or Band
Life on the open sea (or ocean) can be pretty windy most of the time, so make sure you bring some towel clips with you to secure it to your sun lounge. It seems like a small thing, but it makes a world of difference. A good alternative to clips is an adjustable towel band.
I would also recommend you go for a unique design or color in order to make it easier to find your spot after a swimming session in the pool.
07. SPF Sun Screen
On a cruise trip, you'll usually spend a lot of time in the sun, whether on the ship itself or during its stops (and this doesn't apply only to tropical cruises). So make sure you bring good sunscreen with you, ideally with an SPF higher than 25 – 30.
I usually go for 50+ for all my sunscreens since I'm pretty fair-skinned and I have freckles and moles. Plus, I get sunburned easily. It's also important to check that your sunscreen has a UVA protection factor as well. The higher, the better.
If your cruise destination is tropical and you plan to swim or snorkel, try to buy environmentally friendly products if you can, in order to protect the reefs.
I'd also recommend you bring an after-sun lotion or an aloe gel since it's easier to get sunburned in tropical locations.
08. Packing cubes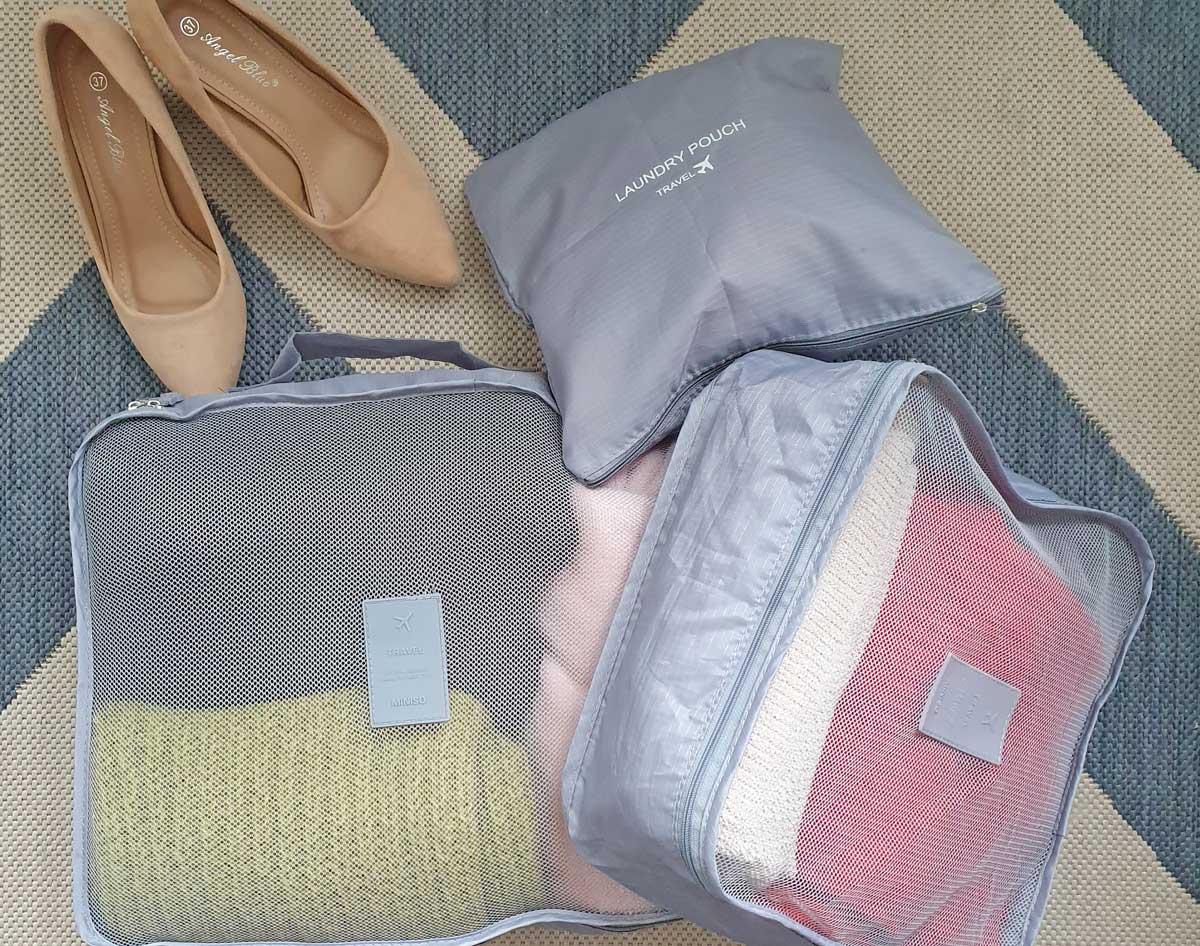 Honestly speaking, packing cubes are awesome to have on any trip not just on a cruise. Not only are great at maximizing your luggage space (read my post on how to pack a suitcase efficiently), but they protect your clothes and help you separate your dirty items from clean ones. So you don't even need to bring a separate laundry bag.
Besides you don't need to ransack your whole luggage or closet to get something, just take the packing cube that you need out.
09. Wrinkle Release Spray
While the above-mentioned cubes are great at keeping your clothes pressed together thus allowing you to pack more stuff, they will cause wrinkles. So either pack materials that don't need ironing, or bring a wrinkle-release spray.
One of the most popular ones is Downy Wrinkle Release Spray.
10. Kindle
Taking a cruise usually involves spending quite a few days at sea (well duh..) so don't forget to bring your Kindle (it takes little space!) with you.
Sure, there are a lot of activities to do on the ship, but sometimes you just want to relax on the deck with a good book. And while on some cruises you can find libraries, I think it's much more simple if you have your own Kindle with you.
11. Magnetic Hooks
Ship cabins are often cramped and there's not much room to store your stuff, but they are made of metal. So take advantage of this by bringing some strong magnetic hooks to use as a hanger for your clothes and whatnot.
12. Power Bank
A power bank is really handy to have when lounging near the pool because phones tend to discharge like crazy while in the sun (or cold for that matter). Buy one that it's a bit bigger in terms of mAh. This way you won't need to charge it as often thus occupying a precious power outlet.
13. Decoration for Your Door
When all the cabin doors and ship hallways look the same it could be a bit confusing. But putting a decoration on your door will enable you to spot it way faster. Besides, it's also a really fun thing to do.
Now, some people go all out with this (door decorations are really popular on Disney cruises for example), but something small also works. Just make sure that you are allowed to do this. Norwegian Cruise Line actually banned this practice in 2019 and even though people seem to still do it on their ships, I wouldn't recommend it.
Another thing to make sure is that your decoration won't damage the door in any way. If the door is made of metal, things are really simple, just bring some decorative magnets.
Otherwise, some command hooks or strips should do the trick. I wouldn't advise you to use any type of adhesive (even scotch tape) though.
Also, be careful with pineapple decoration since you might unknowingly send a message that you don't necessarily want to (this of course only applies to people that are not into that lifestyle).
14. USB Charging Station or Universal Outlet Adapter
Right off the bat, you need to know that power strips are not allowed on cruise ships as they pose a fire hazard risk. Instead, you can bring a universal outlet adapter (a good idea is to buy one that also has USB ports) or a USB charging station to charge all your devices.
15. Tumbler
Depending on your needs, a tumbler will keep your hot drinks warm or your refreshing beverages cold for a longer period of time. So it's always a good idea to bring one with you.
16. Cross-Body Phone Bag
When you're out and about on the cruise ship, you don't want to carry a big bag around, so a good idea is to get a cute cross-body phone bag instead. It's big enough to keep your phone, cruise card, and other tidbits and won't inconvenience you in any way.
17. Hanging Toiletries Bag
These type of toiletries bags that you can hang are a great way to keep your toiletries within reach without them occupying a lot of room, something that's especially important in a cruise ship cabin.
And speaking of toiletries, while you are usually provided with soap and shampoo onboard, they're not always of the best quality (they can be very drying on your skin and hair), so it's better to just bring your own.
18. Laylard for Your Cruise Card
Using a laylard to store your cruise card is a very neat way to make sure you always have it with you, without it being in the way.
19. Waterproof phone case
A waterproof phone case is a great solution for when you are at the beach (if your cruise trip itinerary includes beach time of course) and you want to swim but worry about leaving your phone behind.
Just make sure you check for defects before every use. My fiancee accidentally used one that had a small hole in it and he had to say goodbye to his phone.
20. Water bottle
Bring a water bottle with you in order to avoid frequent walks around the ship whenever you get thirsty. A collapsible one is even better since it doesn't occupy a lot of room in your luggage.
---
So here you go, my list of the best cruise necessities from important documents that you must not forget at home to must-have essentials that will make your life easier on the ship.
Also, check out the Travel Tips section on my blog for more helpful travel advice and suggestions.
Happy cruising~