Are you wondering what you can do on a Dubrovnik to Bosnia day trip? I've got you covered!
If you're traveling to Dubrovnik, given its close proximity to both Montenegro and Bosnia and Herzegovina, it will be a shame not to visit these countries as well, even if it's only for a day.
Speaking from experience, in Montenegro, the perfect choices for a short journey from Dubrovnik are Kotor and Perast, while for Bosnia, Mostar makes a great day trip.
Disclosure: Some of the links in this post are affiliate links. If you click on them and make a purchase, I may receive a commission at no extra cost to you. Check my full disclaimer here.
How to get from Dubrovnik to Bosnia?
There are three options to do a day trip to Bosnia from Dubrovnik: driving there yourself, taking the bus, or booking an organized or private tour.
Visit by car
Traveling to Bosnia by car from Dubrovnik will give you a lot of freedom in choosing what to visit and will allow you to make the most out of your short stay.
Since October 19th, 2020, you don't need a Green card when you enter Bosnia from Croatia with a car, because the former joined the "License Plate Subsystem", a multilateral guarantee agreement that includes the EU state members and several other countries.
However, my advice is to still let the rental company know that you intend to take the car out of the country and into Bosnia.
One last tip on driving a car into Bosnia from Dubrovnik is to not trust Google Maps entirely. We learned this the hard way as it guided us to a border stop that was designated to only be used by locals, not tourists.
So do yourself a favor and cross the border near the city of Metkovic to avoid any additional hassle.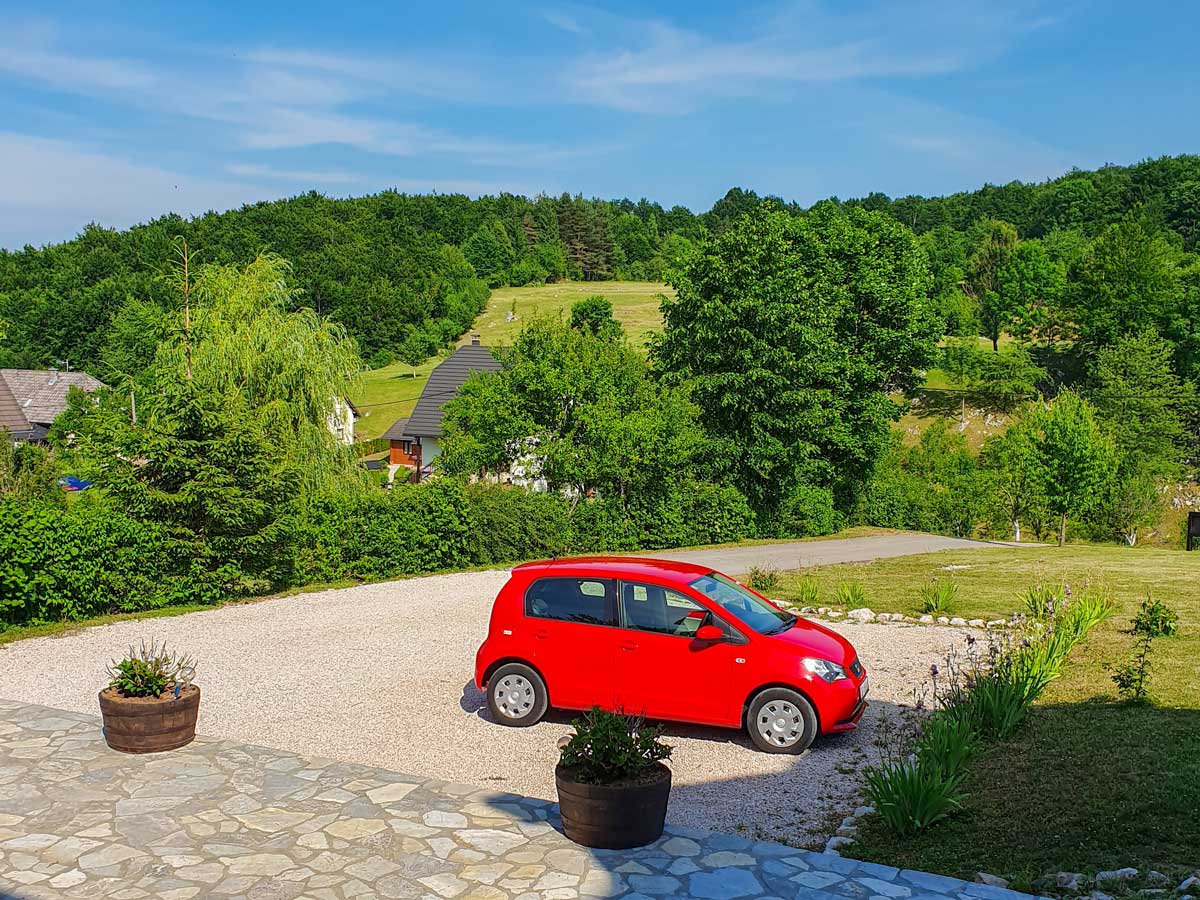 Travel by bus
There's a direct bus route that connects Dubrovnik to Mostar, Bosnia in about 3 and a half hours. However, you'll need to stay overnight in the city since the departure is scheduled for the evening.
Also, be aware that the bus doesn't run every day, so make sure you time your trip right.
Book a tour
There are plenty of tours that you can pick to visit Mostar from Dubrovnik. Just do a quick search on Google and make your pick. Or take a look at the options I selected below:
As with any other tour, there are both pros and cons to booking one. On one hand, you don't have to worry about how to get to Bosnia and the border crossing should be pretty smooth.
But you also can't visit on your own accord, apart from some free time that you might get at some of the stops.
Dubrovnik to Bosnia day trip: Best things to do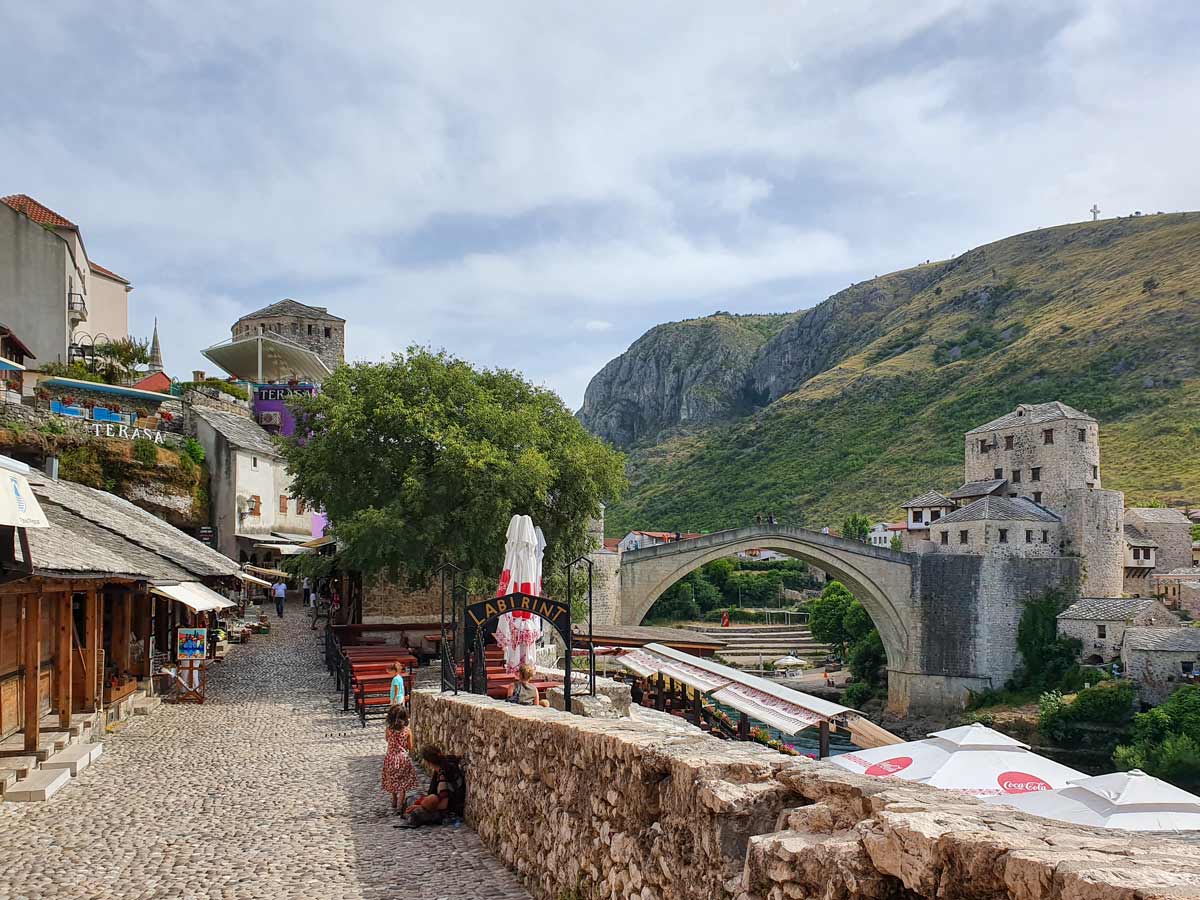 01. Visit the beautiful city of Mostar
Mostar is one of the most popular day trip destinations for tourists visiting Bosnia from Croatia due to its natural beauty and architecture, as well as close proximity to the Croatian border. Here are some of the things that you shouldn't miss seeing in this historic town.
Admire the Stari Most bridge
The main attraction of the city is indisputably Stari Most (Old Bridge) also known as Mostar Bridge, a UNESCO World Heritage Site, built by the Ottomans in the 16th century, over the Neretva River.
The pedestrian arch bridge that connects the two parts of Mostar (the Catholic Croat side in the west and the Bosniak Muslim side in the east) is considered an excellent example of Islamic architecture in the Balkans and one of the most important landmarks in the country.
However, the Stari Most that you'll see today is a reconstruction, since the famous old bridge was sadly destroyed in 1993, during the Croat–Bosniak war. In fact, the whole city still bears the print of a war that happened not too long ago.
In fact, you'll often stumble on buildings whose facades still bear the marks of bullet holes.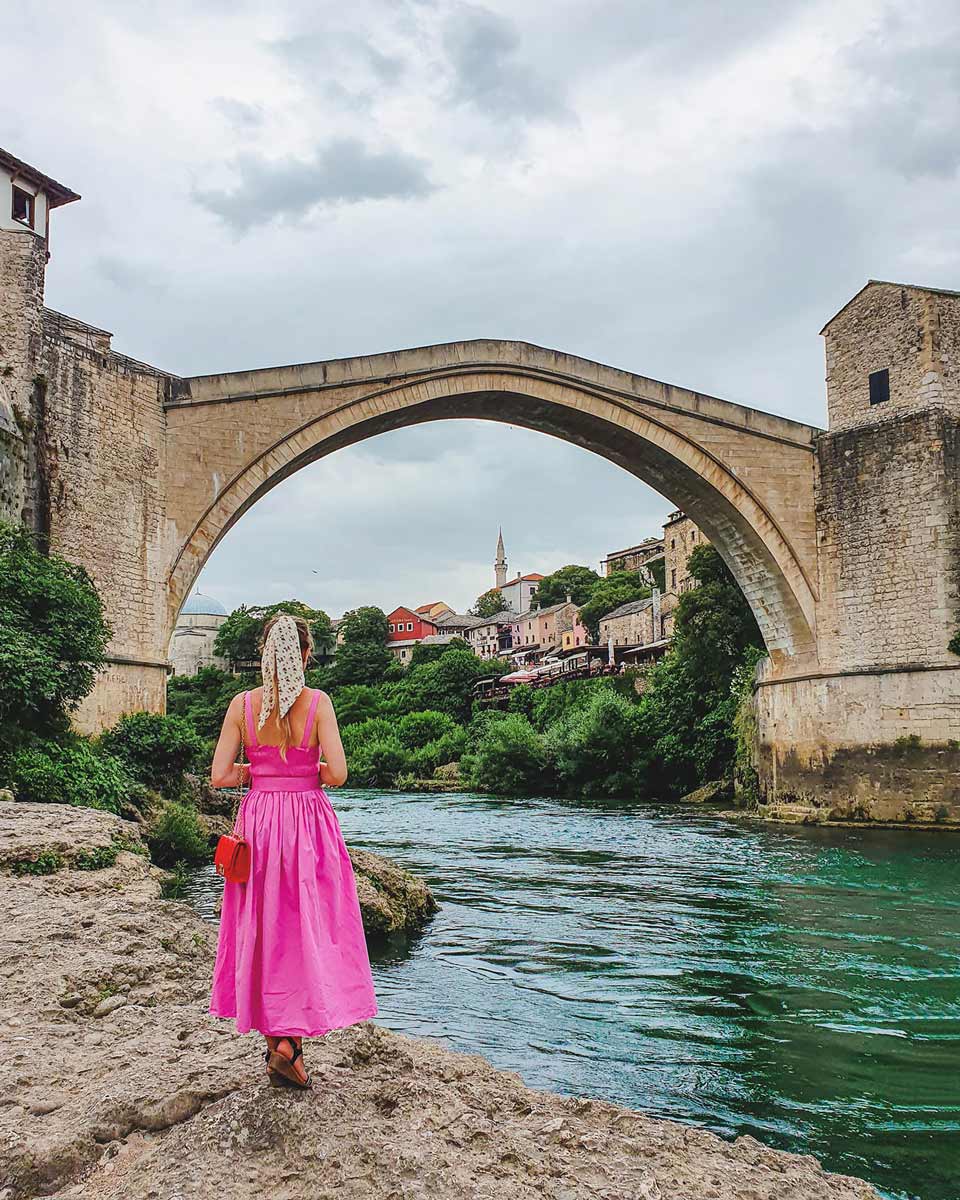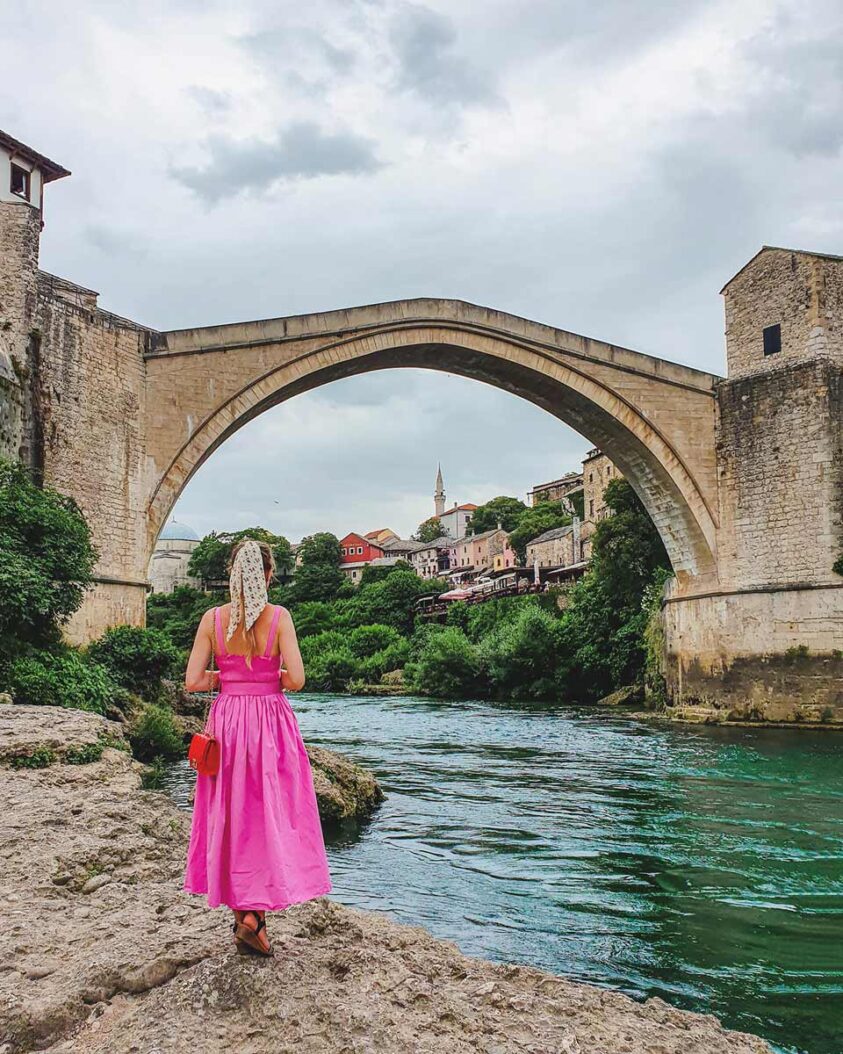 Watch professional divers jump off the Stari Most bridge
Year after year, the famous bridge in Mostar is the scene of the Red Bull Cliff Diving.
However, that's not the only time people jump off the bridge as more often than not (given that it's warm enough), members of the local diving club will do it to entertain the crowds.
Shop at Mostar's Old Bazaar
Mostar's Old Bazaar is located right in the heart of the city, near the Stari Most bridge.
It is a great place to shop for souvenirs and if you have the patience to browse long enough you might find some lovely handmade local items.
Visit the Koski Mehmed Pasha Mosque
Koski Mehmed Pasha Mosque is one of the most visited mosques in the city's old town.
This comes as no surprise as it offers great views over the Stari Most Bridge. You can visit the interior for a small fee and if you pay a bit more, you can also climb the minaret.
Tip: Take note of the position of the sun before visiting in order to be able to take great pictures of the Mostar bridge from the mosque's viewing points.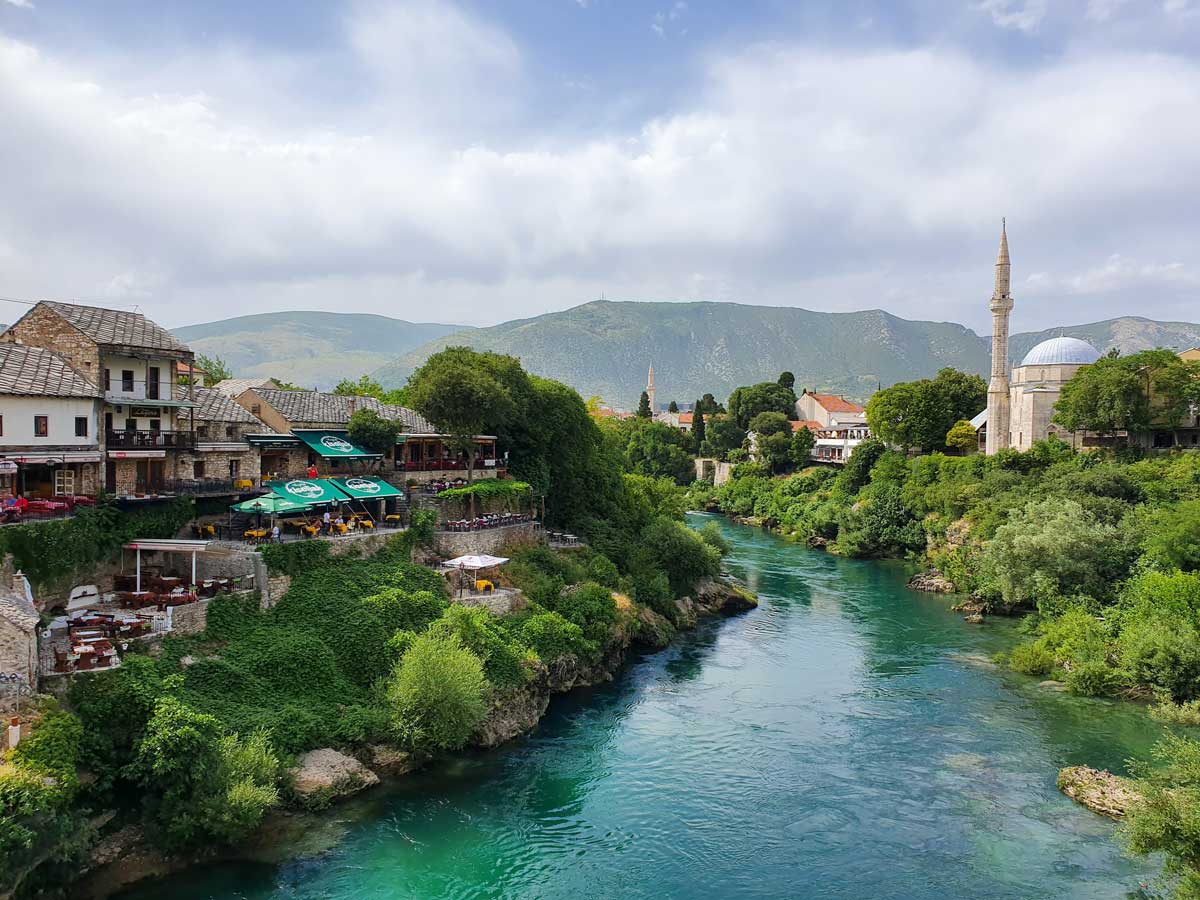 Walk on Kriva Cuprija, Stari Most's little brother
Kriva Cuprija (Crooked Bridge) looks like a mini Stari Most version and is very much worth visiting to take a few pictures. Many believe the bridge was a test run before the construction of its bigger and way more famous brother.
The Kriva Cuprija bridge was destroyed by a flood in 2000, but it was rebuilt just a year later. It spans the Radobolja River.
See the Stari Most bridge from the water
You can ride a small engine-propelled boat up and down the Neretva river's emerald waters, under the famous Mostar bridge. It's a fun boat trip and you'll get the chance of admiring the bridge from the water level.
Visit the Museum of War and Genocide Victims 1992-1995
The museum covers the history and atrocities that happened during the 1992-1995 Bosnian war, which was part of the break up of Yugoslavia. While you'll probably find the visit emotionally difficult, it's important that such tragic events are not forgotten.
The museum is run by victims of the war.
02. Visit the ancient Dervish monastery of Blagaj
Blagaj is a small village about 20 minutes away by car from Mostar, made famous by the impressive Dervish monastery (tekija) located there.
The monastery is an amazing place and dates back to 1520 and stuns visitors with its magnificent natural setting. It sits beside a high-volume, blue-water karstic spring on the Buna River, at the base of a huge cliff.
The postcard viewpoint of the monastery is right across the Buna River.
03. Stroll through Počitelj
Počitelj is a small historic village that is a popular stop for tourists visiting Mostar from Dubrovnik. Hiking up to the fort on the hill from where you can admire the village below is the main thing to do here.
04. Admire the Kravice Waterfalls (Kravica Waterfalls)
Kravice, also known as Kravica, is the most famous waterfall in Bosnia and Herzegovina and it's often compared with Krka Waterfalls in neighboring Croatia.
The karstic waterfall is about 25 meters tall at the highest point and around 120 meters wide. During the summer months, you can actually swim in the waters below the Kravice Falls.
05. Try the local food
You cannot visit Bosnia and Herzegovina without sampling some of the local dishes.
The Bosnian cuisine reflects the multicultural nature of the country as well as years of cultural influences coming from the Ottoman Empire, the Mediterranean, as well as Eastern Europe.
Here are a few of the most popular dishes you need to try while visiting the country: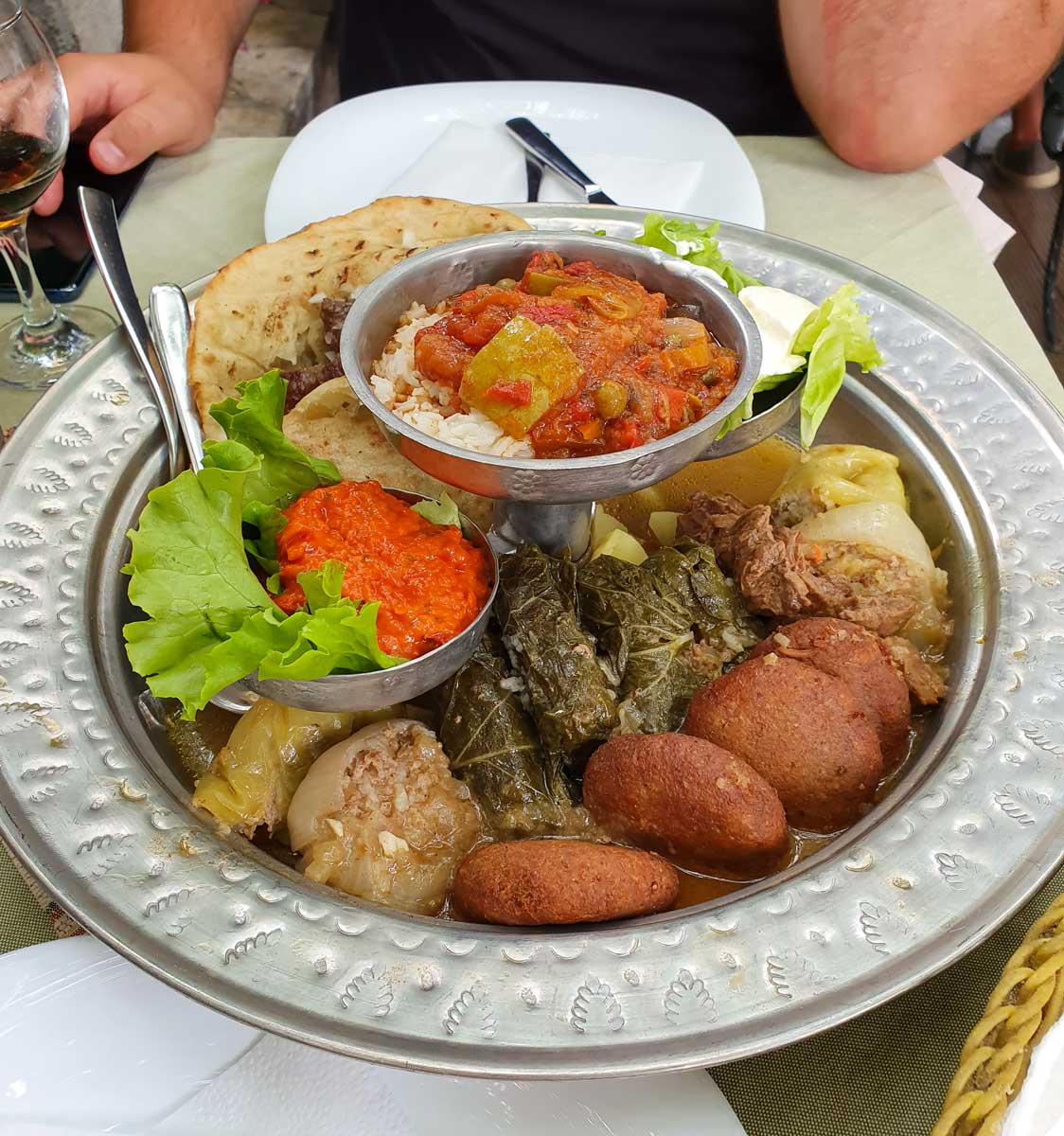 Sarma
A popular meal in the winter season, these cabbage rolls stuffed with minced meat, rice, and seasonings are usually served with mashed potatoes and sour cream.
There are also variations of the dish made with grape leaves instead of sour cabbage.
I am Romanian and our traditional local cuisine also includes this dish: we call them sarmale, so it comes as no surprise that it was my favorite food from the ones that I tried.
Ćevapi
Ćevapi are grilled, finger-shaped meats made out of minced beef and/or lamb. They are served in somun (a local type of pita bread), with a side of onions and kajmak – a creamy cheese with a mascarpone-like texture.
Dolma
Dolma are vegetables stuffed with minced meat, rice, and seasonings, which are then slowly cooked in their own juices. Tomatoes and peppers are the most popular choices when making this dish.
Klepe
Klepe are dumplings traditionally filled with meat and served with sour cream. Nowadays, however, there are also various versions of the dish which use cheese or spinach as stuffing.
Tufahije
Tufahije is a popular dessert made of apples stuffed with walnuts, which are then poached in sugar water. Sometimes, the apples are served with cream on top.
Bosnian coffee
While it resembles a lot with Turkish coffee, the process of making it is different. Coffee is an important part of a Bosnian breakfast, so I highly encourage you to try it.
The lovely Bosnian copper coffee sets can also be great souvenirs to take back home. You can easily find them in Mostar's Old Bazaar and other touristic places.
What currency can you use in Bosnia?
The official currency in Bosnia and Herzegovina is the Bosnia-Herzegovina Convertible Mark (BAM). However, you'll find that in tourist places like Mostar, most people will also accept Euros.
In restaurants, most often than not you'll be able to pay by credit card, but in the bazaar, you'll need cash.
What is Bosnia famous or known for?
Bosnia, officially known as Bosnia and Herzegovina, is famous for its history, multicultural heritage, and stunning natural landscapes.
The country is known for the tragic Bosnian War in the 1990s, the historic Ottoman and Austro-Hungarian and the Stari Most (Old Bridge) in Mostar.
Additionally, it boasts picturesque landscapes with pristine rivers, waterfalls, and the Dinaric Alps. The country is also renowned for its diverse religious and cultural landmarks, with mosques, churches, and synagogues coexisting closely.
Bosnia day trip from Dubrovnik: Conclusion
While one day in Bosnia and Herzegovina is definitely not enough, it's at least a start to discovering this not-so-known, yet diverse country.
And I hope that this blog post helped you decide on your itinerary for a short day trip or maybe even for a longer visit.
Happy travels~
---
YOU MIGHT ALSO LIKE