If you are trying to decide between visiting Dubrovnik vs Split, then you've come to the right place!
In this post, I'll break down the comparison of the two cities into different categories, from sights to trip costs, in order to help you pick the one that suits your needs and preferences.
So let's dive right in!
Disclosure: Some of the links in this post are affiliate links. If you click on them and make a purchase, I may receive a commission at no extra cost to you. Check my full disclaimer here.
Dubrovnik vs Split: Which Croatian city to visit? (Quick answer)
While personal preference plays an important role as well, if you weigh things like architectural beauty and things to do and see, there's no doubt that Dubrovnik is the big winner. However, if you don't like crowds and want something more budget-friendly, then Split is probably a better option.
Having visited both cities myself, I have to admit that I loved Dubrovnik more than Split, even though I really enjoyed my stay in each place.
And if you are planing for a longer Croatia itinerary and you have time to visit both, I highly encourage you to do that. But I would spend more time in Dubrovnik, as I feel there's more to do there.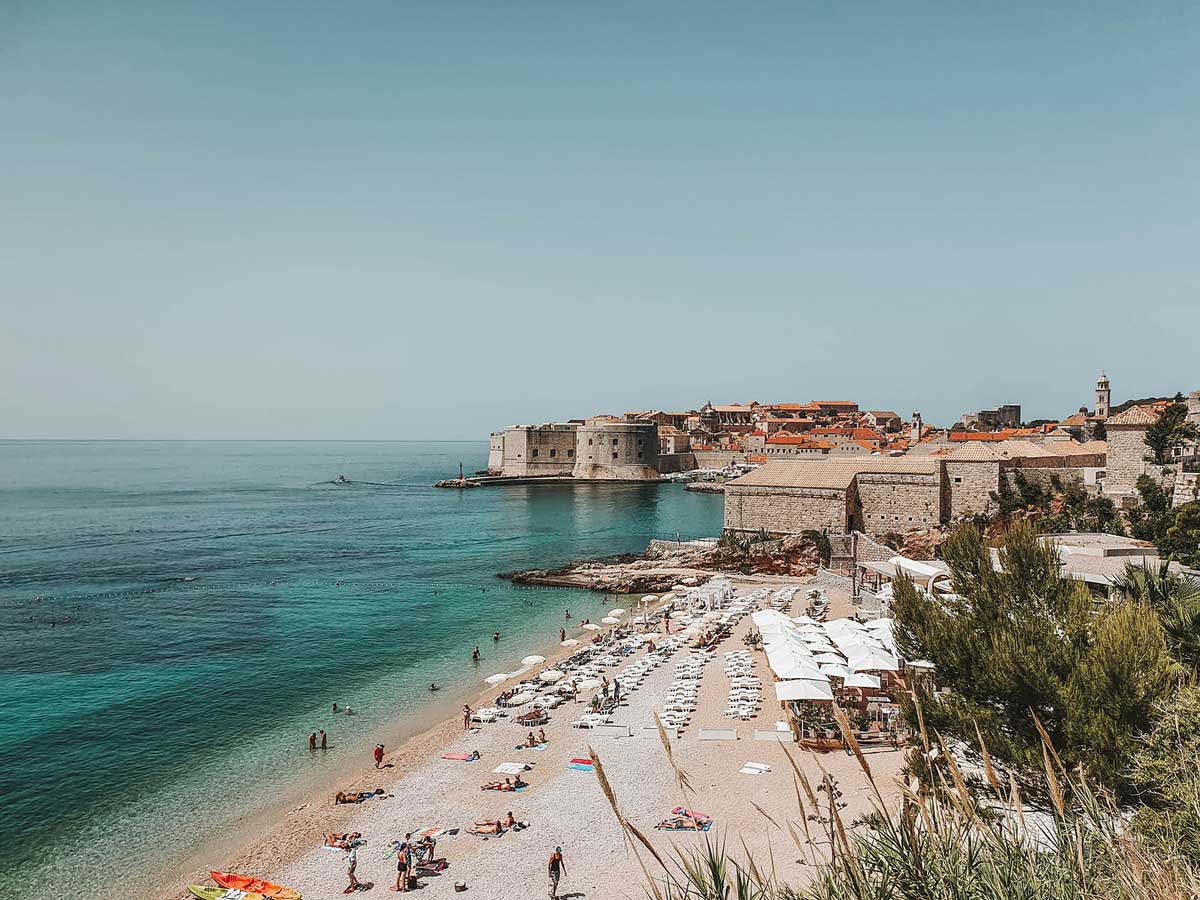 Split or Dubrovnik: Which is cheaper?
While Croatia used to be somewhat of a hidden gem, things are definitely not the same anymore, especially after many scenes of the popular Game of Thrones series were filmed here. And with the newly found fame, there was also an increase in prices.
Out of the two cities, I found Dubrovnik to be more expensive especially when it comes to parking which can go up to 10 euros per hour near the Old Town. That's pretty insane to me!
So my advice is to book accommodation with parking space included if you plan to rent a car. It's worth the extra money.
And speaking of this, do pay attention to what kind of parking is offered as some accommodations will say they have free parking, yet what they mean by that is that you can leave the car on the street. So it's not private nor guaranteed you'll find a spot.
Also, on some of the streets, it can be pretty difficult to park (think narrow, very steep, dead-end lanes), so it's worth checking on Google Street View the location of the accommodation before booking.
Winner: Split
How easy is it to get to Dubrovnik vs. Split?
Both Dubrovnik and Split have international airports so it's easy to fly in either one.
If you plan to drive, then you should know that in order to get to Dubrovnik you don't need to pass through Bosnia and Herzegovina (the Neum corridor) anymore since the Pelješac Bridge was opened to traffic in the summer of 2022.
Winner: Tie
Dubrovnik vs Split: Accommodation options
In my experience, both cities have a variety of accommodation options, though they tend to sell out a bit faster in Dubrovnik than in Split. Especially the locations that come with parking spots.
In case anyone is on the hunt for accommodation recs, in Split, we stayed at The Duke Luxury Rooms, located close to Diocletian's Palace (8-minute walk).
They also offered parking space (for us it ended up being on the street, in front of the accommodation, but they 'reserved' it for us), however, it was not included in the room rate; we paid it separately.
I would also mention that The Duke was pretty straightforward to reach by car, which is a thing to look out for when deciding where to stay in Split (if you have a rental of course). I actually made a point of searching for an easy-to-reach place in both cities.
In Dubrovnik, after days of searching, I finally found a great place: Amorino of Dubrovnik Apartments.
It was fairly close to the Old Town, they had free private parking (super easy to reach by car) and we had the most amazing view of fortified Dubrovnik. You can see a tour of the apartment on my Instagram Reels: here.
Do know that there are some flights of stairs involved when going in and out of the apartments, but honestly, it was fine considering the city we were in.
Winner: Tie
Is Dubrovnik more crowded than Split?
The short answer is a resounding yes. While I was extremely lucky to visit Dubrovnik during a time when there were very few tourists around (it was in June 2021 and Croatia just opened its borders for vaccinated travelers), the locals told us that things are normally much more different.
For example, below you can see Stradun, the main street in Dubrovnik Old Town as I experienced it mid-day. Now imagine it full of people to the point it would take 20 or even 30 minutes to get from one end to another. That's how busy it can get.
And I'm not saying this to scare you off, but rather to mentally prepare you, as even with all the crowds I still think Dubrovnik is very much worth it. Also, there are ways around this: do the majority of your visiting early in the morning or visit out of season.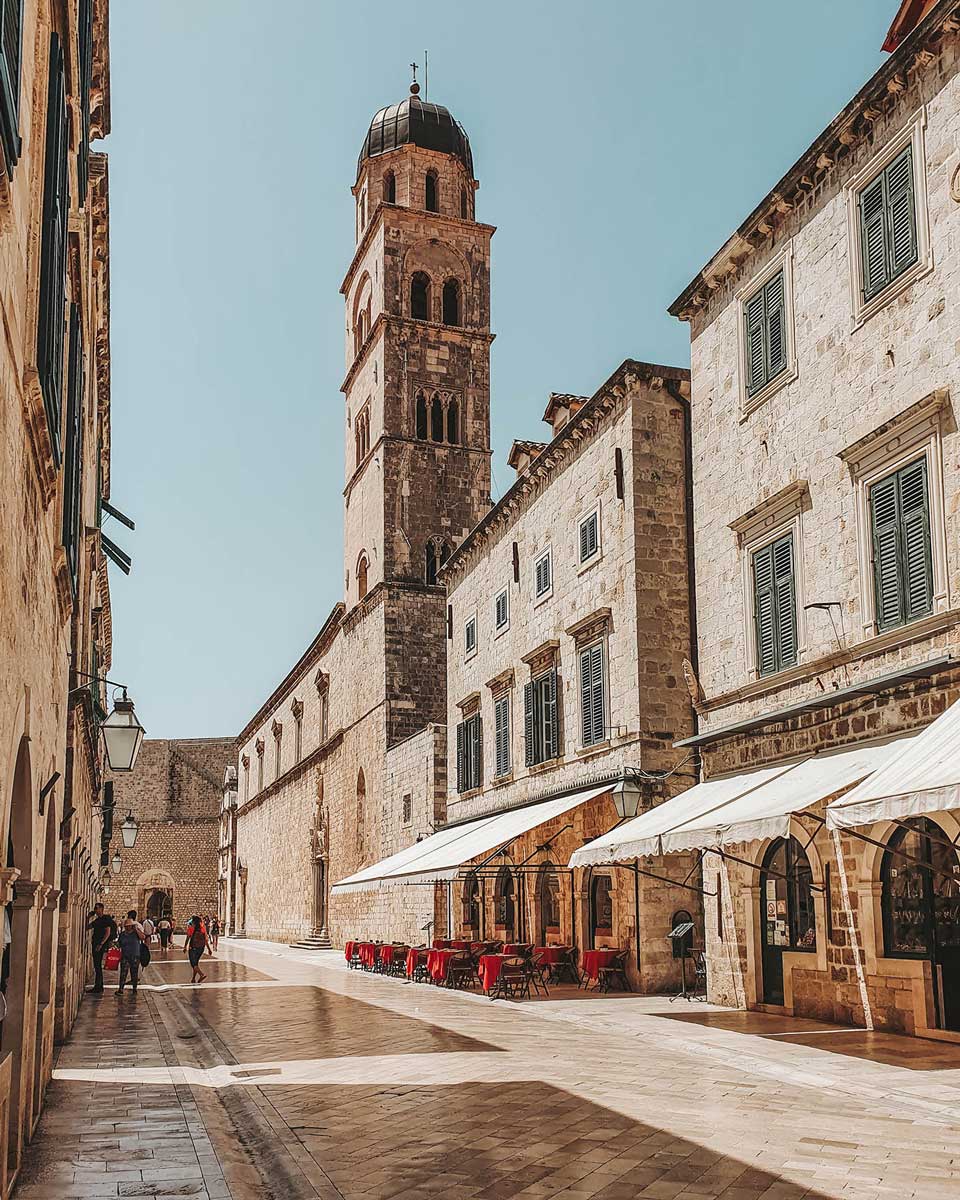 While Split can also get a bit crowded inside the maze that Diocletian's Palace is, it still doesn't get as bad as Dubrovnik.
Winner: Split
Dubrovnik vs Split: History
Both cities are rich in history, so you really can't go wrong with either one.
Split's Old Town which is a UNESCO World Heritage Site encompasses Diocletian's Palace – an impressive Roman edifice, built between 295 and 305 AD by emperor Diocletian for his retirement.
Walking through it is really a one-of-a-kind experience and I have to admit I felt the presence of this ancient civilization stronger than even in its birth city, Rome.
Dating back to the 7th century, Dubrovnik has a long history as an important trade center and fortified settlement. And nowadays, its city center (also a UNESCO World Heritage Site) is one of the best-preserved medieval towns in the world.
Winner: Tie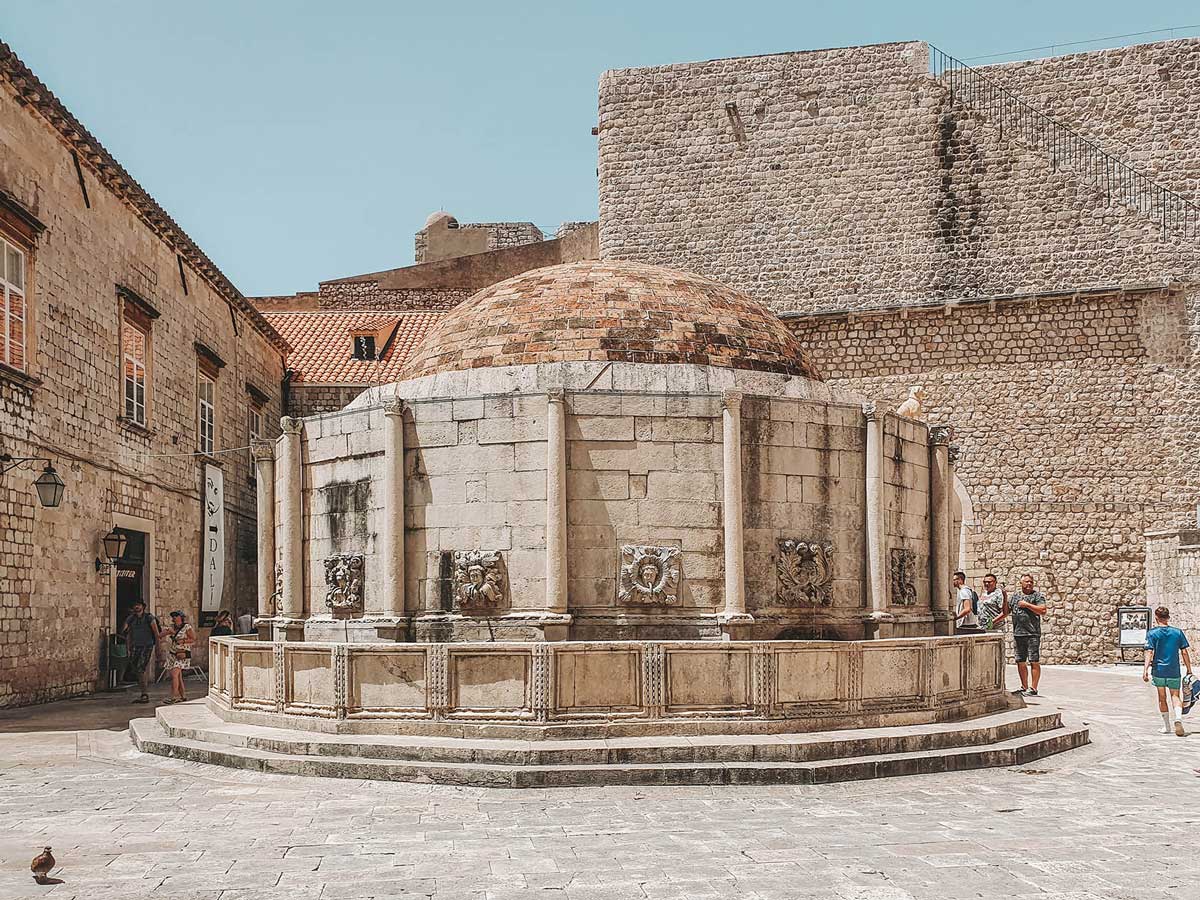 Best architecture: Split or Dubrovnik?
As I mentioned above, both cities boast historically important and one-of-a-kind architecture.
In Split, Diocletian's palace offers visitors a glimpse into how the Romans used to live. However, the ancient construction evolved over time and shops, restaurants, and bars found their way inside its walls in present times.
While I'm usually all for preserving historic buildings, in this case, I actually really liked how people found a way of integrating the ruins of the palace into their modern life by continuing to inhabit it. But that might not be everyone's cup of tea.
Dubrovnik's medieval old town on the other hand is incredibly well-preserved and absolutely stunning.
I have to admit, I've visited so many places (especially in Europe, since that's my home continent) that it's getting increasingly difficult for me to really get blown away, but Dubrovnik managed to do this.
Not only did it quickly rise to the top of my favorite cities list, but I can't wait to return. And I usually don't like getting back to already visited places (I mean there's so much to see out there and so little time, am I right?!).
Winner: Dubrovnik
Which city is easier to get around: Split or Dubrovnik?
In both cities, the most important sights are best reached by walking, but while Split is mostly flat, Dubrovnik is another story. So if you have mobility issues then you might skip it or choose your accommodation and things to see carefully.
Winner: Split
Split vs Dubrovnik: Things to do
Best things to do in Split
There's no doubt that the absolute best thing to see in Split is Diocletian's Palace and you should set aside for this at least half a day. But here are some more things to do in the city:
stroll along the Riva promenade
climb the tower bell of the Cathedral of Saint Domnius
visit the basement of Diocletian's Palace
go on a Game of Thrones tour
hit the beach (there are several beautiful beaches in Split to choose from)
take in the views from Marjan Hill
do a sunset cruise
rub the toe of Bishop Gregory of Nin's statue for good luck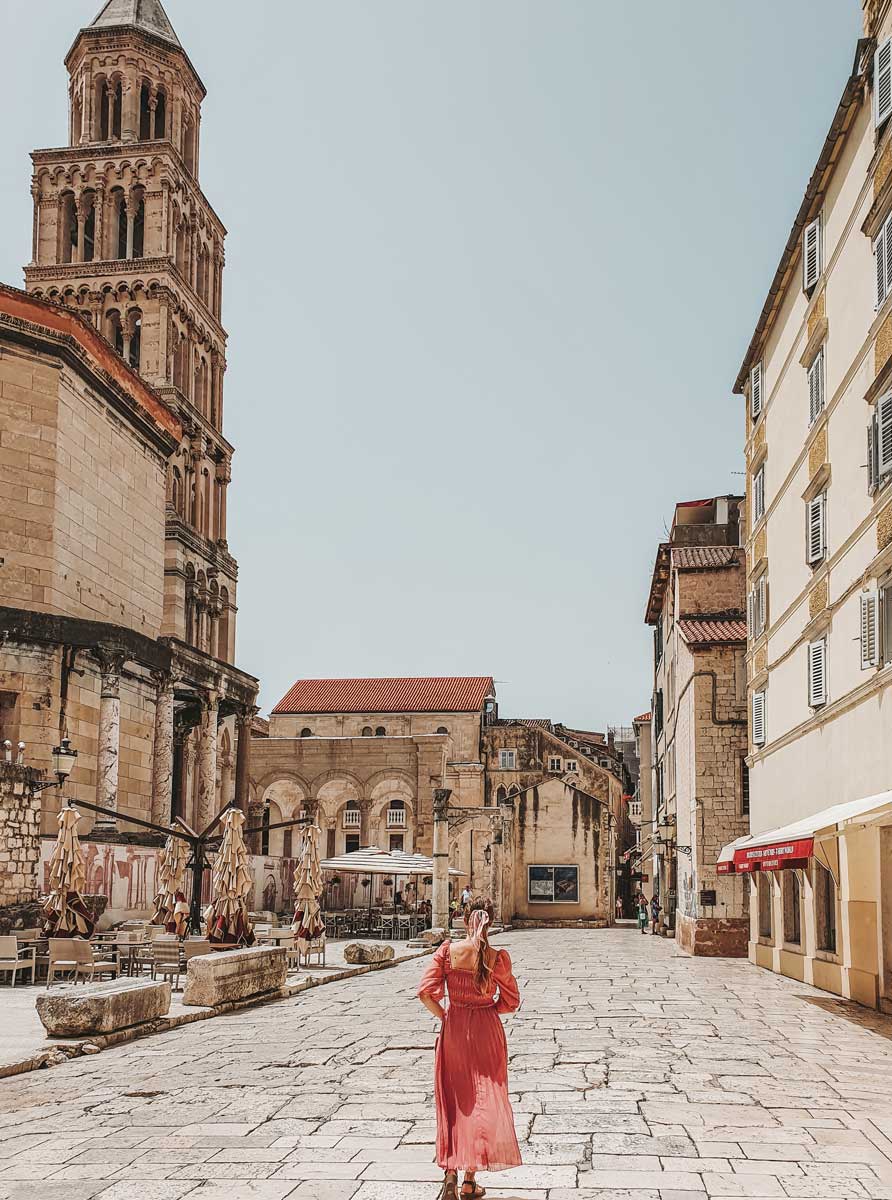 Best things to do in Dubrovnik
As for Dubrovnik, some of the best things to do here are:
walk on its defensive walls
visit Fort Lovrijenac
relax at the beach
take the car cable up Mount Srd for great views of the city
join a Game of Thrones tour
take a boat trip around Old Town
visit Lokrum island
have a drink at a cliffside bar
visit Rector's Palace
tour the Franciscan Church and Monastery
rub the nose of Dubrovnik's Shakespeare (writer Marin Držić) in order to get a wish granted
visit the Red History Museum to find out how everyday life used to look in Croatia under the Yugoslavian communist regime
As you can see there are a bit more things to do in Dubrovnik, than in Split.
Winner: Dubrovnik
Dubrovnik Card
Dubrovnik card grants free access to all museums, as well as to the Walls. It also includes free bus transportation inside the city.
Is Split or Dubrovnik a better base for day trips?
Best day trips from Split
Located somewhat halfway along Croatia's coast, Split offers several day trip opportunities. Some of the best choices are:
Blue Cave and 5 Islands boat trip
You can take a boat trip to the islands around Split. The tour usually includes a visit to the beautiful Blue Cave, as well as a stop in Hvar.
Located on the small island of Bisevo, the Blue Cave is one of Croatia's most popular natural sights. Its name comes from the light that comes through its underwater entrance around midday, creating an outstanding effect.
However do be aware that during the high season, boats sometimes end up queuing outside the cave and the actual visit will be pretty short (it's not allowed to stay inside more than 15 minutes anyway).
Trogir
Trogir is a small town located just north of Split, making it very easily accessible by both car and boat. It is most famous for its picturesque setting and well-preserved medieval architecture.
One of the best things to do in Trogir is simply to explore the old town. You can also join a walking tour if you want.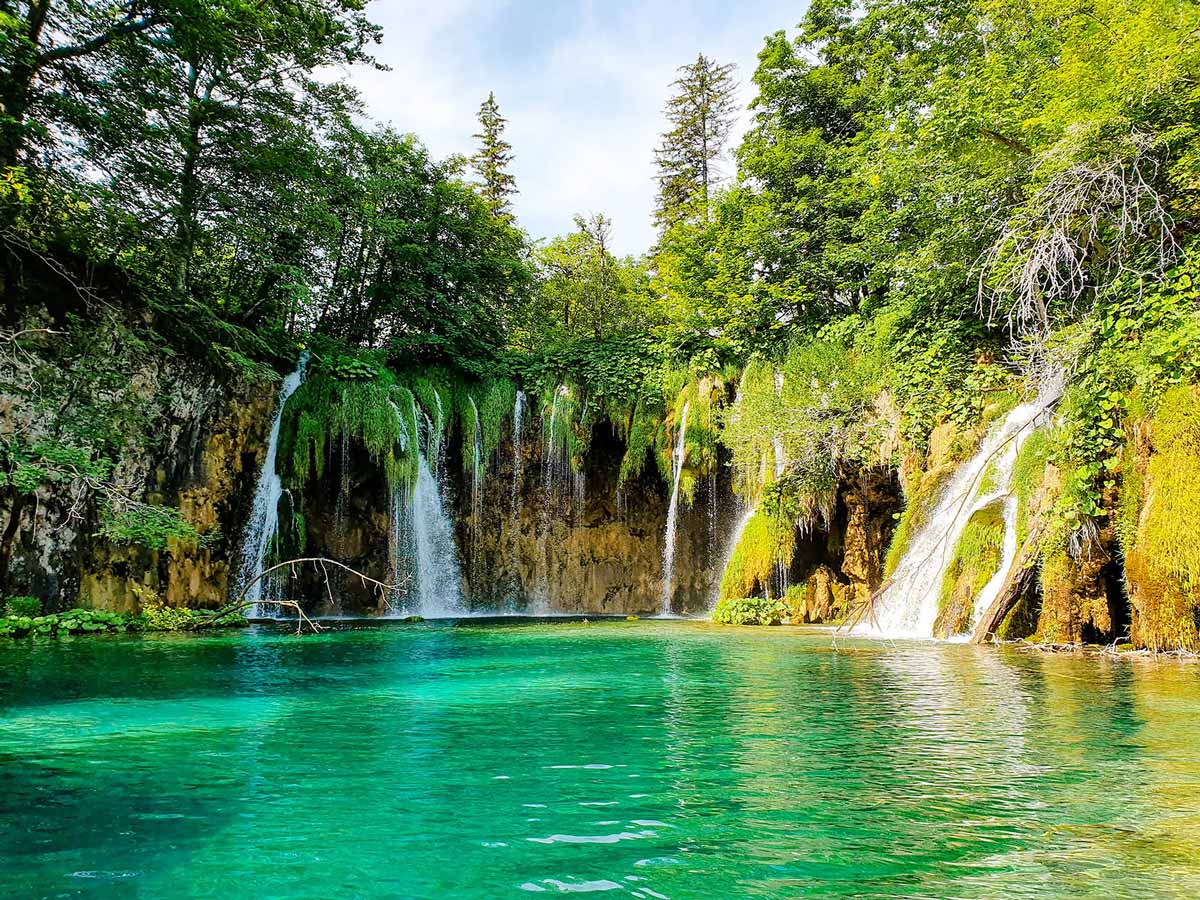 Plitvice National Park
Plitvice Lakes National Park is without a doubt a must-see if you're visiting Croatia. The UNESCO World Heritage Site is located about 2 hours and 40 minutes by car from Split, making a day trip possible.
Having said that, the best way to see Plitvice lakes and waterfalls is still by spending a night near the park, in my opinion. But if you are short on time, driving there or joining a tour is the next best thing.
Krka National Park
If the trip to Plitvice sounds too tiring (you'll also probably get there at the same time as most day trippers so the park will be crowded), then Krka National Park is a great alternative. Located less than an hour away by car from Split, you can choose to drive there yourself or book a tour.
FYI: Up until 2021, you could swim at Krka waterfalls, but now this is not allowed in order to preserve natural resources and biodiversity.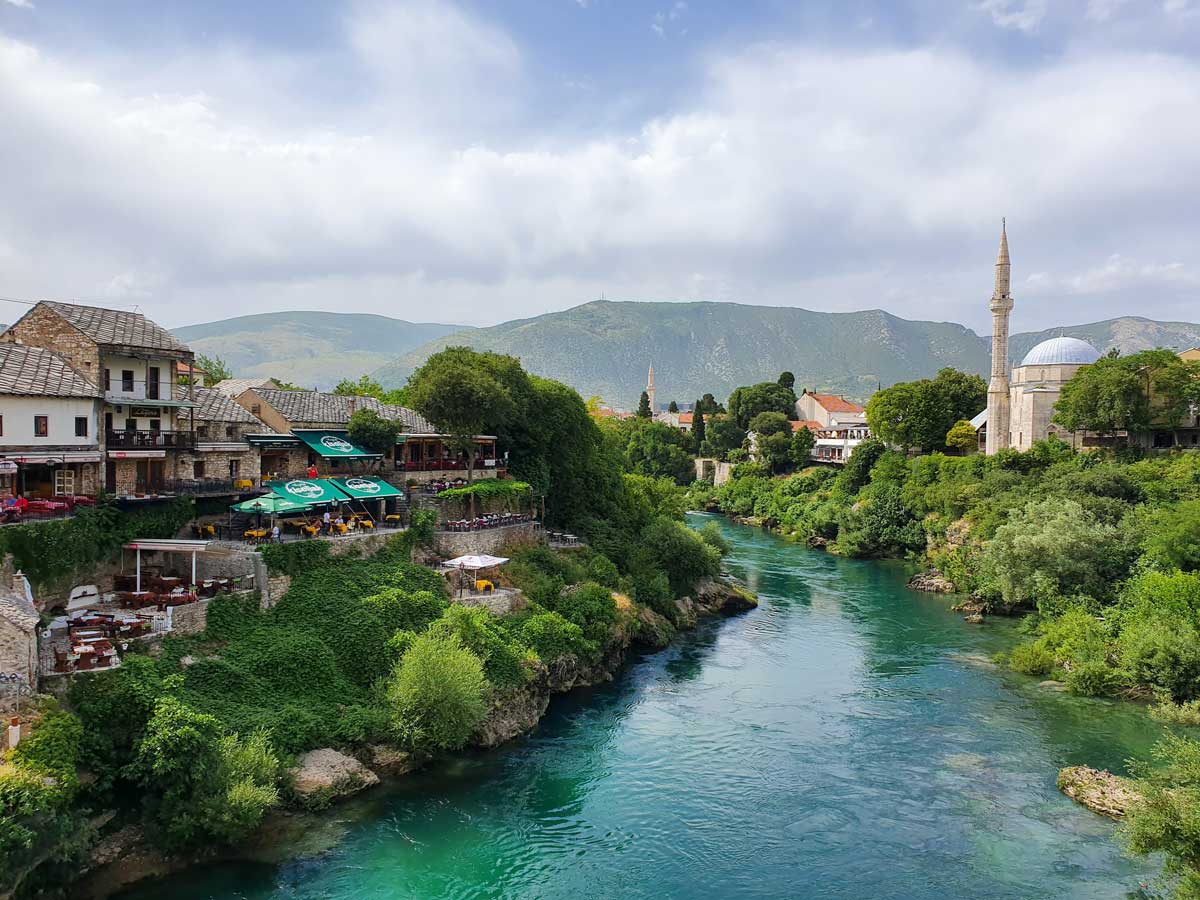 Mostar, Bosnia and Herzegovina
Given the close proximity to Bosnia and Herzegovina, there is no reason why you shouldn't explore it even for a day. A good choice for a short trip is Mostar: you can drive there yourself or join a tour which also includes Kravica Waterfalls.
If you opt to drive then my advice is to use the Metkovic border crossing to get into Bosnia, as others might only be designated to be used by locals and not tourists (I learned this the hard way).
Dubrovnik
Of course, Dubrovnik itself is a nice day trip from Split as well, if you are unable to spend a few nights there. Do be aware that it takes about 3 hours to drive there, so make sure you leave as early as possible. For a more hassle-free trip, you can book a tour.
Best day trips from Dubrovnik
Aside from the more obvious choices like Split and Mostar (PS: read my post on how to visit Bosnia from Dubrovnik on a day trip), here are other good options for a day trip:
Korčula
Known as the birthplace of Marco Polo, Korčula is a beautiful medieval town located on the island with the same name.
If you travel during the high season, you can get to Korčula by direct ferry from Dubrovnik (check its schedule here). Otherwise, you can either drive to Orebić and then take a 15-minute boat to the island or join a tour.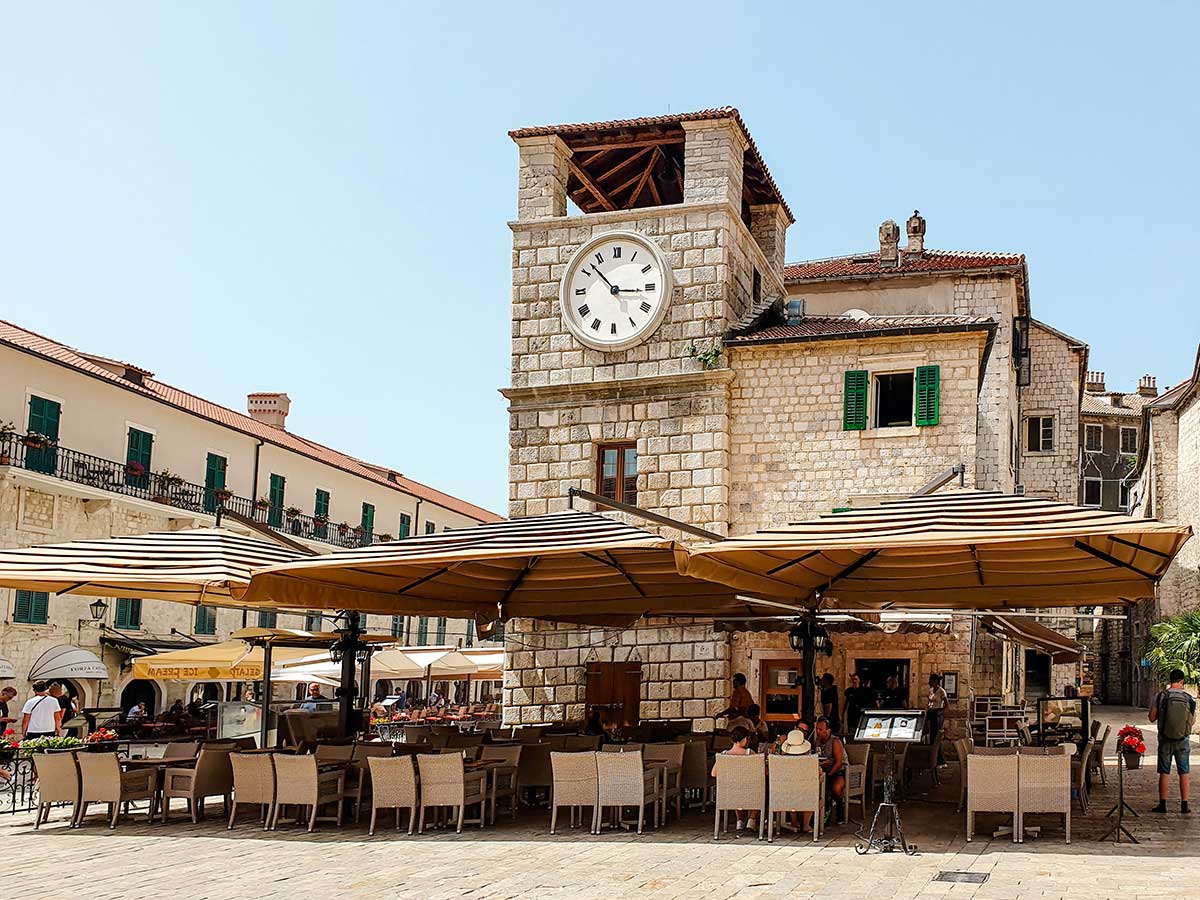 Montenegro
If you have a day to spare while in Dubrovnik then Montenegro is a great idea for a short trip. I visited Kotor and the tiny village of Perast, but Budva is also a good choice.
For more details on how to get to Kotor from Dubrovnik, just read my guide on how to visit Kotor on a day trip from Dubrovnik. It lists everything you need to know from how to get there to the best things to do and see.
Elaphite Islands
Taking a cruise from Dubrovnik is a great way to see Koločep, Lopud, and Šipan, the three small, inhabited Elaphite Islands. However, there's also a daily ferry connecting them with the port of Dubrovnik, you can check its schedule here.
In conclusion, while both cities offer nice day trip opportunities, it's pretty easy to see which one is a better choice to be used as a base.
Winner: Split
Split or Dubrovnik FAQs
Is Split or Dubrovnik better?
While this can be subjective, in my opinion, Dubrovnik is a better choice if you have to choose only one city to visit. However, if you have time for both, then you should include both on your itinerary.
Is Korcula closer to Split or Dubrovnik?
Korcula is closer to Dubrovnik, but if you don't have a car, then it's faster and easier to reach the island from Split by ferry.
Is Mostar closer to Split or Dubrovnik?
While the driving distance from Split to Mostar through the Nova Sela border crossing is a few kms longer than the distance from Dubrovnik through the Metkovik crossing border, depending on traffic conditions, it may end up being faster to travel via Split.
Is Plitvice Lakes close to Split or Dubrovnik?
Plitvice Lakes are located closer to Split than to Dubrovnik.
Is Split or Dubrovnik cheaper?
Dubrovnik tends to be the more expensive city in many travel aspects including accommodation, parking and restaurant prices.
Split vs Dubrovnik: Final thoughts
I hope this blog post helped you decide which city to visit between Split and Dubrovnik. However, if you are still debating, then maybe take it as a sign that you should visit both.
Also, don't forget to take a look at my other Croatia content before you leave for your trip.
Happy travels~
---
YOU MIGHT ALSO LIKE