Are you visiting Andalusia soon and you're wondering what are the best things to do in Frigiliana, Spain? I've got you covered!
Frigiliana is a stunning white-washed small town in southern Spain, located fairly close to Malaga. It is known for its beautiful Moorish architecture as well as its charming streets decorated with ceramic mosaics.
Even if Frigiliana isn't yet as famous as other places in Andalusia, it has been dubbed by many as the prettiest town in the region. And, if you are visiting Andalusia, then you should definitely add it to your itinerary!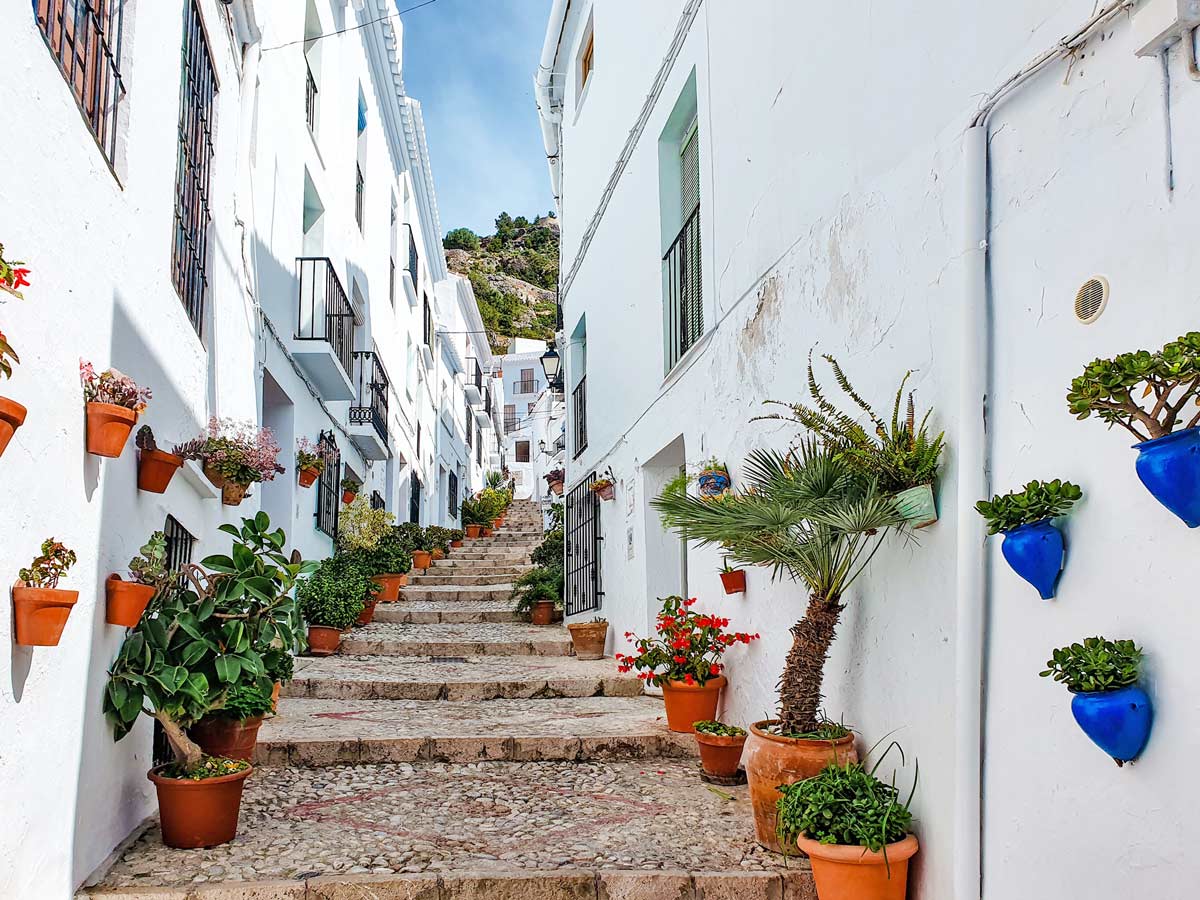 Disclosure: Some of the links in this post are affiliate links. If you click on them and make a purchase, I may receive a commission at no extra cost to you. Check my full disclaimer here.
Best time to visit Frigiliana Spain
Like many other southern destinations in Europe that you don't intend to visit for beach time, it is best to travel to Frigiliana during either spring or autumn.
I was there during the 2nd week of March for my birthday and the weather was great: it was sunny and warm and mind you I wore a summer dress.
If you want to visit this charming town as an addition to a beach vacation, then I'd suggest the end of August when the Three Cultures Festival takes place in Frigiliana or the beginning of September when the weather is still great for swimming, but the crowds start to thin.
How to get to Frigiliana Spain
The nearest airport to Frigiliana is Malaga Airport and many people use the city of Malaga as their base to either visit Andalusia or Costa del Sol.
By car
If you stay in Malaga then visiting Frigiliana by car is by far the easiest and most comfortable option, not to mention that it's a great choice for a day trip.
Near the airport, you'll find many local and international car rental companies to choose from. You can check the prices here.
We opted to rent a car with full insurance from a local company called Helle Hollis and we received a brand-new Volkswagen Polo. The pickup point is not right near the airport, but they have a shuttle that gets you from and to the airport.
The journey to Frigiliana takes about 50 minutes and it's mostly driving on a highway.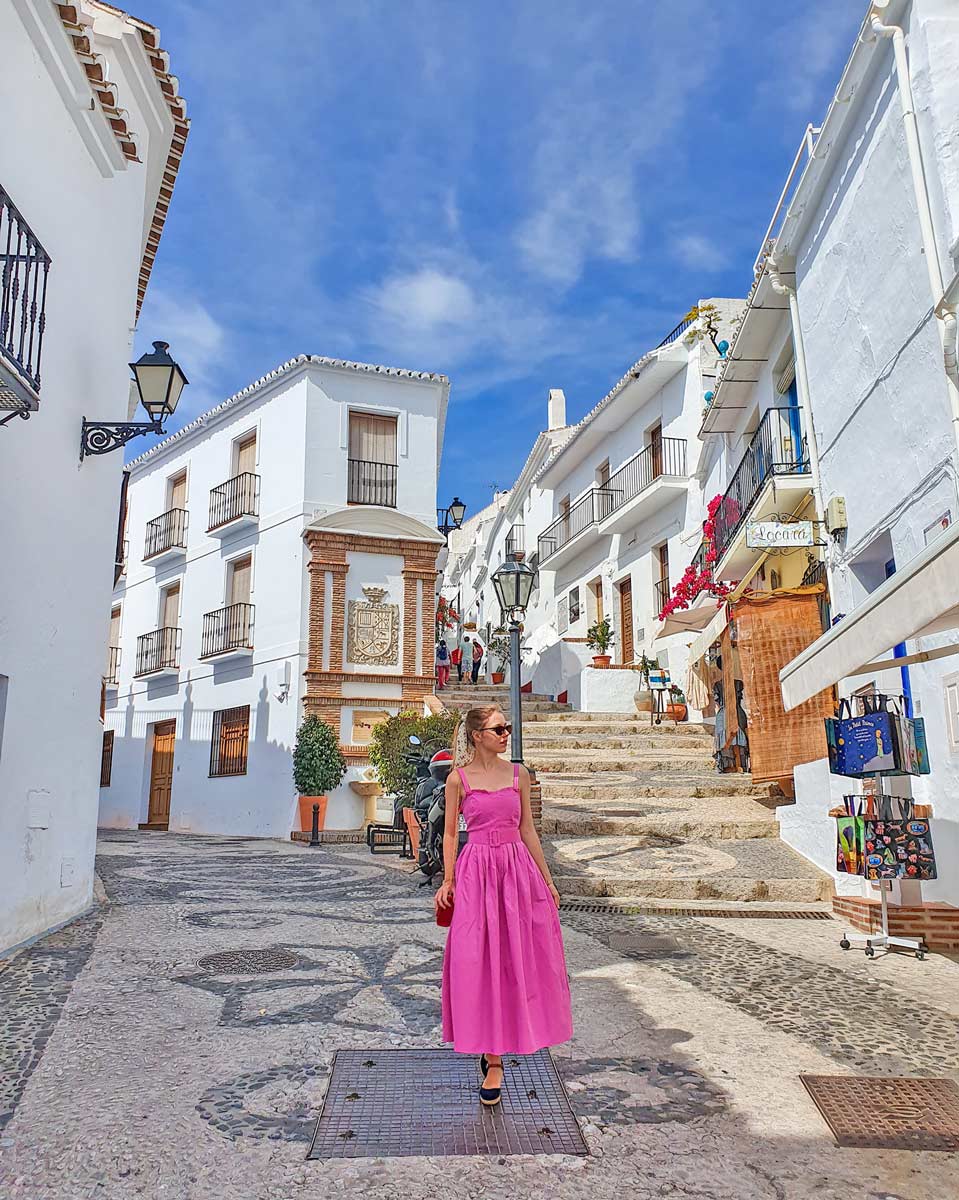 Parking in Frigiliana Spain
Once you arrive, there's a big, underground parking lot (Frigiliana Public Parking) conveniently located just 2 minutes away from the old quarter of the town, where you can leave your car.
It's a paid parking lot, but it's fairly priced (1h – 1.20 euros; 24h – 10 euros).
By bus
To reach Frigiliana by public transport from Malaga you need to take the ALSA bus to Nerja (travel time is around 1 hour and 20 minutes) and then either get a taxi to Frigiliana (the town is only about 7km away from Nerja) or a local bus.
The station from where the ALSA buses leave is called Estación de Autobuses de Málaga. In Nerja, the bus station for Frigiliana is located right next to where the Malaga bus will leave you. The journey takes around 15 minutes and you can get a ticket directly from the driver (cash).
By tour
If you want to visit Frigiliana by tour to avoid any hassle, then here are some good options:
Best things to do in Frigiliana Spain
01. Explore the Moorish old quarter
The best thing to do in Frigiliana is hands down to wander its picturesque streets, bordered by flowers and white-washed houses. The small Spanish town is split into two main sections: upper (also known as the Mudejar neighborhood) and lower (or new).
Now the upper section is where you want to go: it is the old district of the town where you can see the beautiful Moorish architecture which makes Frigiliana so popular and loved. Word of caution though: the streets are pretty steep and they can be at times a bit slippery.
02. Take pictures
The 2nd best thing to do in Frigiliana is to take lots of pictures! So make sure your camera has a full battery and you have enough memory on your card.
During my visit, I took photos every step of the way. I just couldn't help it, Frigiliana is one of those places that are photogenic from every angle.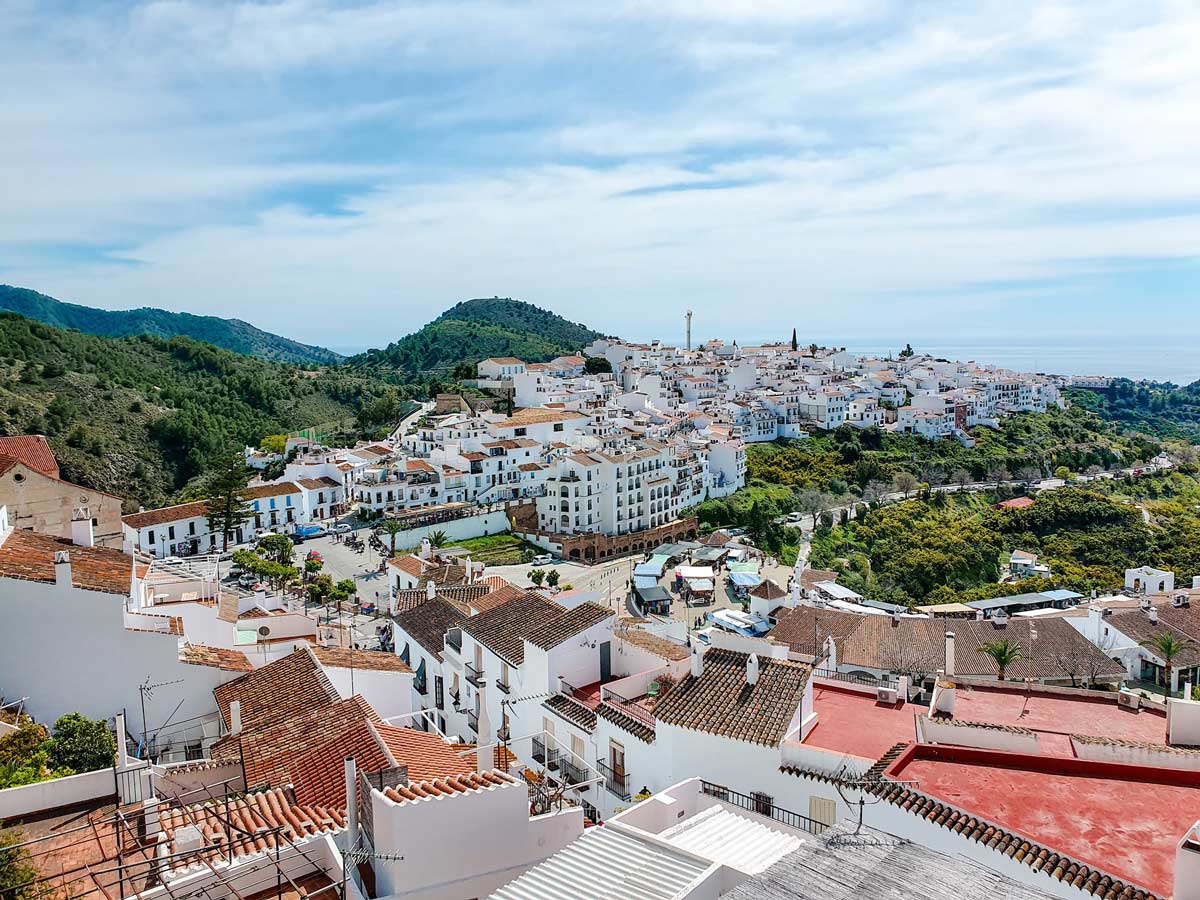 03. Attend the Three cultures Festival
If you visit Andalusia in late summer, then you should know that there's a festival in Frigiliana celebrating the co-existence of Christian, Jewish, and Muslim traditions called The Three Cultures Festival (Festival de las Tres Cultures).
The exact dates are released a few months in advance each year, but the festival is usually scheduled for the last weekend of August over the span of 4 days.
04. Hike up to the ruins of Castle of Lizar
If you are willing to break a sweat you can also hike up to where the Castle of Lizar (Castillo de Lizar) used to stand for some stunning views over the town of Frigiliana.
Don't expect to see any remains of the old Moorish castle though, there's barely anything left of it after it was demolished under the order of Don Luis de Requenses, commander of Castilla.
05. Taste the local wines at Vinos El Lagar
Vinos El Lagar in Frigiliana is a good spot for sampling some of the towns locally produced wines (if you have a sweet tooth in general, I recommend trying the dessert wine).
Plus, it's an affordable experience as you can enjoy a glass of wine and some tapas for just a few euros.
Best photo spots in Frigiliana Spain
Once you visit Frigiliana you quickly realize that every nook and cranny of the old town is extremely photogenic. Nonetheless, here are the best photos spots in my opinion:
If you search Centro Histórico de Frigiliana on Google Maps it will take you to this really picturesque Y junction where I guarantee you'll be taking lots of photos.
Calle Zacatin is a charming alley that has its steps decorated with mosaics and is bordered by flower pots.
Mirador de Santo Cristo is a great spot from where you can see Frigiliana from above.
As you climb towards Mirador de Santo Cristo take a brief moment to stop on Callejon del Peñon and admire the view. There's a spot midway where you can take lovely pics of the white houses below.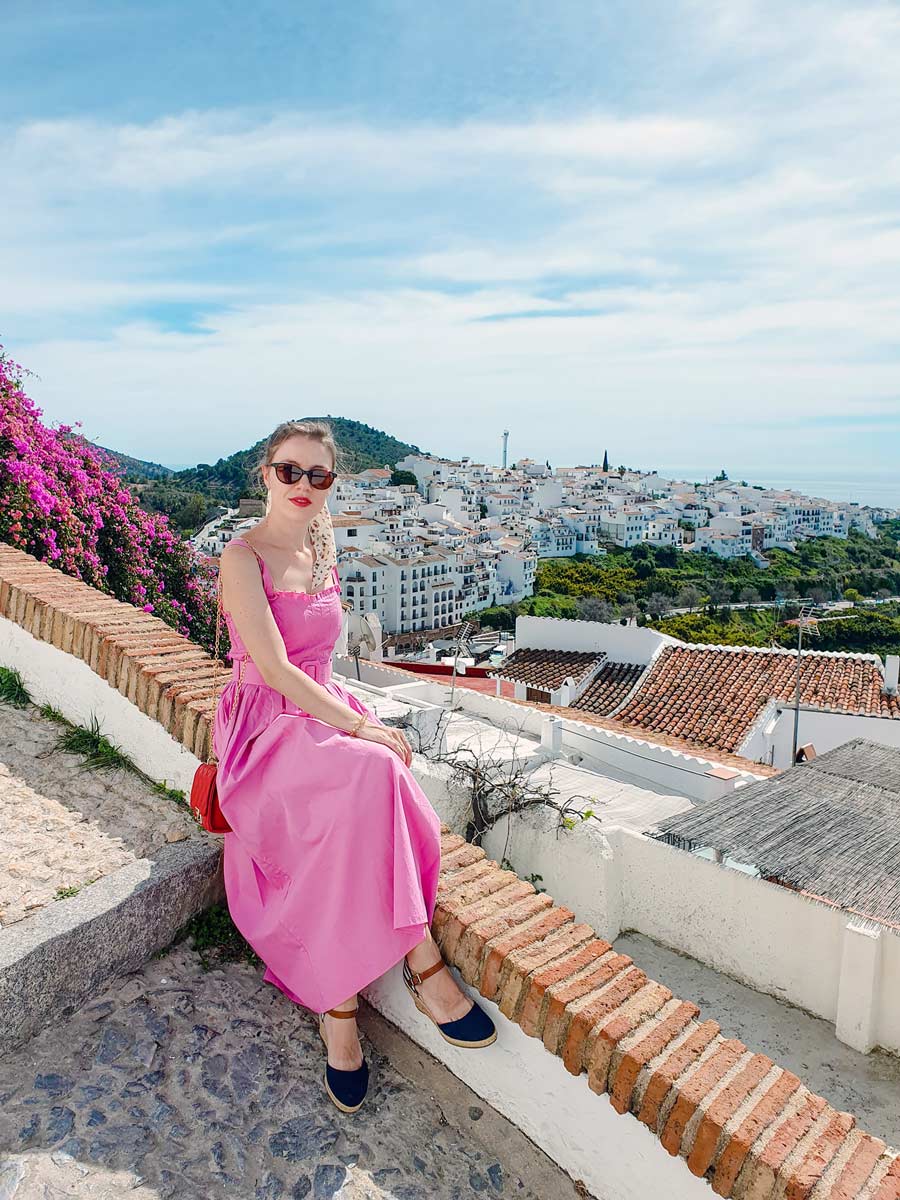 Where to eat while in Frigiliana Andalusia
Restaurante El Mirador-Frigiliana has some of the best views: enjoy your food or a glass of Sangria from its terrace overlooking the town and the hills surrounding it.
El Mesón de Mi Princesa Blanca has both good food and prices. The restaurant has a nice indoor area, but also a small terrace with views.
Bar Pizzería Da Giuseppe not only has delicious pizza but also provides gluten and dairy-free options.
Where to stay in Frigiliana Spain
If you want to spend one or two nights in Frigiliana Spain, here are a few really good options:
Additional places to visit close to Frigiliana Andalusia
Balcon de Europa
Balcon de Europa is a large, round balcony from where you can admire the Mediterranean Sea. It is located in the town of Nerja and it's a great stop after your visit to Frigiliana in my opinion.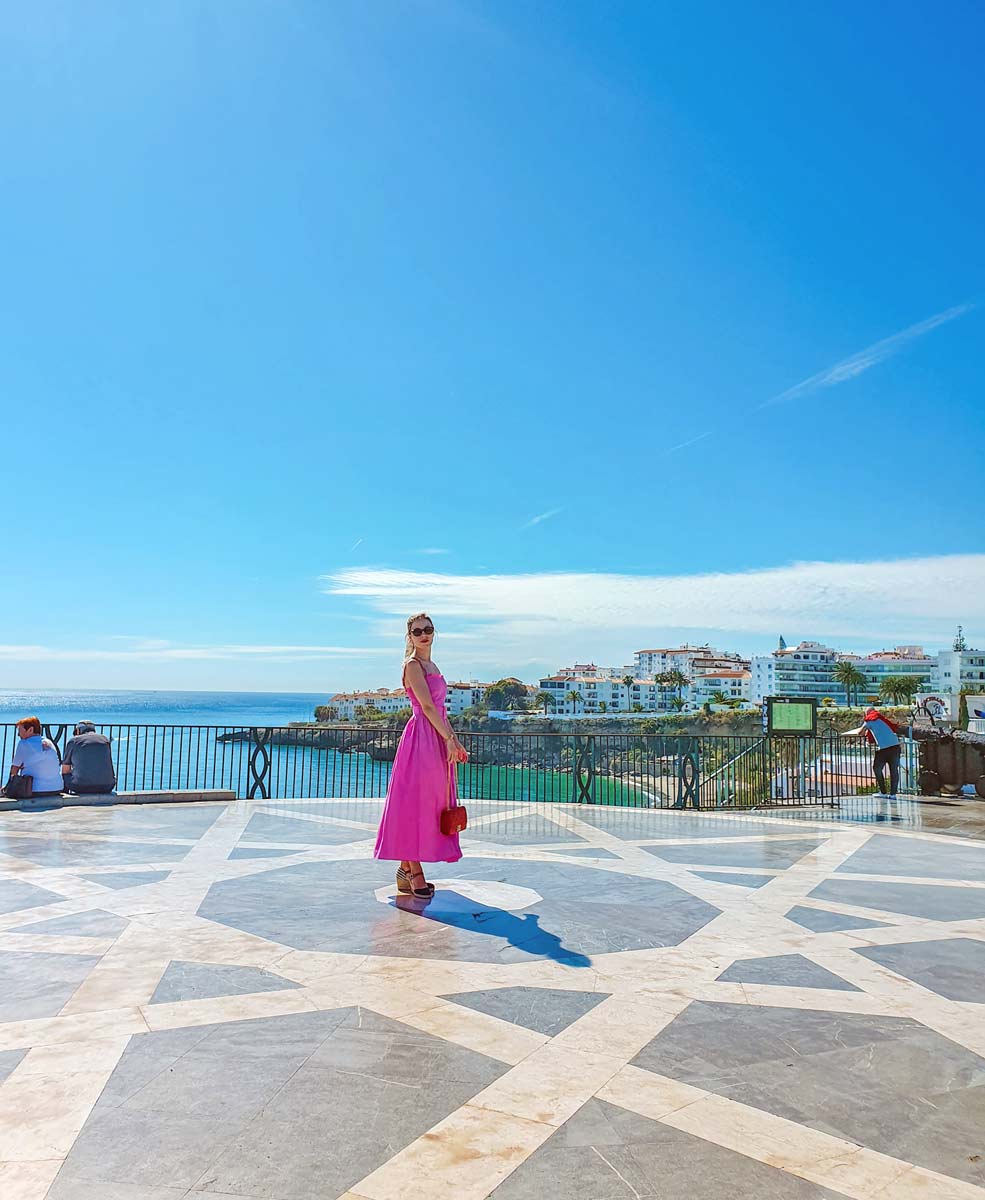 Nerja caves
Nerja Caves are a complex of caverns located in Maro, a district of Nerja. They are a major touristic attraction in southern Spain.
If you are visiting outside of the high season, make sure you check the opening and closing hours, beforehand.
Frigiliana Andalusia FAQs
How to get to Frigiliana from Nerja?
You can get to Frigiliana from Nerja by taxi or local bus. If you opt for riding the public transportation, know there are no routes on Sundays and the first bus leaves at 7:20 AM, while the last returns at 9:00 PM. You can normally find the complete schedule at the Nerja bus station.
How far is Frigiliana from Malaga airport?
The distance between Frigiliana and Malaga airport is around 70 km (43.5 miles) which translates in a bit under an hour of driving.
How far is Frigiliana from Nerja?
The distance between Frigiliana and Nerja is around 7 km (approx. 4.5 miles), which is a 15 minutes drive.
Things to do in Frigiliana Spain: Wrap up
I hope you found this tiny guide on how to visit Frigiliana, the prettiest town in Andalusia, both helpful and informative. And if you are interested in more Spain content, check out the articles listed below.
Happy travels~
---
YOU MIGHT ALSO LIKE