Located only 20 minutes away by train from Amsterdam, chic Haarlem is the perfect day trip from Netherlands' capital city.
So read on to find out how to make the most out of your visit to this charming city!
Disclosure: Some of the links in this post are affiliate links. If you click on them and make a purchase, I may receive a commission at no extra cost to you. Check my full disclaimer here.
Is Haarlem worth seeing?
Yes! Haarlem is a posh city with beautiful architecture and lots of history. Think winding canals, many great museums, chic restaurants, and typical Dutch buildings.
However, due to its close positioning, Haarlem is often overshadowed by Netherlands' famous capital, Amsterdam, yet it is very much worth visiting and best of all, it's way less crowded!
So make sure you don't miss seeing this somewhat hidden gem in the Netherlands, which some nicknamed Little Amsterdam. You can even combine it with a visit to Zaanse Schans.
Best time to visit Haarlem Netherlands
The best time to visit Haarlem is during the summer, specifically the months of June, July, and August. However, that's also one of the busiest times to be in the city, so May might be a better option if you are concerned about it.
I would definitely avoid October though, as it's one of the rainiest months.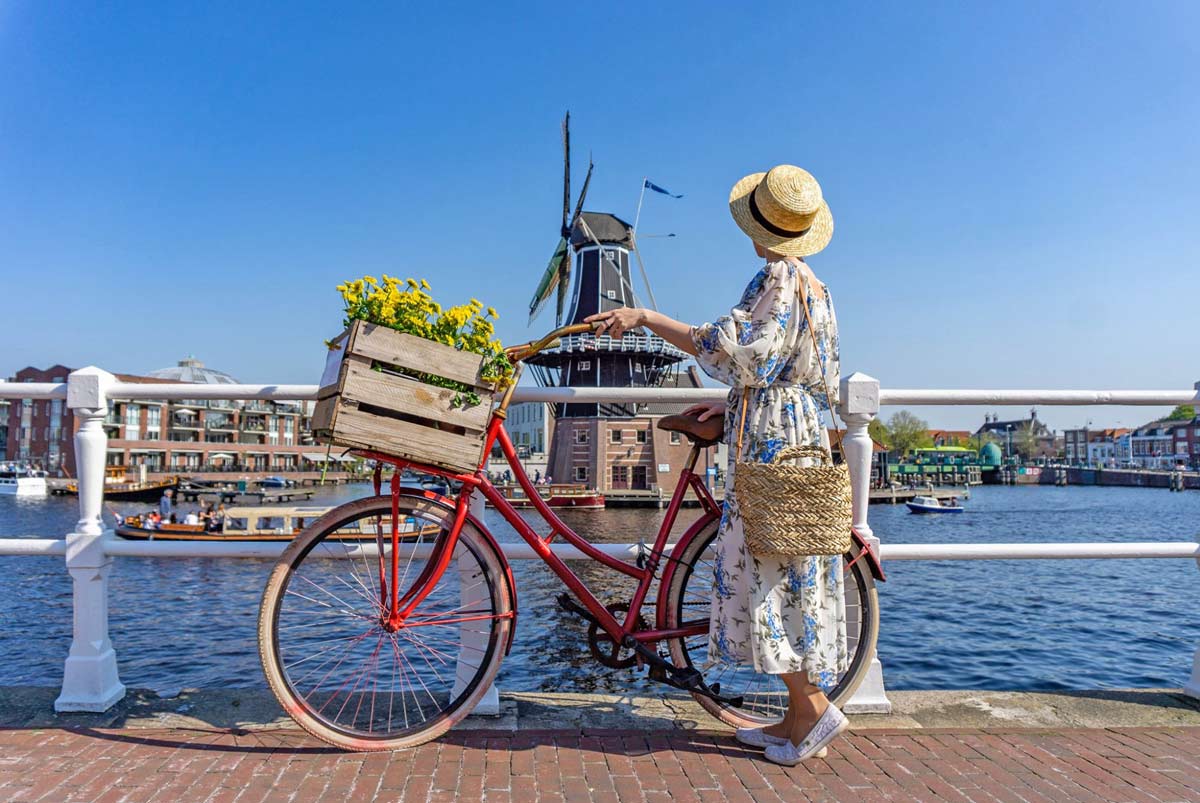 How to get to Haarlem from Amsterdam
Getting to Haarlem from Amsterdam is really easy and fast: you can take a direct Intercity or Sprinter train from Amsterdam Central Station (the price of a one-way ticket in 2022 was €4.70). The trains run approximately every 8 minutes and the journey lasts around 18-20 minutes.
From my experience, Google Maps is very reliable when it comes to public transportation in The Netherlands and the trains usually stick pretty close to the schedule.
How to get around Haarlem
Haarlem is a pretty small city, so walking is hands down the best option to explore it. This way, you'll be able to better admire its beautiful architecture, as well as discover lovely spots along the way.
What to see in Haarlem in one day? Top things to do
01. Explore Old Town
Haarlem's Old Town is concentrated around Grote Markt, a large central square, lined with many terraces, bars and cafes, and of course typical old Dutch buildings. It is quite literally the heart of the city (yet you won't see Amsterdam's usual crowds) and a great spot for people-watching.
To get to Grote Markt from Haarlem train station is pretty straightforward: you walk almost in a straight line for about 10 minutes.
02. Visit Grote Kerk (St. Bavo church)
Towering over Haarlem's main town square is Grote Kerk, a large gothic church, dating back to the 14th century. The church is famous for its impressive organ, counting over 5000 tubes. It is said that even young Mozart played it.
From the end of May till the beginning of October, the public can attend free recitals (with some exceptions), usually on Tuesday evenings and Thursday afternoons. You can check the current schedule here.
The interior of the church can be visited from Monday to Saturday from 10 AM to 5 PM. A normal ticket is €3.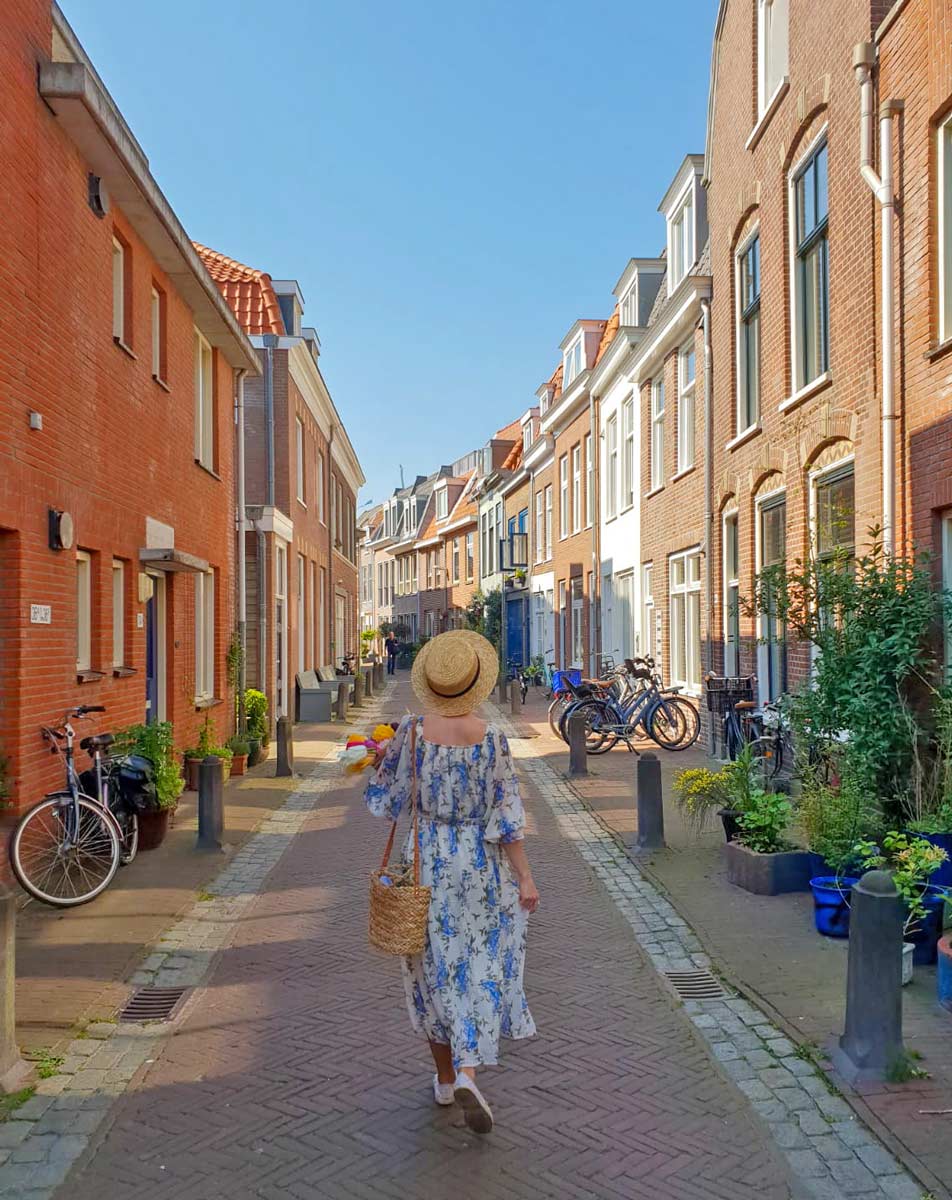 03. Stroll along Haarlem's beautiful streets
One of the best ways to explore Haarlem is to aimlessly stroll along its narrow cobbled streets. Or you can join a walking tour to discover everything the city has to offer (for more options check out my post about the best Haarlem sightseeing tours).
04. Take a canal cruise
What better way to discover Haarlem than to take a sightseeing canal cruise? The trip lasts around 50 minutes and you get to see the city from a different angle, in a very relaxing way.
05. Discover the hidden courtyards of Haarlem (hofjes)
One of Haarlem's best-kept secrets is its hidden courtyards, called hofjes. Literally meaning "courtyard", a hofje usually describes a group of houses built for charitable purposes (almshouses), around a small central garden.
They usually provided housing for the elderly, widowed, and poor and most of the inhabitants were women, though some hofjes for men and married couples did also exist.
In Haarlem, there are 21 public hofjes, though finding them all might be challenging as they are often well hidden behind closed doors. Some of them though are marked on Google Maps, so you can confidently use the app to visit a few of the courtyards.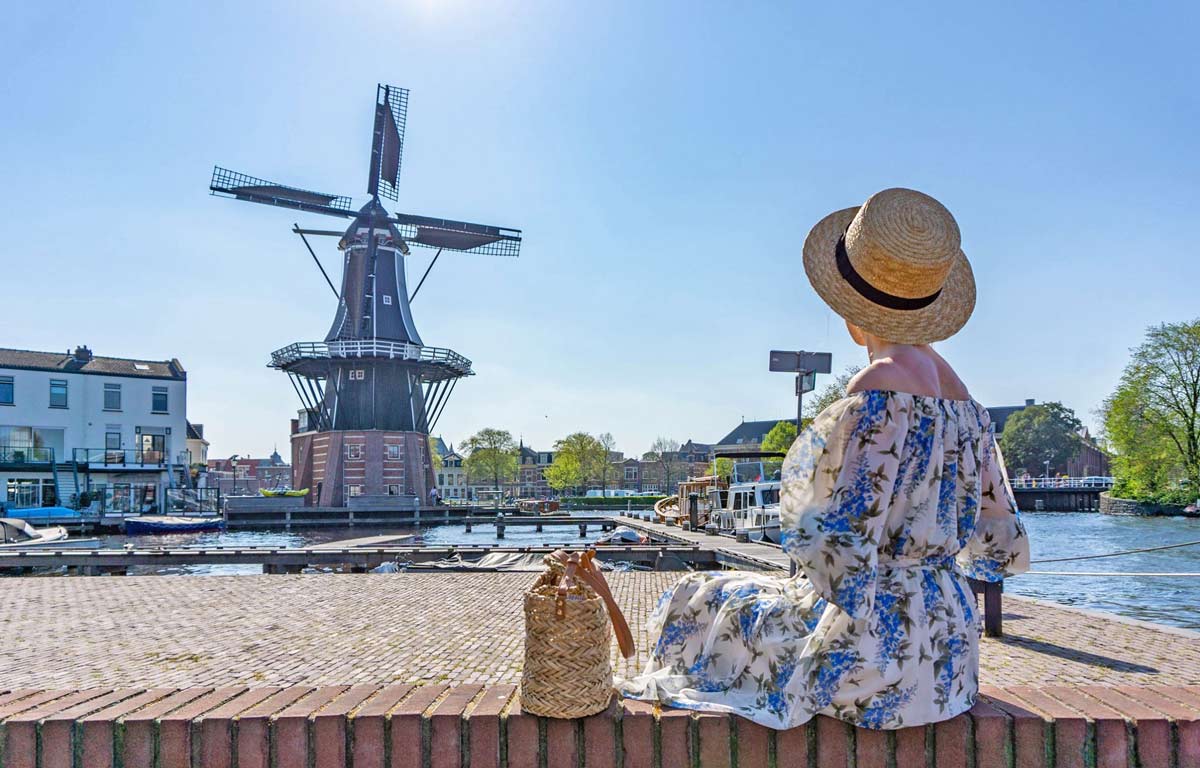 06. See De Adriaan windmill
Molen De Adriaan is one of Haarlem's most iconic attractions, despite the fact that it's actually a reconstruction as the original mill was destroyed in a fire in 1932.
A fully functional flour mill, De Adriaan now only grinds wheat for tourists. During the guided tour you will be able to learn about the different types of mills that existed in the Netherlands as well as have the opportunity to admire Haarlem from the windmill's balcony.
After your visit, don't forget to cross on the other side of the river to get some beautiful pictures.
07. Visit Teylers Museum
Teylers Museum is the oldest museum in the Netherlands. Not only are the numerous exhibits well worth a visit, but the interior of the building is an attraction itself, as time seems to have stood still behind the doors of the 18th-century institution.
Expect your visit to Teylers Museum to last around one to two hours. You can buy tickets online from here.
08. Taste the local beer in a former church
When you are ready to take a break or end your day, head out to De Jopenkerk, a brewery located in a former church. Here you'll find many types of local beer, from both Haarlem and other parts of the country.
Do be aware that the establishment can get quite busy during the weekends and you might find it challenging to find an empty seat.
More things to do in Haarlem
If you have some extra time in Haarlem or you are a fast-paced traveler, here are some additional things to do and see in the city.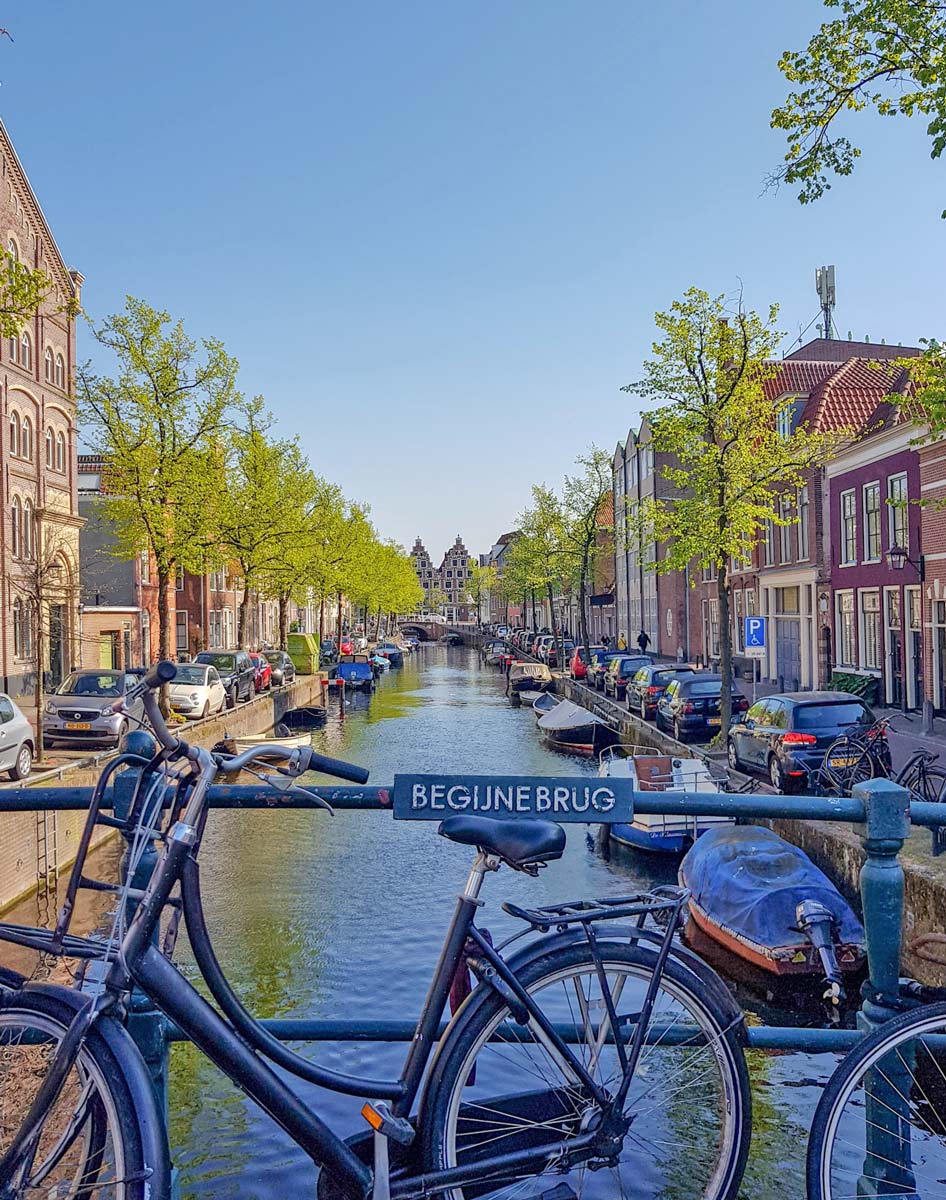 09. Learn about the bravery of the Ten Boom family by visiting their house
Devoted Christians, the Ten Boom family risked their lives during WW2 by transforming their home into a refuge and a hiding place for Jewish people and others running from the Germans.
Unfortunately, on February 28, 1944, they were betrayed and arrested, though the 6 people that they were hiding in the house at the time remained undiscovered behind the false wall in Corrie Ten Boom's room.
The group was eventually rescued by members of the resistance from the local police and four of them survived the war.
While others arrested that day were ultimately released, Corrie, her sister Betsy and their father Casper Ten Boom were sent to prison. Casper died there and his daughters ended up at the horrible Ravensbrück Concentration Camp. Only Corrie survived it.
Nowadays, the Ten Boom family's home located on Barteljorisstraat 19, Haarlem is open to the public as a museum. It can only be visited by guided tour and reservations have to be made at least 2 days in advance.
If you can't make it though, you can still take a virtual tour of the Corrie Ten Boom House.
10. Admire the art inside Frans Hals museum
If you are an art lover, then don't miss the chance of seeing the Frans Hals. The museum is split into two locations: HOF and HAL and it houses works from the 16th century till the present times. You can buy tickets from here.
11. Do some shopping
If you fancy some shopping or simply what to get a few souvenirs and gifts for your loved ones, you've come to the right place.
The main shopping streets of Haarlem are called "de Gouden Straatjes" (the Golden Streets) and they are lined with various boutique stores and specialty food shops. Some of the most well-known are Barteljorisstraat, Grote Houtstraat, and Zijlstraat.
12. Visit a plucking flower garden
If you visit the Netherlands in April, not only you can see beautiful tulip fields, but you can also pick your own flowers from a plucking garden.
Such a place is Annemieke's Pluktuin, located near Hillegom, which is only 30 minutes away by bus (route 50) from Haarlem. There you can pick tulips and take pictures in a multicolored field (personally, I asked for permission to take pics beforehand).
And if some of the bulbs come out when you pick the flowers, they ask you if you want to keep them. Sadly, I didn't take the best care of mine so I lost them before I could see if they would bloom again.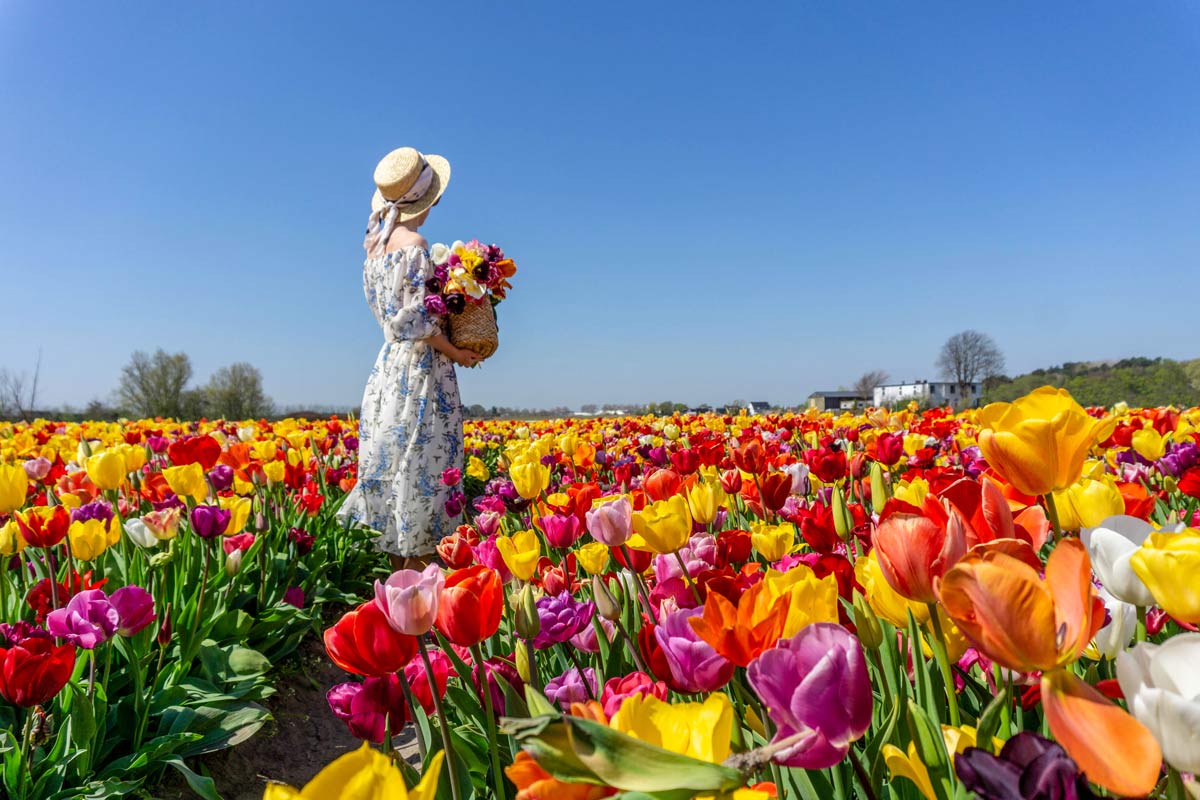 Restaurants to try in Haarlem Netherlands
If you are looking for recommendations for places to eat while in Haarlem, check out the following:
Frietkamer: Their amazing fries are appreciated by both locals and tourists alike.
DeDAKKAS: Not only is their food tasty, but you also get to enjoy a beautiful panorama of Haarlem as the restaurant is located on the roof of a parking garage. They also have good vegan and vegetarian options.
Casa Di Papi: Fans of Italian cuisine, will love their delicious pizza and pasta.
Chez Bastijan: This small restaurant is fairly popular with locals and it offers Dutch and European dishes. It's worth noting that it also has vegan and gluten-free options.
Interesting facts about Haarlem
Before you go, here are some interesting facts about Haarlem (also, don't forget to check out my other Netherlands content):
If you are wondering if New York's Harlem and Netherlands' Haarlem are in any way connected, then the answer is yes: the famous neighborhood was named after the small Dutch city.
Haarlem was granted city status, decades before Amsterdam and Rotterdam.
Haarlem has a rich history in beer brewing and at one point, there were around 100 breweries in the city.
Haarlem had the first tow canal, railway line, and electric tram in the Netherlands.
---
YOU MIGHT ALSO LIKE