Are you wondering how to do a Vienna to Hallstatt day trip? I've got you covered!
Hallstatt is a small lakeside town in the Austrian Alps that is well-known for its picturesque scenery and charming architecture. Personally, I visited it twice until now and I'd return anytime.
If you are spending some time in Vienna (by the way, I also wrote a Vienna itinerary that you can check out for inspiration) and would like to visit Hallstatt as a day trip, this blog post will provide you with all of the information you need to make the most of your visit!
So read on for tips on how to get there, as well as what to see and do.
Disclosure: Some of the links in this post are affiliate links. If you click on them and make a purchase, I may receive a commission at no extra cost to you. Check my full disclaimer here.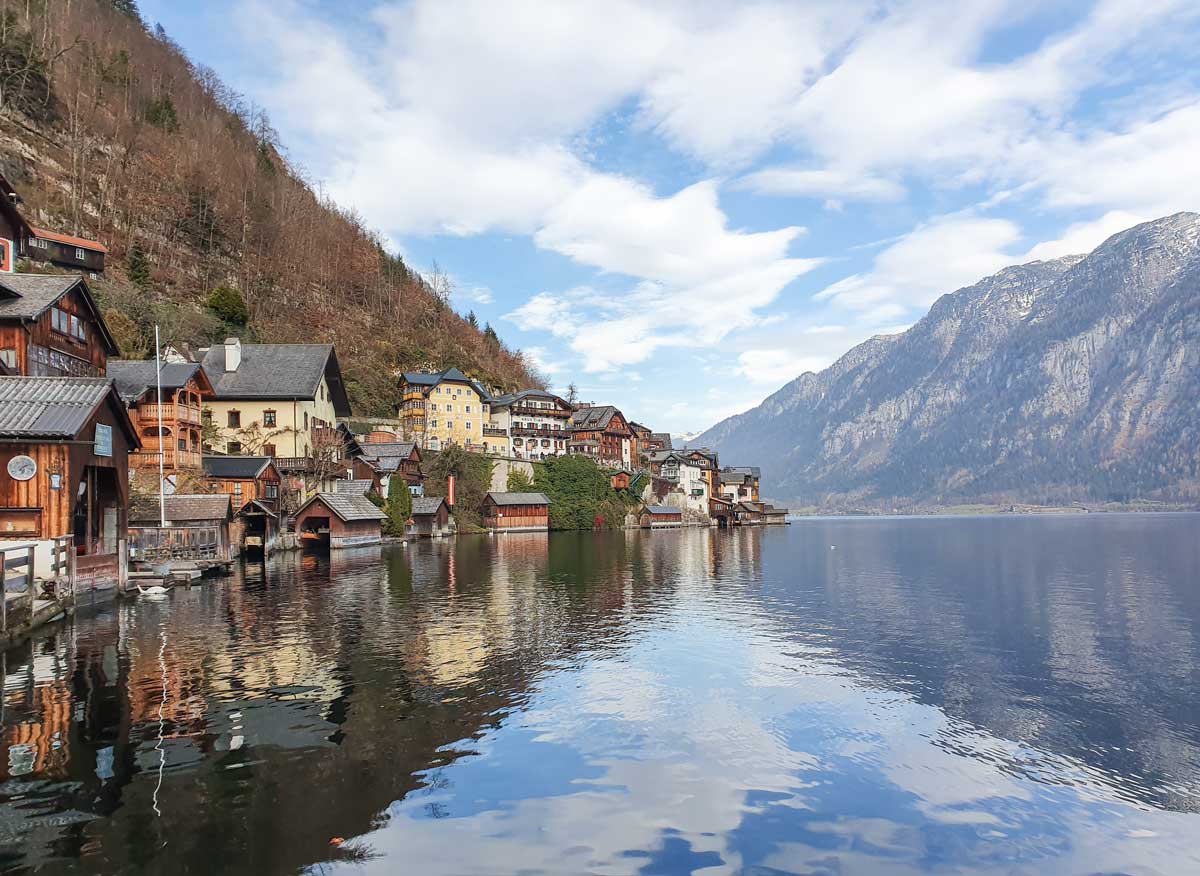 Best time to visit Hallstatt
Hallstatt is an all-around-the-year destination, with each season having something to offer to visitors.
Winter is magic here, you can experience the Christmas market and the coziness of the village, but it can also get pretty cold. Spring is warmer allowing for more comfortable sightseeing, while summer is great in terms of weather and nature is also at its peak. Lastly, fall has the most beautiful colors.
Having said that some of the best months to visit are May, June and October when the crowds are slightly smaller, yet the weather is still pretty nice.
How to get to Hallstatt from Vienna
By public transportation: train + ferry/bus
You need to take an Austrian National OBB train from Vienna to Attnang-Puchheim (the journey takes a little more than 2 hours). Then you'll transfer to the local REX train towards Hallstatt.
There will be around a 10-minute layover between the trains, while the final leg of the journey takes about an hour and 10 minutes.
Lastly, you should know that the train actually drops you off across the lake from Hallstatt and you will need to either take a short ferry ride or a bus to arrive at the village.
All in all, expect the travel time to be around three and a half hours.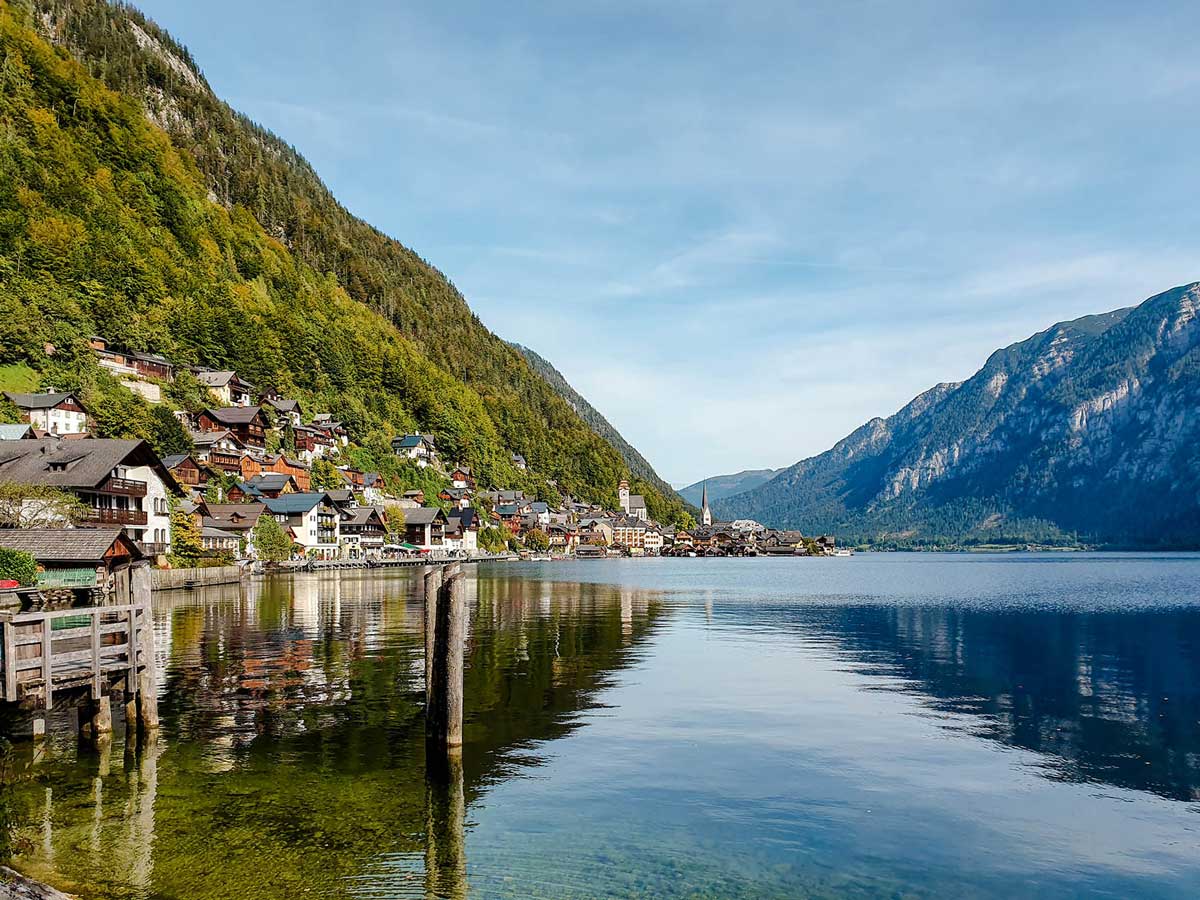 By car
Arriving by car at Hallstatt is by far more comfortable, though the journey time is almost the same as when traveling by train. The road distance between Vienna and Hallstatt is around 290 km.
You can rent a car directly from the Vienna airport when you arrive or you can pick one in the city for just a day, which is probably the better choice as you don't really need a vehicle to explore Vienna. Check out Discover cars for prices.
There are 3 big parking lots in Hallstatt (P1, P2, P3). However, they get full pretty fast, so make sure you arrive as early as possible.
We got there at past 9 AM and the first lot was almost full, 2nd was half full, while the last one was mainly empty. By the time we left (around 2 PM) there were only a few free spots at the 3rd parking lot.
Besides, if you start your visit early in the morning, you'll have enough time to also squeeze in a short visit to Salzburg, as we chose to do.
By tour
If you don't want the hassle of taking the train, but you also don't want to rent a car, then you have the option of visiting Hallstatt by tour from Vienna. Here are a few options that you can choose from:
Hallstatt and Alpine Peaks with Skywalk Lift: With this guided tour you'll get about 3 hours in Hallstatt and it includes pickup from centrally located hotels in Vienna, and the lift fee to the Skywalk.
Panoramic Austrian Alps Tour to Hallstatt: This tour includes optional hotel pickup (from central Vienna only), a guided Hallstatt walking tour, and the entrance fee to Admont Abbey, where you'll find the largest monastic library in the world.
Full Day Trip to Hallstatt and Salzkammergut: This tour includes pickup on request, a guide and a boat trip on the lake (but only during summer). You will also get some free time in Hallstatt to do some sightseeing on your own, something I always look for when doing tours.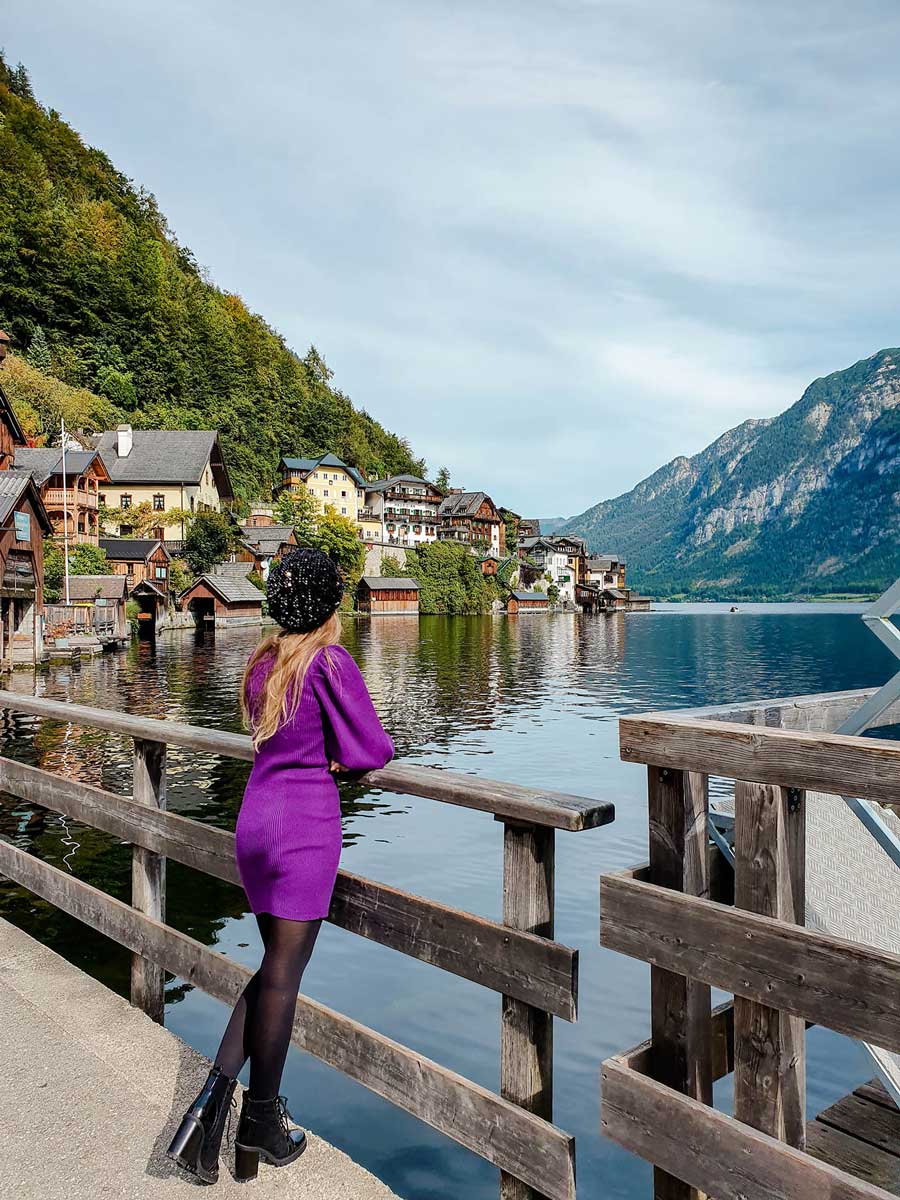 Hallstatt day trip from Vienna: Top things to do in Hallstatt
Explore the village
Exploring Hallstatt is undeniably the best thing to do on a day trip there. While it may not look like it, the town is considered to be one of the oldest still inhabited settlements in Europe.
Wandering through its streets, you'll encounter gingerbread-like houses that overlook the lake, creating creating a scene straight out of a fairy tale (maybe the rumors are true and Hallstatt really is the inspiration behind Fronzen's Arendelle).
Two notable photo spots provide spectacular views of this picturesque town as well as the surrounding mountains. The first one can be found as "Hallstättersee Schifffahrt" on Google Maps, offering a unique perspective of Hallstatt and the lake from further away.
The second, marked as "Aussichtspunkt Hallstatt" on Maps, is the classic postcard view of the town, a vantage point that has drawn tourists and photographers alike for years.
View Hallstatt from above
There is a viewing platform (called Hallstatt Skywalk – The "World Heritage View") that sits 350 meters above the UNESCO World Heritage village of Hallstatt, offering panoramic views of the entire Dachstein Salzkammergut region.
To get there you can take the funicular from the village or if you are feeling adventurous, hike up the mountain. However, be warned that the climb is steep and it will take quite a bit of time. (around 1 hour).
If you want to do the trail as well, I'd recommend you to go up by funicular and go down on foot.
Visit the salt mine
Hallstatt is home to the oldest salt mine in the world and you can visit it by joining a guided tour, which lasts for about 90 minutes and starts near the Skywalk.
Since they're located close to each other, the options to get to the salt mine are the same as for the Hallstatt Skywalk viewing platform: funicular or a strenuous climb up the mountain.
The salt mine tour as well as the round-trip ride on the funicular will take you about 2.5 hours of time in total.
You can leave any luggage in the baggage storage boxes located inside the visitor's center and once you get to the entrance of the salt mine itself, you'll be offered protective clothing.
This is required for safety reasons on the slides and also to protect your own clothing during your visit.
Riding the two wooden slides is one of the highlights of the mine tour, but do know that the second one goes quite fast and there's also the option to go down the stairs.
You should also know that the mine is not accessible to wheelchairs and strollers and only children over 4 years old can visit it.
For up to date prices and the current schedule you can check the mine's website here.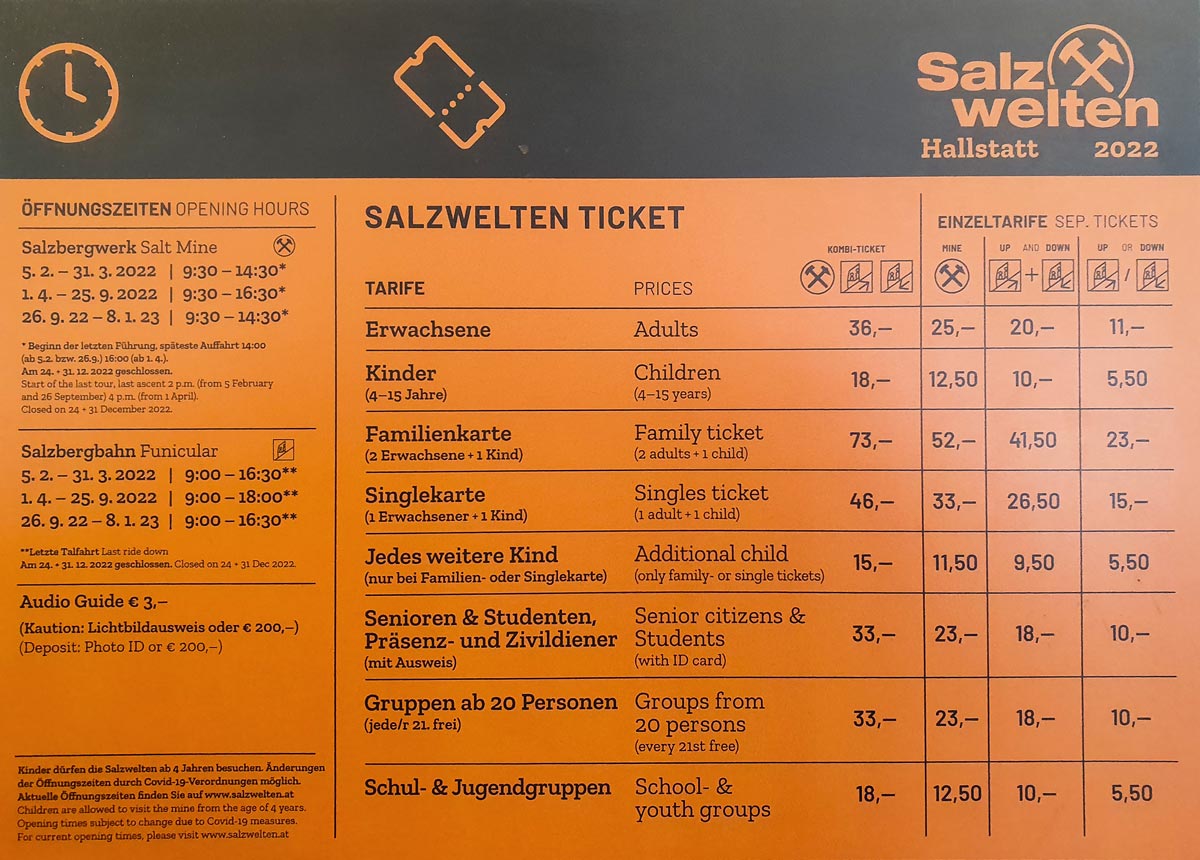 View Hallstatt from the lake
If you're looking for a unique way to experience the beauty of the village and its surroundings, consider renting a paddle boat or a small motorboats.
This will allow you to leisurely explore the area from the water, taking in the stunning scenery from a totally different perspective.
5 Fingers Viewing Platform
If you are not interested into visiting the Hallstatt salt mine, I'd suggest going to the 5 Fingers Viewing Platform instead (though with careful planning and an early start you might also be able to do both in a single day).
Its name comes from the fact that it's shaped as a human hand: one finger has a picture frame at the end (you've probably seen photos of it on Instagram), one has a binocular and one has a glass floor (though it's not very transparent). The other two fingers are just for viewing.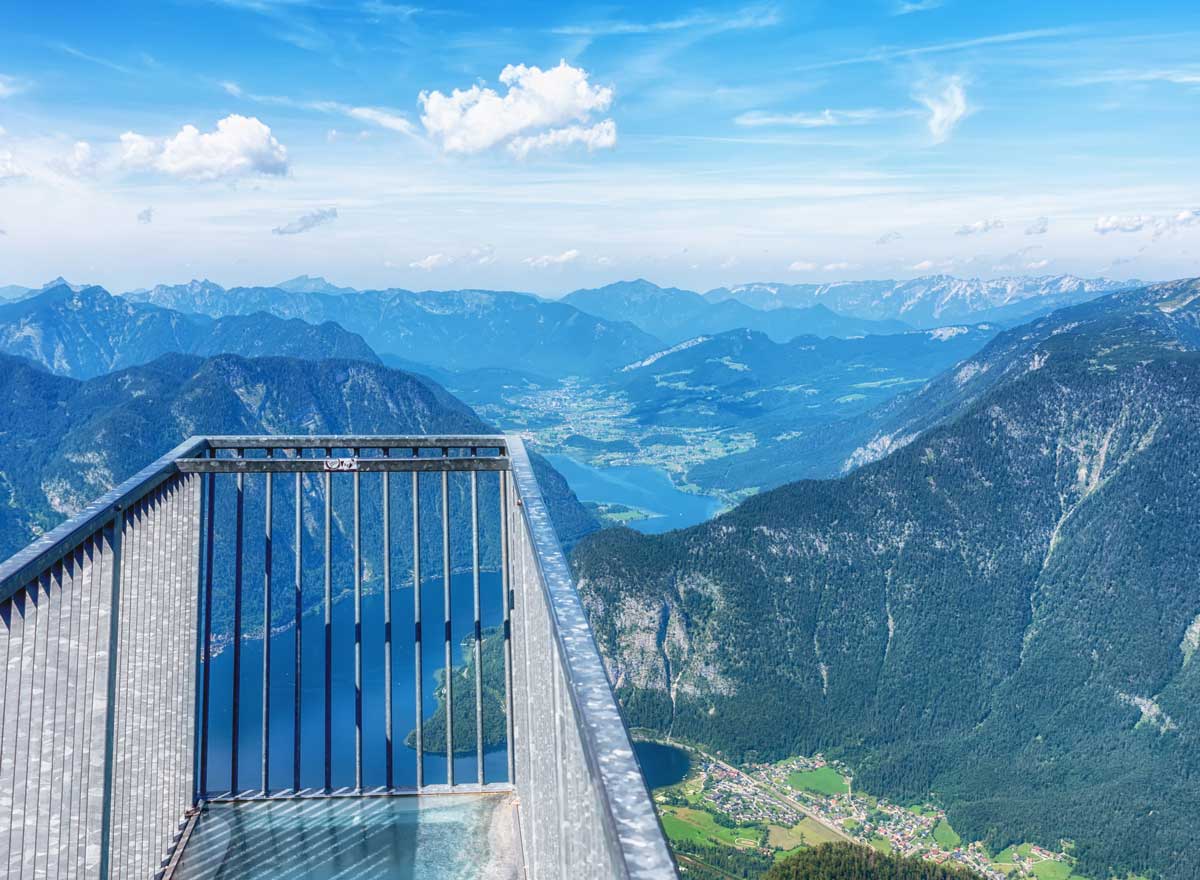 You should know that the platform is not actually in Hallstatt, but in Obertraun, so you'll need to take bus 543 to Winkl b.Obertraun Dachsteinseilbahn bus stop.
If you have a rental with you, it takes around 10 minutes to drive there from Hallstatt and there's a big parking lot where you can leave the car.
To get to the viewing platform you need to take 2 cable cars (section 1 and 2), followed by an easy hike for about 20 minutes.
While the platform itself is free, the cable cars will cost you quite a bit of money. You can check this website for the cable cars' current prices and schedule.
Etiquette when visiting Hallstatt
When visiting Hallstatt, you should try to keep in mind that this picturesque town is more than just a tourist attraction; it's a living community where people still reside.
As you wander through the charming and often narrow alleys, you might be swept away by the enchanting surroundings, but it's important to remember to be mindful of your voice and behavior.
Try to keep your noise level down, especially as you pass by the homes of the locals and respect any signs you might encounter.
Imagine how it feels to them, going about their daily routines, and then being inconvenienced by visitors blocking the entry or exit of their own homes.
A little consideration goes a long way in creating a respectful and harmonious coexistence between tourists and residents.
Especially since things are kinda strained in this regard for some time now, as demonstrated by the peculiar protest against over-tourism by the local authorities in 2023, when they installed a temporary wooden fence, partially blocking the most famous viewpoint of the town.
Day trip to Hallstatt from Vienna FAQs
Why is Hallstatt famous?
Hallstatt is famous for its stunning lakeside location and picturesque wooden houses. Nestled in the Austrian Alps, the small town is also known for its salt mine, which is considered to be the oldest in the world.
Can you do a day trip from Vienna to Hallstatt?
Despite the rather long distance between Vienna and Hallstatt, it is actually very possible to visit the latter as a day trip from the Austrian capital, weather you choose to rent a car, use the public transportation or book a tour.
Is Hallstatt Austria touristy?
Yes, Hallstatt is quite touristy. Its picturesque landscape and architecture have made it a very popular destination for travelers worldwide, particularly during peak season. It gotten to such a point that, in 2023, the mayor installed a temporary wooden fence at the most popular viewpoint of the town. But while I understand the over-tourism concerns, I don't think this is the right solution.
Is Hallstatt closer to Vienna or Salzburg?
Hallstatt is closer to Salzburg than Vienna. The drive from Salzburg to Hallstatt typically takes under 1.5 hours, while the journey from Vienna usually takes around a little more than 3.5 hours by car.
Which is better Salzburg or Hallstatt?
Salzburg and Hallstatt give very different vibes, each appealing in its own way. While Salzburg offers a rich cultural scene, historic sites, and vibrant urban life, Hallstatt is known for its breathtaking natural beauty and charming small-town feel. Personally, I think Hallstatt is better, particularly if you're seeking a scenic experience.
Is it worth staying in Hallstatt?
Although I tend to travel at a fast pace, I also like to really get the feel of a destination, so I'm always a big advocate of staying in a location overnight if possible. And spending one or several nights in Hallstatt gives you the opportunity to experience the town after the crowds have dispersed.
Vienna to Hallstatt day trip: Wrap up
I hope that the information I shared in this blog post helped you plan your Hallstatt day trip from Vienna. But if you have any more questions, just leave them in a comment below and I will try to answer them to the best of my knowledge.
Happy travels~
---
YOU MIGHT ALSO LIKE