Find out how to pack efficiently with these 12 tips
We've all been there. That moment when you just finished packing for your trip and you try to close your luggage, but you simply can't because you either packed too much, you didn't optimize your space properly, or more often than not, both.
It happened to me more times than I can count, but eventually, I did learn how to pack a suitcase to maximize space.
In this article, I'll share with you my best luggage space-saving tips, so you can close that suitcase with ease after you finish packing.
Disclosure: Some of the links in this post are affiliate links. If you click on them and make a purchase, I may receive a commission at no extra cost to you. Check my full disclaimer here.
1. Use packing cubes to maximize space
I have had a set of space-saving packing bags for about 3 years now, and I use them every time I travel. They make life so much easier for me!
Not only I can fit a lot more things because the cubes keep the clothes pressed together inside, but I know where everything is, and when I need something I don't have to rummage through my whole suitcase, I can get only the packing cube I need.
Besides, if my luggage gets opened during security check, my clothes won't spill all over the place, maybe even revealing some personal items like undergarments.
Cubes are my top tip on how to pack a suitcase to maximize space and I cannot recommend them enough. They do wonders with keeping my long, flowy dresses compact inside the luggage.
And as an added bonus, they also help protect them, since most of my dresses are made of delicate materials.
Also, my cubes play a double role: as I start wearing my clothes during my trip, I store the ones that I wore in one of the packing bags. This way I'm sure they won't mix with my clean clothes.
Here are a few good packing cubes sets:
2. Use vacuum bags for your bulky items like sweaters
Traveling in winter is a lot more challenging than in summer because you'll need to bring heavier, bulkier clothes to keep you warm. Sweaters, in particular, can occupy a lot of precious space in your suitcase.
You can solve this problem by putting them in vacuum bags. They are on the same line with packing cubes, just that it's a bit of a more extreme solution.
Don't overdo it though by putting lots or all of your clothes in such bags. Because at your destination you might not have a vacuum at your disposal. And then you'll not be able to fit the clothes back into the suitcase for your return trip.
Hence, you need to make sure that the clothes fit even if you have to get the air out of the bag manually by rolling it, instead of using a vacuum.
Or that the additional bulk can be accommodated in the space freed by things that you already used, like snacks.
3. Pack your socks inside your shoes and/or pack shoes that can be flattened
Shoes usually take up a lot of space in your suitcase, because they're bulky and rigid. Win back some of that space by packing your socks inside them.
Another tip is to pack shoes that can be flattened, like espadrilles. I always travel with a pair or two of no-heel espadrilles in the warm season. They take up little space and are very comfy to wear especially when you need to walk a lot.
Also, try to limit the number of shoes you bring on your trip and opt for colors and designs that go well with many clothing items.
In my case, I always try to bring a nude/beige pair of shoes, because I feel that they look good with any other color.
4. Don't fold clothes, roll them to save space!
I've found that by rolling my clothes I save more space, than by folding them. This method works especially well on my dresses since they're long and made from light materials.
Rolling instead of folding your clothes also helps to get fewer wrinkles. Just make sure that the clothes don't have any harsh lines when rolling.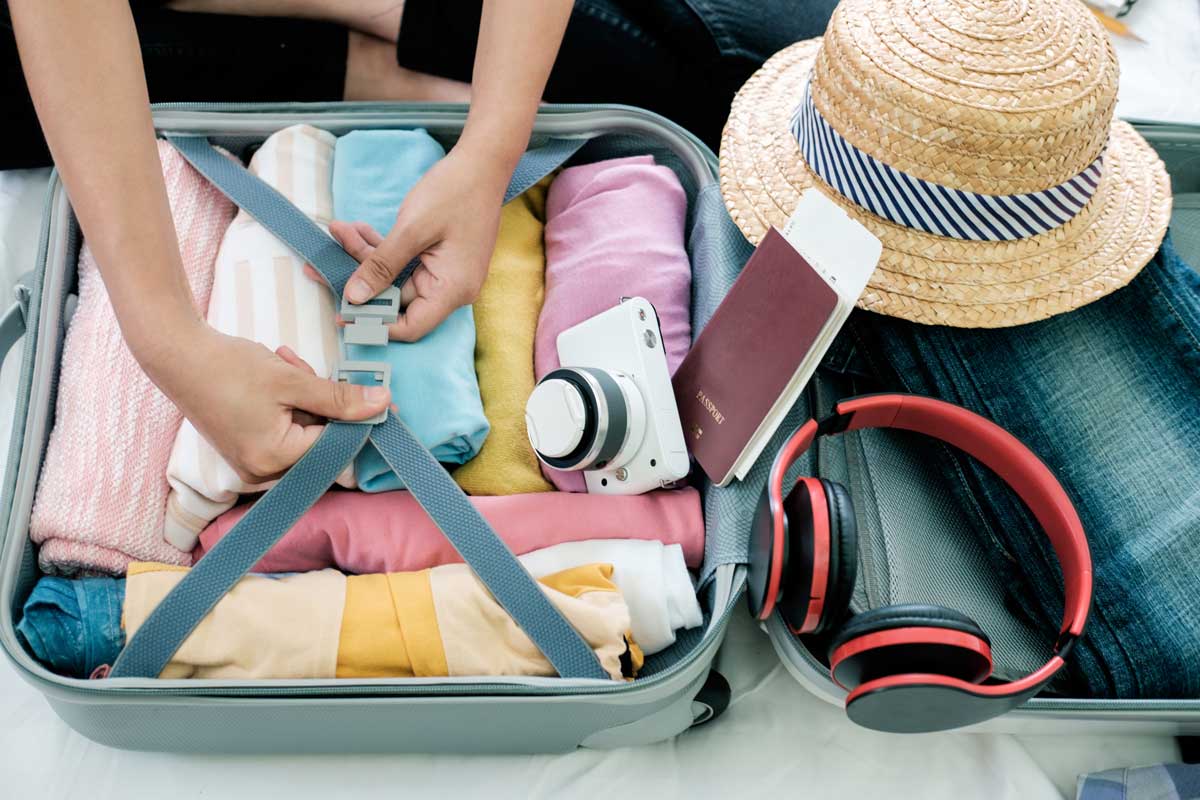 5. Pack travel-size toiletries and skincare products instead of full size
Full-size toiletries and skincare products will quickly eat up your luggage space and make your suitcase heavy. You're better off bringing travel-size versions.
Now, you don't have to buy a travel-size option for everything you currently use, it can get quite expensive. Invest in a set of mini containers and fill them up before every trip with the products you already have. This works really well for shampoo, conditioner, shower gel, and even body lotion.
Hack: If you have some extra straws lying around, you can make some DIY containers for your lotion or shampoo. Here is a tutorial on how to do it.
However, as nifty and helpful as this idea is in a pinch, I don't recommend using it for every trip since it is pretty wasteful. In the long run, I think it's better to just buy a set of mini containers that you can reuse.
However, be careful with your face skincare like creams and serums since some of their active ingredients can be ruined when they're exposed to air and light. I'd recommend buying a travel version of the products in this case.
Sometimes when I'm really tight on space I will bring a mini soap instead of a shower gel. This helps to reduce the number of bottles in my liquids bag when I'm traveling with carry-on only.
Since I don't really care much about what body wash I use when I travel, I'll simply use what the hotel provides me with.
The soap is to make sure I have a backup if I don't like the hotel's shower gel or if I run out of it and it doesn't get replaced. Many times I don't even end up using it. 
Now you can take this even further and skip bringing toiletries altogether. You can either buy some at the destination or rely solely on your hotel.
6. Use samples
Save any skincare and makeup samples you receive for when you travel. This way you'll eliminate the need of having to pack any container, be it small or big. Just make sure to periodically go through your stash of samples to check that they didn't expire.
7. Plan what outfits you'll be wearing during your trip
This is a very important tip on how to pack a suitcase efficiently! When you have no clue what you'll wear during your trip, you might be tempted to pack (a lot) more clothes than you actually need.
To avoid this, you should plan your outfits beforehand and pack only the things you'll actually wear. You can throw one or two extra items there, in case something happens (for example if you stain one of your t-shirts). But no more than that.
Since I started planning my outfits beforehand, packing became so much easier. I don't grab my whole closet anymore and try to fit it in a tiny suitcase, just because "maybe I'll need this".
To help me plan what outfits to wear on a particular trip, I use a travel planner that I actually made myself. It includes a section where I can list the outfits for every day of the vacation. And since it's in a digital format, I can print it every time I need it.
It is available for purchase in my Etsy shop, PeexelPerfect, if you are interested, here is the link: A5 Printable Travel Planner.
But you don't absolutely need to use a travel planner, a simple notebook or excel spreadsheet can do the job just fine. The important part is to actually pack only the clothes you plan to wear.
8. Write a packing list
I already mentioned how important is to plan what outfits you'll wear during your vacation. Now it's time to write a packing list and add to it the clothes that made the cut.
This will both ensure that you will not forget anything and that you will not bring extra, unnecessary stuff.
After you finished packing your luggage, don't forget to review your list to make sure you've checked everything you wanted to pack.
9. Wear your bulkiest items
On planes, it's almost always pretty cold so if you plan to bring a jacket, wear it instead of packing it in your luggage.
It's a win-win situation: it will keep you warm and it won't take up all your suitcase space. Besides if your jacket has a lot of pockets you can use them to store extra stuff like your external battery, phone charger, camera accessories, etc.
The same principle applies to shoes: if you want to bring several pairs, wear the one that's the heaviest and bulkiest on the flight.
As for hats, if I only bring one, then I will usually wear it. But if I bring several, then I tie them to my backpack. This is especially beneficial for straw hats that can be damaged if you stuff them inside a suitcase.
10. Pack your small jewelry in pill containers
Put your rings, thin necklaces, pendants, or earrings in a small container for pills. It will keep them safe, but it won't take up a lot of space.
If you only plan to bring a pair of earrings or two, you can also use an old contact lens case to pack them (in case you have an old one lying around).
11. Check the weather forecast and pack accordingly
Remember to check the weather forecast for your destination and use it as a guide for your packing list.
If it's raining, you'll probably not need shorts or an open-back flowy dress. Same, if it's melting hot there, you'll probably want to skip bringing a warm jacket or an umbrella.
12. Use a re-fillable travel perfume atomizer
As with your toiletries and your skincare products, you shouldn't bring your full-size perfume bottle on your travels.
Many perfumes have more than 100ml and you can't pack them in your carry-on due to the security rules regarding liquids. But even if they're under the limit, they're still heavy and take up too much space.
It's way better to bring a re-fillable travel perfume atomizer instead. You just fill it up with your favorite perfume and you're good to go. Mine is from Travalo and it's one of my favorite items to bring with me on my trips.
Btw, you should also read my post on the best travel essentials for women for more handy items to have when traveling.
Extra travel tips
Put your necklaces through a straw to keep them from tangling
Put stickers, a bright-colored ribbon, a luggage tag, or a protective cover on your suitcase in order to be able to identify it fast and easy
Pack a pillowcase: it takes little space and can be multipurpose. You can stuff it with clothes or a fluffy jacket and use it as a pillow on the flight, you can use it to store dirty clothes, or simply to cover the hotel's pillow for hygiene reasons
Use a Tic-Tac case to store your bobby pins
Buy a universal adapter that also has multiple USB ports
Use a carabiner to keep your hair ties together
Pack the heaviest items at the bottom of your luggage; that way you'll not have to worry about it toppling over
If you plan to check in your suitcase, make sure to pack a few essentials in your carry-on. While luggage doesn't get lost often, it certainly can happen
Buy a small luggage scale to keep tabs on your suitcase's weight as airlines have different requirements regarding it
Hope you found these tips on how to pack a suitcase to maximize space helpful and if you have any questions, just drop them in the comments section.
Also, don't forget to get some inspiration for your future trips by checking out the DESTINATIONS section of the blog.
Happy travels!~
---
YOU MIGHT ALSO LIKE