Discover the best photo spots in Dubrovnik, Croatia
Dubrovnik is without any doubt a stunning city and whether you liked Game of Thrones – the show that put Dubrovnik on everyone's radar or not, it's a must-visit if you plan a trip to Croatia!
For this reason, I compiled a list of the 20 most Instagrammable spots in Dubrovnik where you can take beautiful photos. I also included a custom map where I marked all the locations.
Best Dubrovnik Instagram spots
01. Dubrovnik city walls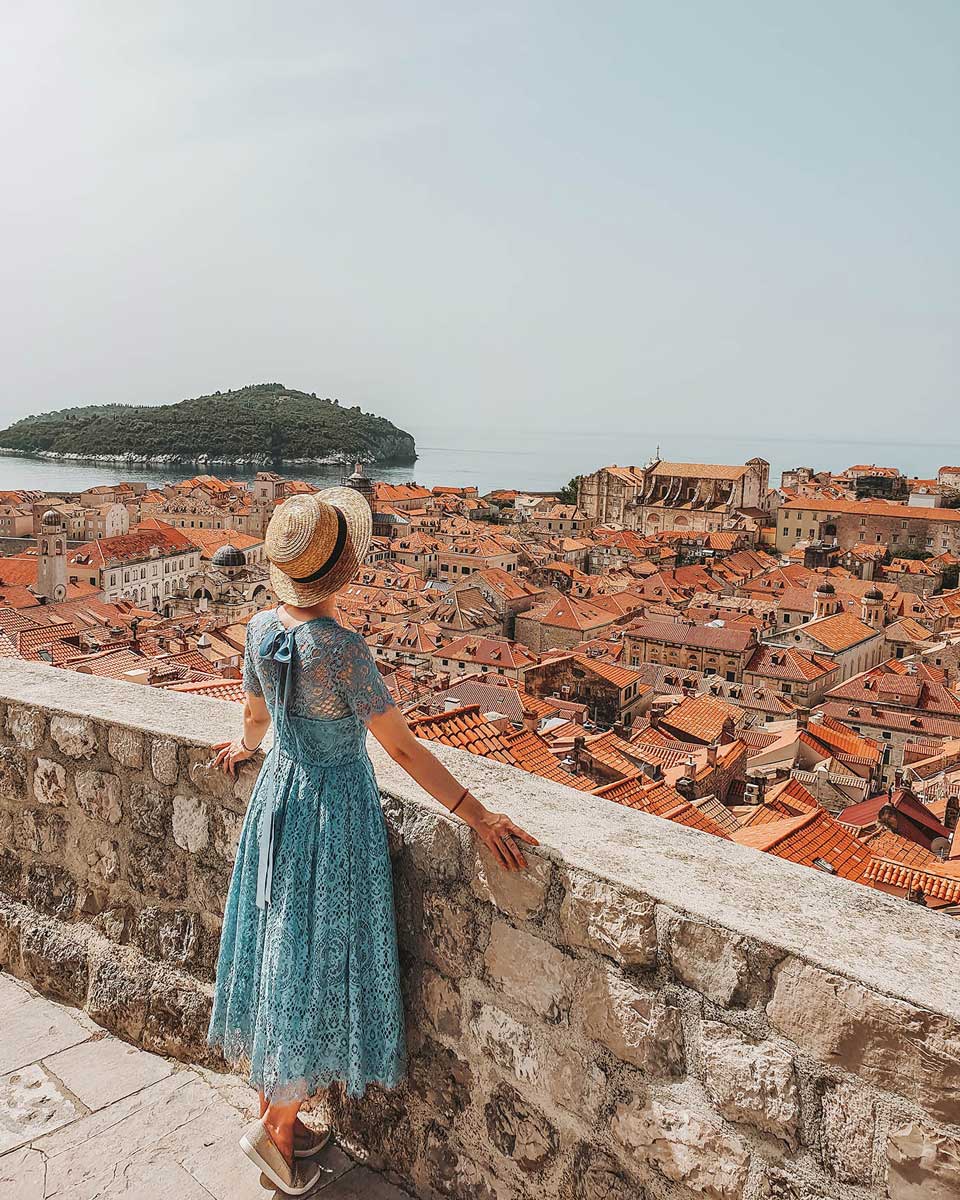 Dubrovnik Old Town is surrounded by tall and tick defensive structures simply referred to as The Walls. You can buy a ticket and take a walk on top of these medieval walls.
This allows you to view the entire old town from above which looks quite picturesque because of the contrast that the terracotta rooftop tiles of the buildings give against the blue sea.
You'll also get lots of photo opportunities during your walk as The Walls is one of the most Instagrammable spots in Dubrovnik.
My top tip is to start your visit early in the morning as there's no shade up there. This is especially important if you visit during the summer.
02. Minceta Tower
Minceta Tower is one of the protecting towers of Dubrovnik Old Town, part of its defensive structures along with The Walls. The tower is very well preserved and offers beautiful views of Dubrovnik since it's the highest point of the defense system.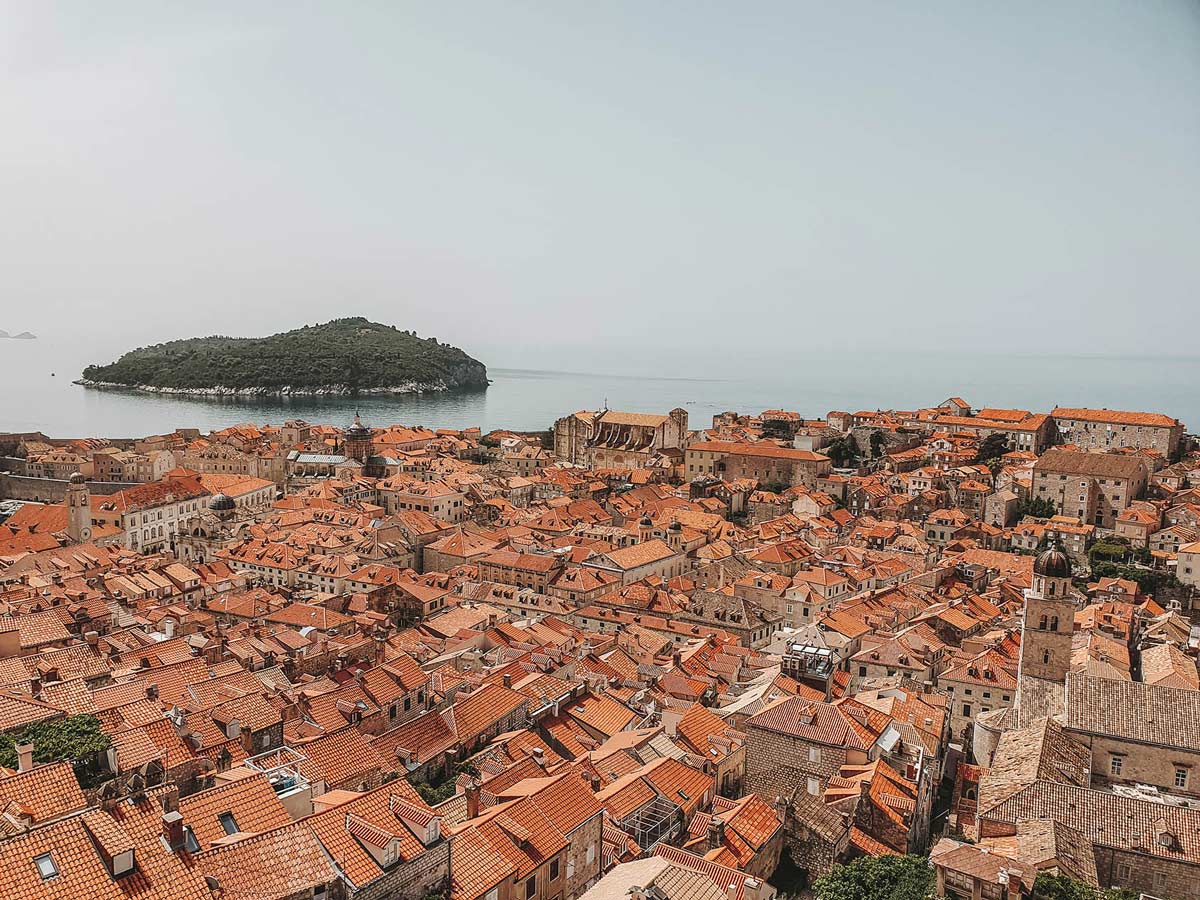 Minceta Tower can be visited during the Dubrovnik Walls tour and it was my favourite spot to take photos of the entire old town.
03. Fort Lovrijenac
Lovrijenac fortress sits right across Dubrovnik Old Town offering some of the best views of the historic center and its fortified walls.
The fort has an interesting history: early in the 11th century, the Venetians attempted to build a fort on the same spot where Lovrijenac currently stands. If they had succeeded, they would have kept Dubrovnik under their power.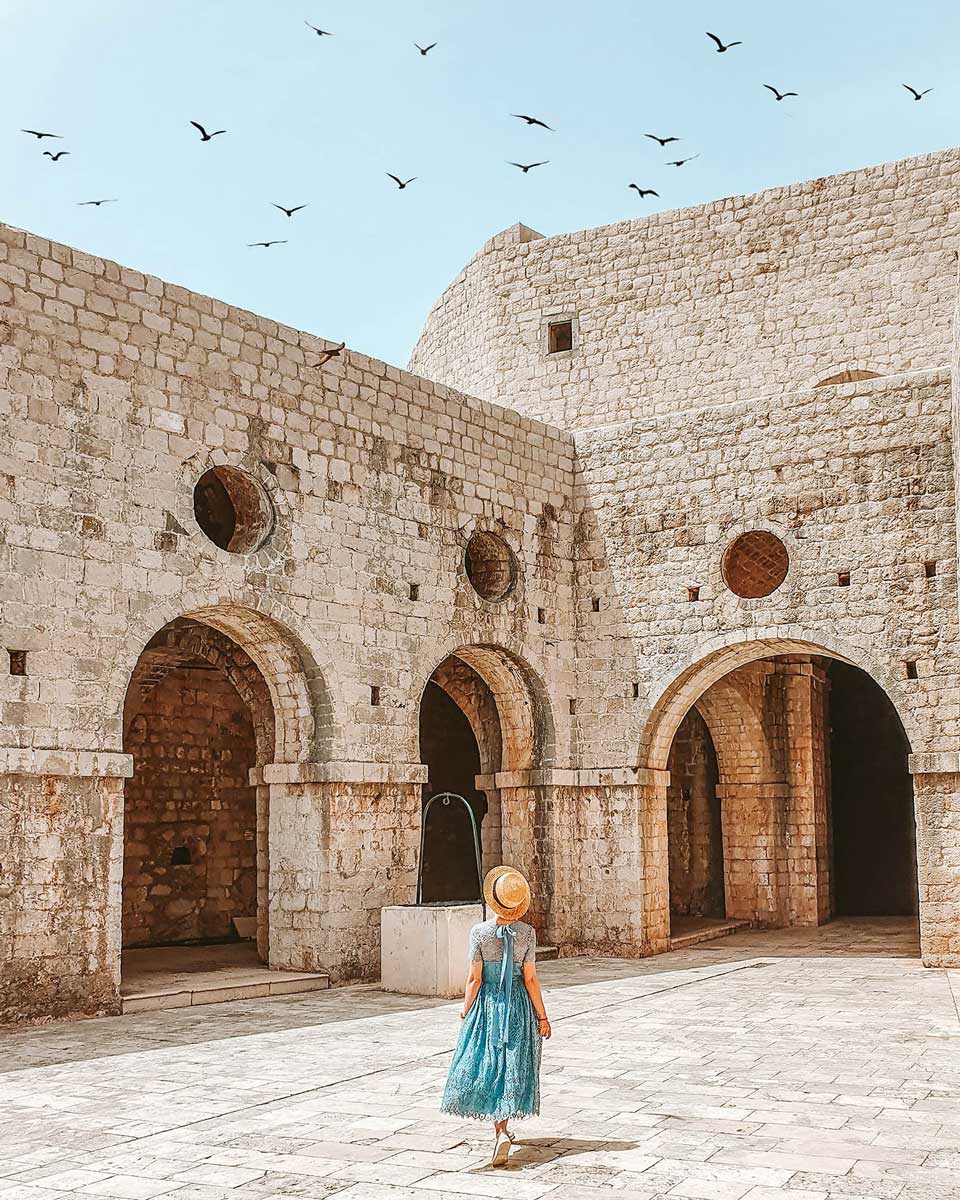 However, the people of the city beat them to it and built fort Lovrijeneac within just three months' time and from then on constantly reconstructed it. When the Venetian ships arrived, full of materials for the construction of the fort, they were told to return to Venice.
You don't need to buy an extra ticket to visit it, as the fort is included in the entry fee for Dubrovnik Walls.
04. Ploce Gate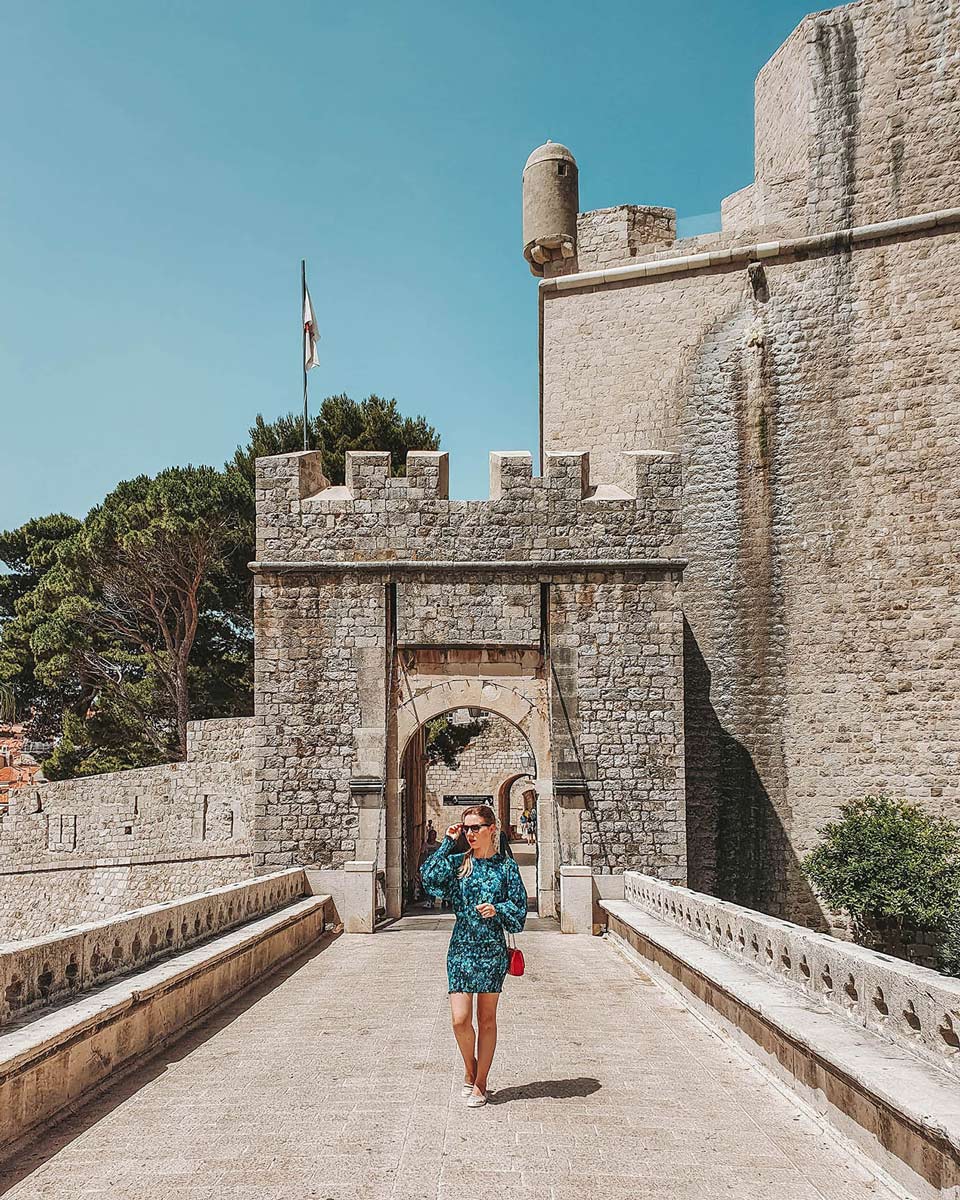 There are 4 gates that grant access inside Dubrovnik Old Town. Ploce Gate is one of them and it's located on the eastern side of the defensive walls.
It is pretty hard to get a picture without having lots of people in-frame here, so either go for an early photoshoot or simply be very patient and prepared to take advantage of any opportunity when the crowds disperse.
05. Staired alleys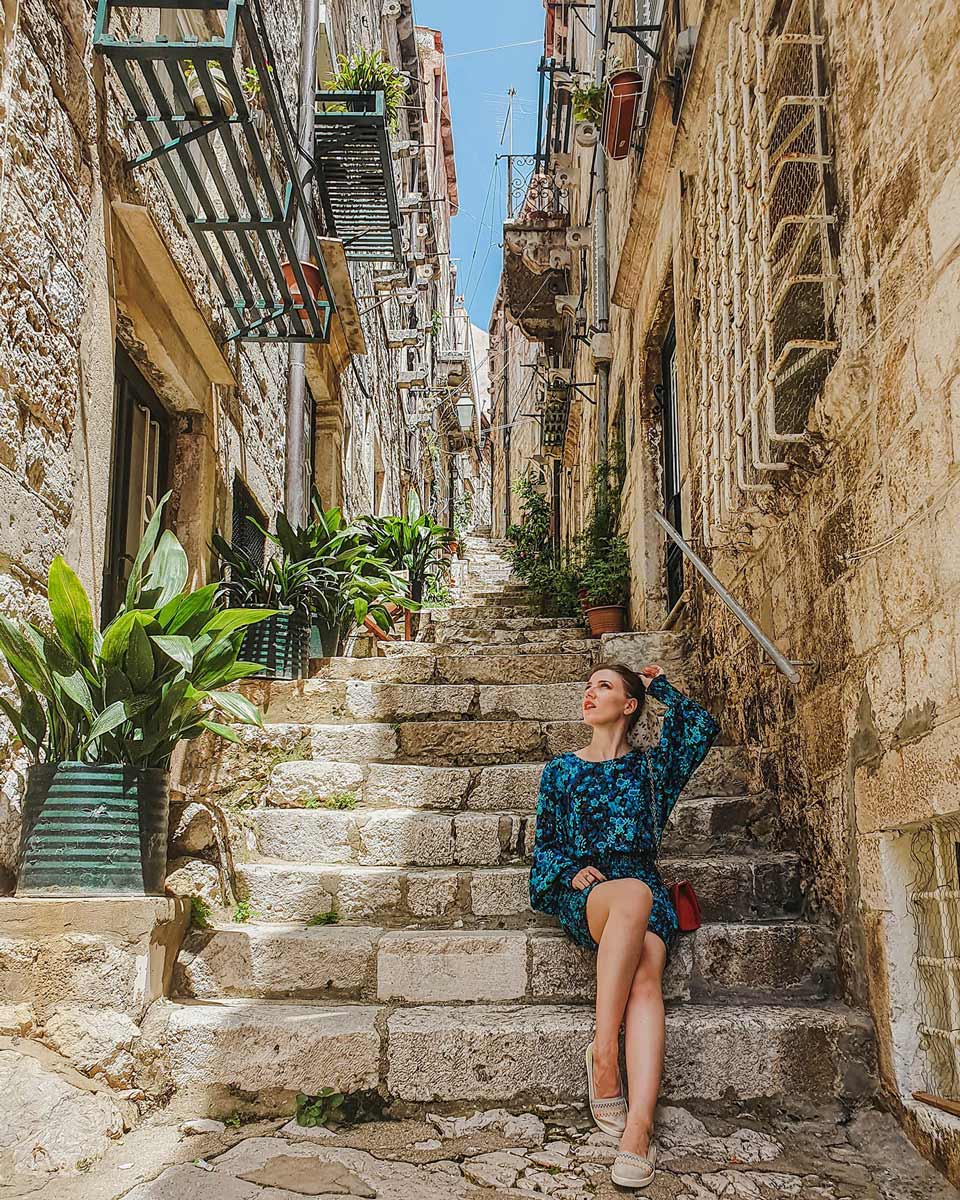 The main street of The Old Town is lined on either side by picturesque staired alleys. Not gonna lie, it's a pain to climb those stairs, but they're some of the most Instagrammable spots in Dubrovnik.
I'd recommend making a second visit at night to take pictures of the narrow streets lit by the vintage street lamps.
06. Old Town viewpoint near fort Lovrijenac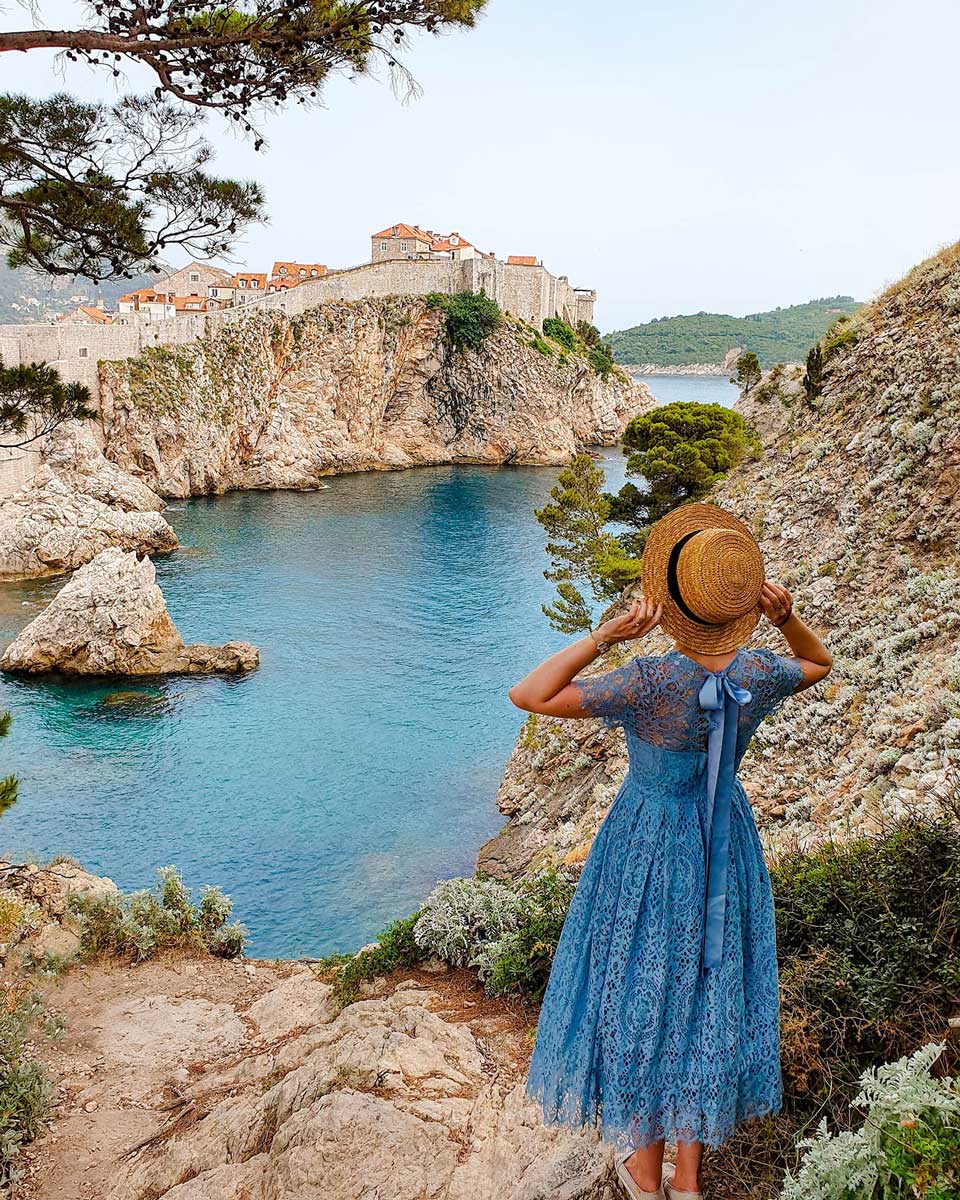 The viewpoint near fort Lovrijenac offers one of the best panoramas of Dubrovnik Olt Town and its defensive structures. So you will definitely want to take a picture here!
Here's how to reach it: before climbing the steps to the Lovrijenac Fort turn left and go towards the lights that illuminate it at night. That's the spot. Take care not to step too close to the edge though, as there's no railing. Safety before photos!
07. Stradun – Old Town main street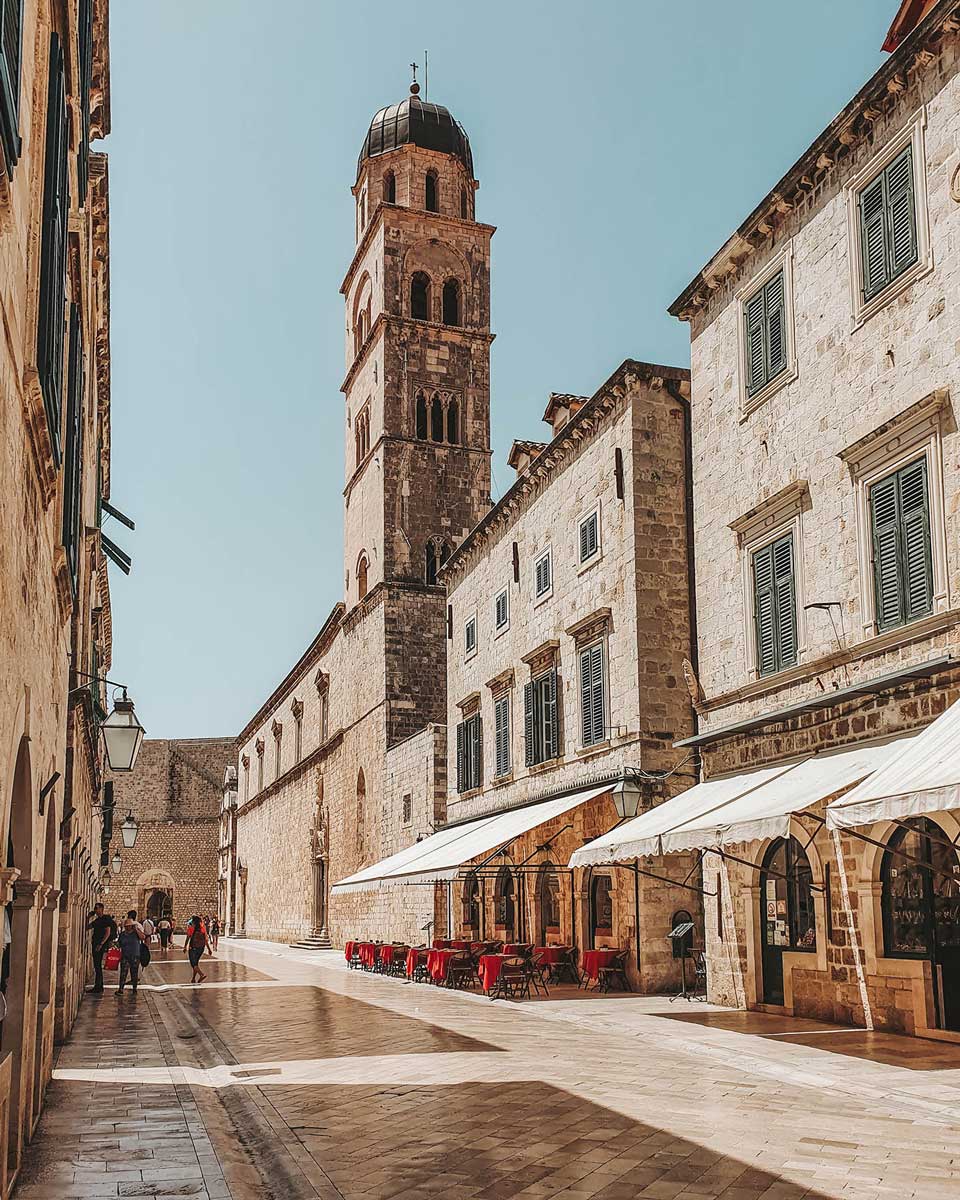 Stradun is the main street of Dubrovnik Old Town. It connects the eastern entrance (Ploce Gate) with the western one (Pile Gate).
The biggest problem with taking a picture here is that it's constantly full of people. So either come first thing in the morning to take pictures or just embrace the crowds.
I was lucky enough to visit Dubrovnik in a period when it wasn't super busy, so with a bit of patience, I managed to get some decent photos of the beautiful street Stradun without getting up early.
08. Kula sv. Marije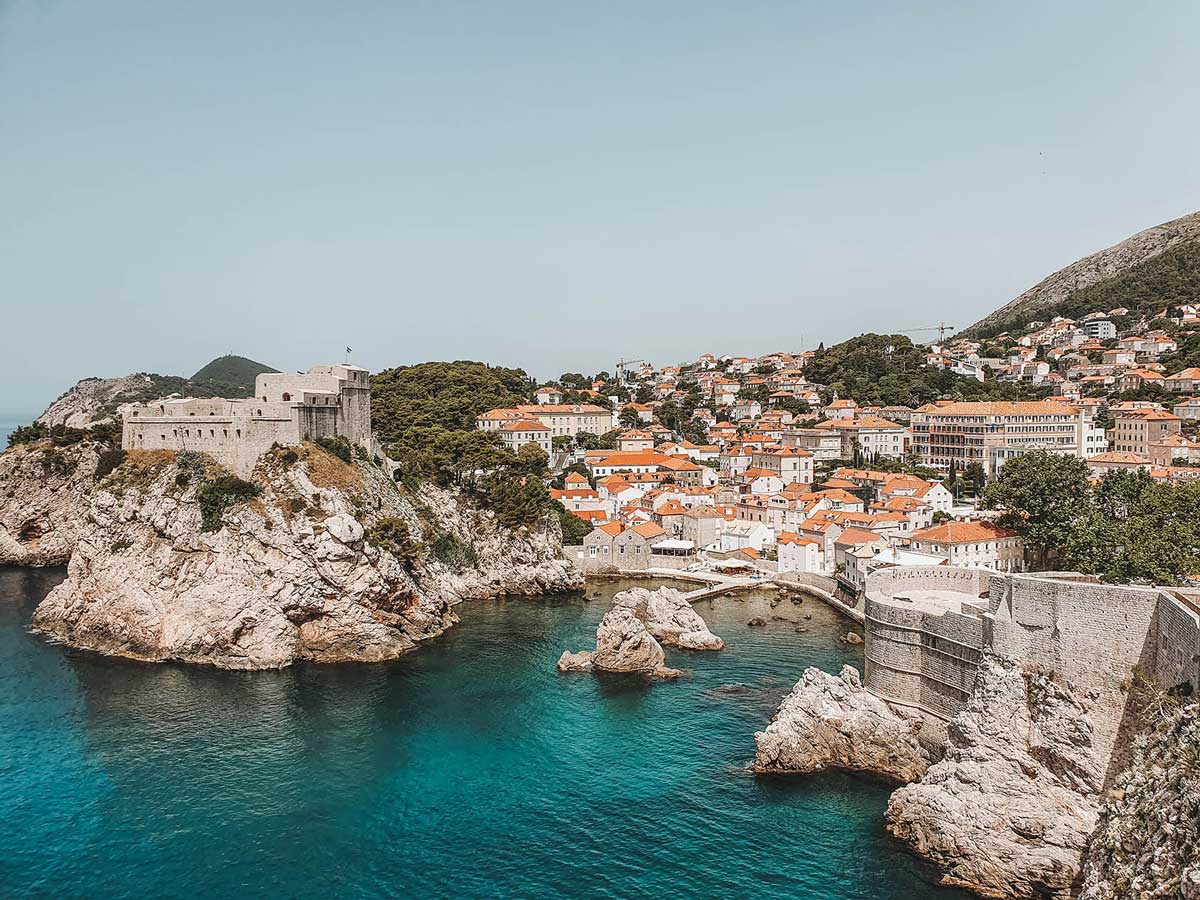 Kula sv. Marje is a great spot to take a picture of both Lovrijenac Fort and Dubrovnik West Harbour (which is also a GOT filming location). This viewpoint can be reached during your tour of the fortified walls.
09. Dubrovnik Old Port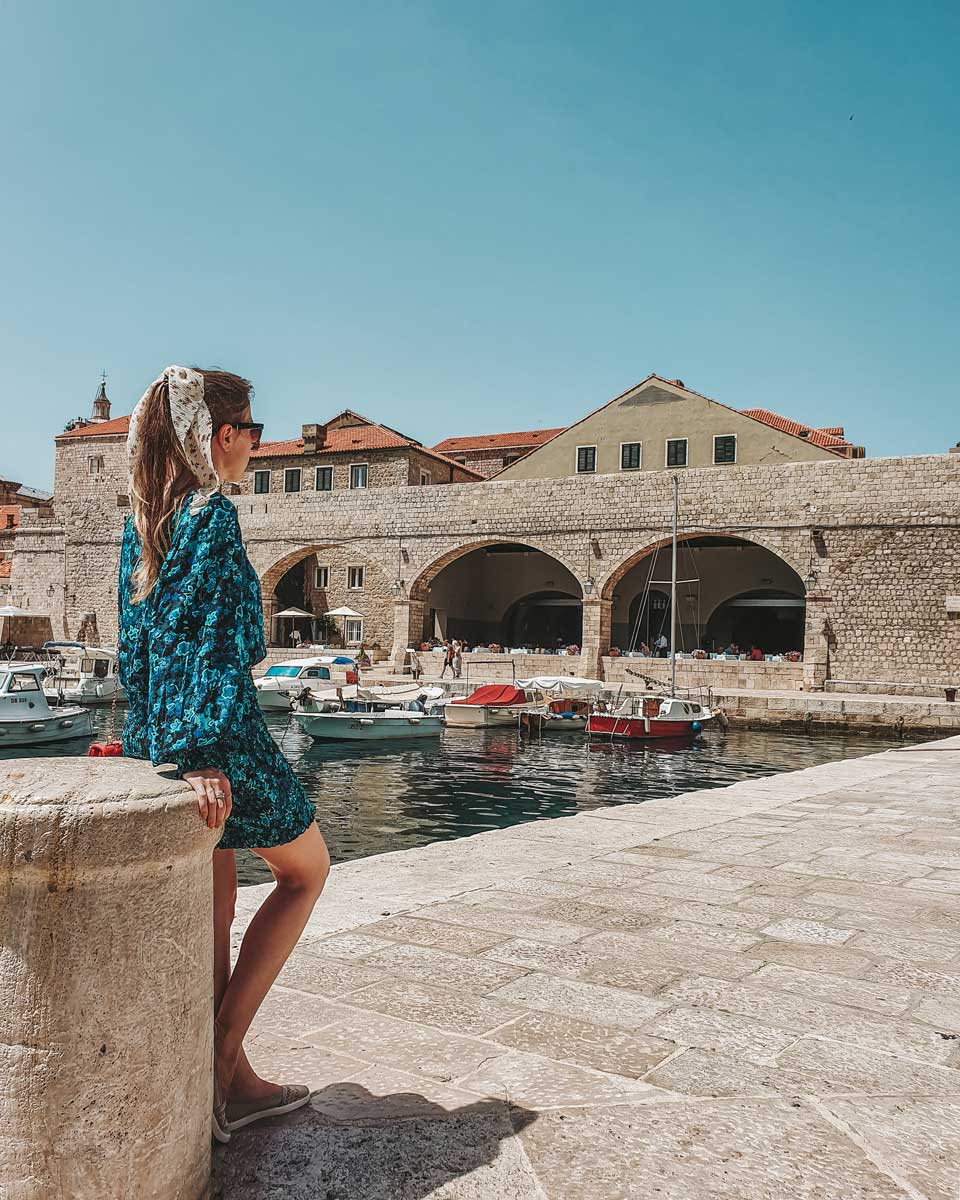 Dubrovnik Old Port is located inside The Walls, near Ploce Gate. The waterfront is super pretty and very much worth a picture. You also take boat trips from here to Lokrum island, around the Old Town, or to some of the beaches close to Dubrovnik.
10. Clock Tower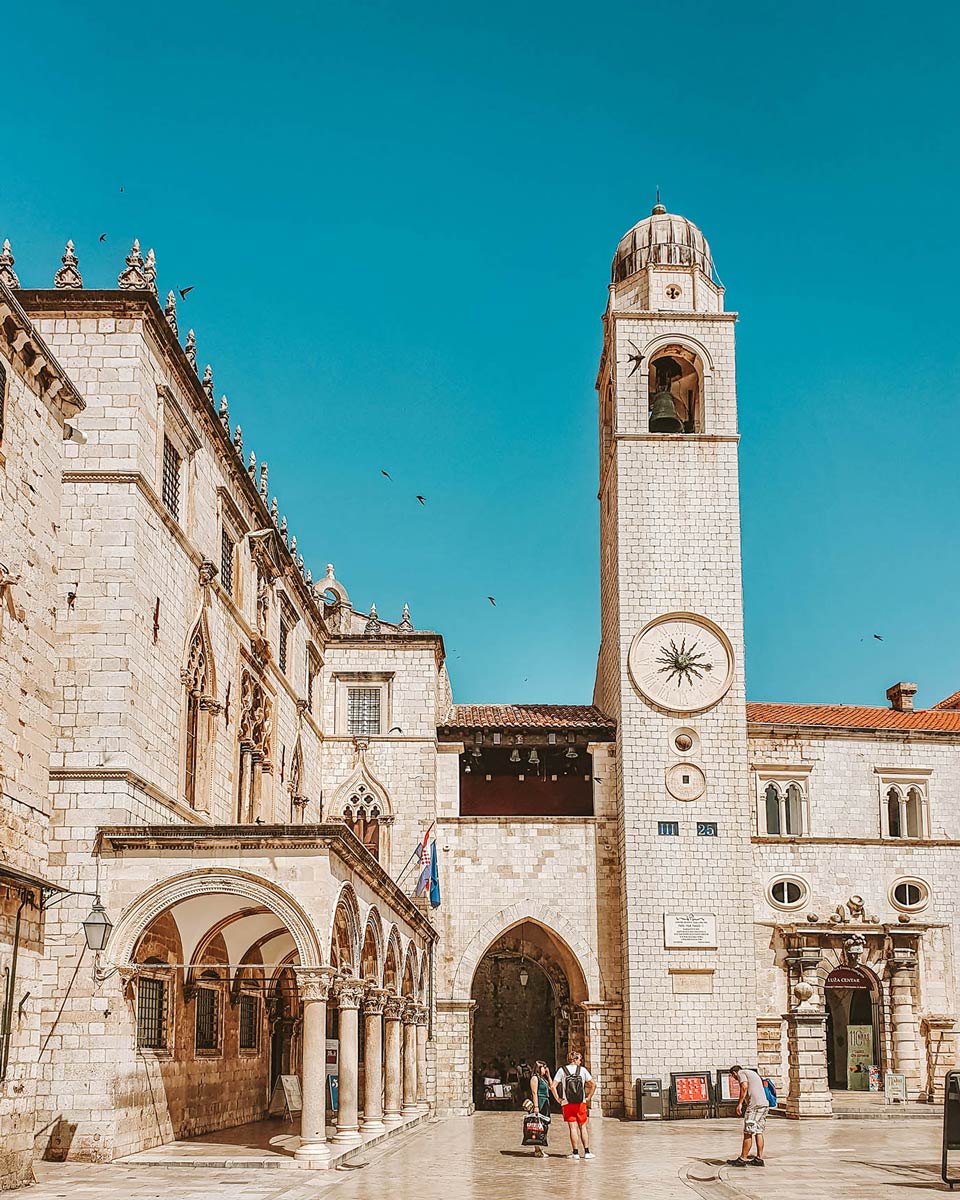 The Clock Tower is located at the very end of Stradun, next to Sponza Palace in Luza Square, on the eastern side of Dubrovnik Old Town.
The two bronze figures that strike the bell are locally called Maro and Baro or the Zelenci (Green twins) – a nickname earned because of their green patina.
11. Banje Beach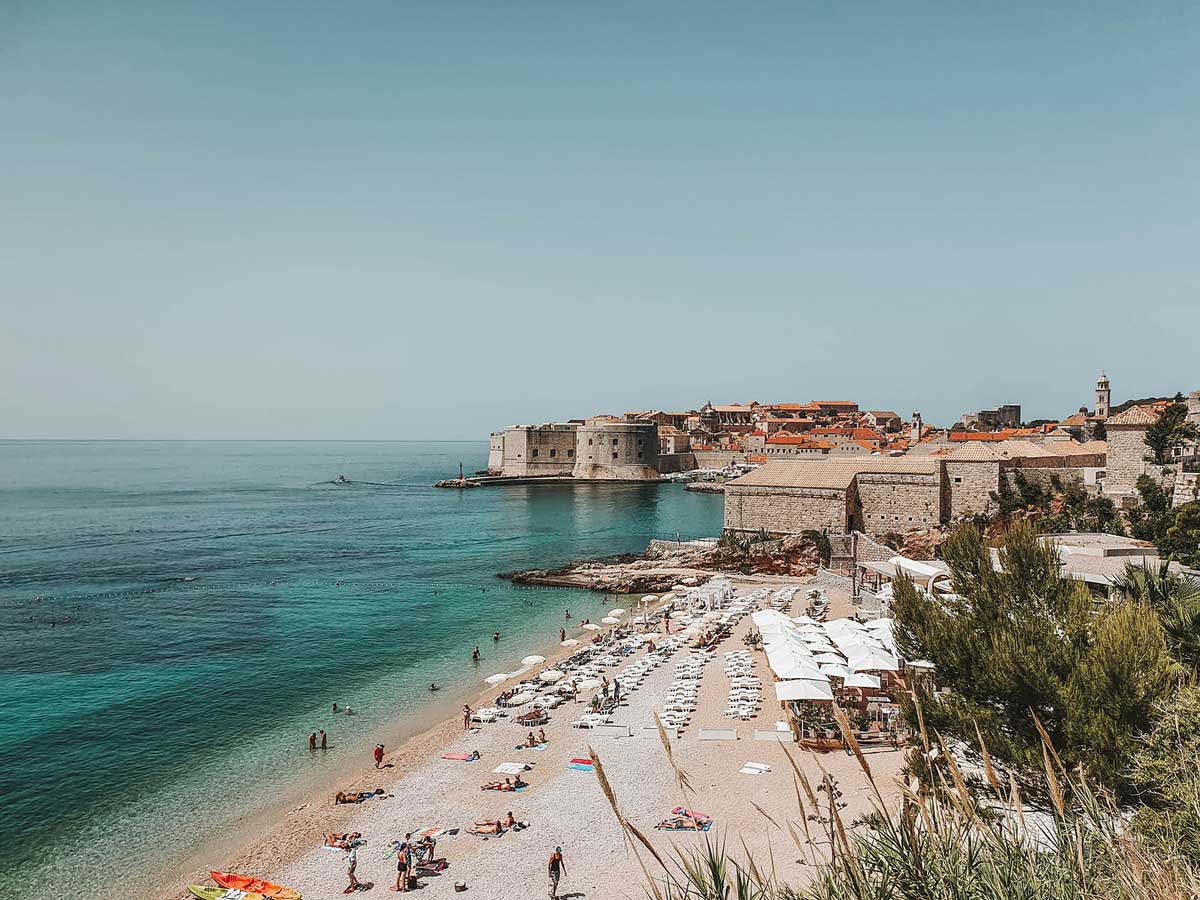 Banje Beach is a white pebbly beach and while it might not be the best around, it's definitely the one with the best panorama. It is located fairly close to the old city of Dubrovnik and offers fantastic views of it.
12. Stradun viewpoint (from the Walls)
There's a certain spot on the walls from where you can see the entire main street Stradun up to the Clock Tower that sits at one of its ends. It is quite an Instagrammable spot to take a photo and can be reached during your tour of the Dubrovnik Walls.
13. Onofrijeva Fountain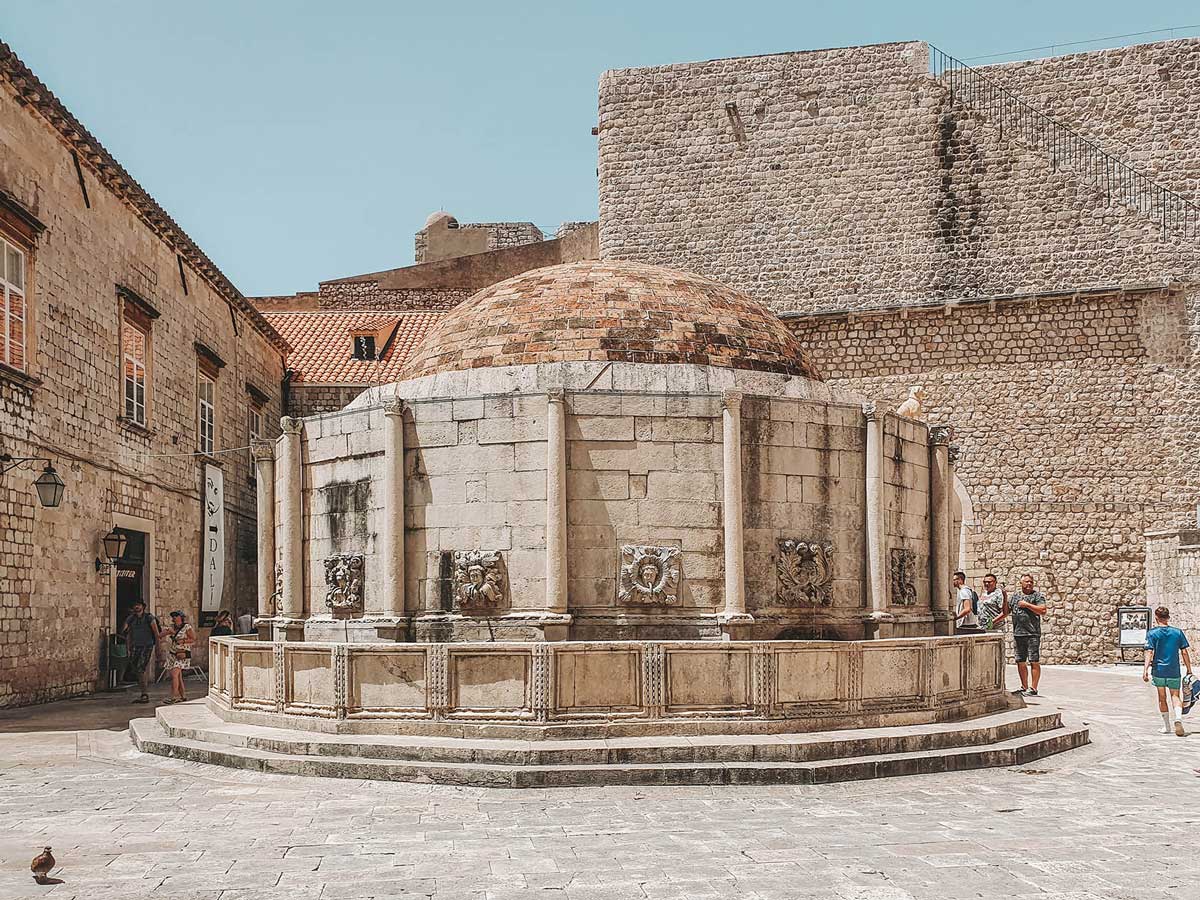 Onofrijeva Fountain is a huge water fountain located at the western side of the Stradun (so opposed to the Clock Tower), close to Pile Gate.
Due to its ice-cold water, it attracts lots of people during the summer months which makes it difficult to take a picture near it.
14. Jesuit Stairs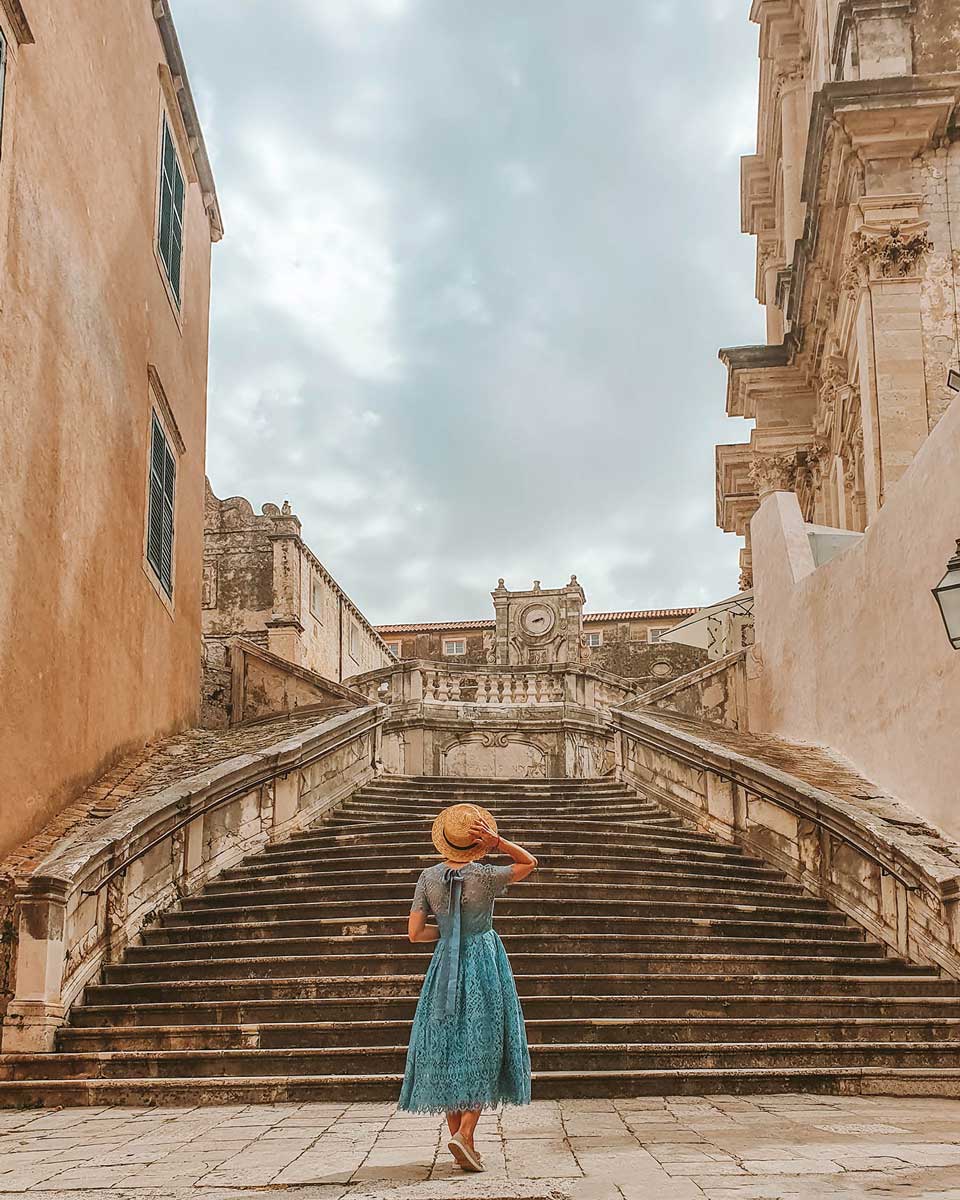 These stairs were made famous by the TV show Game of Thrones (as were other spots in Dubrovnik). I didn't watch it, but I do know it's something to do with "Shame!" :).
They're called the Jesuit Stairs and they grant access to St Ignatius Church.
As with other popular places in Dubrovnik, you need lots of patience to get a picture free of people here. Or simply come here early.
15. Ul. Skalini Dr. Marka Foteza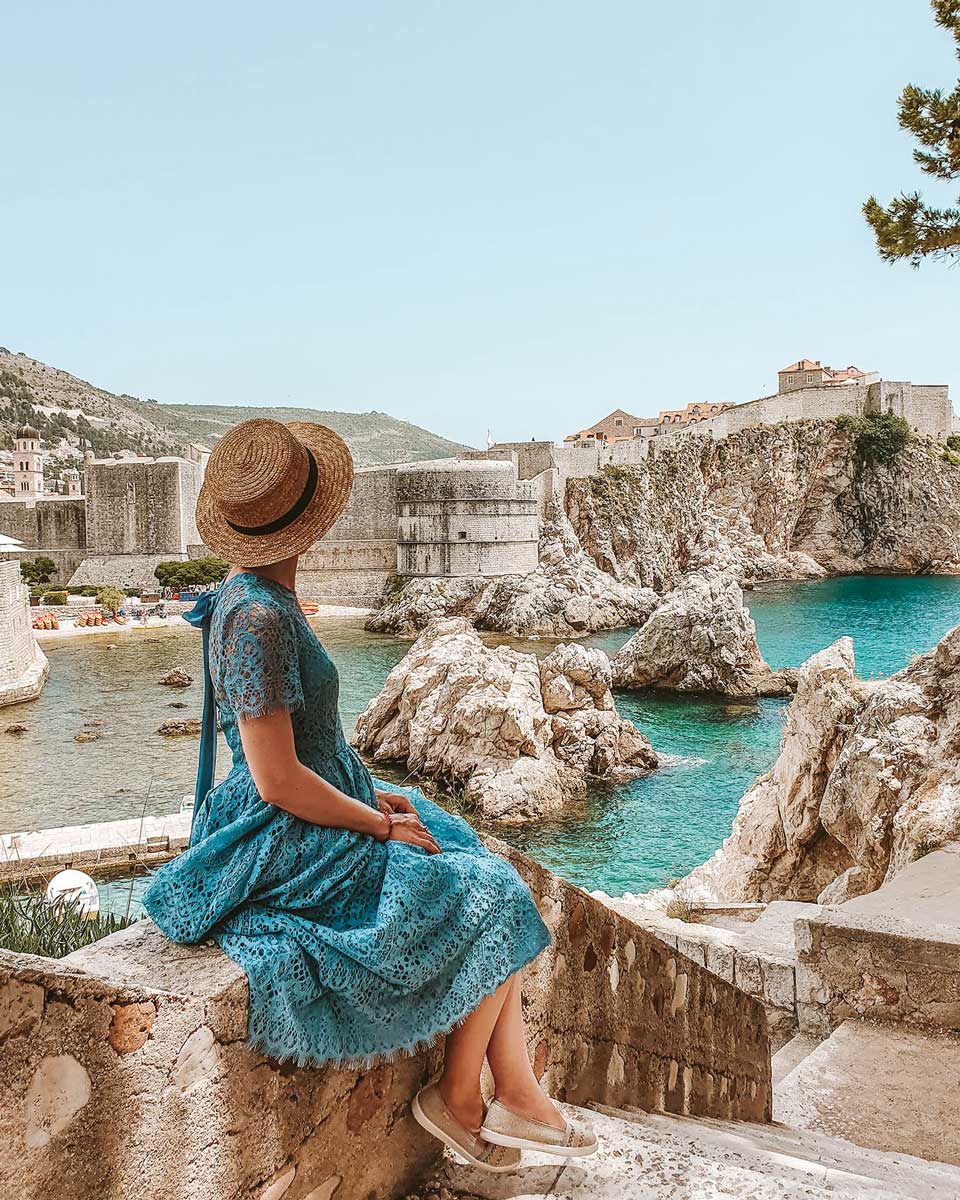 Ul. Skalini Dr. Marka Foteza is the path that you need to use to reach Lovrijenac Fort. The stairs portion is a great spot to take pictures of both Old Town Dubrovnik and the West Harbour.
Extra Insta-worthy spots in Dubrovnik
16. Buza bar: it is one of the most popular bars in Dubrovnik and for good reason as it's location is quite unique. It sits perched on the outside of Dubrovnik's southern wall with great sea views.
17. Pile Gate: it is the busiest gate and it's situated on the western side of the old town.
18. Dubrovnik West Harbour: it is a popular spot because some scenes from Game of Thrones were filmed there.
19. Buza Gate: it is the northern gate and it's perfectly aligned with the prettiest staired alley.
20. Viewpoint on Mount Srd: you can take the Dubrovnik cable car up to a plateau on Mount Srd. There you will find stunning views of the old town below. Tip: go in the afternoon and watch the sunset from there for the best experience.
Dubrovnik is a stunning city with plenty of photo opportunities. Whether you're looking for breathtaking views, charming alleyways, or beautiful churches, these 20 Instagrammable spots will have you covered. Have you been to Dubrovnik? What was your favorite spot?
---
MORE INFO ABOUT CROATIA
YOU MAY ALSO LIKE