If you're looking for the most Instagrammable spots in Florence Italy then look no further!
After visiting the city twice, I've compiled a list of its most photo-worthy locations: from beautiful churches and museums to charming squares and bridges, there's something for everyone. And most of these spots you can see even if you have as little as 24 hours to spend in Florence.
So if you're looking to snap some amazing pics during your future trip, then be sure to check out these spots!
Disclosure: Some of the links in this post are affiliate links. If you click on them and make a purchase, I may receive a commission at no extra cost to you. Check my full disclaimer here.
20 Great Instagrammable places in Florence
01. Cathedral of Santa Maria del Fiore
The Santa Maria del Fiore Cathedral, also known as the Florence Cathedral or simply the Duomo, is one of the best photo spots in Florence. With its imposing dome and intricate details, this Gothic cathedral is a must-see for any visitor to the city.
The three types of rocks (green metamorphic serpentine, white Carrara marble, and red limestone) used to cover the entire basilica give it a unique and striking look.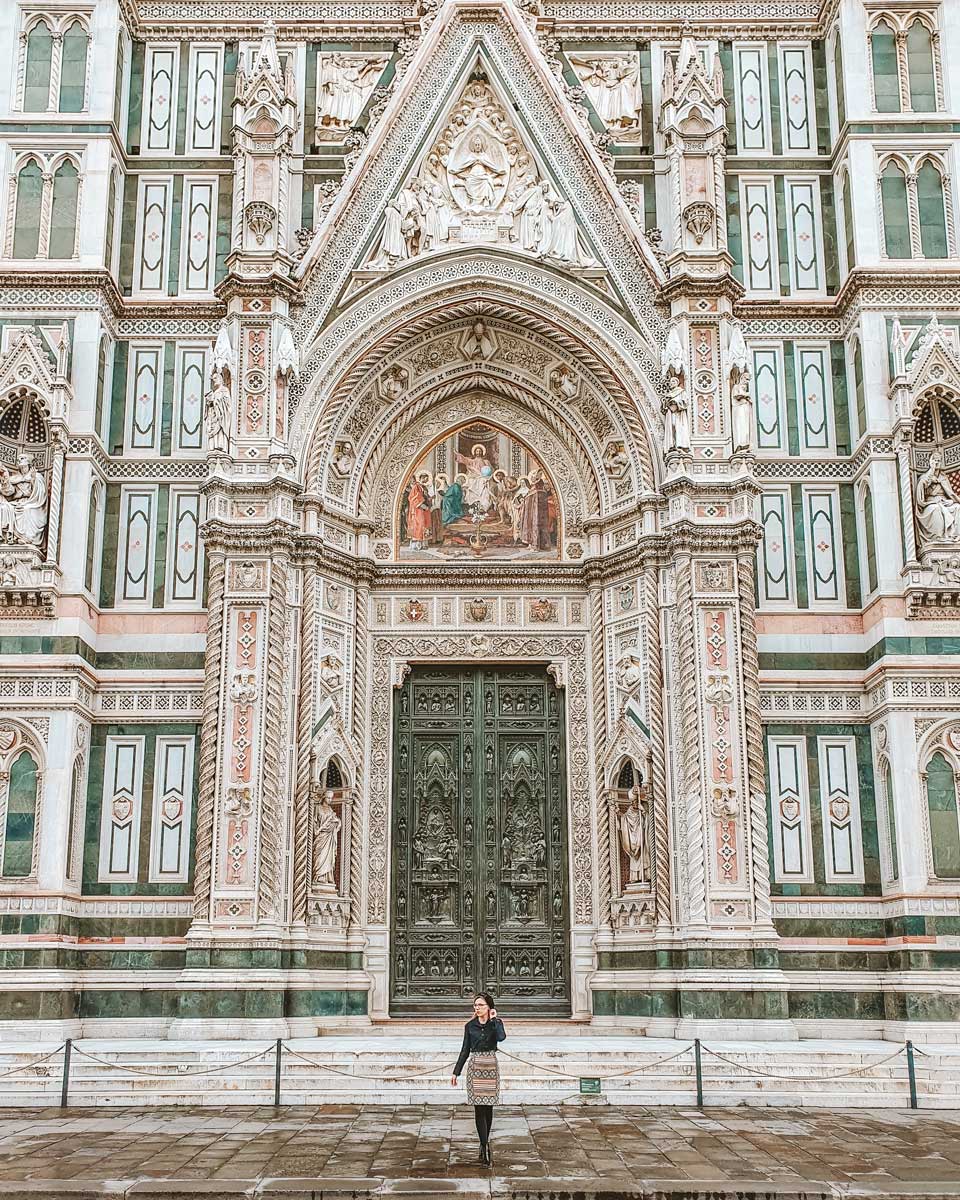 To take a picture of the facade of the cathedral you'll need to come here before it opens. Otherwise, a long line will be formed right in front of it and it's literally impossible to snap a decent photo.
However, if you couldn't make it to the cathedral before opening time, there's no reason to despair. Just head to its right side, behind the Bell Tower.
You can take 2 different kinds of pics here: one with the door, which resembles the front one (hence the "do not despair"), though it's smaller in size, and one with Brunelleschi's Dome.
This area is mostly free of people, with the exception of the occasional tourist taking some pics or busker performing its songs. Sometimes, there will be a long line for the Giotto's tower though, so you'll have to work around that.
And don't forget to snap a picture of the famous Baptistery next door too before you leave, preferably in the early morning when there are fewer people around it.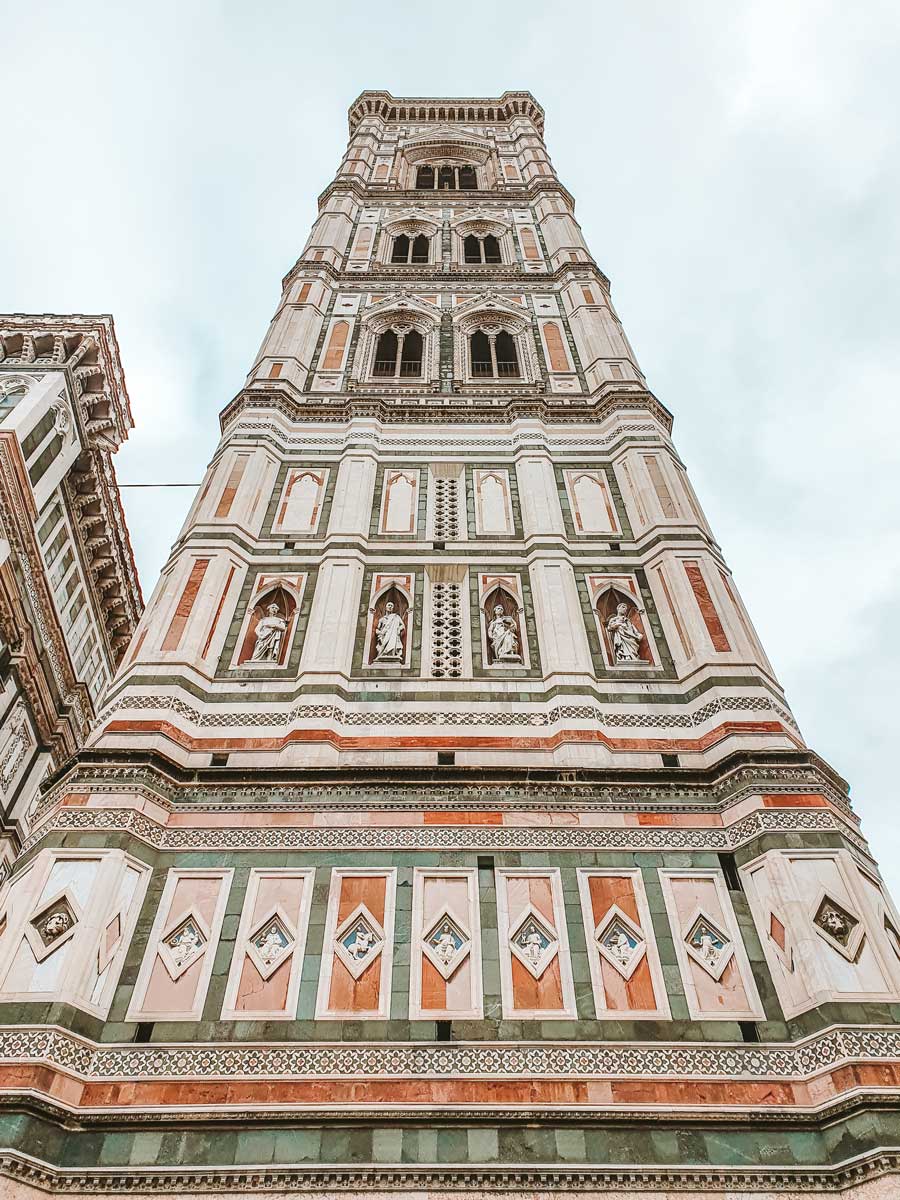 02. Giotto's Bell Tower
Giotto's Bell Tower (Giotto's Campanile) is a free-standing tower in Florence, Italy, that was designed by the Florentine architect Giotto di Bondone.
The tower is part of the Florence cathedral (Duomo) complex and is decorated with the same intricate details.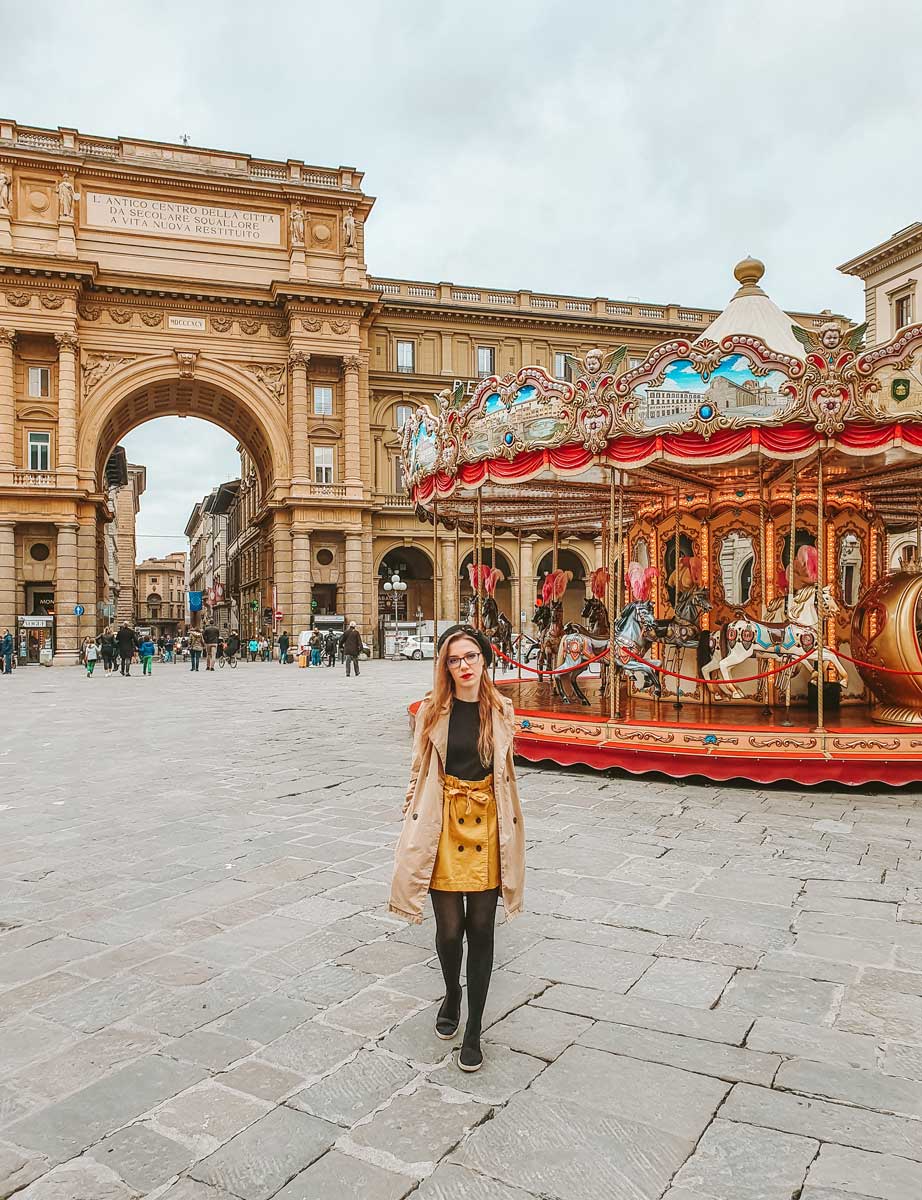 03. Piazza della Repubblica
The Piazza della Repubblica is a large square in Florence, that was once the heart of this beautiful city. It's now a popular tourist destination, thanks to its beautiful architecture.
The square is usually pretty crowded, so try to come here early to take pictures if you can.
04. The carousel in Piazza della Repubblica
While the beautiful, old-fashioned carousel in Piazza della Repubblica doesn't have any connection with Florence per se, it's still a very Instagrammable spot (I mean who doesn't like carousels?!), where you can take a cute photo.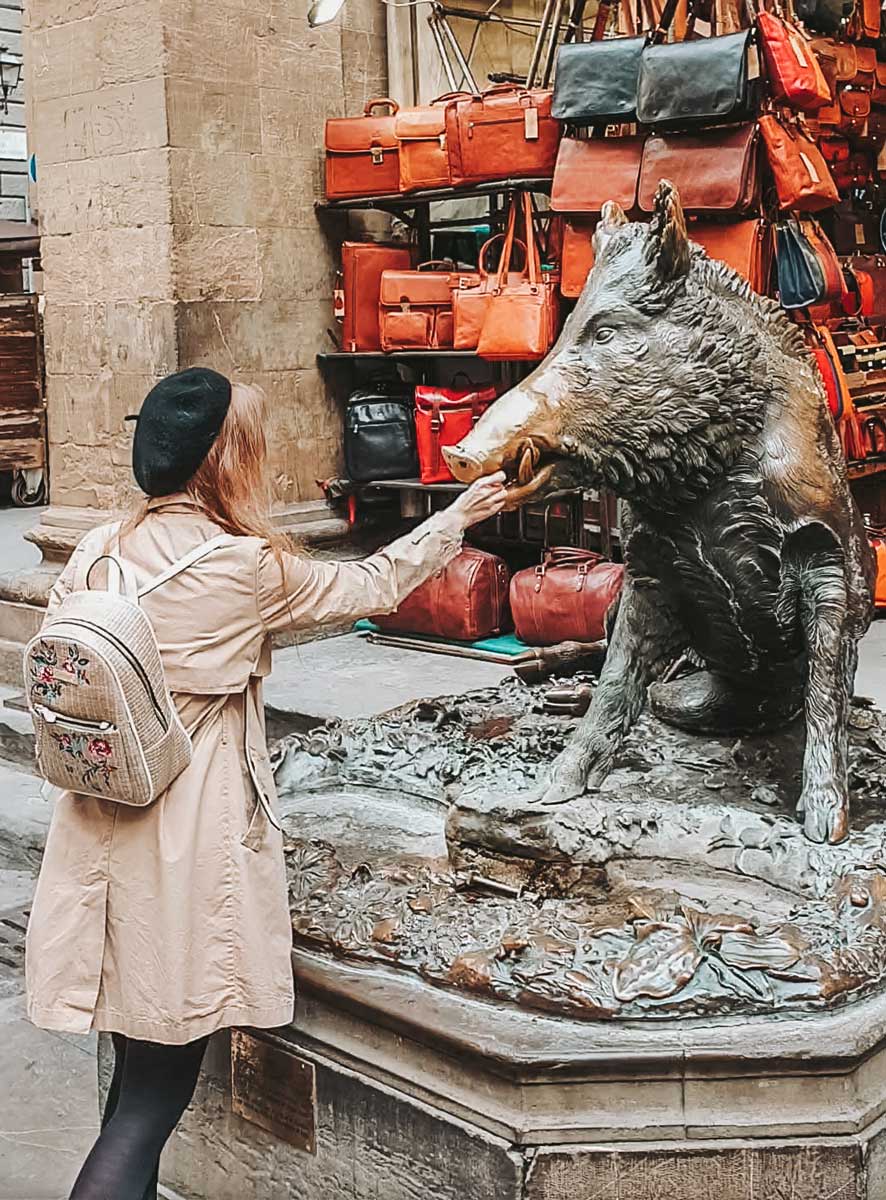 05. Fontana del Porcellino
Fontana del Porcellino is located relatively close to Piazza della Repubblica and it consists of a bronze wild boar with water dripping from its mouth.
One legend says that if you rub its snout, you will return to Florence, while another says to think of a wish, then put a coin in the statue's mouth and if it falls directly between the grates, then you'll get your wish come true.
Since right behind the fountain there's a market, I think the best frame is from the side as you comply with either legend (or both). I didn't quite nail the shot, but I still think it's cute.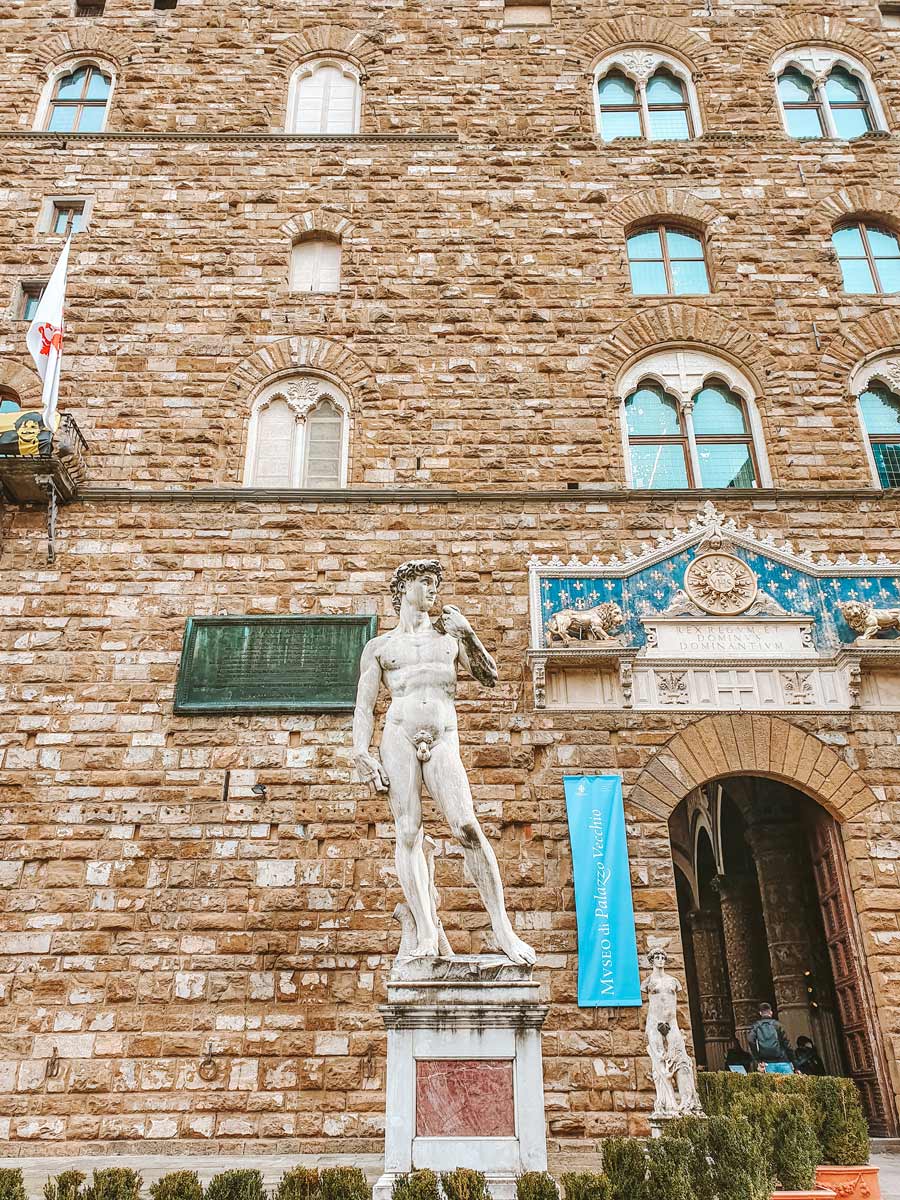 06. Piazza Della Signoria
The Piazza della Signoria is a large square that's home to several of Florence's most important landmarks.
It is surrounded by the Palazzo Vecchio, the Loggia dei Lanzi, the Uffizi Gallery and there's also a replica of Michelangelo's David here, so it's understandable why it's a popular spot for photography lovers and tourists alike.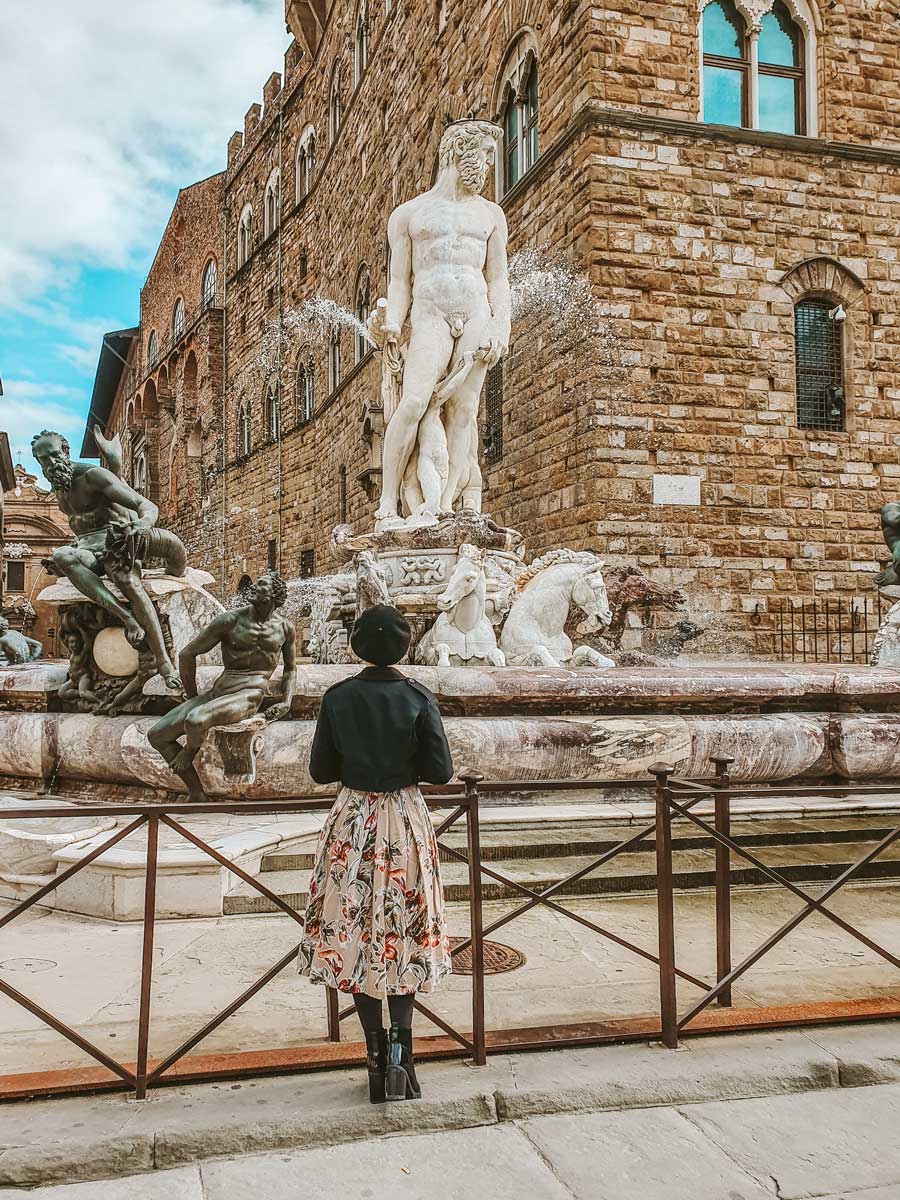 07. Fontana del Nettuno (Fountain of Neptune)
Fontana del Nettuno is located in the Piazza della Signoria, right next to Palazzo Vecchio. It was commissioned by Duke Cosimo I de' Medici in honor of the matrimony between Francesco de' Medici I and the Grand Duchess Joanna of Austria.
The fountain is named after the god Neptune, who is depicted riding a shell-shaped chariot pulled by horses.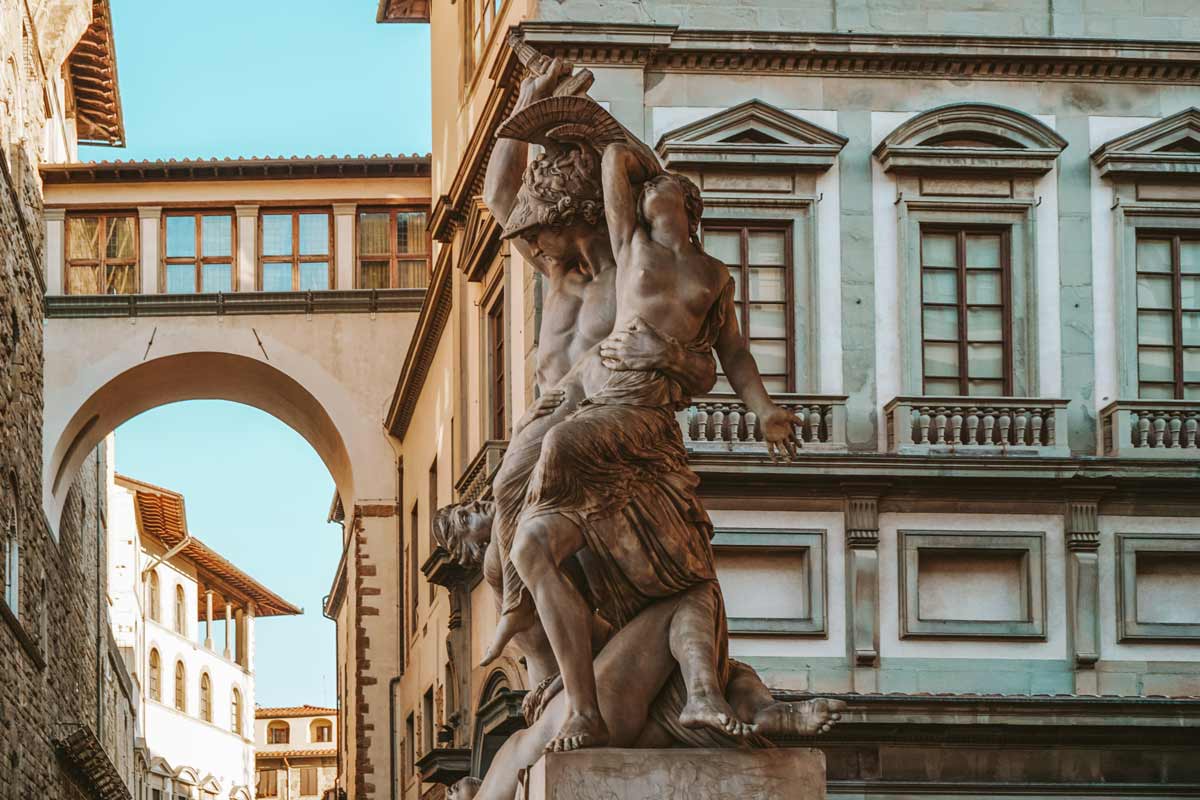 08. Loggia dei Lanzi
The Loggia dei Lanzi is an open-air gallery in Piazza della Signoria, that houses a collection of statues and sculptures. The gallery is open from 8 am to 7 pm daily and it's free to visit.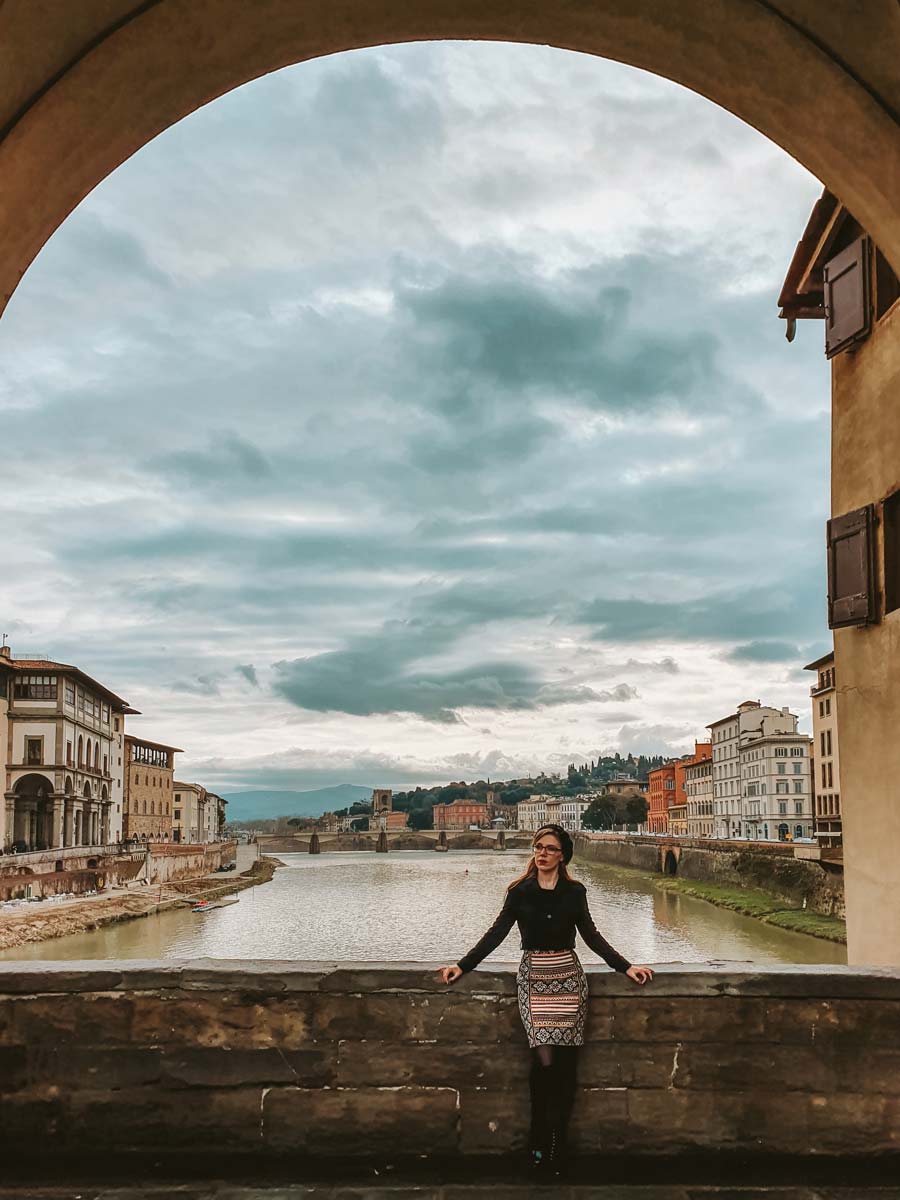 09. Ponte Vecchio (Old Bridge)
The Ponte Vecchio is one of the most famous bridges in Florence. This medieval bridge crosses the Arno River and is lined with jewelry stores and souvenir shops.
It's a popular spot for tourists and locals alike, so be prepared to come here early if you want to snap some Instagram-worthy photos!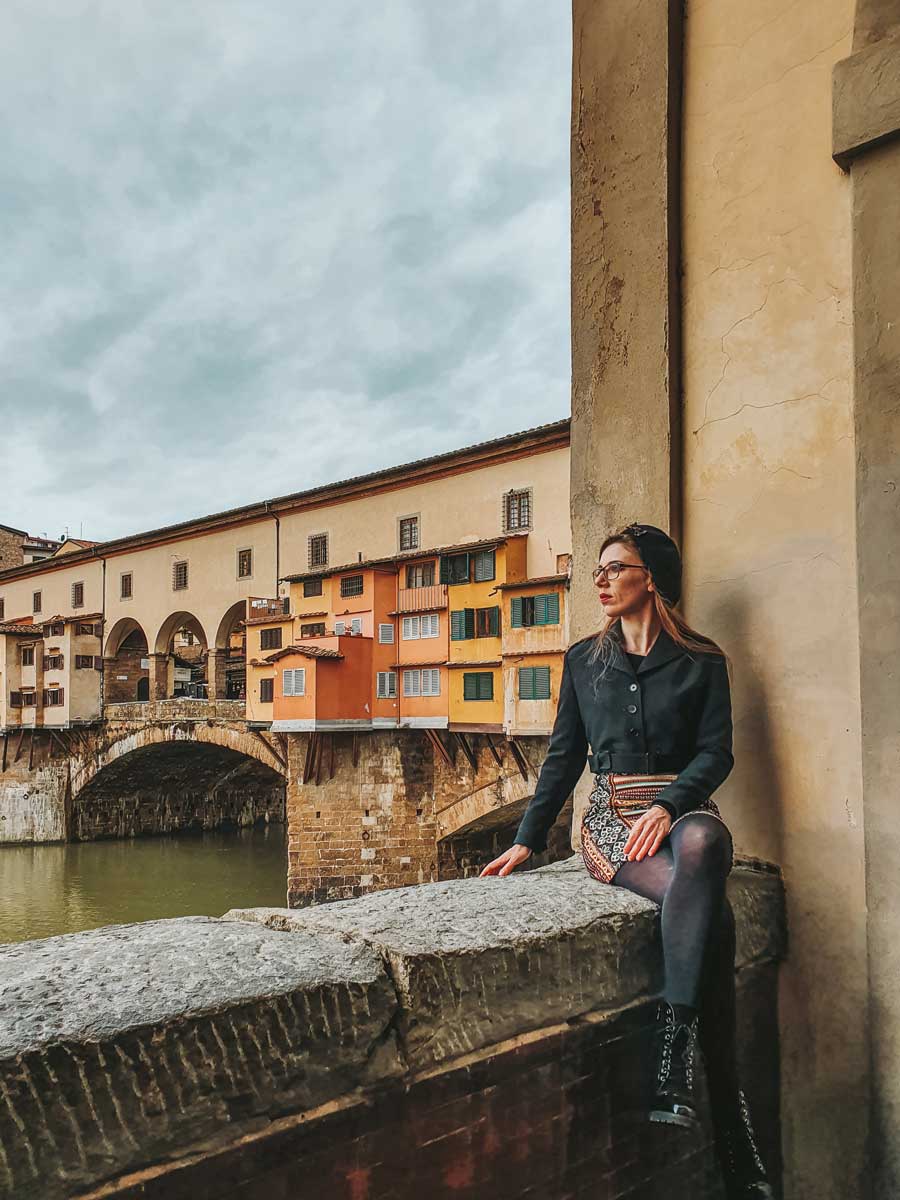 10. Ponte Vecchio side view from underneath the Vasari corridor
The Vasari Corridor is a covered passageway that links Palazzo Vecchio and Palazzo Pitti in Florence. It was commissioned by Grand Duke Cosimo I de' Medici in the 16th century and named after the artist Giorgio Vasari, who designed it.
As the corridor leaves Ufizzi and turns left towards Ponte Vecchio it sits on a series of arches that beautifully frame the side view of the bridge, making it a perfect photo spot.
The area is usually a bit crowded, but you can make it work even if you don't come here early in the morning.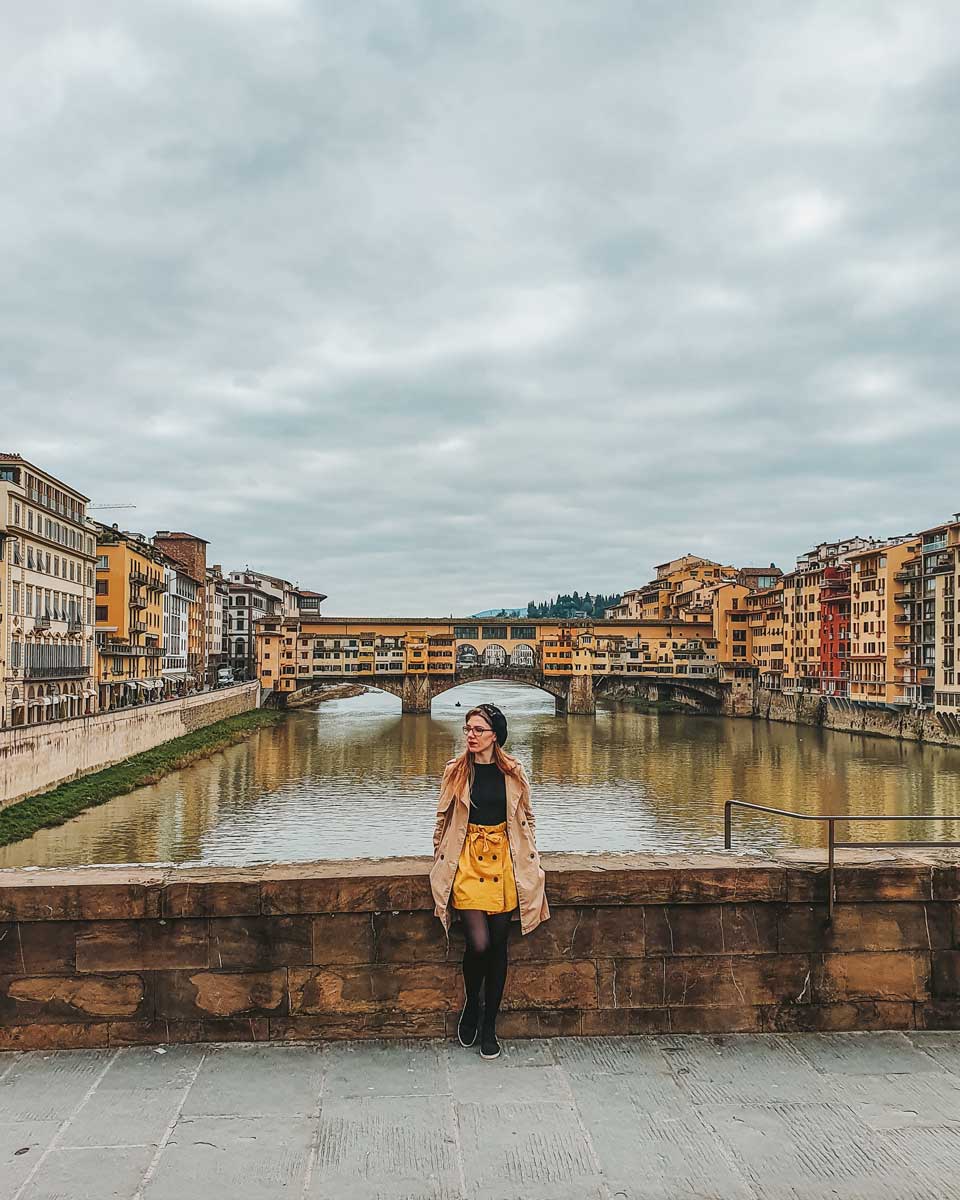 11. Ponte Vecchio view from Ponte Santa Trinita
The Ponte Santa Trinita is another one of Florence's iconic bridges. It crosses the Arno River just south of the Ponte Vecchio and is named for the church of Santa Trinita which is located on the other side of the river.
The bridge was built in the 16th century and is a popular spot for photographers and tourists alike since it offers some of the best views of the Ponte Vecchio bridge.
Be careful of cars as you take pictures on the bridge: don't stay on the actual street!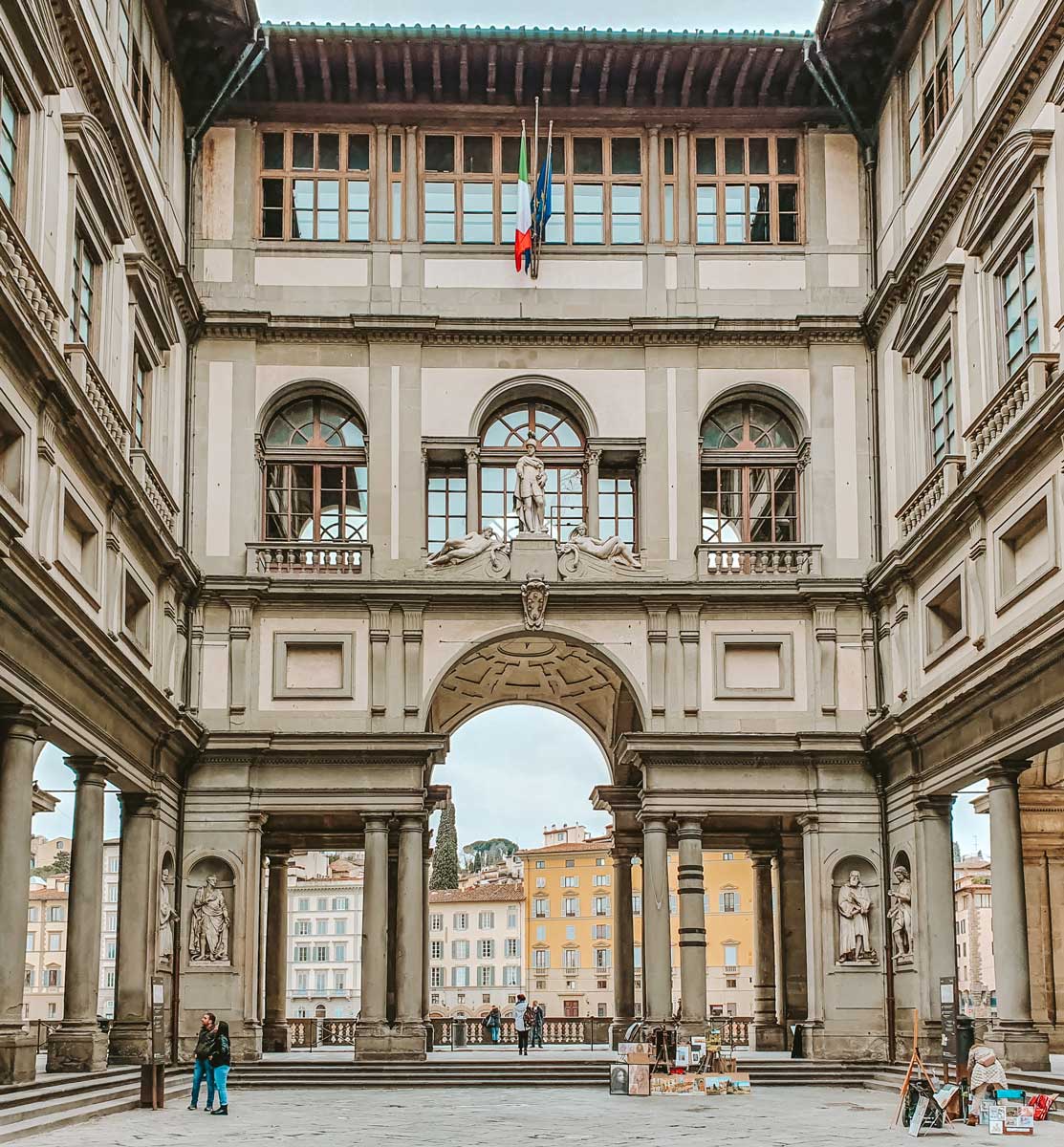 12. Uffizi inner square
The Uffizi Gallery is one of the most famous art museums in the world. It's located in the Piazza della Signoria in Florence and contains a massive collection of paintings, sculptures, and other artworks.
And if that's not enough, the museum also has a beautiful inner, semi-enclosed courtyard (The Loggiato) that's perfect for Instagramming.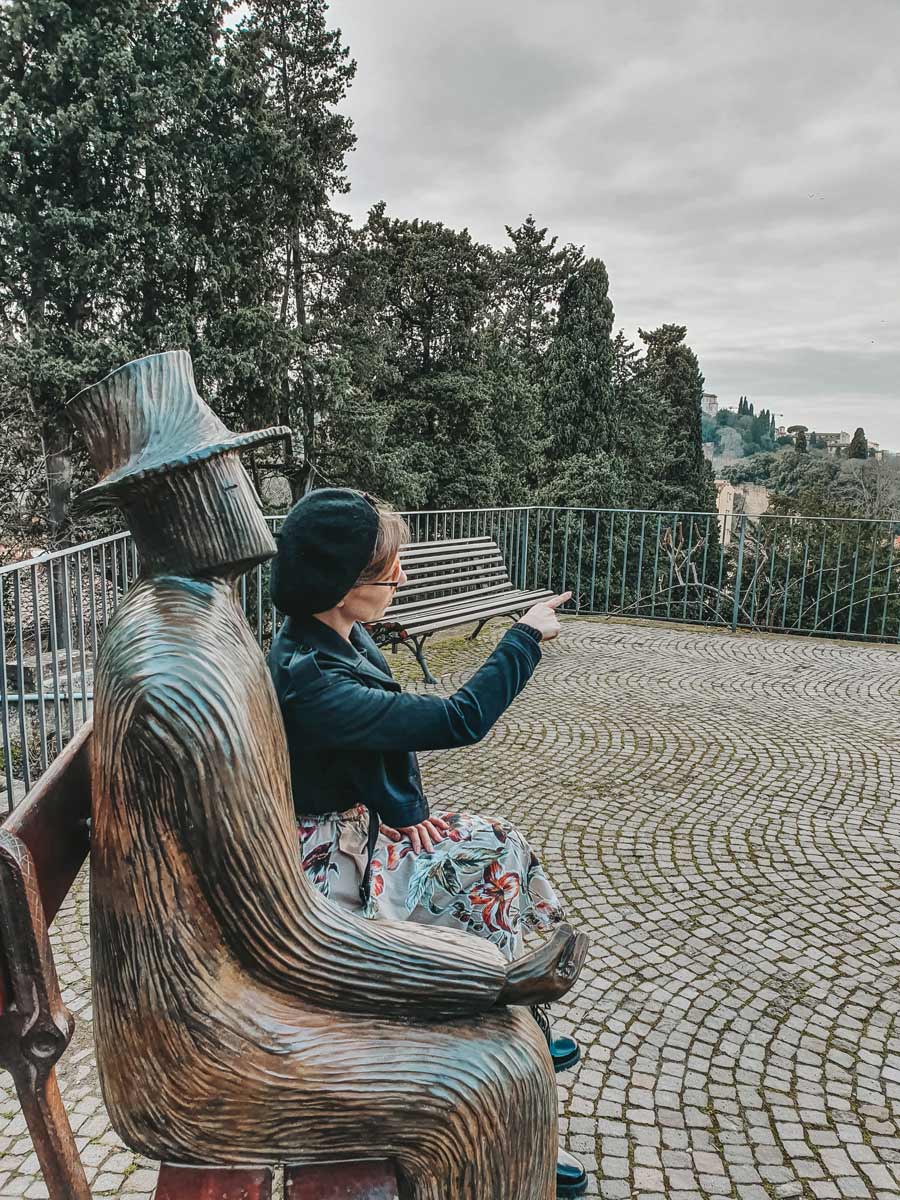 13. Giardino delle rose (The Rose Garden)
Giardino delle rose is located about midway through the flight of stairs going up to Michelangelo's square. The park offers amazing city views and it's especially photogenic when its many roses bloom.
Right by the entrance, you can find two famous artworks named "Partir" (a frame-shaped suitcase through which the city's skyline is visible) and "Je me souviens" (a man on a bench near which you can sit).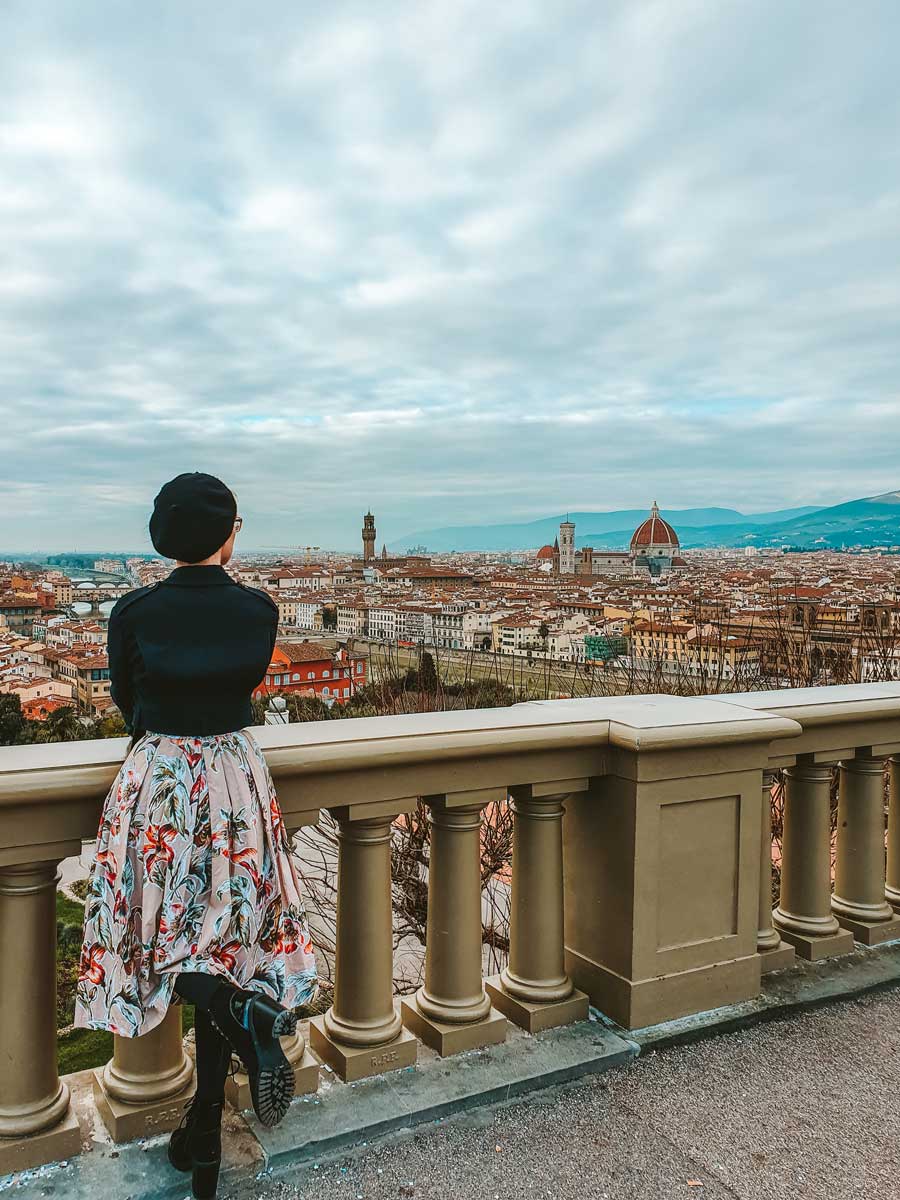 14. Piazzale Michelangelo
Piazzale Michelangelo is a vast square located at the top of a hill overlooking Florence. It is the perfect place to chill and watch one of the best sunsets Italy has to offer. On top of that, the city skyline will be the perfect backdrop for your Instagram photos.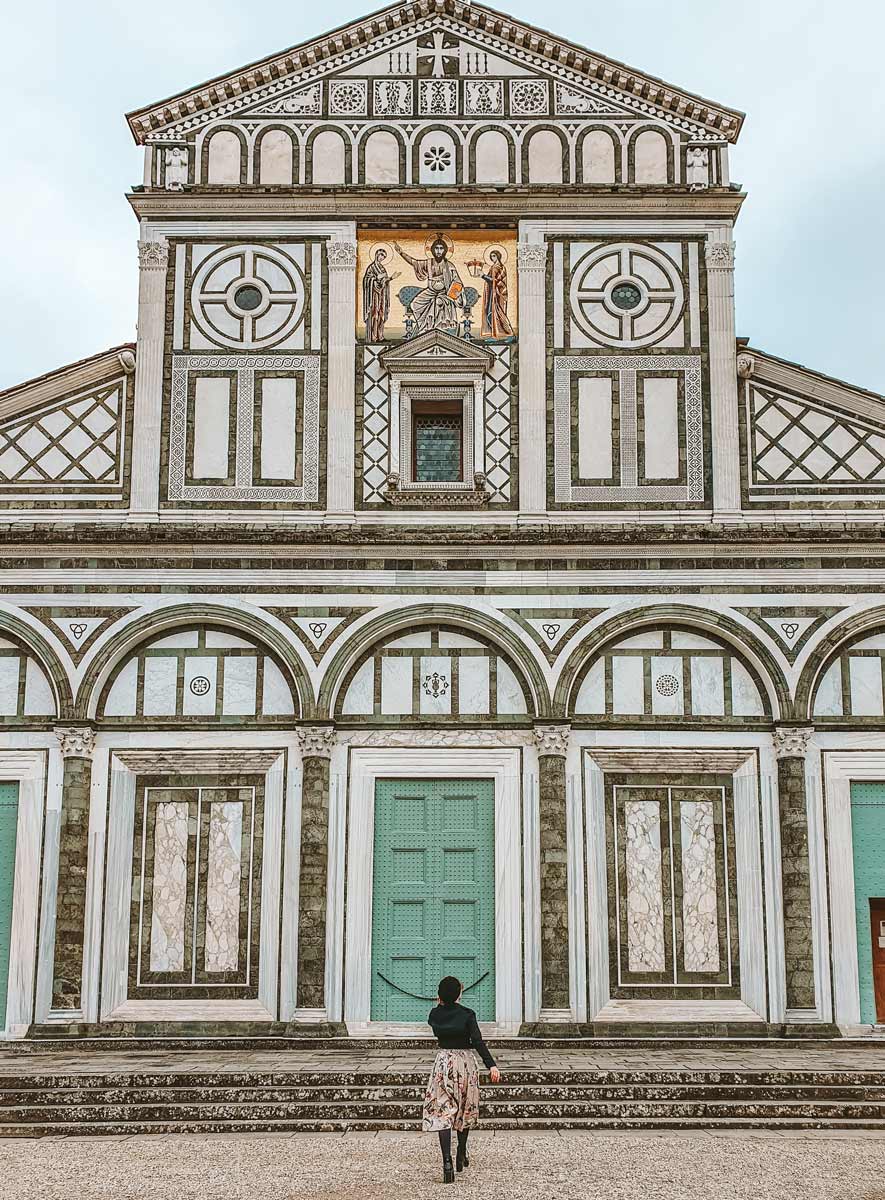 15. Abbazia di San Miniato al Monte
The basilica of San Miniato al Monte is a beautiful church that stands tall atop one of Florence's most prominent hills. It has been referred to as one of the finest Romanesque structures in Tuscany and it's easy to see why.
The church is just a short walk from Michelangelo's square (in fact it can even be seen from there) and offers equally breathtaking views of Florence.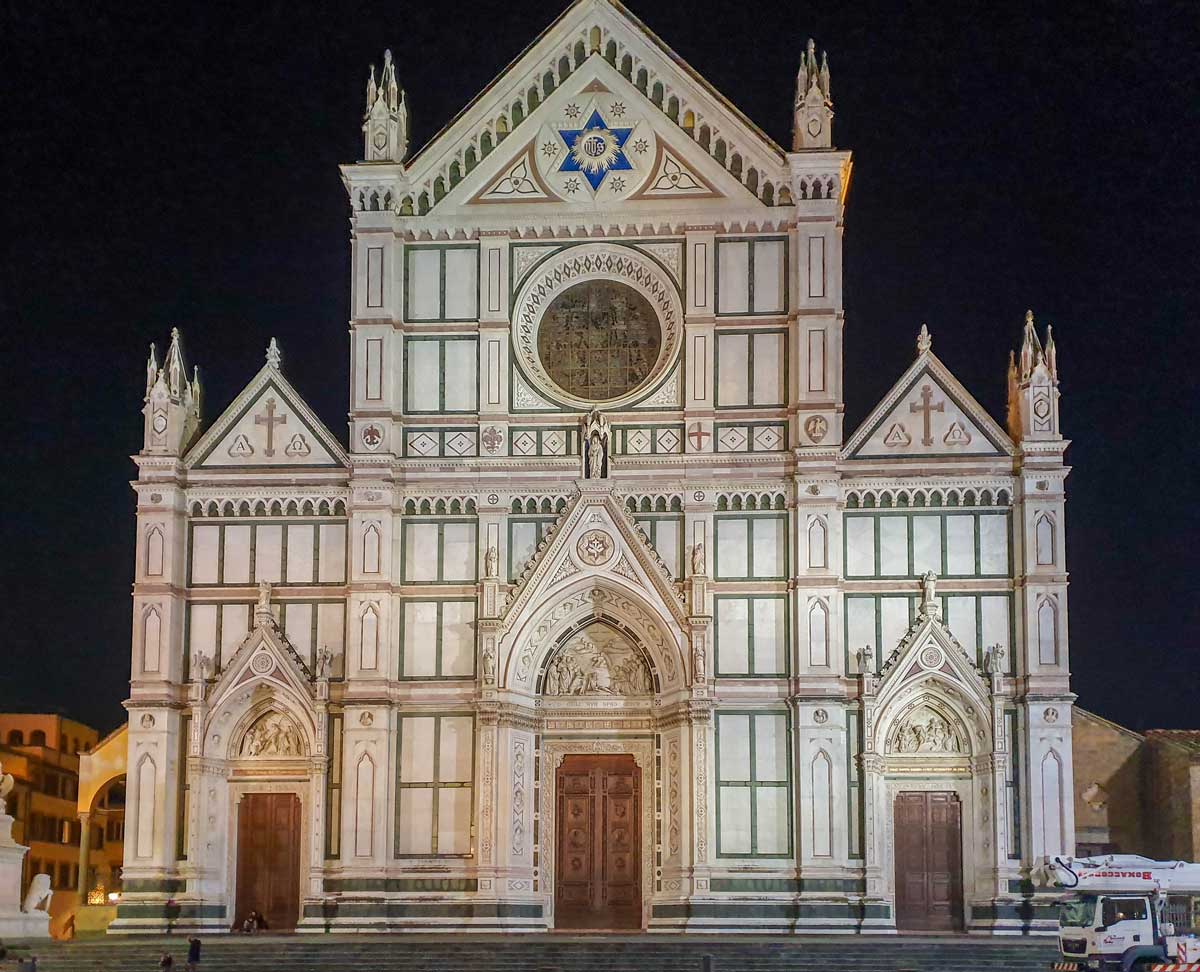 16. Basilica di Santa Croce
The Basilica di Santa Croce is a Franciscan church with a beautiful neo-Gothic marble facade, located in the square with the same name.
Even though Piazza di Santa Croce is not as busy as Piazza del Duomo, you should come here either early in the morning or late during the evening when there's less traffic for an awesome photo opportunity.
Extra Instagrammable spots in Florence
I haven't had the chance to visit the following four spots myself yet (they're still on my to-see list), but I thought I should mention them nevertheless.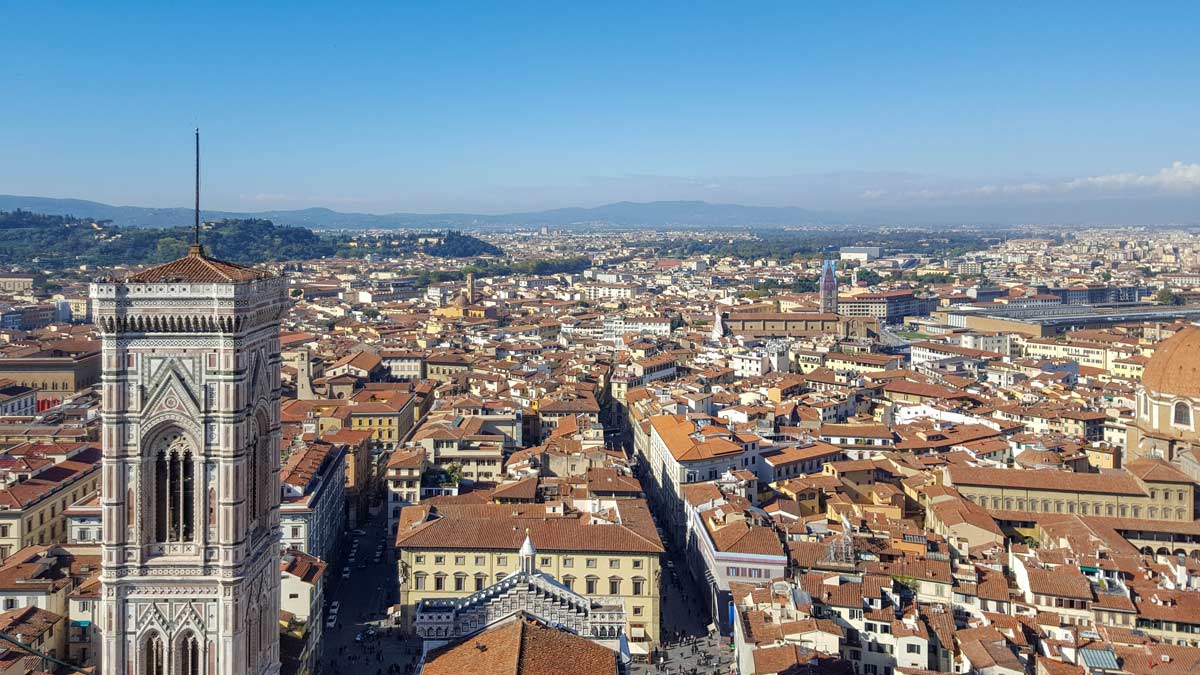 17. Basilica of Santa Maria Novella
This church is located very close to the main train station. It was undergoing renovations when we visited and sadly we didn't check to see if the facade was also being renovated (the facade is facing Piazza Santa Maria Novella).
18. The Great Synagogue of Florence
The Great Synagogue of Florence is a large building, with a magnificent dome decorated with mosaics and frescoes. You can buy a ticket and visit its beautiful interior.
19. B&B La Terrazza Sul Duomo
B&B La Terrazza Sul Duomo offers guests a truly amazing panorama. The property's rooftop terrace provides stunning views of Florence's famous Duomo and is the perfect spot to enjoy a glass of wine.
When I was planning my second trip to Florence, I was a tad bit disappointed to discover that the B&B was not available for the dates of our trip, but maybe next time will be in luck.
20. Caffe La Terrazza
Caffe La Terrazza also offers a great view of the Duomo and I'm sad that I found out about it only after my trip.
There seems to be a catch though: only one side of the terrace faces the cathedral, so you might want to come at opening time to make sure you get a table with a Doumo view and the prices seem to be on the expensive side, which is somewhat understandable given the panorama.
Florence Instagram Spots: Final thoughts
Florence is one of the most beautiful cities in the world and has many Instagram-worthy spots.
Whether you're looking for a breathtaking view or a historic landmark to snap a picture at, these locations will definitely make your Instagram feed pop. And more importantly, you'll be left with wonderful memories.
So what are you waiting for? Start planning your trip to Florence today!
---
YOU MIGHT ALSO LIKE