Are you traveling to Austria soon and you're wondering what are the best Vienna Instagram spots where you can take beautiful photos? I've got you covered!
With such a rich history, you'd expect to find plenty of Instagrammable places in Vienna. And you'd be spot on right! From baroque palaces and churches to gothic cathedrals, the former capital of the Austro-Hungarian empire has it all.
For this reason, I compiled a list of the most beautiful photo-worthy spots in Vienna and how to reach them. And if you're spending a few days in Austria's capital, I'd also recommend reading my travel guide for 4 days in Vienna.
15 Most Instagrammable places in Vienna
01. Hofburg Imperial Palace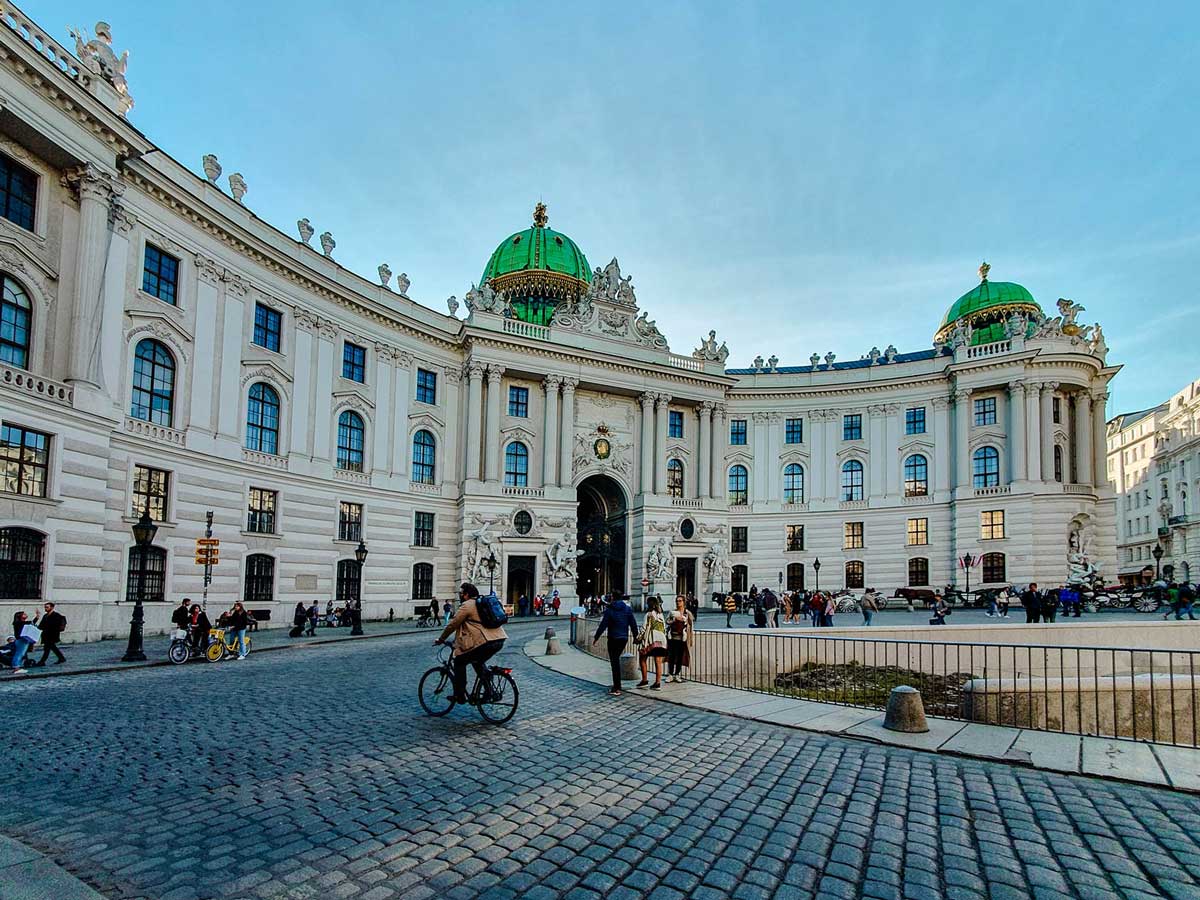 The Hofburg was for a long time the main imperial palace and winter residence of the Habsburgs, rulers of Austria. Nowadays it is housing a variety of museums as well as the President's office and the National Library.
The most iconic angle of the huge palace complex, in my opinion, is its entrance on one of the sides of Michaelerplatz Square. Usually, you'll also see stationed there several horse-drawn carriages, which only adds to the charm.
How to get here:
on foot: the palace is as central as it can be and you'll probably end near it many times during your visit, even if you don't intend to
bus: Hofburg stop is served by routes 2A and 3A
tram: tram stop Burgring is closest and is served by trams 1, 2, D, and J, alighting at Burgring
subway: the nearest subway station is Herrengasse (U3 line).
02. Volksgarten park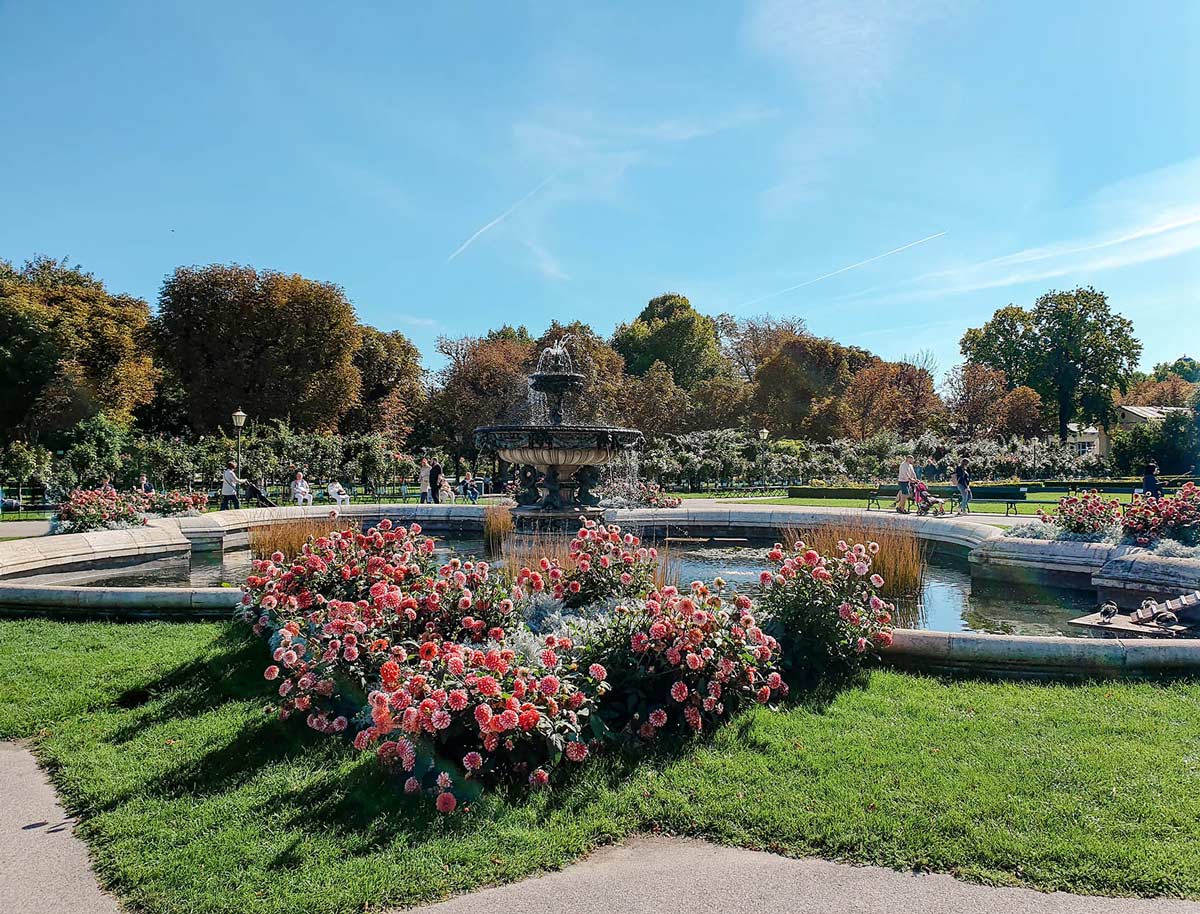 Volksgarten ("Folks' Park") is a public park most famous for its incredible rose garden that has over 3,000 rose bushes of different varieties.
My tip is to go there early to be able to take photos of the flower beds without any people in them. June, in particular, is a very good month to see the flowers in all their glory and colors.
But don't be sad if you visit the city in autumn, I was there at the beginning of October and the roses were still a feast for the eyes.
You'll also find inside the park the Theseus Temple, the Sisi's memorial, dedicated to the beloved Austrian empress, and the Grillparzer memorial, built to honor the Austrian poet and writer.
How to get here: Volksgarten Park is located quite centrally, across the road from the Rathaus (City Hall) and close to Hofburg Palace. Most people will go through it when walking between the two.
There's a tram stop (Ring/Volkstheater) and subway station (Volkstheater) outside the park, served by the U2 and U3 metro lines and the 1, 2, D, 46, 49, and 71 trams.
03. St. Stephen's Cathedral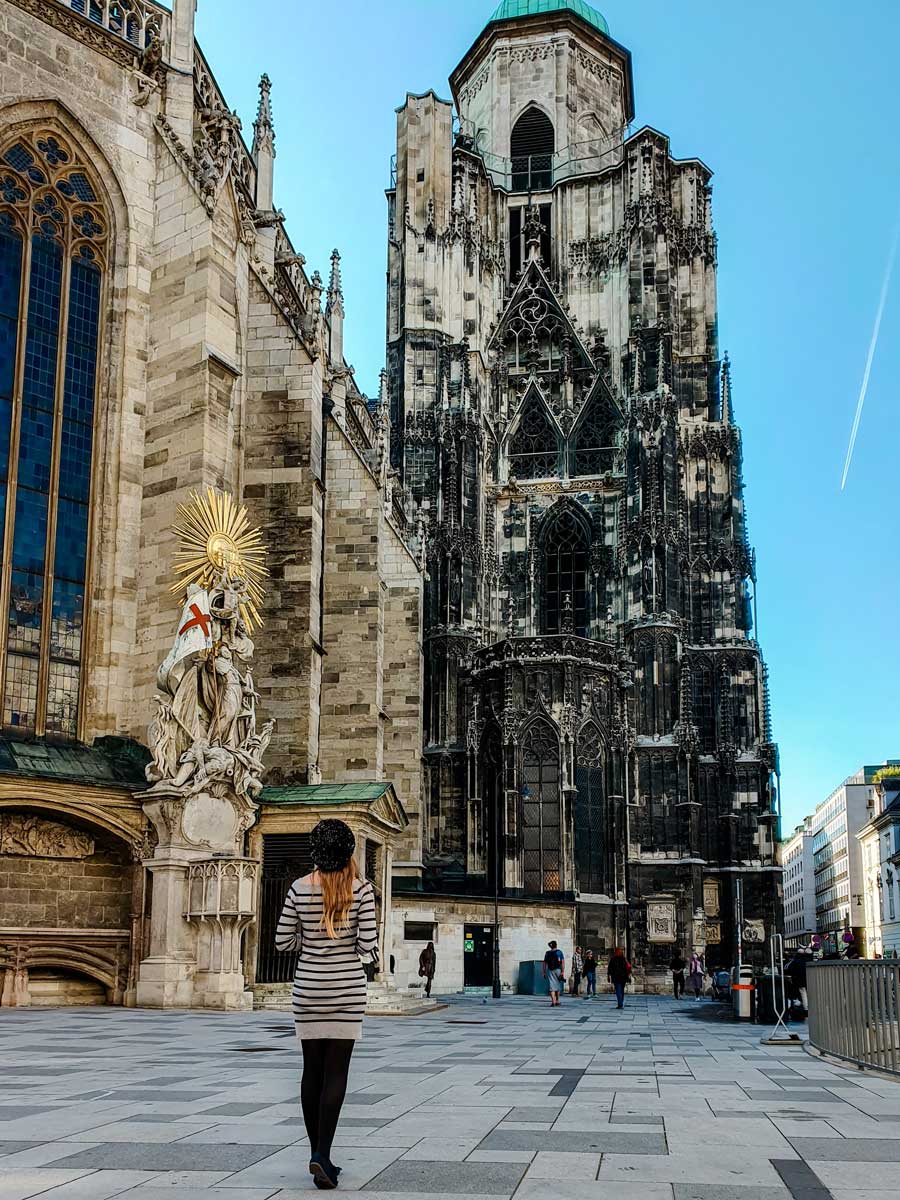 With its main tower rising over 136m, and its roof covered by 230,000 colored tiles, St. Stephen's Cathedral is, without doubt, one of the main symbols of the Austrian capital.
The square around is, however, almost always busy, so you might want to get here early for people-free photos of the Gothic cathedral or be really creative with your angles.
How to get here: Given its central location, you'll most likely arrive here on foot as part of your city center walk anyhow. Otherwise, you can use the U1 or U3 subway lines (Stephansplatz station). Or you can take the 1A, 2A, or 3A bus to stop at Stephansplatz.
04. Helliundleo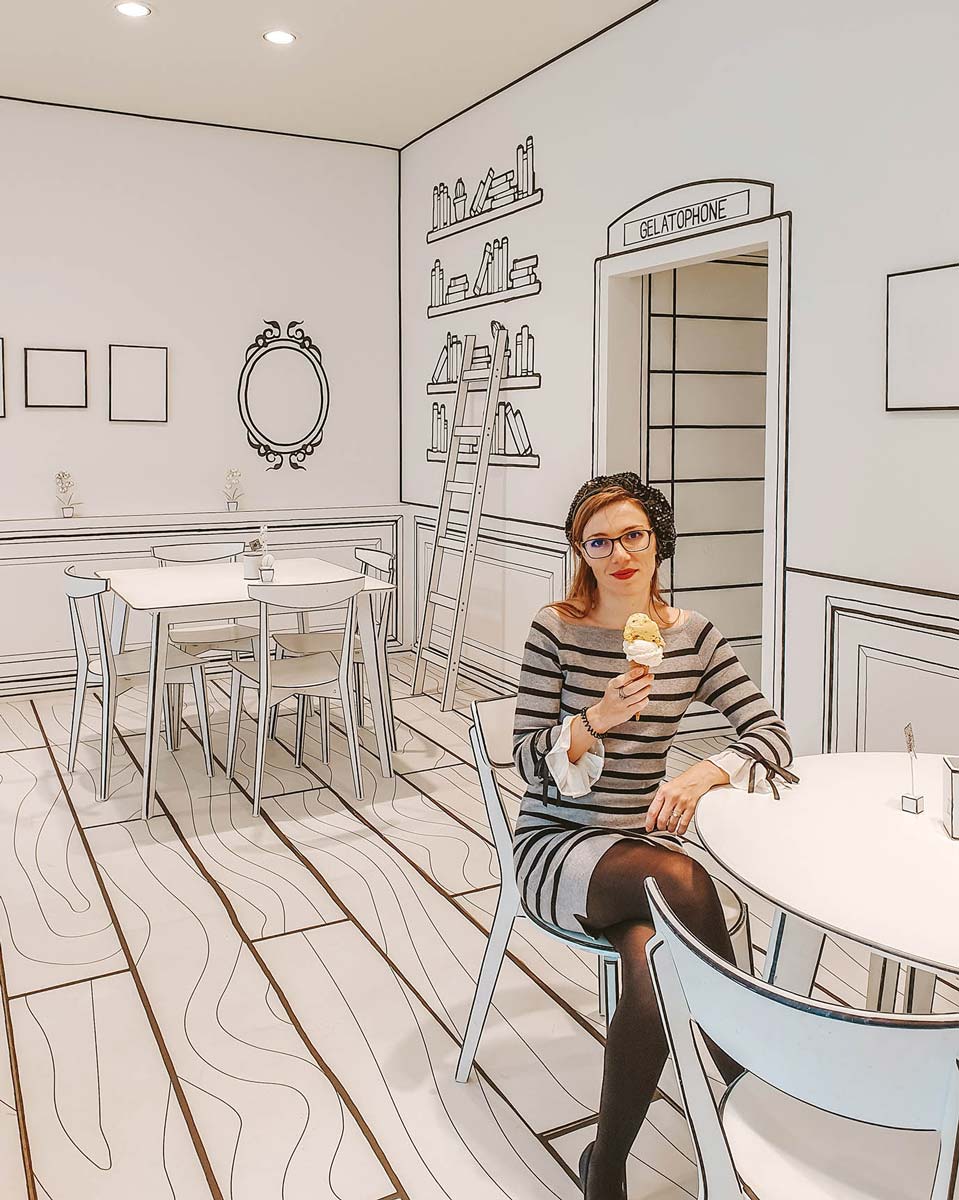 Helliundleo is a low-sugar gelato shop in the heart of the city. It has an adorable interior design, made to look like a 2D drawing. In fact, it's one of the few 2D establishments in Europe (I only know of another 2D cafe in Berlin), though they're very popular in Asia.
How to get here: You can find the ice cream shop at Rotenturmstraße 16-18, 1010 Wien, it is quite centrally located.
05. Belvedere Palace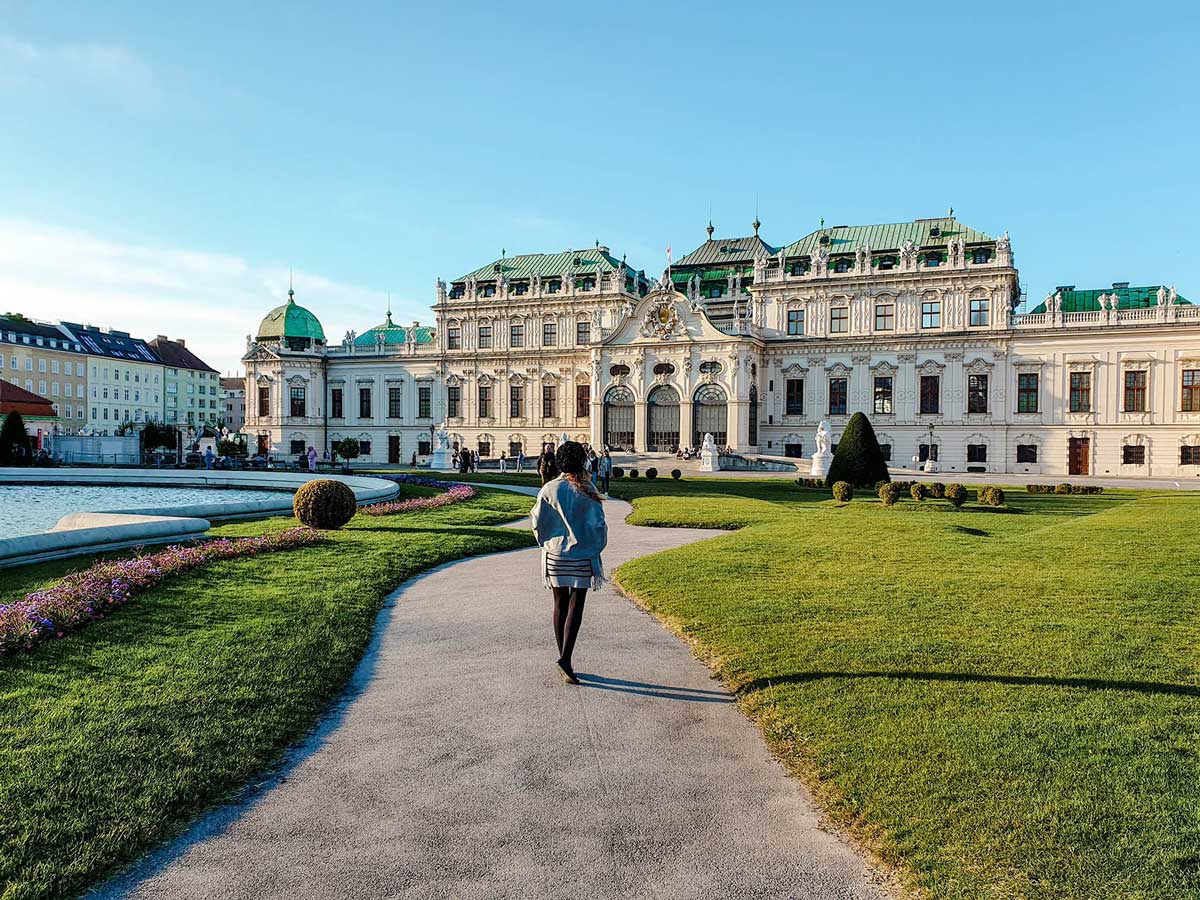 Despite the name, this historic building complex actually consists of two Baroque palaces, not one. At present, they are functioning as museums.
Even though both the Upper and Lower Gardens are beautiful, I really liked how the palace was mirrored in the huge pond of the Upper Garden.
How to get here:
by tram: take the D line to the Schloss Belvedere stop which is right outside the palace or the 18 or O lines to Quartier Belvedere and then walk for around 7 minutes
by subway: take the U1 line and get out at Hauptbahnhof station, then walk for around 15 minutes until you reach the palace
by bus: take bus 13a and get out at Mommsengasse stop, then walk for about 10 minutes
06. Hundertwasserhaus (Hundertwasser House)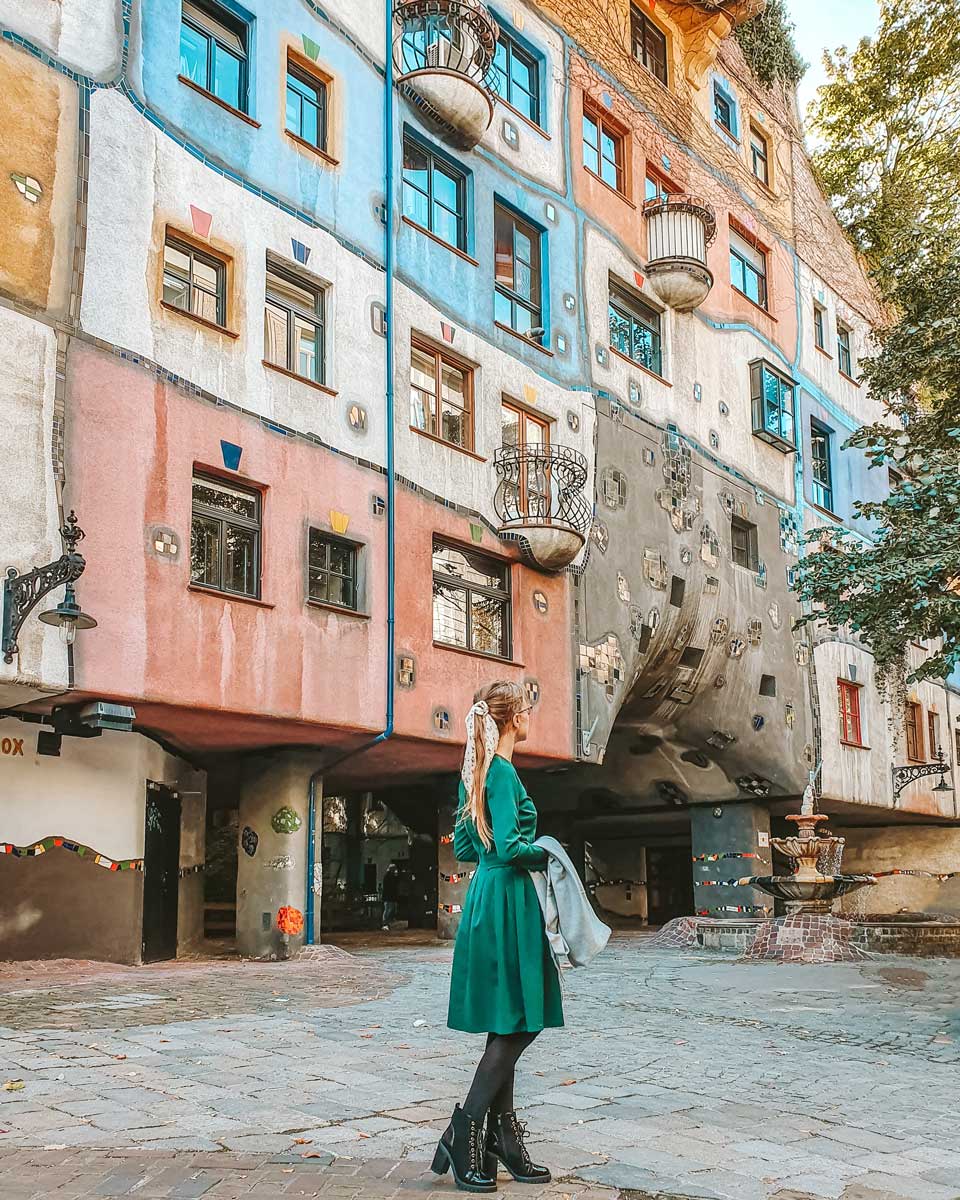 Hundertwasserhaus is an apartment building in Vienna, famous for its fluid and colorful facade. You can't visit the inside, but there are lots of photo opportunities near the building.
You'll notice that even the pavement looks like it's flowing. It is hands down one of the most Instagrammable places in Vienna.
Tip: Across the street, there's a small shopping complex called Hundertwasserhaus Village, and a short walk away you'll find Kunst Haus Wien, which is another building constructed in the same style.
How to reach here: There's a tram stop very close to Hundertwasserhaus called Hetzgasse (line 1).
07. Schonbrunn Palace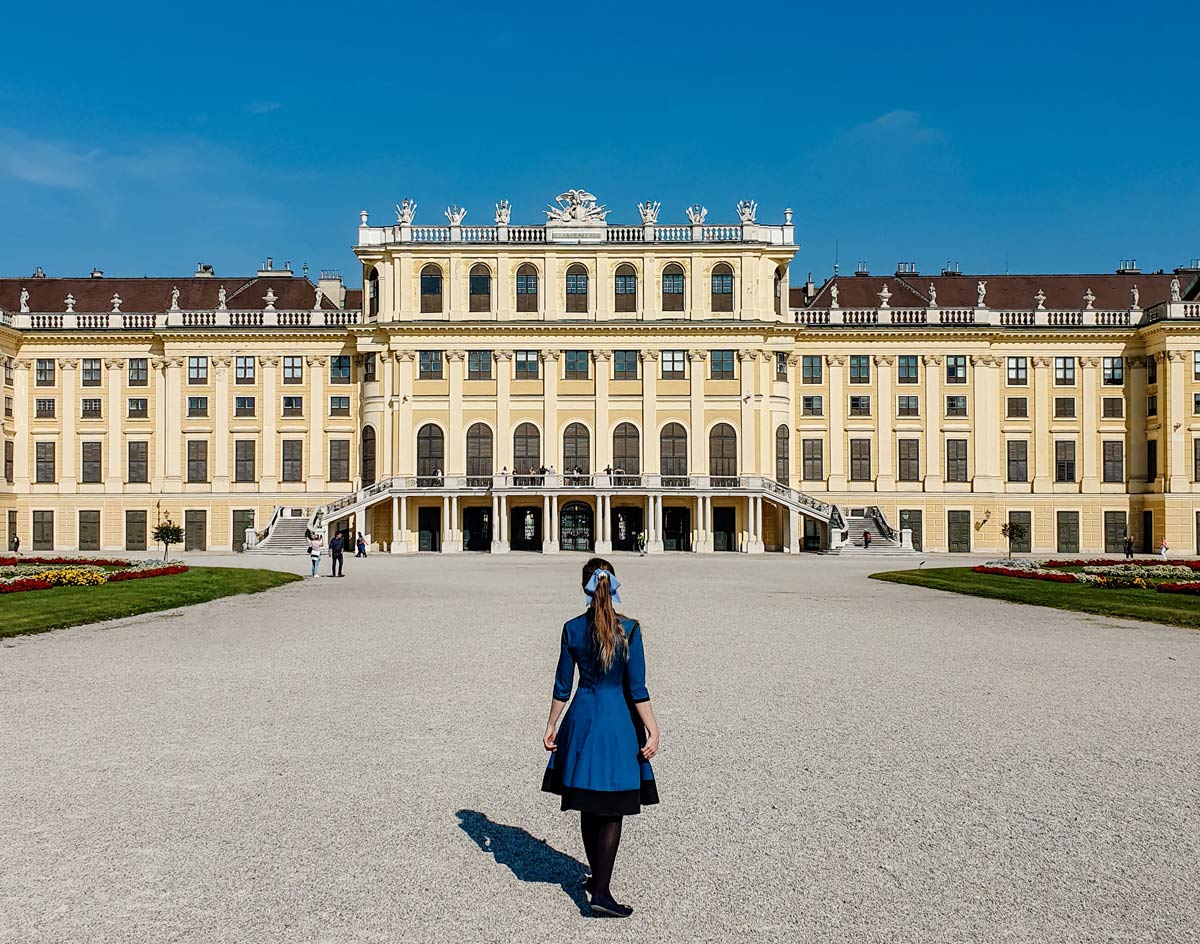 Schonbrunn (Schloss Schönbrunn) is a 1 441-room Rococo palace situated in Hietzing, Vienna. It was the main summer residence of the Habsburg family.
While you cannot take pictures inside the palace itself, there are plenty of photo opportunities outside.
Tip: Climb the hill towards the Gloriette to view the palace and the garden from above. On your way back down, stop by the fountain and peak from behind it for a great, closer view of Schonbrunn.
How to get here:
by subway: take the U2 line to Schönbrunn (best for the main entrance) or Hietzing (best for Palm House, Desert House, or Zoo) stations.
by tram/bus: Trams 10 and 60, and bus 10A stop at Schloss Schönbrunn, which is located opposite the main entrance.
08. Karlskirche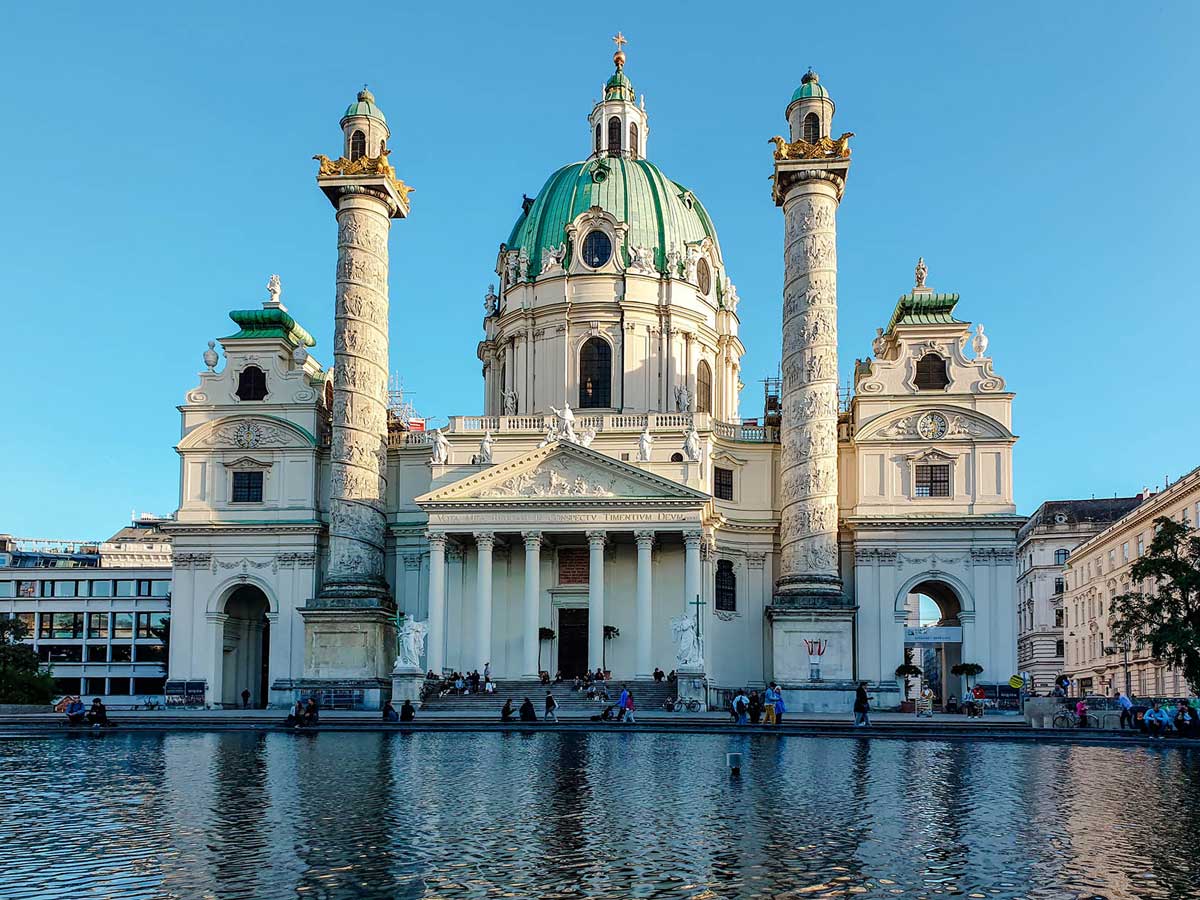 Karlskirche (St. Charles Church) is an impressive baroque church, situated on the south side of Karlsplatz square. It was built in a Greek temple style and has on both sides a tall column inspired by Rome's Trajan's Column. The whole thing reflects beautifully in the artificial pond in front.
How to get here:
by subway: Karlsplatz subway station, where the U2, U1, and U4 lines meet
by tram/bus: many trams travel to Karlsplatz or the Karlsplatz/Oper stop, including those that skirt the old town -> lines 1, 2, D and 71
09. Gloriette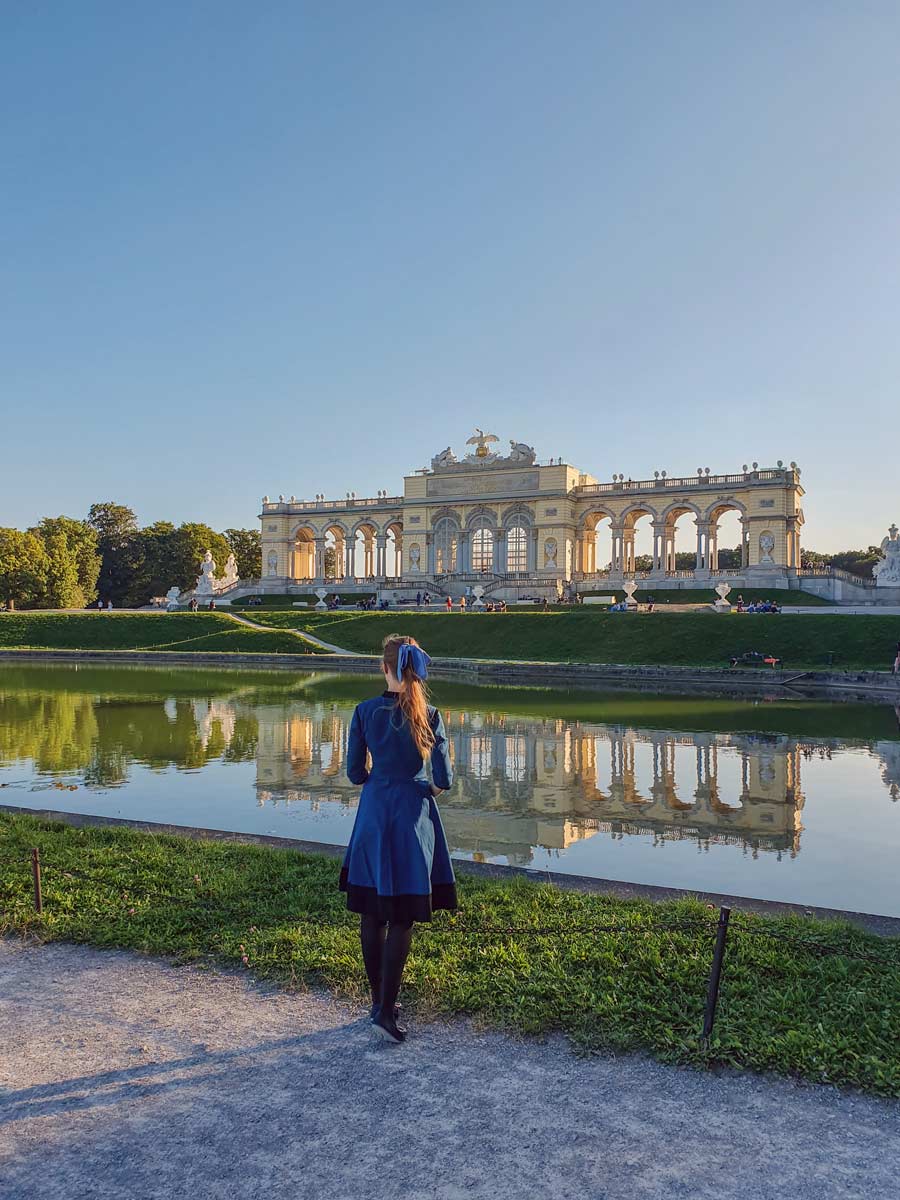 Located on a hill, behind Schonbrunn Palace, the Gloriette has been used as a viewing point since the beginning of the 19th century. The huge pond in front, in which the structure reflects itself, will definitely make you want to take a few snaps.
How to get here: same as for Schonbrunn Palace.
10. The Maze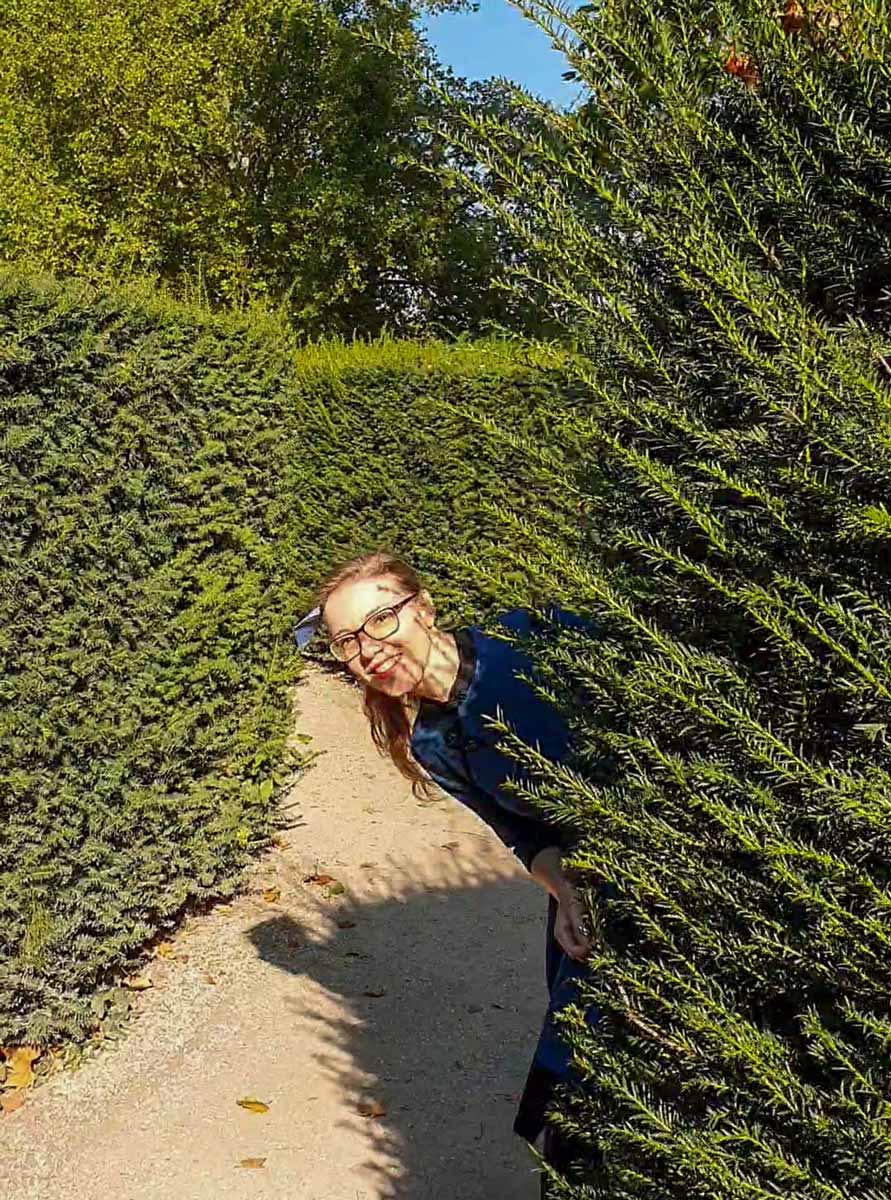 The Maze actually represents 3 labyrinths, located inside Schonbrunn Park. You'll have to buy a ticket to be able to visit them, but it's worth every penny. I felt like a kid discovering how to solve them.
I especially liked the fact that the bigger maze out of the three was actually a bit hard to solve unlike most green labyrinths, where you basically just go in a circle until you reach the end.
How to get here: same as for Schonbrunn Palace.
11. Rathaus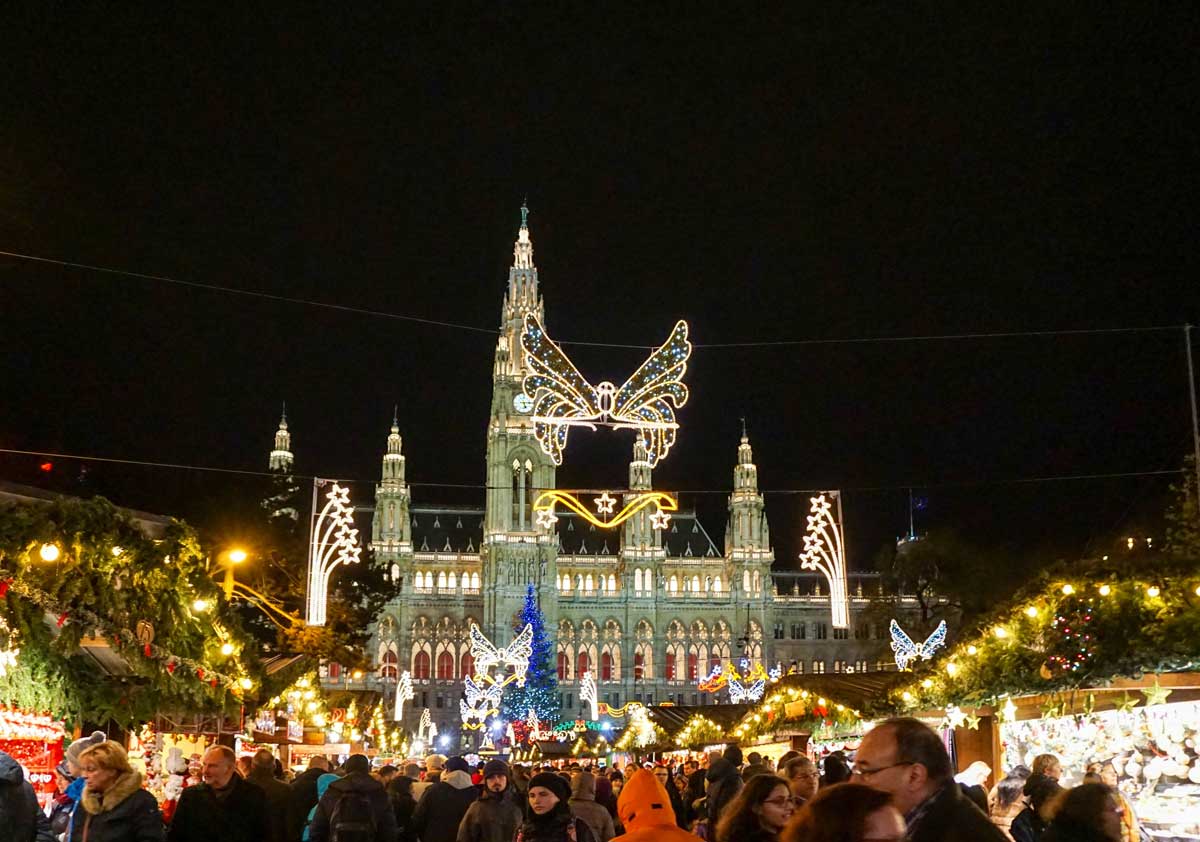 Situated just beyond Vienna's Ring Road (Ringstraße), Rathaus stands as the city's monumental City Hall. Constructed in a Neo-Gothic style during the 19th century, it impresses visitors from all over the world with its ornate architecture. It's also worth mentioning that its facade has been recently renovated.
How to get here:
Subway: take the U2 line to the Rathaus station.
Tram/bus: take the 1, D, or 71 tram to the Rathausplatz/Burgtheater stop.
12. The Palm House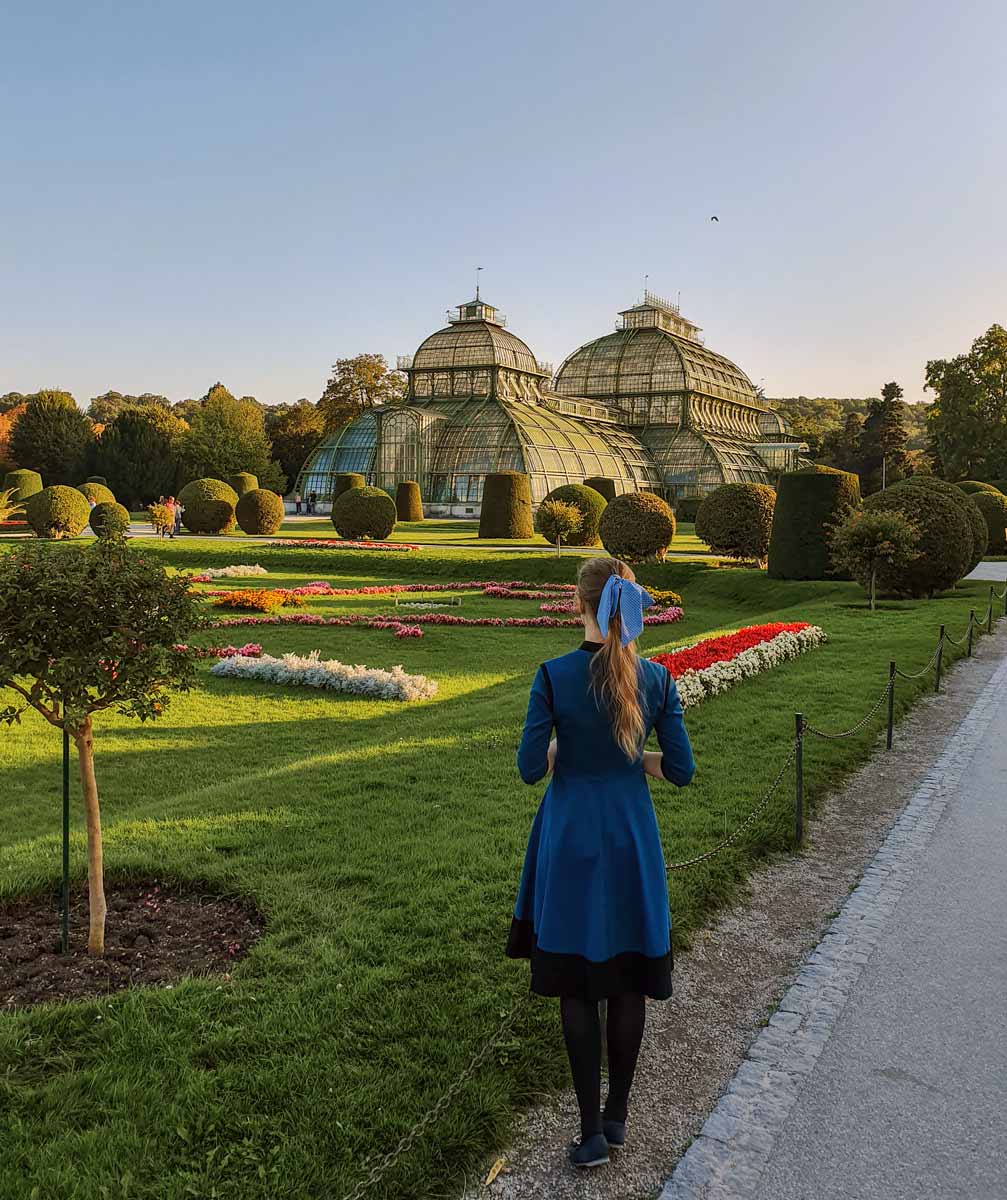 The Palm House or Palmenhaus is a giant greenhouse located inside Schonbrunn Park. You can visit it, but it's actually due to its exterior that it made this list along with other Vienna photo spots.
How to get here: same as for Schonbrunn Palace.
13. Ferstel Passage and Cafe Central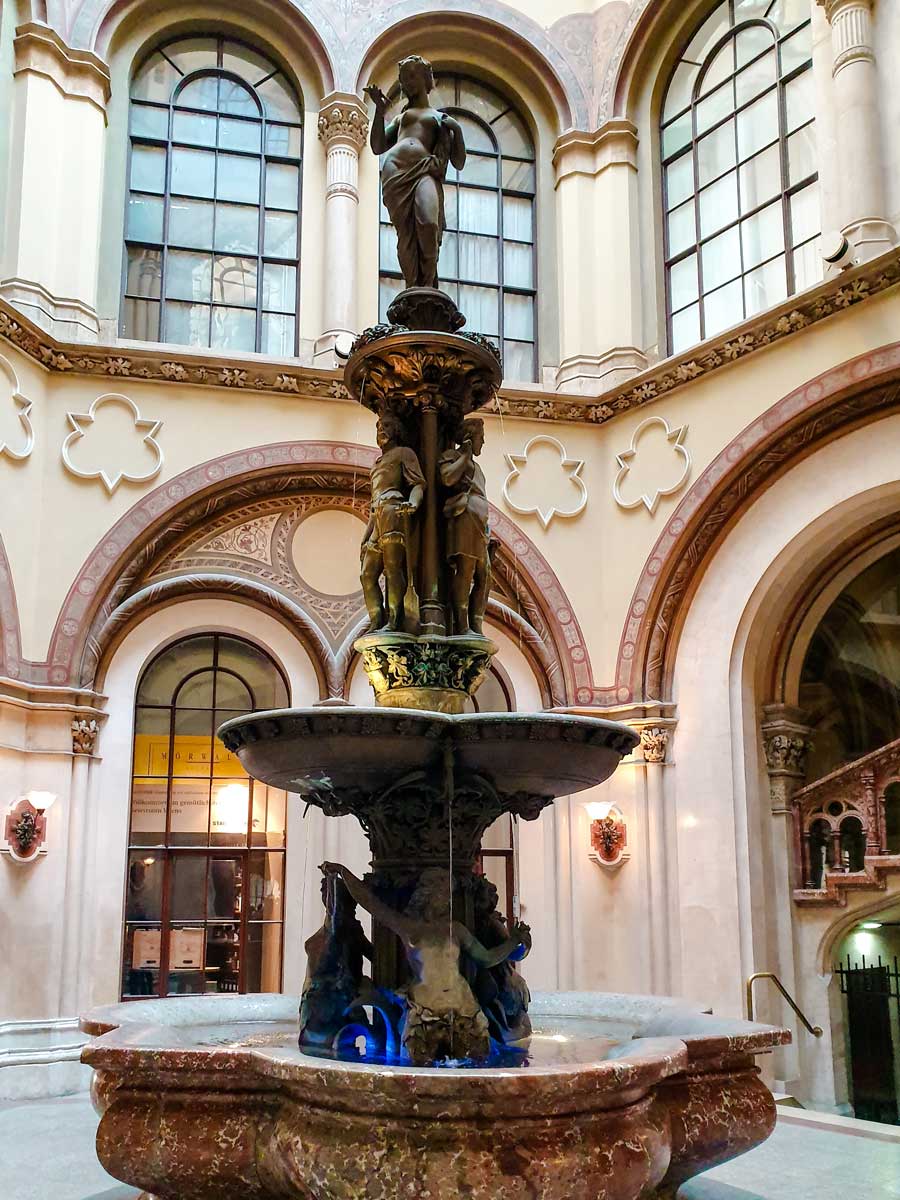 Ferstel Passage is a covered shopping arcade connecting Herrengasse and Freyung streets. The passage is built into the Palais Ferstel, which is named after the architect who designed it.
Despite the fact that the palace was originally built for a bank, it is now most famous for its ground cafe, named Cafe Central, which offers the visitor a glimpse of the magnificent interior of the building.
Tip: Due to its popularity, you really should make a reservation beforehand if you want to pay a visit to Cafe Central.
How to get here:
by subway: the Herrengasse station on the U3 line is very close to Palais Ferstel
by bus: both 1A and 2A lines stop at Herrengasse
To see the Ferstel Passage, wander up to Herrengasse 14, where you'll find one end of the passage.
14. Schonbrunn Park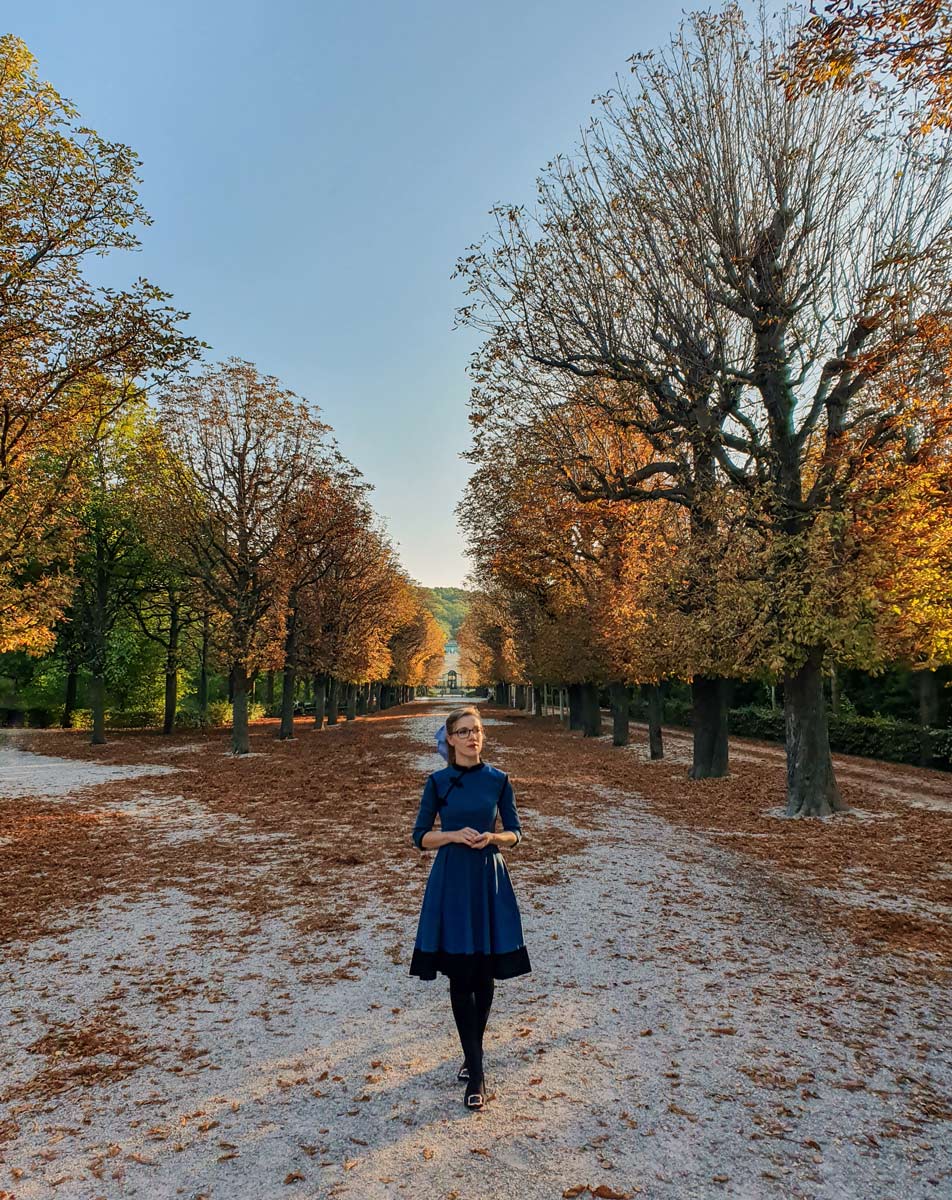 Schonbrunn Park itself is another Insta-worthy place in Vienna where you can take lots of beautiful photos. The grounds are literary huge, so even on a crowded day, you'll still be able to find a spot to have only for yourself.
On top of that, exploring the gardens of the palace won't cost you anything, as it's one of the free things to do in Vienna.
How to get here: same as for Schonbrunn Palace.
15. Peterskirche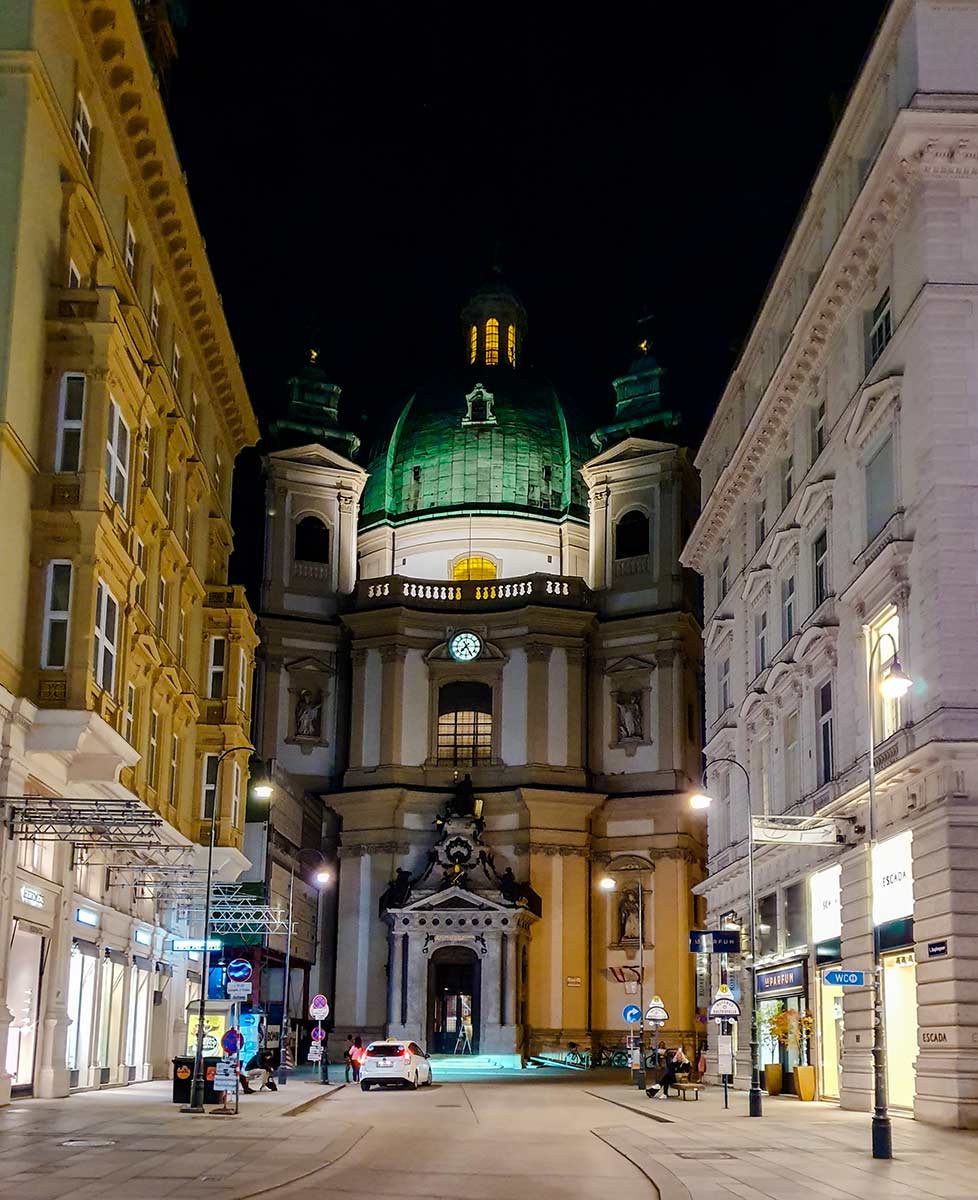 St. Peter's Church (Peterskirche) is a Baroque Roman Catholic church tucked a few meters away from busy Graben, in the middle of Petersplatz square.
Tip: The best angle for photographing Peterskirche is from Graben, with the church being framed by the two adjoining buildings.
How to get here:
by subway: take the U1/U3 to Stephansplatz and then walk up the Graben
by bus: take lines 1A or 2A to Graben/Petersplatz
Instagram spots Vienna FAQs
What is the most Instagrammable town in Austria?
Is Vienna more beautiful than Budapest?
While the answer to this question is highly subjective and I do like both cities, in my opinion, Budapest is actually more beautiful simply because of how well it capitalized on the Danube River and how pretty it's illuminated at night.
Vienna Instagram spots: Wrap up
The capital of Austria is a city that is both historically and architecturally rich. There are many different places to visit and things to see, all of which make for beautiful photo spots.
So if you're looking for some inspiration for your next trip, be sure to check out these Vienna photo spots.
Happy travels~
---
YOU MIGHT ALSO LIKE