If you are searching for a new destination to visit in Europe, you should definitely consider Malta. This tiny Mediterranean island is often overlooked in favor of more popular countries like Italy, Greece, or France, but it has a lot to offer.
Is Malta worth visiting?!
Yes, there is no doubt that Malta is a country worth visiting! In spite of its rather small size, the island has a lot to offer to any traveler, from interesting architecture to rich history and great culture. Whether you prefer hiking, seeing impressive architecture, or looking to relax on the beach and take a refreshing swim, there is something to do for everyone in Malta.
So read on for 13 reasons why I think this tiny Mediterranean country is definitely worth a trip!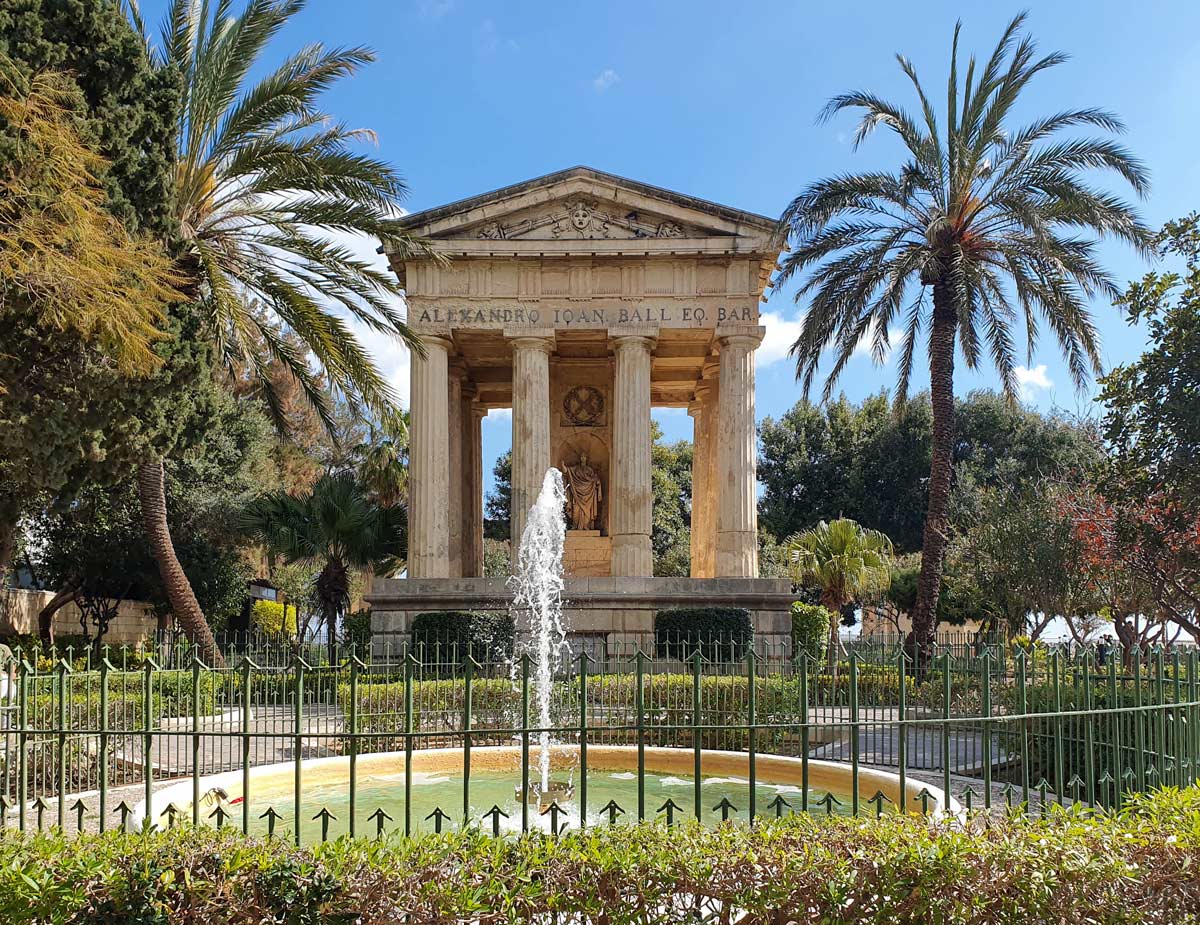 Disclosure: Some of the links in this post are affiliate links. If you click on them and make a purchase, I may receive a commission at no extra cost to you. Check my full disclaimer here.
01. Malta has a rich history
Malta has a long and rich history, with the first settlements going as far as the year 5900 BC. Here you'll also find some of the oldest constructions in the world, the Megalithic temples, a UNESCO Heritage Site dating from 3600 BC – 2500 BC.
During the centuries Malta was ruled by many civilizations among which were the Phoenicians, Romans, Greeks, Arabs, Normans, and even the Brits.
The Order of Knights of the Hospital of Saint John of Jerusalem (commonly referred to as Knights Hospitaller) also governed it between the 16th and the 18th centuries. It was during this period of time that the construction of the current capital, Valetta, began.
Not only that, but Hospitalier Malta was also regarded as a thriving era for arts, architecture, and society in general.
02. Malta is a great early spring destination
Given the fact that it's a Mediterranean island, Malta has in general warmer weather than most other countries in Europe. Therefore it can be a great choice for a trip in early spring.
The average temperature in Malta during the month of March reaches around 17 degrees Celsius (62 F), while in April it's already around 20 degrees Celsius (68 F).
I visited Malta in early March for my birthday and the weather was very pleasant, albeit a bit windy.
03. Interesting mix of cultures
Given its location (between Northern Africa and Sicily, Italy's southern point) and the many civilizations that ruled over the island, it is only natural that visitors will find here an interesting mix of cultures.
Despite the fact that there are basically no surviving buildings from the time Arabs ruled over Malta, they still left a notable influence on Maltese folk architecture. For example, Victoria, Gozo's capital city, looked very Middle Eastern to me.
However, Malta has also great examples of the Baroque (introduced during the rule of the Order of St. John), Neoclassical or Neo-Renessance architectural styles, just to name a few.
Not only that, but the Maltese language is a Semitic language (the only one in the European Union) which evolved from a dialect of Arabic and was heavily influenced by Sicilian. It is the only Arabic-derived language that it's written in the Latin alphabet.
So if it sounds like a mix between Italian and Arab to you, then that's the reason why.
04. English is an official language in Malta
During the island's British administration, English became one of the two official languages in Malta (the other being of course the Maltese language). Italian is also widely spoken on the island.
Therefore, when traveling to Malta you don't have to worry about any potential mishaps due to the fact that you don't know the local language.
05. Valletta
Valletta is the capital city of Malta and despite its small size, it's known for its captivating history and incredible architecture.
While in Valletta, you shouldn't miss seeing the firing of the cannons which takes place every day, at noon on the Saluting Battery, as well as visiting the Upper and Lower Barrakka Gardens and St. John's Co-Cathedral.
06. The 3 cities
The three cities are located just across the water from Valletta and they are called Vittoriosa (or Birgu – which was my favorite), Senglea (Isla), and Cospicua (Bormla).
The easiest way to travel to visit them is by taking a boat trip or the ferry across the bay. To reach the waterfront I recommend you take the Barrakka Lift down, as it will save you time and effort. The lift costs 1 EUR/ride and you can find it inside the Upper Barrakka Gardens.
07. It's a great choice for city breaks
Since Malta is so compact, it's a great destination for short trips like a city break.
I spent 4 days in the country and it was the perfect amount of time to see the sights that were on my "to-visit" list (I didn't spend any time at the beach though, since I visited in March).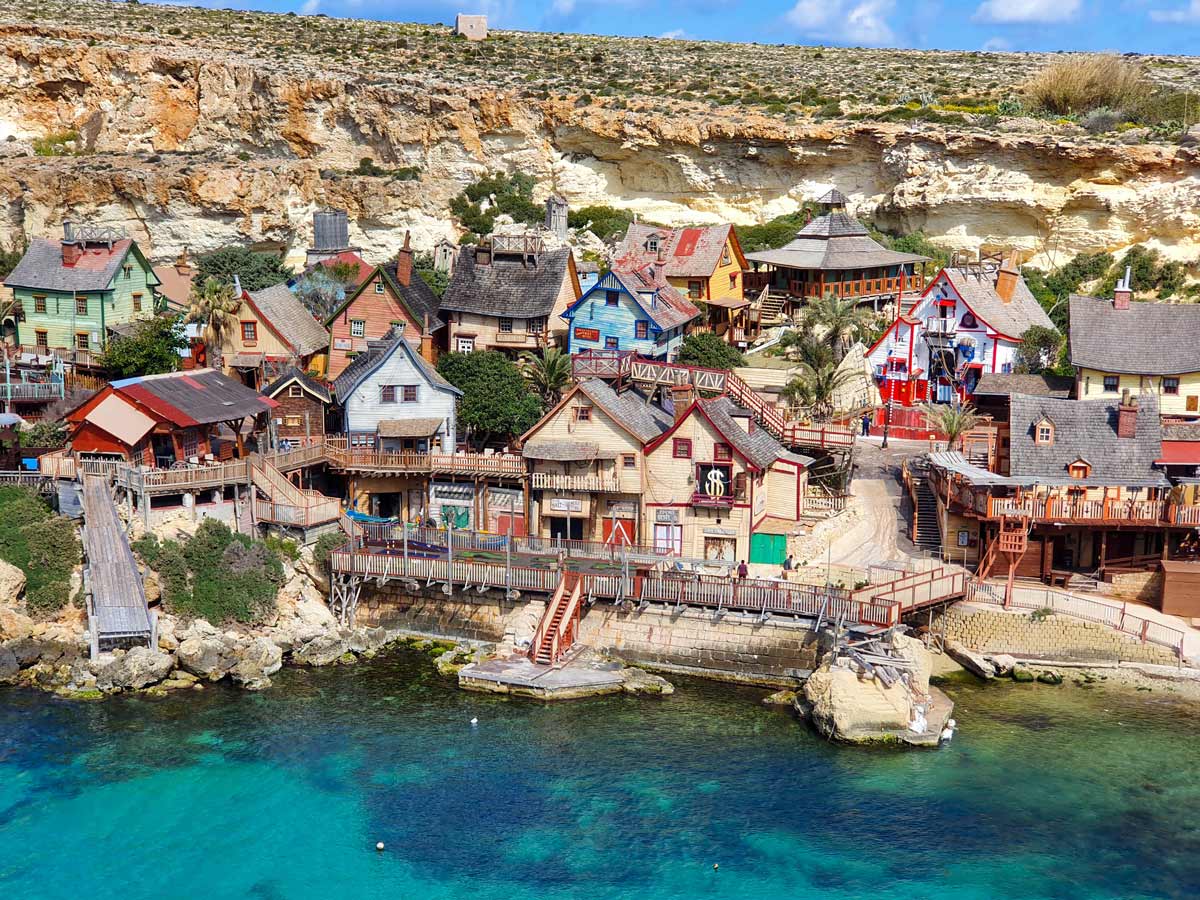 08. Popeye's village
Popeye's Village was initially built for the 1980 musical "Popeye", starring Robin Williams as the spinach-loving sailor. Now, the film set has been transformed into a tourist attraction that's entertaining for both children and adults.
You can enter some of the houses, take numerous pictures and participate in different activities. You can get tickets both online and on-site. If you don't want to be bothered with getting there, you can also book an entry ticket with private transfers from/to your hotel.
Also, remember to walk to the Popeye Village Viewpoint located nearby, for a wonderful view of the bay and the village. Be careful not to get too close to the edge as it's dangerous (the rock can collapse!).
09. It's easy to get around without a car
Not everyone likes to rent a car when traveling because let's face it, despite the obvious advantage, driving in a foreign place can be quite stressful. In Malta's case, this is even more true as it's one of the countries where people drive on the left side.
But the good news is that the bus network in Malta is pretty extensive and you can reach most attractions by using public transportation. I actually wrote an entire 4-Day Malta itinerary that doesn't need a car.
Do be aware that you need to flag down the buses, otherwise they might not stop. We learned this the hard way. Also, the buses tend to be late sometimes.
10. Gozo
Second in size after the island of Malta itself, Gozo is not only a favored destination for day-trippers but also a perfect place for people looking for natural beauty. Here, you'll find great beaches and hiking trails, but also interesting sights like Ta'Pinu Basilica, Marsalforn salt pans, or Ggantija megalithic temple complex.
If you decide to visit Gozo by public transportation as a day trip, I recommend you take the Gozo Hop on Hop off Sightseeing bus in order to see as much of the island as possible in a short timeframe.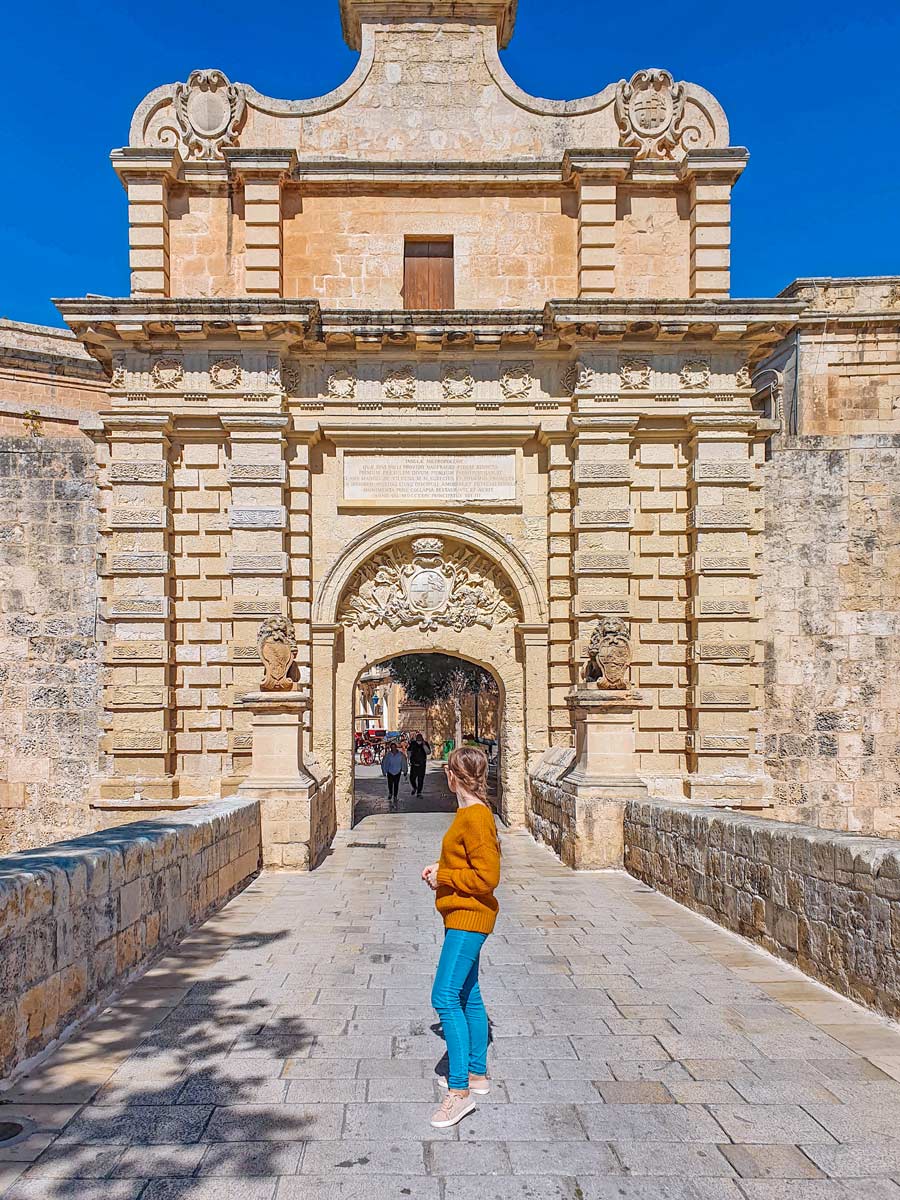 11. Medina
Mdina is Malta's former capital and is located in the center of the island, on higher ground. So make sure you admire the view from the Panoramic Malta Viewpoint.
The architecture of Mdina is also really beautiful, so spend some time walking around the old town.
12. Game of Thrones filming spot
Game of Thrones fans have an extra reason to want to visit Malta as some of the scenes of the popular series were shot on the island.
Some of the most popular filming locations include Pjazza Mesquita and the Main Gate in Medina, St Dominic's Priory in Rabat, Fort St. Angelo, Fort Ricasoli, and Fort Manoel, as well as the Azure Window, which sadly collapsed in 2017.
13. Beaches, natural pools and lagoons
Apart from sightseeing, Malta is also a popular beach destination. While much of its coast is rocky, the country also has some sandy beaches like Ramla Bay, Ghajn Tuffieha, or Għadira Bay.
On top of that, you'll find here natural pools and lagoons like St. Peter's Pool near Marsaxlokk village and the beautiful Blue Lagoon on Comino island.
---
Hopefully, I have given you enough reasons to consider Malta as your next vacation destination. And if this is the case, make sure you also check out my other posts about Malta.
Happy travels~