If you are planning a trip to Italy anytime soon, then you may have wondered: "Is Milan worth visiting?".
As someone who constantly finds herself returning to Italy, I'm here to help you decide if you should add a stop to the country's fashion capital on your next vacation to Italy, as well as list all the pros and cons of visiting Milan.
Disclosure: Some of the links in this post are affiliate links. If you click on them and make a purchase, I may receive a commission at no extra cost to you. Check my full disclaimer here.
Is Milan Italy worth visiting? (Quick answer)
Milan is totally worth visiting for its impressive Duomo alone. Additionally, if you love to shop, then the city is definitely a good choice! Having said that, if you are looking for an iconic Italian destination, full of history, culture, and architecturally rich, then you're probably better off visiting Rome or Florence.
I actually wrote a detailed post on whether to visit Florence or Milan, so check that out if you are debating between the two.
I personally found Milan to be a bit lackluster in comparison with other famous cities in Italy and while the Doumo is hands down one of my favorite landmarks in Italy, the rest of the city didn't stand out as much to me.
So, in my opinion, you should visit Milan if you have the time and the opportunity, but don't overextend your visit: one day there can be enough to see the main attractions, especially if it's your first time in Italy.
On top of that, if you plan to return to Italy (and you really should since it's impossible to see even a fraction of this amazing country in only one trip), then you might find yourself ending up in Milan again.
The city is served by 3 airports (Malpensa, Linate, and Bergamo Orio al Serio), making it well-connected both internally and internationally. In addition, Milan Central Station is a very important railway junction in the northern part of Italy.
Not only that, but Milan is a good starting point for visiting the famous Lake Como or the more quiet Maggiore, riding the Bernina Express to St. Moritz, doing a short trip to Lugano (Switzerland), seeing Lake Garda and Verona, and even going to Portofino and Cinque Terre.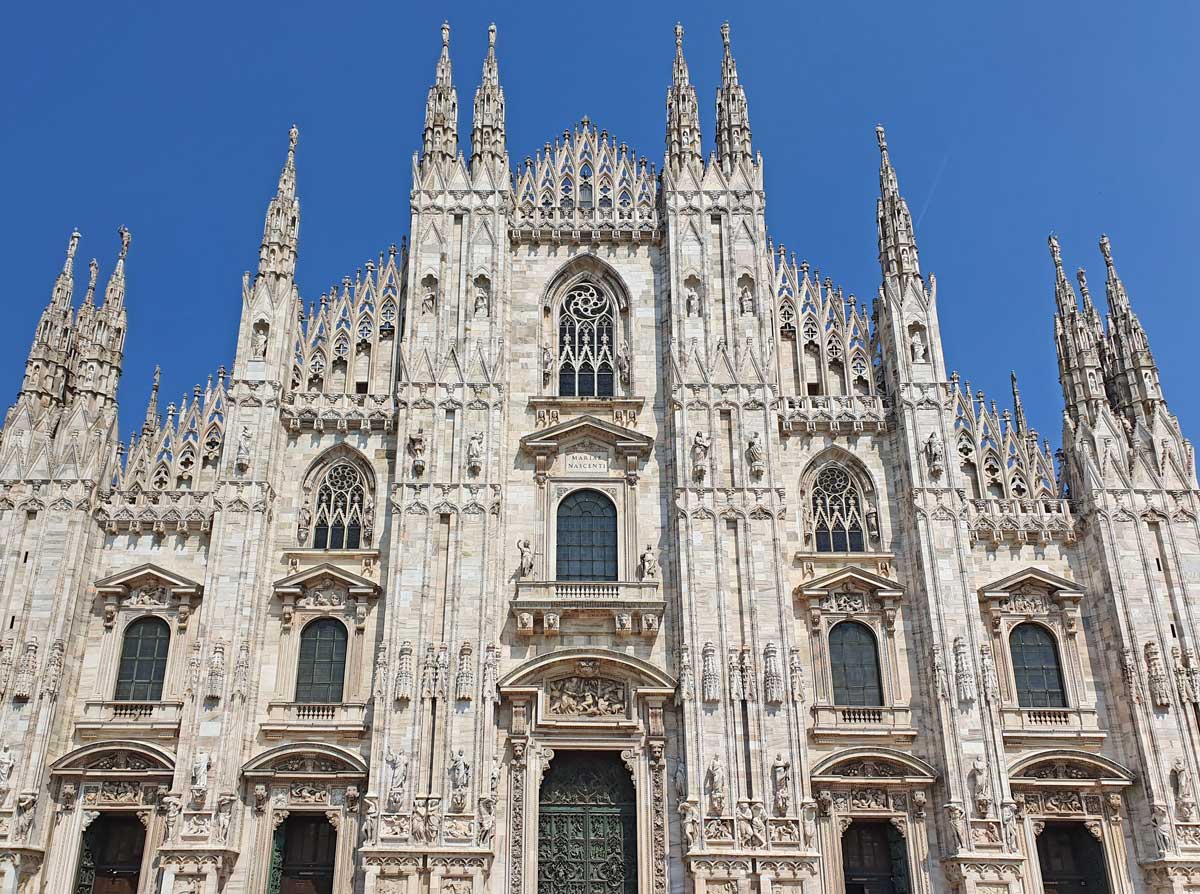 What is Milan known for?
Milan is mainly known for its impressive cathedral, often only referred to as the Doumo, the Vittorio Emanuele II shopping gallery, which is the oldest shopping gallery still active in Italy, and the Last Supper – the famous mural painting made by Leonardo Da Vinci.
Out of the three, the cathedral is definitely a must-visit in my opinion.
Reasons why you should visit Milan, Italy
01. Milan cathedral (the Duomo) is truly impressive
Ok, I may be a bit biased because Duomo di Milano was the first Italian landmark that I visited (yes, my first trip to Italy was actually a short city break to Milan, on a 15 EUR plane ticket), but if you only have a few hours in the city, my suggestion is to see the cathedral.
It is the largest in the country (if you don't take into consideration St. Peter's Basilica which is located in Vatican City anyway) and its construction took around six centuries to complete.
You can visit its vast interior, as well as climb up on the rooftop from where you enjoy the views of Milan and take a closer look at the intricate architectural details.
I do suggest buying your ticket online ahead of time (it also includes entry to the museum, the Church of St. Gottardo in Corte, and the archaeological area and it's valid for 72 hours), in order to avoid the often long lines outside the ticket booth.
To get to the rooftop you can choose between taking the stairs or the elevator. Both options have their pros and cons.
Stairs are cheaper, but it's not a very easy climb especially if there are people behind: you don't really have where to stop and catch your breath. Some people also might find them a bit claustrophobic.
The elevator not only costs extra money but there is often a waiting line for it (you can find it on the left side of the altar) so in some cases, taking the stairs might actually be a bit faster. Also, you can only take it up, to go back down you'll have to use another set of stairs.
I actually visited the Doumo twice and the first time I opted for the stairs, while the second time I went with the elevator. I have to admit, I definitely preferred the second option.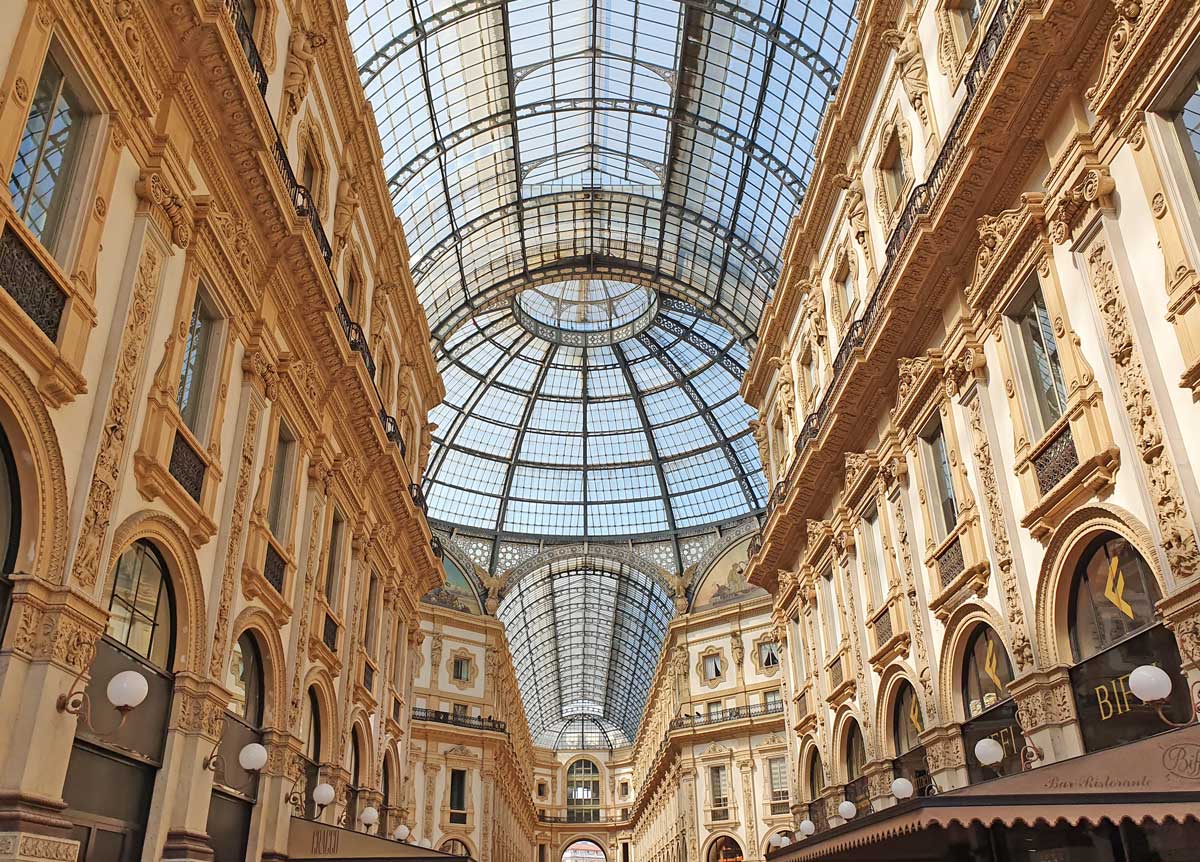 02. The Vittorio Emanuele gallery is worth admiring even if you aren't buying anything
The Vittorio Emanuele II shopping gallery is located in the heart of the city, right next to the Duomo, and it's worth a visit even if only to take a few pics and admire its beautiful architecture. It was built in the 19th century, so it's basically one of the oldest shopping malls in the world.
The main highlights of the gallery are the beautiful iron-and-glass rooftop and the intricate mosaic floors.
03. You want to see the Last Supper
The Last Supper is a famous mural by the equally famous Leonardo Da Vinci, which can be still found in its original place, on a wall of the dining hall of Santa Maria delle Grazie convent, in Milan.
The painting depicts the last meal shared by Jesus and the Twelve Apostles moments after He announces that one of them will betray Him. Da Vinci masterfully manages to portray a range of complex human emotions as the Apostles are shown receiving the news, making it one of his most applauded works.
Unfortunately due to the painter's experimental techniques, the surface itself, and the different conditions to which the mural was exposed, it started to deteriorate at a fast pace early on.
On top of that, several restoration attempts were rather unsuccessful and did more harm than good. They were ultimately reverted in an attempt to retain as much as possible of Da Vinci's original painting, but many argue that there's little left.
Despite the special conditions that the mural is now kept in, its state is still very fragile so visits are limited to small groups every 15 minutes.
For this reason, it's nearly impossible to find tickets only a few days ahead, so make sure you buy yours early on: You can get them online from here or you can opt for a skip-the-line, guided tour.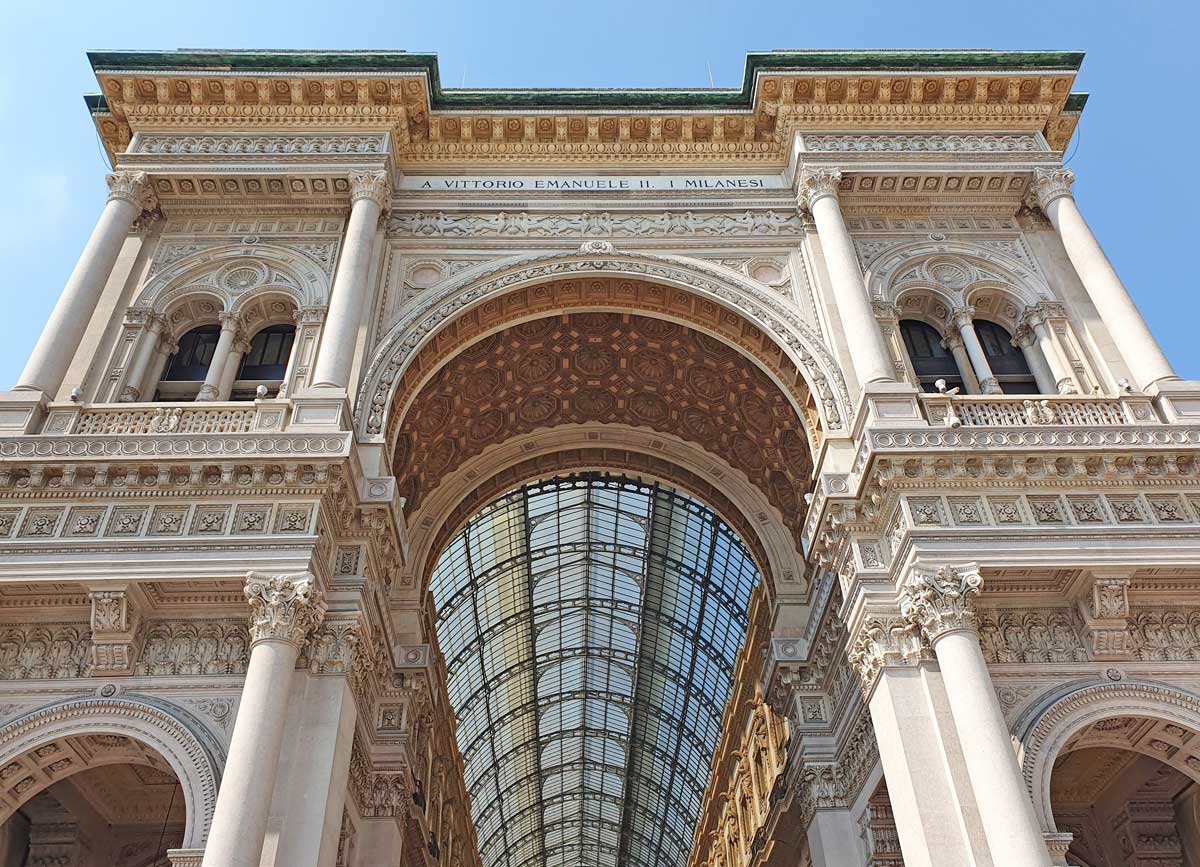 04. You love to shop
Milan is renowned for its fashion and shopping scene and has numerous high-end designer brands and luxury stores. Here are some great locations for shopping in Milan:
Quadrilatero d'Oro or Golden Rectangle: It is an area just north of the Duomo, where you can find many high-end designer stores, including Gucci, Prada, and Chanel.
Galleria Vittorio Emanuele II: The beautiful and historic shopping gallery is home to several luxury stores, including Louis Vuitton, Prada, or Armani, as well as many cafes and restaurants.
Brera District: This chic neighborhood is known for having boutiques and ateliers of new designers, but you can also find vintage pieces here.
TIP: In order to save some money, you can shop at outlets or visit during one of the sale periods.
Sales in Milan generally happen twice a year, in winter (from January until mid-February) and summer (from July to mid-August). During this time, many stores offer huge discounts, however, it comes at the cost of fighting the crowds and having to wait in line.
05. You want to see a performance at the famous Teatro alla Scala
Teatro alla Scala, usually simply referred to as La Scala, is viewed as one of the most important opera houses in the world. Located in Milan's city center, right behind the Galleria Vittorio Emanuele II, La Scala has a rich history that goes back to the 18th century.
Even if seeing a performance in La Scala is out of your budget or you simply can't find tickets, you can still see the opulent interior of the theatre by booking a guided tour.
06. You can visit a medieval castle
Sforzesco Castle is a medieval fortress from the 15th century, located in the heart of Milan, which now houses several different museums that exhibit various objects ranging from works of art to archeological artifacts.
If you aren't interested in what the museums have to offer, you can still explore the castle's inner courtyard, which can be visited without buying a ticket.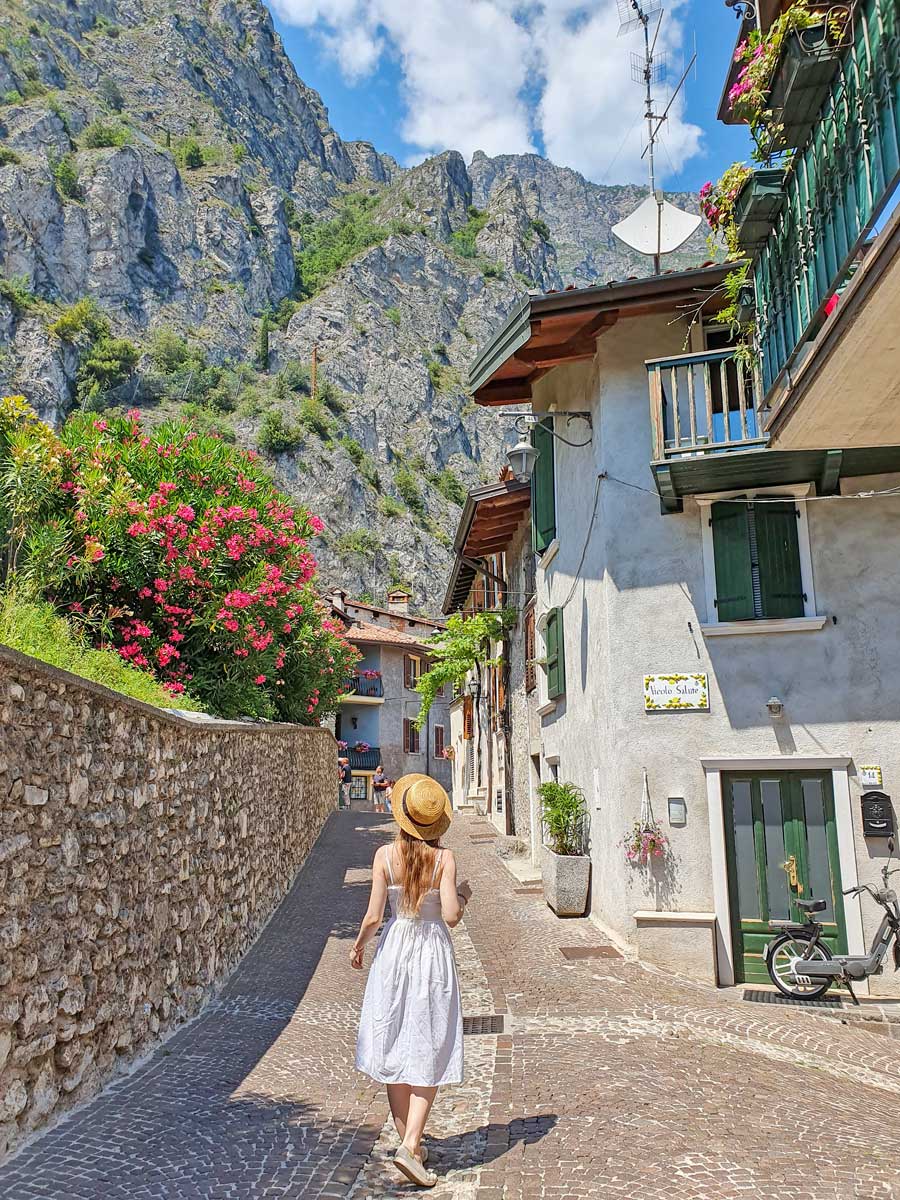 07. It's a good base for trips to other popular Italian destinations
Milan is located very close to Lake Como and for this reason, a day trip to the famous lake is a popular choice for many visiting the city. Other great options are:
Lugano, Switzerland: You can get there by train or bus (Flixbus). Personally, I used the bus on my way there as it was cheaper and returned by train.
St. Moritz, Switzerland: The highlight of this trip is actually riding the scenic Bernina Express from Tirano to St. Moritz.
Lake Maggiore: You can get to Arona by train in a bit over one hour.
Lake Garda: You can travel to Sirmione by train and bus in less than 2 hours (depending on traffic conditions). However, I would suggest spending one or two nights there as well, in order to be able to visit some of the other towns in the Lake Garda area (like Riva, Malcesine or Limone).
You can also use Milan as a starting point for a visit to the colorful Cinque Terre villages. For one of my past trips to Italy, I actually planned a big itinerary that started and ended in Milan which included:
4 nights at Lake Como, split equally between Varenna and Como: I visited Varenna, Bellagio, and Como, plus did the Bernina Express ride to St. Moritz and a day trip to Lugano
2 nights in Manarola: I visited all the Cinque Terre villages and Portovenere
2 nights in Rapallo: I visited Portofino and Camogli
Reasons why you might opt out of visiting Milan, Italy
01. There aren't many attractions to keep you busy
If you are a fast-paced traveler, you'll quickly realize that it will not take you long to see the most important sights, especially if you are not into shopping. This is the reason why I recommend you to only set aside one or two days for visiting Milan.
02. It has a bit of an industrial look
I have to be frank, Milan just isn't as pretty as other Italian cities: it doesn't have Verona's charm, Rome's rich history, or Florence's architecture (speaking of which, you should check out these photogenic spots in Florence).
Don't get me wrong: it's not ugly either and I definitely didn't hate it. Just that there are better options out there (Italy really spoiled me with too many amazing places).
I would also mention that the city had a strong industrial past and it kind of shows.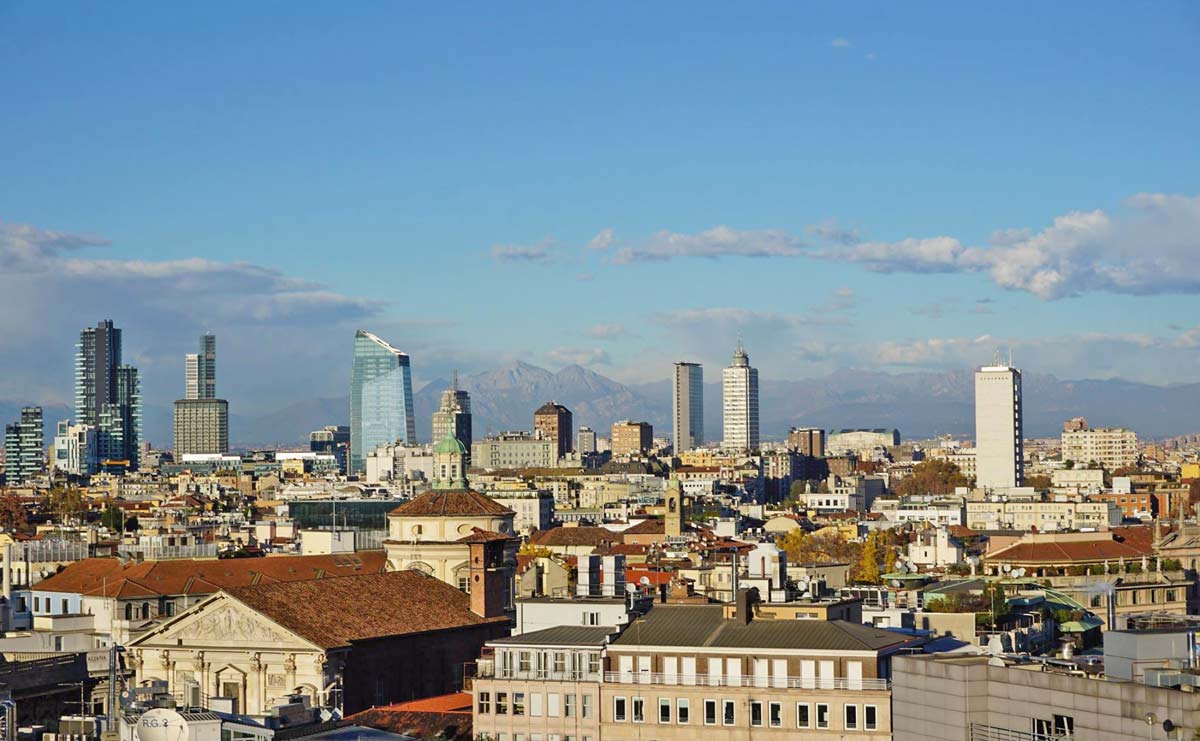 03. You really need to plan in advance to see The Last Supper
As I already mentioned, the Last Supper is in a precarious state and in order to be better protected, only small groups of people are allowed to see it for around 15 minutes at a time.
This means that you need to plan your visit way in advance because tickets tend to sell out fast. Fail to do so, and more often than not, you won't be able to see it, as it's extremely rare to find tickets too close to the current calendar date (buy tickets from here or opt for a skip-the-line, guided tour).
Is Milan worth it: FAQs

Is Milan Duomo worth visiting?
Absolutely. As one of the largest Gothic cathedrals in the world, the Milan Duomo is an architectural masterpiece. The detailed carvings, the magnificent stained glass windows, and the impressive spires all contribute to its grandeur.
How many days should you spend in Milan?
One or two days in Milan should suffice to see the main attractions of the city.
Is Milan worth visiting: Wrap up
I hope this blog post helped you make a decision on whether to visit Milan or not. But either way, I recommend you to check out my other ITALY articles as well, for more travel tips and inspiration.
Also, don't forget to learn a few expressions in Italian before your trip. They can be useful!
Happy travels~
---
YOU MIGHT ALSO LIKE