Most people will probably agree with me when I say that Italy is an amazing place to visit, with a variety of attractions for every traveler. In fact, it's my favorite country in the world and I've visited it for up to 8 times to date.
It has beautiful architecture, historic sites, lovely beaches, and scenic countryside. But if you're on the hunt for some out-of-the-ordinary locations to visit, there are certain places that stand out above the rest.
In this post, we'll explore some of the most unique places in Italy, so keep reading to find out about what's special about them.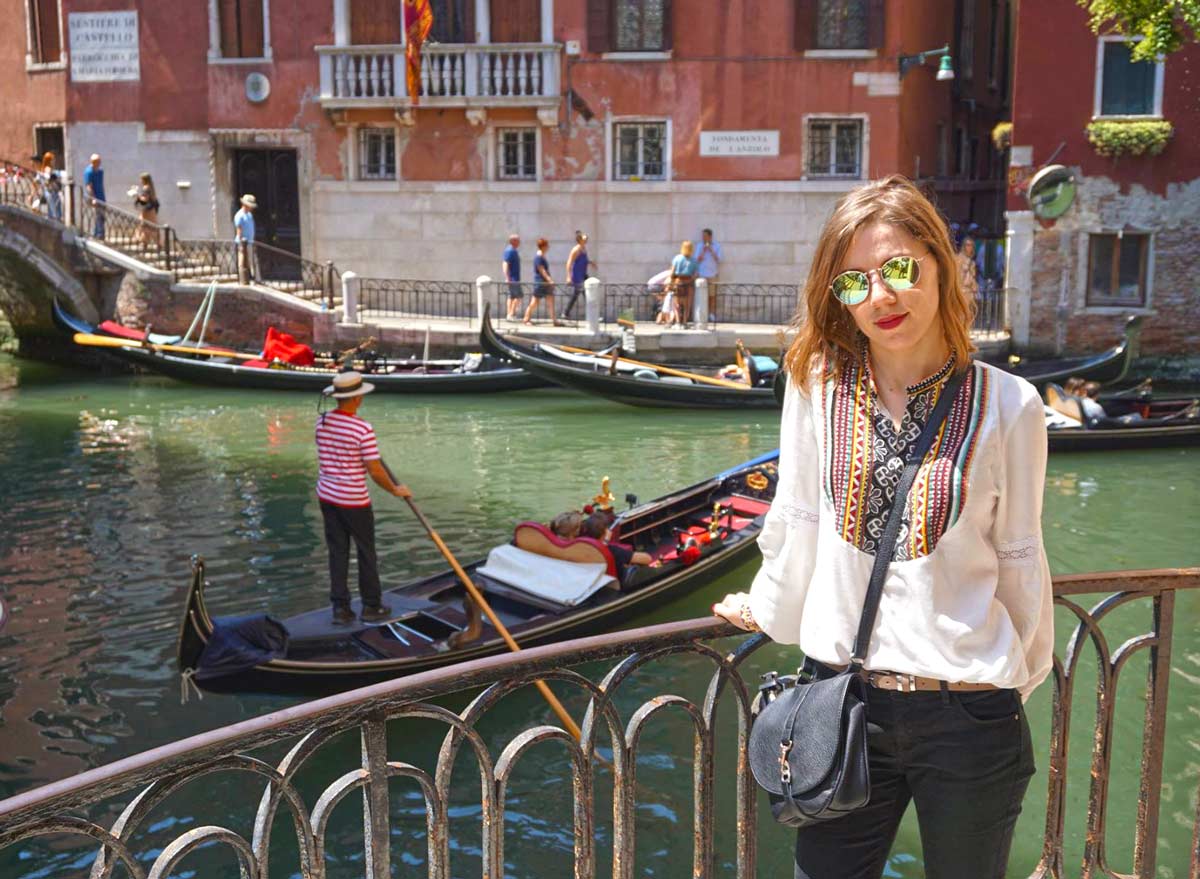 01. Venice: The city without roads
Famous all over the world for its picturesque canals and beautiful architecture, Venice is hands down one of the most visited destinations in Italy. So while the city is not a hidden gem by any means, it's still a truly unique destination and I couldn't leave off this list.
Venice is built on a group of small islands in a lagoon of the Adriatic sea and this gives it a very distinctive character and appearance: instead of roads, the city makes use of an intricate network of canals for transportation.
The city is also known for its annual Carnival celebration (Carnevale di Venezia), which attracts visitors from around the world, eager to see the elaborate costumes and masks worn by participants.
So while often crowded, Venice is absolutely worth a visit while you're in Italy. And I also advise you to take the vaporetto to tiny Burano, where you'll find brightly colored houses and artisan lace shops.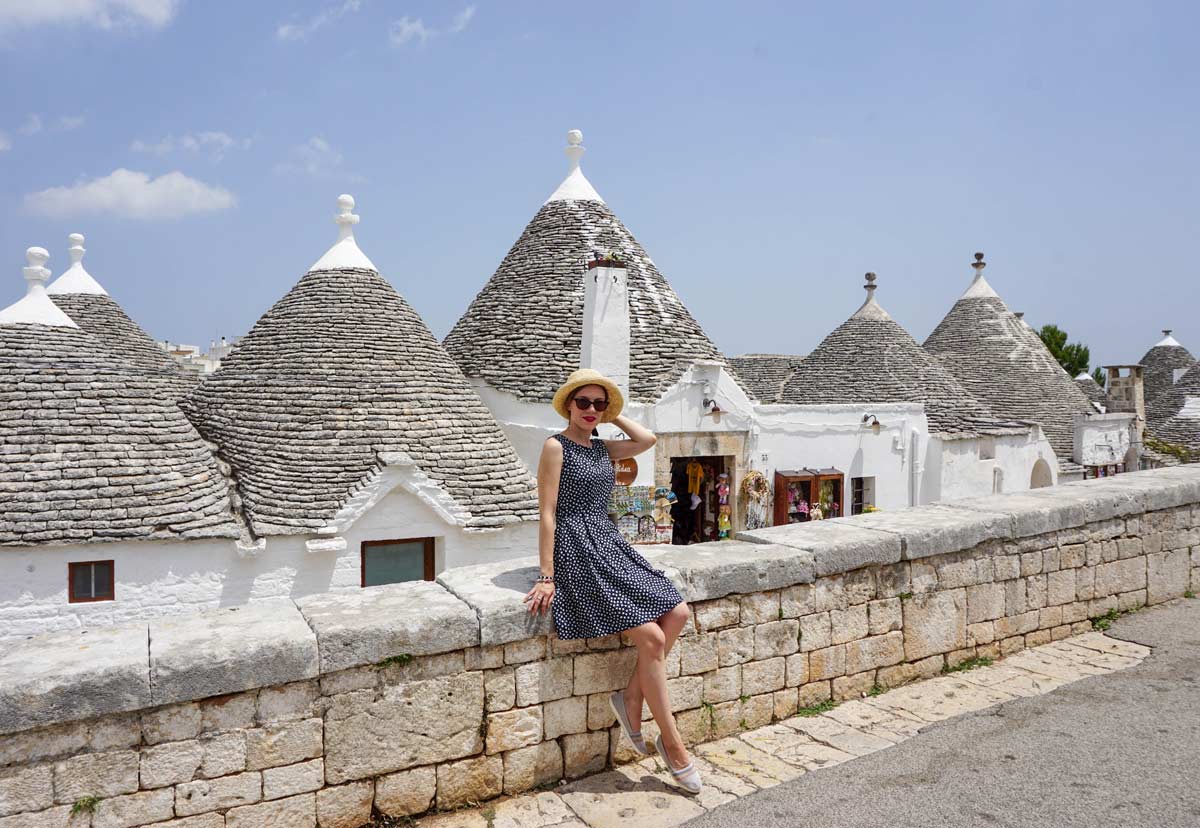 02. Trulli of Alberobello
If you are wondering what exactly are trulli, well the answer is quite simple: they're houses. But what makes them special is the fact that they are built without the use of mortar, which is a prehistoric building technique that's still being used in Puglia, southern Italy.
The dwellings also have a very distinctive conical shape and they're painted white with grey rooftops, that sometimes have symbols on them.
According to a popular theory, the construction of the trulli didn't involve mortar because of the high property taxation practiced in the past in the region. As a workaround, the people living in Puglia would build dry stone wall homes in order to be able to dismantle them easily when tax inspectors came.
But no matter the reason behind their construction, these cone-shaped houses have a truly unique look and will make you feel like you stepped into a fairy tale.
For more details about these intriguing homes as well as how to visit them, you can read my post on the best things to do in Alberobello.
03. The Sassi of Matera
A few decades ago Matera was widely viewed as "The shame of Italy", but things took a turn of 180 degrees when its Sassi (cave dwellings carved into the river canyon) were renovated and the city has simply been reborn from its ashes since then.
Located in the Basilicata region of southern Italy, Matera has a long history with evidence of human habitation dating back to the Paleolithic. Nowadays, however, it's rapidly gaining fame as a tourist spot, drawing people from all over to visit its Sassi.
An interesting trivia is that several movies were also filmed here, including The Passion of the Christ, Wonder Woman, or Bond's No Time To Die.
PRO TIP: You can base yourself in Bari and take day trips by train to Alberobello, Matera or Polignano a Mar.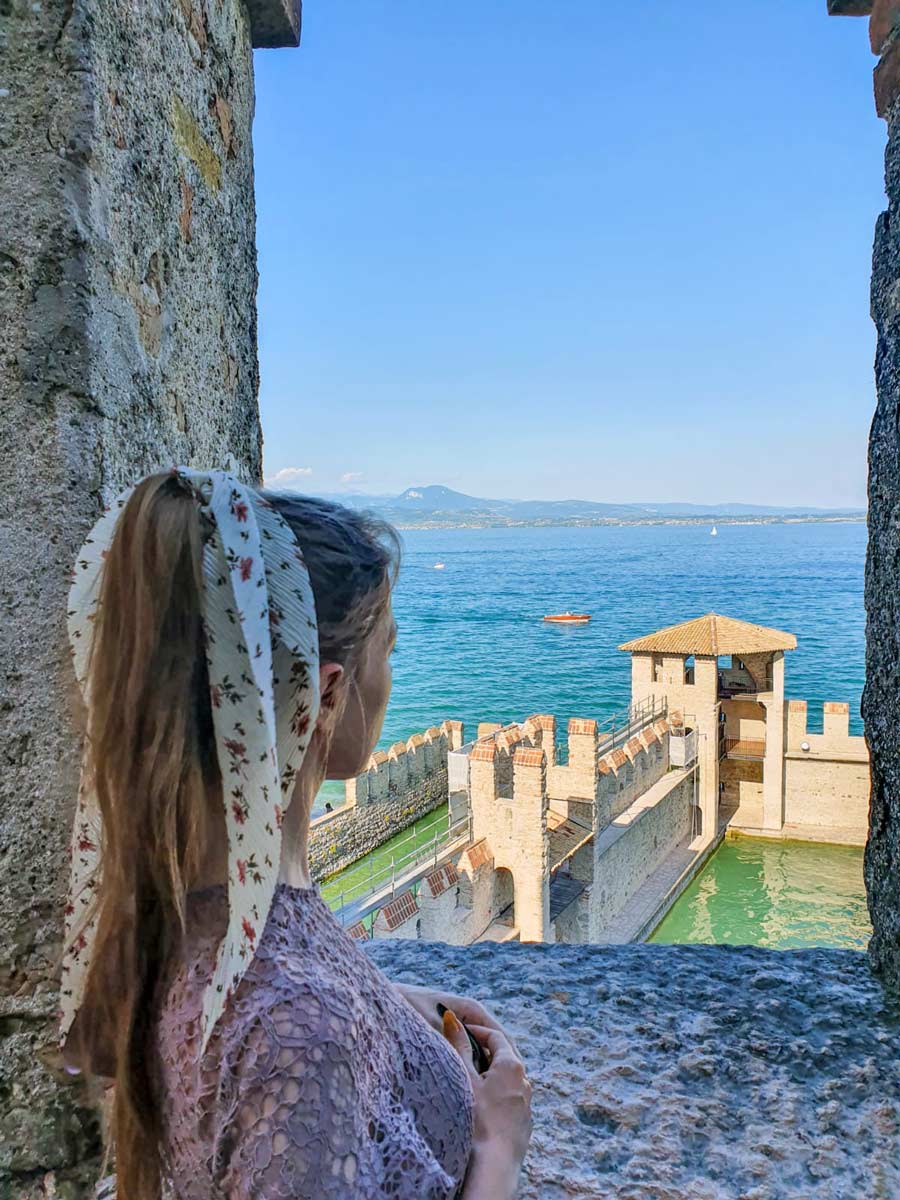 04. The Sinking Castle of Sirmione
The Sinking Castle (actual name: Scaligero Castle) is the most iconic landmark on Lake Garda and one of the best things to do in Sirmione. A rare example of lake fortifications, Scaligero is one of the most well-preserved medieval castles in Italy.
You can visit it for 6 euros which will allow you to admire its water fortifications, the peninsula on which Sirmione is located and Lake Garda itself from its towers.
You can also do a boat tour to see it from the water, but honestly having a drone will help you take the most amazing photos of the castle in all its uniqueness.
Make sure you read my post on how to get to Sirmione before your visit, since from personal experience, things are not that straightforward in the area.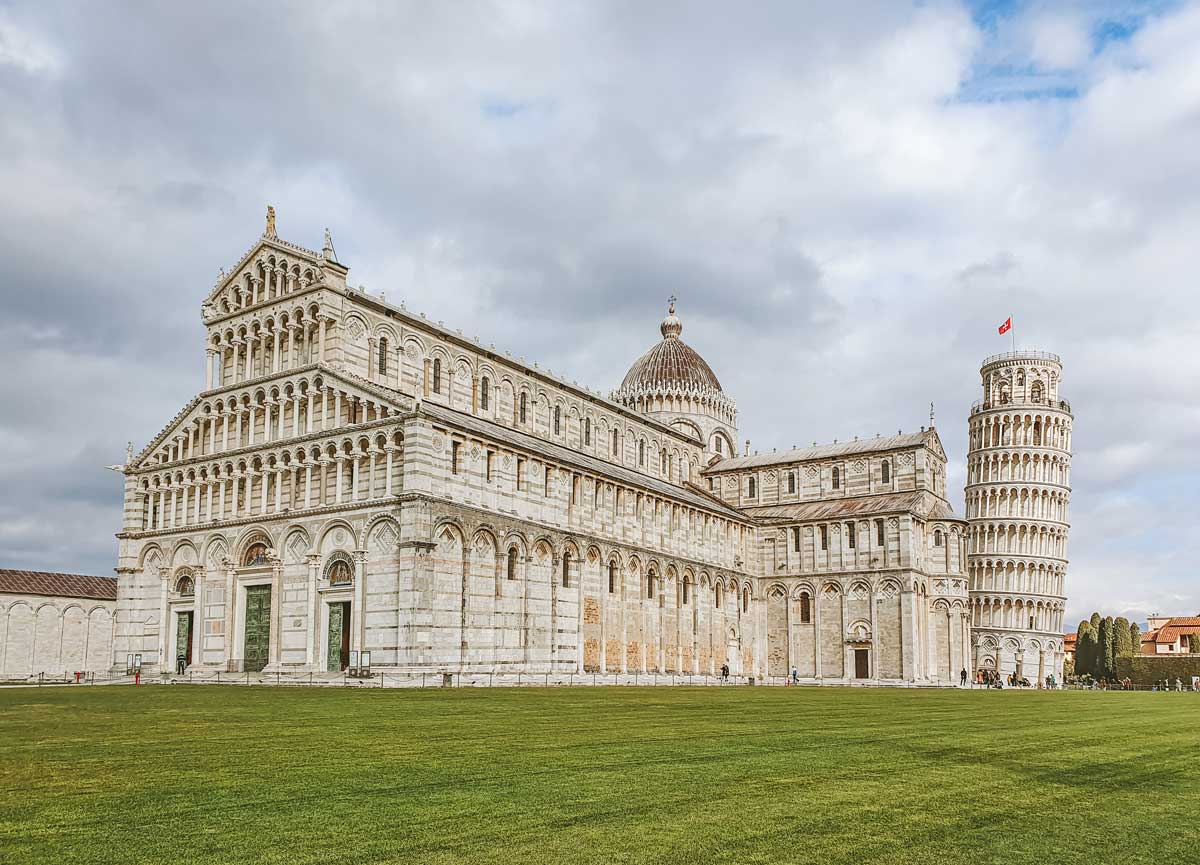 05. The Leaning Tower of Pisa
The Leaning Tower of Pisa is equally unique as it's famous. The free-standing bell tower of the Duomo of Santa Maria Assunta received this nickname because of its unstable foundation, which caused it to lean visibly even before construction has finished.
Along the years, the tower suffered several renovation works in an attempt to stop and even reduce its tilt. It can now be visited, though the most popular activity among tourists is to take perspective photos that show them supporting the tower.
TIP: The Leaning Tower of Pisa and the whole cathedral complex are easy to visit as a day trip from Florence if you have extra time in Tuscany's capital city.
However, if you want to climb to the top, my suggestion is to buy your ticket for the tower ahead of time because there's a fixed number of slots each day.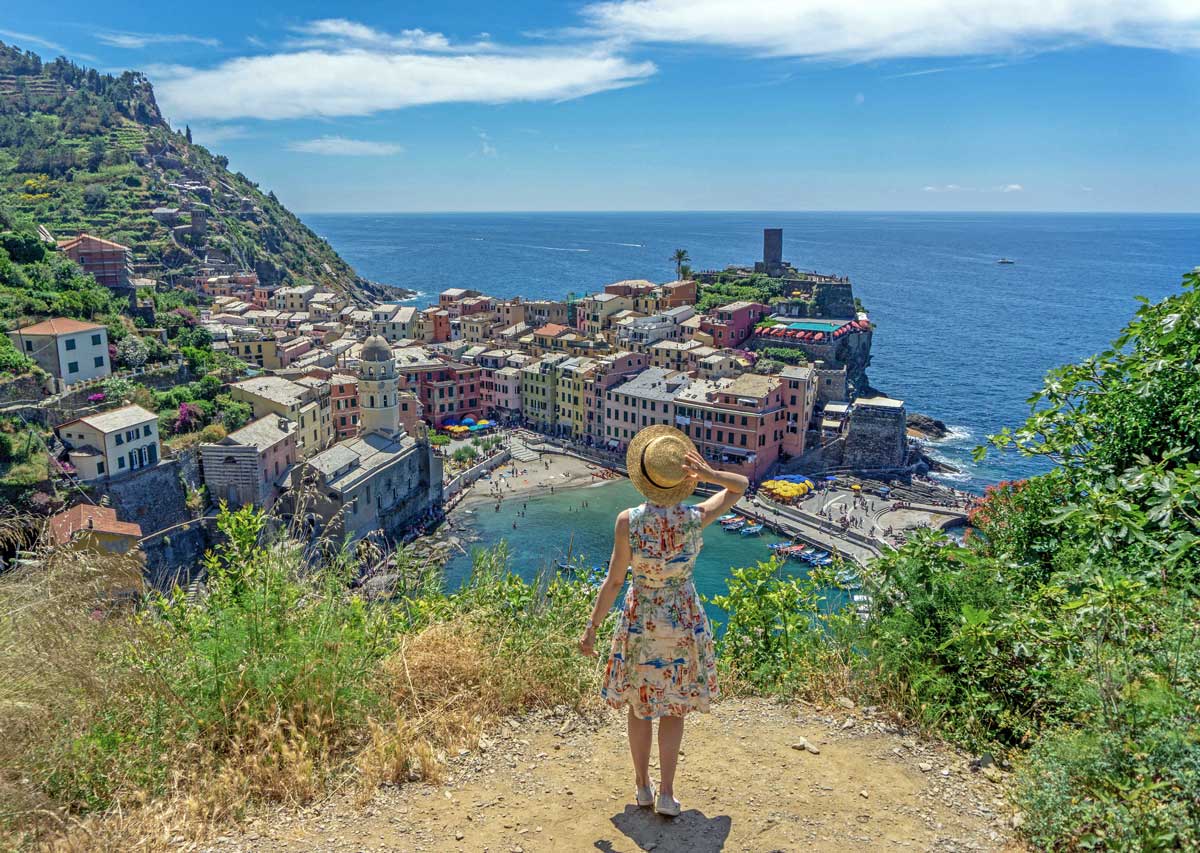 06. The colorful villages of Cinque Terre
Another location, that barely needs an introduction, Cinque Terre is a group of five colorful coastal villages in the Liguria region, along the Italian Riviera.
Named Riomaggiore, Manarola, Corniglia, Vernazza, and Monterosso al Mare, they attract a lot of visitors due to their colorful and picturesque look. While many people visit all of them in a day, I'd recommend to spend at least a night in one of the villages.
The easiest and fastest way to travel between them is by rail: there are numerous trains every day so waiting times are quite short.
However, if you're feeling a bit adventurous, the villages are also connected by hiking trails, which offer great views of the coastline and the surrounding hills.
The most popular path is the one between Monterosso and Vernazza, but in order to access it, you need to buy the Cinque Terre hiking card.
07. St. Peter's Basilica, the largest church in the world
Technically speaking, St. Peter's Basilica is located in the Vatican, an independent city-state within Rome, but I think I can get a pass with this one.
Listed as the largest church in the world, the impressive basilica is considered one of the most important and holiest shrines in the Catholic Church and is renowned for its beautiful architecture and artwork.
Built on the site where Saint Peter, one of Jesus' apostles, was buried, St. Peter's features a large dome which is one of the most recognizable features of Rome's skyline.
The interior is embellished with magnificent works of art, including Michelangelo's well-known sculpture, the Pieta, and Bernini's ornate baldachin over the altar.
It is free to enter the basilica, but you'll need a ticket if you wish to climb the dome.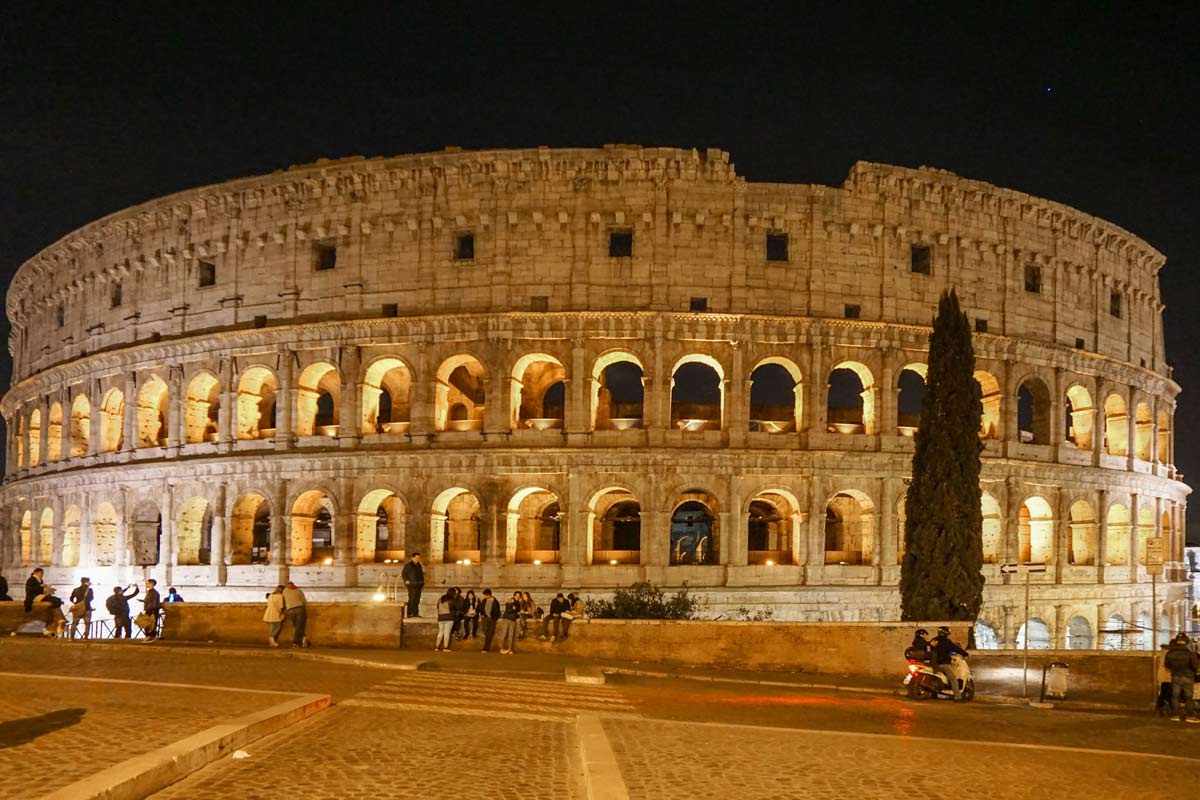 08. The Colosseum – one of the 7 wonders of the modern world
The Colosseum (or the Flavian Amphitheatre) in Rome is the only wonder of the modern world located in Europe.
It is an elliptical structure built from limestone, lighter bricks and concrete, which was used for gladiator fights and public spectacles (dramas, exhibitions of exotic animals, executions of prisoners, recreations of battles, etc) in ancient Rome. It could hold more than 50.000 people at its maximum capacity.
However, the Colosseum's bloodshed days are well behind it and nowadays it is one of the most visited landmarks in the world.
TIP: Make sure you pass by it in the evening as well because it looks even better when illuminated (as in my photo above).
09. Pompeii: An ancient city preserved in ash
Pompeii is an ancient Roman city that was frozen in time when the nearby Mount Vesuvius erupted with catastrophic effects in AD 79, covering it in volcanic ash and pumice.
Because of this tragic event, the city was mostly preserved and the modern world got to see a glimpse of how life during the Roman Empire used to look.
The ruins of Pompeii include well-preserved buildings, streets, and public spaces which offer insights into the city's architecture, art, and culture. Visitors can also see plaster casts of the eruption's victims, which provide a haunting reminder of the tragedy that struck the city.
10. Cascate del Mulino
Cascate del Mulino is a natural hot spring located in the Tuscan countryside, near the town of Saturnia. Over time, the spring carved a series of natural pools out of the rock around, giving the whole place a very distinctive appearance.
The water comes from a natural source and is rich in minerals (particularly sulfur) and has a constant temperature of around 37°C (98°F), making it an ideal place for relaxation and therapeutic treatments.
Cascate del Mulino is free to visit and anyone can bathe in its warm waters. It belongs to Terme di Saturnia, a region with several hot springs which are believed to have been used since ancient Roman times for their healing properties.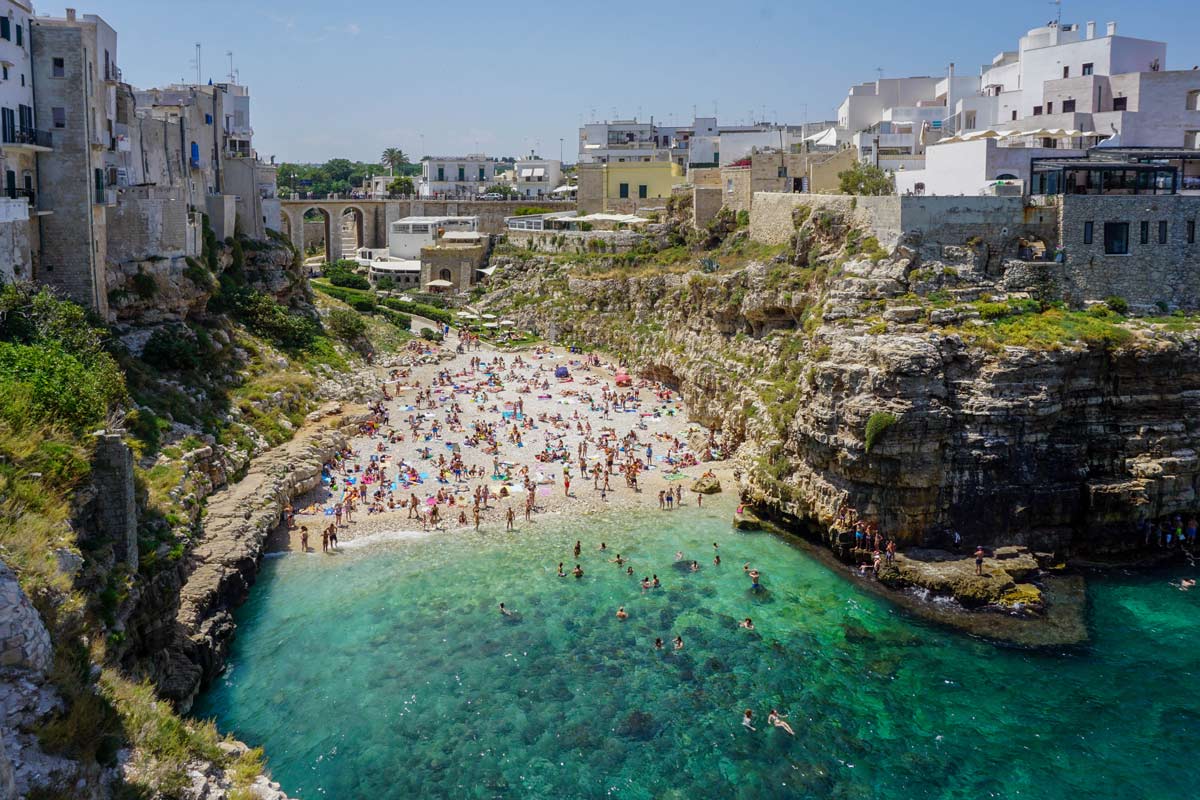 11. The Cliffside Town of Polignano a Mare
Poligano is a small town in Puglia, less than an hour away from Bari. Living in the shadow of the more famous Alberobello, Poligano a Mare holds its own as a picturesque Italian destination, worth visiting.
Perch high on tall cliffs, the town offers impressive views of sea bellow and it even has a restaurant built into the rocks, called Grotta Palazzese Restaurant. Another beautiful spot is Lama Monachile beach, a small cove with emerald green waters.
I will admit, I visited Poligano more on a whim, as I didn't know anything about the city at the time, but I'm so glad I did and hopefully I will also be able to return.
Final thoughts
Throughout this blog post, I have highlighted a few of the most unique places in Italy that you can visit.
From the hidden gem of Matera to the picturesque beauty of the five colorful villages of Cinque Terre, each of these places will leave a lasting impression on anyone who decided to visit them.
Happy travels~