Are you wondering what are the most important things to know before going to Maldives? I've got you covered!
Personally, Maldives was a destination I always knew I wanted to visit, but I didn't have an exact time frame of when this will happen.
So here I was at the beginning of 2021, scrolling aimlessly on Facebook when I see a post about a direct charter from my country to the Maldives. At first, I just ignored it, but soon enough it started to replay again and again in my mind.
My biggest concern was how safe the trip was going to be in the pandemic context because we were not vaccinated at the time.
We needed to fly and wait in airports, but it was a direct flight and the Maldives were asking for a PCR test to enter. We would eat at restaurants and be with others in the resort, but the hotel had its own island so social distancing would be easier, etc.
So after carefully weighing the pros and cons for quite a bit, we eventually decided to go for it.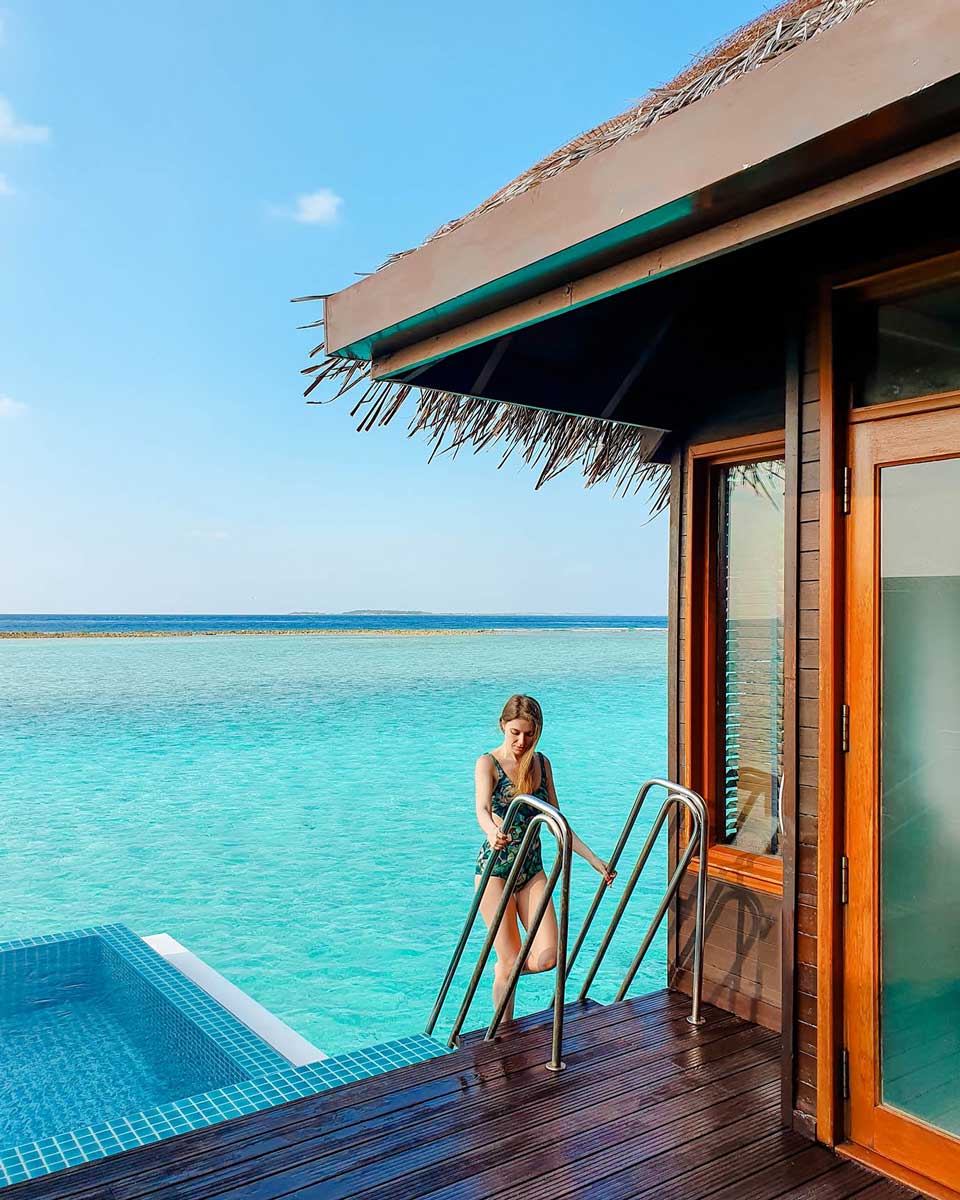 25 things to know before going to Maldives
As I started to prepare for the trip I listed 10 things that I think are useful to know before a visit to the Maldives. Here they are:
Things to know about Maldives: General info
1. The Maldives consists of approximately 1200 small islands in the Indian Ocean, which are grouped in clusters, called atolls. Out of these islands, only around 200 are actually inhabited.
2. The capital of the country is called Male and it's located in the North Atoll. If you're debating whether you should spend a few days exploring it, I'd advise you against it.
Most people visiting the Maldives are looking for relaxation in a tropical Paradise. Busy Male doesn't really fit this description at all.
However, you could do a day trip to the capital if you really want to see it. Most resorts close by are offering this type of excursion and it's the optimal way to visit Male in my opinion. You'll be able to get a taste of what the city is like without losing too much time.
3. The Maldives is 100% a Muslim country. This means that it's actually written in its law that non-Muslims cannot be citizens of the country.
4. The local currency is Maldivian rufiyaa (MVR).
5. There are 5 international airports on the islands, but most people will land at Velana International Airport, located in the capital.
This is because apart from the two main airports, the rest don't have runways long enough to accommodate big commercial planes.
They only received their international status because they receive flights from nearby countries like India and Sri Lanka.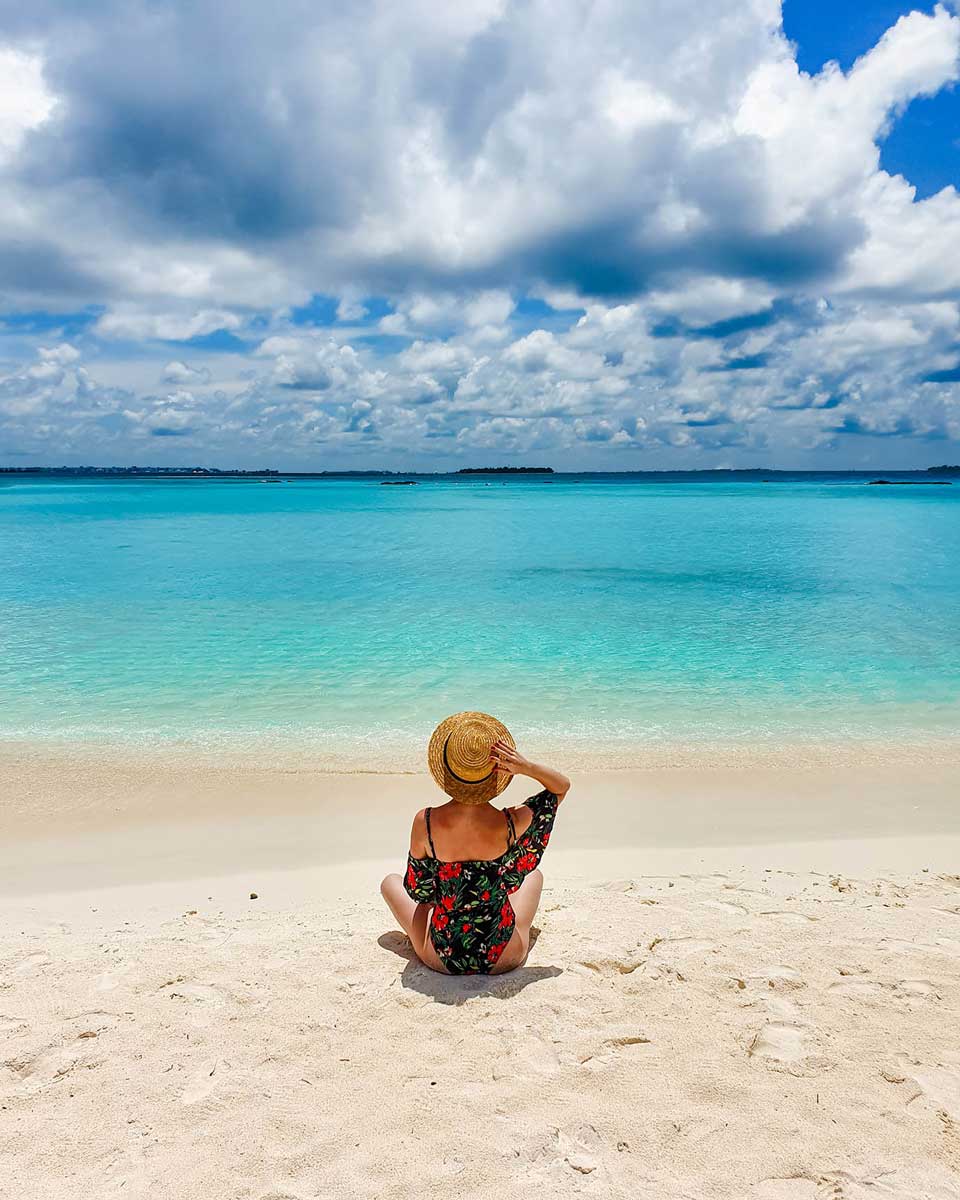 How to pay in Maldives
6. You can pay in USD at resorts, so don't worry about exchanging money in the local currency. We actually asked the hotel beforehand if it accepts credit cards and we paid for everything using our Revolt card.
We also used a normal credit card for the refundable security deposit they asked for at check-in.
7. All the prices you see in the resorts are without taxes, so prepare yourself to pay a bit more at check-out. I recommend you check my tips on how to save money in Maldives in order to not break the bank during your vacation.
Best time to visit the Maldives
8. The best time to visit the Maldives aka the high season is between December and April, with January to March being the driest months. We went during the second week of March, for my birthday. It rained every night, but the days were sunny and warm.
Respect the local customs
9. Since the Maldives is a Muslim country, be mindful and respectful of the local culture when visiting non-resort islands or the capital. This means you should wear appropriate clothing in regard to the local customs. You should also refrain from any public displays of affection.
You should also be aware that bikinis are only allowed on designated beaches (commonly called Bikini beaches) on local islands and in resorts.
We visited during the pandemic, so we weren't allowed to visit the capital as it had the highest number of Covid cases. All-day trips to local islands were also canceled at the time.
10. Also because it's a Muslim country, you won't find alcohol outside of island resorts and certain floating bars. You are not allowed to bring it inside the country either. They have extra scanners in the airport that I believe they use to detect alcohol. Pork products are also forbidden.
11. Avoid visiting during Ramadan if you plan to go to the local islands. The ninth month of the Islamic calendar, Ramadan is a period of fasting, prayer, and reflection for Muslim people.
While in resorts tourists might not notice anything different, on the inhabited islands, there's a significant change in lifestyle during this time.
For example, restaurants are closed during the day and only open at sunset when Muslim people break their fasting.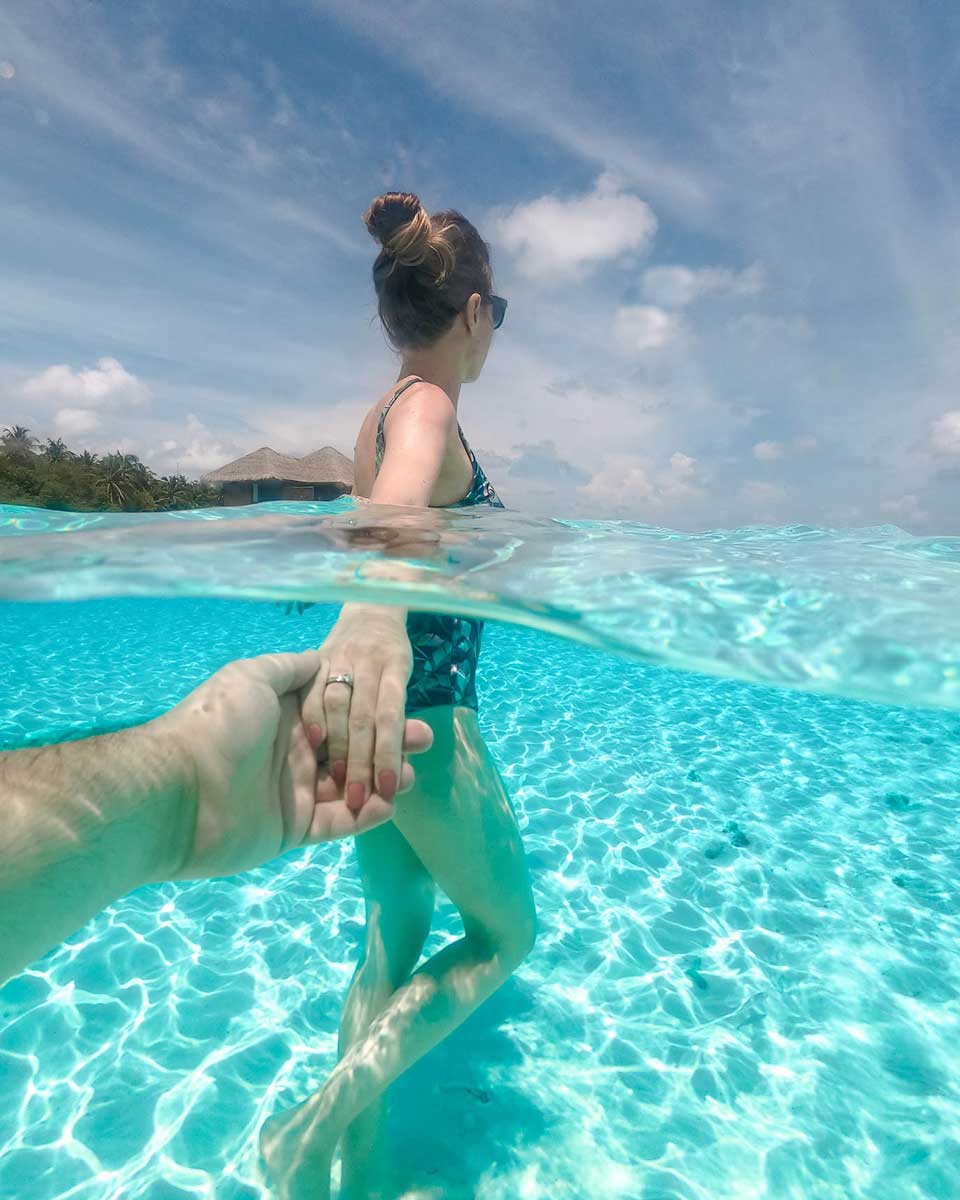 Maldives Resorts
12. A resort is more often than not built on its own island. So you'll feel a bit like vacationing on your own private island.
13. Mosquitos are usually not an issue in Maldives, as most resorts fog their islands regularly. I still brought my trusted Care Plus DEET with me just in case, but I ended up not using it.
14. Food is expensive in resorts, so it's usually better to get a half-board/all-inclusive option. We got a half board option and I feel like it was the best option since around noon we were spending our time in the water, swimming or snorkeling.
Besides, we had a fairly late breakfast, so eating again at 12 – 1 PM would have been way too early for us.
15. Some Maldivian resorts don't accept children. The Maldives is well known as a popular honeymoon destination, so some resorts choose to cater only to tourists looking for a romantic getaway.
16. Overwater bungalows usually have an age limit. This means that families with kids will either not be allowed to stay in an overwater villa for safety reasons (the general rule) or the parent/s will be asked to sign a waiver.
In order to find out the exact policy for the resort you want to book, the easiest way is to contact them directly.
17. Some resorts have their own time to make the most of daylight hours. If this is the case with your hotel, then make sure to factor this in when arranging transfers back to Male for your flight home.
Transportation in Maldives
18. To reach a resort, a boat, a domestic flight, a seaplane transfer, or a combination of these is needed. Since our hotel was pretty close to Male, we only had to take a short boat ride to it (we stayed at Sheraton Full Moon Resort and Spa).
19. Seaplanes offer a scenic view over the atolls, but can be pretty pricey; boats are not inexpensive either: a 20 min boat transfer can cost over 100$ for a round trip, so take that into account when making the budget.
Since we got a package deal from a travel agency (so that we could fly charter without any stops) the boat transfer to our hotel was included in the package. But this is usually not the case.
I actually checked on Booking.com too and it was stated that the hotel was actually offering the short transfer as a complimentary service.
I suspect it was because of the pandemic situation since they charged for it in the past, but maybe they'll keep this offer from now on.
What to pack for Maldives
20. Don't forget your SPF at home! Also, if you plan to do a lot of snorkeling, invest in a swimsuit with sleeves to protect your shoulders. I learned this the hard way! For more packing tips, check my ultimate packing list for Maldives.
21. Check with your hotel if it allows drones, before bringing yours with you. Most resorts in the Maldives don't allow drones for privacy reasons, so make sure you ask if you can fly it anywhere on the island before packing it up.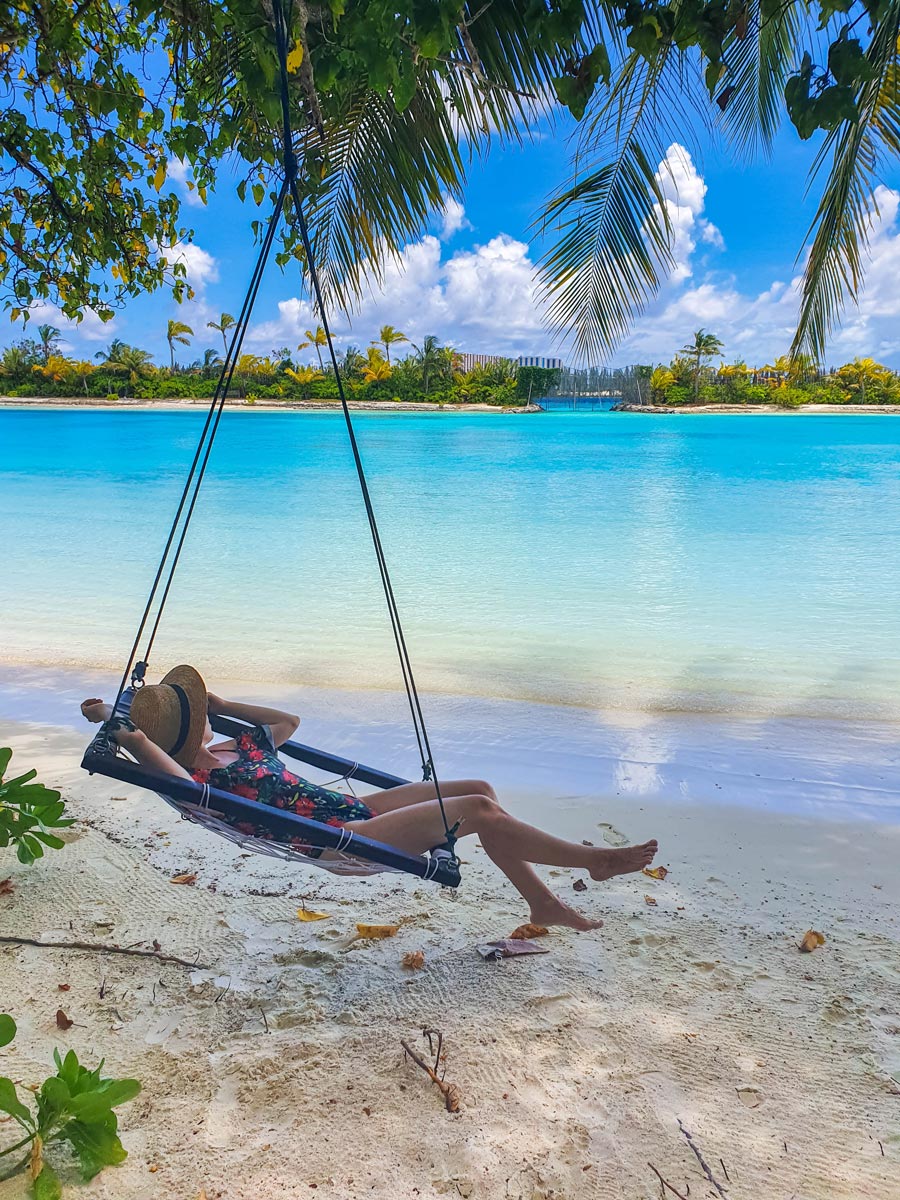 Activities in Maldives
22. Book a resort that has a home reef. By doing this you'll be able to do some quality snorkeling whenever you like and you'll also save some money since you'll not have to book snorkeling excursions.
23. Don't wait until the last day to do your desired activities. Most resorts organize different shared excursions like snorkeling trips, dolphin spotting cruises, scuba dives, etc. For them to actually happen, they require a minimum number of people to express their desire to go.
If you wait until the last day to do these types of trips you run the risk of having the excursion canceled because there aren't enough people that want to go.
The alternative, in this case, is an expensive private trip, but that's only if the resort you stay at offers such an option.
24. Don't do scuba diving right before your flight home! Make sure you allow at least a day to pass between your scuba diving trip and your flight back home. This is because you can suffer from decompression sickness (DCS) which can be quite serious in some rare cases.
25. It's illegal to take seashells, coral, or sand from the Maldives! During your trip, it might be tempting and look harmless to take a few shells or sand back home with you to keep as memories.
But you should know that there are strict rules against it, that aim to protect the islands. So please refrain from doing this.
FAQs about visiting Maldives
Can non-Muslims go to Maldives?
Yes! However, you might be expected to follow some rules, especially when visiting the local islands.
Are bikinis allowed in Maldives?
Bikinis are permitted solely at resorts and designated beaches known as Bikini beaches in the Maldives.
Can you drink tap water in Maldives?
While the quality of water can differ among the islands in the Maldives, the tap water in the capital city is safe to drink. But I should warn you that it usually doesn't taste too good since it's desalinated seawater.
Can you take sand, shells or dead coral from the Maldives?
As previously mentioned, it's actually illegal to remove sand, shells or dead coral from the beaches of Maldives. So please don't do it.
Wrap up: Things to know before traveling to Maldives
The Maldives is a tropical, dream destination that should be on everyone's bucket list. With crystal clear waters, white sand beaches, and great marine life, it's easy to see why this place is so special.
If you're planning a trip to the Maldives soon, make sure you keep these things in mind!
Happy Travels~
---
YOU MIGHT ALSO LIKE