Discover beautiful Kyoto with this detailed 3-day itinerary
Widely regarded as the cultural capital of the country, Kyoto is one of the best places to visit in Japan as a first-timer. It is a city full of history, amazing temples, and old Japanese architecture, thus offering its visitors a glance into the country's past, as well as its rich traditions.
Having visited Japan twice for a total of one whole month, I can say that Kyoto is definitely a must-see location! So in order to make your life easier as you plan your own trip to Japan's former capital, I decided to write this highly detailed Kyoto itinerary, based on my own experience.
Read on for the best things to see and do in Kyoto over the span of 3 days.
Disclosure: Some of the links in this post are affiliate links. If you click on them and make a purchase, I may receive a commission at no extra cost to you. Check my full disclaimer here.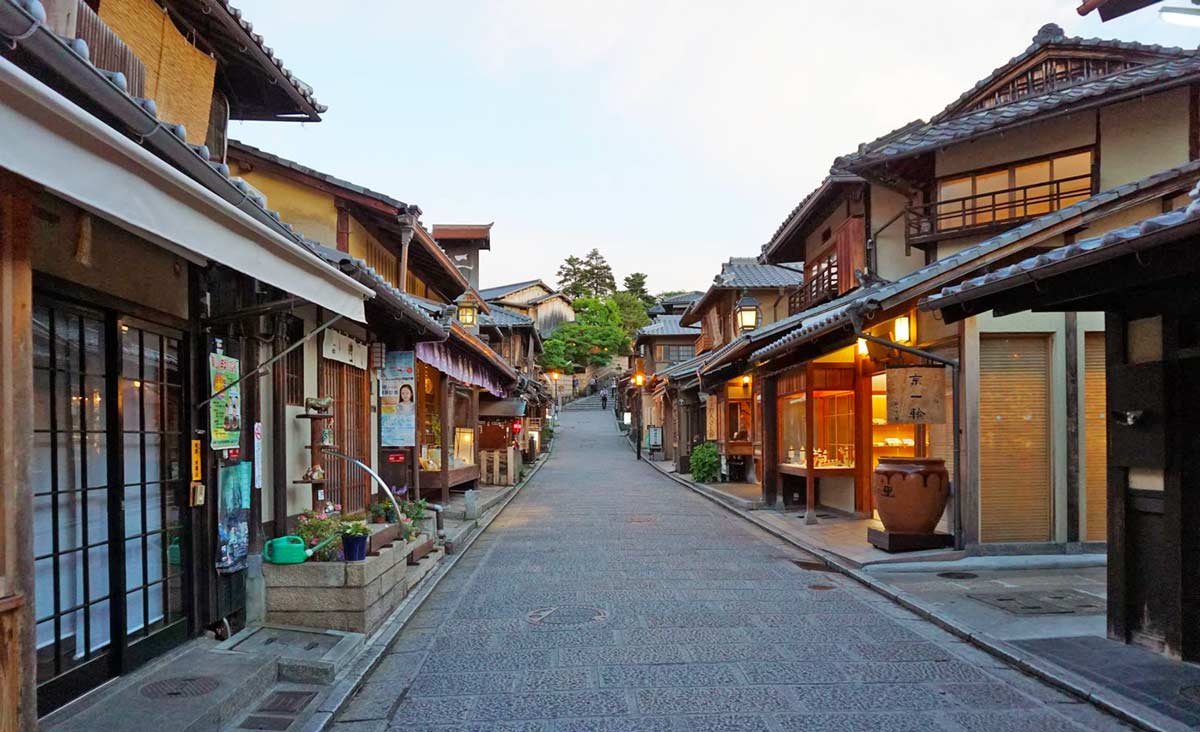 Best time to visit Kyoto
Fall and spring are both amazing seasons to visit the ancient city, but they are also extremely busy. However, if you are set on partaking in Hanami (the tradition of enjoying the cherry tree flowers) or admiring the beautiful temples during the changing of the leaves, there's little you can do to avoid crowds.
As a general rule, in order to see the Sakura trees in bloom, you should schedule your trip from the end of March to the beginning of April, while the leaf-changing season usually peaks towards the end of November.
What I wouldn't recommend though is visiting during the rainy season (tsuyu) which usually lasts from the end of May until mid-July or during Golden week (29.04 – 05.05). But you can read more details in my How to plan your trip to Japan post.
Are 3 days in Kyoto enough?
As it's obvious from the title, this itinerary assumes you'll be spending 3 full days in Kyoto. I believe this is the perfect amount of time to see the city's main attractions.
This being said, if you are someone that likes to travel more slowly I suggest you either stay an extra day or simply omit some places.
Where to stay in Kyoto
Booking your accommodation in Kyoto or very close by is crucial for this itinerary to work. This is because many of the temples tend to close pretty early in the evening.
So staying in Osaka for example is a bad idea in my experience, even if you have a JR Pass and ride the shinkansen. As a matter of fact, I did this mistake during my first trip to Japan and regretted it so much afterward.
While the bullet train ride was only 15 minutes long, we lost quite a bit of time to reach Shin-Osaka station (the terminus for the shinkansen) from where we stayed. So even though Kyoto is more expensive, I recommend booking your accommodation in the city, the central the better.
So, here are some accommodation options for different kinds of budgets in Kyoto:
Kyonoyado Kiyomizu Gojo Kuretakeso ($) offers affordable rooms in Kyoto's Higashiyama Ward, about 2km away from the city center.
Kyoto Guesthouse ($) has decently-priced Japanese-styled rooms with tatami floors in the heart of the city. The rooms have private bathrooms and access to a shared kitchen.
Kyoto ITOYA Hotel Mon ($$) offers beautiful modern rooms in a very central location in Kyoto.
京町屋の宿 天神庵 ($$) is a beautiful two-bedroom house in the heart of the city.
Kiraku Kyoto Honmachi ($$$) is a beautifully decorated 3-bedroom holiday house with an open-air bath about 2km away from Kyoto's city center.
Hotel Alza Kyoto ($$$) is located in Gion and has large modern rooms with city or Kamo river views.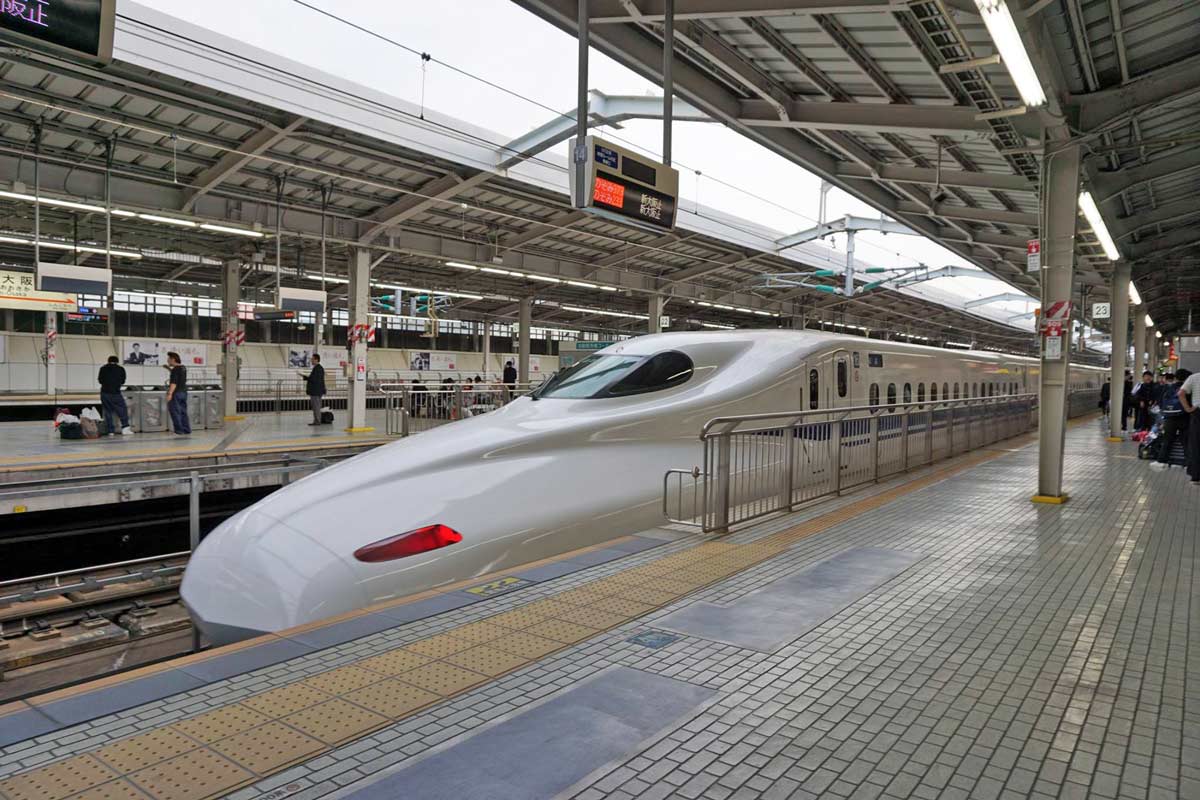 The best alternative to staying in Kyoto (budget-friendly)
If the accommodation prices in Kyoto are too high (this can happen especially during the high seasons, fall and spring), then I have a solution. Stay right near Shin-Osaka station!
Yes, I know I just said not to book your accommodation in Osaka, but hear me out. By staying near the station, the journey to Kyoto can take about 20 minutes, since the bullet train ride is only 15 minutes.
This was my neat little trick during my second trip to Japan and it turned out to be a great idea: we arrived in Kyoto much earlier than the previous time, and we also stayed in an affordable, yet larger apartment.
Here are a few accommodations, super close to Shin-Osaka station, to choose from:
Do take into consideration that if you don't have either a JR Sanyo-San'in Pass or a JR Pass, a shinkansen ride (one way) will cost you around 10 USD.
In my case, I got the JR Pass for 7 days and used it to visit Kyoto, Nara, Hiroshima, and Miyajima, as well as to transfer to Tokyo (I landed in Osaka for my 2nd trip) and visit Nikko from there.
How to get around Kyoto
Apart from getting to Arashiyama and Fushimi Inari Taisha by train, I mainly used the bus or my own two feet to get around Kyoto.
I opted to buy bus day passes which gave me unlimited rides, but you can also use a Suica, Pasmo, or ICOCA card to pay as you go. There's also a bus & subway day pass available.
Experiences to have in Kyoto
I always look for unique experiences to have during every trip I make. So naturally, I also did some research in this regard for Kyoto. Here are some of the best activities you can do during your stay there:
The perfect 3-Day Kyoto Itinerary
Kyoto Itinerary: Day 1
Kyomizu-dera temple
Start your exploring around 9 AM with a visit to Kiyomizu-dera temple. If you come from Shin-Osaka, you can take bus 206 from Kyoto station, for a 30 minutes journey.
The temple is famous for its wooden platform which extends out about 13 meters above the hillside, offering a beautiful panorama of the valley. It is also a very popular place in Kyoto to admire both the changing of the leaves as well as the cherry blossoms.
The temple is open every day, usually from 6 AM to 6 PM, with the exception of July and August when it stays open until 6:30 PM. Aside from this, during special evening illuminations, Kiyomizu-dera is open until 21:30 PM. The admission fee is 400 yen.
Yasaka-no-to Pagoda
After you visit Kiyomizu-dera temple, head to Yasaka-no-to Pagoda, which is only about 10 minutes away on foot. This beautiful pagoda once belonged to Hokan-ji temple, but the rest of the religious complex was destroyed by natural disasters and wars.
Yasaka-no-to Pagoda is usually open from 10 AM until 4 PM and the admission fee is 400 yen.
Higashiyama historical streets
When you finish visiting the pagoda, my recommendation is to wander around the beautiful Higashiyama district. Its historical streets are lined with little shops, cafes, and restaurants, so you even have lunch here.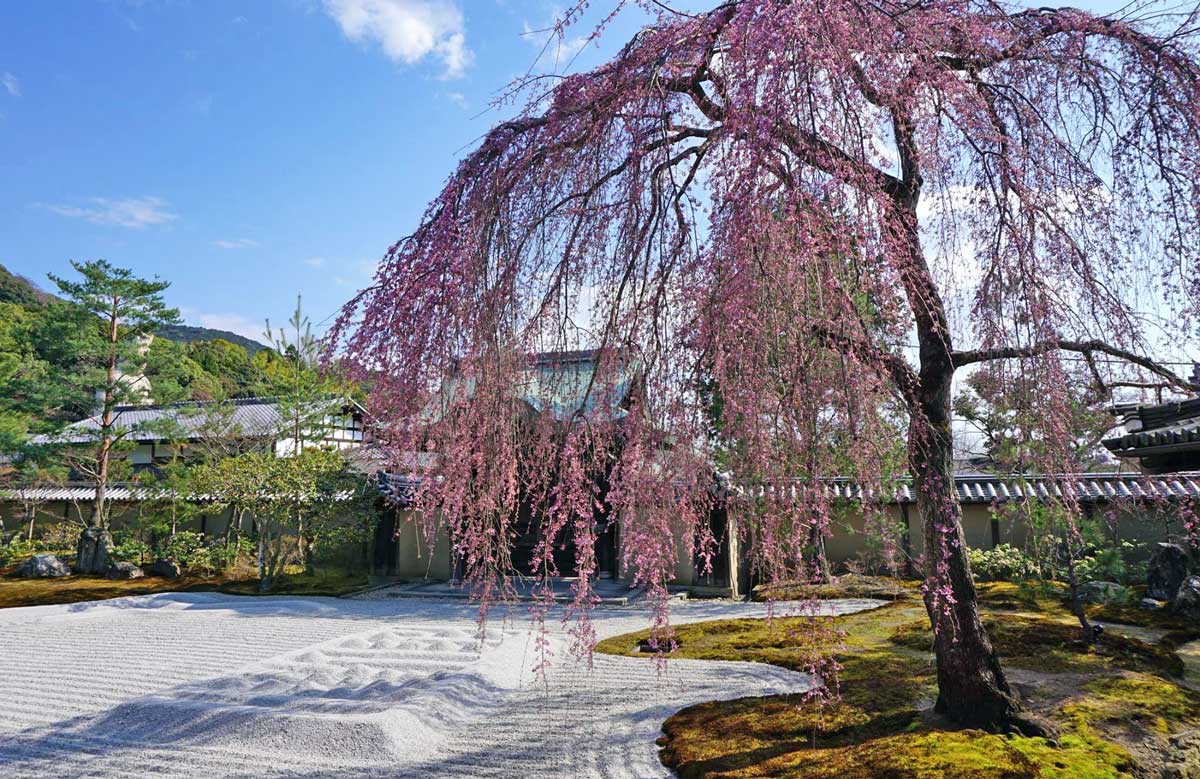 Kodaiji temple
Next stop is Kodaiji, a beautiful Zen Buddhist temple established by Toyotomi Hideyoshi's wife, Nene, to pray for her late husband. The temple is renowned for its beautiful gardens and there's even a small bamboo grove on-site.
The temple is open every day from 9:00 AM to 5:30 PM (last entry at 5:00 PM) and it costs:
600 yen to see Kodaiji and Sho Museum
900 yen to see Kodaiji, Sho Museum, and Entokuin (a sub-temple of Kodaiji that has two additional Zen gardens)
Maruyama Park
On your way to Yasaka Shrine, I recommend you pass through Maruyama, a small public park. If you visit during the sakura season, then you should also take a moment to admire the beautiful blooms, since Maruyama is one of the most popular spots in Kyoto for Hanami.
Yasaka Shrine
Next on the list is Yasaka Shrine, a well-known temple in the heart of Kyoto. Also called Gion temple, this religious complex is always open and admission is free. But you can skip it if you are running out of time.
Pontocho
I suggest ending your day and having dinner in Pontocho, a narrow alley lined with a great variety of restaurants, that really shines after dark. Keep an eye out for geisha and maiko (apprentice geisha) dressed in beautiful kimonos as they move between tea houses.
To reach Pontocho, you can either walk for about 10 minutes or take the bus one stop: from Gion bus station to Shijo Keihan bus station.
Foodies will also enjoy a Night food tour during which you will stop at several bars and restaurants in Pontocho as well as in Gion.
Kyoto Itinerary: Day 2

Arashiyama Bamboo Forest
Start your second day in Kyoto a bit earlier than the previous one in order to reach Arashiyama Bamboo Grove around 9 AM. To get there you need to board a train on JR Sagano Line going for Sonobe. You can use your Japan Rail Pass for this (if you have one).
As the name suggests, Arashiyama is a beautiful bamboo grove on the outskirts of Kyoto, that got really popular in recent years as a photography and strolling spot.
Optionally, you can visit Okochi Sanso Garden. The admission fee is 1000 yen and it includes a cup of tea.
Tenryuji temple
Next on the list is Tenryuji, the most important temple in the Arashiyama area and its garden features a large central pond with Koi fish, surrounded by rocks.
The temple is open every day from 8:30 AM to 5:00 PM and the entrance fee is 500 yen (for 300 yen more you can also enter the buildings).
Kinkaku-ji
After you finish visiting Tenryuji, it's time to get back to the train station and take the train back 3 stops to Emmachi station.
Here you'll change to bus 205 which will take you to the popular Kinkaku-ji temple, also known as The Golden Pavilion (get off the bus at Kinkakujimichi stop), which is one of the most iconic and famous landmarks in Japan.
Officially named Rokuon-ji, Kinkaku-ji got its nickname from the pure gold foil that covers the first two stories of its main hall, giving it a very distinctive look.
While you can't enter any of the buildings, you can wander around the temple's beautiful garden and admire it from the outside.
Nijo Castle
Next on the list is Nijo Castle, which in my opinion is a bit nicer than Kyoto Imperial Palace. Nijo was built for Tokugawa Ieyasu (the real-life personality behind James Clavell's Toranaga from the popular book Shogun), to serve as his Kyoto residence.
It was later extended and finished by his grandson, Iemitsu Tokugawa and now it's open to the public from 8:45 AM to 5:00 PM (last entry at 4:00 PM). Ninomaru Palace, however, is only open until 4:10 PM.
Nijo is closed from the 29th of December until the 31st, while Ninomaru Palace is also closed every Tuesday during the months of January, July, August, and December (or the next day if it's a national holiday) and from December 26th to January 3rd.
The admission fee for Nijo Castle is 800 yen, while Ninomaru Palace costs an extra 500 yen. You can get online tickets for both from here.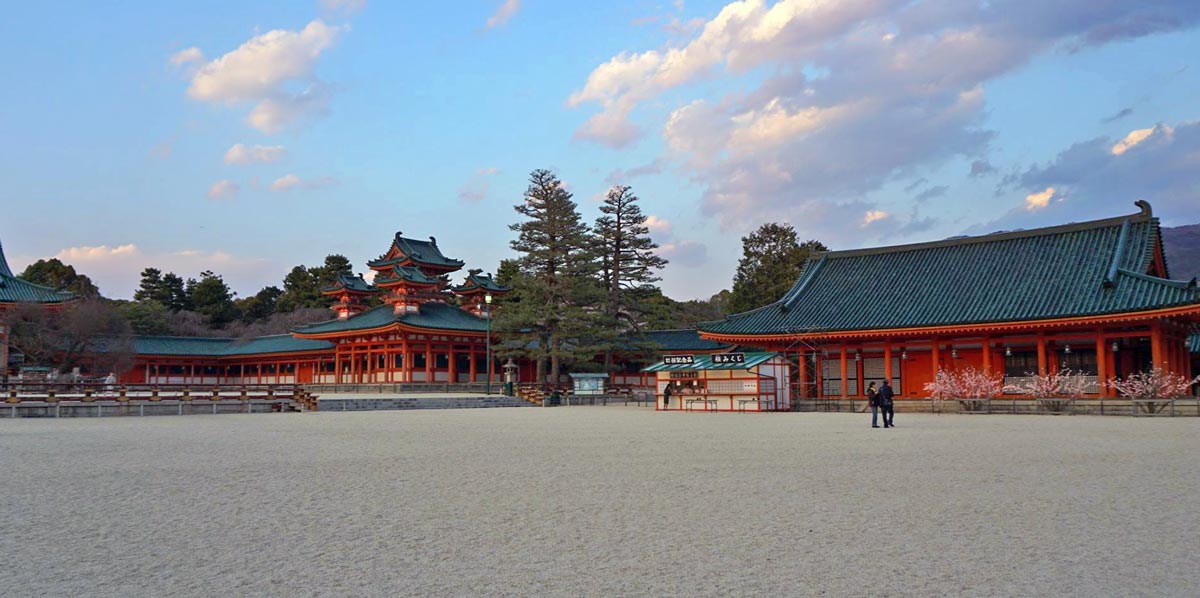 Heian Shrine
After your visit to Nijo head out to Heian Shrine, a fairly new, yet important Shinto shrine in Kyoto. Due to its many weeping cherry trees, it's one of the best spots to visit during spring for Hanami.
It's also worth mentioning that the main buildings of the shrine are an approximate replica of the Kyoto Imperial Palace from the Heian Period.
Heian Shrine is open every day according to the following schedule (free admission):
6:00 AM – 5:30 PM: from the 15th of February until the 14th of March and in October
6:00 AM – 6:00 PM: from the 15th of March to September
6:00 AM – 5:00 PM: from November until the 14th of February
The garden of Heian Shine, however, closes half an hour before the shrine (the last entry is 30 minutes before) and costs 600 yen to visit.
If you visit during the Sakura season, I also recommend going for a stroll along Okazaki Canal, which is right near Heian Shrine. The canal is lined by many cherry trees and explodes into delicate pink hues during spring.
Gion district
You can have dinner and end your day in Gion, the famous geisha district of Kyoto.
Here, you can actually spot geisha heading out to different ochaya, (meaning tea houses, though patrons inside usually drink alcohol and eat tasty meals), during the early evening hours.
TIP: Be at the exit of Gion Corner (a theater where a variety of Japanese traditional arts are conducted) around 7:45 PM, and you might see geisha and maiko as they leave after they finished their dance performances.
You can also join a Gion night walking tour with a local guide in order to find out more about the history and lives of the geisha.
Kyoto Itinerary: Day 3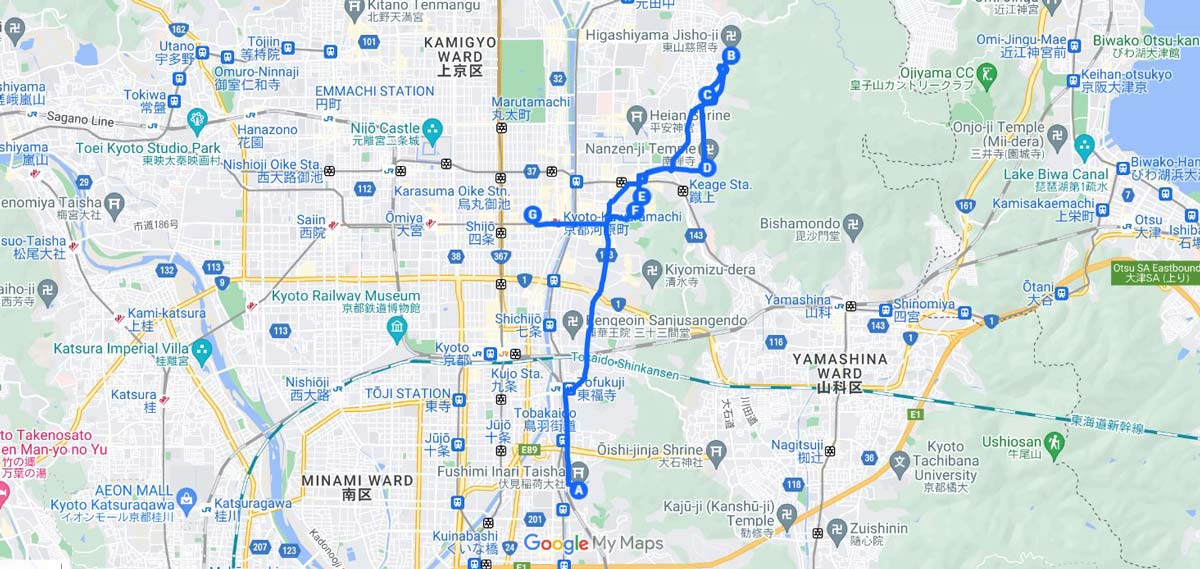 Fushimi Inari-Taisha
Start your day with the beautiful shrine Fushimi Inari Taisha. To get here, take the JR Nara Line for Joyo (you can use your JR Pass on this route) and get off at Inari station.
Not only is Fushimi Inari Taisha an important Shinto, but it's also famous for its many vermilion torii gates that cover several trails going up the sacred Mount Inari.
While you can easily spend several hours exploring the paths, my recommendation is to hike until you reach the Yotsutsuji intersection, which is around halfway up the mountain.
From here you can enjoy a nice panorama of Kyoto but after this point, the torii gates decrease in frequency and there's not much variation in the scenery.
You can opt for a 1-hour walking tour of Fushimi Inari Taisha with a local guide, during which you will learn more about Shintoism as well as the shrine itself. The tour will give you the opportunity to see both the most popular sites of the complex, as well as lesser-known ones.
Fushimi Inari Taisha shrine is free to enter and is always open, so you can even return during the evening when it's lit up.
Ginkakuji (Silver Pavilion)
After you finished your visit to Fushimi Inari shrine, take the train back to Kyoto station. From here you can take bus 100 to Ginkakuji (Silver Pavillion): the journey takes around 48 minutes.
Ginkakuji is a beautiful Zen temple in Kyoto, well known for its amazing moss and dry sand gardens. Its main hall was initially intended to be covered by a thin silver foil (hence the name), but this was never accomplished.
The temple is open every day from 8:30 AM until 5:00 PM (March to November) or from 9:00 AM to 4:30 PM (December to February) and it costs 500 yen to visit it.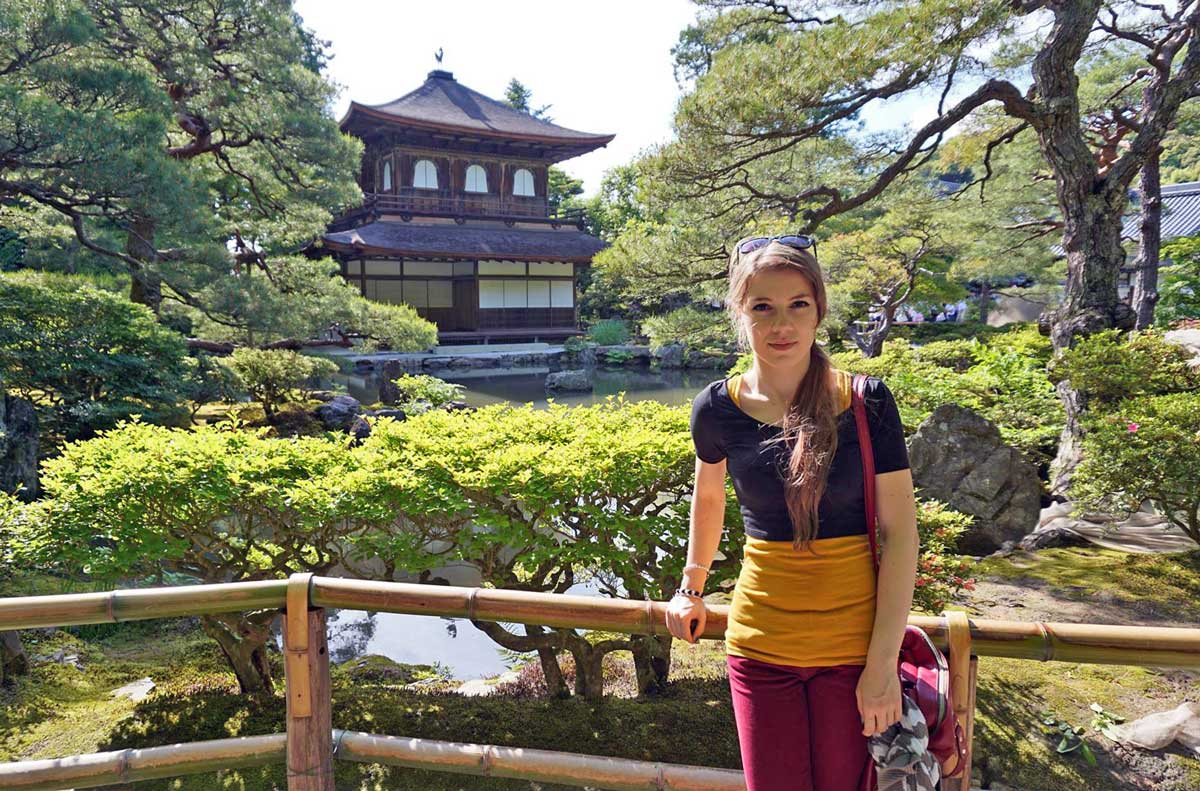 Philosopher's Path
Philosopher's Path is a narrow alley along a water irrigation canal lined with cherry trees, that begins near Ginkakuji and ends in the neighborhood of Nanzenji.
Along the way, you'll encounter several restaurants, cafes, and shops, but also a few small temples and shrines.
Nanzenji Temple
Nanzenji is located close to the southern end of the Philosopher's Path. As one of the most important Zen temples in Japan, the complex is rather large. Besides, it also has a few sub-temples. Here are the different opening hours and entrance fees:
Sanmon Gate
Opening hours: from 8:40 AM until 5:00 PM (4:30 PM from December to February)
Closed: December 28 to 31
Entrance fee: 600 yen
Hojo
Opening hours: from 8:40 AM until 5:00 PM (4:30 PM from December to February)
Closed: December 28 to 31
Entrance fee: 600 yen
Nanzenin
Opening hours: from 8:40 AM until 5:00 PM (4:30 PM from December to February)
Closed: December 28 to 31
Entrance fee: 400 yen
Konchi-in Temple
Opening hours: from 9:00 AM until 5:00 PM (4:30 PM from December to February)
Open every day
Entrance fee: 400 yen
Tenjuan Temple
Opening hours: from 9:00 AM until 4:45 PM (4:30 PM from November 15 to February)
Additional evening hours during the autumn illumination events.
Open every day
Entrance fee: 500 yen (600 yen during the illumination event)
Shorenin Temple
After your visit to Nanzenji, you can continue on foot towards Shorenin Temple. The temple belongs to the Tendai sect of Japanese Buddhism and boasts some beautiful gardens that you can admire from the complex's buildings, as well as stroll through them.
Shorenin is open every day from 9:00 AM until 5:00 PM (last entry at 4:30 PM), however, there are seasonal illumination events when the temple is also open from 6:00 PM until 10:00 PM (entry until 9:30 PM). The entrance fee is 500 yen (800 yen during illumination events).
Chion-in Temple: Hojo and Yuzen Gardens
Depending on how early you started with your exploring, you may or may not have time for Hojo and Yuzen gardens located inside the Chion-in temple. The reason for this is that they close at 4:30 PM, while the last entry takes place at 4:00 PM.
Chion-in temple is located about 10 minutes away on foot from Kodaiji and a ticket for both gardens costs 500 yen (sale ends at 3:20 PM), while Hojo individually costs 400 yen and Yuzen is 300 yen.
Nishiki Market
You can end your day at Nishiki Market (also known as Kyoto's Kitchen), where you can sample some of its delicious food, but also observe the various goods on sale and maybe even do some shopping of your own. You can find here everything from kitchenware to fresh products to different sweets and ready-made food.
But no matter how tempting it may be, please don't eat while walking around, as it's considered bad manners.
Nishiki Market is usually open from 10 AM until 6 PM, though it certainly varies by store. Also, the market tends to be mostly closed on Wednesday or Sunday.
Best things to eat in Kyoto
Whether you are a foodie or not, here are some dishes that you must try during your stay in Kyoto.
Yudofu
Kyoto is famous for its tofu production and you'll find it in pretty much every restaurant across the city, served in various forms from fried to steamed. One of the best tofu dishes to eat is Yudofu which consists of tender tofu slices served in a kelp broth.
Even if you are not a big fan of this protein alternative, I still really recommend you try it at least once while you're there.
Kyoto-style sushi
Kyoto-style sushi is different from regular sushi since it often uses marinated fish instead of fresh, which tastes a bit different.
A good place to try it is Izuju Sushi, which is one of the oldest traditional sushi restaurants in Kyoto. Located close to Yasaka Shrine, expect to wait in line no matter when you go since seating is limited.
Ochazuke
Essentially, Ochazuke is leftover rice over which hot tea was poured, which doesn't really sound like something that will taste good. However, do give it a try and you might find out why is one of the most popular traditional dishes in Kyoto.
Hamo tempura
Hamo tempura is a dish that is particularly popular in Kyoto. Hamo is a type of eel (more exactly the Daggertooth Pike Conger) that can get up to 2 meters long. It is usually eaten during summer in various forms: marinated, in sushi, deep-fried, etc.
Nishin Soba
A specialty of Kyoto, Nishin Soba consists of fresh buckwheat noodles topped with dried, marinated herring, all served in a light broth. The best place to try this dish is probably where it was invented: Sohonke Nishin-Soba Matsuba restaurant.
Kaiseki
Kaiseki is actually not a particular dish, rather it refers to a traditional multi-course dinner. It is the Japanese equivalent of Western haute cuisine and it's usually pretty expensive.
Best day trips from Kyoto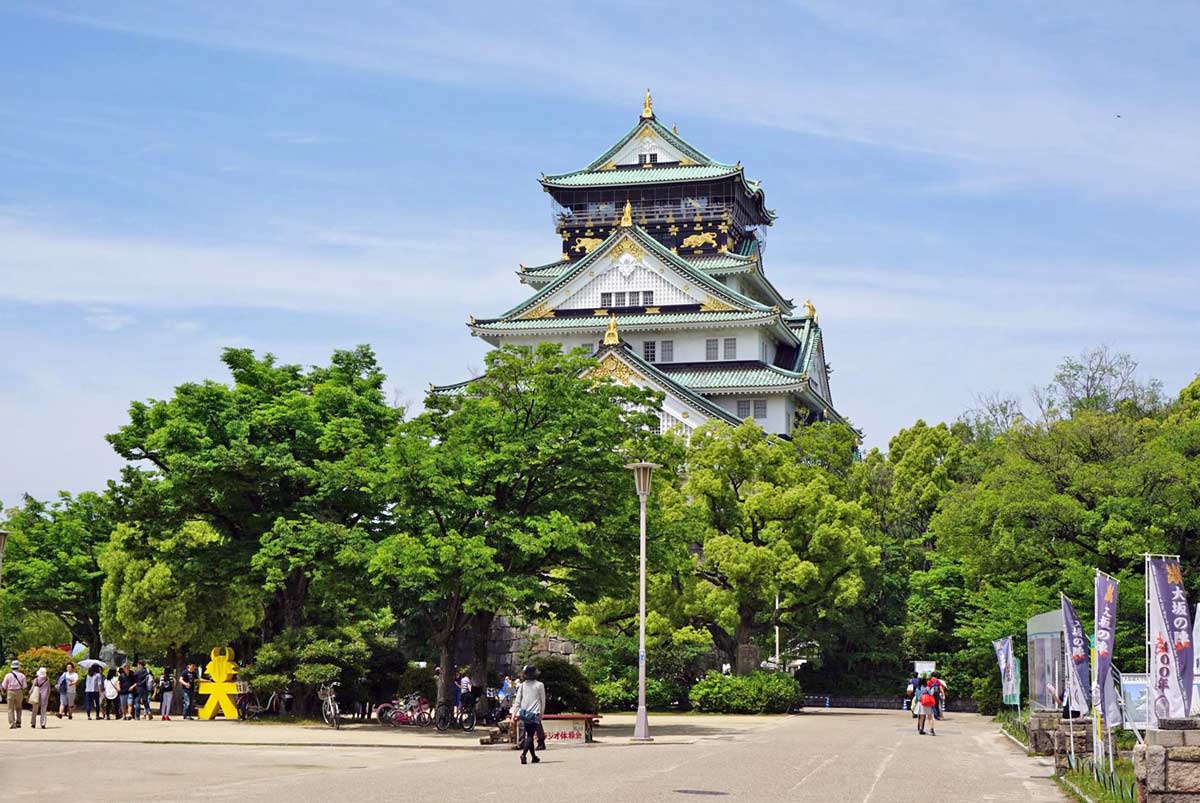 Osaka
While Osaka is only a 15-minute shinkansen ride away from Kyoto (so pretty much the ideal day trip), I would still recommend spending 2 – 3 days in the city. This being said, if you don't have enough time, then a day trip from Kyoto will still allow you to get a pretty good taste of what Osaka is all about.
Some of the things you won't want to miss are visiting Osaka Castle, walking around Dotonbori, exploring Shitennoji Temple, discovering the retro atmosphere of Shinsekai, or admiring the city panorama from Umeda Sky Building.
Kobe
The Kobe Port Tower is the city's most iconic landmark. Made to look like a Japanese drum, it dominates the waterfront and offers a 360-degree panorama of the city to its visitors. Try to see it after dark as well if you can, since that's when it really shines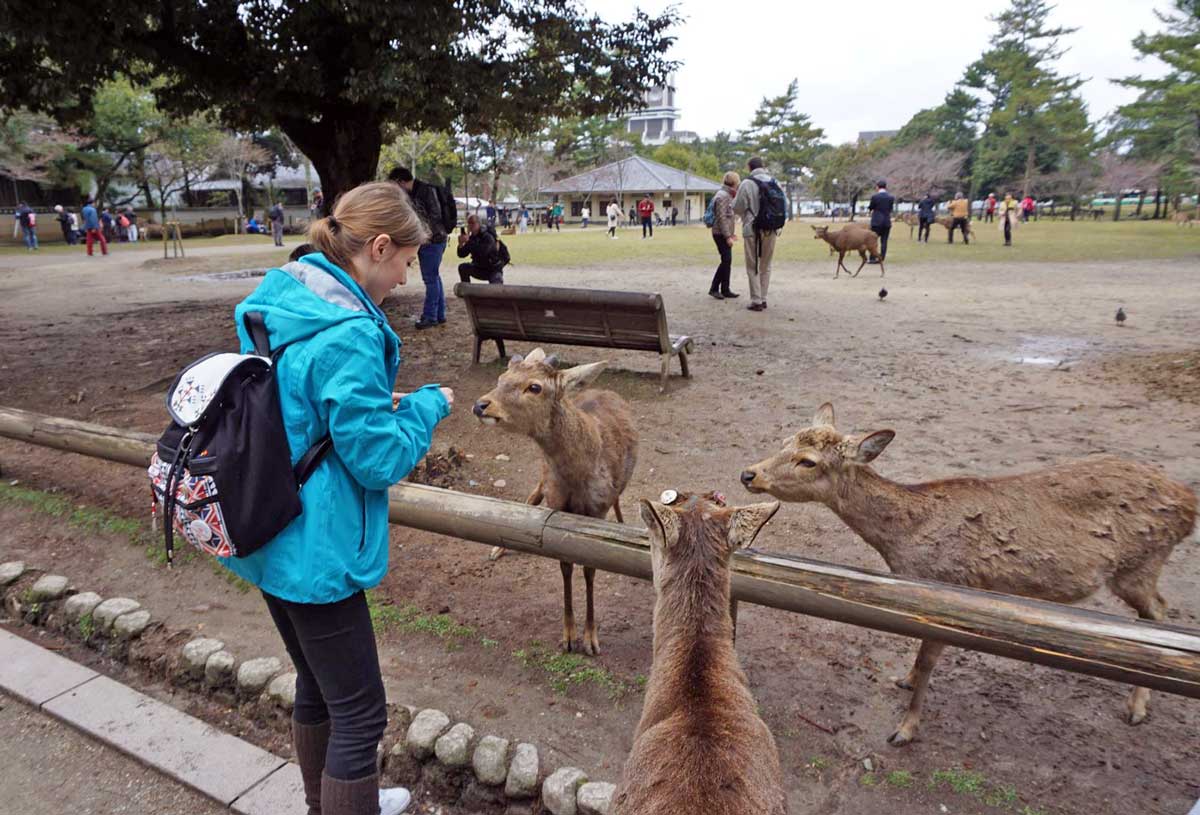 Nara
Home to the famous park where deers freely roam around, Nara can be reached in about 45 minutes from Kyoto using JR Nara Line (covered by the JR Pass) or 34 minutes when using Kintetsu Railways (covered by the Kintetsu Rail Pass).
Apart from feeding special senbei crackers to the deers, here you can also visit Todai-ji temple, which is famous for housing the world's largest bronze statue of Buddha Vairocana (measuring about 14.8 meters in height).
Himeji
Himeji is a 1 hour and 13 minutes ride away from Kyoto, by Tokaido-Sanyo Shinkansen. Here you will find the impressive Himeji castle considered by many the most beautiful in entire Japan. It is also one of the few original castles to have survived the passing of time.
Traveling to Kobe from Kyoto takes only 28 minutes by Tokaido-Sanyo Shinkansen, making it a great destination for a day trip.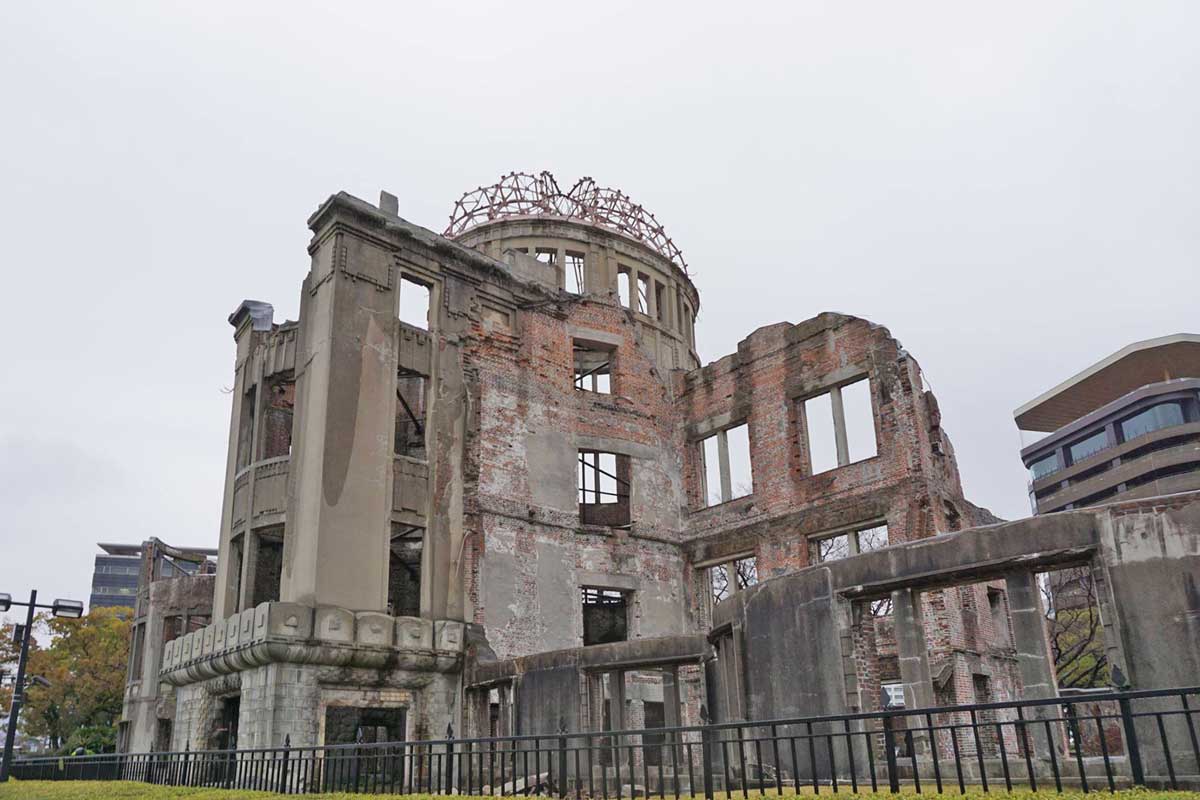 Hiroshima and Miyajima
Since it takes 1 hour and 41 minutes to reach Hiroshima from Kyoto by shinkansen, I recommend you start your day as early as you can (you can also join a tour if you want).
The city was one of the two places (the other being Nagasaki) that were struck by an atomic bomb during WWII. Genbaku Dome, the only building still standing in the center of Hiroshima after the bombing, is one of the most striking testimonies of the destruction and sorrow that the city experienced just decades ago.
Miyajima island is just a short ferry ride away from Hiroshima, so it makes sense to visit both during the same trip. Here you will find the beautiful Itsukushima shrine with its beautiful "floating" tori as well as several wild deers roaming around.
---
I hope my 3-day Kyoto itinerary helps you plan your own visit to this beautiful old city and I also highly recommend you check out my other posts on Japan before you leave.
Happy travels~