Are you visiting Lake Garda soon and you're wondering what are the best things to do in Limone sul Garda? I've got you covered!
Lake Garda is one of the most popular tourist destinations in Italy, thanks to its stunning scenery, charming towns, and many activities that make it an ideal location for a vacation at any time of the year.
And one of the best places to visit on Lake Garda is Limone sul Garda. This lovely little town is situated on the western shore of the lake and has plenty to offer to visitors.
From picturesque cobblestone streets and churches dating back centuries to bars and restaurants, there's something for everyone.
Plus, with its close proximity to some of the other towns around the lake, it's easy to explore more of what this region has to offer. In fact, I visited both Limone and Malcesine on a day trip from Sirmione.
So read on to see why you should add this tiny town to your list of places to see in Northern Italy!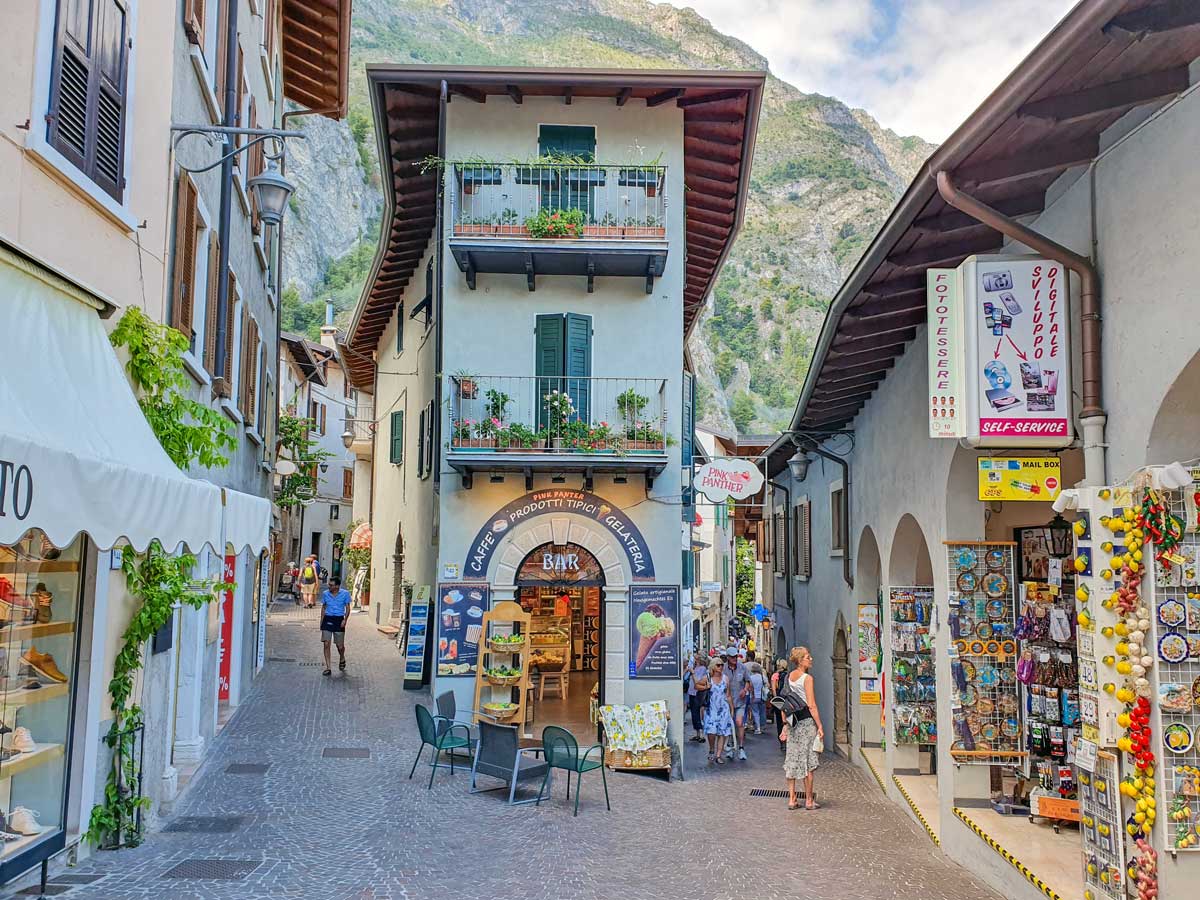 Disclosure: Some of the links in this post are affiliate links. If you click on them and make a purchase, I may receive a commission at no extra cost to you. Check my full disclaimer here.
How to get to Limone sul Garda
The closest airports to Lake Garda are the ones in Verona, Milan, and Venice. Regardless of which one you land on, you'll need to either drive or take public transportation to reach the lake.
Limone sul Garda is located in the northern part of Lake Garda and you can get there by:
car: Roads are in good condition, but there are some very narrow portions on the way to Limone. If you don't mind this, then renting a car to visit the town is a good idea. Just be aware that finding a parking spot is not the easiest.
bus: While traveling by bus in this region can often be confusing and take a bit of time, it is still a good way to reach the towns on the shores of Lake Garda. To get to Limone you can ride bus LN027 connecting Desenzano to Riva Del Garda. However, be aware that the journey leg between Desenzano and Salo is actually done by another bus: R-204 line. You can find out more information about the route here. another option is the S202 line leaving from Brescia.
boat: Limone is connected to Sirmione, Riva, and Malcesine by boat. From Sirmione, you can even take a fast boat to Limone.
Best time to visit Limone, Lake Garda
Lake Garda (and implicitly Limone) is a lovely destination from spring until fall. If you don't plan to swim, then I'd suggest you avoid visiting in summer when the small town can get very crowded and the temperatures are the highest.
I visited Limone in mid-June and I found the weather pretty ok, albeit it rained for a bit during my time there. I didn't try swimming as I knew the water would be too cold for me.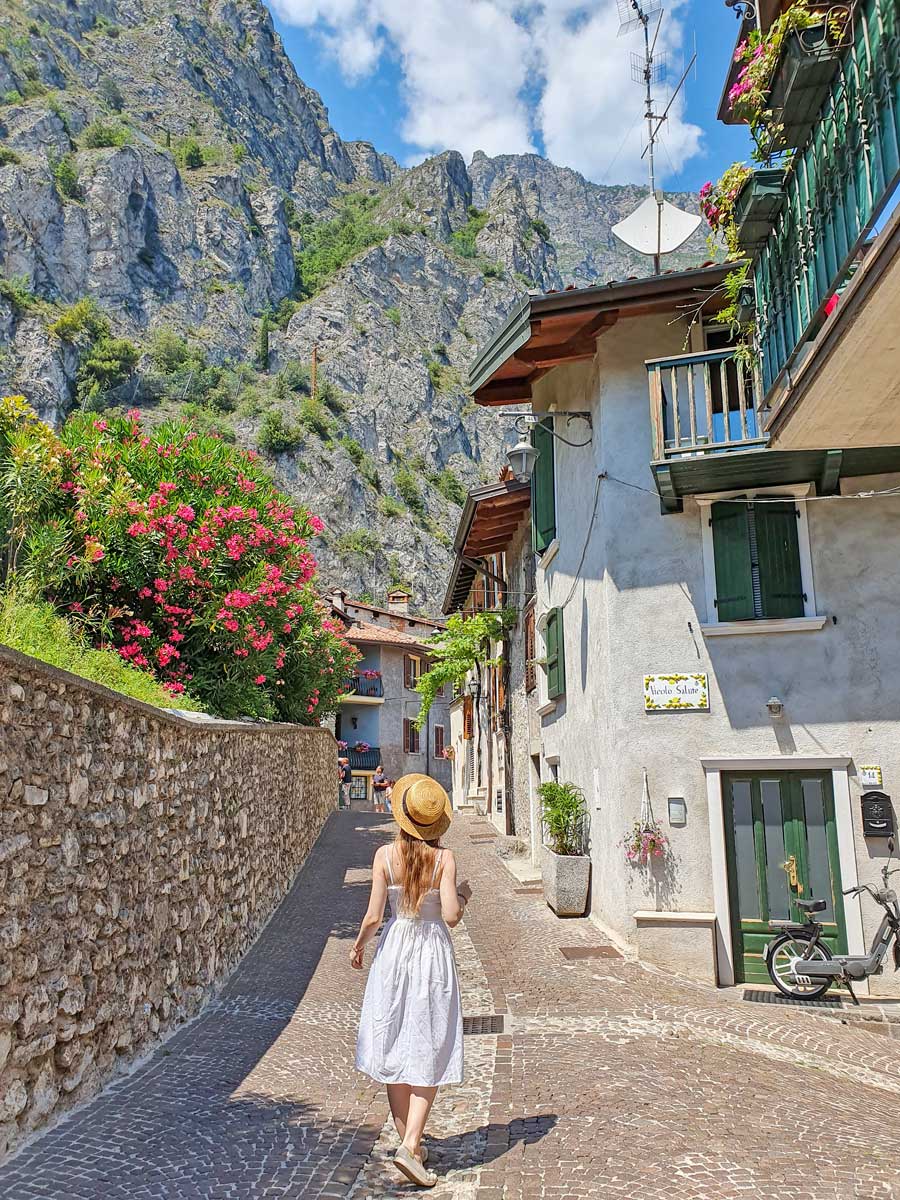 Where to stay in Limone sul Garda
I didn't stay overnight, but I reckon it would be a good idea if you plan to also visit Riva and Malcesine (I only had time for the latter coming from Sirmione). Here are some nice places in Limone where you can spend a night or two:
Where to eat in Limone
If you are feeling hungry there are plenty of restaurants, mostly along the waterfront, to choose from.
As we got off the ferry, it started to rain (a typical summer shower) so we went into the first restaurant we set our eyes on which happened to be Ristorante Le Palme. The food was very good, the view was fantastic (right on the edge of the lake) and I really recommend their strawberry daiquiri cocktail.
Another good choice is Ristorante Gemma, located not far away, in Piazza Garibaldi. You can check their menu here.
One thing I noticed was that the prices in Limone were in general slightly lower than in Sirmione, where we were staying.
Limone sul Garda: Things to do
01. Wander the streets
Being a typical Italian small town, Limone sul Garda is best discovered by getting lost on its narrow, winding streets. Make sure to take a stroll on its lovely promenade as well: the views of the surrounding mountains are amazing.
02. Visit Limonaia del Castel
While the name of the town might make you think of lemons, it's actually most likely derived from either the Latin word "limes" meaning border or "lemos" (elm).
However, lemons were cultivated here for many years. In fact, you can visit an old lemon grove and museum called Limonaia del Castel for a small fee (2 EUR – cash only).
Not only you'll be able to see different kinds of lemons and learn more about the cultivation of this fruit here, but the lemon grove is located a bit higher than the rest of the town, so you're guaranteed some fantastic views of it with the lake as a background.
Getting to Limonaia del Castel is extremely easy: you don't even need Google Maps. Just look down! On most main alleys, you'll be able to spot every few steps a ceramic tile showing you the direction to take in order to reach the museum. I found this very fun to follow.
03. Take a walk or cycle on Ciclopista del Garda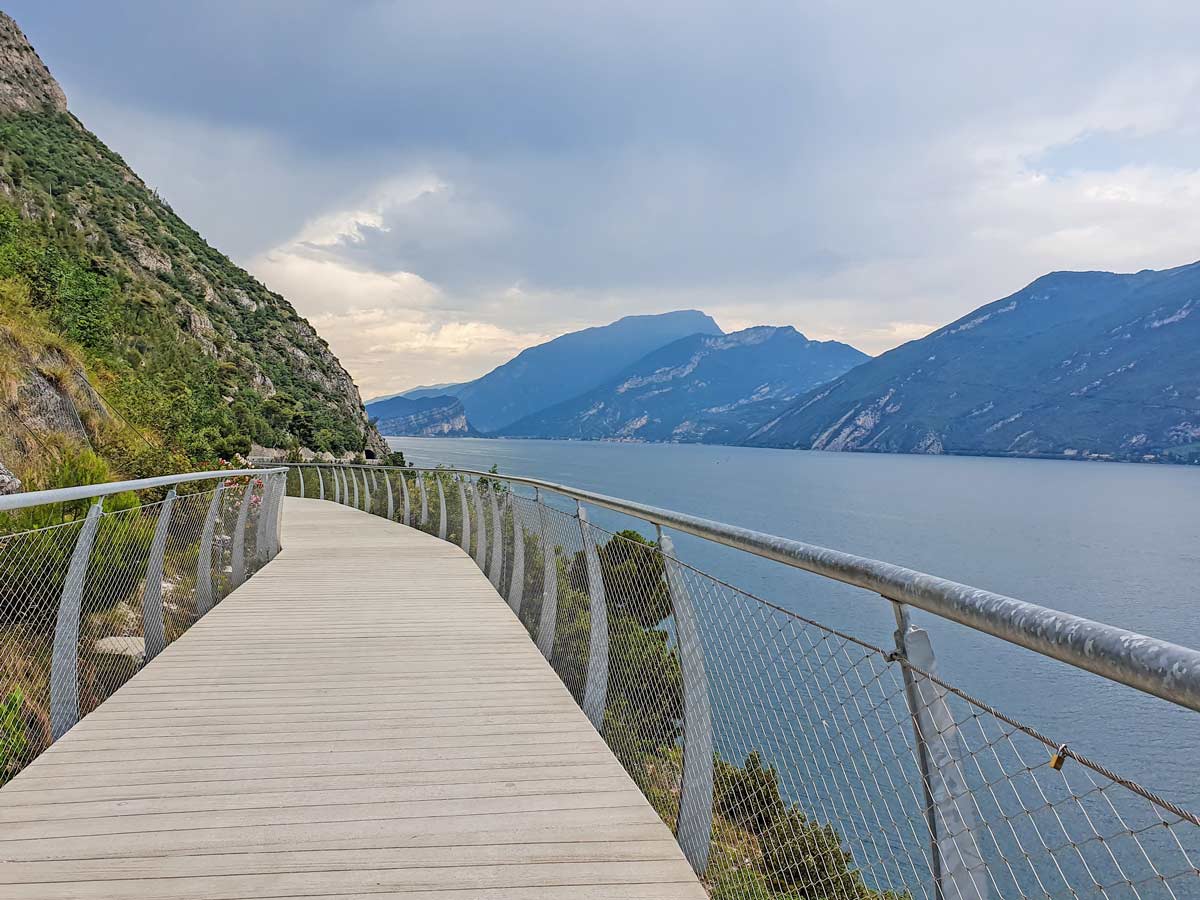 Ciclopista del Garda is a 1km long path near the border between Trentino – South Tyrol and Lombardy regions. It runs along the mountains and partly right above the lake, so you'll be able to enjoy some amazing views of the landscape around you.
The path was designed mainly for bikes, but pedestrians are welcome as well. To reach it you need to exit Limone in the direction of Riva and walk for about 25 minutes. From where it begins and until it starts winding above the water is another 10 to 15 minutes of walking.
TIP: If you stay overnight in Limone you can rent a bike and ride it to Riva. Start your trip in the morning to avoid both the sun and a potentially crowded pathway.
However, be aware that you'll also need to cycle on the road, along cars, for a portion of the way because the separate path for bikes and pedestrians doesn't reach the town. So if you're not comfortable with this, then it's better to just take a walk on the Ciclopista to enjoy the views and visit Riva by boat.
04. Relax at the beach
There are a few beaches you can relax at in Limone. One is Spiaggia Cola (en: Cola beach) and not far from it you can find Surfing Lino where you can take kite and windsurfing lessons as well as rent gear.
Fonte Torrente San Giovanni di Limone beach is also a nice, larger pebbled beach fairly close to the center of the town.
05. Shop lemon-derived products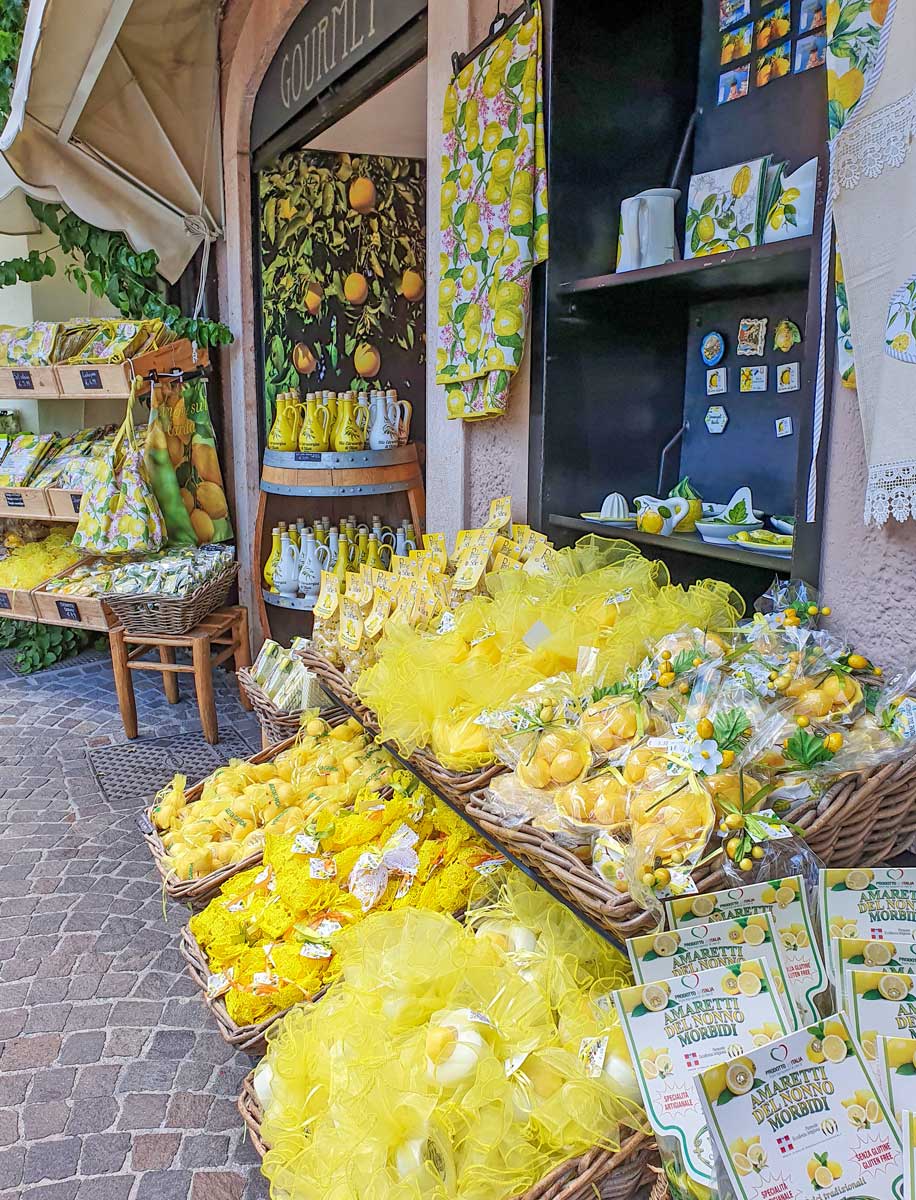 Limoncello, lemon soaps, lemon candles, and other lemon-derived products.. you can find them all in Limone! I didn't buy anything since I'm not a big fan of the lemon scent, but I heard that the soap is really nice.
Day trips from Limone sul Garda
Riva del Garda
Riva is Lake Garda's northernmost town. You can reach it by either ferry, car, bike or bus from Limone, though I'd recommend the ferry.
It is a colorful and charming small town with fantastic views of the mountains surrounding it. In my opinion, it's well worth spending a few hours visiting it.
Malcestine
Malcesine is located right across the lake from Limone and it takes only a short ferry ride to reach it. There is also a boat shuttle service, but it's more expensive than the local ferry, so I'd suggest sticking with the latter.
I found Malcesine really picturesque (even though it felt a bit overcrowded) and I loved the views that you get upon climbing the castle tower.
Sirmione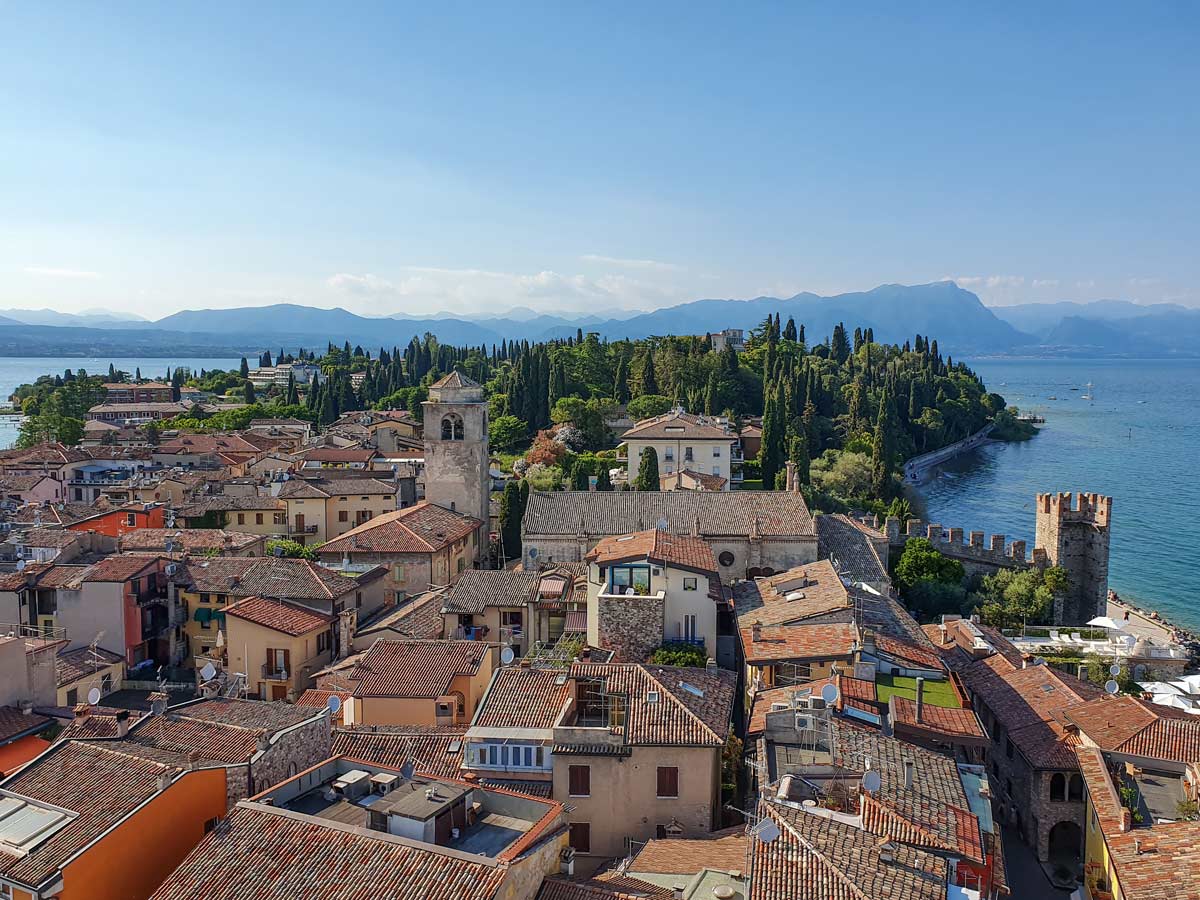 Sirmione is the farthest from Limone, but it's totally doable as a day trip. In fact, I visited Malcesine and Limone from Sirmione in a single day by ferry and fast boat.
If you have a car, then driving will be the fastest way to reach Sirmione. Otherwise, I recommend riding the fast boat to save some time, even though it may not be as scenic as the slower ferries.
Sirmione is definitely a favorite among people visiting Lake Garda and I am no different. This beautiful old town wins you over as soon as you step foot in it. Make sure you visit the iconic Scaligero Castle, which looks like it's sinking.
Limone Lake Garda FAQs
Is Limone Sul Garda worth visiting?
Limone Sul Garda is worth visiting for its beautiful lake views, narrow cobbled streets, historic buildings, and terraced gardens. Whether you're looking for relaxation by the lake, delicious Italian cuisine, or scenic walking routes, Limone Sul Garda has something to offer.
What is Limone Sul Garda known for?
Limone Sul Garda is known for its cultivation of lemons and offers a unique charm, blending natural beauty with a rich history.
How long do you need in Limone sul Garda?
Half a day is enough to experience the picturesque atmosphere of Limone sul Garda and walk a bit on Ciclopista del Garda. But if you want to spend some time at the beach as well, then you should probably spend at least a full day there.
Things to do in Limone Lake Garda: Wrap up
If you're looking for breathtaking views, delicious food, and an all-around wonderful experience, be sure to visit the tiny Limone on Lake Garda in Italy.
With its stunning mountain backdrop and charming small-town atmosphere, this town is definitely worth a visit.
Happy travels~
---
YOU MIGHT ALSO LIKE