Lisbon and Barcelona are two of the most visited and important cities on the Iberic Peninsula. But if you need to choose only one of them, which one should you visit?!
In this post, I'll break down the comparison of the two cities into different categories, from architecture to trip costs, in order to help you pick the one that best suits your travel expectations and preferences.
Is it better to visit Lisbon or Barcelona? (Quick answer)
While there's no doubt that personal preference plays an important role as well, if you weigh things like unique architectural beauty and things to do, then Barcelona is the big winner. However, if you want a less crowded and more budget-friendly destination, then Lisbon is probably a better option for you.
Regarding my own travel experience, I have to admit that while I really enjoyed my time in both cities, I loved Barcelona a bit more than Lisbon.
Lisbon vs Barcelona: Best Architecture
Before I visited Barcelona, I shamefully have to admit that I didn't really understand all the fuss around the city and more specifically around Gaudi's work.
The exterior of the famous Sagrada Familia was a bit too organic even for my taste and it kinda resembled a termite hill to me. Even now, I'm not the biggest fan, even though I got to appreciate all the detailing.
However, it was the interior of the cathedral that really blew my mind and I finally understood the genius of the architect. He plays with the natural light in an extraordinary way, one that I have never seen before. And I can't wait to visit it again!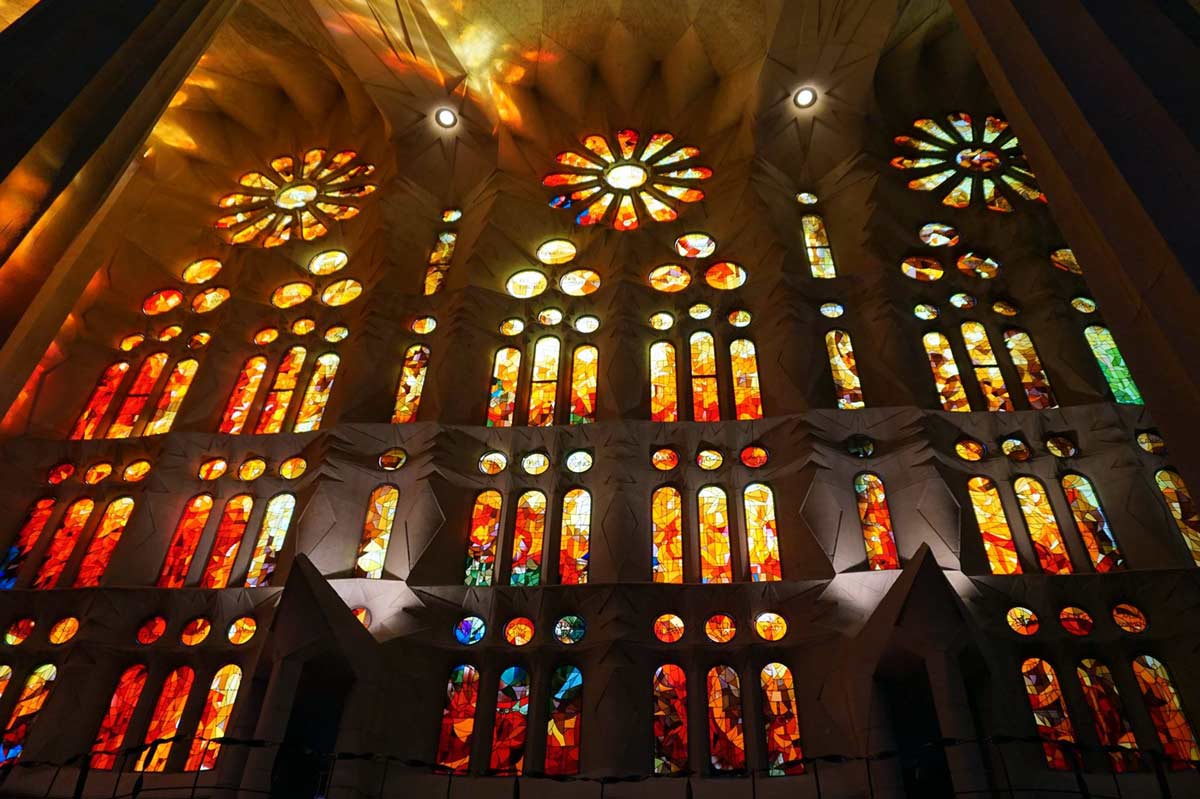 As for the rest of the city, I quickly discovered it to be right up my alley: colorful, unique structures (mainly represented by Gaudi's work) combined with Gothic buildings. Long story short, while I initially thought Barcelona was kinda overrated, I can now say that it's one of my favorite cities.
Now, don't get me wrong, Lisbon also has its fair share of beautiful architecture (Alfama quarter comes to mind in particular). But I still have to give the win to Barcelona for this one.
One last thing: if you are under the wrong impression that you'll find lots of buildings covered in richly decorated azulejo tiles in Lisbon (like I was before visiting), then I have to let you know that it's actually not the case.
While the capital has some nice examples too, the best azuljo tiles are in Porto. So make sure you add the city to your Portugal itinerary if seeing the famous Portuguese tiles is important to you. And trust me, Porto is worth visiting for other reasons as well!
Winner: Barcelona
Which city is cheaper: Lisbon or Barcelona?
I generally found Lisbon to be much cheaper than Barcelona. In fact, Portugal is known as one of the less expensive countries in Western Europe and in my experience, this is very true.
Honestly, I'm still in shock after I ate a tasty main dish with dessert and also had a drink for only a bit over 10 EUR at a restaurant on the famous Pink Street. This wouldn't happen even in my home city, Bucharest, and it's one of the most affordable capitals in Europe as well.
Winner: Lisbon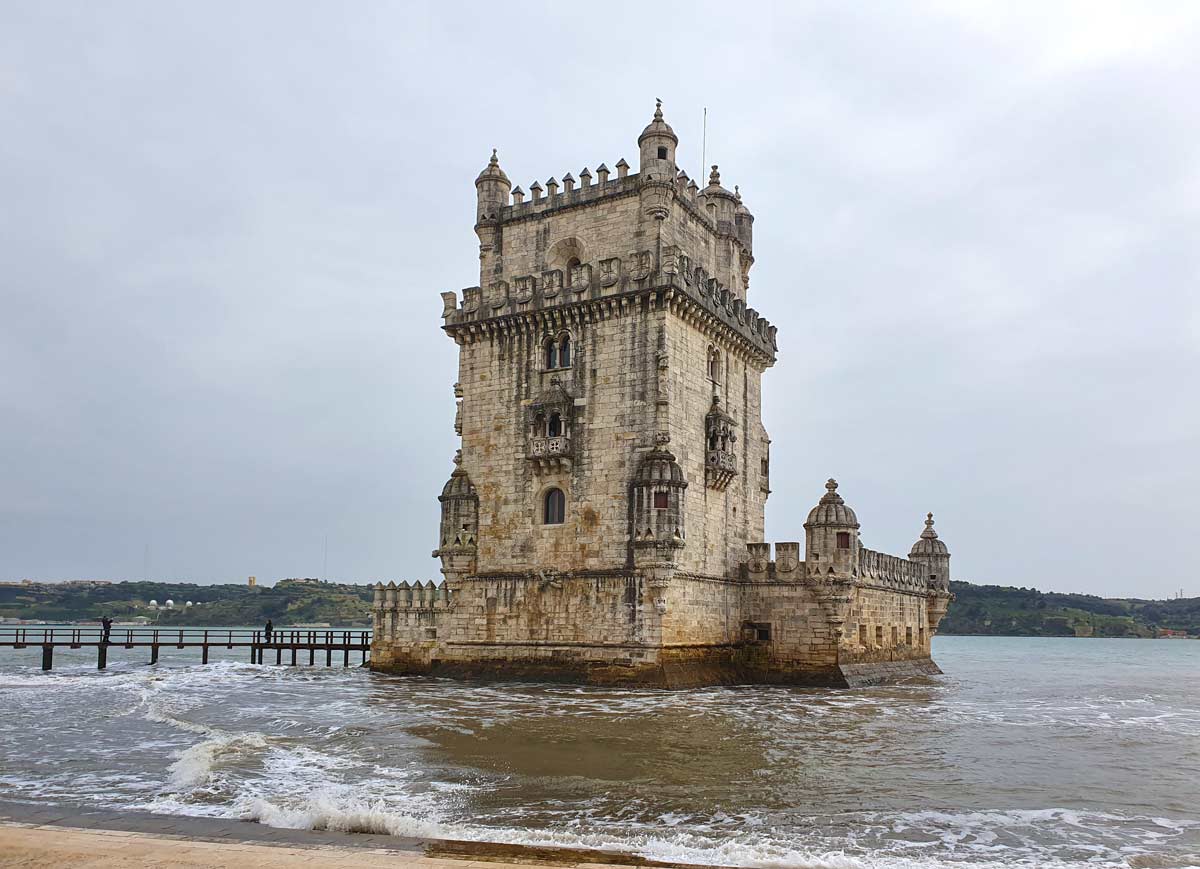 How easy is it to get to Lisbon vs Barcelona?
Lisbon is the capital city of Portugal, so naturally, it's well-connected both internationally and locally. It's also an important hub for Transatlantic flights.
Barcelona on the other hand is one of Spain's most visited cities so it should be fairly easy to find a flight that will get you there from wherever you are.
Also, if you like cruising (read my post on the must-have cruise necessities), then you should know that the ports of both cities are popular stops for different cruise routes.
Winner: Tie
Which city is easier to get around: Barcelona or Lisbon?
Both Barcelona and Lisbon are easy to get around either by walking or public transport. I do feel that Barcelona's attractions are a bit more spread out than Lisbon's though, so you might opt for taking public transportation more often.
Also, do be aware that Lisbon is pretty hilly, and to reach its beautiful panorama points (miradors), you'll need to do a bit of uphill walking.
Winner: Tie
Lisbon or Barcelona: Accommodation options
Both cities have a wide array of accommodation options for different budgets. I do have to note that I found Lisbon's to be better priced usually. However, I have to call it a tie.
Winner: Tie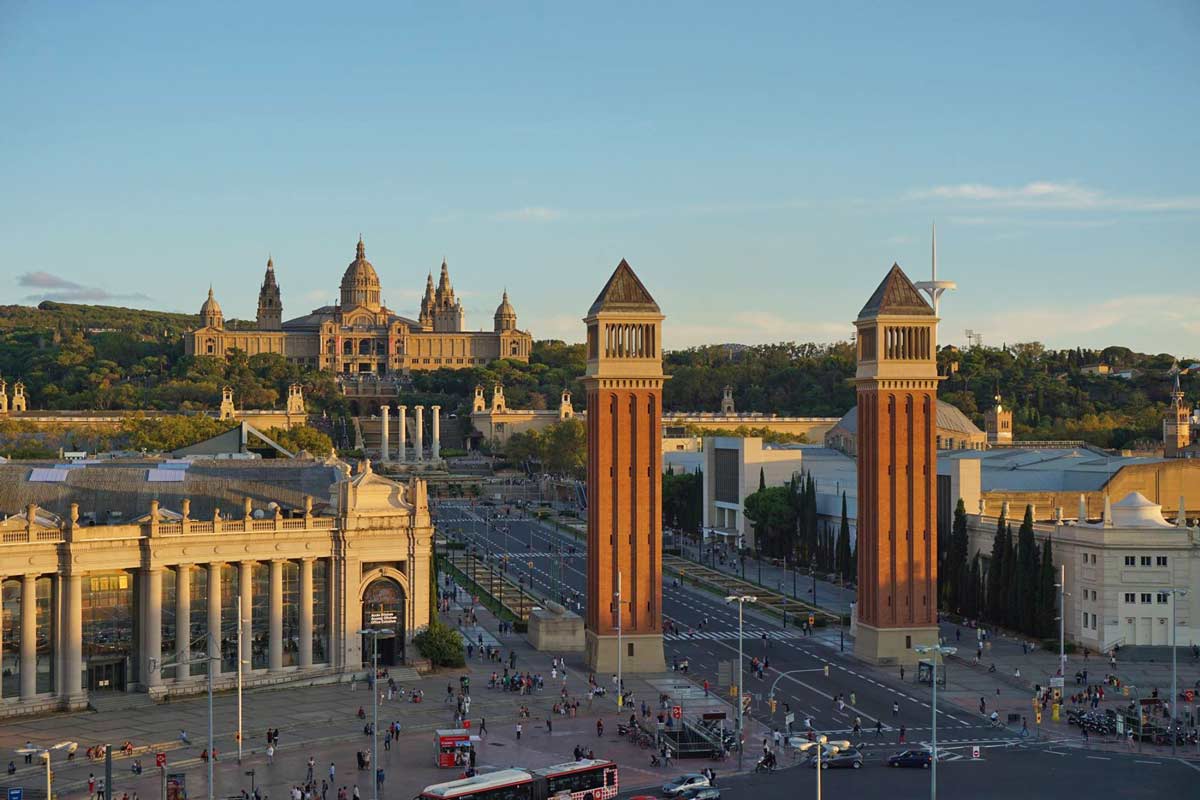 Is Barcelona more crowded than Lisbon?
Barcelona is one of the most visited cities in Europe, with millions of tourists every year. In fact, the city kinda became the victim of its own popularity and over-tourism seems to be a problem for locals since it makes Barcelona expensive to live in.
Things have gotten so bad, that in 2017 some started to protest against visitors and a group of radical activists went as far as to carry out acts of vandalism (slashing the tires of a tourist bus, painting unwelcoming messages on hotels, etc).
But while these were isolated incidents and hopefully they won't be repeated as they are really not the solution, it kinda paints an image of how many people visit the city every year (also you shouldn't be scared to go to Barcelona because of these past acts).
So despite the fact that Lisbon is the capital of Portugal, if you want a trip with fewer crowds, you might want to choose it over Barcelona.
Winner: Lisbon
Lisbon vs Barcelona: Things to do
Both Barcelona and Lisbon are vibrant cities with plenty of attractions. Let's take a look at some of the best things to do and see in each city.
Best things to do in Lisbon, Portugal
Visit the historic quarter of Alfama: it is one of the oldest and most picturesque districts in Lisbon, with narrow streets and colorful historic buildings.
Also, don't miss going to Miradouro de Santa Luzia for some great views of the city (it was my favorite viewpoint in Lisbon).
Take a ride on Tram 28: this route is popular with tourists because it passes through the city's historic neighborhoods, which include Alfama, Baixa, Estrela, and Graca. Not to mention, Lisbon's trams are extremely picturesque by themselves.
Explore the Belem Tower: this 16th-century fortification is one of the city's most iconic landmarks. Located a bit far from the center, you will probably need to ride a tram or get a taxi/uber to get there.
Taste the delicious pastel de nata: this tasty custard tart is a staple of Portuguese cuisine and everyone says that the best place to try it is the historic bakery, Pasteis de Belem, in Lisbon.
There's often a line outside it, but in my experience, you won't have to wait for a long time. I would also recommend you pair it with a shot of Ginja, a very sweet and delicious cherry liqueur.
Visit the Jeronimos Monastery: this imposing monastery was built in the 16th century and is one of the finest examples of late Portuguese Gothic Manueline architecture.
It closes rather early (5 PM) so make sure you get there in time. It is also very close to the Pasteis de Belem bakery, so after you visit the monastery, you can make a quick stop there.
Take a stroll in the Parque das Nacoes: this modern waterfront park was built for the 1998 World Expo which was held in Lisbon. It features one of the world's biggest aquariums (Oceanarium), a cable car, and the iconic Vasco da Gama Bridge, which is the longest in Europe.
Visit the National Tile Museum: if you can't get to Porto, then the best place to see beautiful azulejos while in Lisbon is hands down, the National Tile Museum.
Enjoy the views of Lisbon from its different miradouros: there are several viewpoints across the city from where you can admire great vistas and I highly encourage you to visit them. Some of the most popular are:
Miradouro de Sao Pedro de Alcantara
Miradouro da Senhora do Monte
Miradouro de Santa Luzia
Miradouro da Graca
Miradouro das Portas do Sol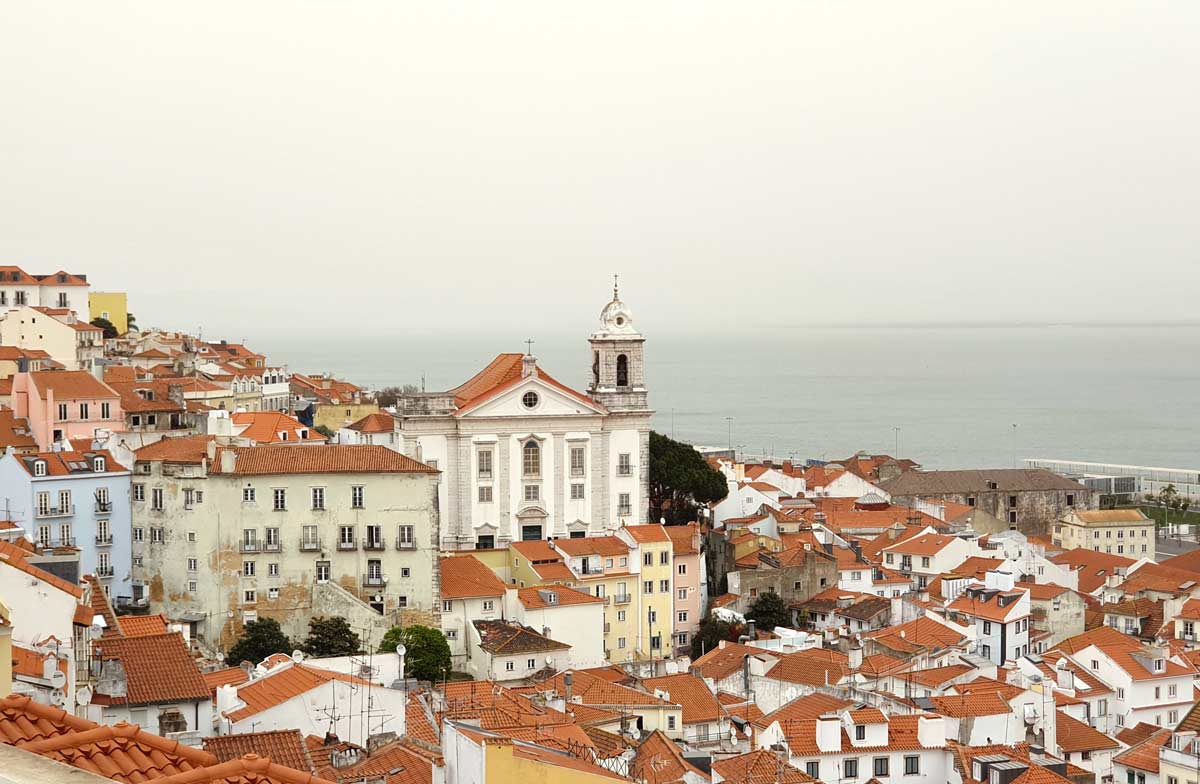 Admire the 25 de Abril Bridge: this 6-lane bridge built over the Tagus river connects Lisbon with the municipality of Almada. While pedestrians cannot walk on the bridge, they can still view it from the waterfront down below or from the observation deck of Pilar 7.
Also, if you are thinking that it looks a lot like the famous Golden Gate Bridge in San Francisco, then you are very much correct and the reason for their close resemblance is simple: the same company was involved in the construction of both bridges.
Not only that, but near the southern anchor point of the bridge, you will find the Sanctuary of Christ the King, which was inspired by the well-known Christ the Redeemer statue, located in Rio de Janeiro, Brazil.
Take a day trip to Sintra: this picturesque town is one of the most popular day trips from Lisbon, due to its close location and its beautiful palaces.
I recommend you read my article Sintra in a day: The perfect day trip from Lisbon to find out how to make the most of your visit there.
Best things to do in Barcelona, Spain
Visit La Sagrada Familia: this worldwide famous church is one of the most visited attractions in Barcelona. Designed by Antoni Gaudi, the still unfinished La Sagrada Familia is an architectural masterpiece that combines the Gothic, Catalan Modernism, and Art Nouveau styles.
As I said before, it's the interior of the church that will truly leave you baffled. The giant stained glass windows offer an amazing light show to its visitors.
Stroll along La Rambla: La Rambla is a busy pedestrian street that connects Placa de Catalunya and Columbus Monument, near the waterfront. Along the way, you can find street performers, flower stalls, and plenty of cafés and restaurants.
Explore Park Guell: another important work of Antoni Gaudi, the park is known for its colorful mosaics, sculptures, and nice views of the city.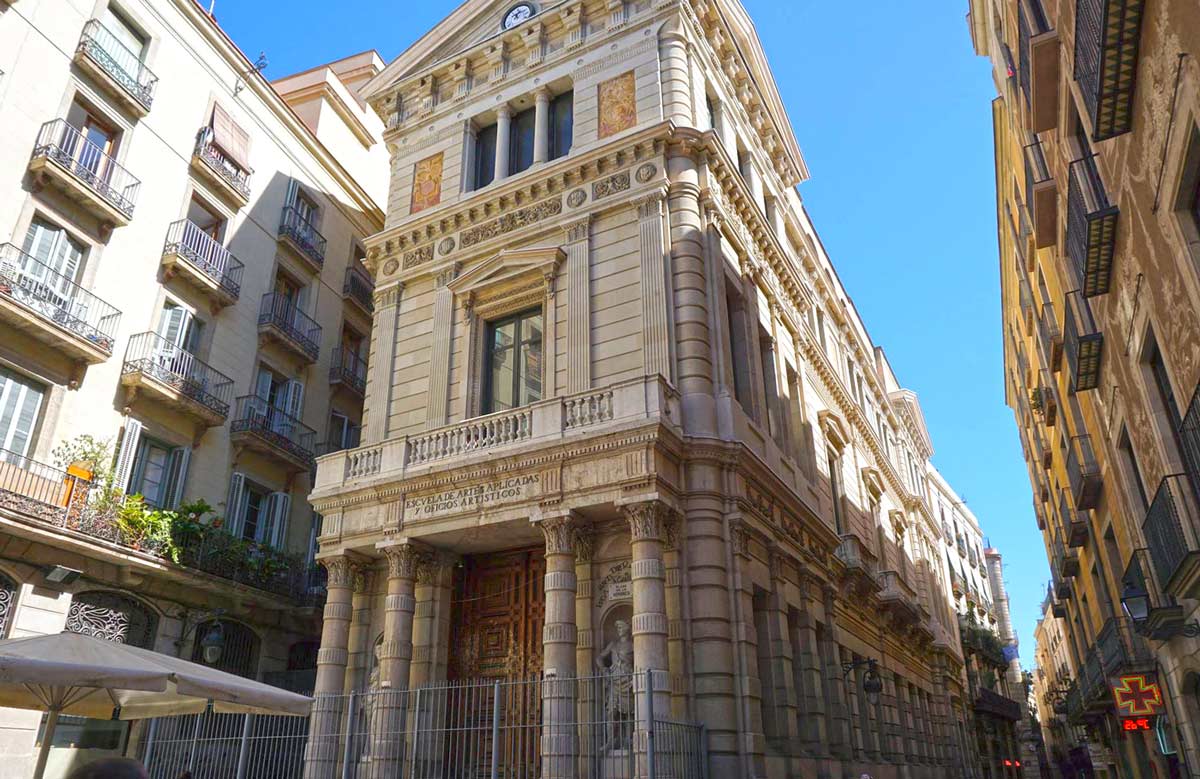 Visit the Gothic Quarter: it is the oldest neighborhood in Barcelona, with very narrow streets and historic buildings.
Get lost in Horta Labyrinth Park: the main attraction is, as the name implies, a hedge maze. The Horta Labyrinth Park is also the oldest garden in the city.
Visit the Picasso Museum: the museum is home to more than 4 200 works of the famous Spanish painter, Pablo Picasso.
Spend time at the beach: since Barcelona is located on the Mediterranean coast there are several easy-accessible beaches where you can relax or watch the sunrise like Barceloneta or San Sebastian.
Taste the local cuisine: Barcelona is known for its culinary scene, and there are plenty of exceptional restaurants where you can try paella, tapas, or different seafood dishes. And don't forget to wash every bite with Sangria.
Walk through Casa Batllo: this is another famous building that bears the unmistakable signature of Gaudi. If you can only see one of his works (apart from the Sagrada Familia of course), then I recommend it to be Casa Batllo.
Watch a flamenco show: Flamenco is a well-known traditional Spanish dance, and there are several spots in Barcelona where you can watch a live performance.
Climb atop Mount Tibidabo: the hill is home to Tibidabo Amusement Park and the beautiful Church of the Sacred Heart of Jesus. You will also be able to enjoy amazing views of the city from the top of Tibidabo.
Visit Santa Maria del Mar: this 13th-century church is a great example of Catalan Gothic architecture.
Explore Montjuic Castle: the fortress is built atop Mount Montjuic and now functions as a museum. To get there, I recommend you take the Montjuic Cable Car since it will allow you to enjoy amazing views the entire ride.
Visit Poble Espanyol: it is an open-air architectural museum that illustrates the diversity of Spanish architecture and culture. You can easily spend a few hours here.
Visit Montserrat Monastery: located about 30 miles (50 kilometers) away from Barcelona, Montserrat Monastery is a popular day trip for many tourists visiting the city.
There you can visit the church (inside you will find the famous Black Madonna statue), listen to the Montserrat Boys Choir, hike to some of the viewpoints around the monastery, or take Saint Joan funicular up the mountain. There's also a museum on the premises, that you can visit.
As you can see both cities have a lot to offer, however, I feel like the sights you can see in Barcelona are a bit more unique and for this, I'll give it the win.
Winner: Barcelona
Which city has the best weather: Barcelona or Lisbon?
It may come as no surprise, but Barcelona and Lisbon have fairly similar weather with hot summers and rainy winters (you're unlikely to see snow in either one).
In my opinion, the best time to visit either Barcelona or Lisbon is during spring and fall, when the weather is pleasant and the crowds are thinner.
I would also add that due to their climate, both destinations are good options for early spring or late fall when it's a bit harder to find places with nice weather to visit in Europe.
Winner: Tie
Barcelona vs Lisbon: Cleanliness
While there was nothing too extreme, I generally found Barcelona to be a cleaner city than Lisbon. It also didn't help that many of the beautiful trams in the Portuguese capital were covered by ugly graffiti.
Aso while I do love a beautiful and colorful mural, most of the paintings on the walls weren't like that.
Winner: Barcelona
---
I hope this blog post helped you decide which amazing city to visit between Lisbon and Barcelona. However, if you are still conflicted, then maybe you should start planning a trip to both Portugal and Spain.
Happy travels~
---
YOU MIGHT ALSO LIKE