Staying in an overwater bungalow with nothing but the ocean laying in front of you is very much part of the Maldives travel experience as the crystal clear water of the islands, but these types of accommodations can raise the cost of your trip by quite a lot.
So I decided to round up 10 affordable water villas in Maldives (in no particular order) to help you have the vacation of your dreams, without breaking the bank too much. And I also recommend you read my tips on saving money in Maldives for even more budget-friendly suggestions.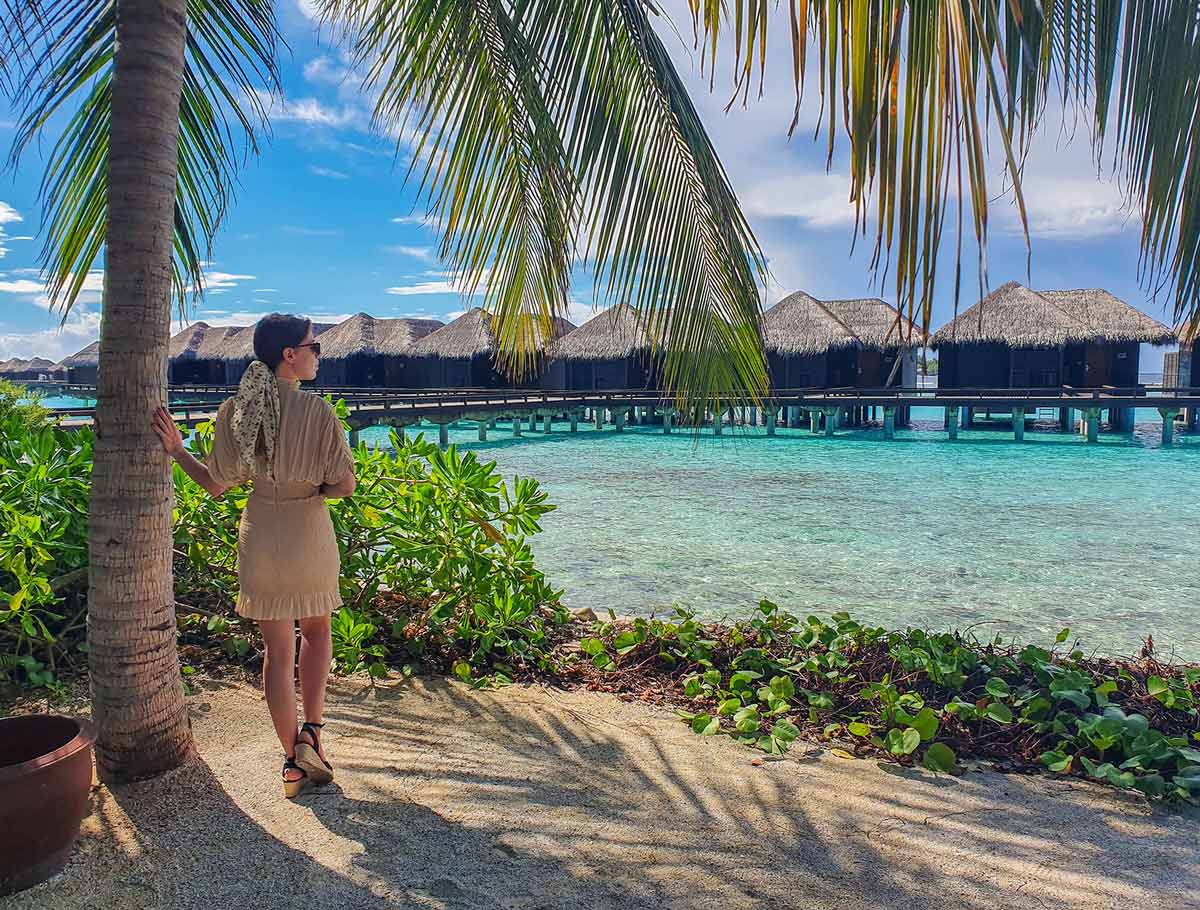 But because affordable can still be expensive when it comes to this beautiful and exotic destination, I tried selecting overwater bungalows with a fare as close as possible to $1000/night for 2 persons or under. I used Booking.com for this.
However, as resorts in Maldives often vary the discounts they offer depending on various factors like seasonality or occupancy, you might be able to score a better than expected price for your stay.
Disclosure: Some of the links in this post are affiliate links. If you click on them and make a purchase, I may receive a commission at no extra cost to you. Check my full disclaimer here.
Top 3 picks: Cheap water villas in Maldives
Affordable water villas in Maldives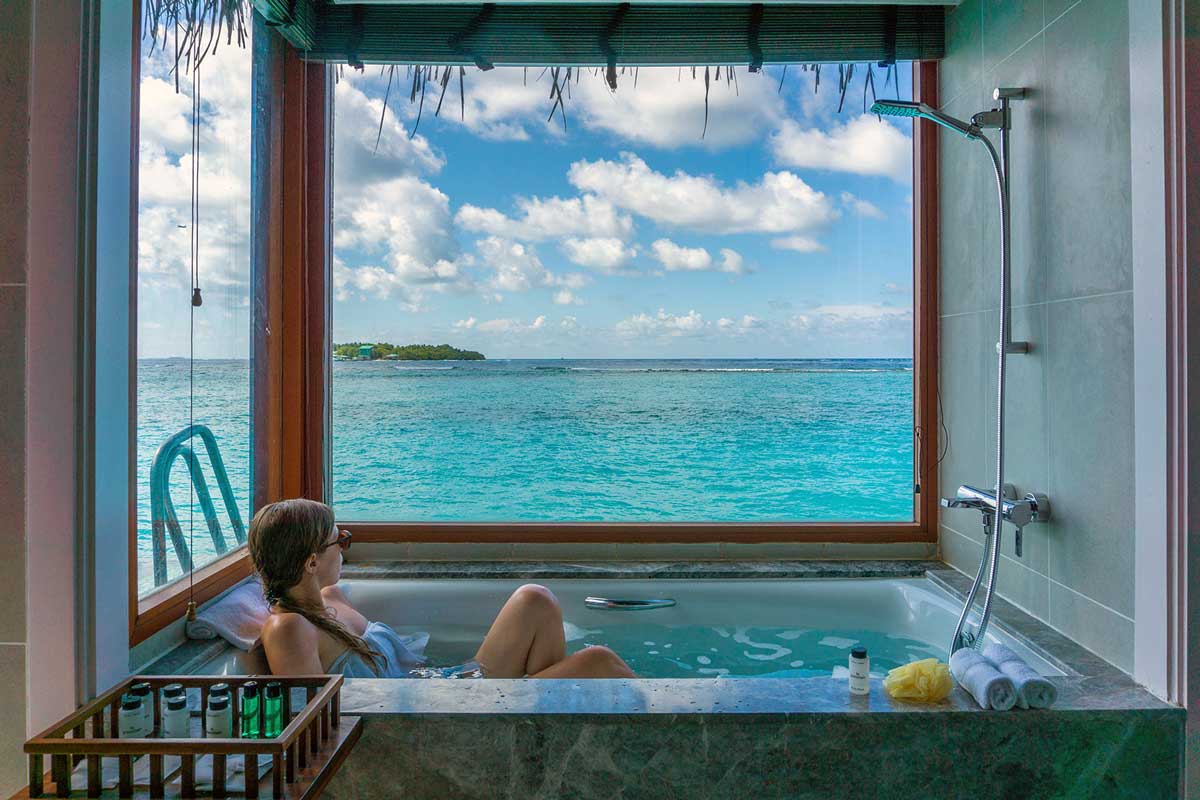 Honestly, with Sheraton Maldives Full Moon Resort and Spa, I found that prices can vary by quite a bit between affordable and expensive. But if you do find a good deal for their water villas, I personally suggest you go for it as I really enjoy my stay there. And you can check out my Sheraton Maldives review before booking, as well as my total Maldives vacation cost.
In contrast to other resorts on this list, Sheraton offers the boat ride (15 – 20 minutes) from the airport free of charge. And while it may not seem like much, even a short boat transfer can be pretty expensive when it comes to Maldives.
The resort boasts an array of amenities including a pool, a lovely spa, a water sports center, gym, as well as a tennis court. It also offers two types of over water villas among other accommodation options: with and without a private pool, the latter naturally carrying a higher price tag.
When it comes to dining, guests are spoilt for choice with several restaurants offering an array of culinary delights (both buffet and a la carte).
One thing that I will mention is the fact that given its close distance to Male, the Maldivian capital is somehow visible from the resort (even though they did their best to mask it with man-made islands and vegetation), which some might not like.
However, I found out that this didn't impact the serene tropical experience that most of us are looking for when visiting a destination like Maldives. This is especially the case if you decide to book the over water villas which are located on the other side of the islands, hence you'll have no view of Male from your bungalow.
Drift Thelu Veliga Retreat is a tropical paradise located a mere 35-minute seaplane ride away from Male airport, on the pristine island of Thelu Veliga, South Ari Atoll.
The water villas here offer a truly mesmerizing experience. Their strong point is definitely the enticing bathtub that commands fantastic ocean views, inviting you to unwind and soak in the beauty of the surroundings.
With a beautiful and easily accessible coral reef, snorkeling becomes an unforgettable experience, teeming with vibrant marine life just a dip away from your doorstep. The resort offers various meal plans included in the room rates, so you can take your pick.
Guests can also pamper themselves at the spa or enjoy various activities like snorkeling, diving, windsurfing, and boat rides.
A short 45-minute boat ride (please note, prices vary depending on the time period) will bring you to the tropical paradise of Meeru Island Resort & Spa.
Once there, you'll be greeted with a private beach area and not just one, but two outdoor pools – perfect places to unwind and soak up the Maldivian sunshine.
Should you wish to explore the island, the resort offers a convenient bicycle rental service. And for those seeking more active pursuits, the resort organizes various activities like golf, snorkeling, and windsurfing. These are sure to add an exciting edge to your laid-back island getaway.
The water villas features private spa baths, and the best part is that you can slide one of the privacy screens for easy ocean access and amazing views.
Meeru Island Resort & Spa effortlessly combines relaxation with activities to create a truly enriching holiday experience in the Maldives.
⭐️ RATING: 9.2/10 (200+ Reviews) | ✈️ TRANSFER: domestic flight + boat or seaplane | ✅ Book it!
Located on the scenic Raa Atoll, Kudafushi Resort & Spa offers more than just a holiday stay.
The resort is great for water sports enthusiasts with its 5-star PADI diving center and water sports center. Popular activities also include snorkeling and windsurfing. And for those traveling with little ones, there's also a lively children's club.
Relaxation is a given, with a soothing spa and a year-round outdoor pool. As for gastronomy, the resort houses three restaurants and two bars, offering a range of culinary delights. Meal plans are flexible, allowing you to choose between breakfast, lunch and dinner or an all-inclusive package.
Kudafushi Resort & Spa is accessible via a 45-minute seaplane flight or a 30-minute domestic flight followed by a 20-minute boat ride. Take note that transfers come with an additional cost, varying based on the chosen time period.
Filitheyo Island Resort is a great budget-friendly option in the Maldives which boasts a house coral reef, making it a diver's dream come true.
This resort features an outdoor infinity pool where you can soak in the beauty of the ocean, and a pampering spa offering restorative treatments for ultimate relaxation.
Their on-site dive centre ensures a hassle-free underwater exploration experience. For the more adventurous, windsurfing and canoeing options are also available.
Filitheyo can be reached by a 40-minute seaplane ride, though do note that additional costs apply. The water villas offer a comfortable stay with breathtaking views.
All in all, this resort provides an accessible yet lovely Maldivian getaway.
⭐️ RATING: 8.6/10 (550+ Reviews) | ✈️ TRANSFER: domestic flight + boat or seaplane | ✅ Book it!
Reethi Beach Resort is located on the lush island of Fonimagoodhoo and it can be reached by either a 35-minute seaplane flight or by a 20-minute domestic flight and a short 15-minute boat ride.
Surrounded by a beautiful lagoon, the resort features a fully-equipped fitness center for those looking to maintain their workout routine, while a tranquil spa and massage parlor provide ample opportunities to relax and rejuvenate.
With an impressive array of dining options, the resort boasts five restaurants and five bars, catering to a range of global culinary tastes and preferences.
⭐️ RATING: 8.9/10 (1100+ Reviews) | ✈️ TRANSFER: domestic flight | ✅ Book it!
Despite being the biggest resort in the Maldives, Sun Island Resort & Spa effortlessly maintains a serene, uncrowded atmosphere.
The beaches, aside from the main one fronting the bars, are often fairly empty and very clean, providing an ideal setting for those seeking solitude and tranquility.
In terms of accommodation, it offers 5-star facilities, including a restaurant, a bar, an outdoor pool, a fitness center, and a garden. The resort can be reached via a 20-minute domestic flight, but do note that this is an additional cost.
Dining is a delight here, with multiple restaurants offering a mix of buffet and a la carte options. The main buffet restaurant caters to various dietary restrictions wit its vegetarian, gluten-free, and vegan options.
With its meticulous attention to guest comfort and a vast array of amenities, Sun Island Resort & Spa truly delivers a memorable Maldivian holiday experience.
If you're looking for an adults-only, serene retreat in the Maldives that's still relatively cheap, Centara Ras Fushi Resort & Spa is the place to book. Nestled in the northern part of the Male Atoll, this property offers luxurious beach and over-water accommodation.
The resort is only a convenient 20-minute boat ride away from Male airport (extra cost applies), making it an easily accessible slice of paradise.
With a beachfront spa, you can indulge in relaxation while soaking up the scenic beauty.
If you're an underwater enthusiast, the PADI-certified diving center offers unforgettable marine explorations. And an outdoor pool provides another venue to unwind and enjoy the tropical climate.
As for dining, the resort boasts six on-site bars and restaurants, offering a culinary tour from Thai and Italian to a range of international dishes.
If you're after a unique blend of luxury and relaxation, look no further than Vilamendhoo Island Resort & Spa. A scenic 25-minute seaplane journey from Male International Airport (additional cost applies) transports you to this tropical haven.
Here, every modern water villa is not only tastefully decorated but also comes with a spacious outdoor jacuzzi, but unfortunately it's surrounded by wooden walls for privacy and it's not possible to take in the breathtaking ocean vistas.
Resort amenities extend to an inviting outdoor pool and a tranquil spa, offering rejuvenating treatments that are sure to help you relax.
With its lavish accommodations and top-tier facilities, Vilamendhoo Island Resort & Spa promises a Maldivian holiday experience that you'll cherish forever.
⭐️ RATING: 8.2/10 (180+ Reviews) | ✈️ TRANSFER: domestic flight | ✅ Book it!
Situated on Meedhoo, an inhabited island in the Dhaalu Atoll, South Palm Resort Maldives can be reach with a 70-minute domestic flight (extra costs apply).
The resort features a restaurant serving delicious dishes, a bar where you can unwind with your favorite cocktail, and a shared lounge, perfect for relaxed socializing. The resort also houses a beautifully landscaped garden, ideal for leisurely strolls.
All in all, if you're looking for a blend of relaxation and local island culture, then you should consider South Palm Resort Maldives.
Final thoughts: Cheap water villas in Maldives
So there you have it: 10 affordable water villas in the Maldives! And remember, since resorts in Maldives often offer discounts, you might be able to score a better than expected deal for your stay.
Happy travels~
---
YOU MIGHT ALSO LIKE