The Maldives is an absolutely stunning destination, but it is also well-known as pretty expensive, especially when it comes to resorts. So naturally, I wanted to know what to expect price-wise before traveling there.
However, I didn't find much information online regarding the cost of food, drinks, or activities. That's why I decided to write this blog post where I'll share my Maldives vacation cost in a 5-star resort (water villa), as well as actual prices for food, drinks, or activities.
So how much does a trip to the Maldives cost if you want to stay in a resort?!
Let's find out!
Disclosure: Some of the links in this post are affiliate links. If you click on them and make a purchase, I may receive a commission at no extra cost to you. Check my full disclaimer here.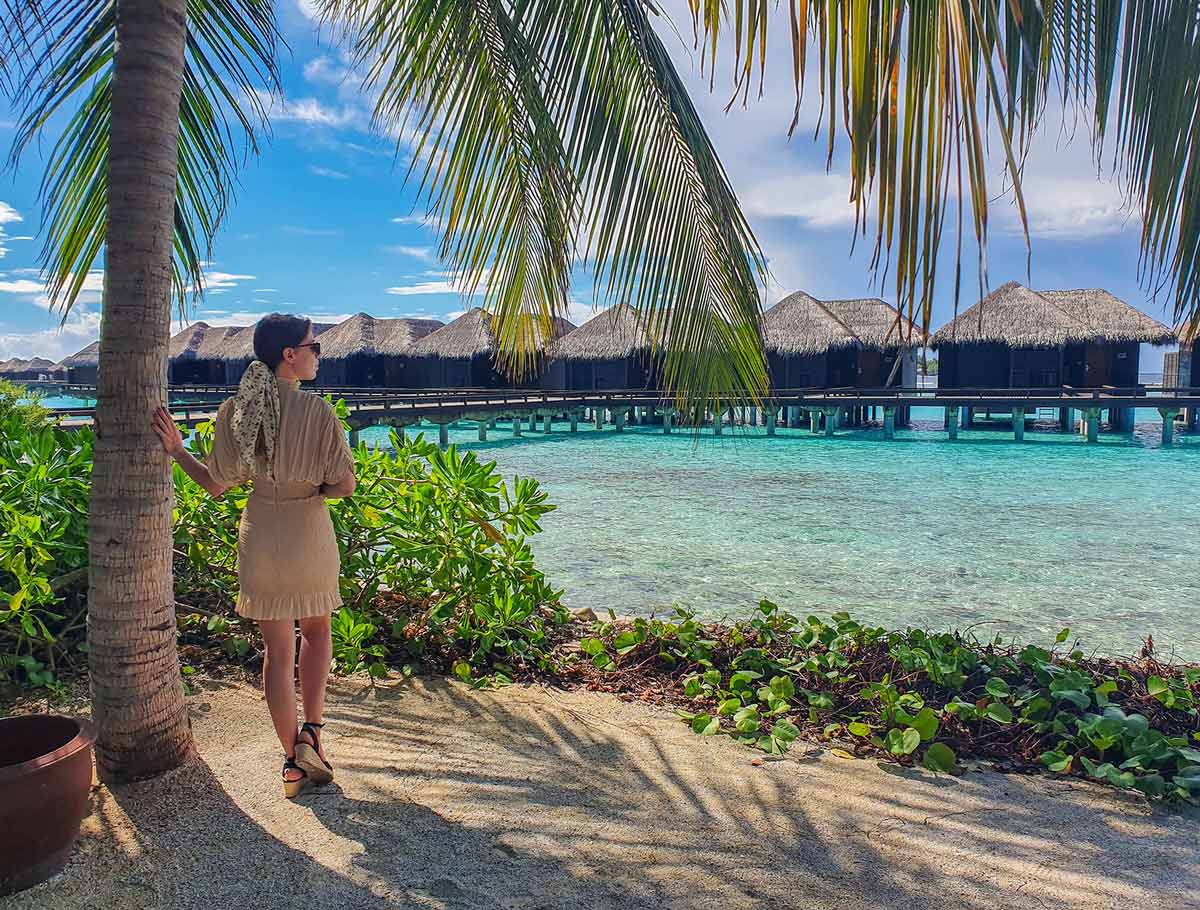 How much does it cost to stay in the Maldives?
Since it was our first trip to the Maldives we wanted to get the full experience that the islands are famous for and that meant staying at an over-water villa.
I usually plan all our vacations, but this time we decided to go with an agency since we wanted to avoid a layover because of the pandemic situation. It turned out to be a pretty good idea.
After browsing its travel offers and doing some research, I settled on Sheraton Full Moon Resort and Spa, which is a 5-star hotel, just 15 minutes by boat from Male.
The hotel offers several room types (more details in my Sheraton Maldives review), but we booked an overwater bungalow with a private pool.
We also opted for a half-board meal plan, which I felt was the perfect choice for us. Other options were breakfast only, full board, and all-inclusive. My advice is to get some sort of meal plan because food and drinks have pretty high costs at every resort.
The total cost for an 8-day (7-night) trip: accommodation with half board and flights per couple was 6745 USD (5918 EUR).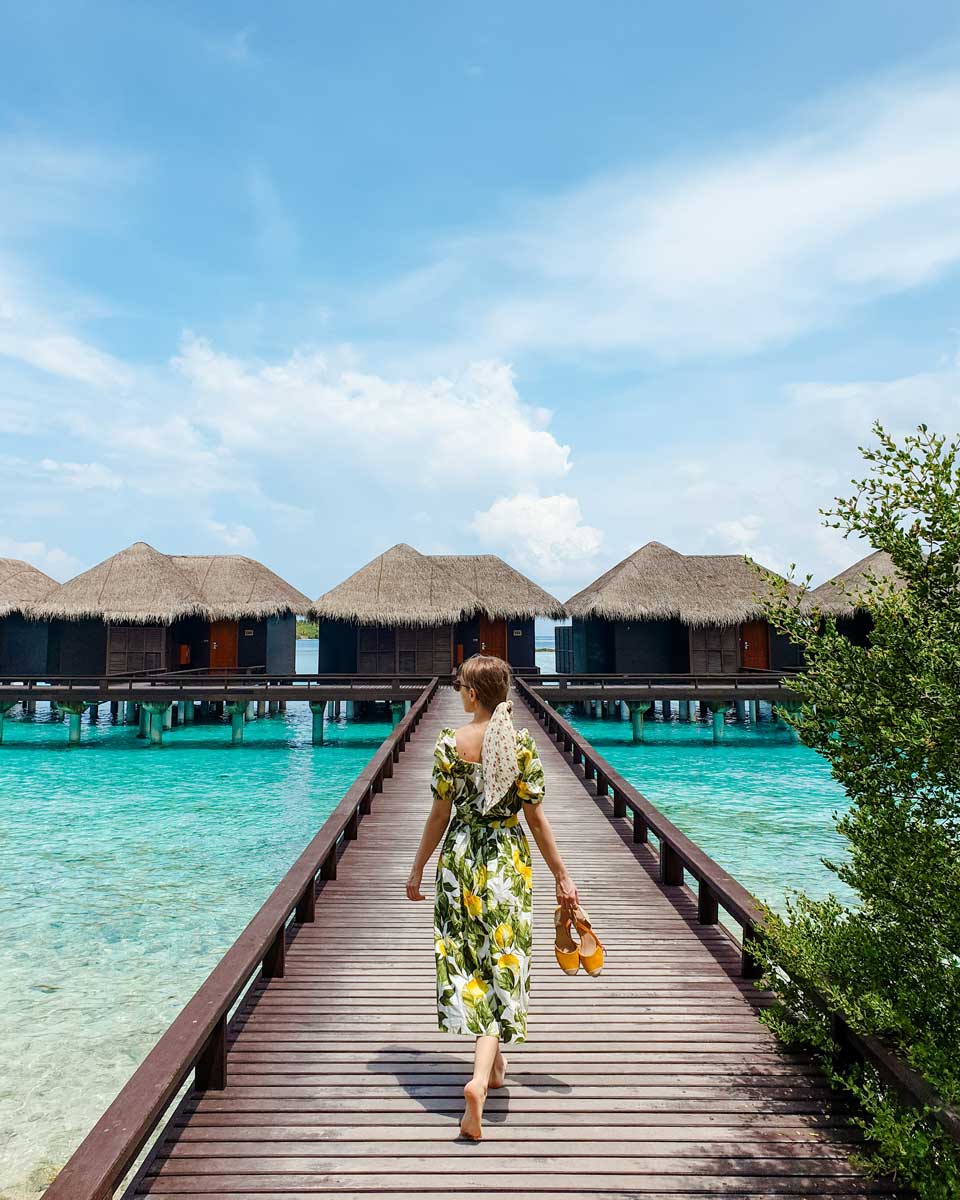 Now what I noticed about the Maldives is the fact that accommodation costs vary greatly depending on room type, with overwater bungalows usually being the most expensive.
This being said, I found the travel package to be a good value for money, taking into consideration the destination. I also checked the resort's rates on Booking.com before we committed and the prices were very close to what we were to pay to the travel agency, except that we also had the flights included.
Cost of activities in Maldives
Activities are also on the pricier side. And it's important to bear in mind that all prices listed in resorts are without taxes (this is just one of the things you should know before going to Maldives).
Personally, we did a shared Reef snorkeling trip (60 USD/pers) and a Safari one (80 USD/pers), a sunset dolphin cruise (60 USD/pers), and my boyfriend had a catamaran beginner lesson (150 USD/pers). Our total for water activities before taxes was: 550 USD.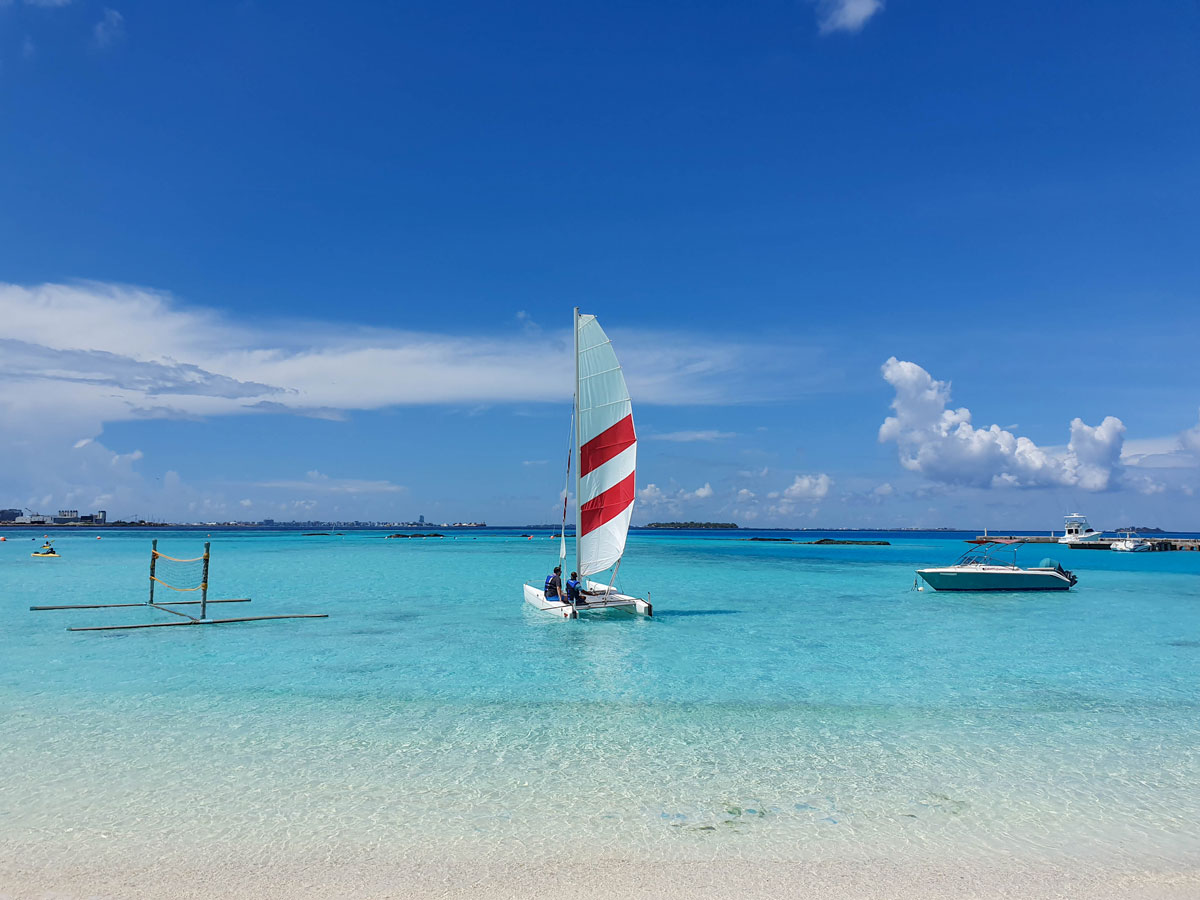 Note: By shared trip, I mean that it was a scheduled excursion organized by the hotel with a minimum number of people.
How it worked was that you'd sign up for the trip you wanted and if the minimum number of persons was achieved, the trip would go on as planned. If not, the staff would let you know and you'd have to try another time.
All shared excursions could also be booked as private trips but were much more expensive that way. For example, a private reef snorkeling session by speed boat was 300 USD for 2 persons and 400 USD for 4 persons.
Regarding water activities, my tip for you is to choose a resort that has a house coral reef: that way you will save money on snorkeling trips.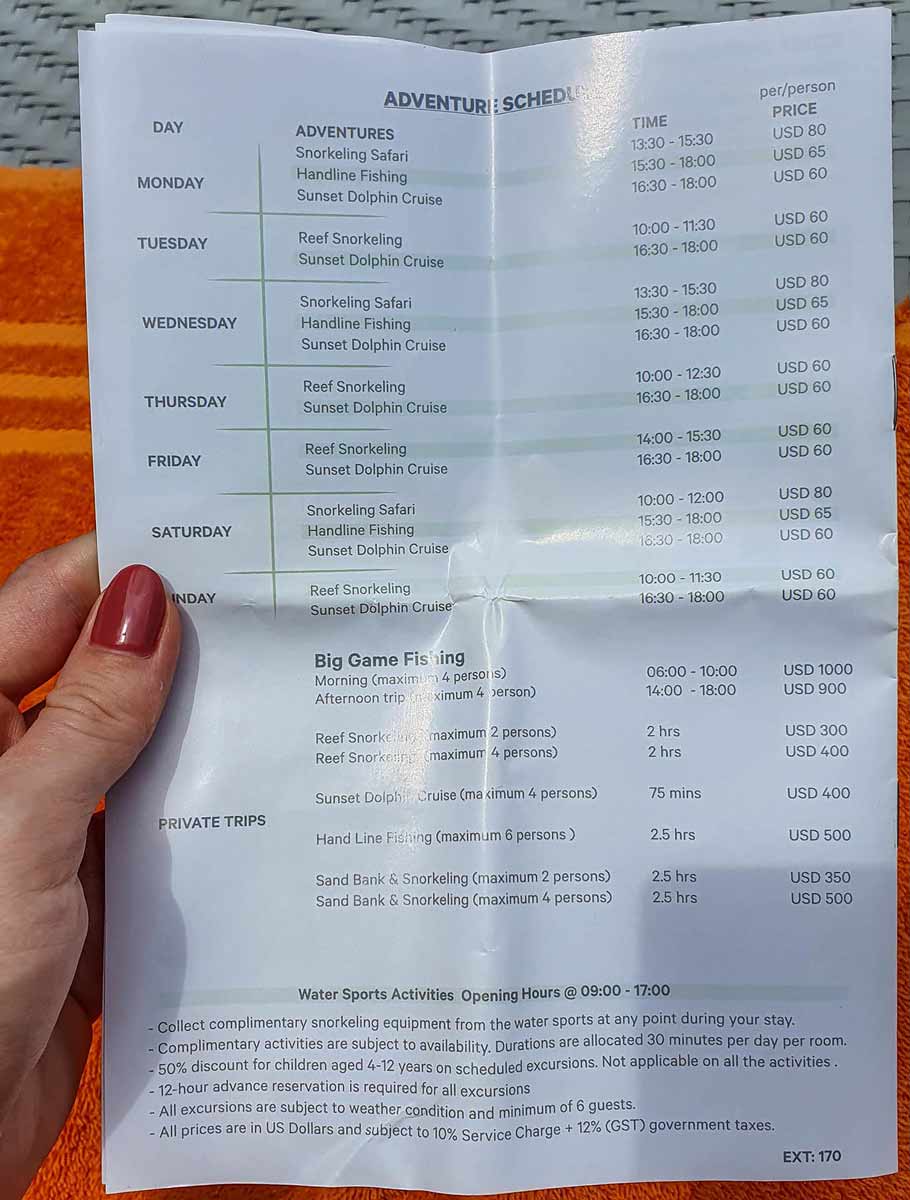 Other activities offered by the hotel we stayed at (and I imagine most resorts have similar trips you can book) were:
scuba: prices varied greatly between 100 USD for a beginner lesson to 1200 USD for a Dive master on request (certified divers only)
private sandbank and snorkeling trip: 350 USD for 2 persons or 500 USD for 4
jet ski tour: 160 USD for 2 persons (25 minutes)
10 minutes parasailing: 120 USD/ 1 person, 200 USD/2 persons, 250 USD/family (3 persons)
banana boat (15 minutes): 90 USD for 1 to 3 persons
boat ride (30 minutes – maximum 4 persons): 150 USD, etc
Our resort also had a photographer on the grounds and because we got engaged during this trip we decided to buy a photo album. The album and all of the photos in digital format were 400 USD, while the photoshoot itself was free.
Food cost and drinks prices at Maldives resorts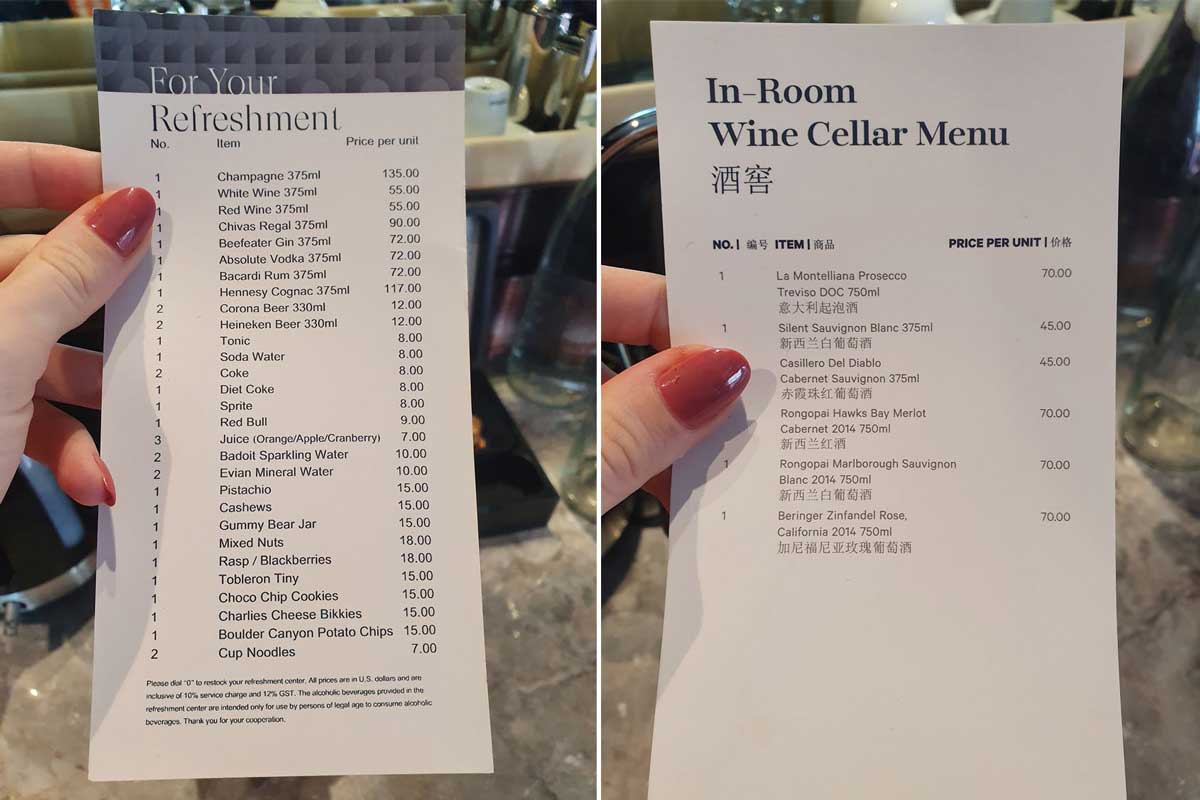 Most resorts also offer romantic dining experiences. For my birthday we got a dining package as a way to celebrate and it was 580 USD. It included:
a romantic dinner on the beach: 5-course menu and a bottle of premium champagne
an in-villa breakfast (also with champagne) for the next morning
bed decorations
in villa fruits and Baileys
As I already mentioned, we had breakfast and dinner included in our travel package, so we didn't spend a lot extra on food and drinks (apart from the dining experience of course). But here are some prices to give you an idea about the costs.
Dinner at the international buffet-style restaurant was 90 USD, a bottle of wine from the in-room wine cellar was 70 USD, and a pizza was around 30 USD.
Cocktails were 18 USD (both at the bar and as room service), smoothies were 13 USD, and milkshakes were 15 USD. The price of beer was around 11-12 USD. Also, you should remember that since the Maldives is a Muslim country, you'll only find alcoholic drinks at resorts.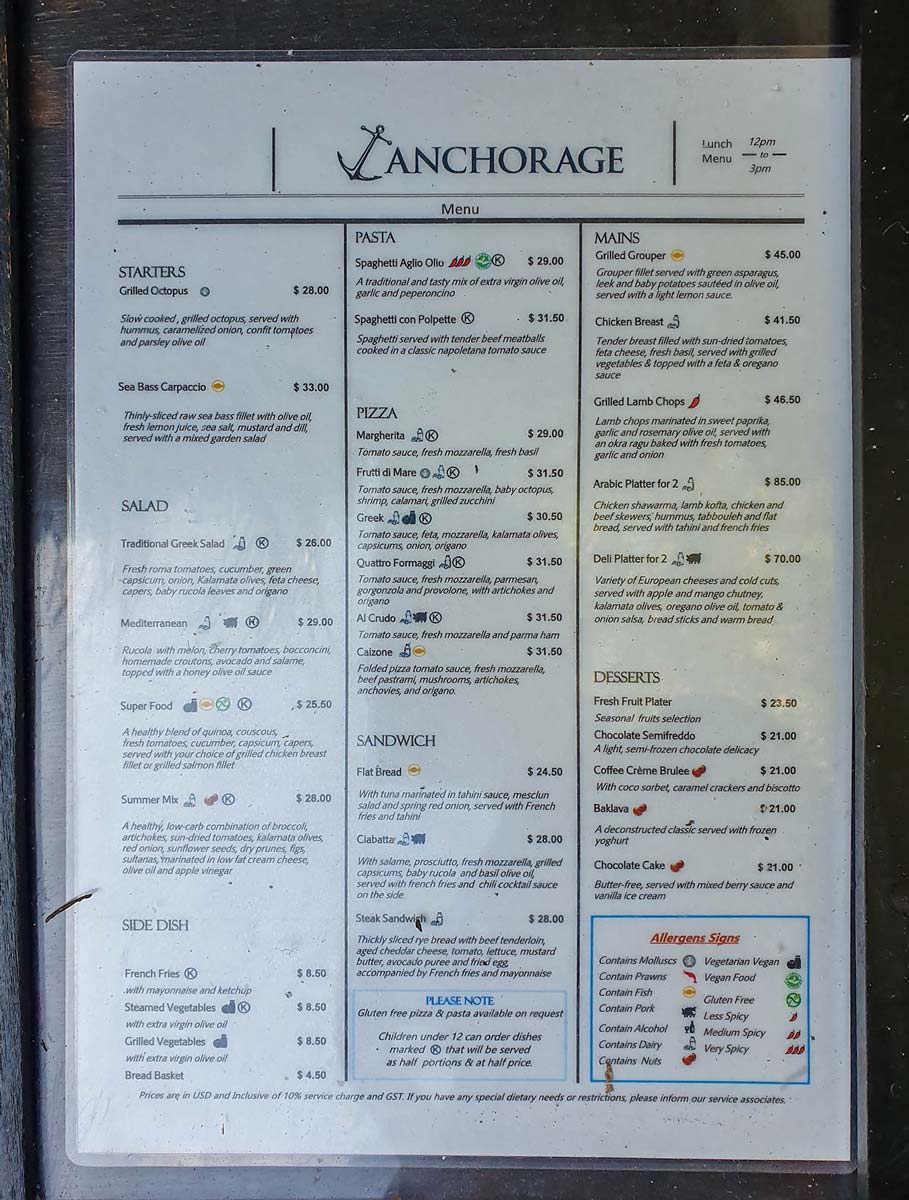 Other things you should know
All prices at the hotels are in USD. Most resorts should accept credit cards, but I'd recommend checking with your hotel before your arrival just to be sure.
If you discover you forgot something at home (check out my Maldives packing list in order to avoid this), most resorts have at least a small shop on their grounds, from where you can buy useful things like SPF or sunburn relief creams, but also souvenirs.
Also, there are ATMs at the airport, but you can only withdraw Maldivian Rufiyaa. We use it to get some cash for tipping, as we didn't have any dollars.
Upon check-in, you'll be asked for a security deposit. For us, it was 800 USD. When it's time to check out if everything is ok with the room, you'll either be offered to use it to pay the bill (if you have one) or you'll have it refunded.
There were some changes regarding the employment laws in the Maldives and now 10% of services is collected as service charges at resorts, and then it's equally divided among employees.
So tipping while not mandatory, is welcomed. For example, we tipped the room staff, the host that took care of us during our dining experience, and the staff that handled our luggage.
Transportation from the airport to the hotel is not usually included in the rates and it can be very pricey, even for a short boat ride. Seaplane transfers are notoriously expensive for that matter. So take that into consideration as well when booking the resort.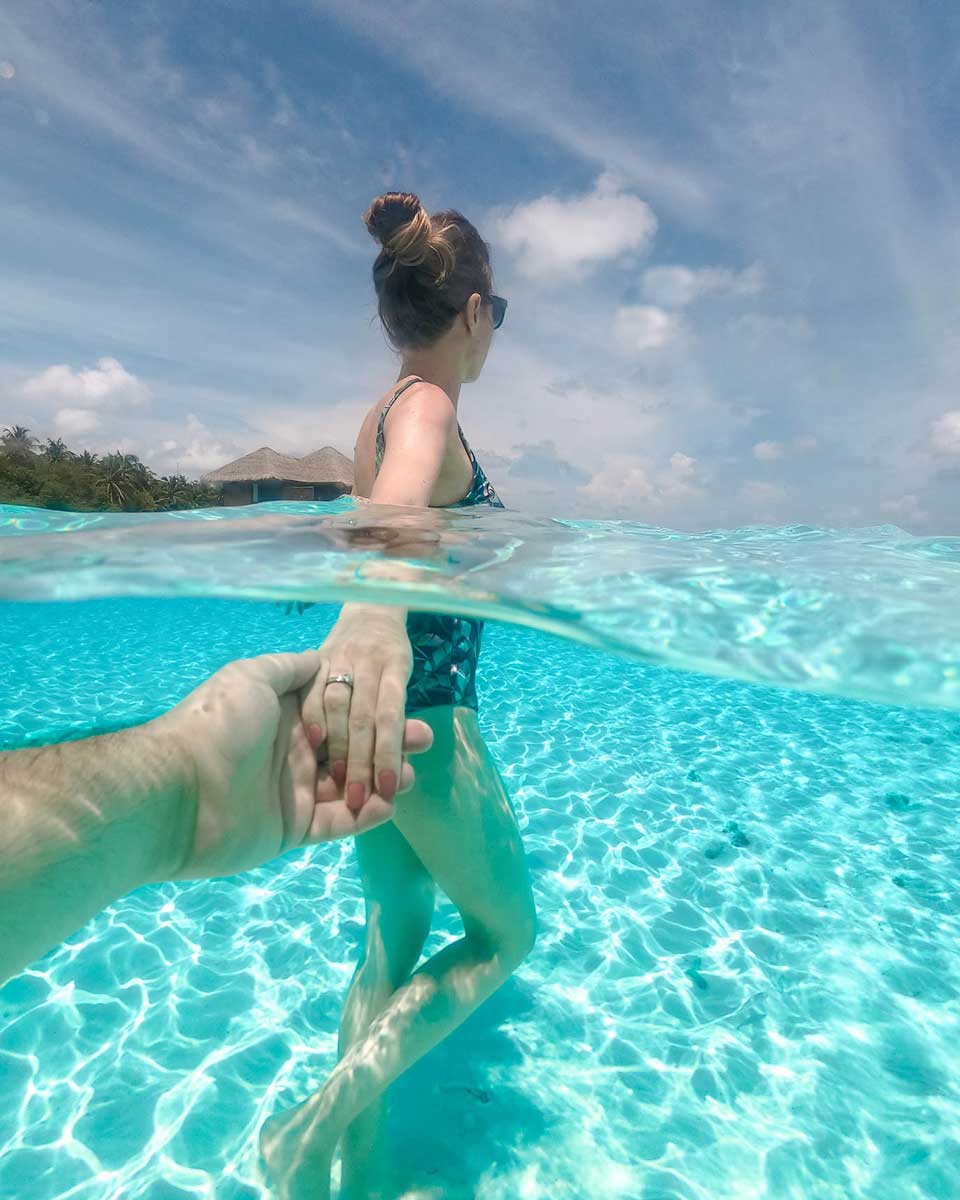 Total Maldives trip cost for couple in US dollars
Our bill at the checkout was 1859.65 USD (with taxes), but out of this amount, 240 USD were the PCR tests we had to take in order to be able to return to our country.
So the actual grand total of the vacation was around 8365 USD per couple if we exclude the insurance and the PCR tests we took both in our country and in the Maldives.
It's definitely not a small amount, but I think it's fair considering the destination, the activities and experiences we had, and the length of our stay.
And even though every person will have their own idea of what a vacation in the Maldives should be like, I do hope my travel costs will help you plan your own holiday there.
Maldives trip cost FAQs
Why is the Maldives so expensive?
There are several factors that contribute to the high cost of vacationing in the Maldives like import costs due to its remote location, high standard of luxury (the islands are famous for their high end resorts), limited space, seasonality, as well as environmental impact and sustainability.
Is Maldives only for the rich?
Definitely not! While the islands are known as an expensive destination that doesn't mean that you cannot visit them on a budget. Accommodation and food are way less pricier on the local islands as opposed to resorts.
How much does it cost to go to the Maldives for a week?
The cost for spending a week in Maldives (flights not included) differs depending on the type of vacation you plan to have. On average, for a backpacker-style trip you can expect to pay around 500$, mid-range should be at least 2000$, while a luxury vacation at a fancy resort will probably require you to shell out over 4000$ per person.
How much does a trip to Maldives cost: Wrap up
The Maldives is indeed an expensive destination, but you can tailor your trip depending on your own desires and budget.
I hope this article helps you do just that while also giving you an idea of much it cost to visit this stunning location if you want the resort experience. And if you want to save some money, check out my tips on visiting the Maldives on a budget.
Small disclaimer: Do take into consideration that our trip took place at a time when traveling didn't yet fully recover from the pandemic (march 2021), so prices will probably vary in some regards.
Happy travels~
---
YOU MIGHT ALSO LIKE