Are you planning your next trip and you're wondering how can you spend 4 days in Malta without a car? I've got you covered!
Malta is a beautiful country that offers something for everyone. Whether you're looking for fascinating history, stunning beaches, or nightlife and entertainment, Malta has it all.
In this blog post, I will provide you with a detailed Malta 4-day itinerary for first-time visitors to the country, that can be easily followed without renting a car. I'll show you the best places to visit and things to do in Malta so that you can make the most of your time there!
Also, make sure to pack your camera, because there are many beautiful photo spots in Malta that will make any memories last forever.
Disclosure: Some of the links in this post are affiliate links. If you click on them and make a purchase, I may receive a commission at no extra cost to you. Check my full disclaimer here.
4 Days in Malta without a car (Brief itinerary overview)
Day 1: Valletta and the Three Cities
Explore Valletta, Malta's capital, known for its history and architecture: visit Upper and Lower Barrakka Gardens, admire Maltese balconies and tour St. John's Co-Cathedral among others.
Witness the firing of cannons at the Saluting Battery.
Take a boat or the ferry across the bay and walk through Vittoriosa (Birgu), Senglea (Isla), and Cospicua, also known as "The Three Cities".
Day 2: Mdina and Rabat + Dingli Cliffs
Visit Mdina, the former capital, known for its architecture and views.
Explore Rabat which is adjacent to Mdina.
End the day at Dingli Cliffs where you can watch the sunset.
Day 3: Popeye's Village and Marsaxlokk
Tour Popeye's Village, the film set of the 1980 musical "Popeye".
Visit Marsaxlokk, a small fishing village known for its colorful traditional boats.
Day 4: Gozo
Explore Gozo, known for its beaches, hiking trails, and historical sites.
Consider a Gozo Hop-on Hop-off sightseeing bus or a guided tour if you want to see several of the main attractions in a single day.
When's the best time to visit Malta?
Malta is a great place to visit year-round. If you just want to explore the island, then it's better to plan your trip in the spring or late fall.
The weather is pleasant during this time, but not too hot and the island is not as busy. However, if you also want to swim and soak up the sun, then you should visit between late June and the end of September.
I actually traveled to Malta in the 2nd week of March, for my birthday and it was very sunny, albeit a bit windy. So make sure you pack some warmer clothes too.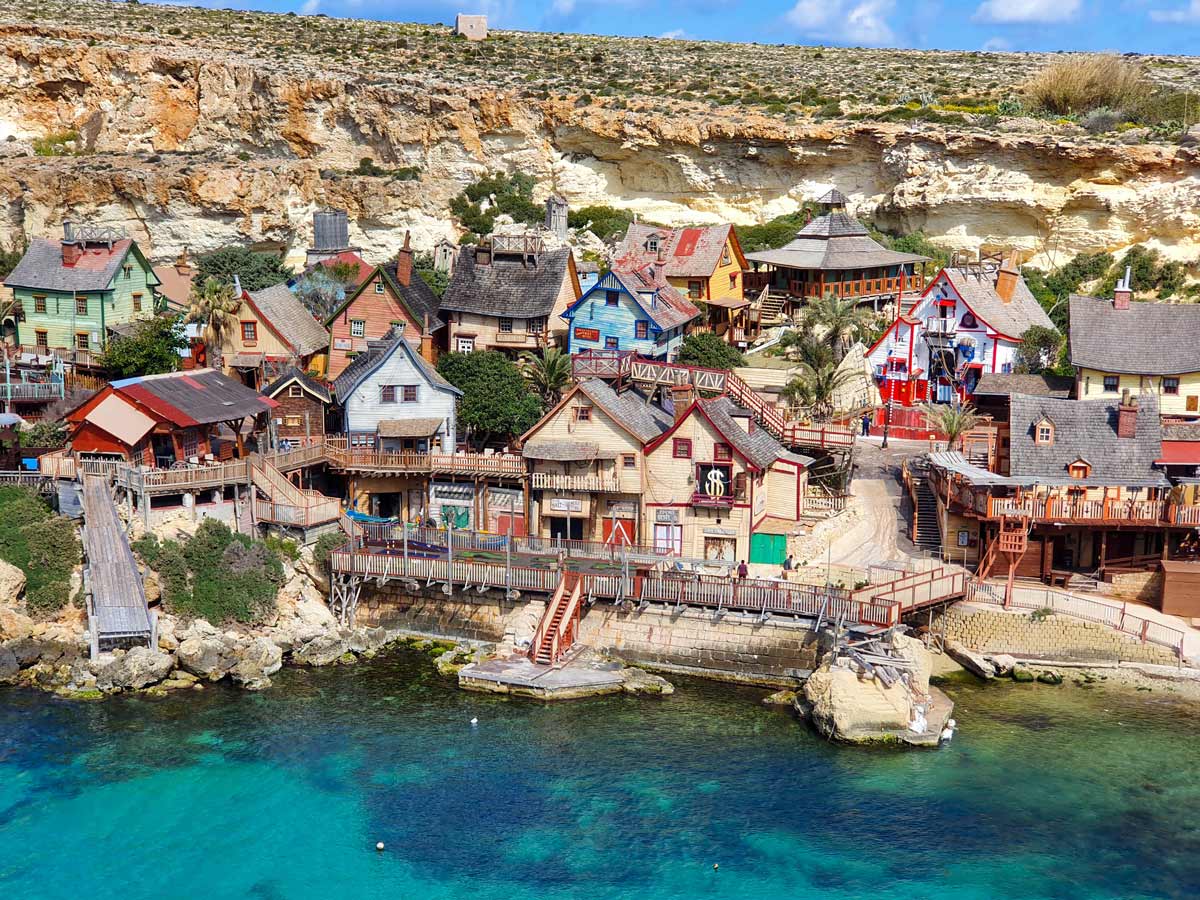 Where to stay in Malta without a car?
If you don't plan to rent a car, then you should stay in Valletta. The capital is the starting point for most bus routes, so it's definitely the best choice for people that want to use public transportation to discover Malta.
You should bear in mind though that the city is fairly small, and there are very few hotels there. So if you are traveling during the high season, make sure to book your accommodation ahead of time.
We stayed in Valletta ourselves, in a small apartment near the city walls, and while it looked nice and was well-positioned, I felt that the cleanliness wasn't quite on par, especially given the price. I particularly disliked the fact that we received stained towels.
So, for this reason, I'm not recommending our accommodation, rather I'll list a few other options:
Cheaper alternatives to Valletta are both Sliema and Birgu (Vittoriosa). Sliema is a hip town just a ferry ride away from Valletta. It has many hotels and it's a good shopping destination.
Birgu on the other hand is quieter and has a charm of its own. In my opinion, it's perfect for couples. The easiest way to reach Valletta from Birgu is by boat or ferry.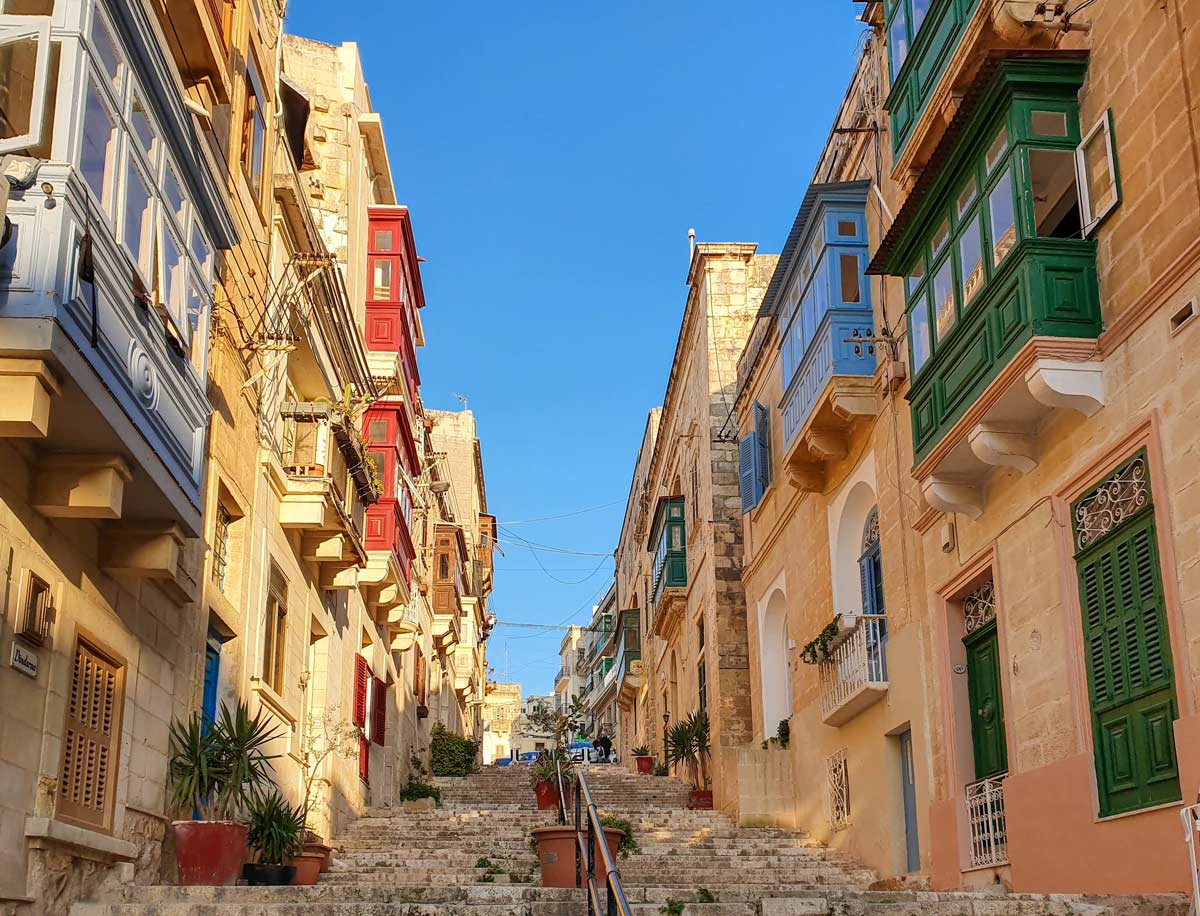 Public transportation in Malta
The first thing you should know is that in Malta driving takes place on the left side (like in the UK for example). Second, the island is pretty small, so there's quite a lot of traffic. For these reasons, I'd recommend visiting the island by public transportation, instead of renting a car.
Malta has a very good bus network, so you'll most likely be able to hit every location on your travel list by riding the bus. You need to keep in mind however that in more remote areas, the connection times are usually longer. Also, the buses are sometimes a bit loose with their schedule.
But even so, I still think is a great and worry-free way of visiting the island. Just make sure you check beforehand how long the journey is going to take (the times are not as short as you may imagine).
You can use Google Maps confidently to plan your trips, however, sometimes the app may not be too up-to-date with some route changes.
As I already mentioned Valletta is the best place to stay if you plan to visit the island by public transportation since most of the routes start from here.
Just outside the City gate, somewhat close to the Triton Fountain, you can find the bus stations. They are neatly organized in several sectors, by destination.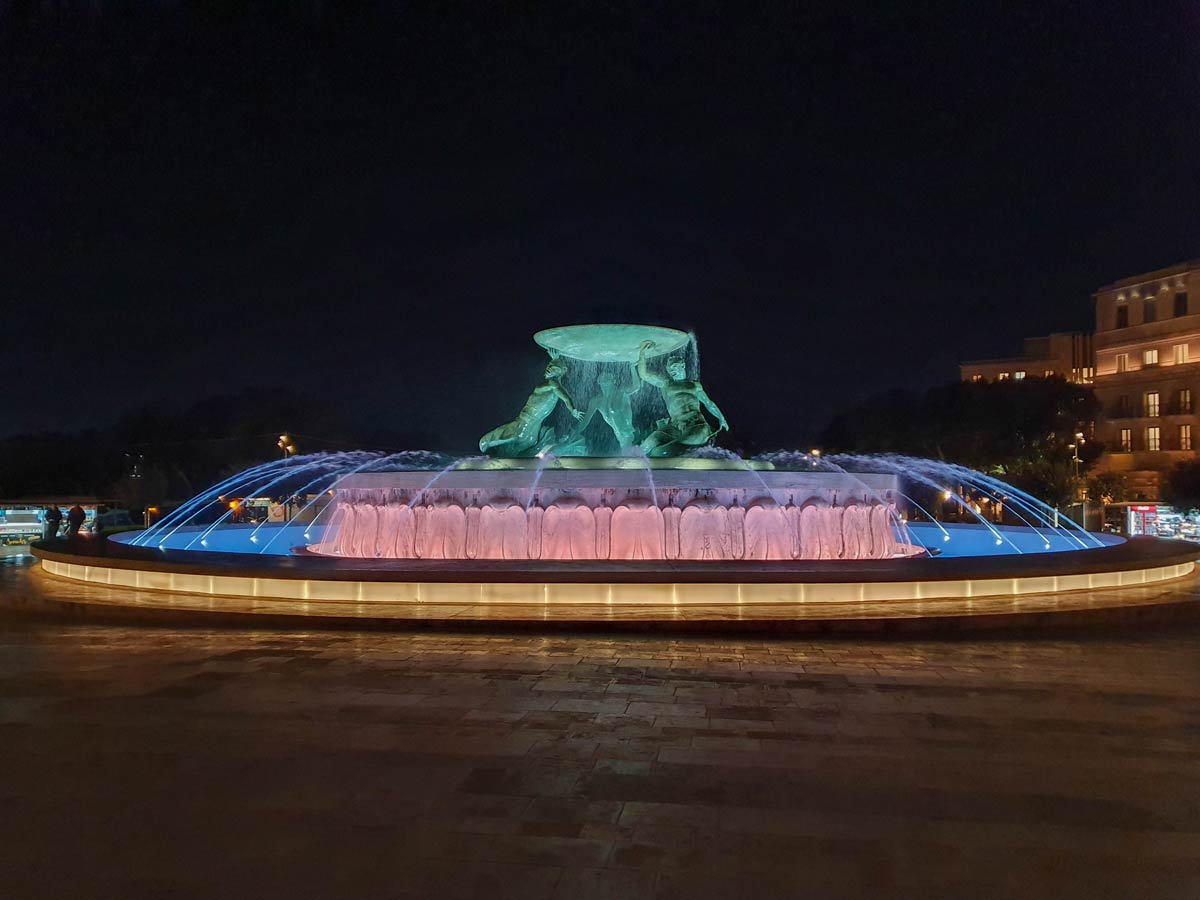 Nearby there are also booths from where you can buy several types of tickets. We first got a card with 12 journeys that we shared (me and my fiance), then we just paid as we went.
You can also get a ticket directly from the bus. You can pay by either cash or card both at the ticket booth and inside the bus. We mainly used our Revolut.
Important!
You need to flag down the buses, otherwise, you might have the unpleasant surprise that they'll not stop to pick you up.
We actually had this happen to us on our way to Popeye's village: our connecting bus passed by us, as we were waiting at the bus stop. We later noticed people were flagging the buses down when they wanted to board, so we started doing it too.
How many days should you spend in Malta?
How many days you should spend in Malta really depends on what you want to see and do. If you're just looking to relax on the beach, then 2-3 days might be all you need. Or you could easily spend a full week on the island.
On the other hand, if you want to see the most important sights that the Maltese archipelago has to offer, I recommend spending at least 4 full days there. If you want to do both, then you're looking at a vacation of a minimum of 6-7 days in my opinion.
1 day in Malta: With so little time on the island my recommendation is to limit yourself to visiting the capital Valletta, and the 3 cities: Vittoriosa, Senglea, and Cospicua. If you only wish to see one of the cities, then I'd recommend Vittoriosa (Birgu). I found it the most charming out of the three.
2 days in Malta: Spending 2 full days in Malta will allow you to visit some extra sights, apart from Valletta and the 3 cities. You can choose between a day trip to Gozo, seeing Popeye's village, or Mdina with Rabat. I'd suggest the 3rd option.
3 days in Malta: With 3 days to spare in Malta, you can visit the capital, Mdina and Rabat, and either spend a day on Gozo or at the beach, depending on the time you are traveling to the island.
The perfect Malta 4 Day Itinerary for first-timers (no car required)
Spending 4 full days in Malta is the perfect amount of time for first-timers. You will be able to explore most of what the island has to offer while leaving a little something for future exploring.
Day 1: Valletta and "The Three Cities"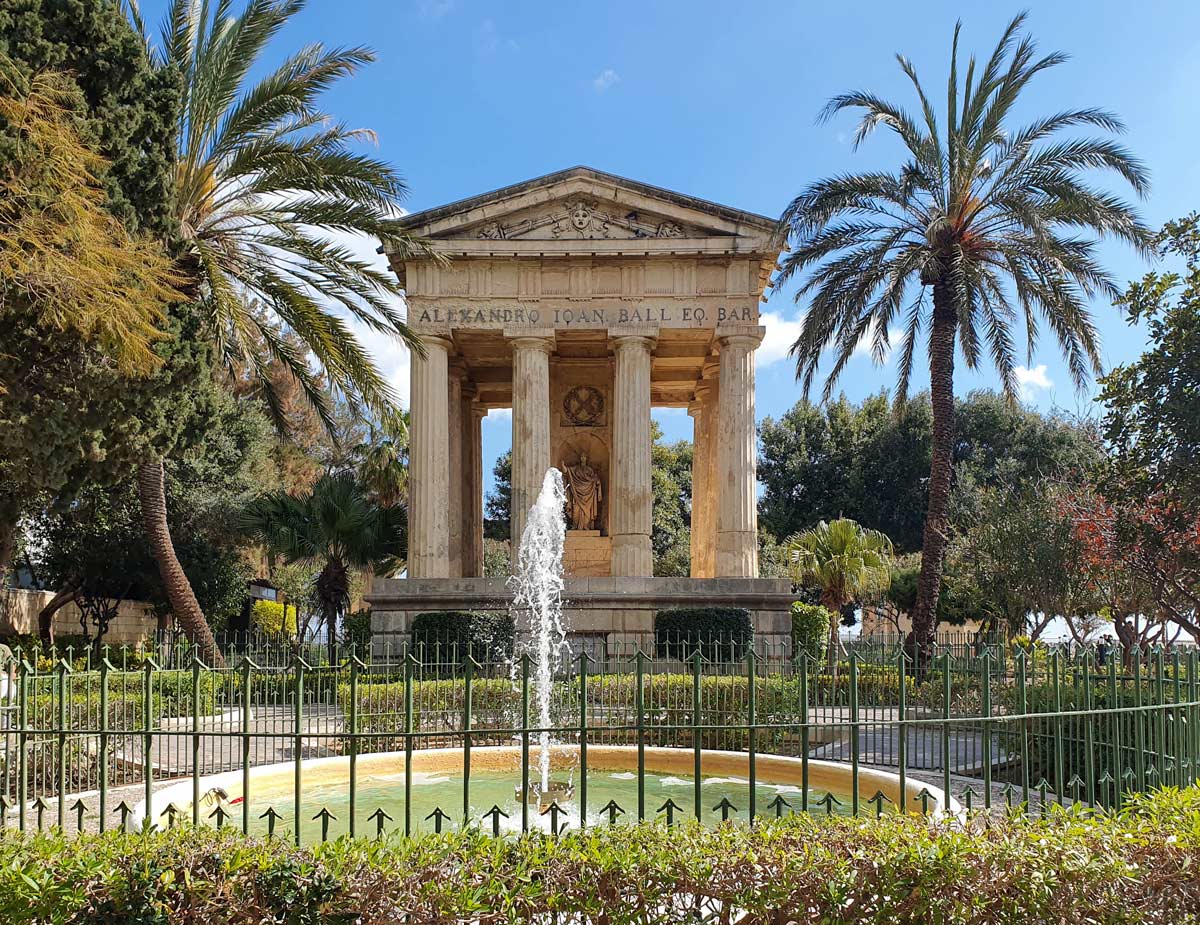 Valletta is the capital of Malta and it's known for its fascinating history and stunning architecture. It is fairly small and can be explored on foot in just a few hours either with a walking tour or on your own.
First, you should make sure to visit the Upper and Lower Barrakka Gardens and admire the beautiful and colorful Maltese balconies – they're some of the best free things to do in Valletta.
Also, don't miss the firing of the cannons which happens Monday to Saturday, twice a day (at noon and at 4 PM) on the Saluting Battery, which is located just below the Upper Barrakka Gardens.
For a small donation, you can go down on the terrace and witness the firing from up close, while also receiving some information about this tradition and the mechanics of the cannons.
However, I felt the view is better from the gardens and you can still donate if you wish to, even if you didn't choose to go down.
Valletta walking tours: Top picks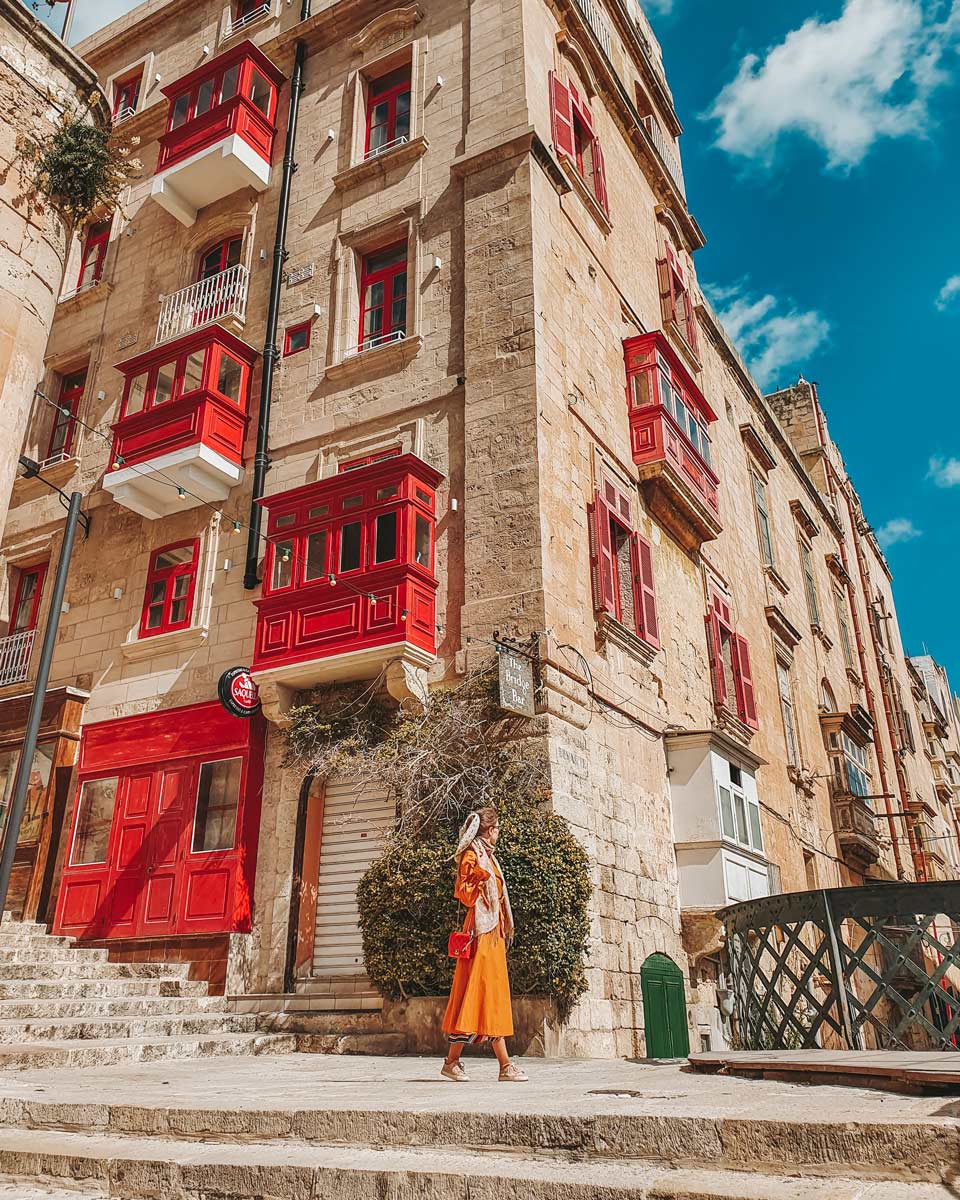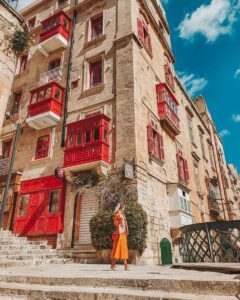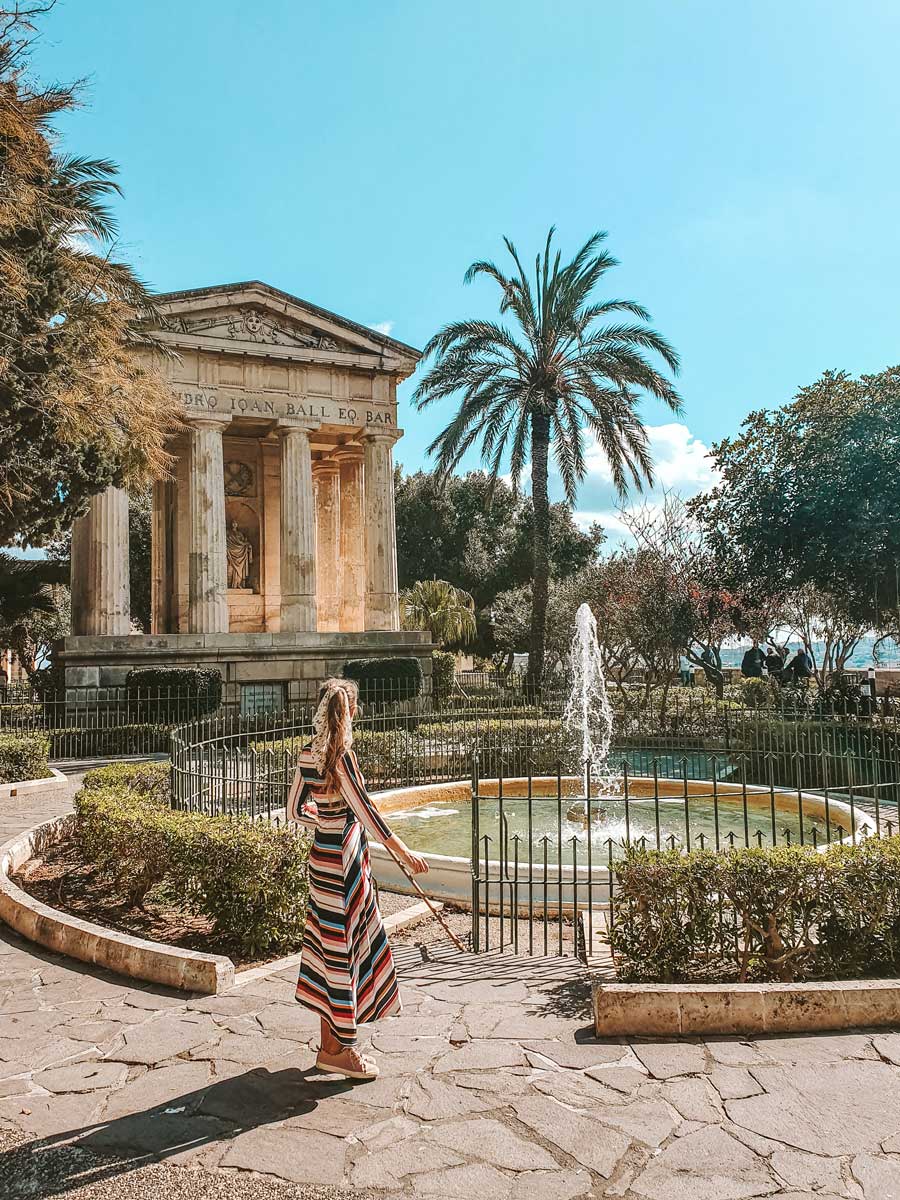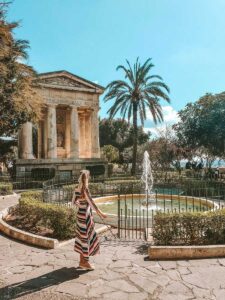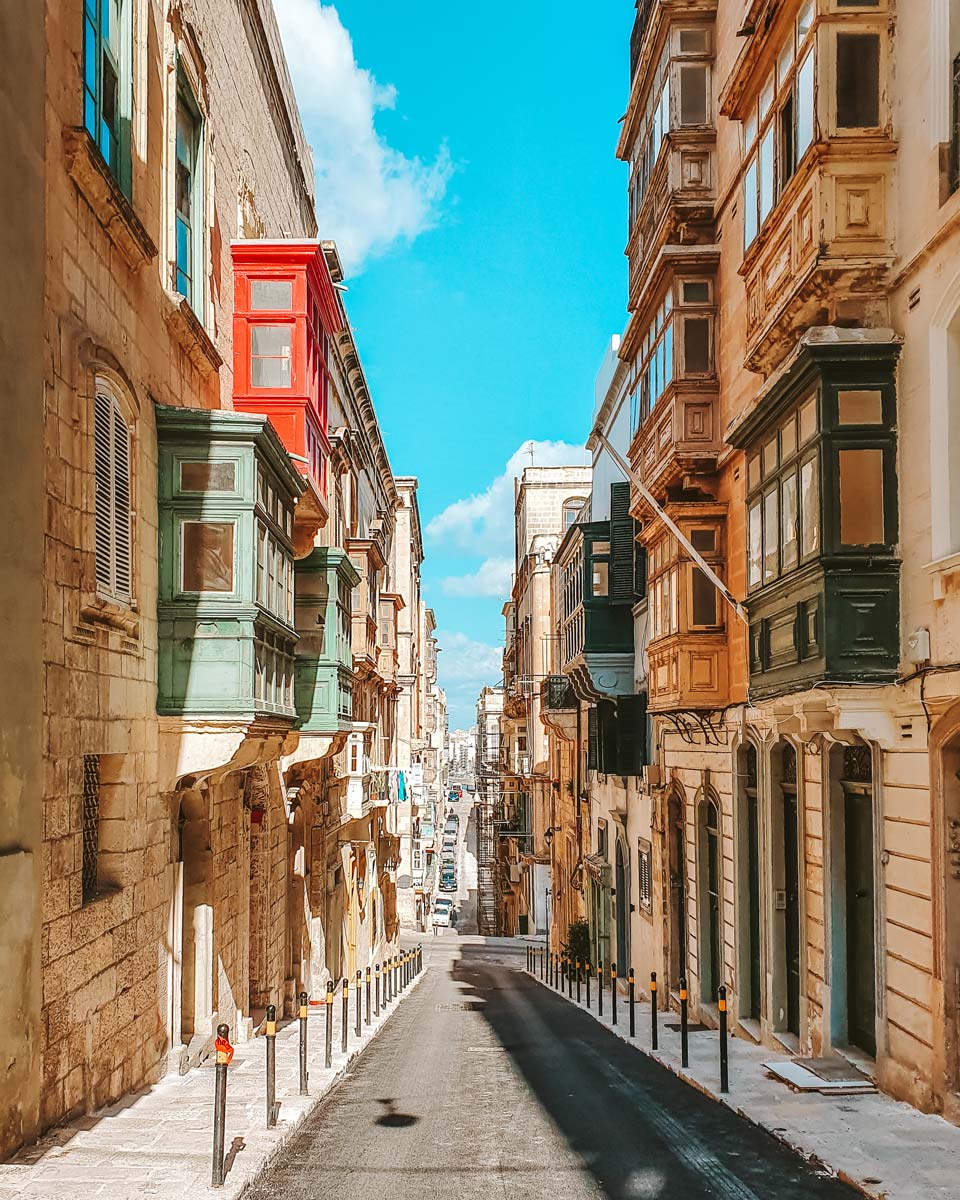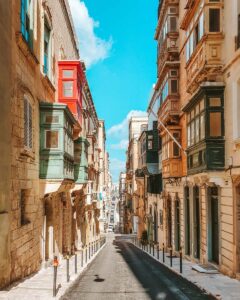 St. John's Co-Cathedral is a must-see sight in Valletta. The beautiful cathedral was built between 1572 and 1577 and is dedicated to Saint John the Baptist. It's very easy to find as it's located right in the middle of the city.
The cathedral is noted for its stunning architecture and ornate interior. But there are also several paintings and murals inside that are worth seeing.
Tickets are a bit on the pricier side at 15 EUR for adults and 12 EUR for seniors and students (entry is free for childer under 12 years of age), but trust me: it's worth it. You'll also receive an audio guide to use during your visit.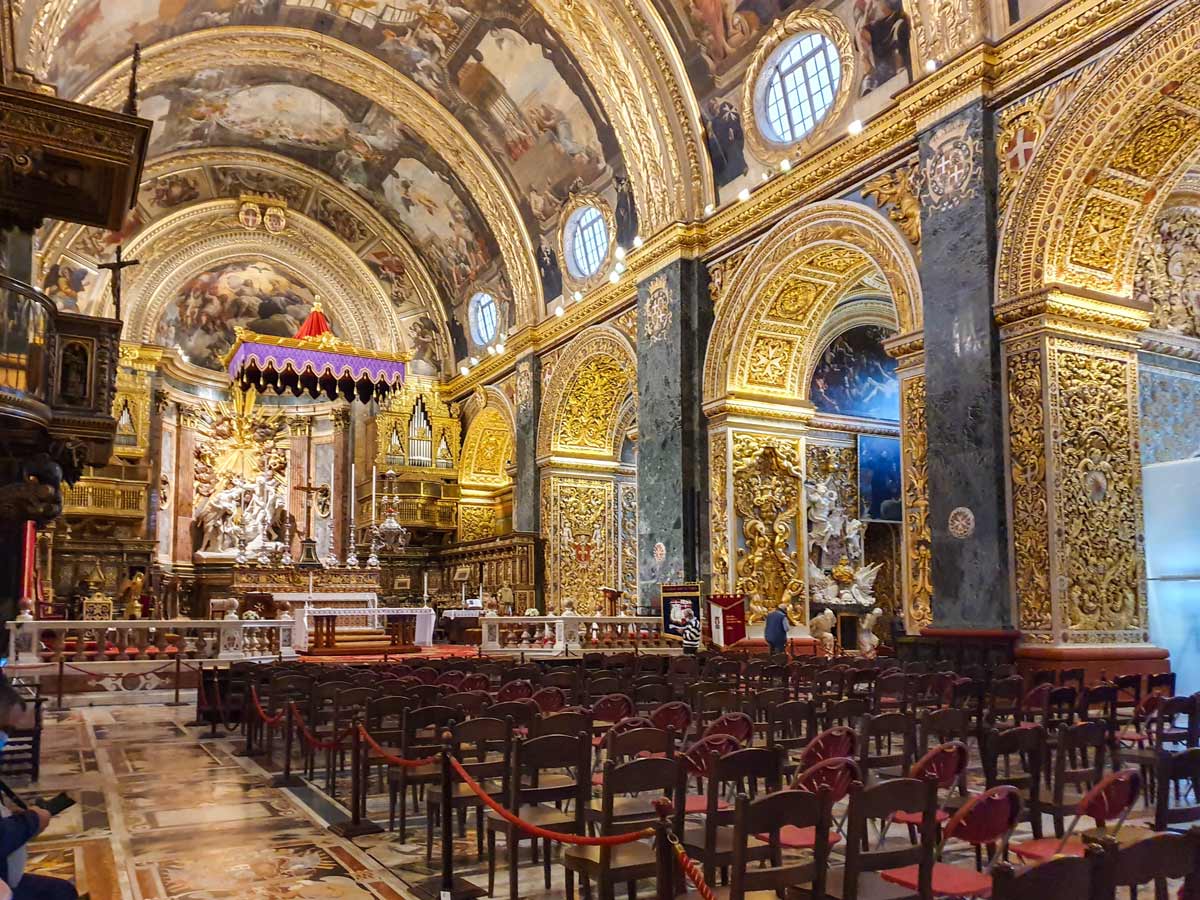 However, if you prefer to find out the history of the cathedral from an actual guide, you can book a walking guided tour of Valletta with St. John's Co-Cathedral.
For a total of 3 hours, the tour will take you through the most important locations in the city before ending with the cathedral (tickets to St. John's are not included).
If you get tired or hungry as you explore Valletta, I'd recommend stopping at Cafe Cordina to grab something to eat or drink. I highly recommend their caramel and vanilla flavored lattes, as well as the breakfast.
And if you want to sample the local cuisine, they also have Maltese dishes like Fenek bit-Tewm (cooked rabbit) or Ftira (a type of sandwich).
Another place where we ate really delicious food is Galea's kitchen, at 214, Merchant Street. I loved their Pacheri octopus dish (pasta with octopus). In the evening, they also have Happy hours for cocktails, meaning you can get 2 drinks for the price of one (it has to be the same cocktail).
Foodies out there can also book a Maltese food and drink guided tour in order to try and learn more about the local cuisine.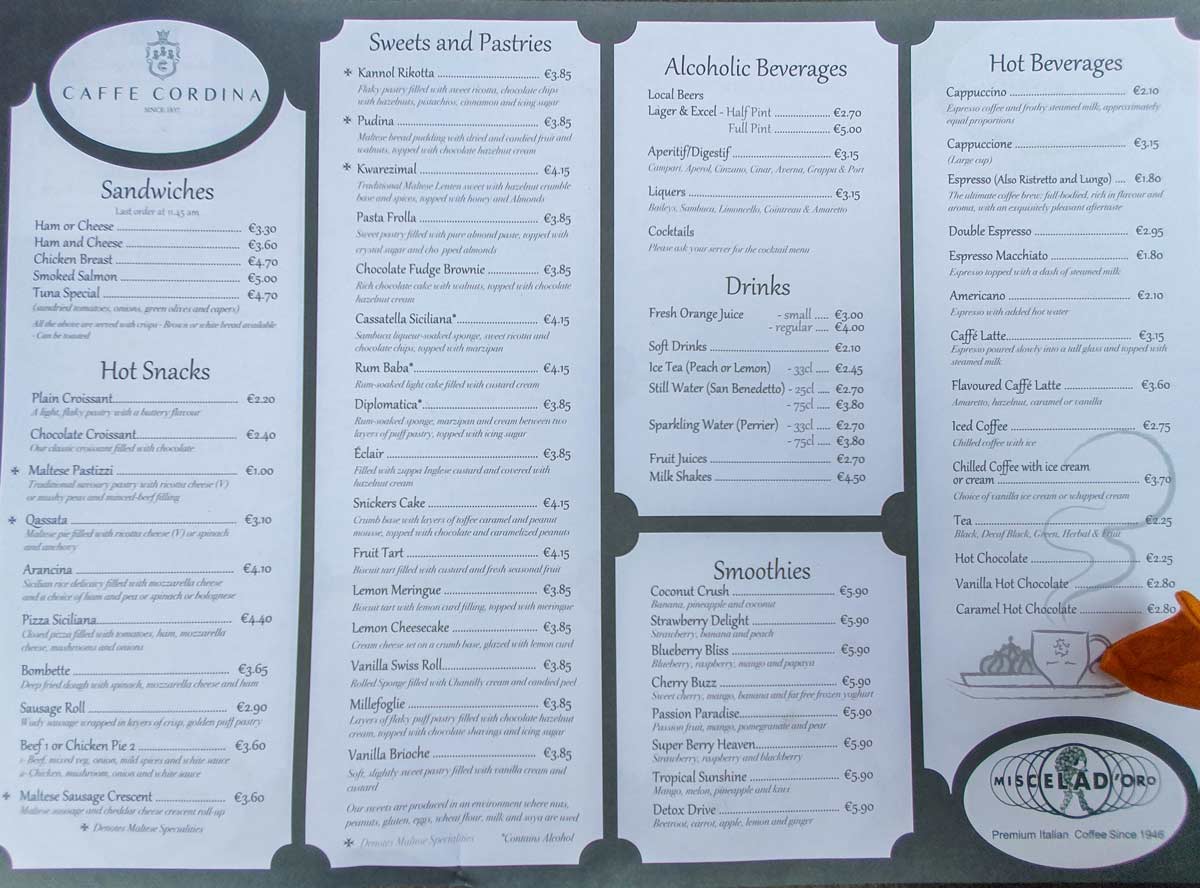 The three cities are located across the water from Valletta and they are called Vittoriosa, Senglea, and Cospicua. You can either explore them on your own or book a guided walking tour.
Vittoriosa, also known as Birgu, is a fairly small city known for its beautiful waterfront, ancient buildings, and views of Valletta. There are also several restaurants and cafes in the city, making it the perfect place to spend a few hours.
Some of its highlights (apart from wandering the lovely streets of course) include Fort Sant Angelo (make sure to check the opening time before you go), Inquisitor's Palace, and Victory Square. In all honestly, I found Birgu to be the prettiest out of the three.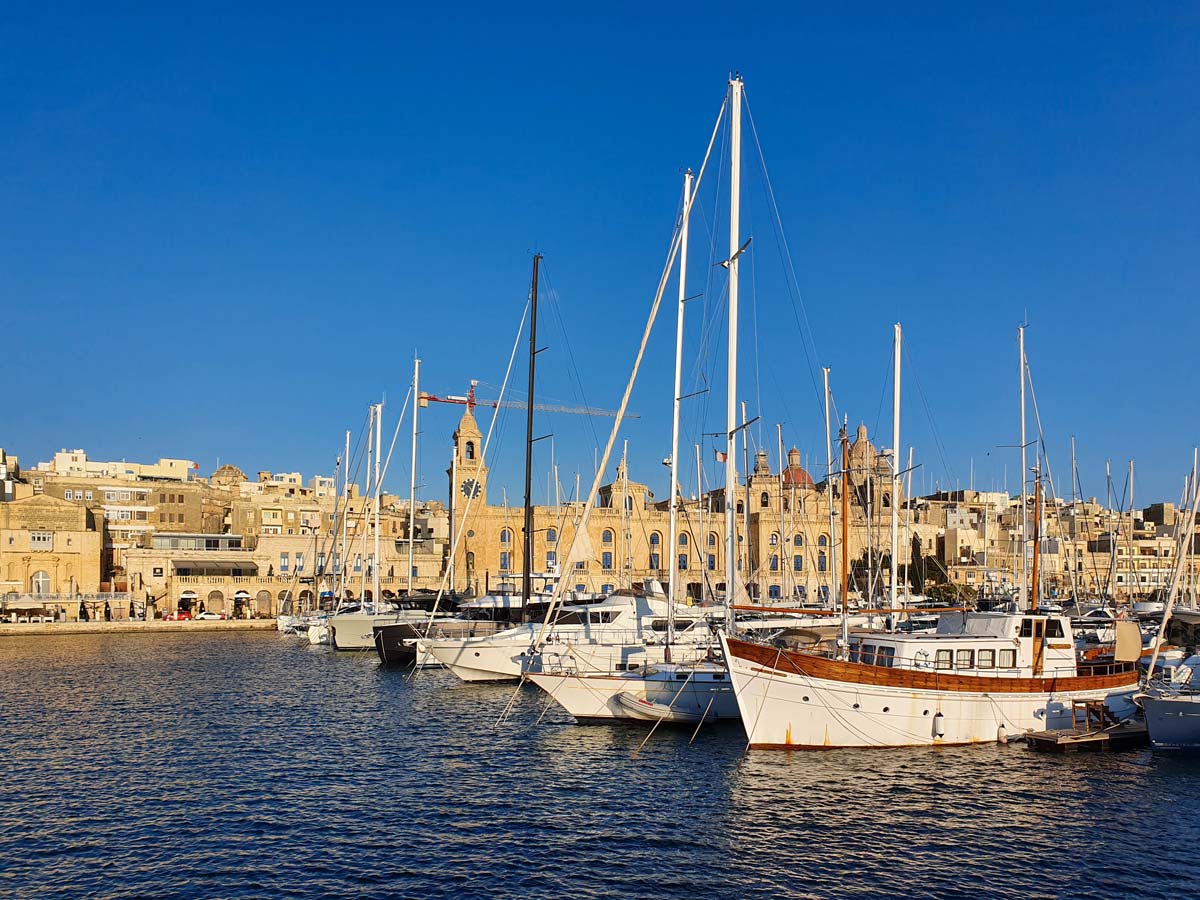 Senglea, which is also known as Isla, is located across the water from Vittoriosa. Here you should stop at Gardjola Gardens, as you can admire a beautiful panorama of Valletta's waterfront from there. Other sights to check out are the Main Gate and St. Julian's Church.
While Birgu and Senglea occupy a peninsula each, Cospicua (Bormla) sits at the center, furthest inland. Some of the highlights of the city are Notre Dame Gate, St. Helen's Gate, and the Cottonera Lines (fortified walls).
How to get to Valletta from the airport?
You can use the public bus: the X4 bus line connects Malta international airport with the capital. The bus stop is just outside the airport terminal, across the road from the Departures Hall.
Another option is to buy a pre-paid taxi ticket from the Welcomers' Hall upon your arrival, install the Malta Taxi app on your phone and request a car directly through it or book a private transfer.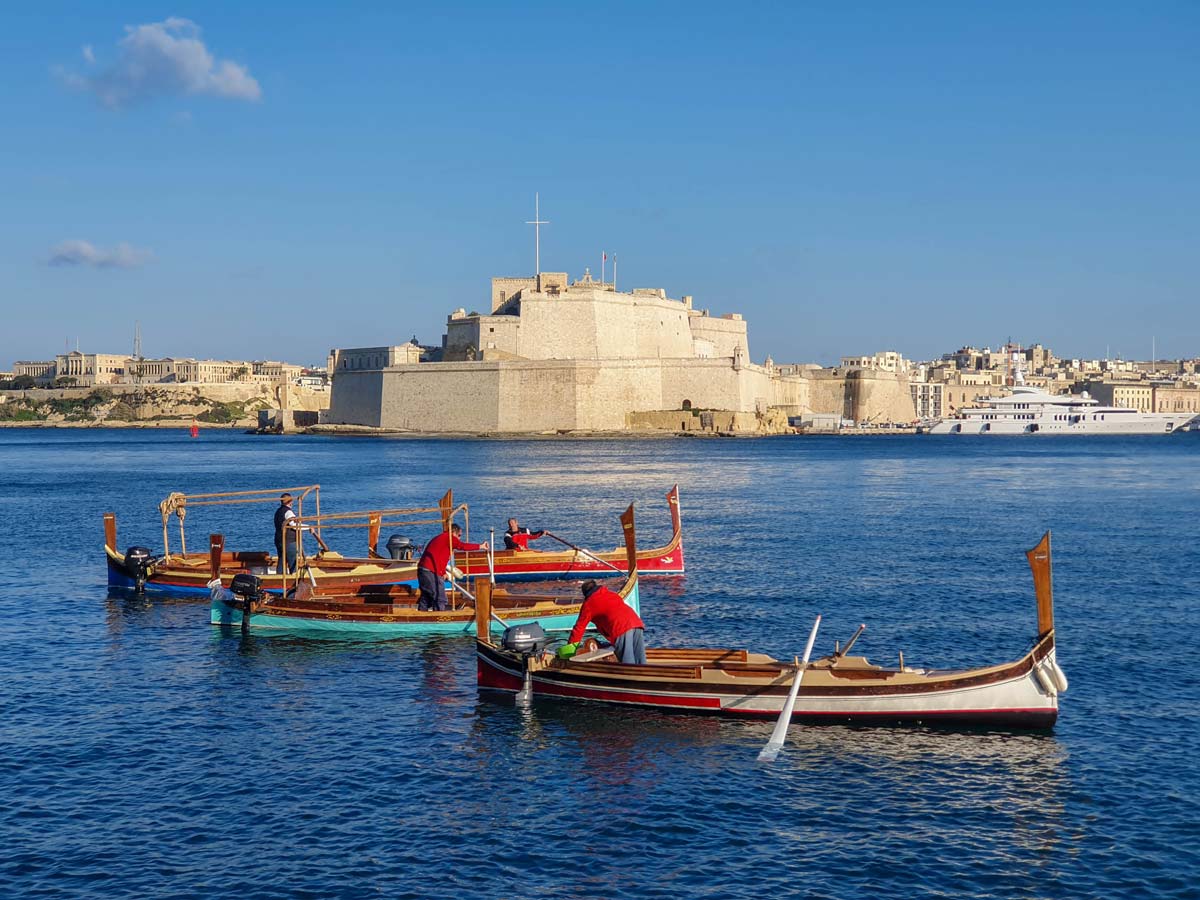 How to visit Vittoriosa, Senglea and Cospicua from Valletta?
The fastest and easiest way to travel to the 3 cities is by taking either a boat trip or the ferry across the bay.
In order to do this, you need to reach the waterfront. I'd recommend you take the Barrakka Lift down, as it will save you a lot of time and effort. The lift costs 1 EUR per ride and it's located inside the Upper Barrakka Gardens.
The ferry runs every half hour between Valletta and Cospicua and costs 1.50 EUR per ride or 2.80 EUR return. You buy the tickets on board; both cash and card are accepted.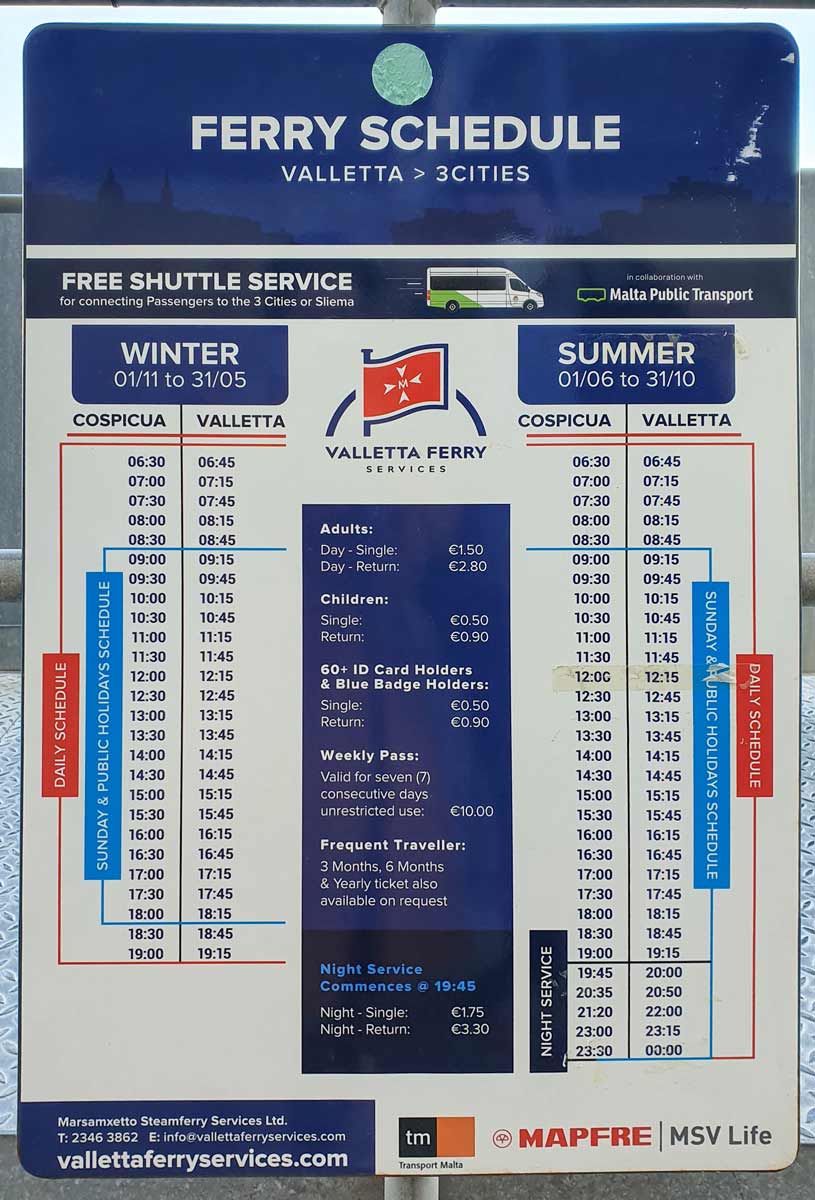 Day 2: Mdina and Rabat + Dingli cliffs
On the second day of your Malta itinerary, I'd recommend spending some time in Mdina and Rabat. Mdina is Malta's former capital and is located in the center of the island. Despite its small size, the city is known for its amazing architecture, peaceful atmosphere, and beautiful views of Malta.
You can wander the narrow streets, admire the view from the Malta observation deck and stop for a coffee or something to eat at one of the restaurants in Pjazza Mesquita. Game of Thrones fans will recognize both the square and the Main Gate from the series.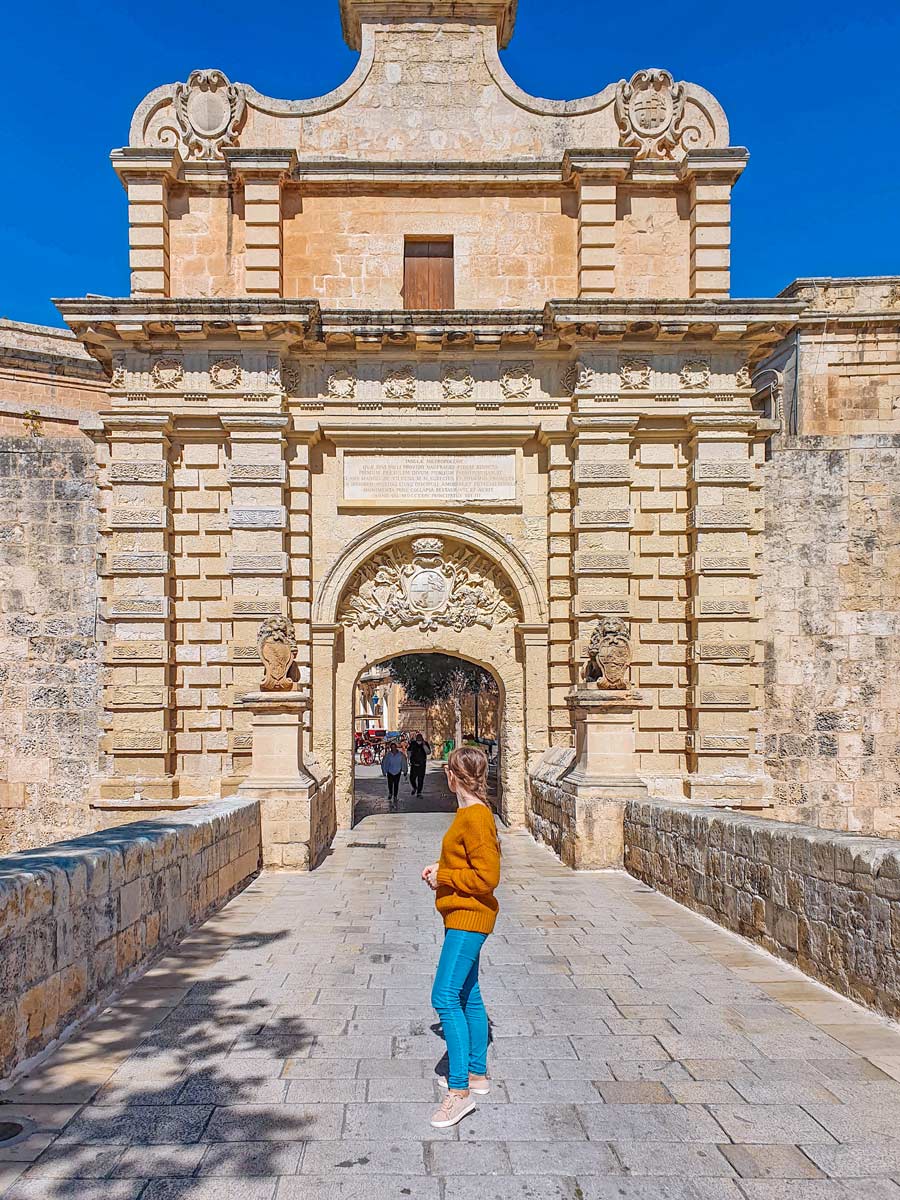 Rabat is just outside the old city walls of Mdina. Some of its highlights include St. Paul Catacombs, Howard Gardens, St. Paul Church, and St Dominic's Priory.
The St. Paul Catacombs are a series of underground burial chambers located in Malta. They were used by the early Christians on the island and date back to Roman times.
The catacombs are named after Saint Paul, who is said to have been shipwrecked on Malta in 60 AD. Today, the site is a popular tourist destination and a must-see for anyone visiting Malta.
There are also walking tours that you can book if you prefer to discover the two cities with a knowledgeable guide.
How to get to Mdina and Rabat?
To get to Mdina/Rabat from Valletta, you can take bus 51, 52, or 53 from Bus Stop Bay C2. The journey takes about half an hour.
And if you still have time left at the end of the day, hop on bus 201 which will take you from Rabat to Dingli Cliffs (stop Maddalena, the journey takes about 11 minutes) to witness an amazing sunset.
If you want a different kind of experience, you can book a Segway Dingli Cliffs sunset tour.
Day 3: Popeye's Village and Marsaxlokk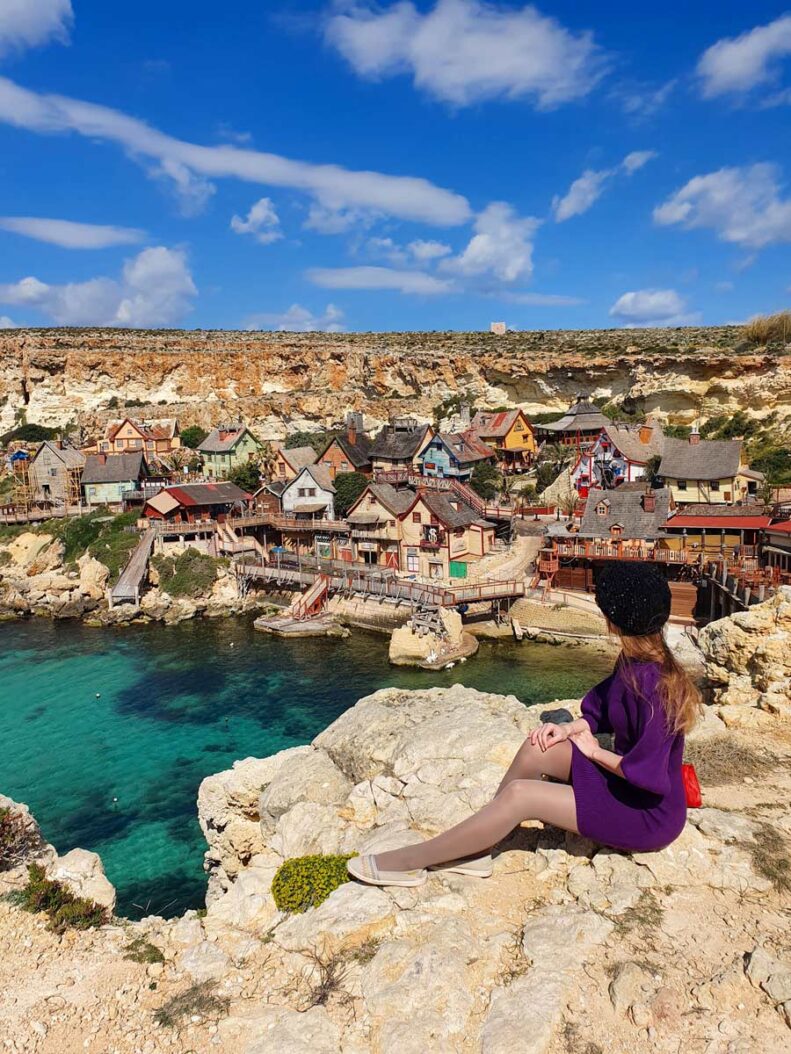 Popeye's Village was originally the film set for the 1980 musical production Popeye, starring Robin Williams as the spinach-loving sailor. Today the set has been converted into a tourist attraction that's fun for both children and adults.
You can enter some of the houses, take loads of pictures and participate in different activities. Tickets can be bought both online and on-site. But you can also opt to book an entry ticket with private transfers from/to your hotel.
Before you leave don't forget to walk to the closeby Popeye Village Viewpoint for a great panorama of the bay and the village. But exercise caution while walking in the area, as there is a risk of falling rocks.
To get to Popeye's village you can take bus 42 (B6) or 44 (B7) and bus 101. The journey takes about 1h and 10 minutes.
For the 2nd part of the day, I'd recommend visiting Marsaxlokk fishing village. However, there's a disclaimer: if you visit during the wintertime or early spring, the village can look kinda deserted.
We went there in the first half of March and found many restaurants closed. So we just walked around the waterfront for a bit, took some pictures, and drank some coffee.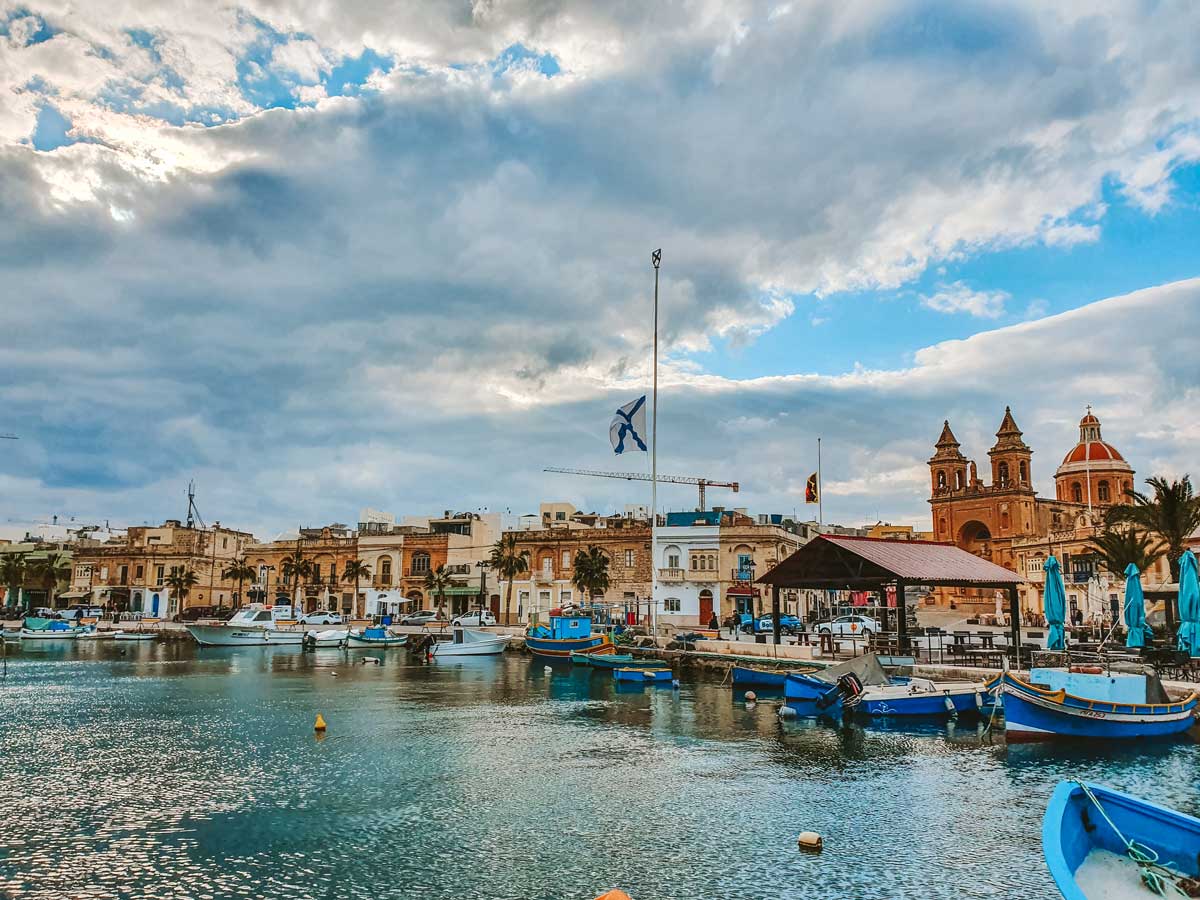 Marsaxlokk is known for its vibrant fishing harbor, where you'll see numerous colorful boats (called luzzus) bobbing along the waves.
To get here from Popeye's village you'll need to return to Valletta and take either bus 81 or 85 towards the village. The journey takes about 30 minutes.
Day 4: Gozo
Second in size after the island of Malta itself, Gozo is considered to be not only a popular destination for day-trippers but also an excellent getaway. It has beautiful beaches and hiking trails, as well as interesting sights like Ta'Pinu Basilica, Marsalforn salt pans, or Ggantija megalithic temple complex.
First things first, I need to tell you that you won't be able to see Gozo in a day by public transport alone unless you only want to visit Victoria, the capital city of the island.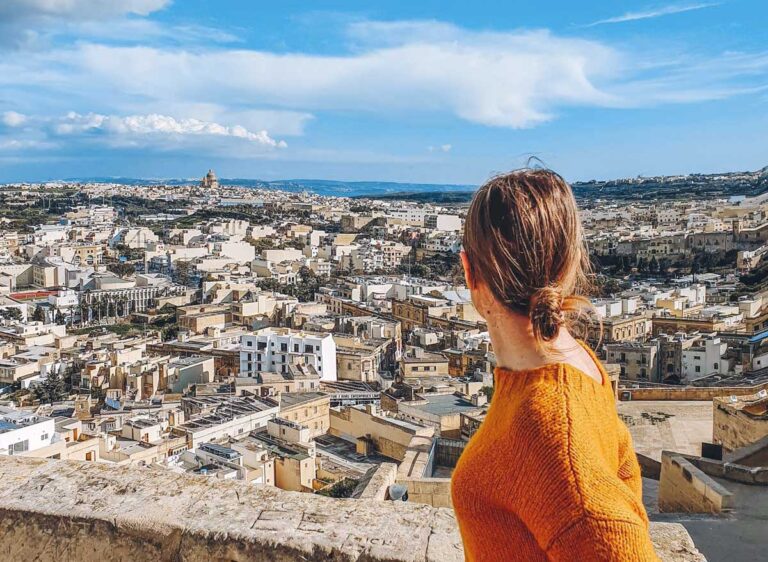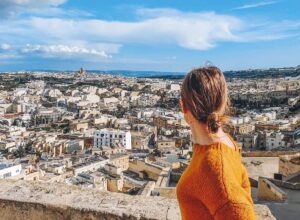 #Top Pick: Gozo Tuk Tuk Chauffered Tour
---
✓ 5/5 stars out of 800+ reviews
✓ Discover the best that Gozo has to offer on a full-day tuk-tuk tour
✓ Take a boat ride past the Blue Lagoon on your way back
So the best way to cover as much ground as possible in a day, as well as to reach more remote attractions is to either take the Gozo Hop on Hop off Sightseeing bus or book a tour.
You can board the Sightseeing bus in Mgarr harbor and there is a booth inside the ferry terminal from where you can get tickets. However, you can also get them online from here or here. And there's a ticket option with a harbor cruise included (departing from Sliema Ferry Terminal) as well.
There are 2 routes (they intersect in Victoria) with 15 stops and you can get out at any of them and just catch the next bus to continue your journey. The buses run every 45 minutes.
Since we started our day pretty late, we only had time for 2 stops (the tour takes about 2.5-3h in total). We choose to visit Ta'Pinu Basilica and the city of Victoria with its Citadel.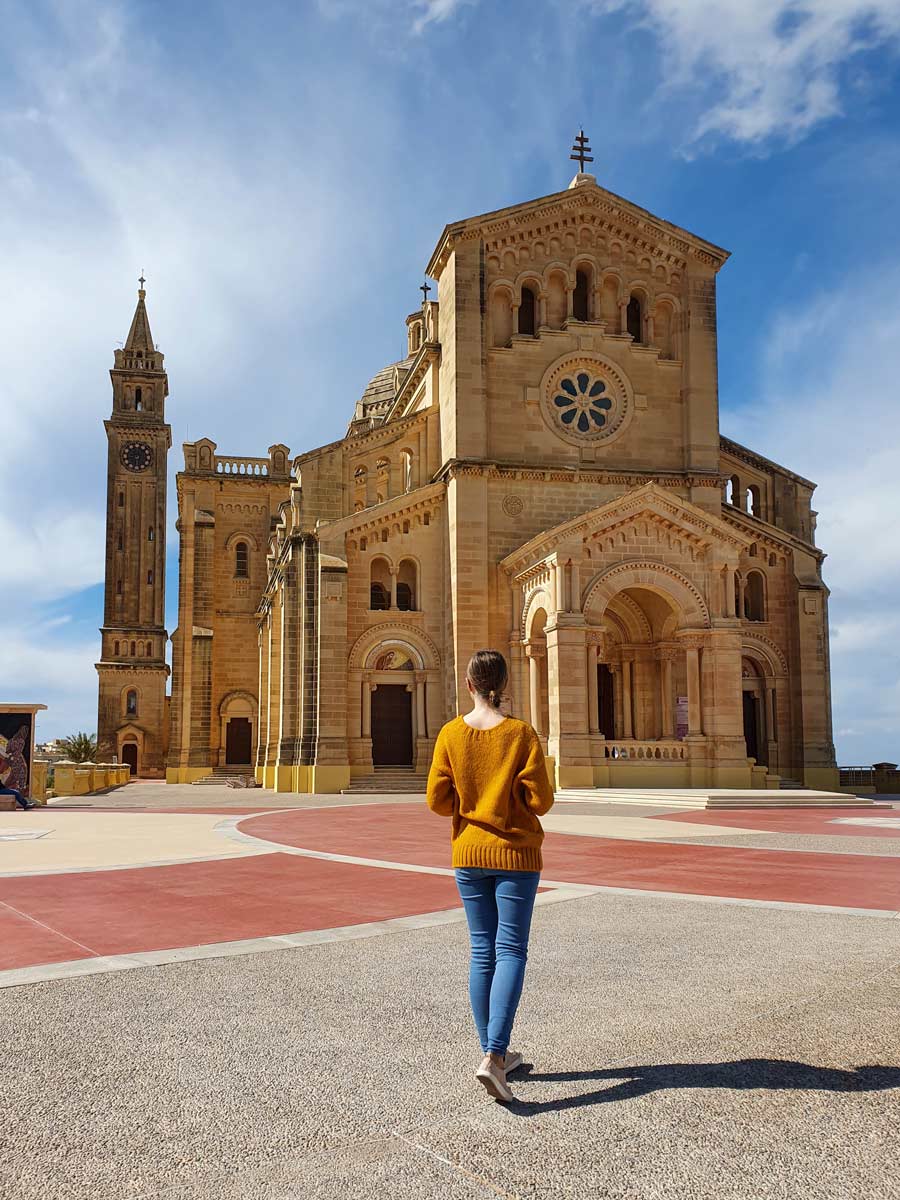 How to get to Gozo from Valletta?
There are 2 main ways to get to Gozo from Valletta:
By fast ferry: The journey from Valletta to Mgarr harbor (Gozo) takes about 45 minutes and you can board it from the same place you took the ferry to the 3 cities. Tickets can be bought online or on-site from the booth located on the waterfront. The fast ferry is a convenient and cheap (6 EUR/ride) way to reach Gozo, but make sure you buy your ticket ahead of time as they sell out pretty fast. In Mgarr harbor, the terminal consists of a small building and some white tents, outside the main ferry terminal.
By bus + ferry: You need to take bus 41 or 42 to Cirkewwa, which is the end of the line (the journey takes around 1h and 20 minutes). From there you'll catch the ferry to Gozo (crossing time: approx. 25 mins). Paying for your ride is a bit weirder as tickets are sold only at the Mġarr – Gozo Terminal on a return basis. So you basically don't need a ticket to board when you go to Gozo, but you will pay for your ride when you buy your return ticket to the main island of Malta.
Best 3 spots in Malta for sunbathing and swimming
If you visit during the summer you might also want to relax a bit, take in the sun and cool off in the Mediterranean Sea. Here are the top 3 popular places for sunbathing and swimming in Malta:
Ramla Beach, Gozo
Ramla Bay is a beautiful sandy beach located in Gozo. It has reddish sand, which gives it a striking appearance in contrast with the blue water of the sea. The beach is mostly untouched, although you will find a few snack bars there.
Blue Lagoon, Comino Island
Blue Lagoon is a natural lagoon located on the island of Comino, between Gozo and Malta.
Its waters have a stunning azure color (hence the name), for which it has become a popular tourist destination. But despite the fact that it gets really busy during the high season, it is still a place worth visiting in my opinion.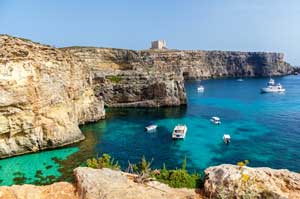 St. Peter's Pool, Malta
St. Peter's Pool is a natural rock pool located on the southeast coast of Malta, fairly close to Marsaxlokk village (about 30 minutes on foot). It is known for its crystal clear waters with shades of blue and light green and stunning views.
There are ladders that allow you to easily access the sea, but the more adventurous at heart can also jump from the cliffs. Just make sure you bring whatever you need for the day, as there are no facilities on-site.
Malta itinerary 4 days FAQs
What is the best place to stay in Malta without a car?
Valletta is by far the best place to stay in Malta if you don't plan to rent a car. That's because it's the starting point for all the bus routes going to various locations on the island.
Do you need a car in Malta?
No, it's not necessary to rent a car in Malta. The country's compact size, coupled with an extensive and convenient public bus system, makes it fairly easy to get around without a vehicle.
Is 4 days in Malta enough?
Spending 4 days in Malta is enough to see the main sights of Malta. However, if you want to spend some time at the beach as well, I suggest you add a few more days for relaxation.
Can you walk between the 3 cities in Malta?
The 3 cities across Valletta are quite tiny and they're located close to each other, so it's very easy to walk between them.
Does Malta have Uber?
Yes, Uber is available in Malta. However, it is important to note that in some areas there may be limited availability which results in higher waiting times.
Is Malta in Africa or in Europe?
Malta is an European country and a member of the European Union since 2004.
4 days in Malta: Itinerary for first-timers
With its sunny weather, stunning architecture, rich history, and delicious food, Malta has something for everyone. I hope this travel guide will help inspire your own trip to this beautiful country.
Have you already been to Malta? What were some of your favorite things to do there?
---
YOU MIGHT ALSO LIKE