Are you traveling soon to Lefkada Greece? Then make sure you add Milos Beach (also known as Mylos) to your must-visit list. Not only is it one of the best beaches on the western part of the island, but it's also not as crowded as some of the others.
In this post, I'll tell you everything you need to know about Milos, in order to make the most of your day on this beautiful beach.
Disclosure: Some of the links in this post are affiliate links. If you click on them and make a purchase, I may receive a commission at no extra cost to you. Check my full disclaimer here.
Which side of Lefkada has the best beaches?
Lefkada is famous for its unbelievable azure waters: I remember that my first impression was that someone was doing a huge chemical experiment and my brain was struggling to comprehend that the sea was this incredibly bright blue.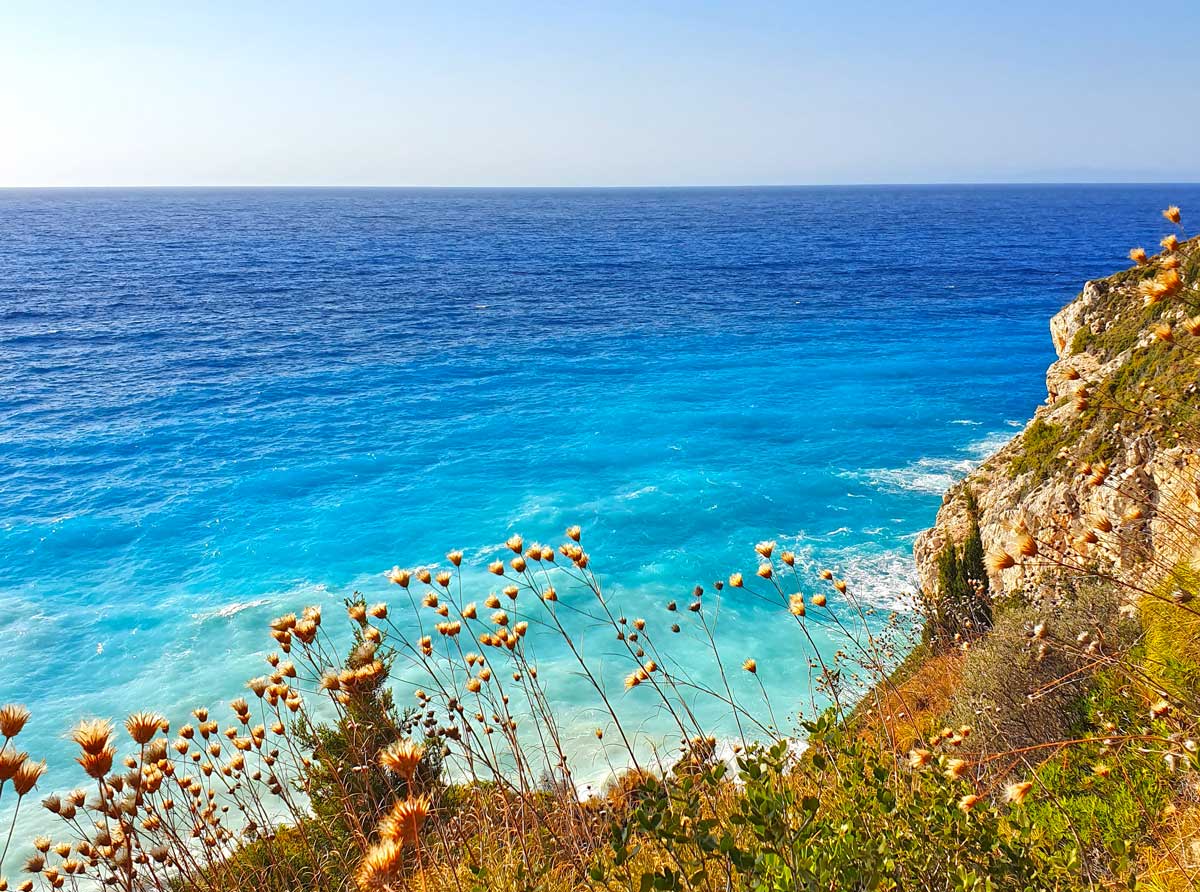 However, the water doesn't look the same everywhere around the island. So if you want electric blue waters, then you should head to the western part of Lefkada where the most beautiful beaches are located (Milos, Porto Katsiki, Egremni, and Kathisma).
Where to stay in Lefkada?
I actually wrote an entire post on the best places to stay in Lefkada and I recommend you read that first, but in my opinion, Agios Nikitas is a fantastic choice, despite its small size. Here's why:
it's located in the western part of Lefkada where you can find the best beaches
it has a small beach that's really easy to access if one day you don't feel like making the effort to visit one of the famous beaches
Milos Beach can be accessed by either foot or boat from the village
Kathisma Beach is only 7 minutes away by car
both Egremni and Porto Katsiki Beach are also fairly easy to reach from Agios Nikitas (45 minutes and 1 hour away by car)
If you end up choosing Agios Nikitas as your base for your vacation to Lefkada and you know you'll have a car (recommended in order to be able to visit all the western beaches), then make sure you book accommodation with parking included.
The reason is simple: because the village is tiny and only residents can enter by car (it basically only has a very short street), everyone else tries to park on the main road, so free spaces are really hard to find, even early in the morning.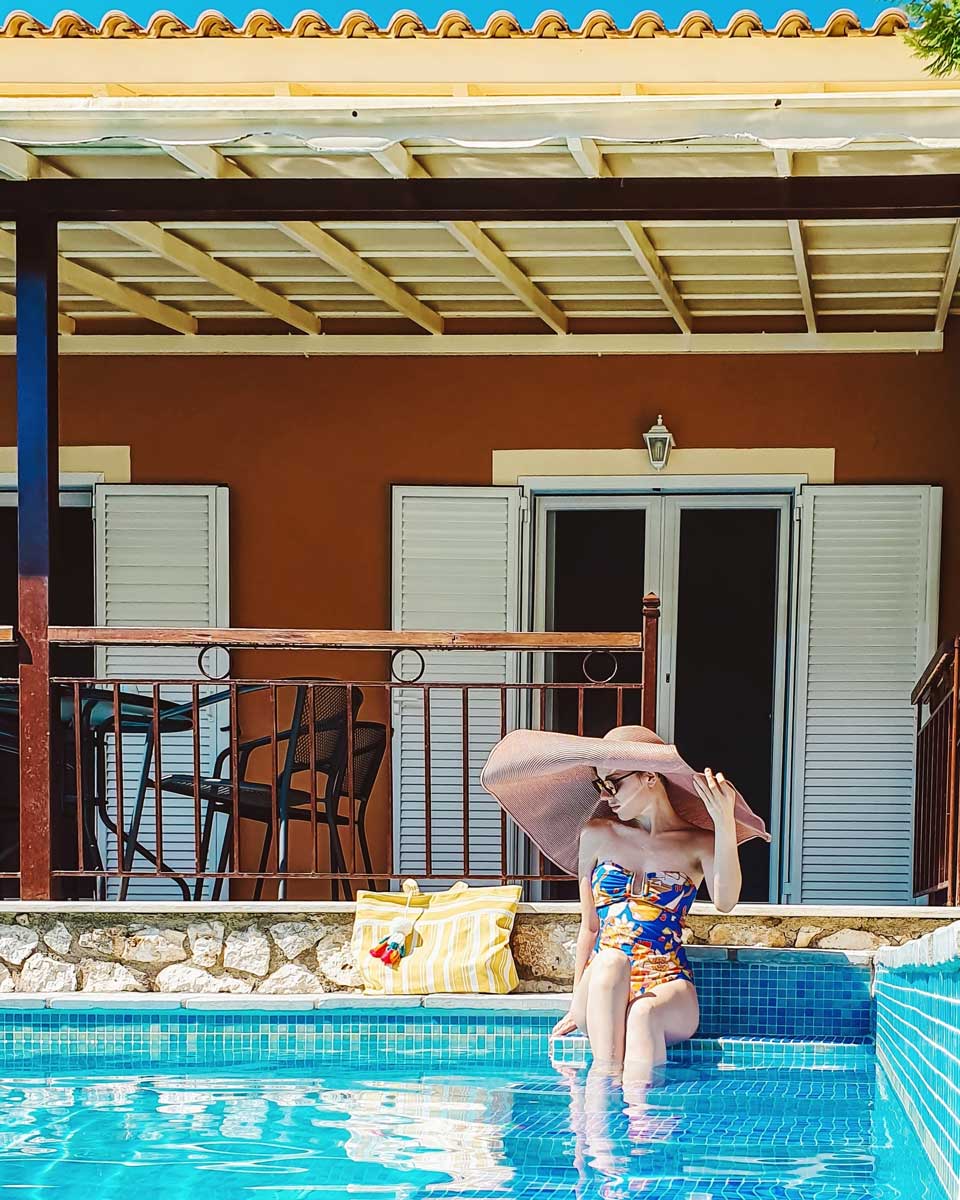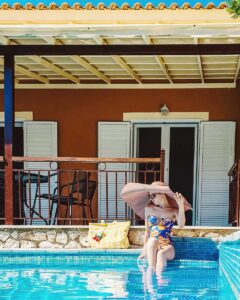 I stayed at Dimarion villas, which was a bit outside of the village, but still within walking distance.
Our villa had a lovely private pool and we could park the car safely inside the courtyard of the accommodation.
The beautiful Milos beach in Lefkada
Milos Beach is a wide and fairly long sandy beach near Agios Nikitas, in Lefkada. It is known as one of the best beaches on the island and due to its position and size, it's not as crowded as the other western beaches.
While it's mostly a sandy beach, as you approach the water, there are quite a few pebbles, so it's not a bad idea to have aqua shoes.
You should also know that water gets deep quite fast and waves can get pretty strong at times (it's typical for the western part of Lefkada), especially in the afternoon. So be really careful, especially if you don't know how to swim.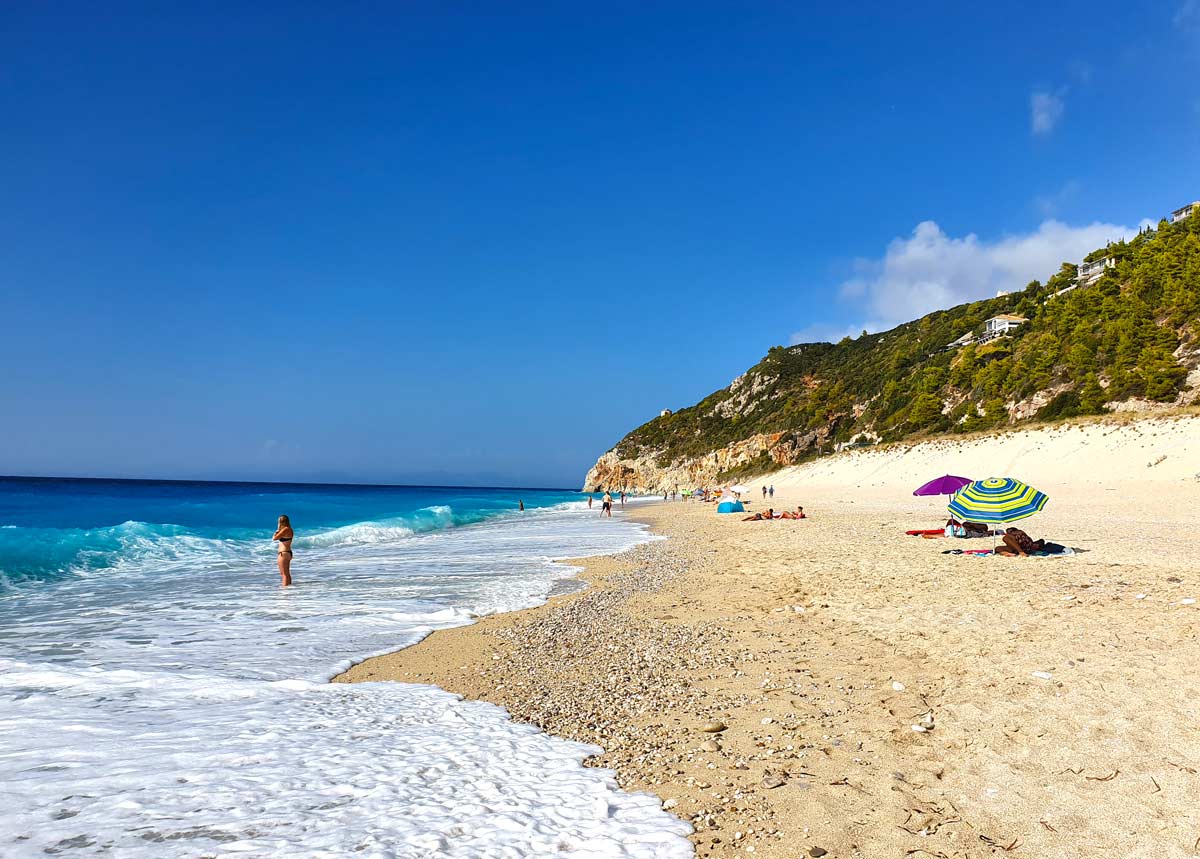 We actually had a bit of a scare during our last day there: it was windy and the waves started to get bigger and bigger: some sun lounges were even moved by the waves and people had to run in the water to retrieve their stuff.
As we were doing some last-minute swimming near the shore where we could touch the ground with our feet a big wave came and lifted us up. When it retracted it also started to pull us with it (which didn't happen before), so we began swimming back to our initial spot.
But as neither I, nor my fiancee really know how to swim (I mean I can go for a few meters, but I don't trust my swimming if I can't touch the bottom with my feet), it took a few minutes for us to get back to a point where we could stand upright again.
While it probably sounds a bit more dramatic than it actually was, we decided not to risk it so we quickly got out of the water, got our things, and returned to our accommodation.
How to get to Milos Beach in Lefkada?
In contrast to the other famous beaches on the western part of the island, Milos is not accessible by car, rather you can only reach it by foot or boat from Agios Nikitas.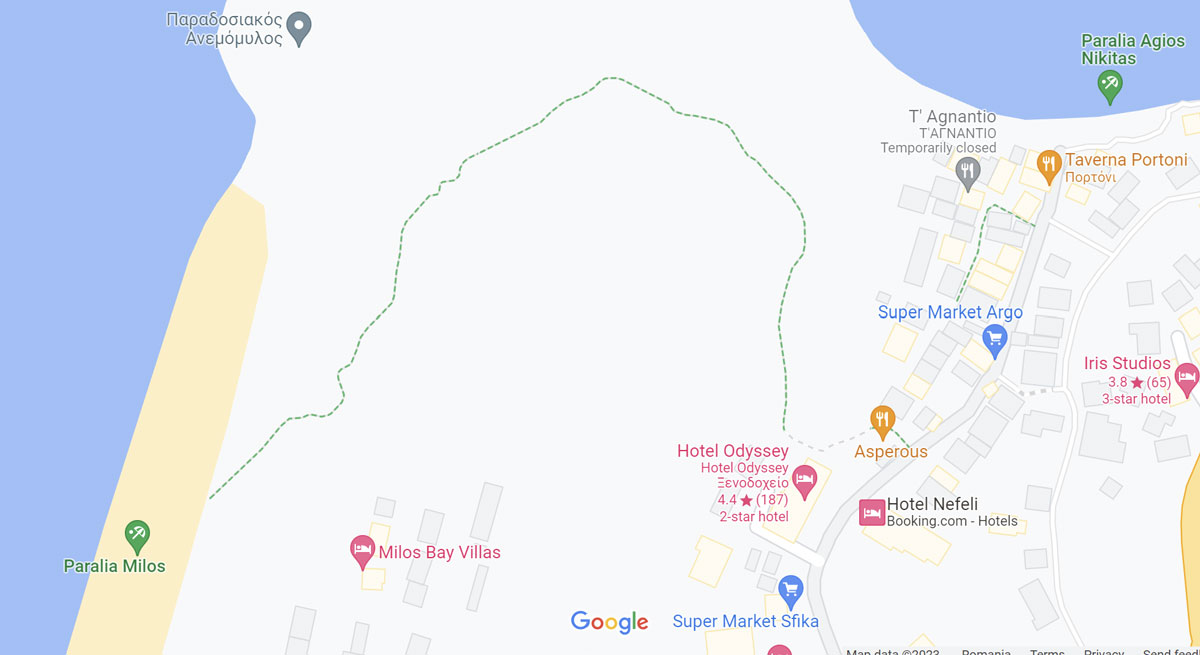 How to get to Milos Beach by foot
I'll have to admit, getting to Milos by foot is not the easiest task in the scorching heat of the summer, but it's worth it in the end.
So if you don't stay at one of the villas above the beach (those have their own private stairs down), you'll need to hike up and down the tall hill that separates Agios Nikitas from the beach.
The path begins right behind Asperous restaurant: from the main street of the village, turn left (as you face the sea) on the alley between Asperios and Souvlaki mEATing point restaurant (there should be a small sign with Milos beach written on it).
After you pass the Asperios, you should see a flight of stairs to your left, signaling the beginning of the hiking. Halfway through the climb, the stairs will disappear and the trail will continue on a dirt path through the trees.
As you reach the plateau of the will, breathe a little, because getting down the beach is not easy peasy either, especially since there's less shade on this part of the trail. Also, be careful not to miss your footing.
In fact, I would recommend you wear sports shoes of some sort that will better support your ankle and not flip-flops. You can change when you get to the beach.
TIP: Make sure you stop to take a few pics and simply admire the view, just before starting to descend. You can see the whole beach from that point.
How to get to Milos Beach by boat
If getting there on foot sounds like too much effort, I have good news: there's also a shuttle boat between Agios Nikitas and Milos Beach. A one-way trip is 3 EUR/person.
The boat leaves from Agios Nikitas beach, so simply walk straight on the main street of the village till you reach the water.
Once there, you should see some boats on your right, head in that direction and you should quickly find the person that sells the tickets (or more likely he will find you).
One thing you need to be careful of if you opt for the boat is to ask when it's the last one back to Agios Nikitas since it can vary from day to day. Also, if the weather is bad or the waves are too big, the boats might not operate.
During one of our trips to Milos, we actually took the boat to get to the beach and returned on foot since the last boat back to the village was scheduled at around 4 PM which we deemed to be too early for us. So this is an option too.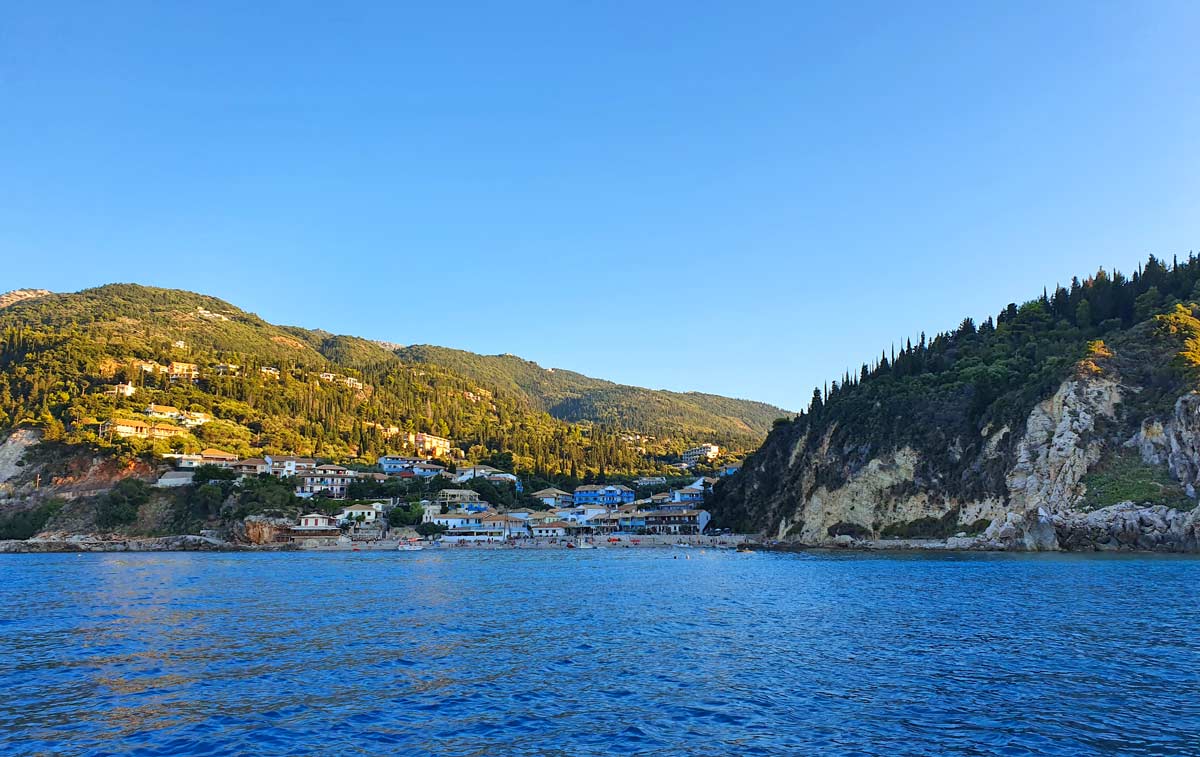 Are there any facilities on Milos Beach, Lefkada?
About a third of the beach is occupied by some sun lounges with umbrellas (prices range from 25 to 35 EUR depending on the month and even the time of the day), but that's about it.
There are no toilets, showers, lifeguards, or beach bars, and in a way that's the beauty of this beach.
From time to time, you'll see a local with a tray wandering from one end of the beach to the other. He usually sells snacks and drinks, so in a pinch, you can buy a few things.
What to bring with you to Milos Beach, Lefkada?
In my opinion, the sun lounges are pretty expensive, so it's better to bring your own umbrella and something on which you can lay on the sand since there's a lot of free space on the beach where you can set camp.
Just make sure you don't position yourself too close to the water, as waves can get unpredictable in the afternoon and you might end up running after your stuff in the water.
I would also suggest bringing some water with you and a few snacks, since you may or may not be in the mood to climb over the hill at noon, to eat at one of the restaurants in Agios Nikitas.
As someone who hiked the path after eating a delicious gyros, I can attest to the fact that the trail suddenly gets longer and more difficult after a good meal:)).
Can you visit Milos Beach with small kids?
I would not recommend visiting Milos Beach with small kids. This is because, as I was saying before, the water gets deep fast, and at times the waves can be pretty strong.
In fact, I'm unsure if any of the famous beaches in the western part of Lefkada are suitable for families with small kids.
Milos Beach Lefkada: Wrap up
I hope this guide will help you plan your trip to Milos beach and don't forget to check my other articles about GREECE before you leave.
Happy travels~
---
YOU MIGHT ALSO LIKE