A unique place in Romania: The Muddy Volcanoes in Berca
When most people hear of Romania, they usually think of vampires and Transylvania. However, there is a lot more to Romania than that! In the heart of the country lies an amazing hidden gem: the Muddy Volcanoes!
These strange, lunar-like formations are definitely worth a visit if you're ever in Romania. Read on for more information about this unique place.
Disclosure: Some of the links in this post are affiliate links. If you click on them and make a purchase, I receive a commission at no extra cost to you. Check my full disclaimer here.
What is a Muddy Volcano?
Muddy Volcanoes (Ro: Vulcanii Noroiosi) are created by natural gases that pass through a combination of clay soil and groundwater, pushing mud and saltwater to the surface as they erupt. As the mud dries off, it forms conical structures that very much resemble real volcanoes.
However, in some instances, the mud contains too much water and it can't form a conical shape. Instead, it ends up looking like a lake that continuously boils, while occasionally spewing mud as high as a human being. In Romanian, these are called "Fierbatoare".
These types of formations can be found in just a few places in the world, Romania being one of them.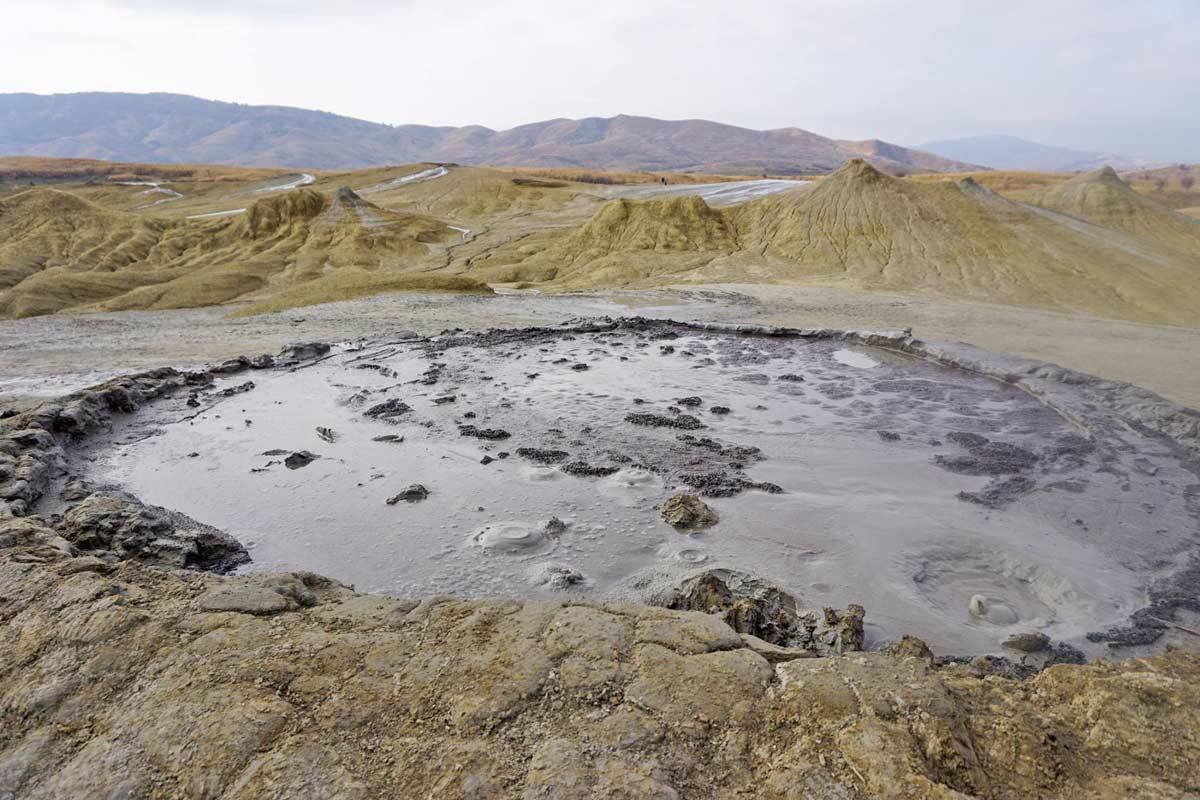 Where are the Muddy Volcanoes located?
There are several places where you can find muddy volcanos in Romania and they are all situated in Buzau county. The most visited sites are Paclele Mari (Big Mud Volcanoes), Paclele Mici (Little Mud Volcanoes), and Fierbatoarele located at Berca and Beciu. You need to pay 4 RON (around 0.81 EUR or 0.85 USD – cash only) in order to be able to see either of the first two areas, but Fierbatoarele are free to visit.
If you only have time for one site, then I'd recommend Paclele Mici: I find them to be the most spectacular.
Best time to visit the Muddy Volcanoes
Best time to travel to Berca Mud Volcanoes is from spring to fall. It's important to note, however, that the sites can't be visited if it rains.
How to visit the Berca Mud Volcanoes
The only way to visit the volcanoes is by car. The relatively short distance from Bucharest (around 145 km) makes for a great day trip from Romania's capital. Be aware that towards the end of the journey the road can be rough, but it's doable even with a small car.
If you don't want to drive yourself, you can always opt for a tour. Here are a few good options from Bucharest:
Paclele Mari
Near Paclele Mari there are 2 big parking lots where you can leave your car: one paid, right near the entrance and one free, located a bit further away. The road is paved, but it has quite a lot of bumps and potholes so be careful when driving.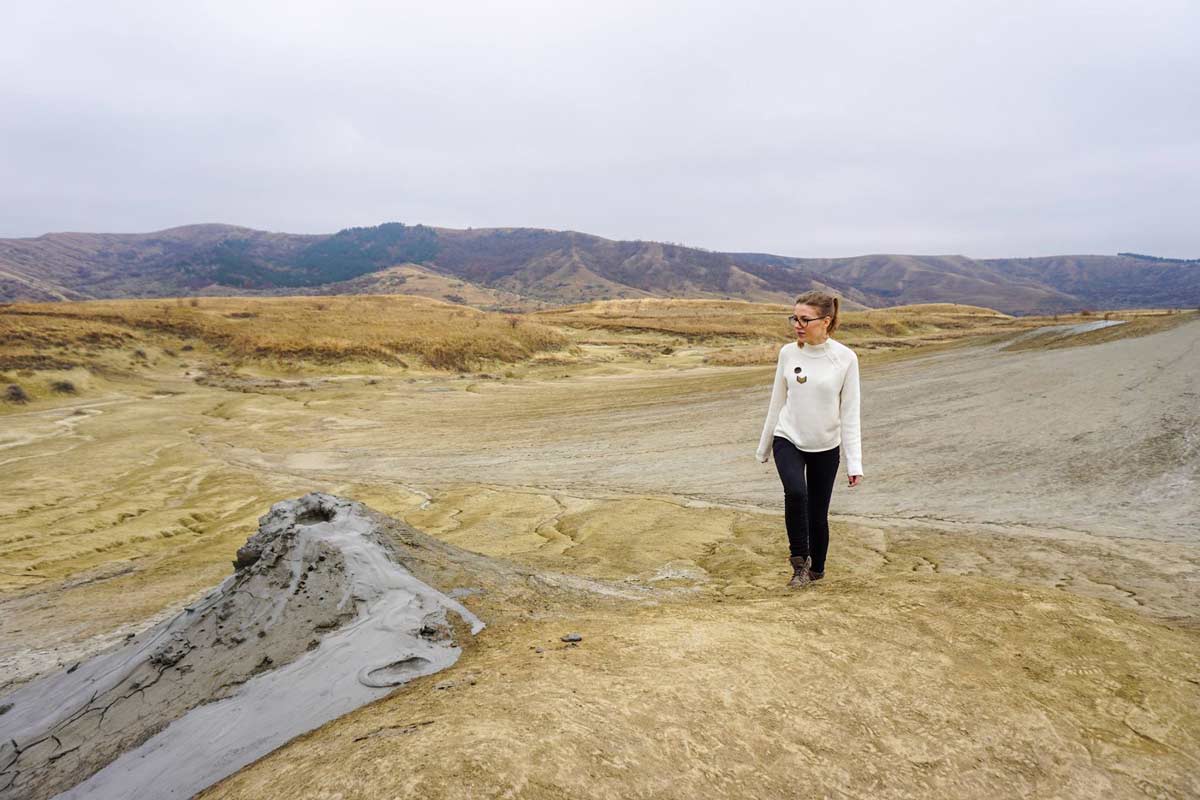 Paclele Mici
The last bit of the road toward the volcanoes is very narrow, so make sure to drive slowly. Then there's a pretty big paid parking where you can leave your car. From there you will need to walk for about 10 – 15 minutes up a small hill until you reach the site.
If you are hungry after your visit, there's a small, rustic restaurant at the parking lot. I recommend the Plescoi sausages, which are made in this area and are extremely tasty.
Fierbatorile (Beciu)
From Paclele Mari you'll drive about 8 km on an asphalt road, plus a few more kilometers on a stone road to reach Fierbatorile, located in Beciu. There are no signs or parking lots, but you should be able to spot the formations from the road. They will be on your right side.
Fierbatorile (Berca)
You can visit the Fierbatorile of Berca on your return way to Bucharest. These are smaller and less active than the ones in Beciu. The road is mostly asphalt, with a stone portion at the end.
Other things to know about the Muddy Volcanoes
The landscape changes often depending on the season, but mostly because while some volcanoes become inactive, new ones appear.
Smoking is not allowed in the area, as methane gas from the volcanoes can ignite.
The Berca Mud Volcanoes is a protected geological and botanical area.
Due to the lack of vegetation caused mainly by the saltwater, visitors can enjoy a lunar landscape, with the exception of 2 rare shrubs that were each declared a natural monument: Nitraria schoberri and Obione verrucifera.
Muddy Volcanos Romania: Conclusion
If you're looking for an amazing, off-the-beaten-path destination to visit in Romania, be sure to add Muddy Volcanoes to your list! This unique natural attraction is definitely worth the trip.
Have you been there before? Would love to read about your experience there, so share it in the comment section below.
---
MORE INFO ABOUT ROMANIA