There's no doubt that the five villages of Cinque Terre, perched atop dramatic cliffs on the rugged Italian Riviera, are one of the world's most popular tourist destinations.
And while the Nessun Dorma restaurant, located in Manarola might not have the same degree of world fame, it is certainly popular enough for long lines to form outside it.
Are you wondering if it's worth the wait? Then keep reading to find out!
Visiting Cinque Terre villages
For my trip to Cinque Terre, I decided to book accommodation in one of the villages for two nights in order to make sure I'll be able to see everything I wanted without feeling rushed. And I ended up choosing Manarola.
Despite the fact that many people visit the 5 Terres on a day trip (and this is certainly possible), staying overnight in Manarola allowed me to see another face of the charming village, one that only shows up after the crowds leave. Probably this is the main reason why Manarola is now my favorite Terre.
Not only that, but I also had more time to explore each village to my own liking. So my recommendation for you is to do the same as me: spend one or more nights in the region.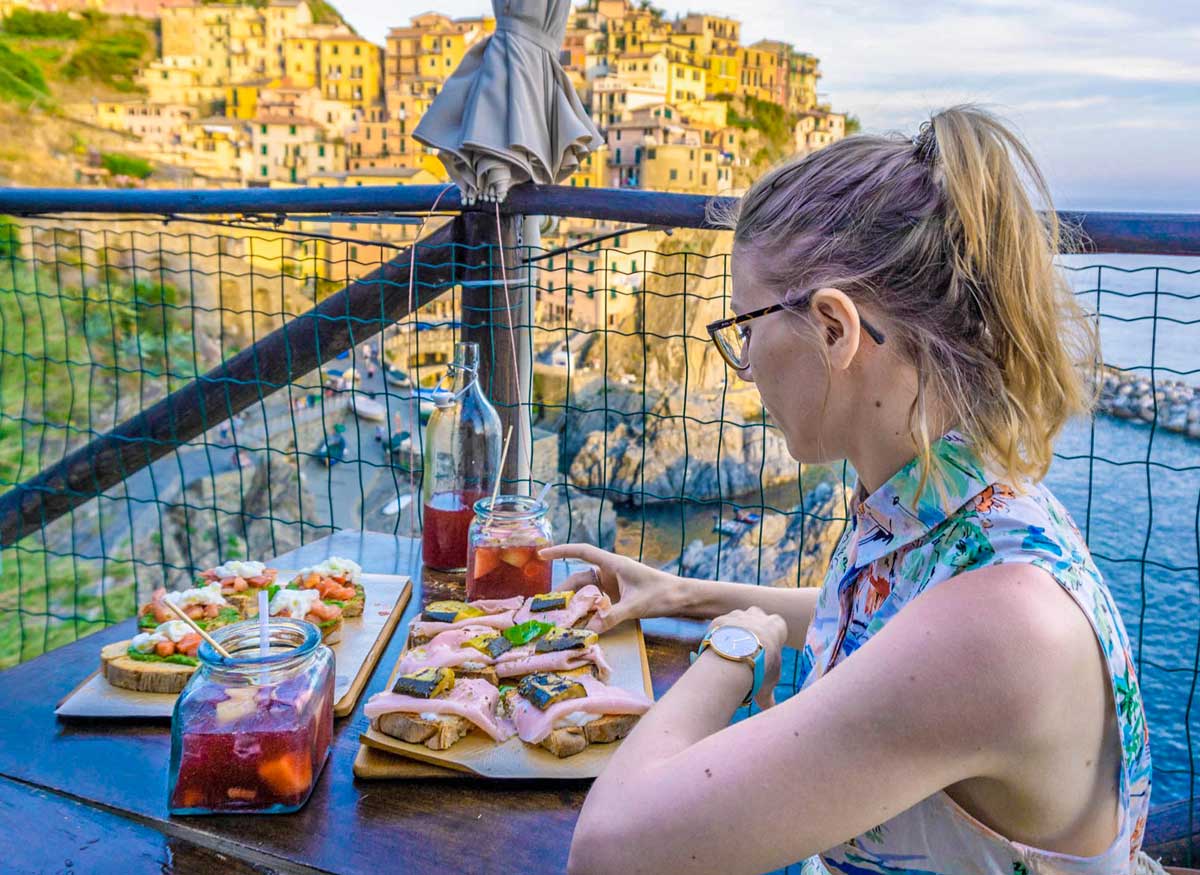 Nessun Dorma in Manarola
Nessun Dorma is a small restaurant in Manarola with a picture-perfect view of the village as well as the Ligurian Sea. Their food is fairly simple so don't expect fine dining, but delicious and they pride themselves on serving fresh local products (but, be warned that there's no pizza or pasta on the menu!).
Honestly, my mouth still waters when I think of their Tri Colori bruschetta – one of their most requested dishes, which was the best I ever ate! And bear in mind I'm not a gourmet person: I usually just see food and eating as something I need to do, rather than something enjoyable. So for me to say this, speaks millions.
Considering the view and the tasty dishes, the restaurant quickly rose in popularity and you'll often see long queues outside it, especially around lunch and dinner time. I think I already gave it away, but let's still state it: yes, it's totally worth waiting in line to eat at Nessun Dorma!
The seating at Nessun Dorma is all outside, but there's a great deal of shade and misting fans to keep you cool on hot summer days.
My experience at Nessun Dorma
Since we spent 2 nights in Manarola we ended up dining twice at Nessun Dorma. We had to wait in line both times, but it went pretty quickly and we were lucky enough to get a table on the right side (we had the best views of Manarola's colorful houses) on each occasion.
During our first time at the restaurant, we ordered a meat platter for two with Aperol spritz (which is super popular in Italy), while on the second time, we got two types of bruschetta (one was the popular Tri Colore, which I totally recommend you order as well) and sangria.
The food was more than enough for both me and my fiance and I felt they had reasonable prices considering the amazing view, the popularity of the restaurant, and how touristy the Cinque Terre region is.
The only downside is the fact that you won't really be able to linger around after finishing your food if it's still crowded. This is because you'll feel the pressure of the people still waiting in line.
Don't get me wrong, no one will signal you to leave, but I felt obliged to do so in order for others to eat as well.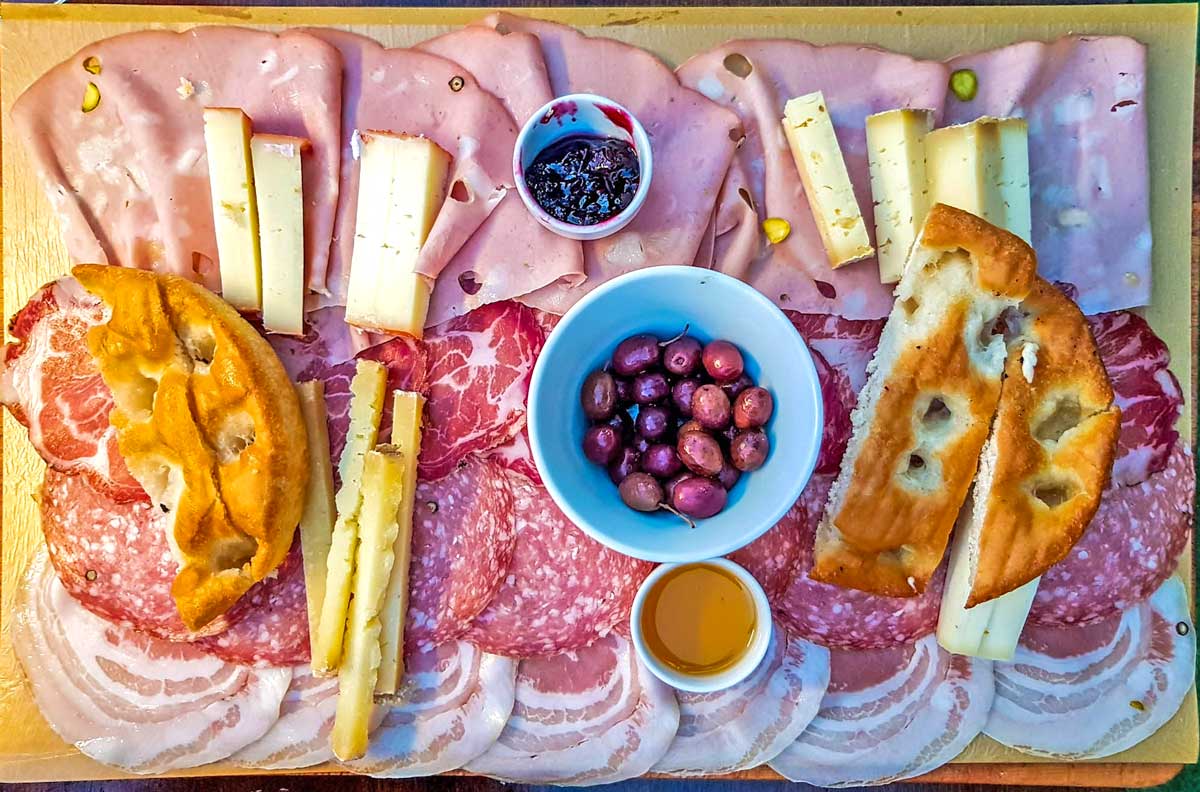 How to get a table at Nessun Dorma in Manarola?
Nessun Doma doesn't accept reservations, rather they operate on a first-come-first-served basis. You can download the Nessun Dorma app on your phone or get a QR code at the bar that you can scan with your phone to get a spot in the queue.
When there are fewer than 10 people before you in line, you should come closer to the entrance, since your number will get called soon.
Other experiences to try at Nessun Dorma
The restaurant also offers a Pesto class during which you'll learn to make the tasty green sauce. Lunch (meat and cheese or vegan/vegetarian options) and a small wine-tasting session are also included. The cost of the experience is 60 euros.
And if you're a wine lover, you'll be happy to know that they also offer a full wine-tasting experience for the price of 80 euros. You can find more details about both activities on their website.
Eating at Nessun Dorma in Manarola: Conclusion
So if you are looking for a breathtaking view, delicious food, and an overall great Italian experience, then head to Nessun Dorma in Manarola, Cinque Terre! You might need to wait a bit in line, but I guarantee you that it's totally worth it.
Happy travels~
---
YOU MIGHT ALSO LIKE