Are you wondering what are the best places to visit on a short Northern Ireland day trip from Dublin? I've got you covered!
Northern Ireland is a small territory, part of the United Kingdom, located in the northeast part of the island of Ireland. If you only have one day to spend there like I did, then you'll want to make the most of it.
There are several lovely locations to visit, with the Giant's Causeway being the most famed one, and with a little planning, you can see quite a few of them, even in such a short amount of time!
So here is my list of the best places to visit in Northern Ireland in just one day.
Disclosure: Some of the links in this post are affiliate links. If you click on them and make a purchase, I may receive a commission at no extra cost to you. Check my full disclaimer here.
How to get to Northern Ireland
Generally speaking, you can travel to Northern Ireland by plane, ferry, train, or car. While you'll need a passport if you decide to fly as Northern Ireland is part of the UK, there will be no border control if you arrive from Ireland by car or by train.
For ferries, I'd also recommend you have your passport with you even if essentially you travel inside the UK, as you might be asked for proof of identification.
By plane
There are 3 airports in Northern Ireland: Belfast International, Belfast City, and the City of Derry. Belfast International Airport is the busiest out of the three, while Belfast City Airport is the closest to the city center.
By ferry
Belfast (Northern Ireland) is connected by ferry to Scotland, England, and the Isle of Man. Stena Lines offers rides to Liverpool and Cairnryan, while Steam Packet sails to and from Douglas.
By car or bus
Most people visit Northern Ireland on a day trip from Dublin. The travel time from the Irish capital to Belfast, Northern Ireland's capital is around 2 hours. From there it's another hour and 15 minutes to reach Giant's Causeway.
It's important to know that in Northern Ireland as in Ireland and the UK, driving takes place on the left side of the road. I'd suggest getting an automatic car if you are not used to this.
It will be more expensive, but it will also make your job easier as you won't have to change gears with your left hand. Also, make sure you book your car ahead of time since automatic ones are usually in very high demand.
My fiancee and I actually finally mustered our courage to drive on the other side of the road when we visited the villages of Cotswolds, in UK. Since we got an automatic car, things didn't end being as bad as we'd imagined.
However, I have to admit that a Cotswolds tour from London would have still been less stressful :)).
If you don't want to drive, there is also a bus service between Belfast and Dublin. You can check the schedule and ticket prices here.
By train
There are direct trains connecting Belfast Central Station and Dublin Connolly Station. The journey time is around 2h and 15 minutes.
By tour from Dublin
Joining an organized tour is the best way to see the most important sights in the region without having to drive from Dublin.
I booked the Giants Causeway, Dark Hedges, Dunluce & Belfast Tour and it was a really nice introduction to Northern Ireland.
But in retrospect, I kinda wished I had booked the Giant's Causeway Full-Day Trip with Titanic Belfast Entry tour, because I wanted to visit the Titanic museum in Belfast, and I didn't realize there wouldn't be enough time.
This is because the Titanic Belfast museum is located in the Titanic Quarter, which is a 25-30 minute walk from where the bus dropped us off to explore Belfast's city center. And a visit typically lasts between 1 and a half hours and 2 hours.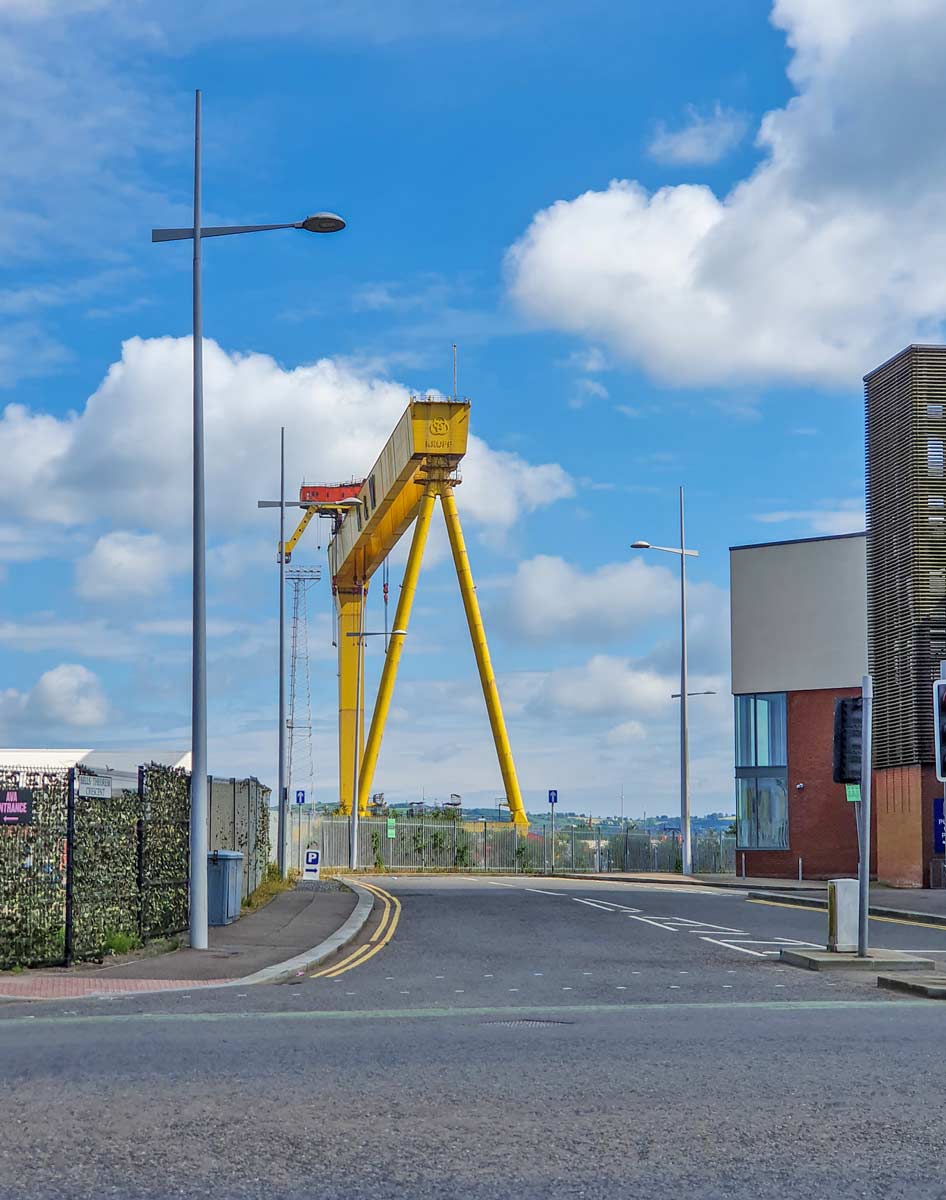 However, after a bit of walking around the city center, I still went to the Titanic Quarter to see the slipways for the Titanic and Olympic and take a closer look at Samson and Goliath, the two enormous cranes belonging to Harland and Wolff that helped build the majority of the ocean liners for White Star company (including Titanic, Britannic, and Olympic).
So there was enough time to do that at least.
Now if you want the best of both worlds, you could book the 1st tour and simply let the guide know that you won't be returning by bus, rather you'll catch the train back to Dublin on your own (Belfast is the last stop of the tour anyway).
This will allow you to spend as much time as you want to visit the Titanic Museum. Wish I had this idea before I returned to the bus :)).
If you are a Game of Thrones fan (spoiler alert: they filmed a lot of scenes in Northern Ireland), then you might be interested in this Giant's Causeway and Game of Thrones Tour.
Northern Ireland: Best places to visit on day trip from Dublin
If you decide to drive from Dublin yourself, know that you can easily hit all the attractions on this list if you start your day early in the morning (around 7 – 8 AM) and you're the type of traveler that likes to visit at a faster pace.
Otherwise, I recommend only doing 2 or 3 attractions, more specifically Giant's Causeway, Belfast, and Dunluce Castle.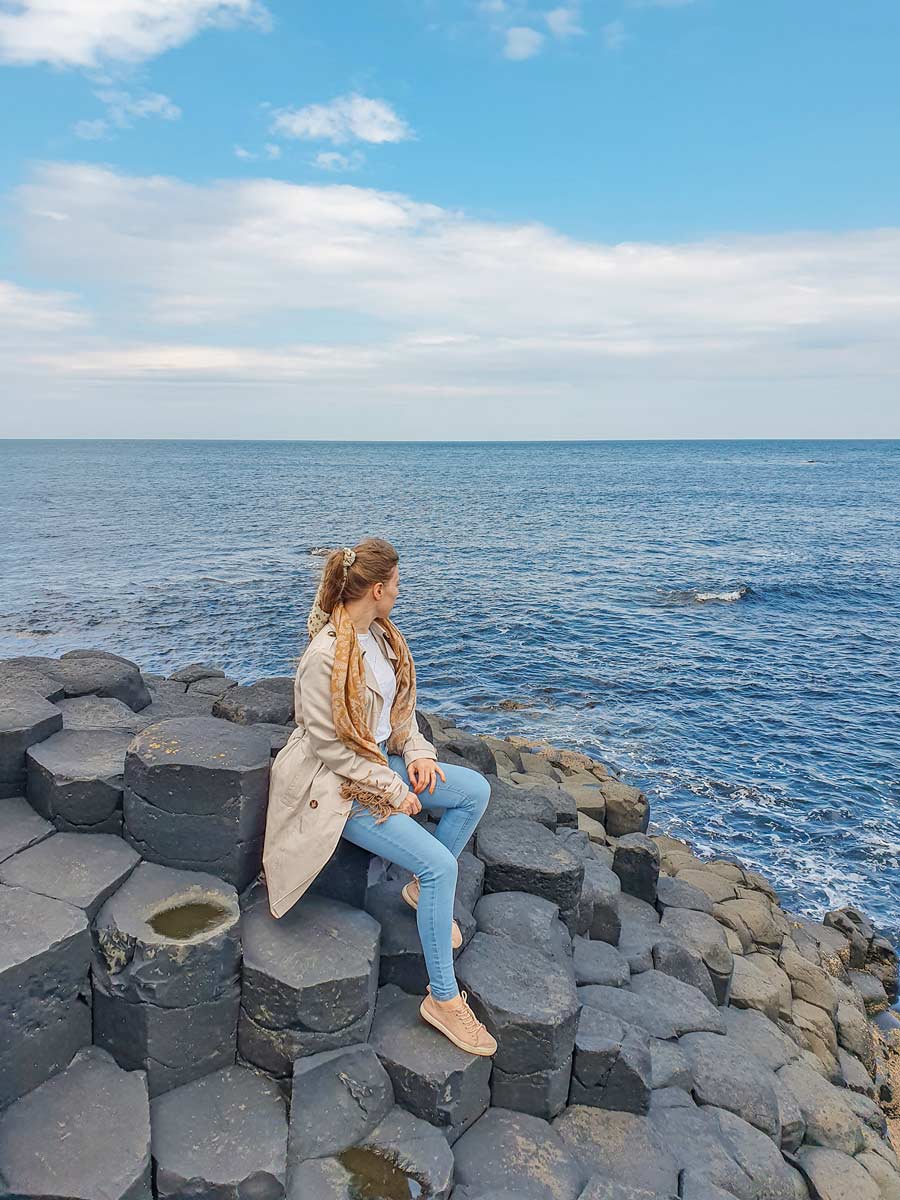 01. Giant's Causeway
Giant's Causeway is by far one of the most visited and beautiful places in Northern Ireland. The area boasts many interlocking basalt columns usually of hexagonal shape, which appeared as a result of an old volcanic eruption.
According to a popular legend, the columns are the remains of a causeway made by the Irish giant Fionn Mac Cumhaill (Finn MacCool) to meet his Scottish arch-enemy Benandonner, which previously challenged him to a fight.
There are 2 alternative endings to the tale: in one the Irish giant defeats his Scottish counterpart and in the other, he flees back home after realizing that his foe is way bigger than him. As Benandonner gives chase, Fionn turns for help from his wife who disguises him as a baby.
When the Scottish giant arrives, he sees the huge 'baby' and guesses that his father must be a giant among giants, therefore he quickly runs back to Scotland in fright. While doing so he also destroys the causeway to make sure Fionn can't pursue him.
While you need to have a ticket to enter the Visitor Center, this is not required to actually see Giant's Causeway, which is in fact free to visit.
There are several walking trails in the area. You'll need to follow the green one to get to Giant's Causeway. It is an easy walk down an asphalt road. There's also a shuttle bus between the Visitor Center and the Causeway: it operates every 15 minutes.
To get here from Dublin you can either rent a car and drive, join a tour or use public transportation (ride the train from Dublin to Belfast, then take the direct bus 221 to the Causeway).
If you visit by car, there's a big parking lot where you can leave your vehicle. Toilets are near The Causeway Hotel and if you get hungry you can grab something to eat at The Nook.
Also, make sure you bring some warm clothes no matter when you visit, as it can be quite windy and cold at the Causeway. I went there in June and while it thankfully didn't rain, it was extremely chilly.
02. Belfast
Belfast is the capital of Northern Ireland and the largest city in the region. While now a vibrant and peaceful place, Belfast suffered a lot during the division of Ireland as well as during the Troubles, a predominantly political and nationalistic 30 years-long conflict.
You can find out more about the tumultuous history of the city during The Troubles on a Black cab tour.
Also, if the tragic story of Titanic was something that you took an interest in, then you probably already know that the ship departed from Belfast for its first and last voyage.
Head to the Titanic Quarter (previously part of the Harland and Wolff shipyard) to visit the Titanic Belfast interactive museum, see the slipways from where the ill-fated ship was first launched into the water (a life-size layout of Titanic is embedded in the ground in white stone), its Dock and Pump-House, as well as the two huge cranes that helped built it.
Unfortunately for me, a concert was held on the Slipways during my visit, so I couldn't see the whole thing, nor access the benches which are apparently positioned as they would have been on the Titanic itself.
Additionally, you can also come aboard SS Nomadic, the last existing vessel of White Star. It was designed by Thomas Andrews and was built alongside the Titanic as a passenger shuttle for the larger ocean liners like the Titanic and the Olympic.
For these reasons, it shares a lot of similarities with the doomed ship.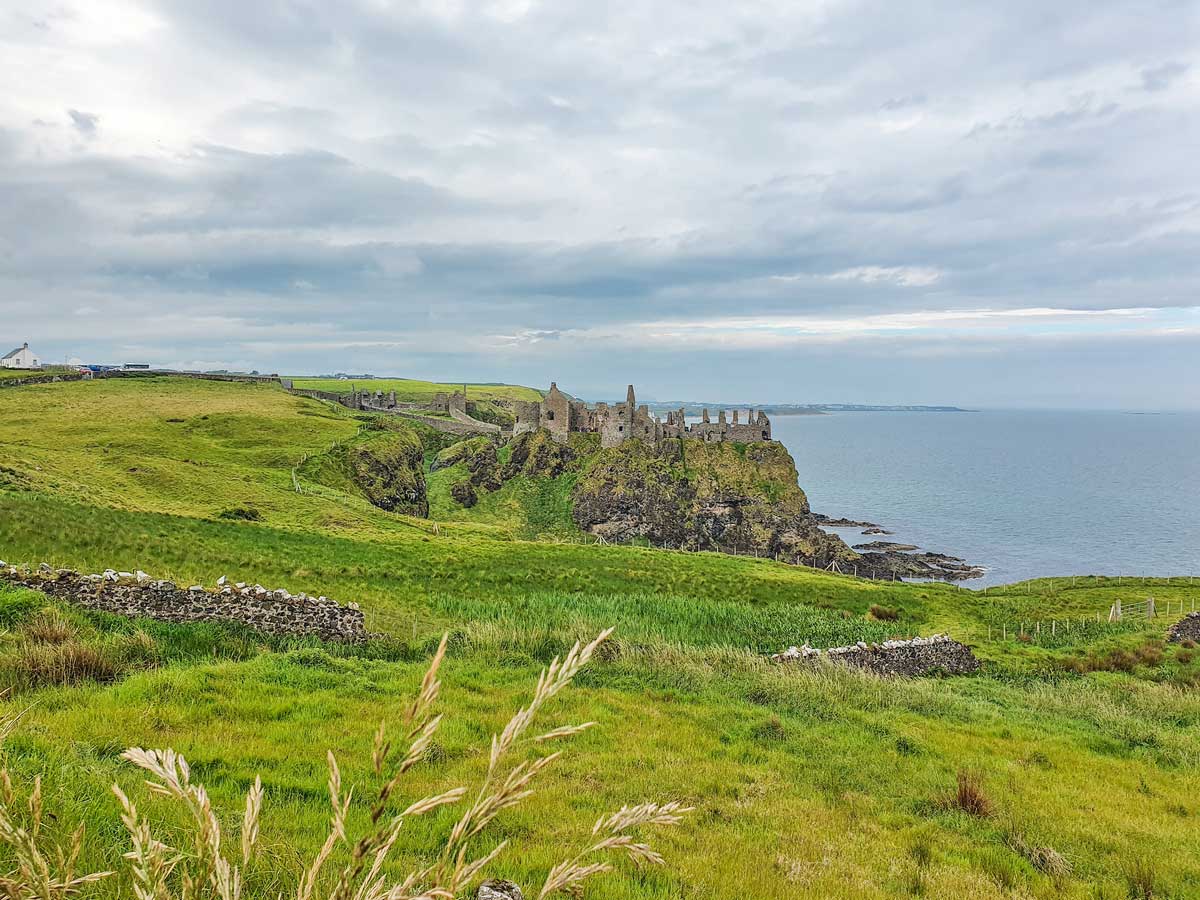 03. Dunluce Castle
Once the home of the McDonnell Clan, the Dunluce Castle is a now-ruined medieval castle perched on a cliff, on the beautiful Causeway Coast. Game of Thrones fans will recognize it from the series as the seat of House Greyjoy, the great castle of Pyke.
If you take the tour that includes a stop at the castle, you should know that you won't actually enter the castle, rather you'll be given the opportunity to take a few photos from a viewing point.
04. Carrick-a-Rede Rope Bridge
Carrick-a-Rede Rope Bridge is definitely not for people that have a fear of heights. The bridge connects the mainland of Northern Ireland to the small island of Carrickarede, 30 meters above the cliffs below. In order to be able to cross the bridge, you must pay a fee.
The rope bridge was also used as a filming location for the popular series Game of Thrones: it is here that Balon Greyjoy has a deadly encounter with his younger brother Euron.
If you decide to visit by tour, know that coaches are not allowed to get down to the bridge anymore, so if seeing it up close is important to you either opt for a private tour (with a small car) or get a rental and drive there yourself.
Lastly, if you are in the area, I also recommend you check out the views from the Portaneevy Car Park & Viewpoint. On a clear day, you can even spot Scotland.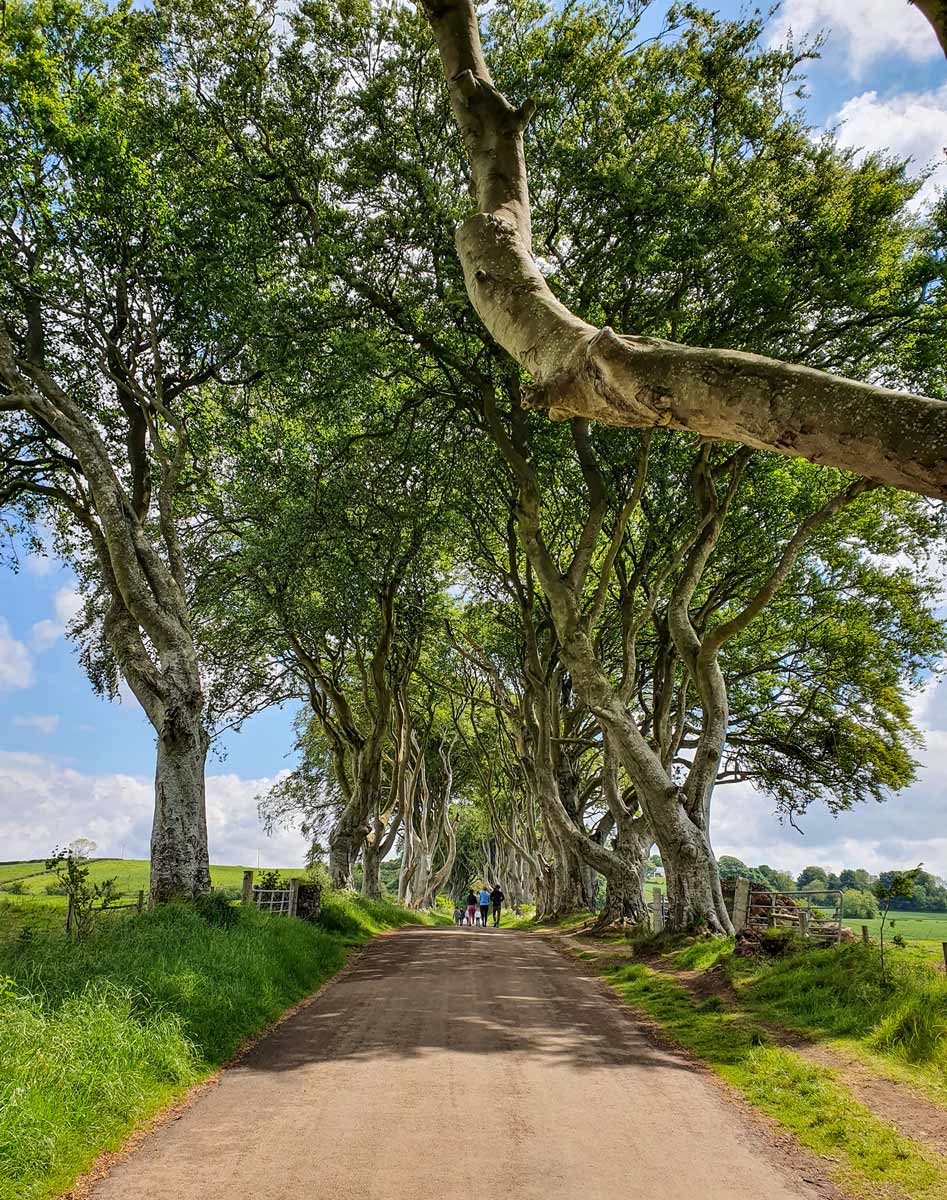 05. The Dark Hedges
Another filming spot for Game of Thrones – told you they shoot a lot of scenes in Northern Ireland, I even dare to say that the Dark Hedges got most of their popularity because of the series.
While the name might make you think of a forest, the Dark Hedges actually refers to a road bordered by beech trees. The trees were planted by the owner of Gracehill House to make the entrance of the estate more impressive.
To be totally honest, this location might appeal the most to fans of the TV show. While the trees look totally cool, if it's crowded (many tours stop here) you won't really be able to capture them nicely in photos.
TIP: If you visit by tour and you want to snap some decent photos of the trees, try to be among the first that get off the bus and walk as fast as possible towards the Hedges.
The path to take as you leave the coach will not be very intuitive as you'll first have to head in the opposite direction of the trees, since tour companies won't risk having a large group walk on the edge of the road.
I marked the way with blue dots on the map below: this way you won't have to wait for the tour guide to give you directions.
One day in Northern Ireland from Dublin FAQs
Is Dublin in Northern Ireland?
No. Dublin is the capital city of the country Ireland, while Northern Ireland is part of the United Kingdom and its capital is Belfast.
Is Ireland or Northern Ireland part of the UK?
Ireland is a separate country, but Northern Ireland is indeed part of the United Kingdom.
Can you do a day trip to Belfast from Dublin?
Since the two cities are located fairly close together (around 2 hours by either car or train), it's quite easy to do a day trip to Belfast from Dublin.
Northern Ireland day trip from Dublin: Wrap up
So there you have it – my top 5 picks for the best places to see in Northern Ireland on a day trip from Dublin. I hope you enjoy your visit and that this guide helps you make the most of your time here.
Happy travels~
---
YOU MIGHT ALSO LIKE