Are you visiting Tuscany soon and you're wondering if one day in Pisa is enough to see the main highlights? I've got you covered!
Rome, Venice, Tuscany, Cinque Terre, Amalfi coast, Dolomites, and Como Lake are just a few of the locations for which Italy is famous, making it one of the most visited countries in the world – as of now I've been there over 7 times and still have many things left to see.
Known for its beautiful scenery, wineries, and rich cultural heritage, Tuscany is without a doubt one of its most precious treasures. You can explore it over multiple trips or take a long road trip across the region. Either way, visiting Florence, its capital, is a must.
And if you find yourself with a day to spare, consider spending it in Pisa. While the Leaning Tower is the standout attraction, the entire Piazza dei Miracoli is worth your time. Here's the ideal itinerary for a day trip from Florence.
Disclosure: Some of the links in this post are affiliate links. If you click on them and make a purchase, I may receive a commission at no extra cost to you. Check my full disclaimer here.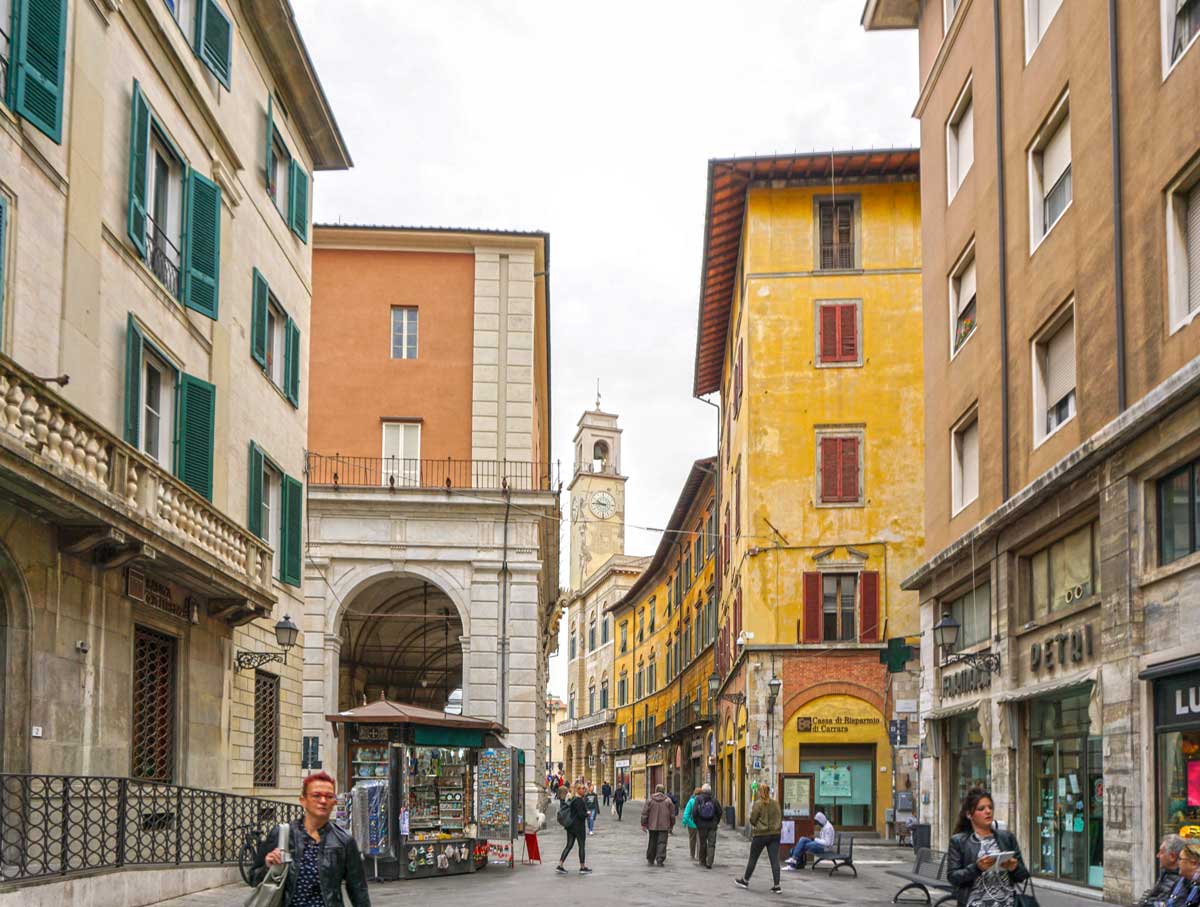 24 Hours in Pisa Itinerary (Brief overview)
Climb the Leaning Tower of Pisa: Visit the city's most famous landmark, known for its unique lean. Tickets can be bought on-site or online.
Visit Pisa Cathedral: Explore the oldest and largest structure in Piazza dei Miracoli, showcasing Romanesque architecture. Entry is free with a timeslot ticket.
Hear the Acoustics at Pisa Baptistery: Experience the incredible acoustics of Italy's largest baptistry.
Visit Camposanto Monumentale
Admire Piazza dei Cavalieri: Explore the second main square of Pisa, which was once its political and administrative center.
Stroll Along the Arno River: Enjoy a walk along the river, admiring colorful, old buildings and palazzos.
Visit Palazzo Blu
Appreciate the Gothic Architecture of Santa Maria della Spina: Visit this tiny Gothic church on the bank of the Arno River, named after a Thorn from Christ's Crown on the Cross.
How to get to Pisa from Florence
🚆 By train
Due to the proximity of the two cities (less than 100km/62 miles), a day trip to Pisa from Florence is a very popular choice with people wanting to see the Leaning Tower. And the easiest and fastest way to travel is by train.
The train journey takes around 1 hour and there are many direct connections every day. Tickets usually start at 8.70 EUR (10 USD) one-way.
You can check the train schedule, up-to-date prices and even buy tickets on Trenitalia's website. Input "Firenze ( Tutte Le Stazioni )" which means "Florence (All stations)" as your starting point to see all routes leaving Florence.
Most trains leave from Firenze Santa Maria Novella which is Florence's main station. It is very conveniently located: only 10 minutes away on foot from the historic city center.
In Pisa, all trains arrive at the Pisa Centrale train station, which is located about 1.7km away (a 20-minute walk) from the Square of Miracles and the Leaning Tower.
Using the train in Italy
In Italy, more often than not, you need to
validate your ticket
before you actually board the train. You can find stamping machines either on the train platforms or inside the station, so keep an eye out for them. Skipping this step will result in a fine.
The exceptions to the rule are tickets for regional trains that you buy online (they have a specific date and a time frame when they can be used) and high-speed trains that come with a reservation.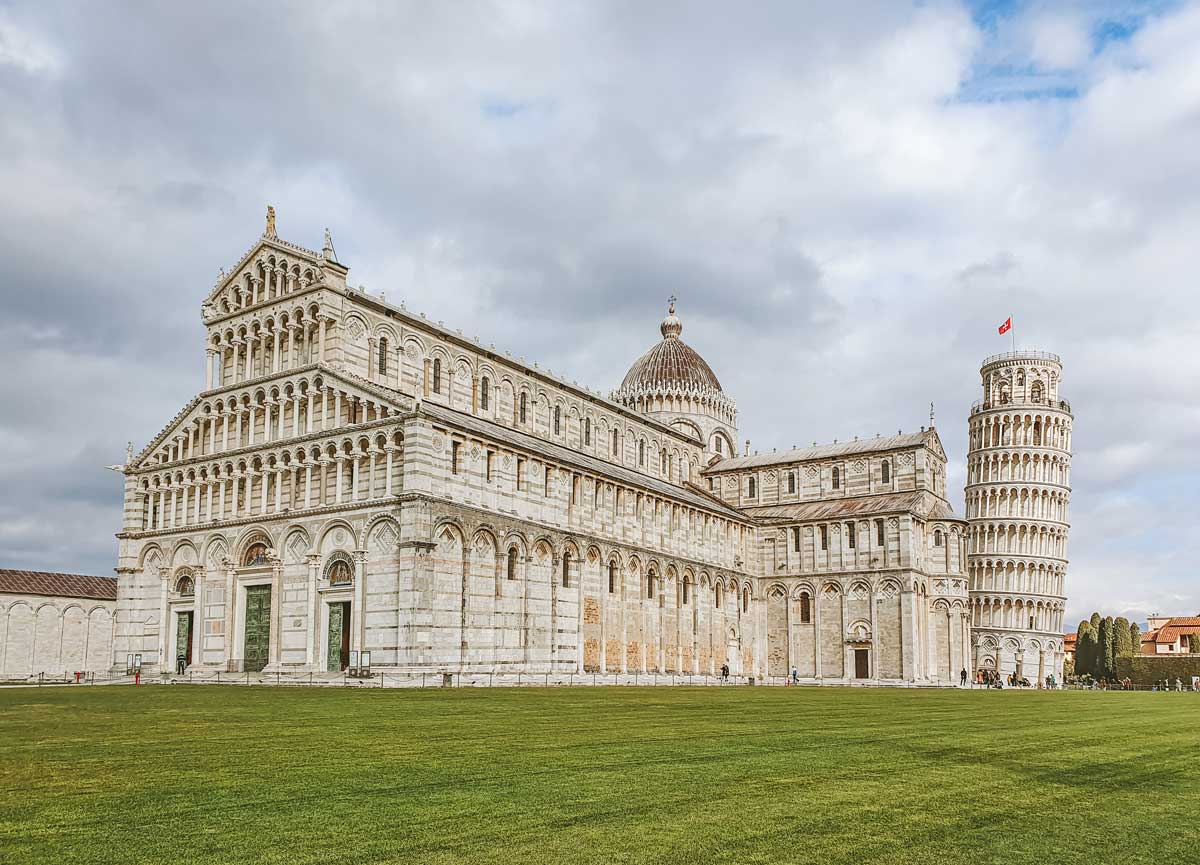 🚗 By car
If you already rented a car for a longer road trip through Tuscany, it makes sense to use it to also visit Pisa.
The first thing to bear in mind is that Pisa, like many other historical Italian cities, has a restricted traffic area called ZTL (Zona Traffico Limitato).
You have to be careful to not drive your rental into it (it's generally defined as the walled part of the city) or you will face a fine. You can check the ZTL map for Pisa here.
While in traffic, you should keep an eye out for a red circle on a white sign with the words "Zona Traffico Limitato" written in black, just above. Every entry of a ZTL should have one.
Parking options in Pisa
Regarding parking, you can find both free and paid lots outside of the ZTL zone, but be aware that the free options might come with some downsides regarding security.
Such an example is the free, fairly big parking lot located only 10 minutes away from the Square of Miracles where the Leaning Tower is located. You can find it on Google Maps marked as Parcheggio Via Pietrasantina, Parcheggio Pisa, and Parcheggio auto per la Torre di Pisa.
However, I wouldn't recommend it because if you read the reviews, you'll find quite a few people complaining that their car was broken into and all their belongings were stolen. So park here at your own risk.
A better option, in my opinion, is the paid Pisa Tower Parking, which is located only 6 minutes away from the tower. It costs 1.8 – 2 euros/hour and for a bit more it even offers closed boxes. There's also a guard on-site, supervising the parking lot.
How to get around Pisa
Pisa is a relatively small city, so the best way to get around is on foot. If you arrive here by train, then it's a 20-minute walk from the Pisa Centrale train station to the Leaning Tower, which takes you through the historic center of the city.
However, if you don't want to walk, there are buses that connect Pisa Centrale with Piazza dei Miracoli. The journey takes about 15 minutes (LAM Rossa line) and you can buy tickets inside the train station, from tobacco shops and newsagents.
Best things to do and see if you spend one day in Pisa
01. Climb the Leaning Tower of Pisa
The Leaning Tower is hands down the most famous landmark in the city. The free-standing, bell tower of the Pisa Cathedral received this name because its unstable foundation caused it to visibly lean, even before it was completed.
The tower has 8 stories, including the bell chamber, and it's made of white marble. It was after the 3rd floor was finished that people noticed there was a slight lean to it.
Subsequently, the new stories were made slightly taller on the short side, in an attempt to compensate for the lean. However, the extra masonry caused the tower to sink even more in the soft ground.
Over the years, extensive work was done to the structure, to try to stop and even reduce its leaning.
Tourists on the other hand enjoy the pellicular look of the bell tower and many take pictures of themselves supporting or pushing the construction.
Tickets for the tower can be bought either on-site or online (fast track). The visit takes about 30 minutes. My recommendation is to buy your ticket beforehand as only a fixed number of people is allowed inside the tower each day.
02. Visit the Pisa Cathedral
Pisa Cathedral (also known as Duomo of Santa Maria Assunta) is the oldest and largest structure in Piazza dei Miracoli. A great example of Romanesque architecture, it received extra fame after its bell tower started leaning.
The cathedral is free to visit, but you'll need to pick up a timeslot ticket beforehand. If you buy a ticket to another part of the religious complex, however, you get a flexible entry to the cathedral, meaning you can visit it whenever you like.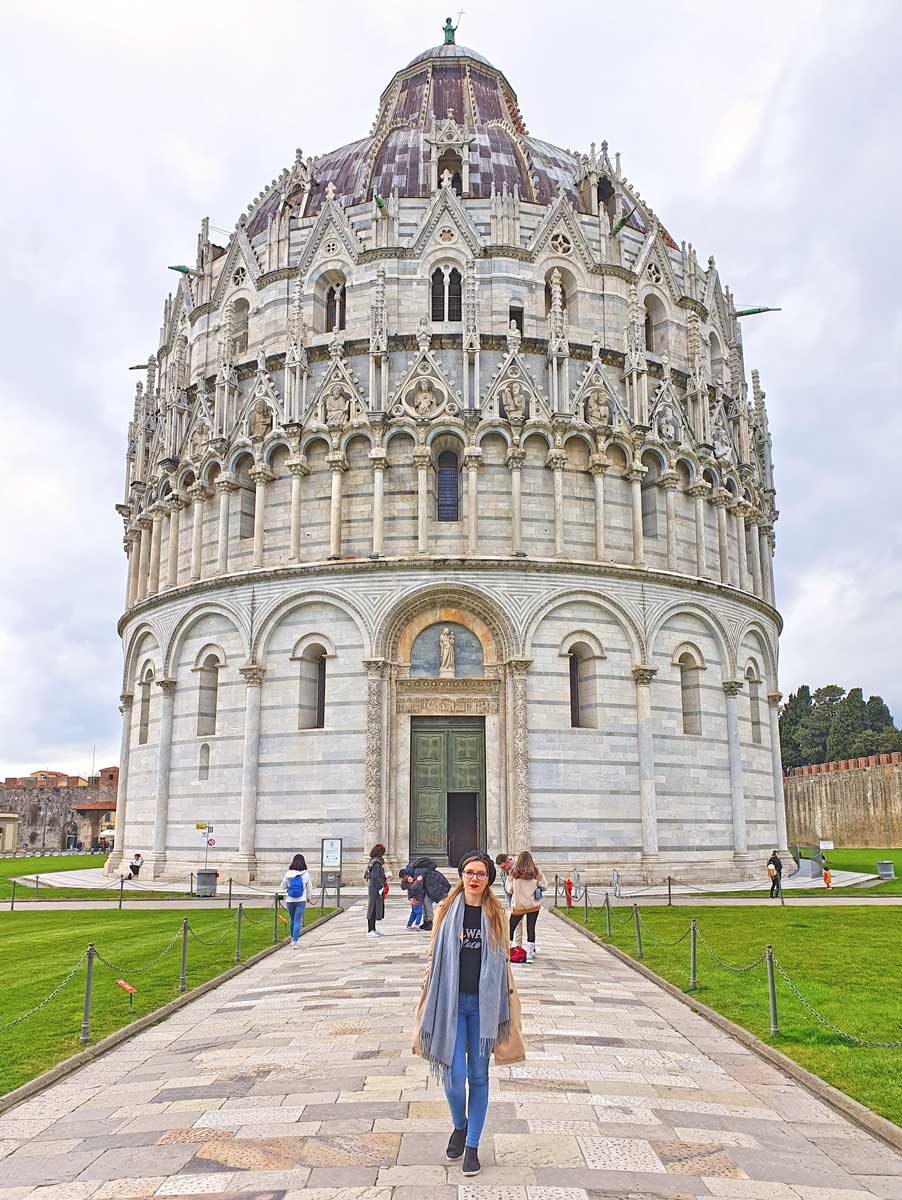 03. Hear the acoustics at Pisa Baptistery
The largest baptistry in Italy, the Pisa Baptistery is quite a stunning structure. Built from white marble, it combines the Romanesque style with the Gothic style for a beautiful architectural effect.
Constructed on the same unstable terrain as the Tower, the Baptistery also leans a little bit, though it's not nearly as obvious. But that's not what makes it famous, but rather its excellent acoustics.
Usually, every half an hour an attendant makes a demonstration by singing a few notes. This allows visitors to marvel at how the echoes bounce off the walls and seem to chase one another.
You can buy tickets for the Baptistery either on-site or online (fast track).
04. Visit Camposanto Monumentale
The Camposanto Monumentale (en. Monumental cemetery), also known as the Camposanto Vecchio (en. Old cemetery) is the last edifice to be added to the Piazza dei Miracoli. It was built to accommodate the graves that until then were scattered all around the Cathedral.
"Campo Santo" actually means 'Holy Field' and it is said that the cemetery was built upon holy soil brought back from Golgotha, hence the name. You can buy tickets for the cemetery either on-location or online (fast track).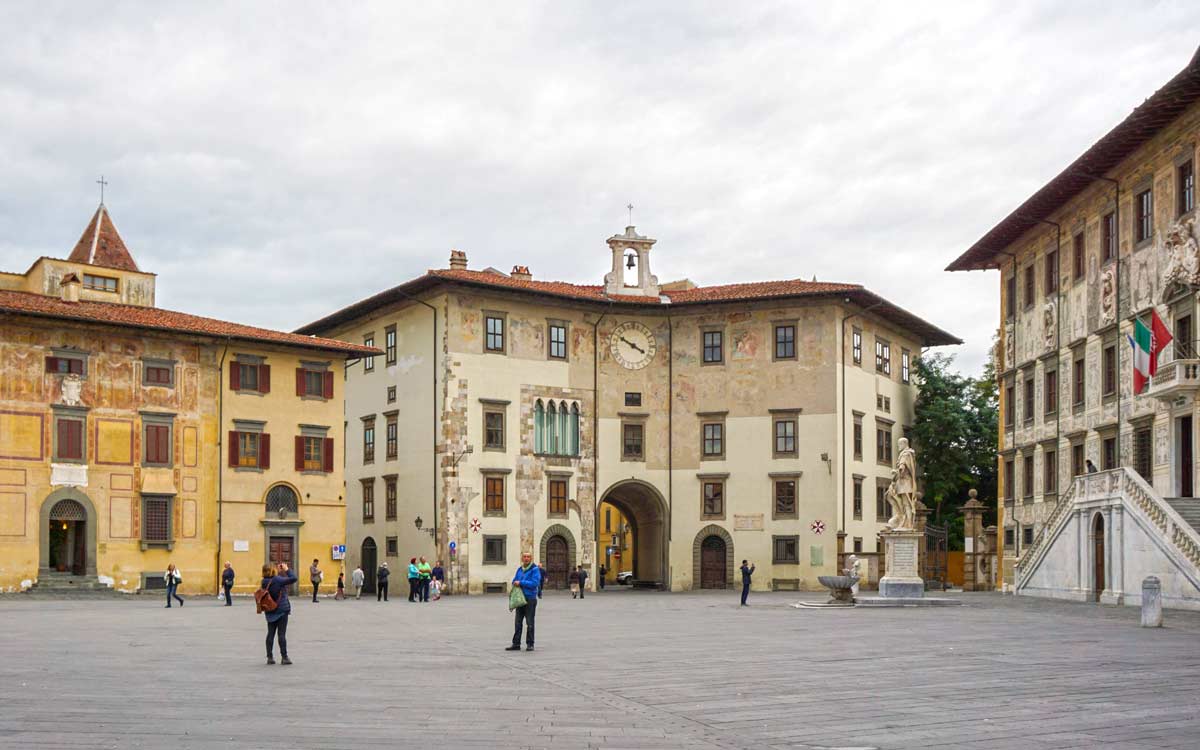 05. Admire Piazza dei Cavalieri
Piazza dei Cavalieri (en. Knights' Square) is the second main square of Pisa, after Piazza dei Miracoli. In medieval times, it was the political and administrative center of the city. Nowadays it is the home of the Scuola Normale Superiore di Pisa, an institution of higher education founded by Napoleon.
The square features beautifully decorated buildings and historic monuments making it very photogenic.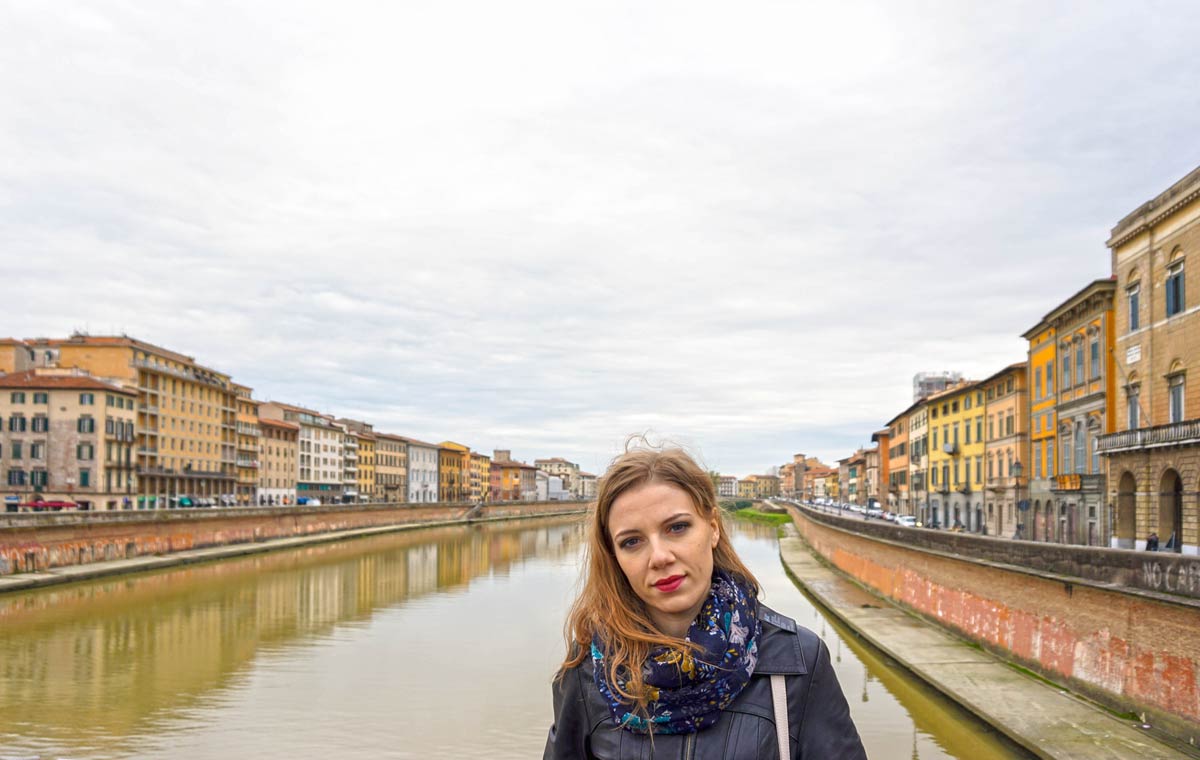 06. Stroll along the Arno river
On either side of the Arno river (which also flows through Florence) you will see colorful, old buildings and palazzo, so you shouldn't miss the opportunity to admire them on a peaceful stroll.
Sadly, it was pretty cloudy during both my visits to Pisa (it also rained for a bit), so I couldn't enjoy a long walk along the river, but I imagine it's really lovely on a sunny day.
07. Visit Palazzo Blu
Palazzo Blu is an art gallery and cultural center in Pisa's historic district, located on the bank of the Arno River. It owes its name to the blue color that was discovered during a renovation.
On the main floor of the building, many of the rooms are furnished with significant works and objects of art to show the visitor how the palace would have looked as a residence of an important family of the 19th century.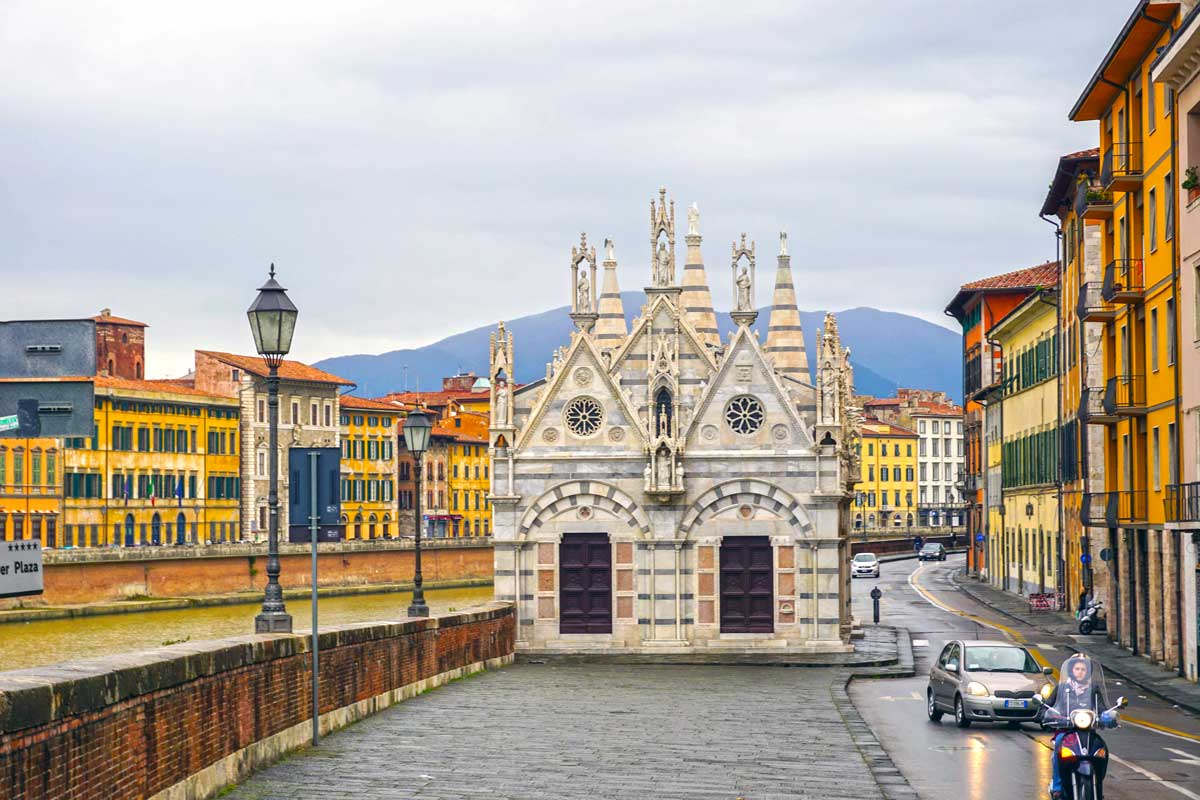 08. Appreciate the gothic architecture of Santa Maria della Spina
Santa Maria della Spina is a small Gothic church on the bank of the Arno River. Its name comes from "spina" which translates to "thorn" and refers to a Thorn from Christ's Crown on the Cross, which was acquired and kept by the church for a period of time.
Is one day in Pisa enough?
If you are only interested in seeing the sights located at the Square of Miracles (it. Campo dei Miracoli), also referred to as the Cathedral Square (it. Piazza del Duomo), then even half a day is enough.
Here you will find the famous Leaning Tower of Pisa (which is the free-standing bell tower), the Cathedral, the Baptistry, and Camposanto Monumentale (en. Monumental Cemetery).
However, spending a full day in Pisa will allow you to visit the Square of Miracles at a slower pace and also discover a bit the city.
Best time to visit Pisa, Italy
April-June and September-October are some of the best months to visit Pisa. The weather is usually pleasant and the crowds are fewer than in the summer season.
Do expect a bit of rain in October though. I actually visited Pisa during this month and experienced a few drops and a clouded sky which was not the best for taking pictures.
1 Day in Pisa itinerary FAQs
Why does the Tower of Pisa lean?
The Tower of Pisa leans because its foundation was built on soft ground which could not properly support its weight. Furthermore, the extra masonry added during its construction to one of its sides in an attempt to visually correct the lean only worsened the situation even more.
What is inside the Leaning Tower of Pisa?
The Leaning Tower of Pisa is actually a hollow cylinder, meaning it's simply empty inside.
How far is Pisa from Florence?
The distance between Pisa and Florence is less than 100 km or 62 miles, which translates into around an hour of travel by train.
One day in Pisa Itinerary: Wrap up
I hope this travel guide on how to spend a day in Pisa gave you a few ideas on what you can do and see in the city, as well as useful information on the attractions and how to get there from Florence.
Before you go, make sure to also read my 2 days in Florence itinerary or my travel guide on spending 24 hours in Florence, depending on how much time you have at your disposal in Tuscany's capital.
Happy travels~
---
YOU MIGHT ALSO LIKE