What to see in Maramures, Romania?!
Maramures is one of Romania's not-so-secret gems. Famous for its wooden craftsmanship, this region is a place where you can witness unique traditions, take a steam train ride, stay in an old authentic house, and admire its beautifully decorated wooden churches.
So let's discover the best places to visit in Maramures, Romania.
Disclosure: Some of the links in this post are affiliate links. If you click on them and make a purchase, I may receive a commission at no extra cost to you. Check my full disclaimer here.
Visit Maramures, Romania
Maramures is a geographical and cultural region situated in northern Romania, at the border with Ukraine. Here you'll discover many villages where century-old traditions are still being kept alive.
Their most distinctive traits are the wooden churches with tall spires and shingled roofs, as well as the tall wooden gates that many houses have.
When to visit?
Maramures is a destination that is visited year-round, but it's especially popular around Christmas and Easter, so you might want to book early on if you want to travel during that time.
And I do encourage you to visit around those two holidays because aside from Bucovina, there's no other region in Romania where you'll be able to witness so many authentic traditions.
Especially before Christmas, when villages in Maramures prepare for the holidays and carolers dress up in traditional costumes, singing their songs at every house.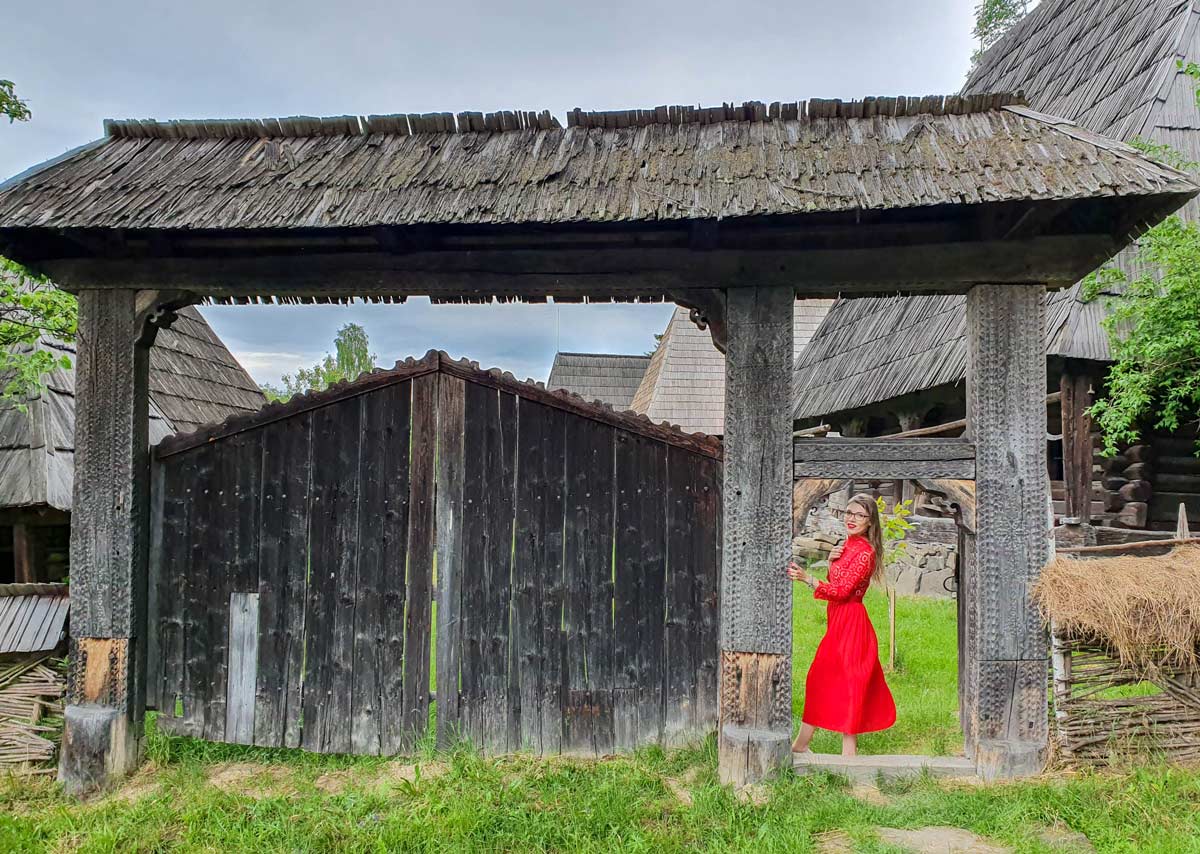 How to get to Maramures?
By car
Most travelers usually end up in Bucharest, Romania's capital city. From here, you can rent a car and drive to Maramures.
While the journey is pretty long (about 9h), I do recommend this option since you'll still need a rental at your disposal when you visit the region. So you might as well get it from Bucharest and use it to travel to Maramures.
Driving in Romania
In Romania, driving happens on the right side of the road. While the main roads are generally in fairly good condition, things are usually different when it comes to rural areas.
So you should drive carefully as potholes are a common occurrence (sometimes on frequently used roads as well) and pay attention to pedestrians, animals, cyclists, and horse-drawn carts that you might encounter en route.
Another thing you should be careful about is mountain roads. While often incredibly scenic, they are usually more difficult to drive on as they can get pretty winding and narrow.
Also, in winter, you are legally required to have all-season or winter tires. Depending on where you plan to drive, snow chains might also be needed.
Lately, make sure you check with your embassy or other official sources if you need an IDP (International Driving Permit) or not.
For example, EU and UK citizens can drive here with just their national driving license, but US tourists need an IDP.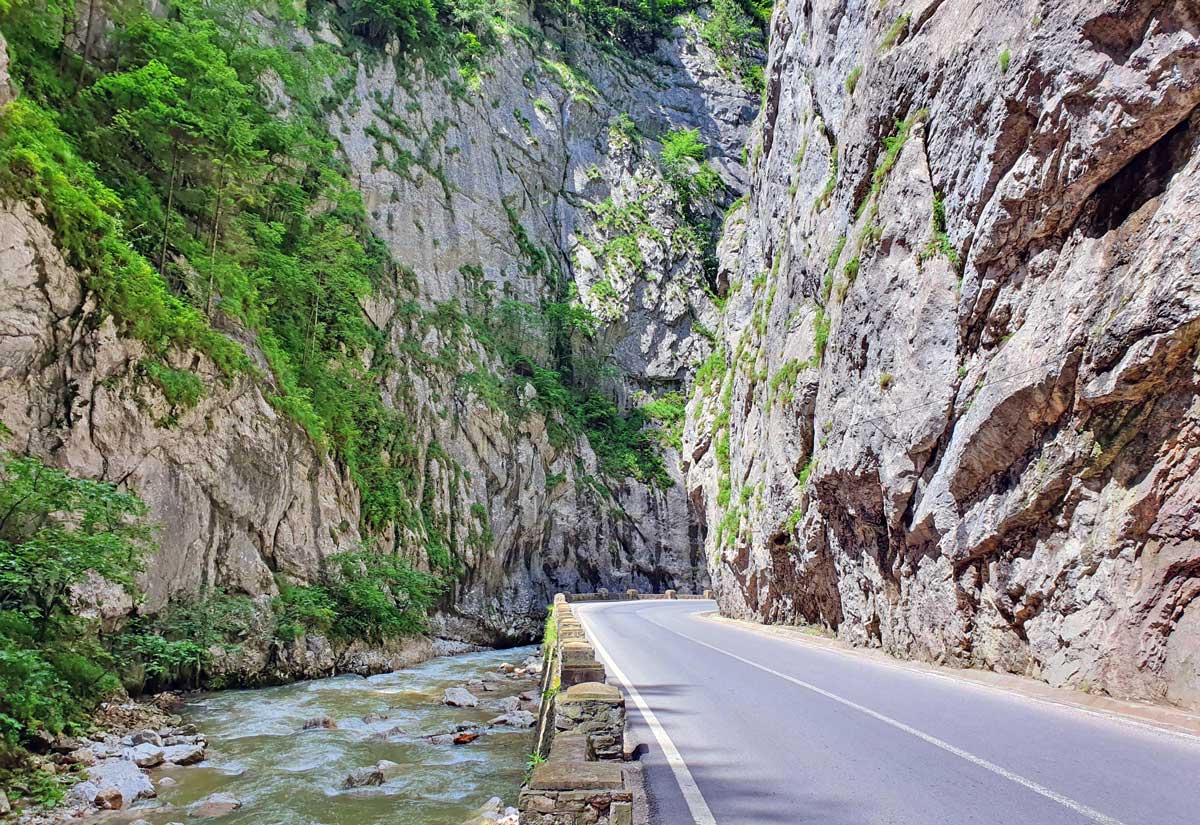 Honestly, we Romanians use our cars a lot when exploring our country, since some places are difficult to get to otherwise.
Unfortunately, the railway infrastructure is not the best and while there are usually many local buses and minibusses, it's pretty hard to find information about them (even for me, as a local!).
The downside of this is the fact that traffic gets pretty bad at times, especially on the mountain crossings like Valea Prahovei, Valea Oltului, and Valea Jiului (out of them Valea Prahovei is usually the most crowded).
I would strongly suggest you avoid going from Bucharest to Brasov on a Friday afternoon or the other way around on a Sunday.
These are usually the busiest times to cross Valea Prahovei, when many people from Bucharest go to and return from a weekend trip to the mountains.
By plane
The main airport in Maramures is the one in Baia Mare. There are regular flights that connect it to the biggest international airport in Romania called "Henry Coanda" (commonly referred to as Otopeni), located in Bucharest.
Sometimes you can also find international flights that land directly in Baia Mare, but these routes come and go, so you'll need to check that for yourself.
Another option can be the "Avram Iancu" international airport in Cluj, which is located 2 and a half hours away by car from Baia Mare.
Once you get to Maramures I'd again suggest renting a car, since it will give you more flexibility when visiting the region. You can check some rental offers here or here.
By train
Trains are usually cheap and fairly comfortable, but as I said, the railway infrastructure is not the best.
If you want to use the train to get to Maramures, then the best option is probably to travel to Cluj (the travel time with the fastest direct IC train is about 8h 30m) and from there rent a car to explore the northern part of the country.
By tour
There are also multi-day tours from Bucharest, like this one, that will allow you to see some of the main sights in Maramures and Transylvania. Accommodation is usually included.
Where to stay in Maramures?
There are lots of accommodation options in the area, but depending on what you want to visit you could choose different locations to spend the night.
Viseul de Sus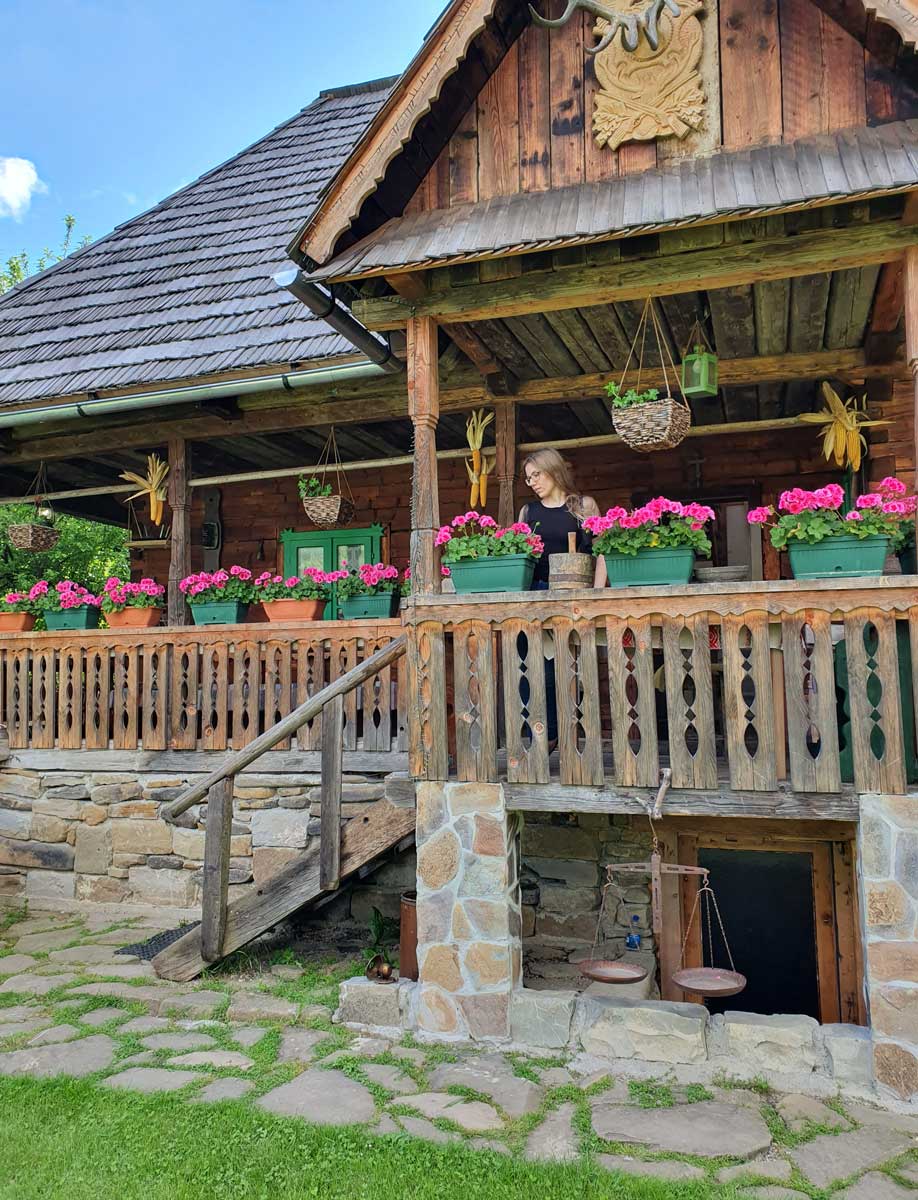 If you plan to ride the Mocanita steam train, it is better to spend the night before in Viseul de Sus, which is the starting point of the trip.
We actually spent 3 nights here at a lovely guest house called Pajisti Verzi (Green Meadows). They offer individual rooms with bathrooms in an old traditional house that was renovated (you check my Instagram reel to see a tour of the guest house).
The only downside was the fact that there was no meal option. And when you visit Maramures, you simply need to try the local dishes!
Here are other accommodation options in Viseul de Sus as well, that should suit every taste and budget:
Breb
If you want to better experience Breb and its traditions, as well as the surroundings of the village, then you should spend a few nights here.
Here are a few options:
Other interesting accomodation options in Maramures
Best places to visit in Maramures, Romania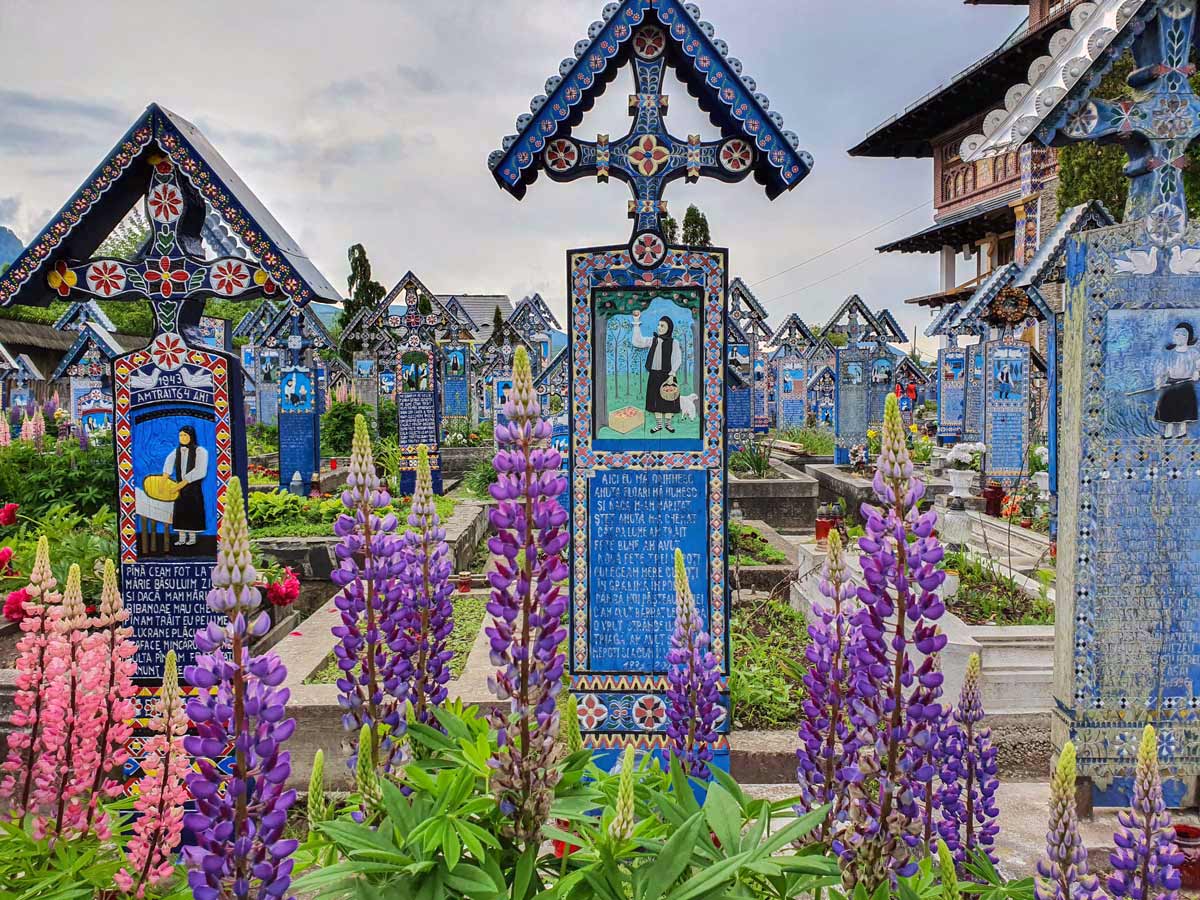 01. Visit the Merry Cemetery in Sapanta
One of the most unique places you can visit in Maramures (and probably in the world as well) is the Merry Cemetery (ro. Cimitirul Vesel), located in the village Sapanta, where death is not as grim as we know it to be.
The cemetery became famous for the brightly colored and skillfully decorated tombstones that describe in a poetic manner the lives and deaths of the people buried there.
It all started with Stan Ioan Patras, a local wooden sculptor who made the first tombstone crosses. As years passed by, Patras perfected his style: he started to carve and paint relief figures, representative of the life of the people buried there like their job, family, or even cause of death.
Underneath he'd sculpt a short rhymed epitaph about the person. The main color used for the crosses was a special blue, which is now called Sapanta blue.
The artist died in 1977 and now lies in the same cemetery for which he made over 700 crosses. His own tombstone states:
Romanian
De cu tînăr copilaș
Io am fost Stan Ion Pătraș
Să mă ascultaț oameni buni
Ce voi spune nu-s minciuni
Cîte zile am trăit
Rău la nime n-am dorit
Dar bine cît-am putut
Orișicine mia cerut
Vai săraca lumea mea
Că greu am trăit în ea
English
Since I was a little boy
I was known as Stan Ion Pătraş
Listen to me, good people
There are no lies in what I am going to say
All along my life
I meant no harm to anyone
But did good as much as I could
To anyone who asked
Oh, my poor World
Because It was hard living in it
His disciple Dumitru Pop, took over his master's legacy and continues to carve the same bright blue crosses.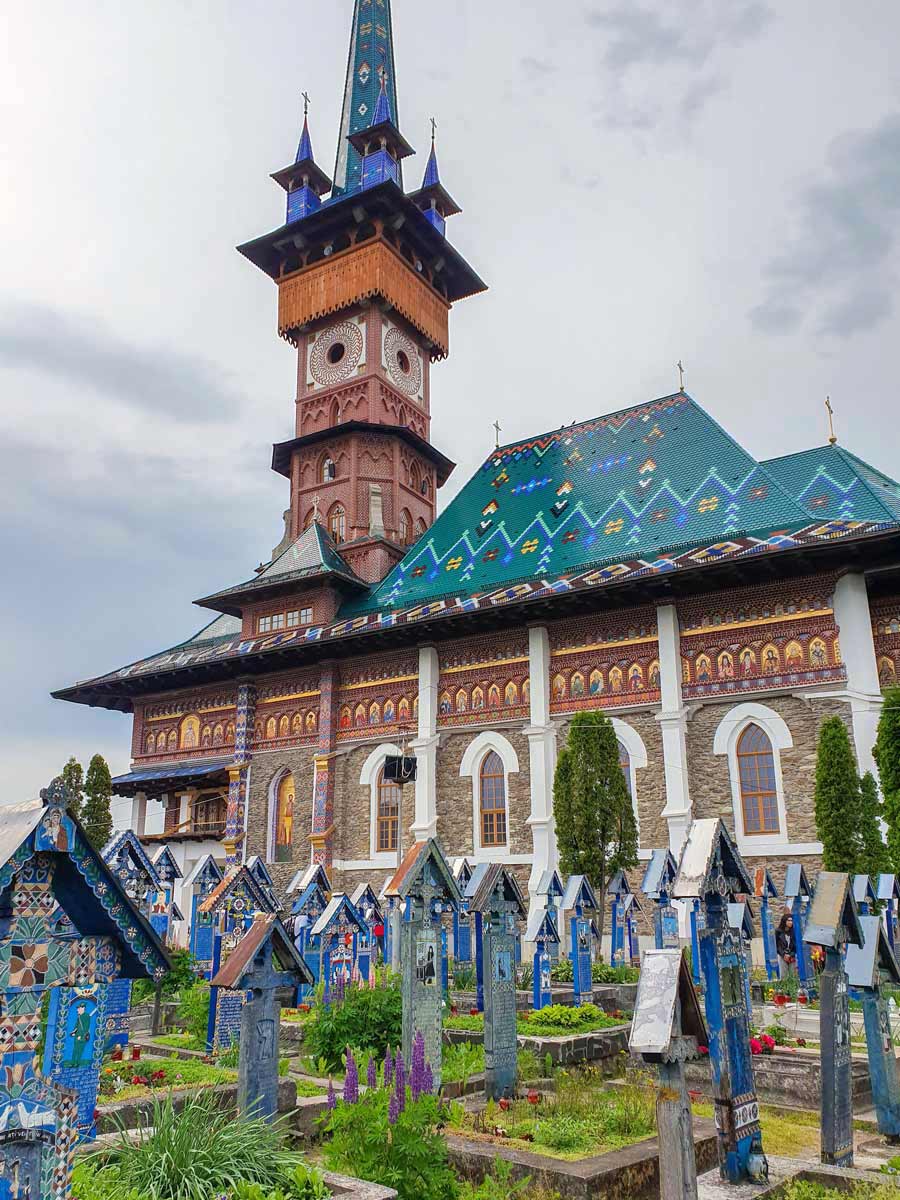 To be honest I found the place to be nothing close to merry. As a Romanian, I was able to read the rhymed inscriptions on the crosses and it was quite emotional to find out about the struggles and accomplishments of the person buried.
However, there was an epitaph that brought a smile to my face and it's probably the most famous of them all:
Romanian
Sub această cruce grea
Zace biata soacră-mea
Trei zile de mai trăia
Zăceam eu și cetea ea.
Voi care treceți pă aici
Incercați să n-o treziți
Că acasă dacă vine
Iarăi cu gura pă mine
Da așa eu m-oi purta
Că-napoi n-a înturna
Stai aicea dragă soacră-mea
English
Under this heavy cross
Lies my poor mother-in-law
Three more days should she have lived
I would lie, and she would read (this cross).
You, who here are passing by
Not to wake her up please try
Cause' if she comes back home
She'll scold me more.
But I will surely behave
So she'll not return from the grave.
Stay here, my dear mother-in-law!
The cemetery can be visited for a small fee of 5 RON (aprox. 1.12 USD/1 EUR). I highly encourage you to enter the church as well, it's beautiful and built in the distinct Maramures style.
You can also visit the memorial house of Stan Ioan Patras, which is located only about 200m away from the Merry Cemetery, on a side street.
And don't leave the village until you see Sapanta-Peri Monastery too, the tallest wooden church in Romania.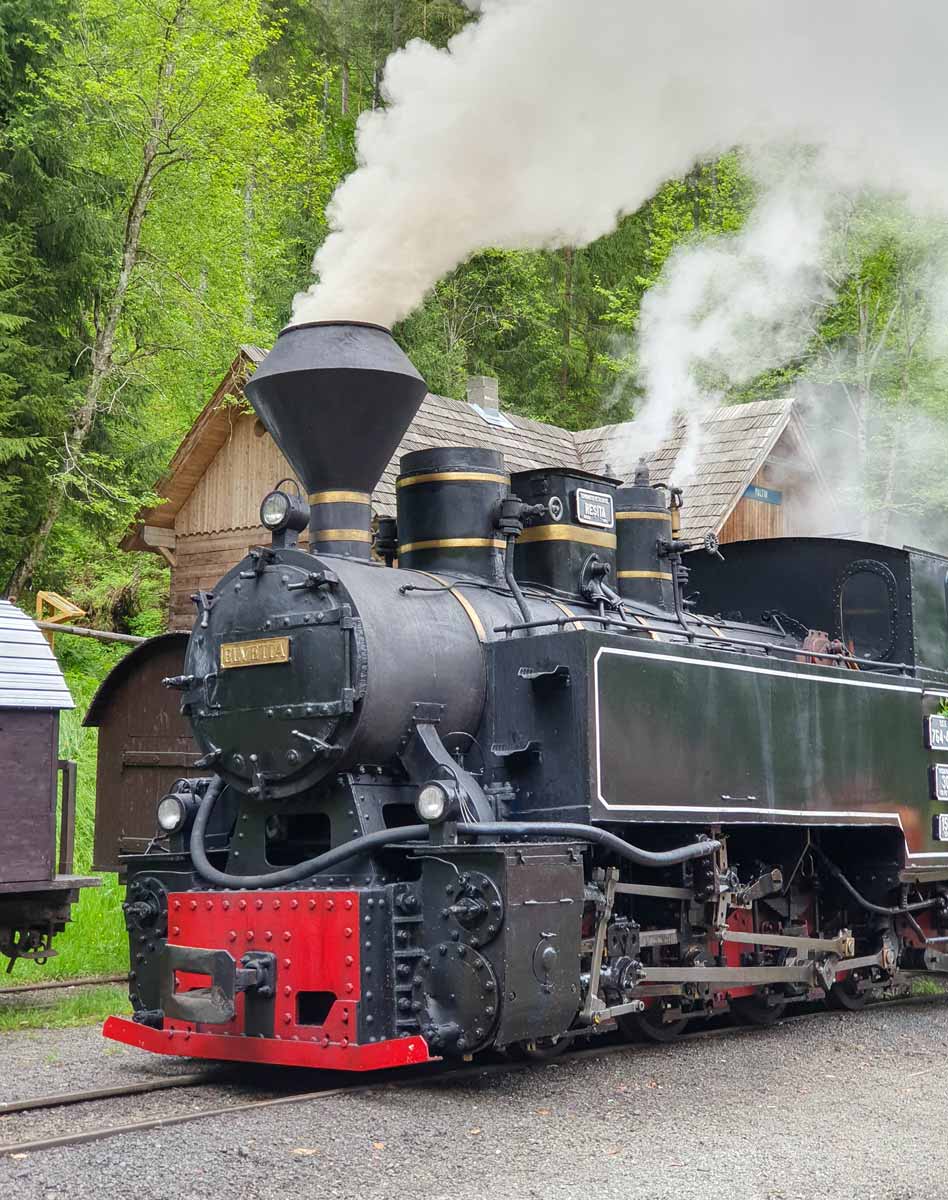 02. Ride the Mocanita steam train on Vaser Valley
Mocanita is how a narrow-gauge railway is called in Romania, most notably in Maramures, Transylvania, and Bukovina regions. The steam locomotive that operates on such rails is also called a Mocanita.
Originally the trains were used to pull logs loaded wagons from the forests of the Carpathian mountains, but nowadays most are being used only for tourism.
There are a few such trains in Romania, but the most famous and long ride is the one that starts in Viseul de Sus, Maramures. It's actually also the only one that's still being used to also transport logs.
The route is 21.6 km long (one way) and takes about 6 hours in total. The journey starts in CFF Viseul de Sus train station and follows the Vaser river until Paltin, where tourists can serve a picnic as the train is preparing for the return trip.
Before Paltin, there is another short stop where you can buy something to drink or some pastries to eat.
You can buy your ticket online (recommended) or directly from the train station. It is possible to opt for a ticket that has the meal included from the start or choose the base fare and just buy whatever you want at the stops.
The trains schedule varies according to season or different holidays and sometimes only the 9 AM train ride is certain, additional rides only happening if there is enough demand.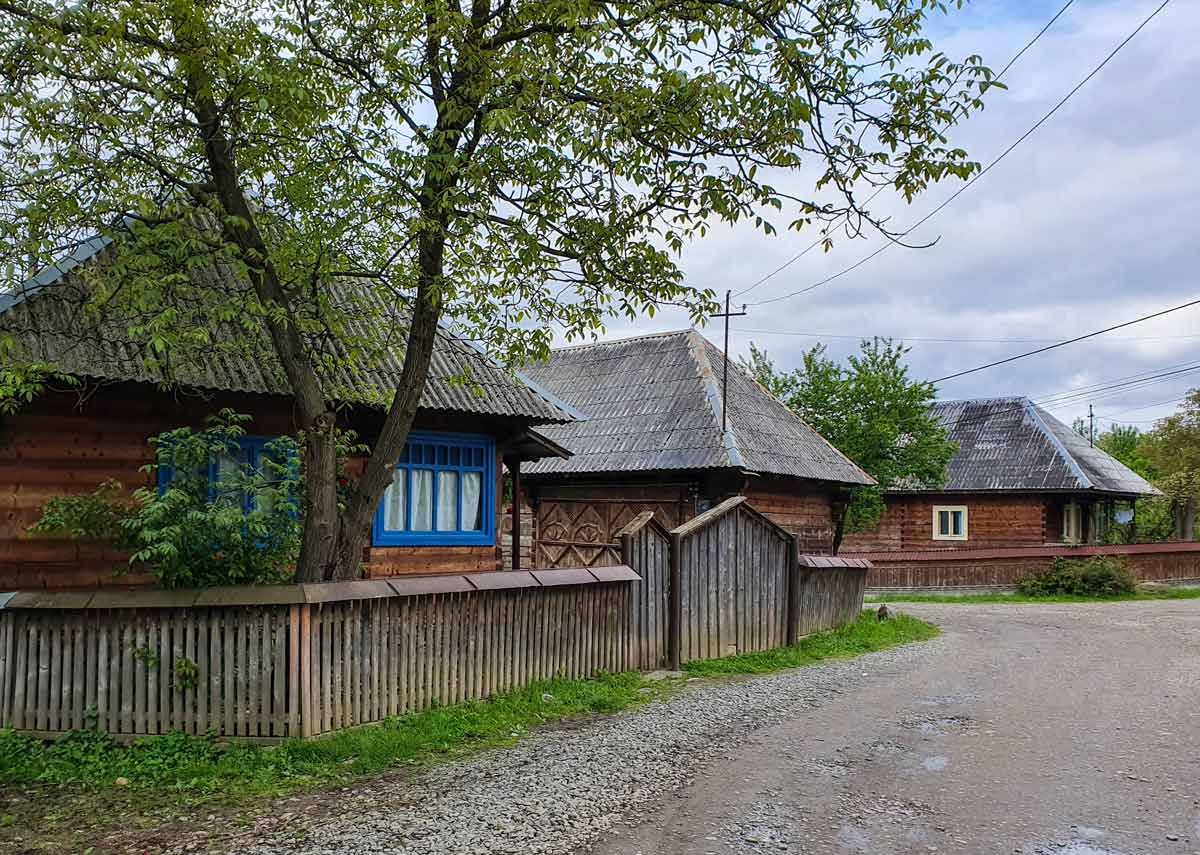 03. Visit Berb – one of the most beautiful villages in Maramures
If you want to experience traditional and authentic Maramures, then you must visit Breb, a place as rural as can be, where time seems to stand still, and where people go to church on Sundays, dressed in full traditional costumes.
The best time to visit would be around some of the big holidays like Palm Sunday, Easter, or Christmas to experience all the traditions that the people from Breb still keep alive.
But if you visit in winter, make sure to rent a 4×4 with snow chains. And even in summer, drive carefully as there's no tarmac in the village. Breb is better explored on foot anyway, so park your car and wander around the village.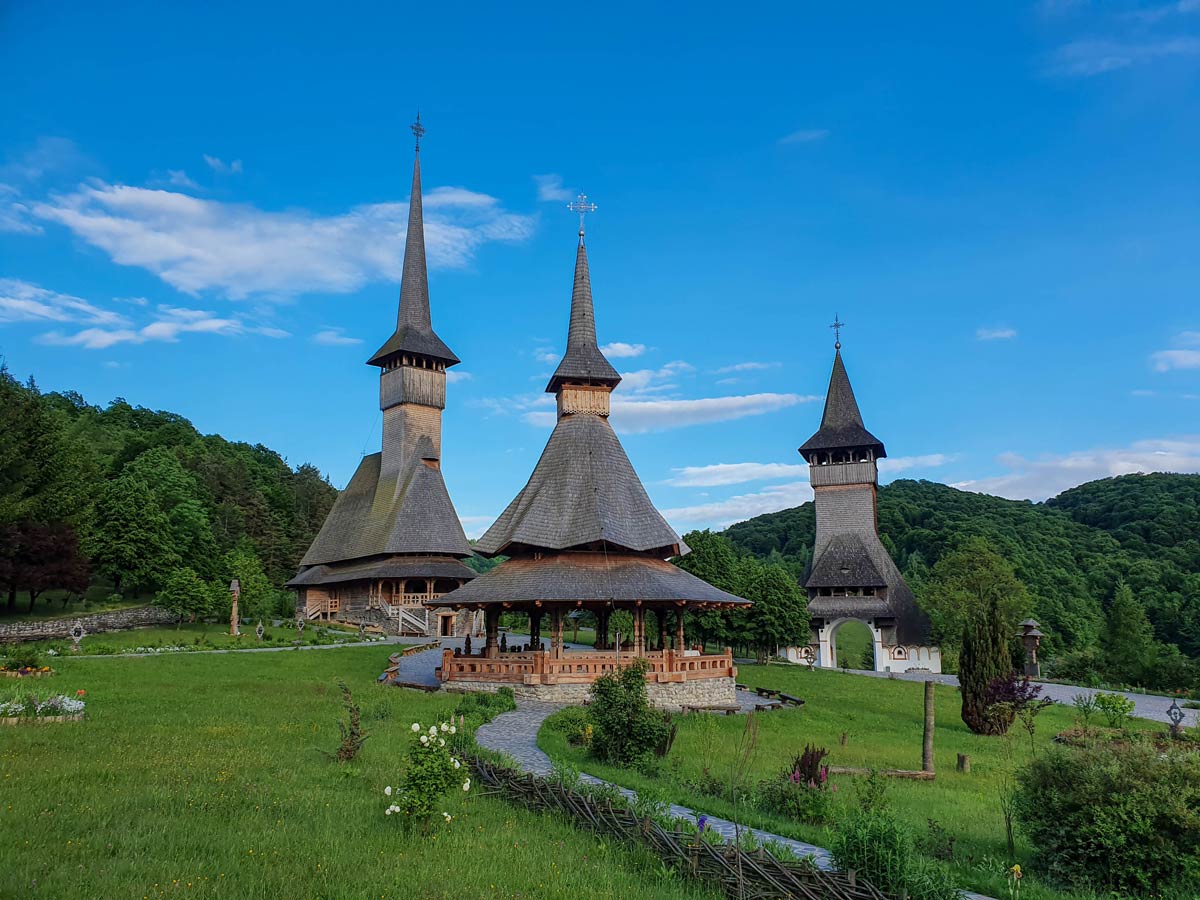 04. Visit Barsana Monastery
Barsana is arguably the most visited and well-known monastery in Maramures, by pilgrims and tourists alike. The complex is run by nuns and it has a special beauty and peace to it.
Barsana is easily reached by car and you can find a big parking lot at the base of the hill on top of which the monastery sits.
The church inside the complex, while beautiful and absolutely worth a visit should not be confounded with the old church of the monastery which is situated a few kilometers away, on a hill named Jbar.
The old church is listed as a UNESCO World Heritage site along with other 7 wooden churches in Maramures (located in Budesti, Desesti, Ieud, Plopis, Poienile Izei, Rogoz, and Surdesti). You should try to see them both.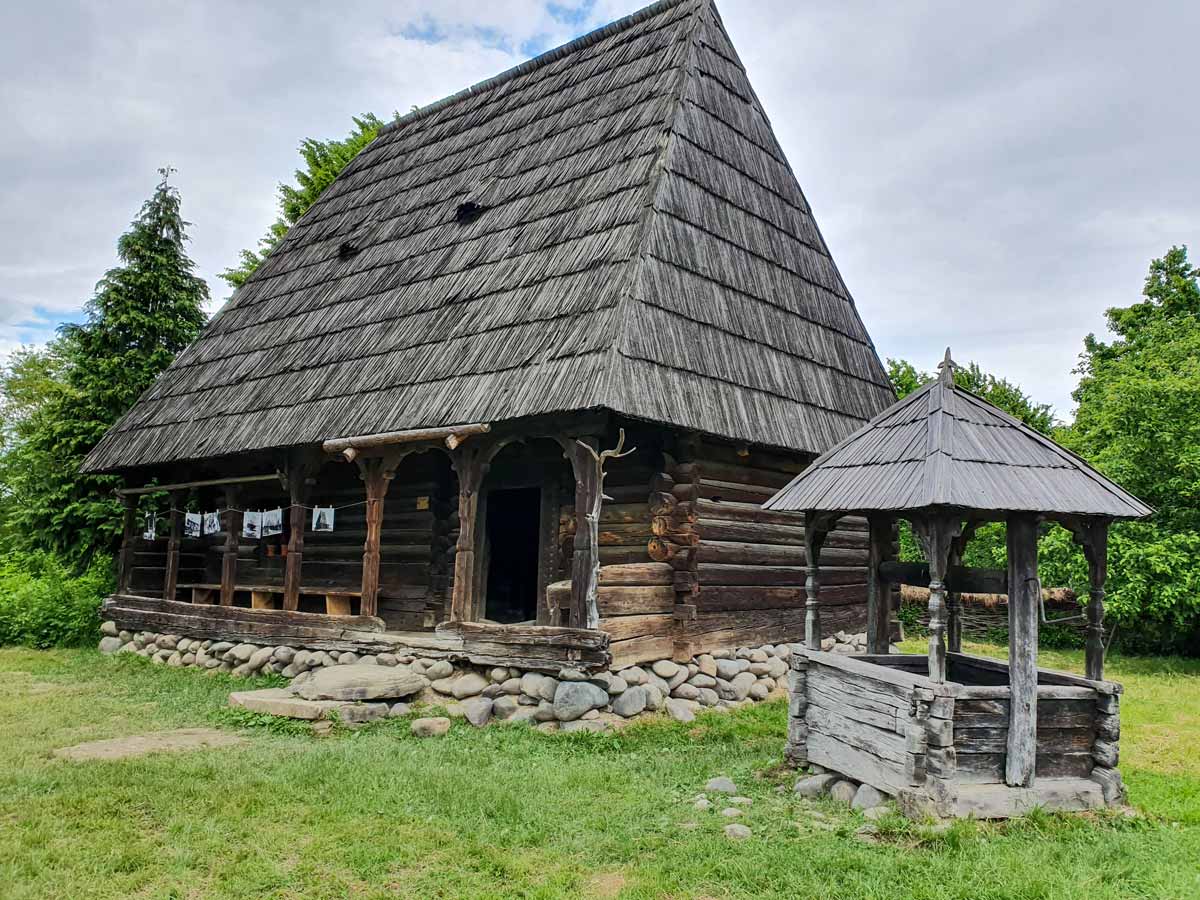 05. Visit Maramures Village Museum
Situated on Doboies hill, 3km away from the Sighetu Marmatiei city center, the open-air Maramures Village Museum will give you a better idea of the cultural heritage of the region, famous for its wood carving.
On the premises, you'll find over 30 traditional houses from different parts of Maramures along with essential rural dependencies like fountains, stables, granaries, looms, and mills. The oldest houses date from the 16th-18th centuries.
Like in a real traditional village of Maramures, all paths lead the visitor to the spiritual center of the community, the church. Built in 1621, the wooden church is the oldest building of the museum and was relocated from the village of Oncesti.
A concession to the modern world, most houses have a QR code that offers the visitor extra information. You can also embark on a virtual tour of the museum here.
The Maramures Village Museum is open every day between:
10:00 – 18:00 (15th of April – 30th of September); last entrance: 17:30
08:00 – 16:00 (1st of October – 14th of April); last entrance: 15:30
A ticket costs 10 RON (approx. 2 EUR/2.25 USD) for adults and 5 RON (aprox. 1 EUR/1.12 USD) for kids or older people.
06. Visit the Memorial to the Victims of Communism and of the Resistance: Sighet Museum
Also in Sighetu Marmatiei, created on the ruins of the former Sighet prison, you'll find the Sighet Museum which is part of the Memorial to the Victims of Communism and of the Resistance.
Founded by Ana Blandiana and her husband Romulus Ruslan, the Memorial consists of the above mentioned Sighet Museum and the International Centre for Studies into Communism, located in Bucharest.
Its aim is to reconstruct and preserve the memory of several peoples, in particular the Romanian one, who for half a century had a false history induced into their consciousness.
In 1998, the Council of Europe placed the Sighet Memorial among the main sites for preserving the continent's memory, alongside the Auschwitz Memorial and the Normandy Peace Memorial.
"The greatest victory of communism, a victory dramatically revealed only after 1989, was to create people without a memory – a brainwashed new man unable to remember what he was, what he had, or what he did before communism.

The creation of the Memorial to the Victims of Communism and to the Resistance is a means of counteracting this victory, a means to resuscitate the collective memory.

To the question, "Can memory be relearned?" the answer of the Memorial to the Victims of Communism and to the Resistance in Romania is a resounding "Yes"."

Ana Blandiana
Sadly much of the information plastered on the walls is in Romanian only, but they do provide a guide in English for foreigners. Hopefully, this will change in the future and everything will be available in several languages as well.
Tickets cost 15 RON for adults(~ 3.40 USD/3 EUR), 4 RON (~ 0.9 USD/0.8 EUR) for students and 5 RON (~ 1.12 USD/1 EUR) for older people. There's also a 5 RON photo fee and a 15 RON video fee.
You can also embark on a short virtual tour here.
07. Hike to the Horses' Waterfall
Situated close to Borsa touristic resort, the Horses' Waterfall it is the highest waterfall in Romania, measuring 90 meters in height.
The waterfall can be reached either by walking for about an hour through the forest or by riding the cable car to the top of the ski slope, followed by a short descent (about 20 minutes or so) through the forest.
---
Hope this blog post gave you a few ideas on what places to visit on your trip to Maramures, Romania. And make sure you check out my other ROMANIA content before you go.
Happy travels~