11 affordable hotels in Santorini with private pools
White houses and blue church domes overviewing the amazing caldera.. Santorini is, without a doubt, a very beautiful and equally popular destination. And while its fame is well deserved, it also makes it pretty expensive.
But that doesn't mean that you can't pamper yourself a bit while visiting this famous greek island. This blog post lists 11 affordable hotels in Santorini with private pools.
Because what's better than having your own private plunge pool to relax into?! Besides Santorini is not really known for amazing beaches.
*All of the prices listed are for the next high season (beginning of July).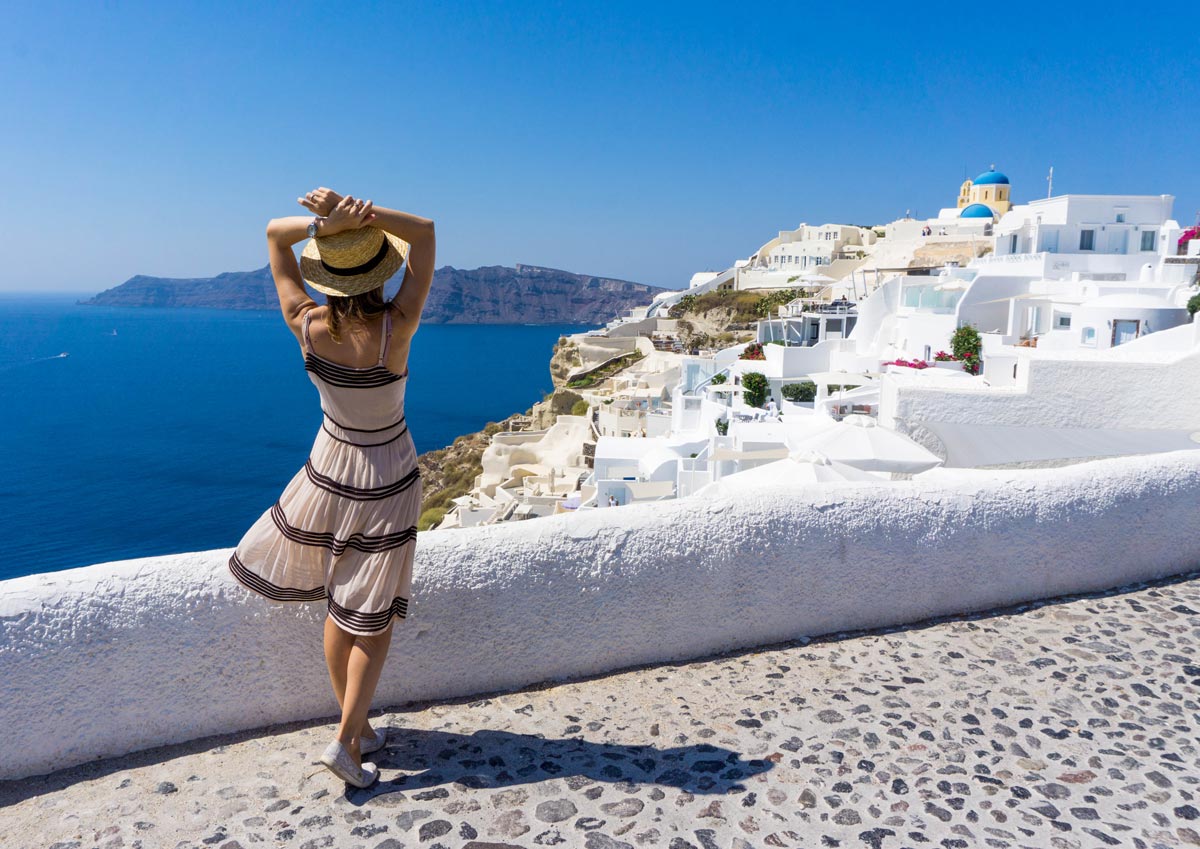 Disclosure: Some of the links in this post are affiliate links. If you click on them and make a purchase, I receive a commission at no extra cost to you. Check my full disclaimer here.
#01. Villa Koronios ●●●
The first accommodation on the list is Villa Koronios. It is located 5 minutes away from Fira, Santorini's capital, which is very convenient if you want to visit the whole island as all bus routes start from here.
Their King suites don't have a traditional private pool, but rather an outdoor spa bathtub. The perk of this is the fact that you can use the bathtub off-season as well should you decide to visit during that time.
The villa also offers a spacious shared pool.
#02. Meltemi Village Hotel ★★★★
The hotel is located about 350 meters away from the black beach of Perissa, which is one of the best beaches in Santorini.
Their Junior suites have a clean and modern look to them and feature a private pool (no sea view from the pool, unfortunately). For $20 less, you can get the outdoor spa bathtub version of the suite.
Meltemi Village Hotel also offers free parking and a generous shared pool.
#03. Art Hotel Santorini ★★★★
Art Hotel Santorini is situated centrally on the island, in the village of Pyrgos. It has great views of the surrounding landscape, but the location may not be the best if you plan to explore Santorini. However, it can be perfect for a relaxing holiday.
The Summer Mood suite has a small, deep, heated private pool with great views. This means you can visit Santorini during the colder months when the crowds disperse and the prices drop and still enjoy a dip.
The hotel also offers a shared pool. The rooms are very modern with a lot of white, while the pool areas have red accents which is a bit surprising since the island is famous for its white and blue color scheme.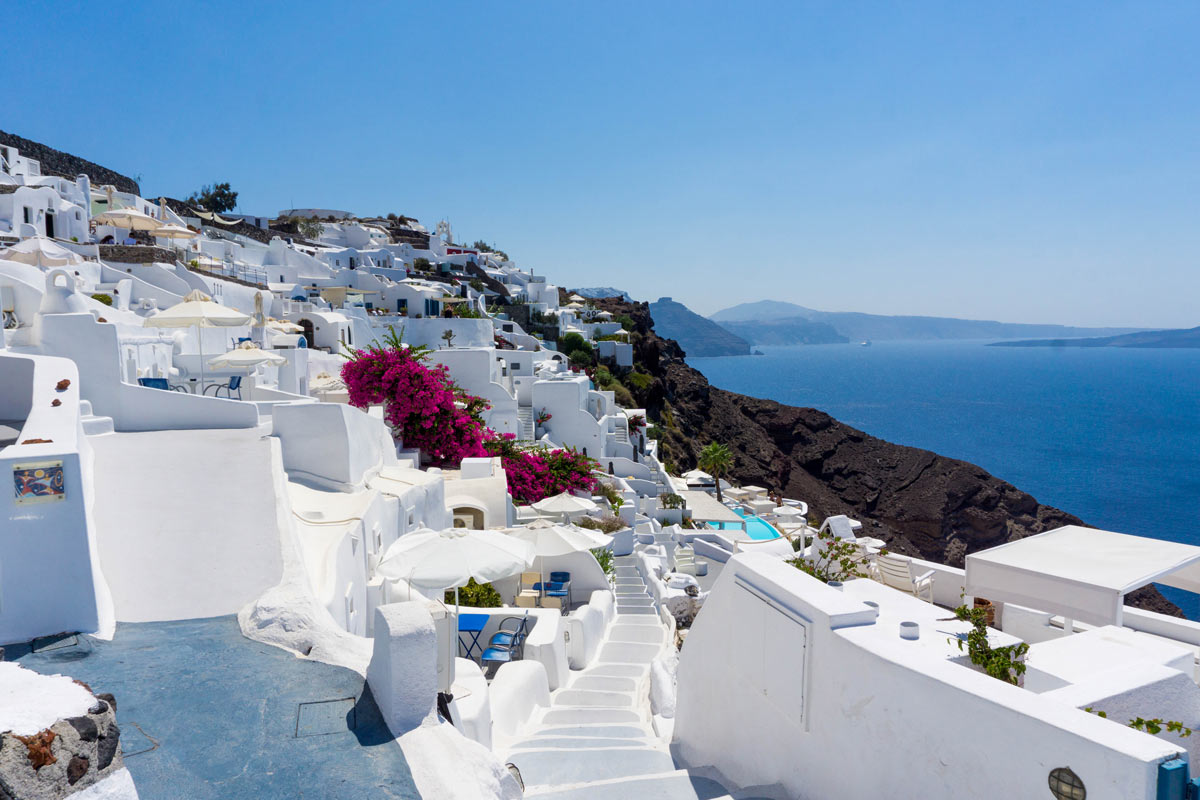 #04. Sea Paradise
Even though it's stated on Booking.com that the hotel is located in Oia, that's not quite true. It is actually about 10 minutes away by car from the famous village and it's also not facing the Caldera. So if you wanted to stay in Oia, you should scroll on.
Otherwise, their suites with private pools are good value for money averaging 237 USD/ night for two in high season. They offer free parking and Baxedes Beach is in close proximity (about 2 minutes on foot).
#05. Amera Suites ●●●●
Amera Suits are situated in Fira, the capital of the island. The Deluxe Apartment with a sea view is listed as having a hot tub, but given its size, I very much consider it a private pool.
There is a downside too sadly: the property is situated right in front of a street and this means that the awesome hot tub overviews it, which is not ideal at all. In the background, you do see the sea though.
#06. Santo Castello ●●●●
Santo Castello is situated in Akrotiri, in the southern part of the island. The one-bedroom villa is beautifully decorated in the specific Cycladic cave-like style.
It features a decent-sized private pool with sea views and a terrace. Above the property you'll spot the ruins of a castle, hence the name.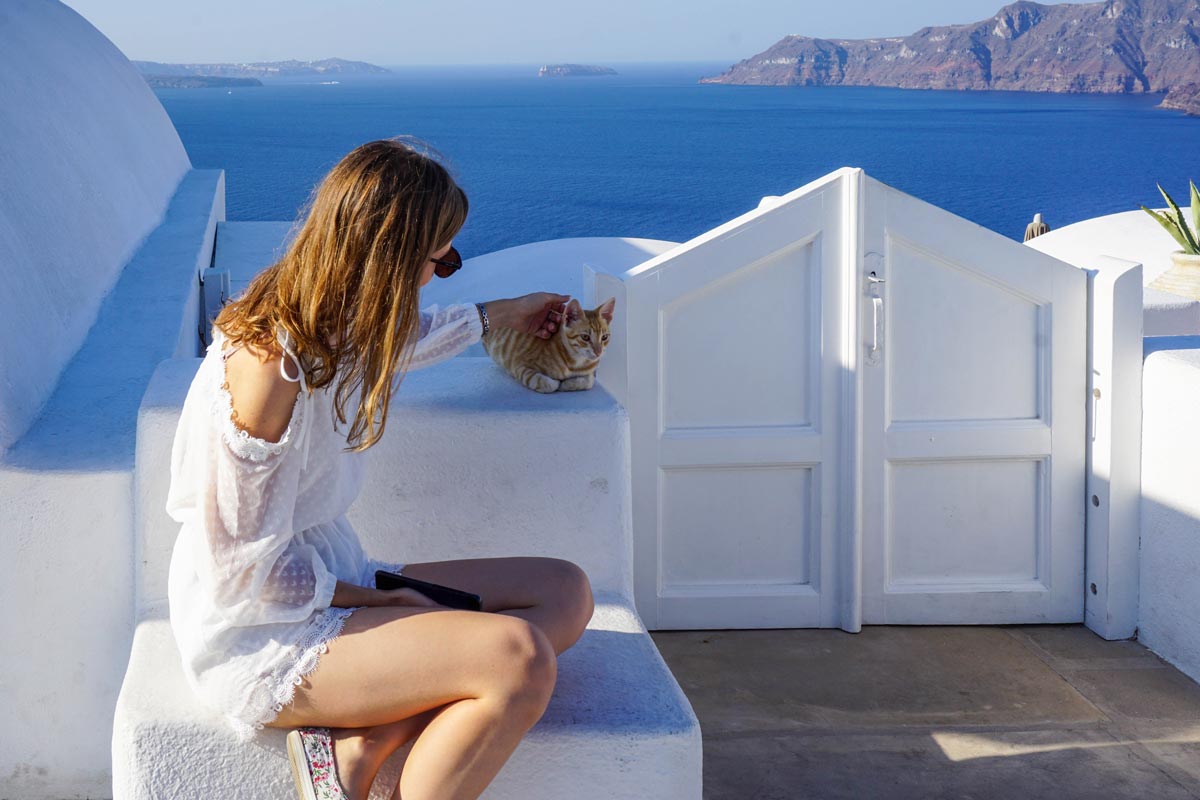 #07. Drops Villas ●●●●
Drop Villas are situated in Vothonas, about 5km away from Kamari beach, and are decorated in a cave-like style, specific to the region.
Their suites with open-air spa tubs start at $300 a night for two in high season. The private pool villa accommodates up to 5 people for $480, so if you travel with a group it's quite a good value for money (for two it costs $316/night).
#08. Alunia Incognito Suites – Adults Only
Built in the specific Cycladic style, Alunia Incognito Suites are situated at the edge of Pyrgos. Each suite benefits from a small, deep private pool.
At the beginning of July, prices start at $288 a night for 2 people (Junior suites), while the Superior suite costs $374/night for two.
#09. Cupola Suites
Cupola Suites are situated about 10 minutes away on foot from Oia, which is the iconic village of the island where you can witness the famous "Santorini sunset".
The suites with private pools start at $344 in high season and are decorated in the Cycladic style.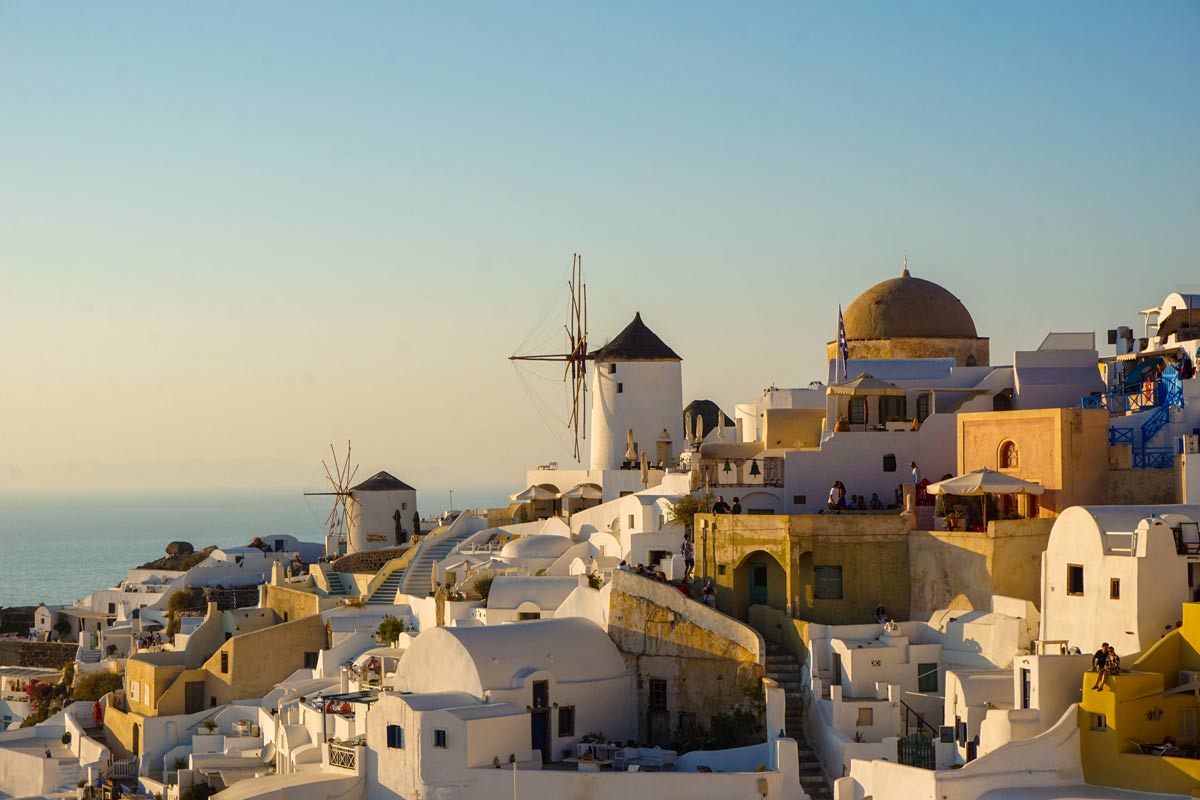 #10. Ducato Di Oia ★★★★
A more expensive accommodation, Ducato Di Oia still offers good value for money considering all of its rooms have balconies with a view towards the famous Santorini sunset. The property is perched on Oia's cliffs with sea and Caldera views.
The suites with private pools start at $507 USD a night for two. The cheapest option (Ios suite) features a small indoor private pool.
#11. Santolia Art Suites ●●●●
Santolia Art Suits are conveniently located at the edge of Oia, away from the bustling center of the village.
The suites feature both an outdoor hot tub and a private pool making them perfect for a honeymoon stay. Guests can admire the sunset from their private terrace or pool.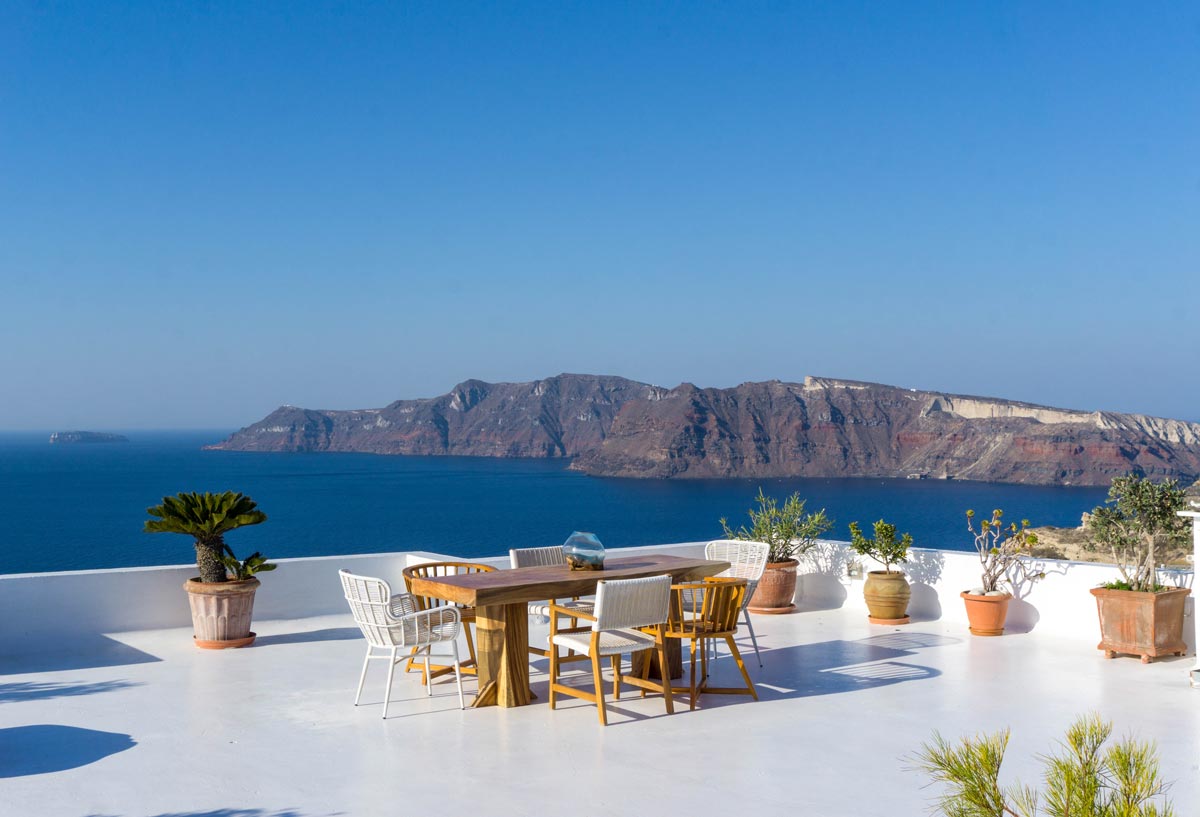 Hope this list gave you a few options if you are on the lookout for affordable hotels with private pools in Santorini. And even though I listed the prices for the start of the summer season, I'd actually recommend visiting Santorini in September.
I feel like this is the best month to visit the island because it's still warm enough to lounge in the pool or swim in the sea, but the crowds start to dissipate and the prices for accommodation drop.
But regardless of what period you'll travel to Santorini, I hope you'll have the best time ever!
Happy travels~
---
MORE INFO ABOUT GREECE
YOU MIGHT ALSO LIKE