Are you searching for a honest and detailed Sheraton Maldives review? You've come to the right place!
Even though our trip to the Maldives was decided on the spur of the moment, the resort was definitely not.
I carefully went through all the hotel offers the travel agency had – it was a rare occasion when we opted for a vacation package instead of me planning it from scratch and I tried to find the best option that would fit our criteria, but also be a good value for money.
Disclosure: Some of the links in this post are affiliate links. If you click on them and make a purchase, I may receive a commission at no extra cost to you. Check my full disclaimer here.
Sheraton Maldives Full Moon Resort & Spa REVIEW
In the end, we booked an over-water bungalow with a private pool at Sheraton Maldives Full Moon Resort and Spa and it was a great choice as it ended up being one of the most serene and romantic vacations we ever had.
So keep reading for my detailed Sheraton Maldives Review and why I recommend it.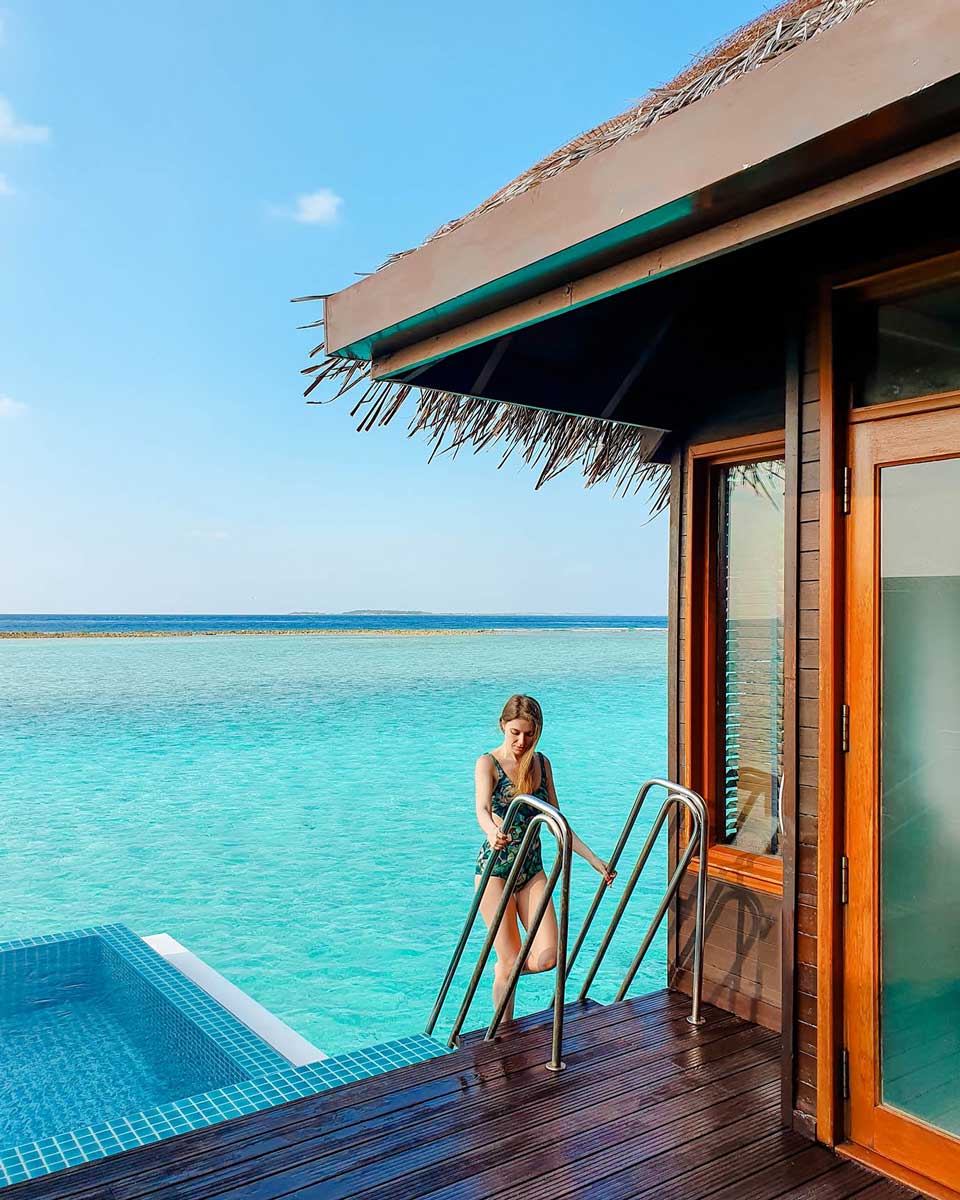 Sheraton Maldives Full Moon Resort and Spa
---
✓ 5 star hotel close to Male airport with free boat transfer
✓ 8.7 "Fabulous" rating on Booking.com
✓ Wide selection of accommodation options
✓ Great choice for both honeymoon goers and families
As I already said, our trip to the Maldives wasn't really planned. Sure, I had the destination on my travel bucket list (like who doesn't want to visit these islands?!) however, there was no time frame set for it.
But then I saw a post on Facebook about a direct charter from my country to the islands and it got me interested. Not only it was faster, but avoiding a layover during a pandemic was important for me. So we carefully weighed the pros and cons and decided to go.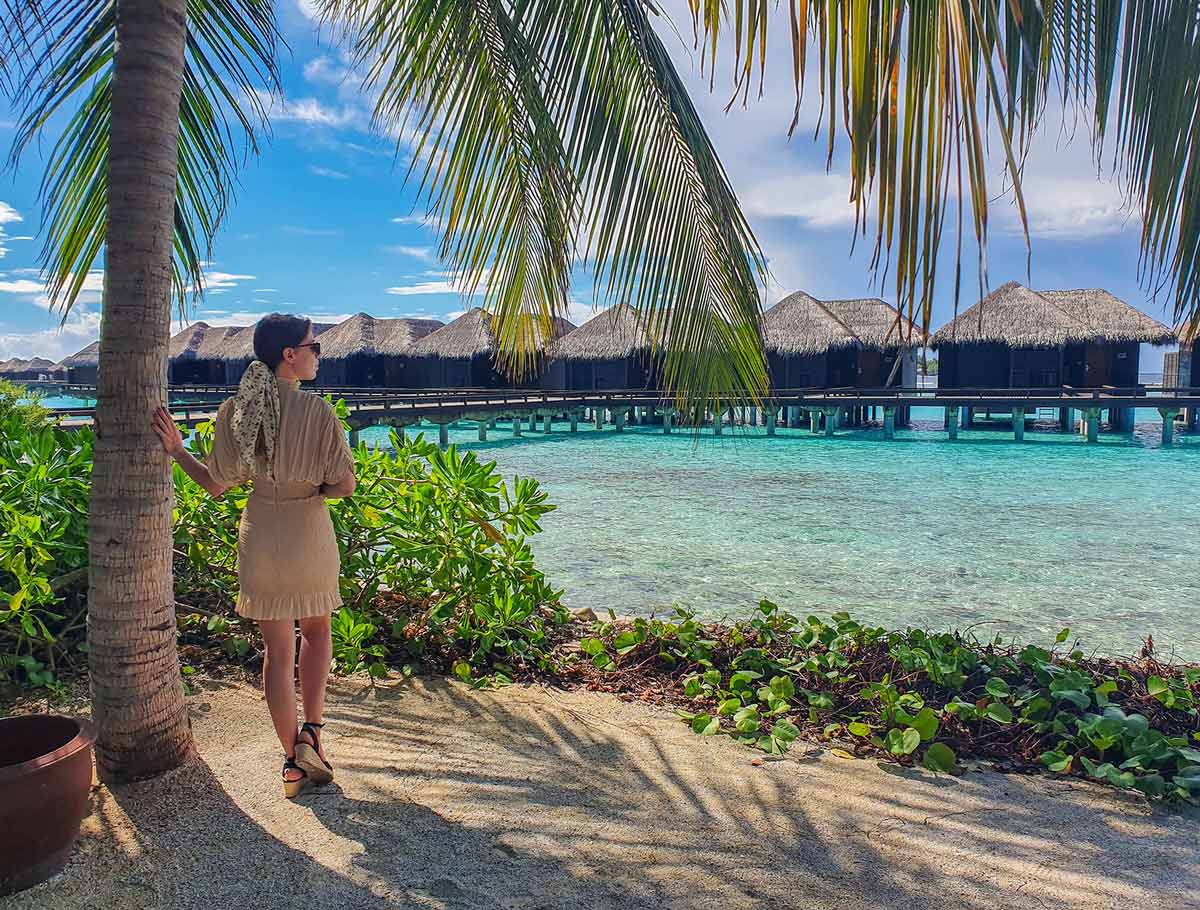 Staying in a Sheraton Maldives overwater bungalow
Since it was our first trip to the Maldives we wanted the overwater bungalow experience, and bonus points if it had a private pool.
And even though going through a travel agency meant we were limited to their hotel offers, we did end up finding what we wanted at Sheraton Maldives Full Moon Resort and Spa, which offered good value for money in my opinion.
Not only that but the five-star resort is located on the private island of Furanafushi, in the North Male Atoll, very close to the city capital of the Maldives. This means you won't waste a lot of time out of your vacation to get there.
Sheraton Maldives can be reached by a short boat ride (about 15-20 minutes) from Male international airport, which was included in the trip package for us.
As mentioned by the hotel, the speedboat transfer is complimentary to all individual guest bookings (meaning it's offered free of charge). And while this may not seem like a big thing, you should know that in Maldives, transportation can be extremely expensive.
But do note that this is not applicable to certain special rates which include associate "Explore" bookings (these still attract a transfer fee of $85 per person per way).
The overwater bungalow we ended up choosing was spacious, had a bathtub with ocean views and a small private pool. Honestly, we made a great choice since we both loved every minute we spent there.
Maldives is one of those few destinations where accommodation can really have an impact on your overall vacation.
Check current rates and availability at Sheraton Full Moon Resort & Spa
Arriving at Sheraton Maldives resort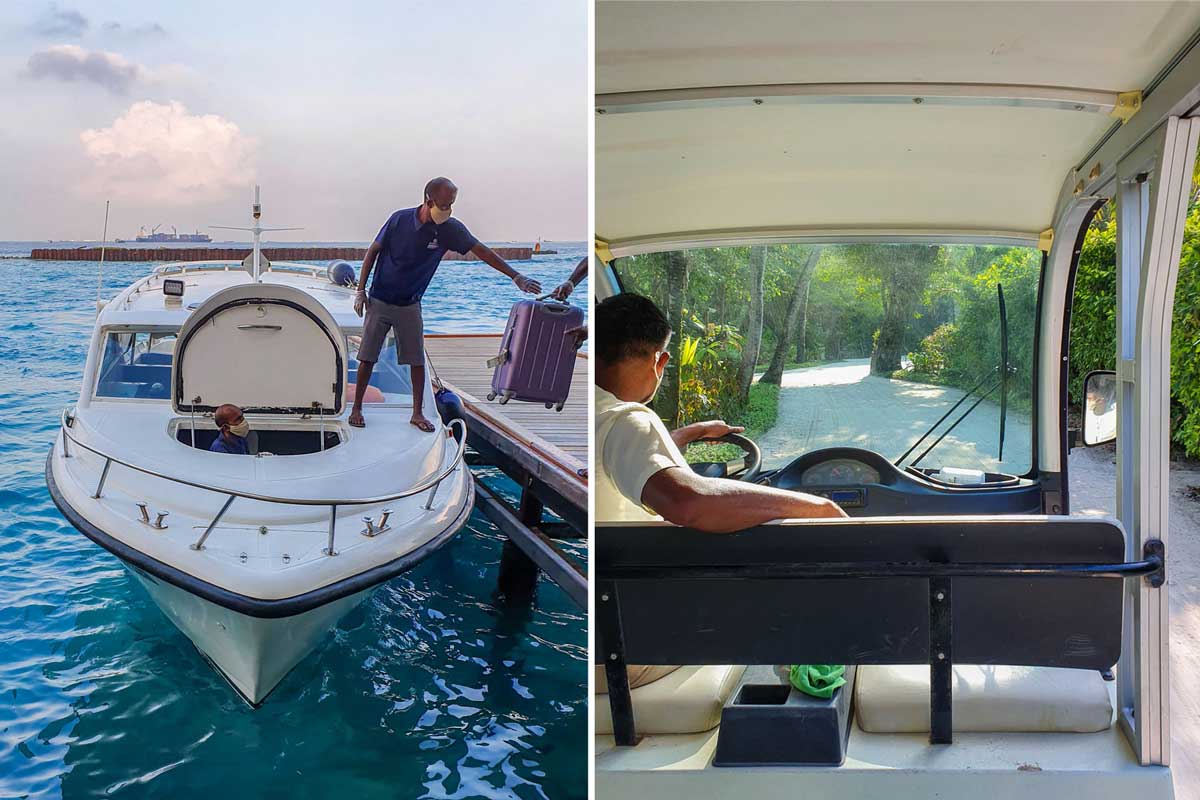 Our charter arrived pretty early in the morning (6 AM), but thankfully the boat shuttle service is available 24/7 upon reservation (a perk of being in close proximity of Male). So in less than 30 minutes after landing, we were already speeding towards the resort.
As soon as we arrived at the welcome pavilion, we were seated and given a welcome drink while the staff took care of our bookings.
But because we arrived that early and our room was not ready yet, we were offered another water bungalow that was already free.
However, we chose to stick with our booked one as it was more central, while the alternative was 2nd to last and pretty close to the spa island and I was afraid the view would suffer a bit.
Looking back though I kinda regret not accepting, because I checked the view from that spot during our stay and it was pretty good as well.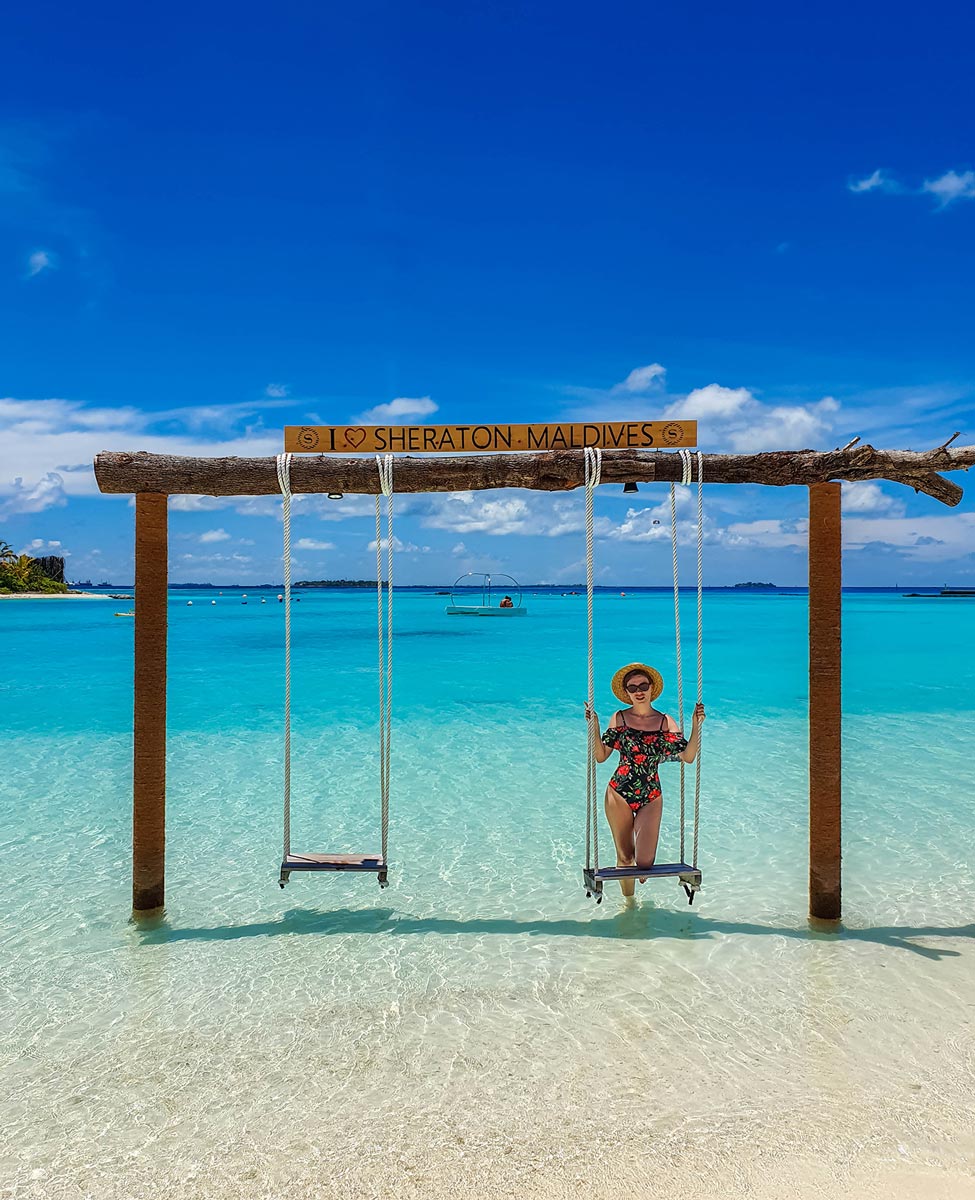 Since we arrived through a travel agency our room was already paid for, so we only had to give a credit card for the deposit (800 USD) and we were given a buggy ride to the Relax room where we could wait until our bungalow was ready.
The relaxation room had sofas and individual beds where one could even take a nap, as well as two bathrooms where you could shower and change into a more beach-appropriate attire (toiletries and towels were provided).
There were also lockers, so you could safely leave your belongings inside and go explore the island or simply hit the beach until check-in time.
Feeling pretty tired, we went to buy a coffee from Anchorage Bar instead, but since it was so early, only Feast restaurant was opened, as it was serving breakfast.
However, the staff at Anchorage was super nice and brought us orange juice, coffee, and some pastries from Feast. My sleepy self was very grateful!
Afterward, my boyfriend returned to the Relax room to take a nap, while I explored a bit the surroundings. Since I spent the entire flight with an FFP3 mask, my nose was still pretty stuffed and the AC inside was too much for me, so I preferred to stay outside.
Check current rates and availability at Sheraton Full Moon Resort & Spa
The island
The resort is spread over the entire Furanafushi island with the majority of the food and drink options concentrated near the main lobby, where the reception is.
Between Feast restaurant and Anchorage Bar, there is a pool, but it doesn't have any ocean views. We didn't use it anyway, since the ocean looked more appealing.
On the southern side, there is a long strip of sand acting as the main beach, near which you can find the cottages and the majority of the deluxe rooms. You can find different swings on the beach, as well as over-water hammocks and a beach bar.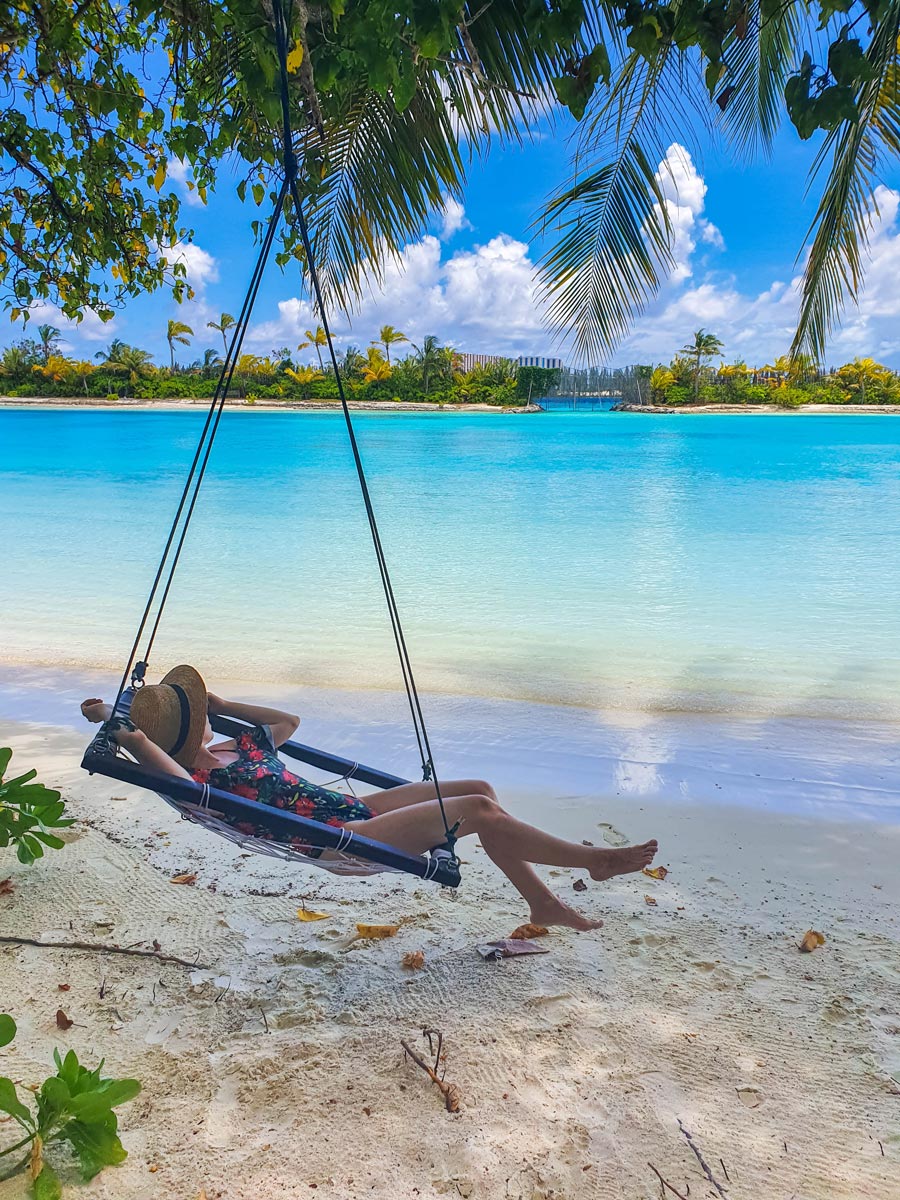 The ocean pool villas are located on the eastern tip of the island, while the overwater bungalows occupy the northern side. The spa center has its own little island and can be accessed by a wooden bridge.
I will mention that the southern side of the island (where the main beach is) has a downside though: its views are toward Male.
However, the resort took that into consideration and built a few artificial islands covered with vegetation, designed to mask the city. But of course, you can still spot a few skyscrapers above the palms.
Also, I feel like this side of the resort was a bit more lively, so if you are after tranquility and privacy, I'd recommend the ocean villas or the overwater bungalows.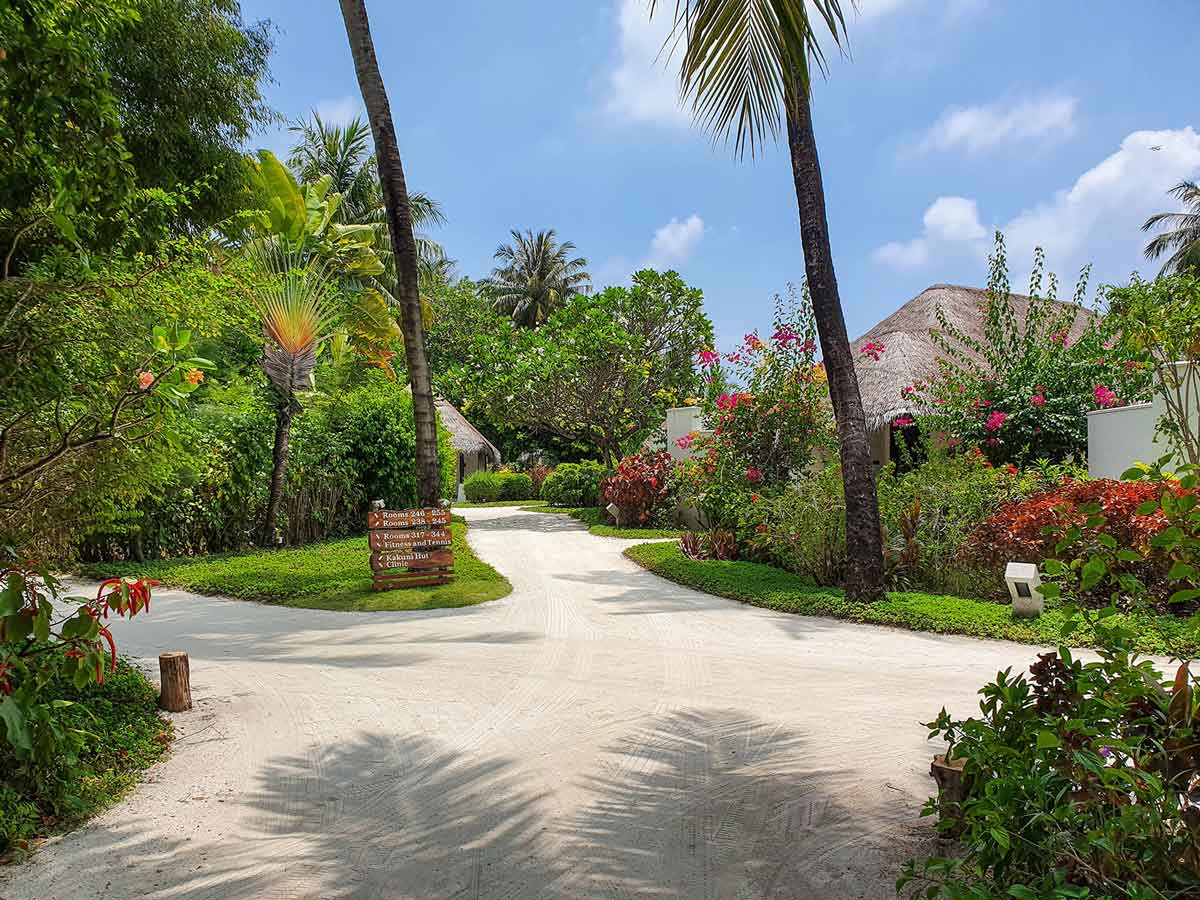 The island is very lush and looks like a well-maintained botanical garden. Make sure to look up to spot the fruit bats hanging from the tree branches.
You can walk from west to east in about 30 minutes, so it is big enough to not feel crowded, but small enough to not depend on buggies.
In fact, we often had the impression that we are just a few people there, only to be surprised at breakfast by how full the resort actually was.
Check current rates and availability at Sheraton Full Moon Resort & Spa
Accommodation options at Sheraton Maldives
Sheraton Full Moon Resort offers a variety of accommodation types. However, for a complete Maldives experience, I recommend booking one of the overwater bungalows for which the island nation is so famous, even though they're more expensive.
It's an extraordinary feeling to have unrestricted views of the ocean and be able to descend directly in the water from your accommodation.
However, if you want to keep the cost as low as possible you can also split your vacation nights between an overwater bungalow and a regular room, a cottage, or an ocean villa.
Deluxe guest rooms
These are individual rooms in one-story villas, with either a garden or ocean view. Each villa has 4 rooms: two on the ground floor and two on the upper floor.
In front of rooms 301-316, there is a small beach, which I believe was mostly used by the guests from these rooms since on this side of the island the only other accommodations were overwater bungalows.
What I liked most about the Deluxe rooms was the fact that each of them had a little patio with a hanging sofa.
Maximum Occupancy: 3
Check current rates and availability at Sheraton Full Moon Resort & Spa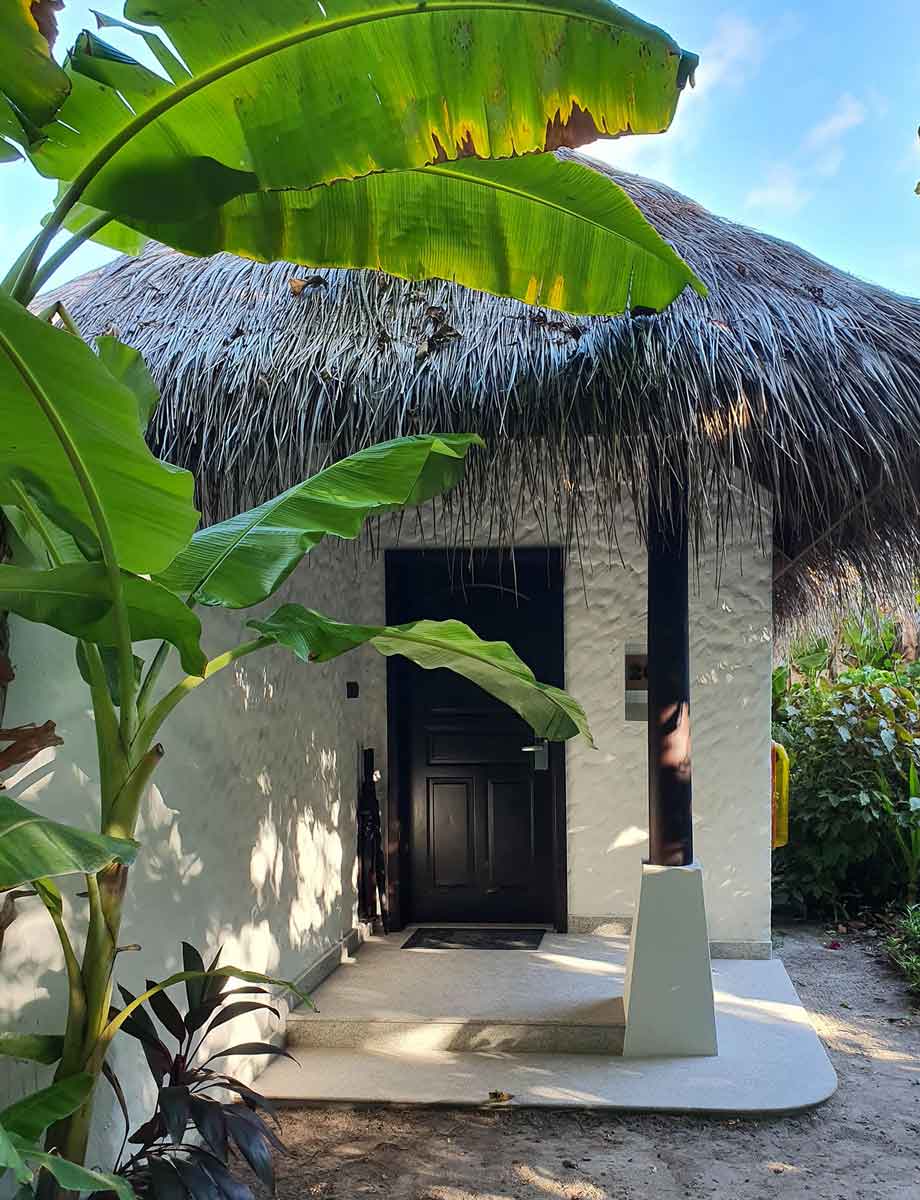 Island Cottages
These can either have a garden or a beach view and are located in semicircles on the south side of the island, where it's the main, long sandy beach.
My favorite part about them was the semi-opened bathroom, with an open-air shower.
The family-friendly 70mp cottages can accommodate a maximum of 3 adults and 1 child.
Cottages with plunge pool
They look the same as the normal cottages, just that they have a small private plunge pool.
Check current rates and availability at Sheraton Full Moon Resort & Spa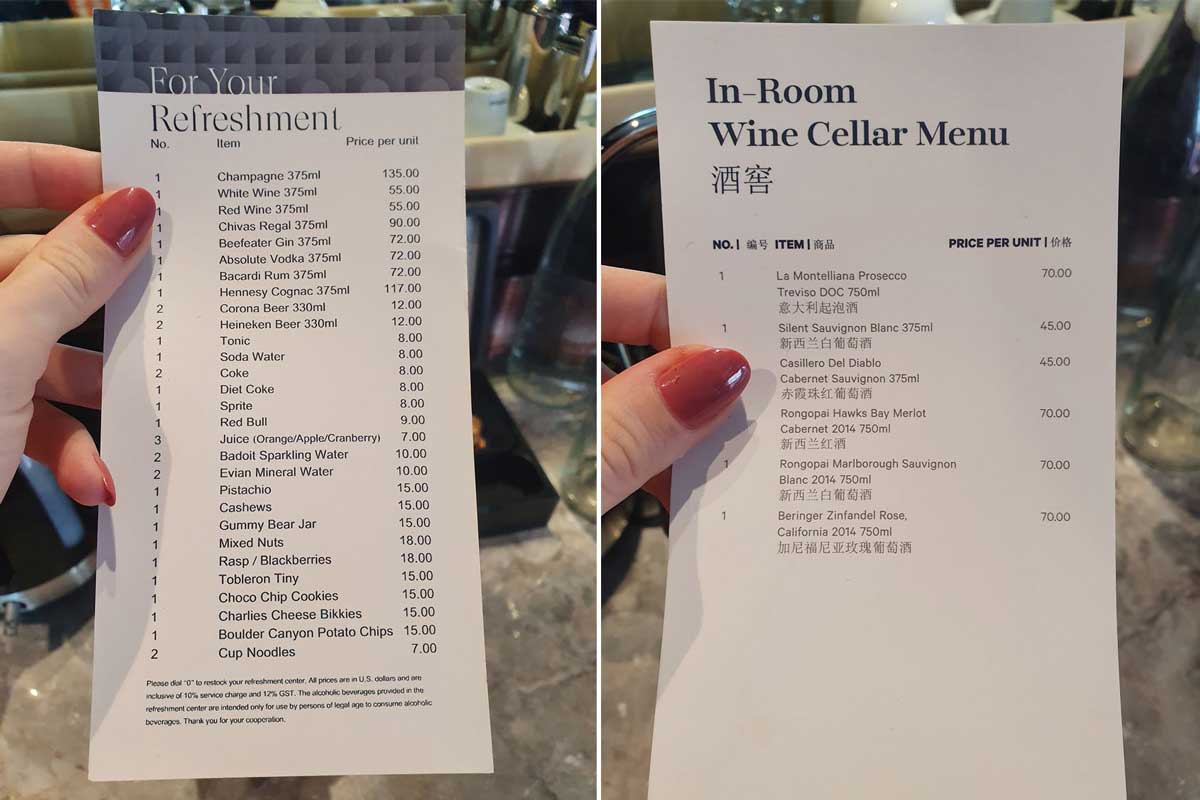 Ocean Villas
The Ocean Pool Villas is a new addition from when the resort was renovated back in 2019. They are located at the east point of the island offering the best privacy among all the accommodation types.
Each villa has an ocean view with a decent-sized plunge pool and a small garden with a hammock.
These rooms were my 2nd favorite after the overwater bungalows and honestly, I was pretty tempted to book one. I really liked the huge bathtub, surrounded by glass, and the swimming pool facing the ocean.
There are also some minuses about these villas as well though: they're the farthest from the restaurants (about 20 minutes on foot) and there's no beach nearby. It can also be pretty windy in that part of the island.
Maximum Occupancy: 2
Overwater bungalows
They are located in the northern part of the island. Each bungalow has its own deck with direct access to the water and a bathtub with ocean views.
Maximum Occupancy: 2
Check current rates and availability at Sheraton Full Moon Resort & Spa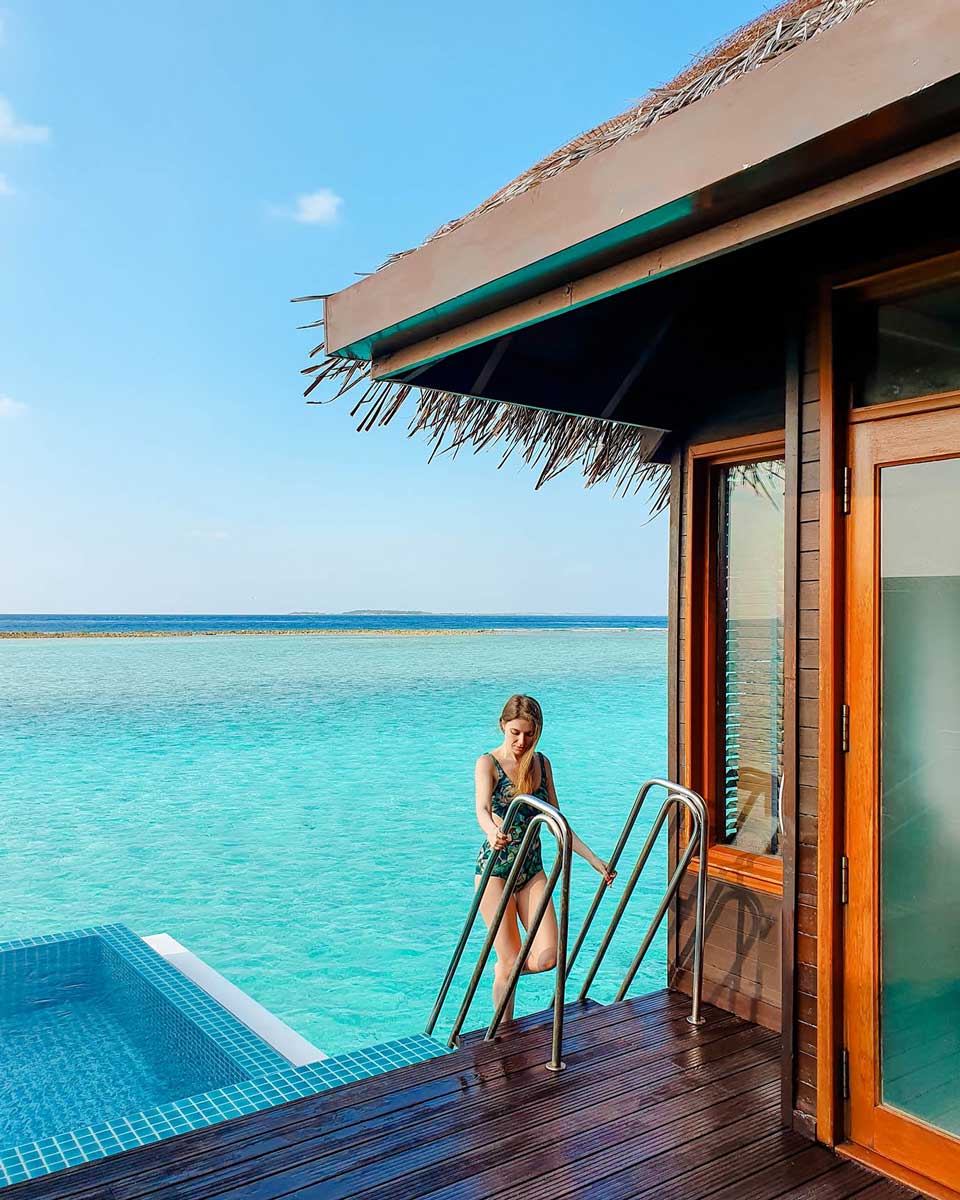 Overwater bungalows with plunge pool (Our room choice)
They are the same as the overwater bungalows, with the addition of a small private pool facing the ocean.
As I already mentioned, this was the room type we booked and it was a great choice. I really loved being able to descend directly into the ocean from our deck and the bathroom had amazing views.
The pool was also very appreciated, but more so by my boyfriend since I preferred stalking the fish in the ocean.
Before our trip, I read a review that said the overwater bungalows are pretty close to each other, so they might be noisy.
It was actually not the case at all in our experience: maybe we were lucky, but we often forgot the adjacent bungalows had guests too. We also had the ocean for ourselves most of the time.
Check current rates and availability at Sheraton Full Moon Resort & Spa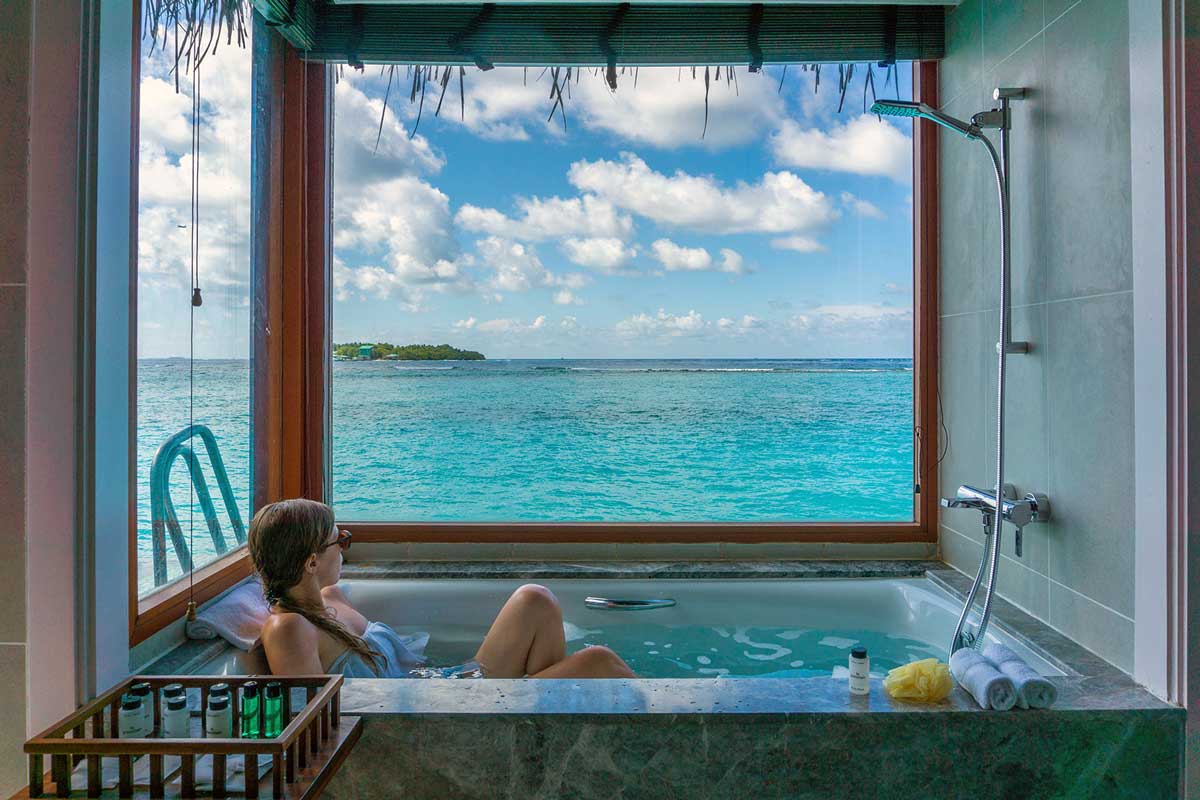 Water villas
Water villas resemble overwater bungalows with pools in many aspects, just that they seem to be a tad bigger, especially regarding the deck. There are only 4 water villas available for booking.
They can accommodate 2 adults and 1 child below 12 years, based on the existing configuration.
Water suite
The suite has two bedrooms on either side and a spacious open-plan living and dining area that connects them. It features an over-water net, a big bathroom with ocean views, and a kitchenette.
It can accommodate up to 4 adults, but I really see it as the perfect choice for a couple's romantic honeymoon.
Check current rates and availability at Sheraton Full Moon Resort & Spa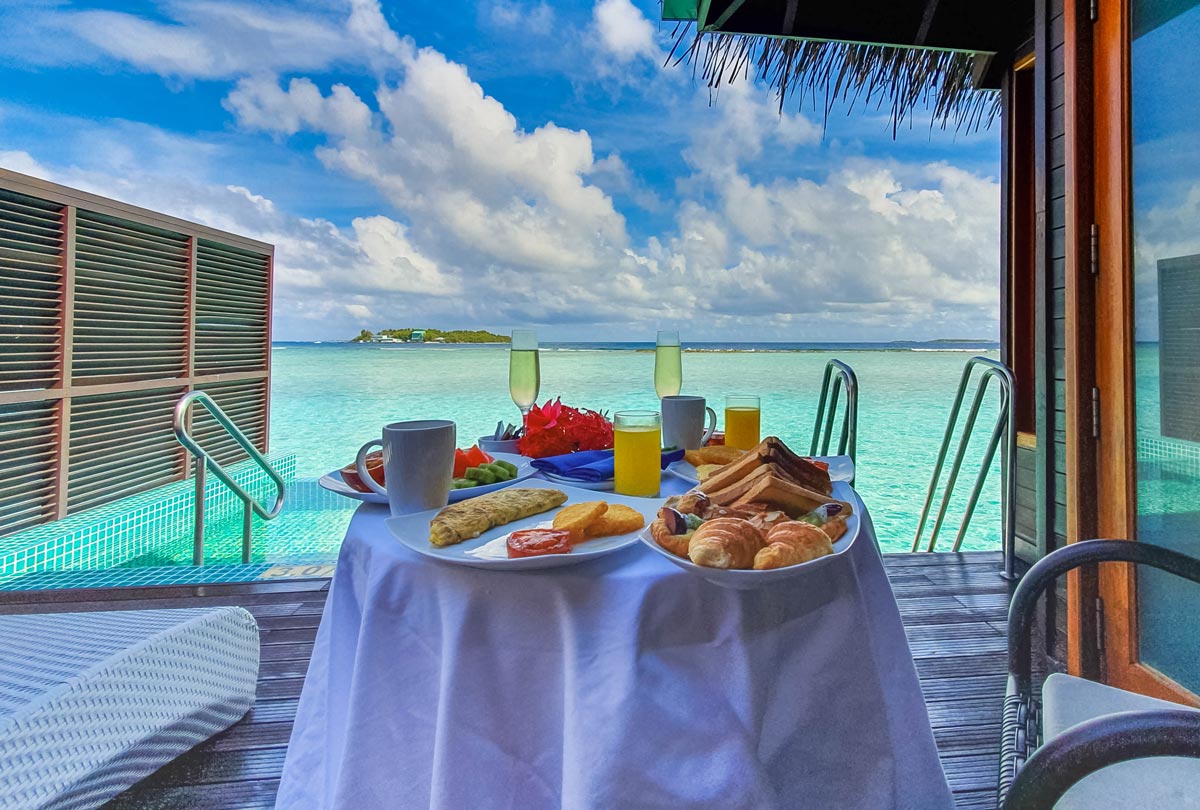 Food and drinks options at Sheraton Maldives Resort
Sheraton luxury resort offers 7 dining options:
Baan Thai: has (unsurprisingly) Thai food
Feast: serves international dishes, buffet style
Anchorage Bar: has sandwiches, pizza, pasta, and salads
ChopstiX: Chinese restaurant; however, it was closed when we visited (probably because of the pandemic)
Sea Salt: seafood restaurant; it looked closed as well during our visit
Kakuni Hut: Caribbean-inspired food
Masala Hut: it served Indian food
We opted for a half board option (meaning breakfast and dinner included) within our travel package and it was the best choice for us since around noon we were spending our time swimming or snorkeling. The meals were served at Feast restaurant.
Since food and drinks are pretty expensive in the Maldives, I'd recommend pre-booking with a meal option.
For example, a dinner at Feast restaurant was 90 USD, if I remember correctly, while the cheapest pizza at Anchorage bar was 29 USD.
It is important to note however that the rooms at Sheraton Maldives come with free water bottles that get replenished each day, so you won't have to worry about spending a ton on drinking water.
Check current rates and availability at Sheraton Full Moon Resort & Spa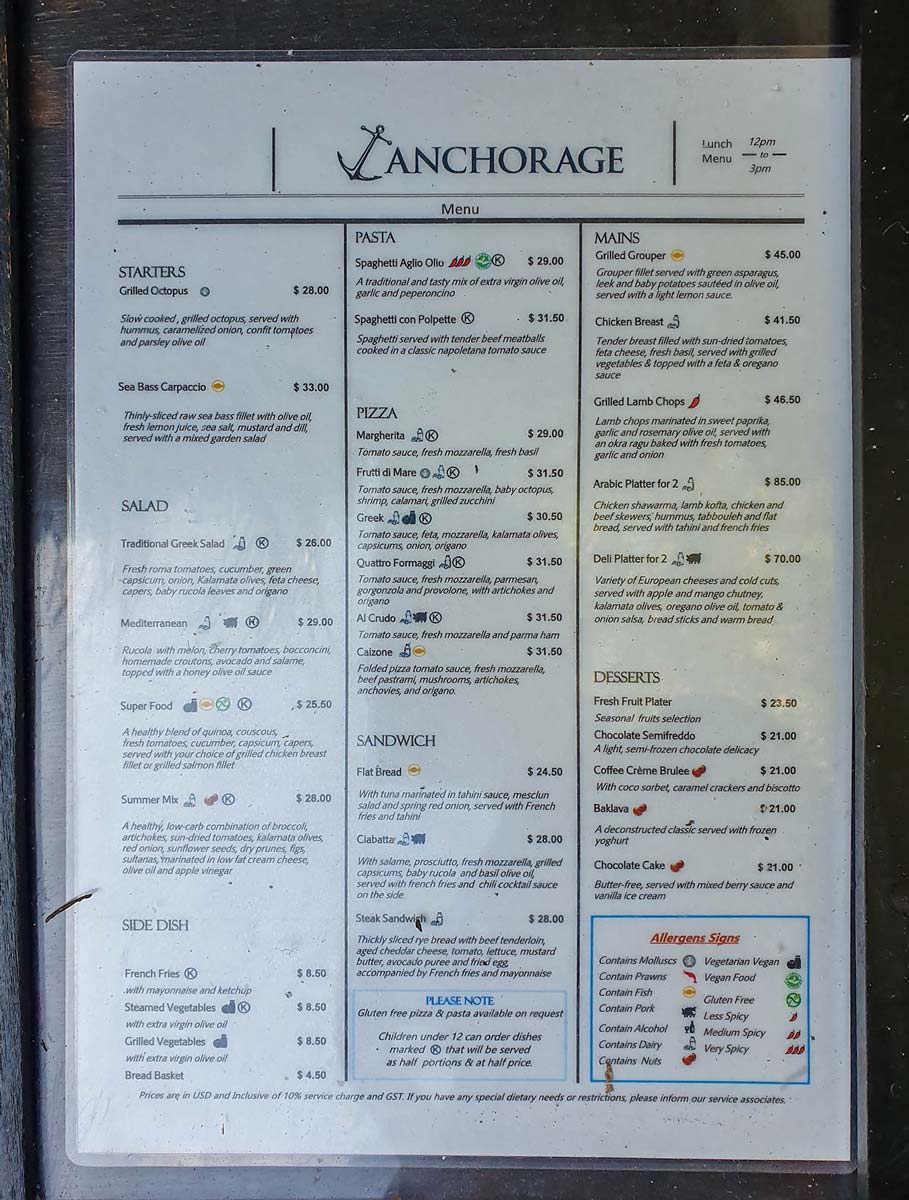 Activities at Sheraton Full Moon Resort and Spa
There are plenty of things to do at the resort, from snorkeling and scuba to water sports and romantic dinners.
Water activities
The first thing you need to know is that Sheraton unfortunately doesn't have a house reef. That means that you need to do a snorkeling trip to discover the rich underwater world that the Maldives is famous for.
Sure, you can see fish near the hotel as well (especially around the water bungalows), but not nearly as many.
There are two scheduled snorkeling trips (minimum 6 persons; prices are from 2021) that they offer:
Reef snorkeling (45 min) – 60 USD
Snorkeling safari – 80 USD
As with all other shared excursions, you need to sign up for the activity you want to do and if the minimum number of people is reached then the excursion takes place. There are also private tours available, but they are far more expensive.
We did both the snorkeling trip and the safari and we loved every second: they are basically the same thing, the difference being that the safari has an additional stop on a local island nearby where huge stingrays can be spotted. Snorkeling takes place at the Banana Reef.
We also went on a sunset dolphin cruise and my boyfriend did a beginner sailing lesson on a catamaran, that he really enjoyed.
Other activities you can do are:
scuba (there's a dive center on the island)
fishing
water sports activities like parasailing, jet-skiing, fun tube, banana boat, fly board, sea bob, boat ride, or windsurfing
sandbank and snorkeling trip
trip to local islands (they were canceled during our visit due to the pandemic)
Check current rates and availability at Sheraton Full Moon Resort & Spa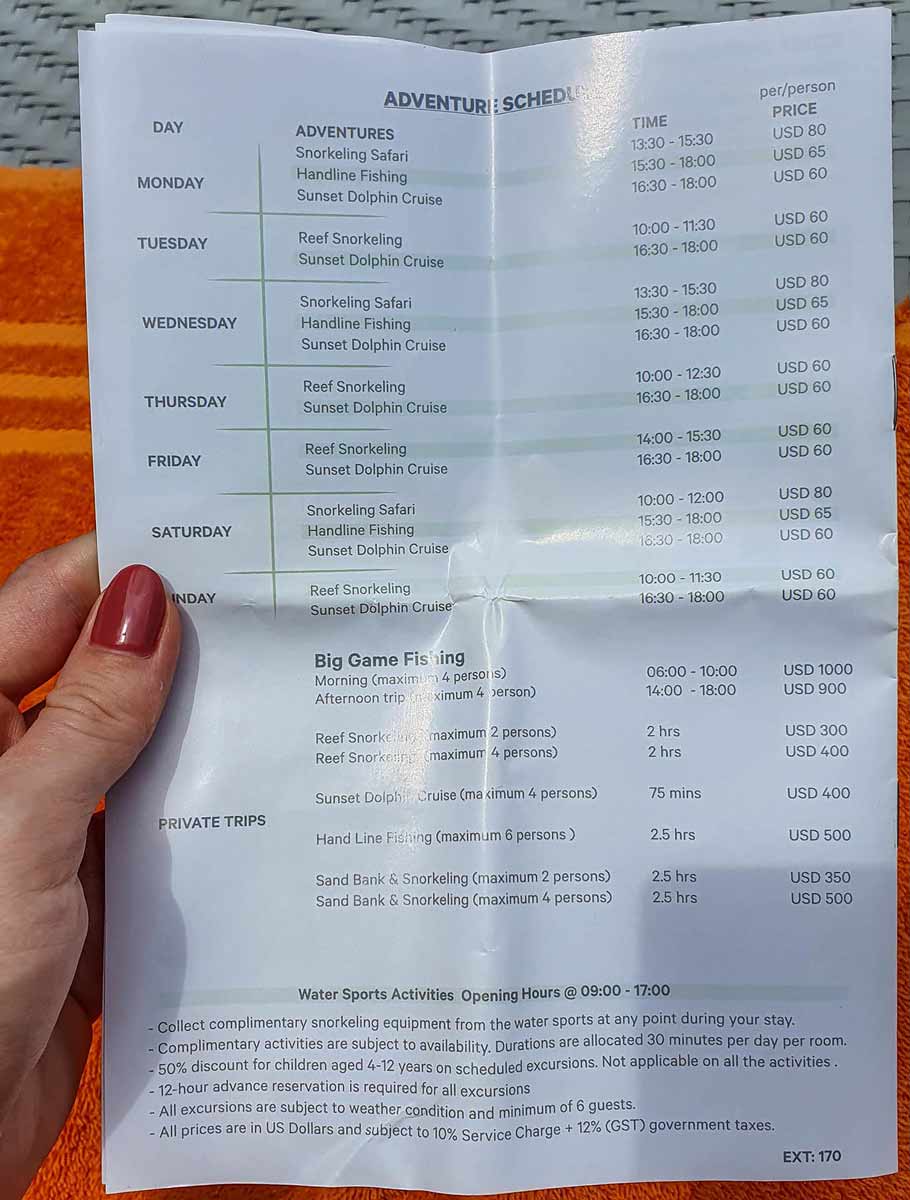 Dining experiences
You can opt for several dining experiences and packages. You can check them out here.
We decided to celebrate my birthday by getting a 'Bubble under the stars' package (580 USD) that included a romantic dinner on the beach (5-course menu and a bottle of premium champagne), an in-villa breakfast (also with champagne) for the next morning, bed decorations, fruits and Baileys.
The staff that took care of us at dinner also wrote Happy Bday on our table and put Romanian songs as we ate, which was such a nice touch that made the experience even better.
And when we returned to our bungalow, in addition to the bed decorations that also wrote "Happy Birthday!", we found a complimentary bottle of prosecco and cake.
Other dining experiences include:
Cooking class: learn about Maldivian, Thai, or Indian cuisine
Dinner on a sandbank
Lagoon lunch: have lunch barefoot in the turquoise lagoon waters
Champagne breakfast
Hamacland Breakfast/Lunch/Sunset Cruise
Picnic on Furanafushi Island
Cocktail Masterclass
Oriental night on the beach
Degustation dinner at Sea Salt
Romantic dinner with musician and photographer
Check current rates and availability at Sheraton Full Moon Resort & Spa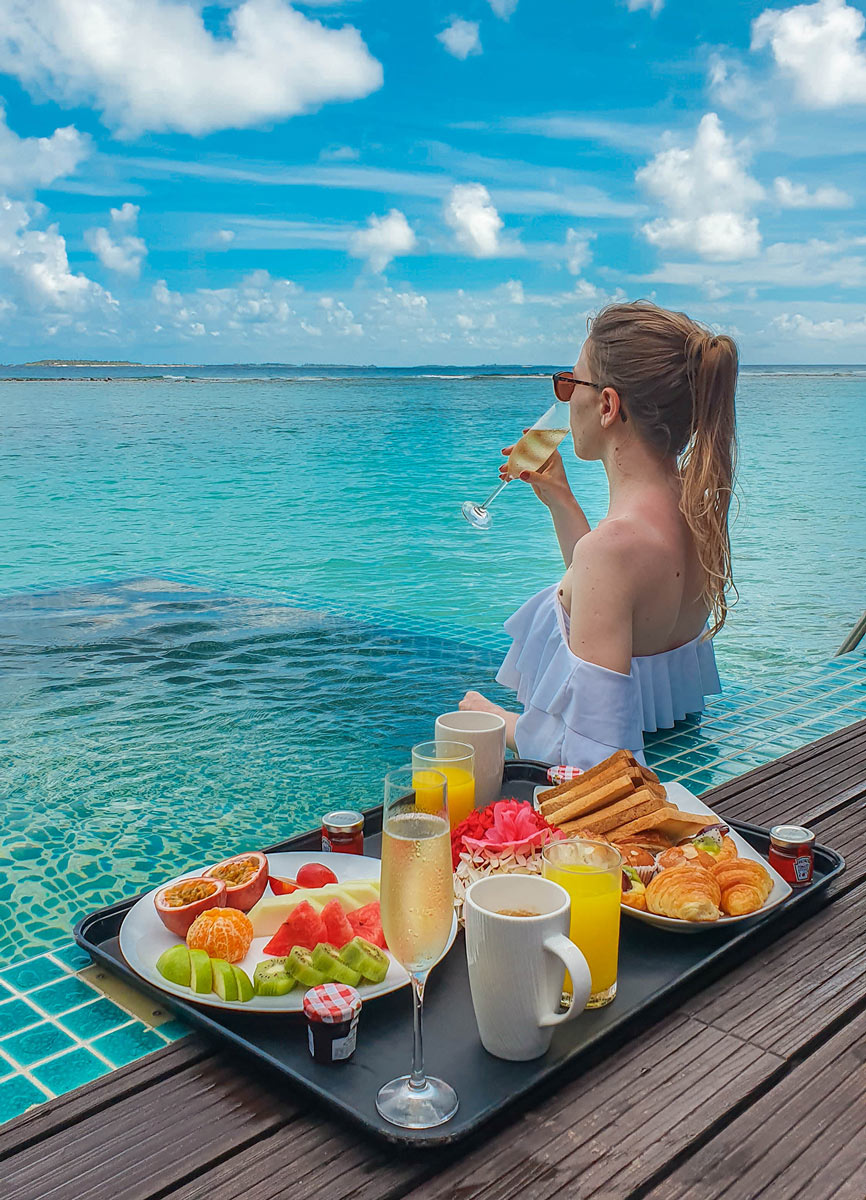 Photoshoot on the island
There's also a photographer available at the resort and you can book a free photoshoot session with him.
At the end of it, you'll be able to choose one free printed photo (the size is larger than a regular photo).
Since we also got engaged on my birthday, we opted to buy a photo book. We paid 400 USD for it together with all of the photos in digital format. We also got the free printed photo.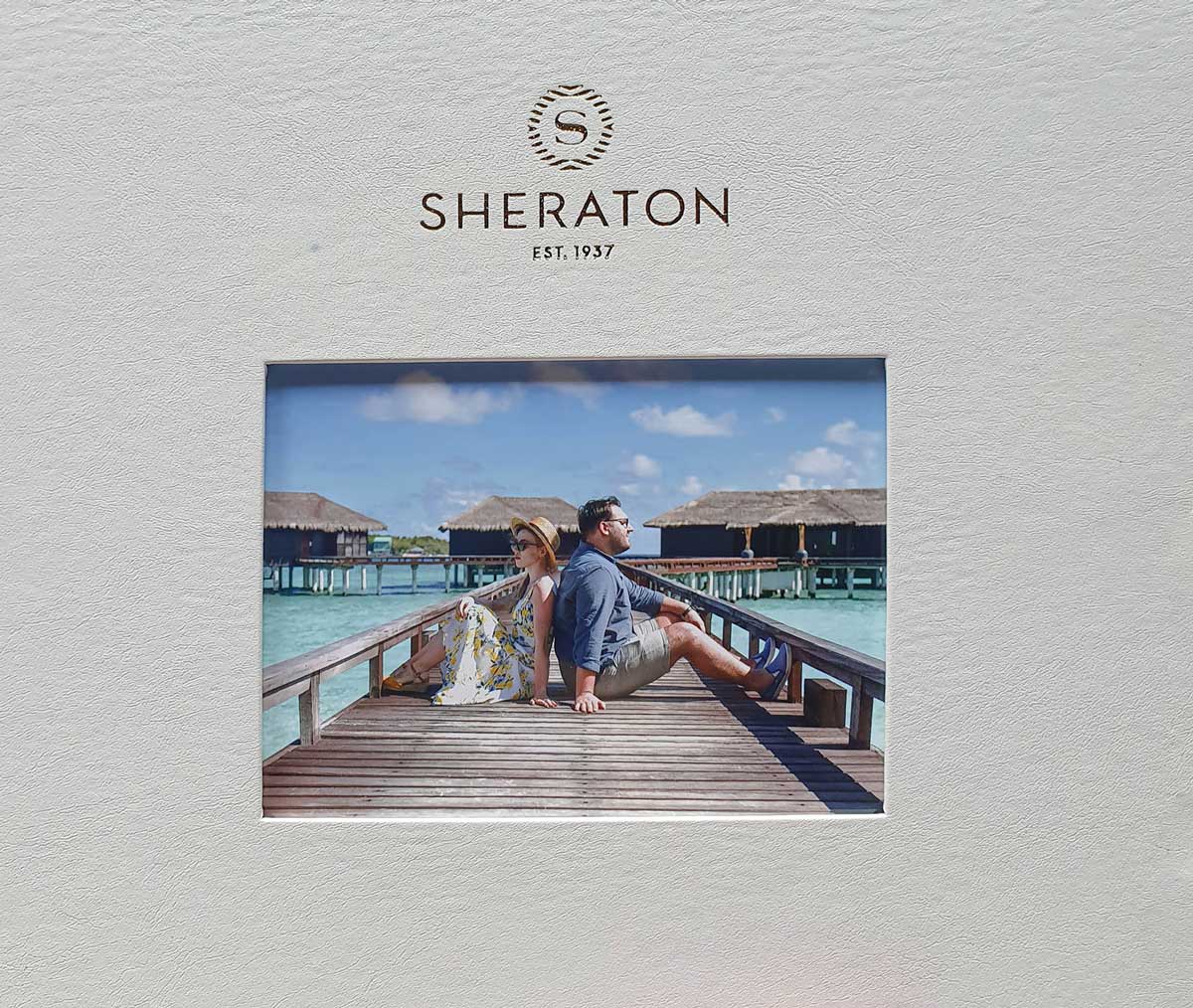 Pros and cons of staying at Sheraton Maldives Full Moon Resort and Spa
| Pros | Cons |
| --- | --- |
| – close to the airport: you get to the hotel really quickly | – close to Male, you can see a few skyscrapers peaking over the man-made islands built by the hotel in front of the main beach, to hide the capital from view (not an issue if you stay at the overwater bungalows) |
| – 5-star resort with wonderful service | – you might hear planes from time to time as it's near the airport, but personally we barely noticed one or two seaplanes during our week there |
| – wide selection of accommodation types | – there's no house reef, so you need to book a snorkeling excursion to see a more diverse marine life |
| – free boat transfer | |
| – beautiful private island | |
| – it's a great choice for both honeymoon goers as well as families with kids | |
| – good option to be used as a transit hotel | |
Additional details
There used to be a shark feeding session near Anchorage Bar every day, but they don't do that anymore (and I think it's a very good thing).
We saw no mosquitoes during our stay there (8 days).
All prices are without taxes, so expect to pay a bit more at checkout.
You don't need to exchange or have cash on you: you can pay in USD, by credit card. However, I would still recommend having some cash for tips (USD or Maldivian rufiyaa). There's an ATM in the airport from which you can withdraw money in the local currency.
The best time to visit the Maldives is between December and April; we went in March and it only rained once during the day for a few minutes. It did rain every night though.
In Maldives, you can only find alcohol in resorts and at floating bars.
Check current rates and availability at Sheraton Full Moon Resort & Spa
Sheraton Maldives review FAQs
How many stars are there in Sheraton Maldives?
Sheraton Full Moon Resort and Spa is a 5-star hotel.
How to get to Sheraton Maldives from the airport?
To get to Sheraton Maldives Full Moon Resort and Spa from the airport, you simply ride the 24/7 boat transfer offered by the hotel.
How long is the transfer to the Sheraton Maldives?
The boat transfer from the Male airport to Sheraton takes around 15 – 20 minutes.
How much is the boat transfer to the Sheraton Maldives?
Currently, the boat transfer seems to be offered as a complimentary service (free of charge).
Check current rates and availability at Sheraton Full Moon Resort & Spa
Sheraton Full Moon Maldives review: Wrap up
All in all our stay in the Maldives was wonderful and my only complaint was that we had to leave.
Hope you enjoyed my Sheraton Maldives Full Moon Resort & Spa review. And if you want to find out how to save some bucks during your vacation, read my tips on how to visit the Maldives islands on a budget.
Happy travels~
---
YOU MIGHT ALSO LIKE