Are you wondering how to plan a Sintra day trip from Lisbon? I've got you covered!
Sintra is a lovely Portuguese town, situated fairly close to the capital and the perfect choice if you want to take a day trip outside of the capital. Honestly, it was the highlight of my visit to Lisbon.
In this blog post, I'll give you all the tips you need to spend an amazing day discovering the beauty of Sintra.
Disclosure: Some of the links in this post are affiliate links. If you click on them and make a purchase, I may receive a commission at no extra cost to you. Check my full disclaimer here.
24 Hours in Sintra Itinerary (Brief overview)
Morning: After you arrive in Sintra from Lisbon, head to Quinta da Regaleira, where you can expect to spend around 2 to 3 hours.
Afternoon: Once you're done visiting the Quinta da Regaleira estate, take the local bus to Pena Palace. Seeing it in the second half of the day will lessen your chances of encountering foggy weather.
Late Afternoon: Hop on an Uber/Bolt or take bus 1253 from the train station and go to Cabo da Roca to watch the sunset or cut your Pena Park visit short and rush to Monserrate Palace for a quick visit.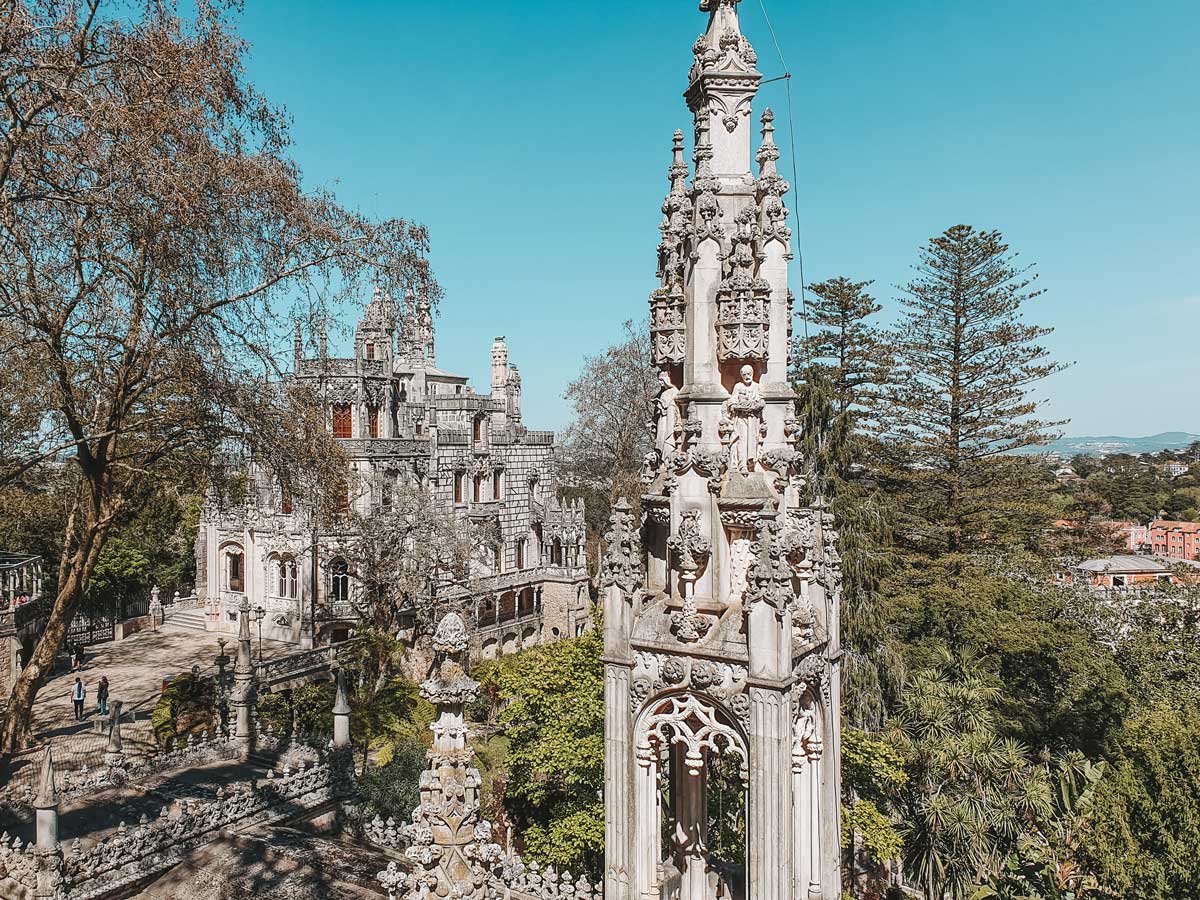 How to get from Lisbon to Sintra
Sintra is located around 28 km away from Portugal's capital, Lisbon, which roughly translates into a 30 minutes drive.
But you don't need to rent a car to visit the town. In fact, if you don't plan to have a road trip around Portugal, then I'd suggest you visit Sintra by train, since it's the most affordable and comfortable option.
Lastly, you can also ride an Uber: generally speaking prices start at 17-20 euros from downtown Lisbon, depending on demand.
🚆 Sintra in a day by train
Most direct trains to Sintra leave Lisbon from Rossio train station which is conveniently located in the heart of the city.
An elegant Neo-Manueline building, you can barely tell that it's in fact a railway station from the outside, despite the words "Estação Centra" (its former name, meaning Central Station) etched on its facade.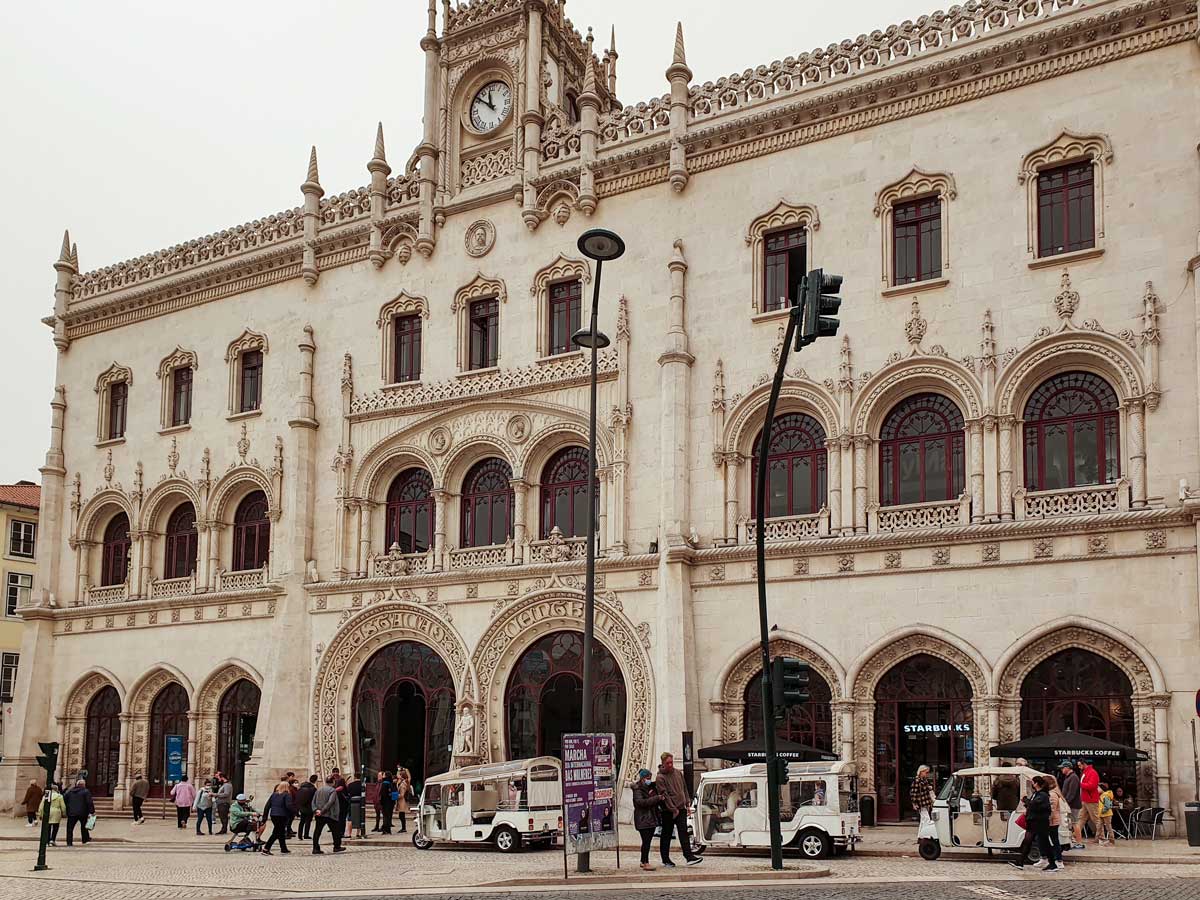 Trains leave every 15 – 30 minutes depending on the time of the day and, in my experience, Google Maps doesn't always list all the connections. The total journey between Lisbon and Sintra takes about 40 minutes.
Once you get to the Rossio station, you need to go up the escalators to the first floor and you'll see the ticket booths right in front of you, while ticket machines are on your left. The train platforms are located on the right side.
The price of the ticket is determined by the number of fare zones you travel through, which in the case of Sintra is four. This means that a single trip costs 2.30 euros and a return is 4.60 euros.
You can check here the train schedule as well as the current fares (input Lisboa – Rossio and Sintra in the "From" and "To" fields).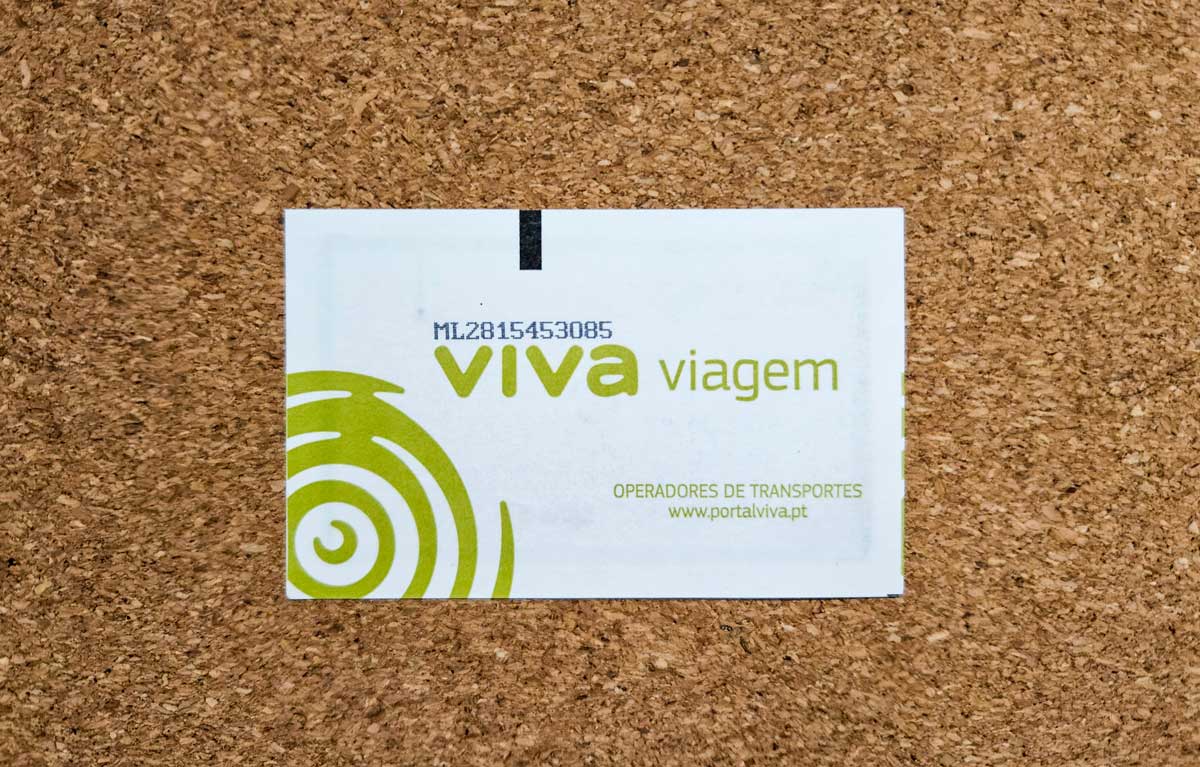 The tickets are called Viva Viagem and they're magnetic, paper-like cards. The first time you take the train you need to buy one (it costs 0.50 euros), but for subsequent journeys you can recharge it.
If you already purchased a Viva Viagem for the Metro, you can only use it for the trains if the balance is 0 before you top it (weird, I know). Also, the card is valid for only one person.
Important! Rossio station tends to be pretty crowded (during weekends it's even worse), so if you plan to leave at a particular hour (the earlier the better), then make sure you give yourself plenty of time to buy your ticket (at least 20-30 minutes). Or buy/top your card ahead of time.
We almost missed the train because of the long ticket lines and we visited Portugal in March, so it wasn't even during the high season.
I will also suggest you buy a return ticket instead of a single trip, since it can get equally crowded in Sintra. Some people also experienced situations when the ticket machines didn't work and the staff wasn't around.
Lastly, if Oriente station is closer to your accommodation, then you're in luck, because there is also a direct train to Sintra from here. The ticket price is the same.
🚗 Sintra in a day by car
Renting a car in Portugal comes really handy if you want to discover more of this beautiful country and I really recommend you do. For example, Porto with its beautiful azulejo tiles is a popular destination choice along with Lisbon.
So if you have a car at your disposal already, it makes sense to use it to also visit Sintra. However, I would suggest you park it in the city and use the local bus (routes 434 and 435) or an Uber/Bolt to get around.
Sintra has many winding, narrow, and often busy one-way streets and they can be a challenge to drive on. Besides, back in 2019, the city hall started to restrict certain areas of Sintra to residents and other authorized cars only.
These areas include the Pena Palace and Park, the Moorish Castle, and the central area where the National Palace is located.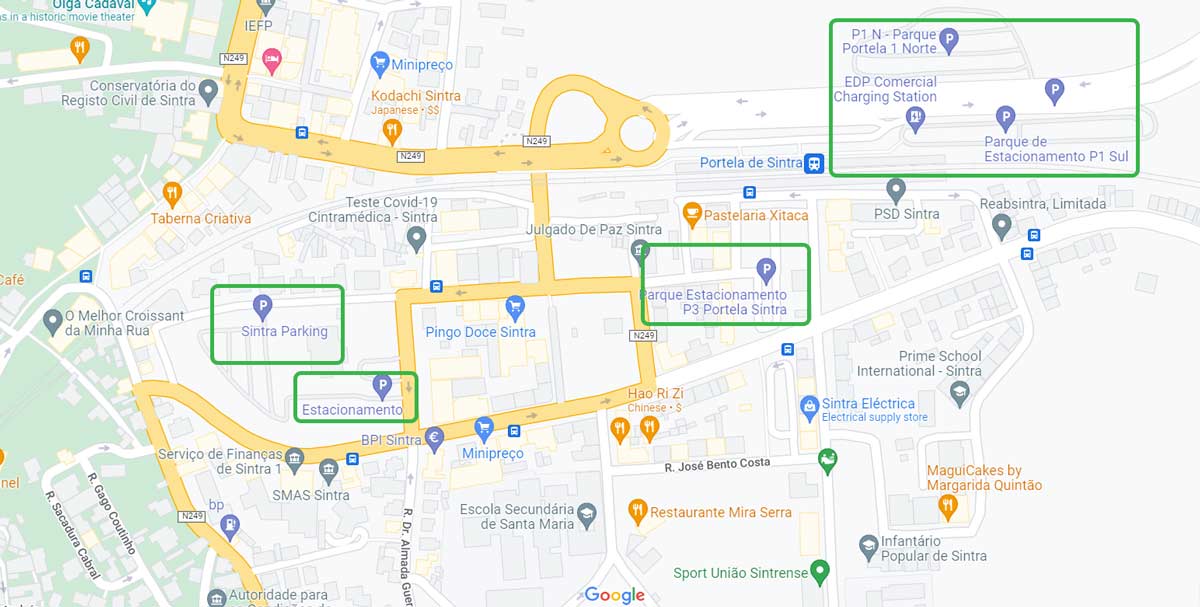 I would recommend leaving your car at the Sintra Parking. It's the closest one to the historic center that's not located inside the restricted zones (though you will still need to do a bit of walking from it).
It's also really easy to access this parking lot coming from Lisbon and on top of that, it's free. Do make sure you arrive early though, as spots fill up pretty fast.
🚌 Day tours from Lisbon to Sintra
Since Sintra is such a popular destination in Portugal, there are many tours to choose from. Some include additional stops like Cabo da Roca which is the westernmost point of Europe or Cascais, a lovely resort town on the coastline.
Here are some of the best Sintra tours from Lisbon, in my opinion:
Pena Palace, Sintra, Cabo da Roca, & Cascais Daytrip

4.7/5 ★: this tour will allow you to visit the colorful Pena Palace (guided tour), as well as spend some free time in Sintra, Cascais, and Cabo da Roca. Perfect for people short on time who want to visit both Sintra and Cascais.

Sintra, Regaleira and Pena Palace Guided Tour

4.7/5 ★: this tour is a great choice if you are only interested in the palaces Sintra has to offer as it features two of the best Quinta da Regaliera and Pena (only the admission to Quinta is included by default, the ticket for Pena is optional).

Sintra Highlights Full-Day Tour

4.8/5 ★: another good option for people who only want to see the best that Sintra has to offer.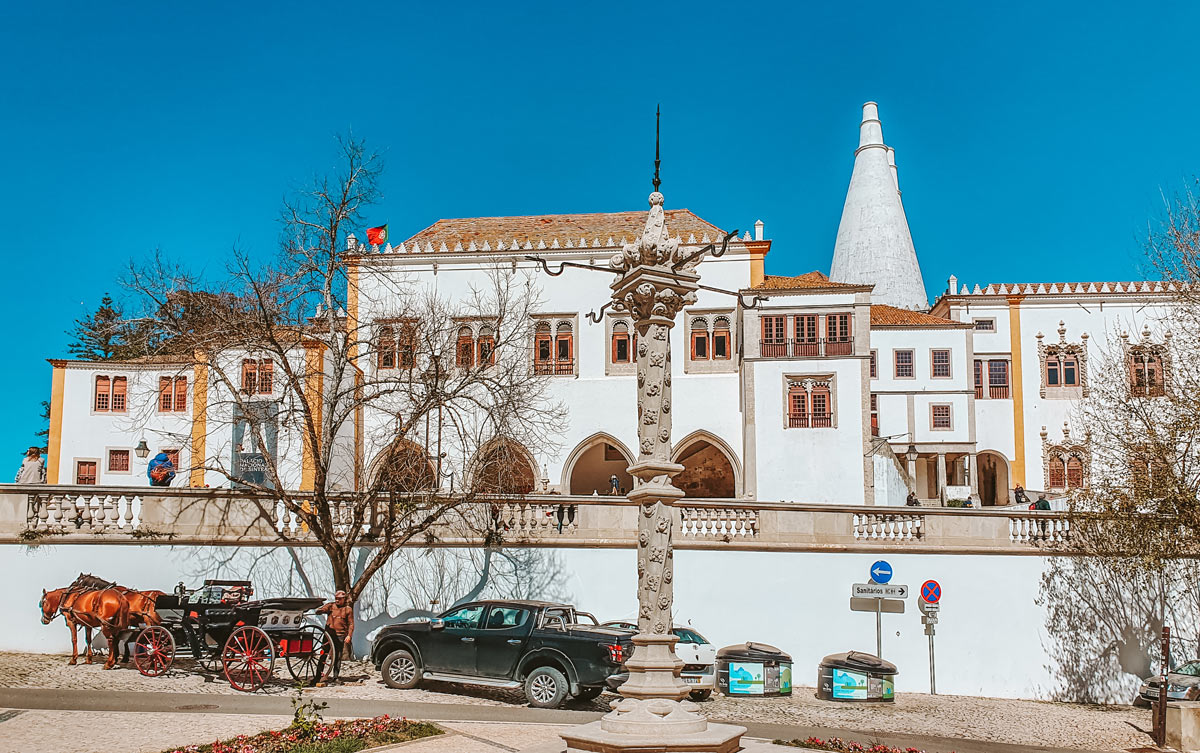 Which palaces should you visit with one day in Sintra?
Sintra is most famous for its beautiful palaces which are the highlights of any trip to this charming town. Here are the most important ones:
Quinta da Regaleira: The property features a richly decorated Romantic palace and chapel, located in an unusual park, full of grottoes, wells, fountains, and underground tunnels.
Pena Palace (Palacio da Pena): This colorful castle is a Unesco World Heritage Site and one of the 7 wonders of Portugal. Naturally, it is also one of the most visited and popular attractions in Sintra and it's surrounded by a vast park.
Moorish Castle (Castelo dos Mouros): The fortification dates from the time the Moors occupied the Iberian Peninsula. It offers amazing views over Sintra as well as the Atlantic Ocean and coast due to its strategic position.
Monserrate Palace (Palacio de Monserrate): The beautiful palace is so heavily inspired by Islamic architecture that you might even forget that you're in Portugal. Less famous than Quinta da Regaliera, National Palace of Sintra or Pena, it is considered somewhat of a hidden gem.
National Palace of Sintra (Palacio Nacional de Sintra): The best-preserved medieval palace in the country, the National Palace of Sintra is located right in the city center. Its most recognizable exterior feature is its two oversized conic chimneys.
Since spending just a day In Sintra is not enough time to visit all of the palaces, I recommend you only do two. This way you will have enough time to leisurely explore them.
You can also fit three palaces in your Lisbon to Sintra day trip (see my alternative for late afternoon) if you really want to, but you might have to rush your visits. Either way, I recommend you start your day early in the morning, ideally around 9 AM.
For a first-time visit to Sintra, I suggest you pick quirky Quinta da Regaleira and the colorful Pena Palace. That's what I did too, and I was very pleased with my choice. And on a future visit to Sintra, I plan to visit Monserrate Palace and the National Palace of Sintra as well.
How to get around Sintra without a car?
The most important sights in Sintra are connected by two tourist bus routes (both leave from the train station):
However, you can also use Uber/Bolt to travel between attractions (usually it's faster too), since distances are rather short and prices are affordable. For example the ride between Quinta and Pena takes a little over half an hour and costs around 5-10 euros depending on traffic conditions and demand.
For the buses you can opt between a 24 hour ticket and paying individual fares (see all ticket options here). But for my proposed itinerary, I suggest you go with the second option if you decide to travel by bus.
You can buy tickets from the booth outside the train station or from the driver (it's better to have cash on you).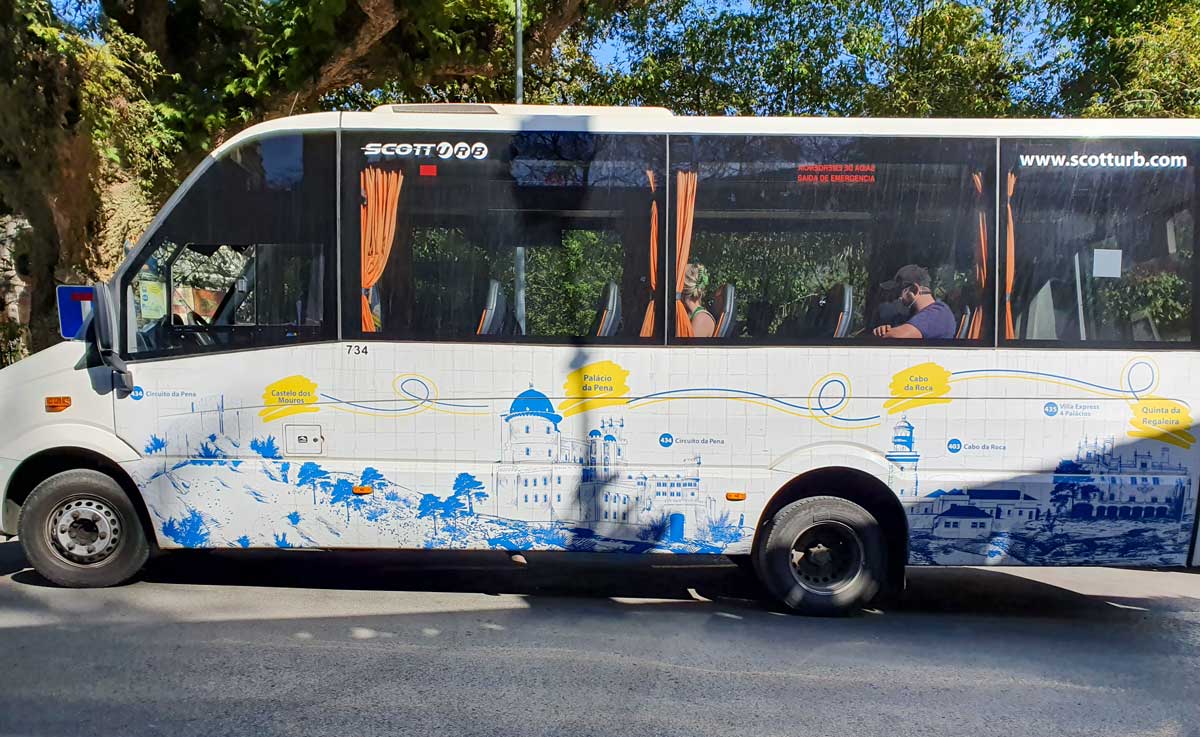 Now no matter the season, with both buses and Uber/Bolt it can sometimes take way longer than expected to reach your desired destination.
For example, some people complain that buses are not always sticking to the schedule, they're often crowded in the high season (to the point that they skip stops at times) or that some drivers don't sell individual tickets – however, I want to mention that I didn't encounter this issue when I took the bus from Pena to the train station.
On the other hand, I also ended up waiting for my Uber for more than an hour in front of Quinta da Regaleira because the first two drivers canceled (weirdly enough they were trying to arrive from the wrong direction on a one-way street, but couldn't due to traffic).
That's why I think it's good to have a bit of wiggle room when it comes to transportation in Sintra.
One day in Sintra: Itinerary
Morning: Quinta da Regaleira
The first objective of the day is Quinta da Regaleira, one of the most unique places that I visited up until now. From the train station you can walk to it in about 20 minutes, while from the Sintra Parking lot (indicated above) it takes around half an hour.
You can also take a 435 bus from the train station, but honestly if you add up the waiting times and other stops, you're not really saving time.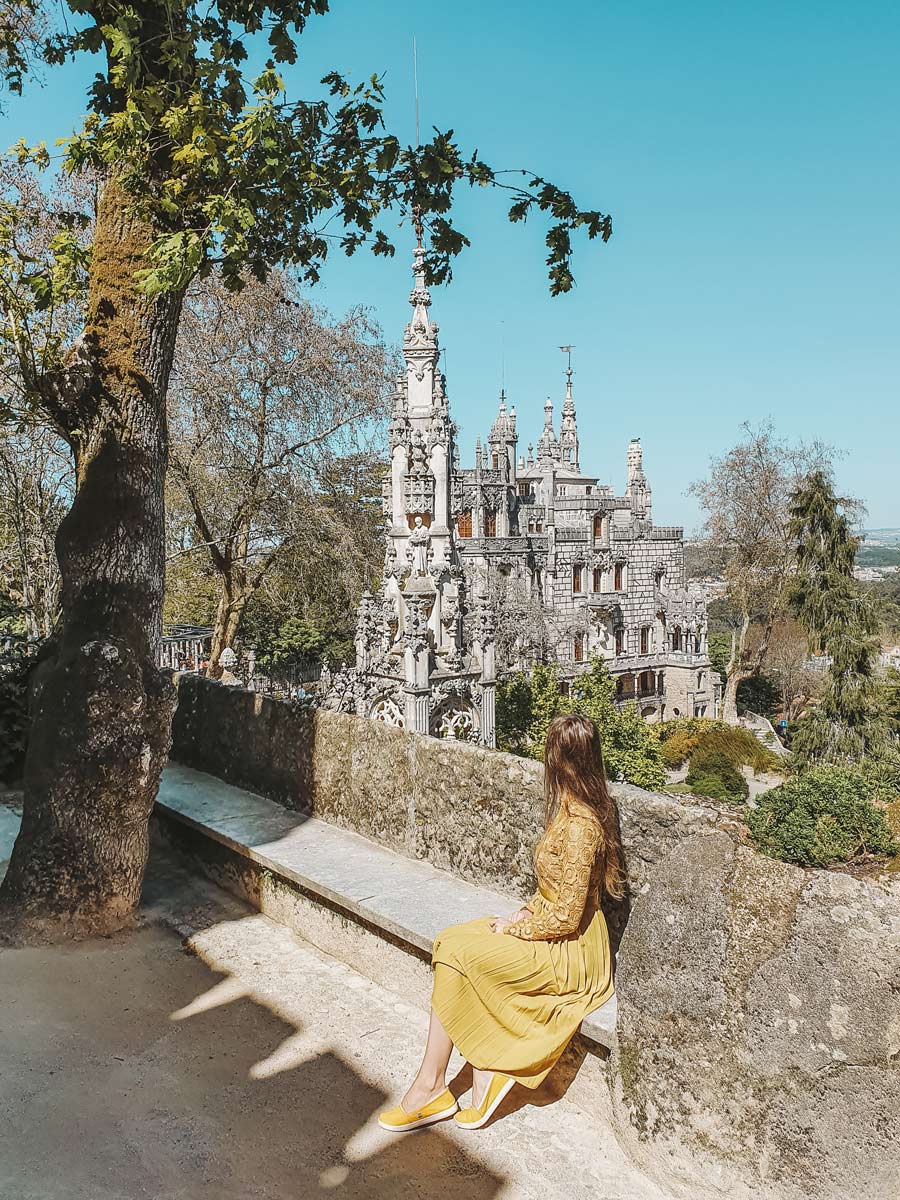 The land on which the estate is located had several owners until it was bought by the rich Antonio Augusto Carvalho Monteiro from the Viscountess of Regaleira.
Determined to build an unusual place that would reflect his taste and interests, he employed the help of an Italian architect, Luigi Manini, to create the mysterious Quinta da Regaleira.
The estate opens at 10 AM, so if you leave Lisbon around 9 AM, you'll arrive at Quinta da Regaleira just right.
Since you're arriving near the opening time, you might not encounter big lines at the ticket booths, but during high season I still recommend you buy your ticket online ahead of time, because Quinta became quite popular with tourists in recent years.
Upon entering, you'll conveniently be provided with a map listing all the important points to see. I'll admit it, I felt like a kid discovering all the hidden paths and spots across the beautiful gardens of the estate.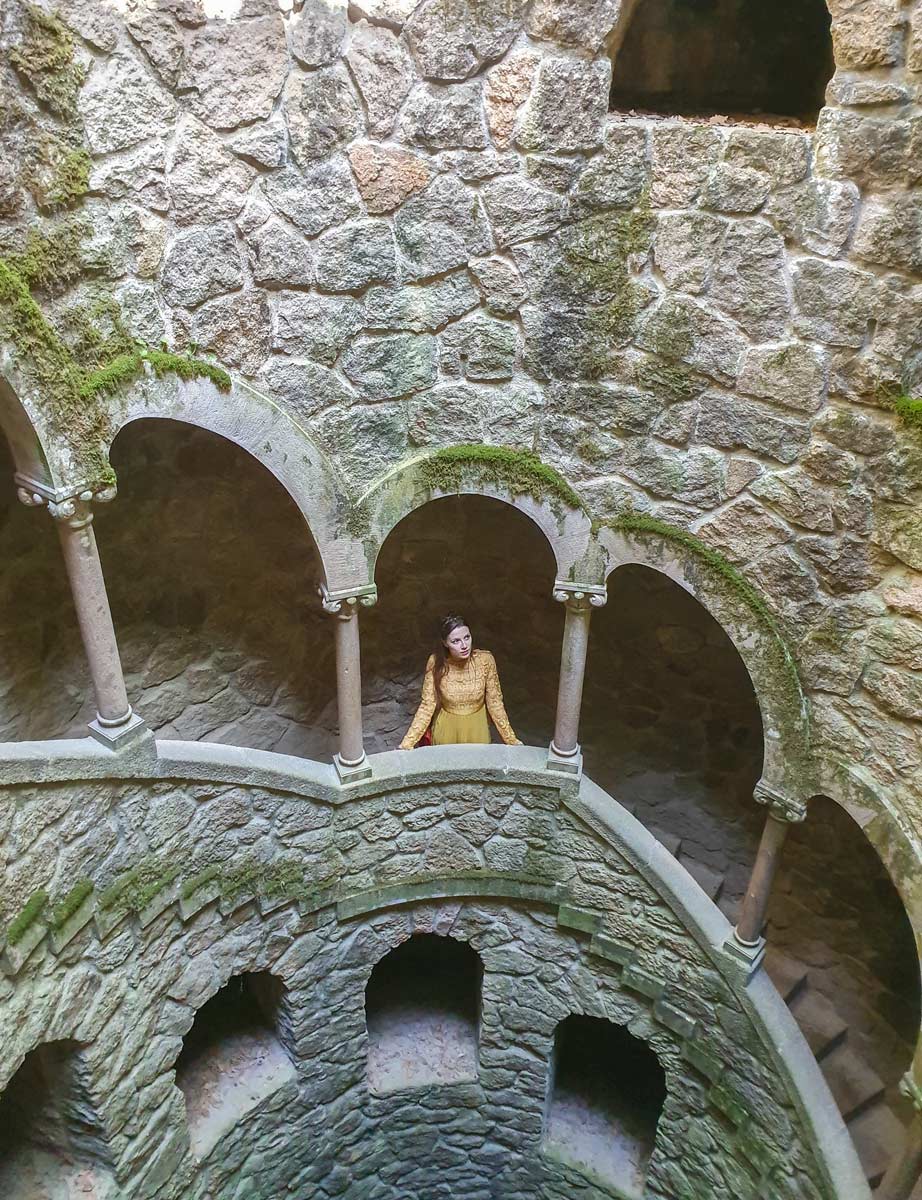 Now, once in the gardens, go straight to the Initiation Well which is one of the most important landmarks at Quinta. The Well looks like an inverted tower and you can descend through it to reach a series of underground tunnels.
It can only be visited from top to bottom and there's a member of the staff present to make sure visitors don't linger, given that long lines that often form outside.
There's also a smaller well on the premises, called the Unfinished Well and it's connected to the main one through the an underpasses. You cannot climb or descend through it though.
After you visit both wells, feel free to exit through the underground tunnels and go back up to visit the rest of the upper part of the garden. Then you can work your way from top to bottom, towards the palace.
Now if you travel out of season, you could also explore the top portion of the garden first, then descend through the Initiation Well and continue your visit without any backtracking. While there's no guarantee there will be no line when you get at the well, it shouldn't be too crowded either.
Other interesting sights at Quinta da Regaleira include Torre da Regaleira, Gruta da Leda (Leda's Grotto), the Chapel, the artificial lake and its dark tunnels, etc.
While the palace itself is not particularly large, its beauty and uniqueness are undeniable, both in its interior and exterior design. Out of the few rooms available for the public to visit, my favorite was by far the Music room.
It's also worth mentioning that if at any point during your visit you get thirsty or hungry you can stop and grab something to drink or eat at the cafeteria located right next to the palace. And I encourage you to do just that as from Quinta, you'll be leaving straight to Pena Palace.
All in all, you should expect to spend at least two to three hours visiting Quinta da Regaleira.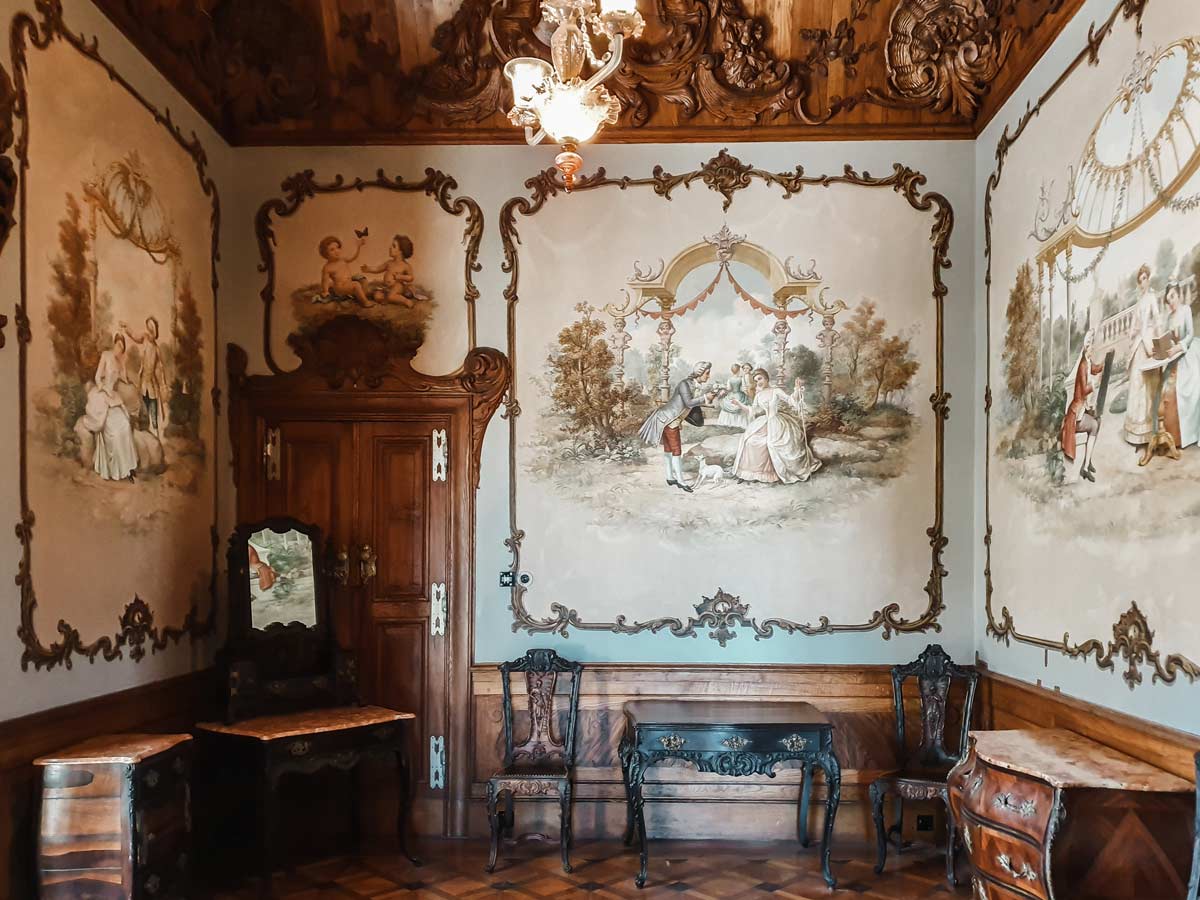 Afternoon: Pena National Palace and Park
After you finish visiting Quinta, head out to colorful Pena Palace. Located at the top of a hill in the Sintra Mountains, Pena can't be reached on foot unless you're willing to walk for about an hour and 20 minutes. Therefore it's better to take an Uber/Bolt (recommended) or the bus there.
I will mention that while there's a bus right across the Quinta estate exit, only route 435 stops there and it doesn't go to Pena. Therefore, you can either hop on it and switch to bus 434 at the train station, or you can walk to the station to take the same 434 bus.
For this reason I recommend getting an Uber or a Bolt. If you're not unlucky like me, it should end up being faster.
Now, fair warning: The area around Pena is famous for its foggy and rainy weather, which pose a big problem to visitors as it's kinda hard to admire the beautiful palace if you can't really see it (yes, it can be that bad).
By visiting in the afternoon you lower the risk of encountering fog: it tends to clear up due to the temperatures rising and warming the masses of cold air that came from the ocean.
However, if it's a really cloudy day, there's little chance for the weather to improve in the afternoon, so it's worth checking the forecast before going to Sintra. But in order to be able to do that, make sure you don't leave the day trip to Sintra for your last day in Lisbon.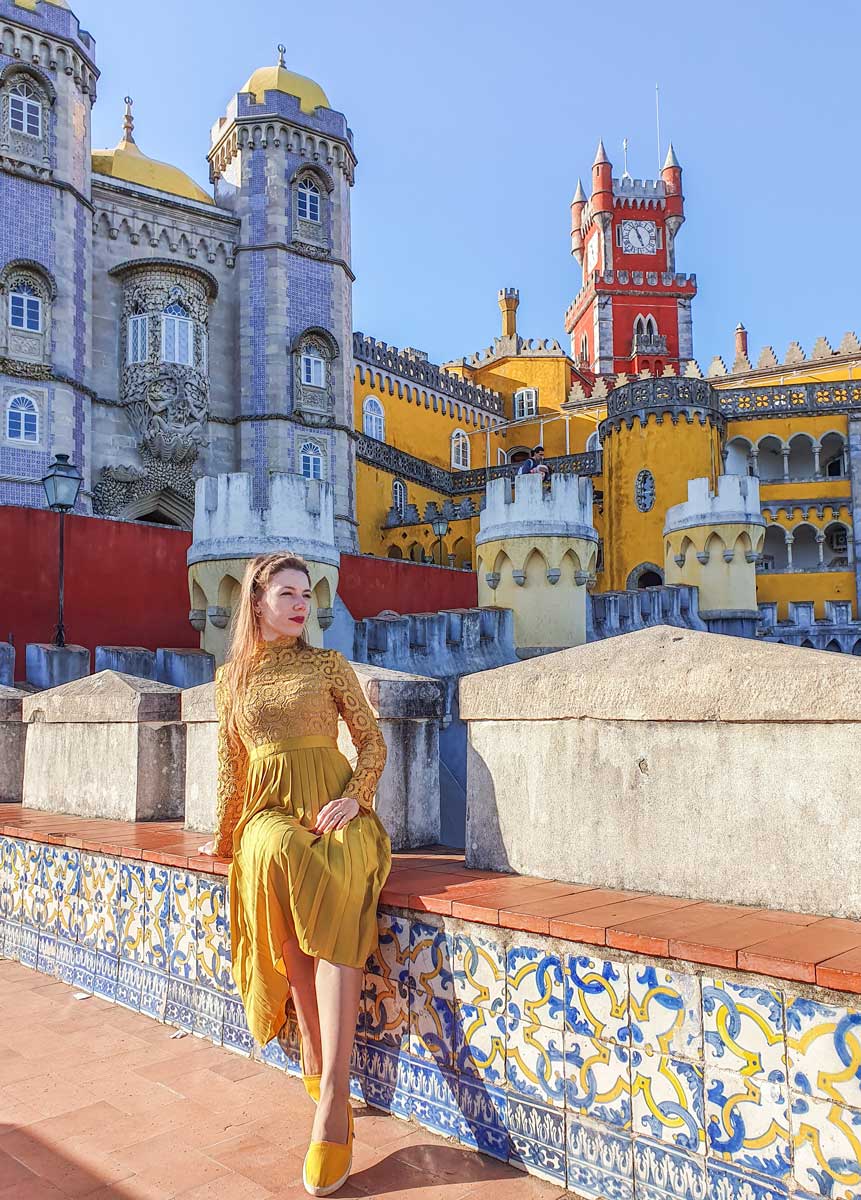 There are several machines outside Pena Park from where you can buy your ticket (credit cards are accepted), but as in the case of Quinta da Regaleira, I recommend getting it online (from here or here) to avoid any lines, since Pena can be even more crowded.
You can get a ticket for both the palace interior and the park or only one for the park. The latter will also grant you access to the exterior terraces of the palace. Evidently, I recommend you buy the ticket that will grant you access to both locations.
The tickets are timed, but the entry time corresponds to the Pena Palace visit (interior). So don't wait around in front of the park entrance, because it will take around 30 more minutes to get to the palace from there.
You can also get a transfer supplement or an audio guide with your ticket. The transfer costs 3 euros and it allows you to ride a small bus that will take you from the entrance of the park right up to the palace. You need to keep the ticket to be able to use it on the return journey as well.
We got the transfer supplement and honestly it was worth it as getting to Pena involves walking uphill, however we only used it one-way as we preferred to return on foot to be able to explore the park as well.
It's also worth mentioning that Pena Park closes half an hour later than the palace. Last entry is 6 PM for both though.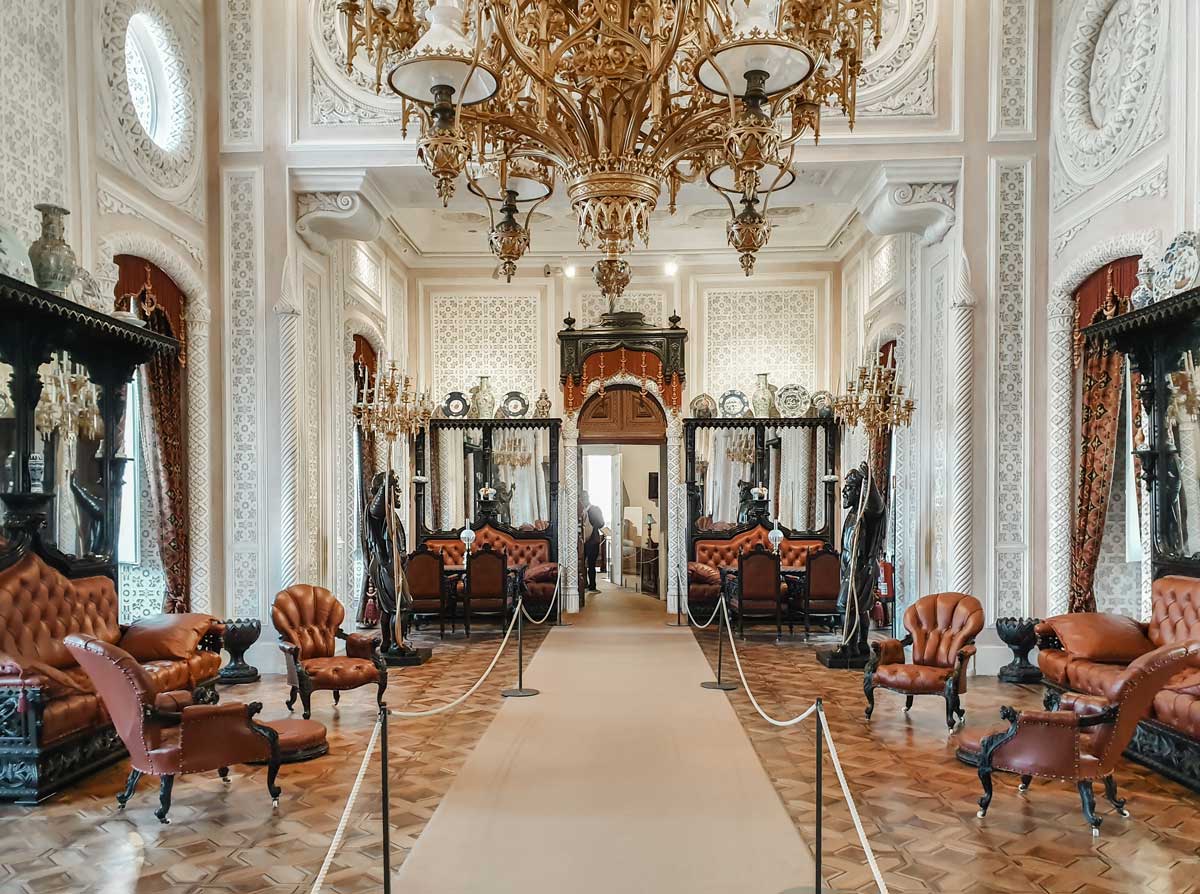 Once you get to the palace, you can do a tour of the exterior walls and admire the amazing views of the coastline, as well as visit its richly decorated interior (make sure you don't miss your timed entry).
In contrast to the palace, I found the Pena Park looking a bit neglected. It was still beautiful, don't get me wrong, but I feel it should be taken care of way better than it is. In various spots, it looked overgrown and in ruins, which made me a bit sad.
The park is way bigger than the gardens of Quinta, so if you want to visit it all, make sure you have enough time. I'd recommend you explore it after the palace.
A popular hike is to Cruz Alta (High Cross), from where you can get a 360 degree view of the park and its surroundings, including Pena Palace itself. But I gotta warn you, the trees block a bit the view of the palace.
Late afternoon: Cabo da Roca
If you have time at the end of the day (and you should if you followed this itinerary), I suggest you hop in an Uber/Bolt from Pena or take bus 434 to the train station from where you can then change to bus 1253 and go to Cabo da Roca, the most western point in Europe.
Not only you'll be rewarded with amazing views of the Atlantic Ocean, but it's also a great spot to watch the sunset (check beforehand at what time this happens on the day you're planing to visit). The journey there from Sintra takes around 30 minutes by car.
Late afternoon alternative: Monserrate Palace
If you're willing to cut your Pena Park visit short or skip it entirely and given that you didn't encounter any traffic delays until now, you might be able to squeeze a visit to Monserrate Palace at the end of the day.
Be careful however, as the tickets for the palace can be bought until 5 PM (though you can also get them online from here) and last admission is at 5:30 PM (for the park it's half an hour later).
If you manage to get in. then you'll have time to visit the palace until 6 PM and the park until 7 PM, which should be enough for a quick visit.
From the Pena Park entrance it takes around 25 minutes by car to get to Monserrate. I recommend getting an Uber/Bolt, since otherwise you'll need to change buses (434 for 435) and it might not be enough time for that.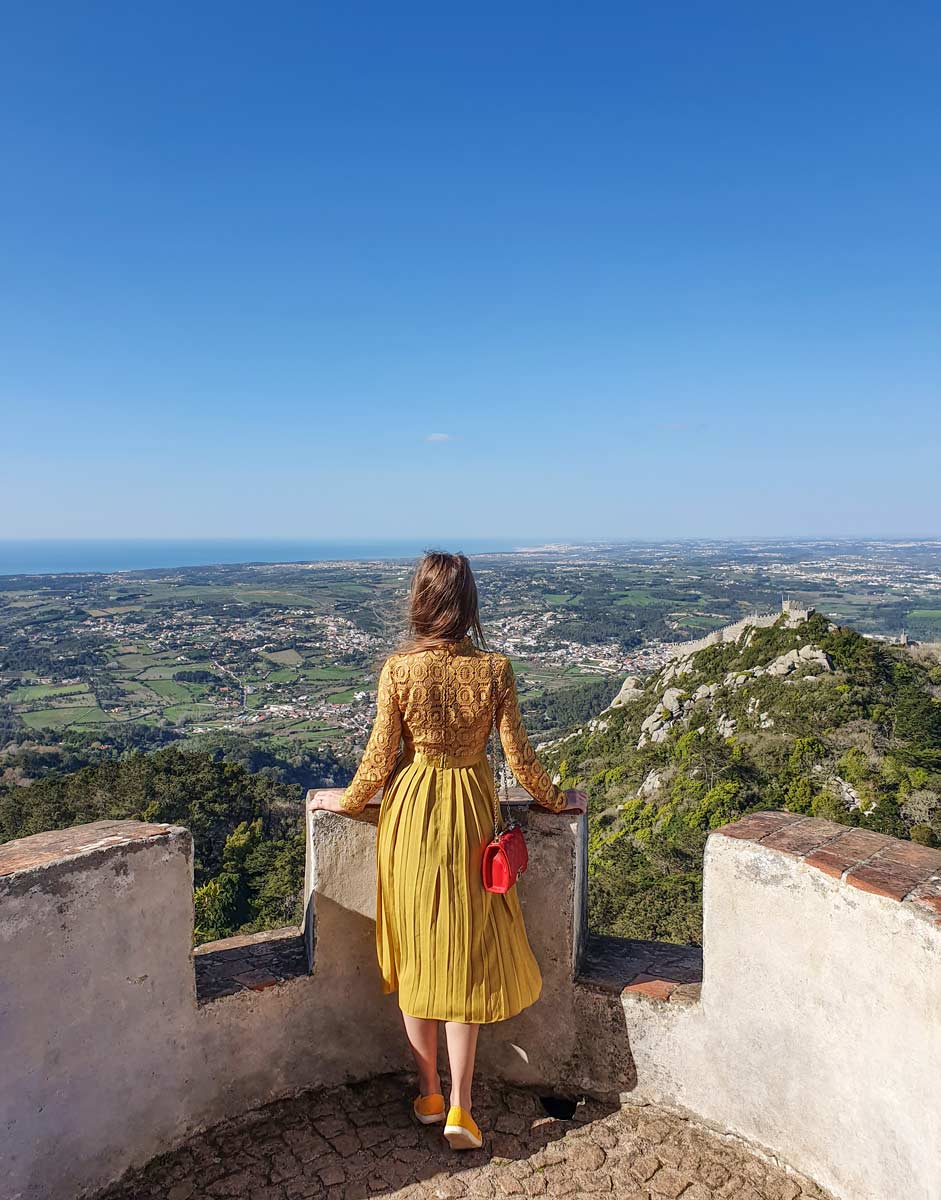 Best time to visit Sintra
I would suggest avoiding Sintra during the high season (June – August) if you can. It's too hot even with all the shade provided by the trees and way too crowded.
Instead opt for the shoulder season: March – May and September – October. During these months, it's less busy and the weather is usually quite pleasant.
Personally, I visited Sintra mid-March and as you can see from the photos it was warm enough to wear a dress.
Where to stay in Sintra if you have more than a day?
You initially thought of visiting Sintra as a day trip from Lisbon, but you've now changed your mind and want to spend at least a night there? Don't worry I got you. Here are some great accommodation options:
Tivoli Palacio de Seteais: Choose the Tivoli Palacio de Setais if you want the full palace experience in Sintra. This 5-star accommodation is actually a former palace that was transformed into a luxury hotel in 1954. It has unparalleled views of both the Moorish Castle and Pena Palace.
Villa das Rosas: Lovely rooms and suites overlooking the garden in a 19th-century renovated villa. The property has a generous pool for its guests and offers a continental breakfast.
Sintra Green Chalet Bed & Breakfast: Great bed and breakfast located about 1km away from Sintra National Palace and Quinta da Regaleira.
Glamping Sintra: Get a different experience in these wooden tent-like structures. Each room has a private bathroom.
Chalet Saudade: Stay at a beautiful chalet, in the heart of Sintra.
Villa Estefania: Beautiful villa with views of the Castle of the Moors, just an 8-minute walk from the Sintra National Palace. Continental breakfast is included in the room rate.
24 Hours in Sintra FAQs
Do you need a car in Sintra?
Sintra can be easily reached and navigated around without a car. In fact, even if you choose to drive there, you'll have to leave your rental in a parking lot and visit the palaces by local bus or Uber/Bolt. This is because the areas around the main attractions are restricted to residents-only.
How to get to Quinta da Regaleira from Sintra train station?
The easiest way to get to Quinta da Regaleira from Sintra train station is to walk. It will take you around 20 minutes to reach the palace on foot.
Is a day trip to Sintra worth it?
Yes, a day trip to Sintra is definitely worth it. The town has stunning palaces and beautiful landscapes, making it a must-visit destination.
Is a day trip enough for Sintra?
A day trip to Sintra is not enough to see everything the town has to offer, however, it's enough to see two of the main attractions: Quinta da Regaleira and Pena Palace.
Sintra day trip from Lisbon: Wrap up
I hope I convinced you that Sintra is truly worth visiting and that my recommendations will help you make the most out of your day trip. For more insights and adventures in Portugal, make sure to read my other posts about the country as well.
Happy travels~
---
YOU MIGHT ALSO LIKE