Discover the best of Sintra in a day: Quinta da Regaleira and Pena Palace
Sintra is a lovely Portuguese town, situated fairly close to Lisbon and a perfect choice if you want to take a day trip outside of the capital.
In this blog post, I'll give you all the tips you need to spend an amazing day discovering the beauty of Sintra. So make sure you read it before your trip there!
Best way to travel from Lisbon to Sintra
Sintra is located around 28 km away from Portugal's capital, Lisbon, which roughly translates into a 30 minutes drive. But you don't absolutely need to rent a car to visit the charming town. In fact, it's really easy to travel to Sintra without one.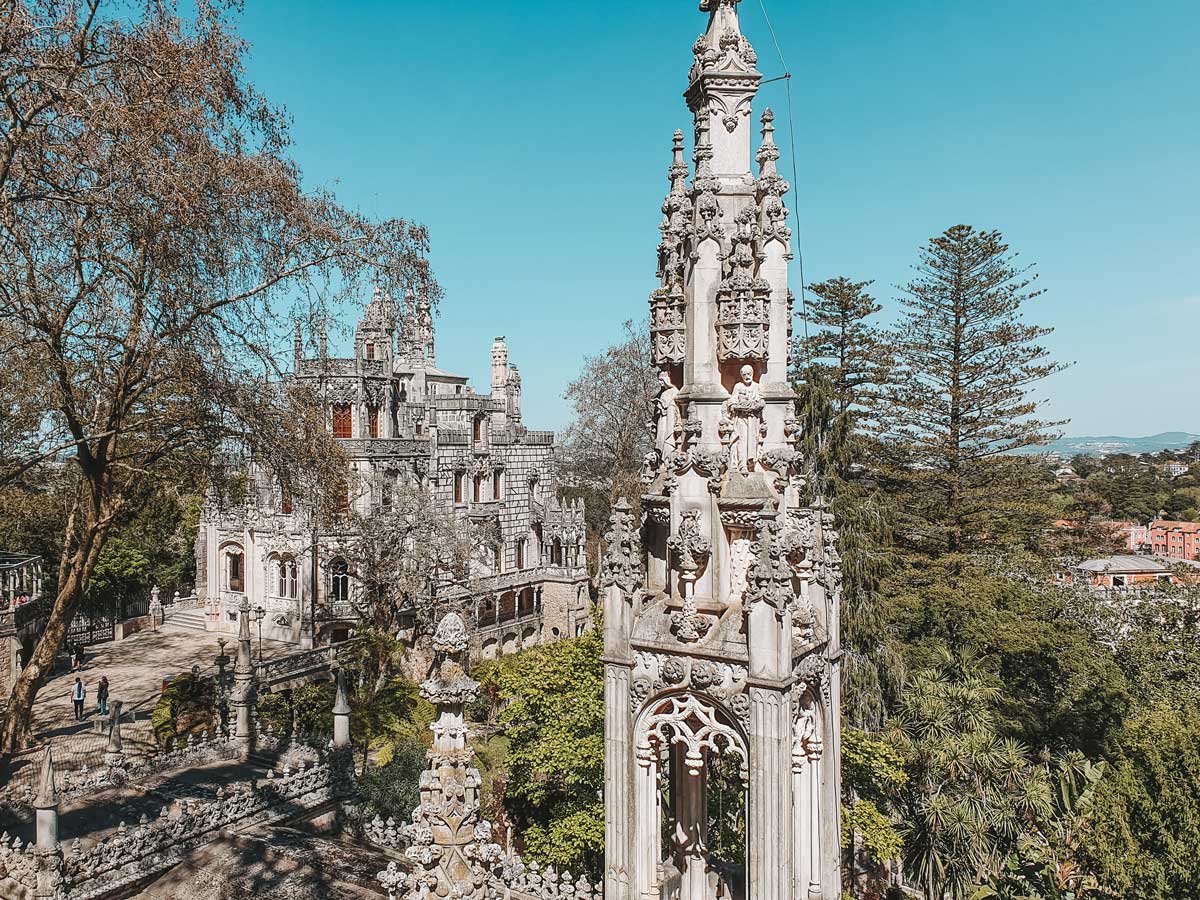 Disclosure: Some of the links in this post are affiliate links. If you click on them and make a purchase, I receive a commission at no extra cost to you. Check my full disclaimer here.
Sintra in a day by train
In my opinion, using the train is the best way to visit Sintra: it's a really comfortable and fast option. Most direct trains leave Lisbon from Rossio train station which is a beautiful building, very centrally located.
You should know that trains leave every 15 minutes or so, even though Google Maps shows fewer connections per hour and the journey is about 40 minutes long.
Once you get to the Rossio station, go to the first floor and you'll see the ticket booths right in front of you, while the trains are on the right side. A round-trip ticket to Sintra costs 4.60 euros. There are also ticket machines inside the station if you prefer them.
Also, don't panic if you see long queues, they go pretty fast in my experience.
If Oriente station is closer to your accommodation, then you're in luck, because there is also a direct train to Sintra from here.
Sintra in a day by car
Renting a car in Portugal comes really handy if you want to discover more of this beautiful country and I really recommend you do. For example, Porto with its beautiful azulejo tiles is a popular choice along with Lisbon.
So if you have a car at your disposal already, it makes sense to use it to visit Sintra as well.
However, I would suggest you leave it parked in the city and use an uber or the local bus to visit some of the attractions. Sintra has lots of winding, narrow, and often busy one-way streets and they can be a challenge to drive on.
Besides, back in 2019, the city hall started to restrict certain areas of Sintra to residents and other authorized cars only. These areas include the Pena Palace and Park, the Moorish Castle, and the central area where the National Palace is located.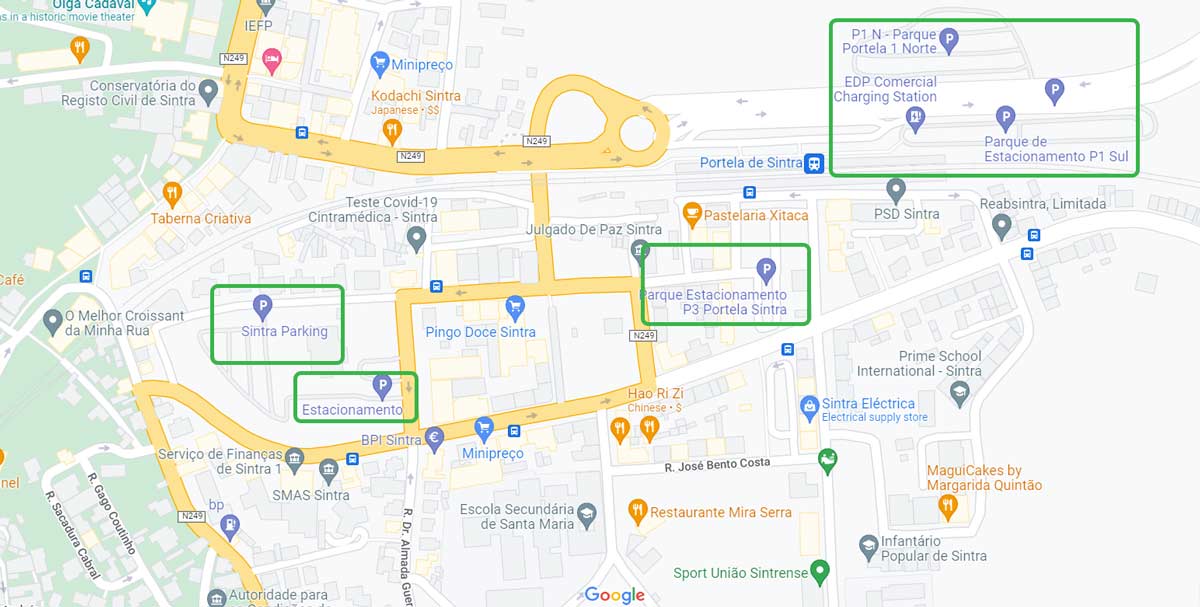 Parking: I would recommend leaving your car at the Sintra Parking. It's the closest one to the historic center that's also allowed in the wake of the above-mentioned restrictions (even though you will still need to do a bit of walking to reach it). It's also really easy to access this parking lot and on top of that, it's free. Do make sure you arrive early as spots fill up pretty fast.
Sintra in a day by tour
Since Sintra is such a popular destination in Portugal, there are lots of tours to choose from. Some include additional stops like Cabo da Roca which is the westernmost point of Europe or Cascais, a lovely resort town on the coastline.
Here are some of the best tours from Lisbon in my opinion: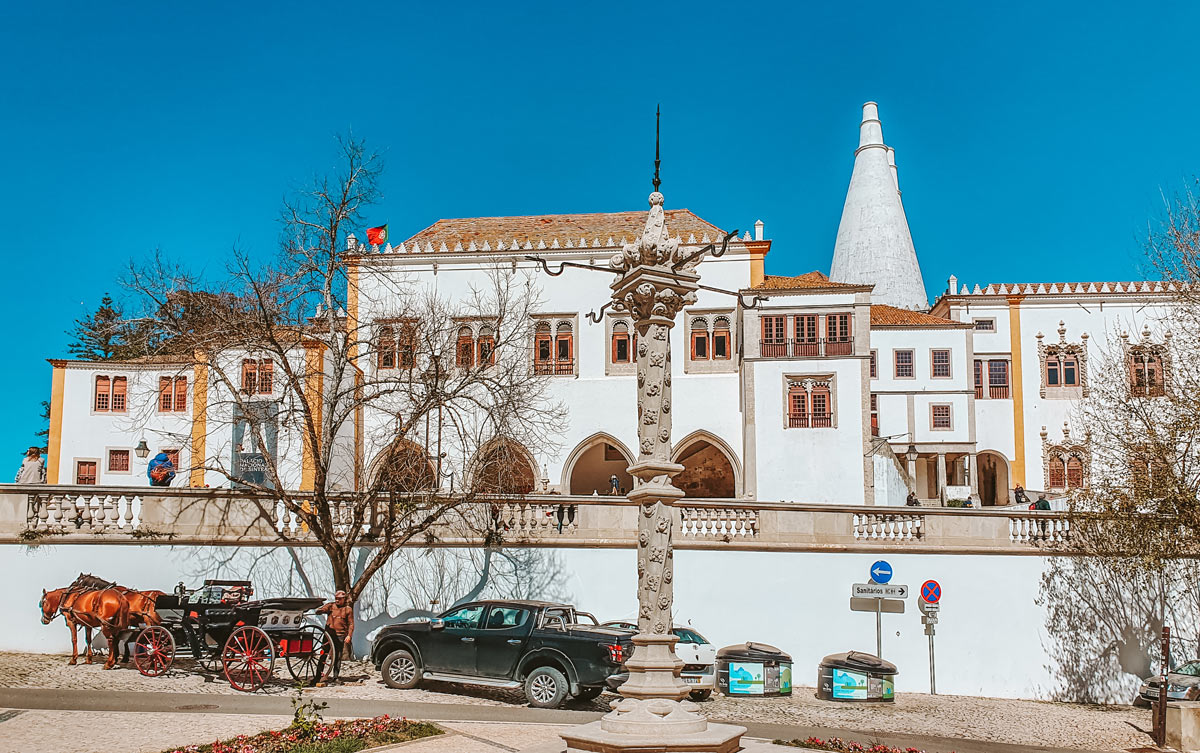 Sintra's palaces: which ones to visit?
Sintra is most famous for its beautiful palaces which are the highlights of any trip to this charming town. Here are the most important ones:
Quinta da Regaleira: The property features a richly decorated Romantic palace and chapel, located in an unusual park, full of grottoes, wells, fountains, and underground tunnels.
Pena Palace (Palacio da Pena): The colorful castle is a Unesco World Heritage Site and one of the 7 wonders of Portugal. It is one of the most visited and popular attractions in Sintra and it's surrounded by a vast luxuriant park.
Moorish Castle (Castelo dos Mouros): The fortification dates from the time the Moors occupied the Iberian Peninsula. It offers amazing views over Sintra as well as the Atlantic ocean and coast due to its strategic position.
Monserrate Palace (Palacio de Monserrate): The beautiful construction is so heavily inspired by Islamic architecture that you might even forget that you're in Portugal. Less famous than Quinta da Regaliera, National, or Pena Palaces, it is considered somewhat of a hidden gem.
National Palace of Sintra (Palacio Nacional de Sintra): The best-preserved medieval palace in the country, the National Palace of Sintra is located right in the city center. Its most recognizable exterior feature is its two oversized conic chimneys.
Since spending just a day In Sintra is not enough time to visit all of the palaces, I recommend you only do two. This way you will have enough time to leisurely explore the sights of your choice. You can also fit three palaces in your Sintra day trip if you really want to, but you might have to rush your visits a bit. Either way, I recommend you start your day early in the morning.
For a first-time visit to Sintra, I suggest you pick quirky Quinta da Regaleira and colorful Pena Palace. That's what I did as well, and I was very pleased with my choice. On a future second visit to Sintra, I plan to visit Monserrate Palace and the National Palace of Sintra as well.
Quinta da Regaleira
Quinta da Regaleira is without doubt one of the most unique sites that I visited until now.
The land on which the estate is currently located had several owners until it was bought by the rich Antonio Augusto Carvalho Monteiro who decided to build an unusual place that would reflect his taste and interests.
Monteiro employed the help of Italian architect Luigi Manini to create the stunning and mysterious Quinta da Regaleira.
I'll admit it, I felt like a kid discovering all the hidden paths and spots across the beautiful gardens of the estate. So make sure you set aside at least two to three hours for your visit to Quinta in order to have plenty of time to see everything.
The property can be reached on foot in about 20 minutes from Sintra train station and you can buy your ticket on-site or online. Upon entering, you'll conveniently be provided with a map listing all the important points to see.
We decided to start our visit there with the park and work our way from the top towards the palace, which was located lower.
One of the most important landmarks at Quinta is the Initiation Well and you've probably already seen pictures of it. The Well looks like an inverted tower and you can descend through it to reach a series of underground tunnels (it can only be visited from top to bottom).
There is also a smaller well on the premises, called the Unfinished Well and it's connected to the other one through the above-mentioned underpasses. You cannot climb or descend through it though.
Other interesting sights at Quinta da Regaleira are Torre da Regaleira, Gruta da Leda (Leda's Grotto), the Chapel, the artificial lake, and its dark tunnels, etc.
The palace itself is not very big but it's equally beautiful and unique, inside and outside. Out of the few rooms available for the public to visit, my favorite was by far the Music room.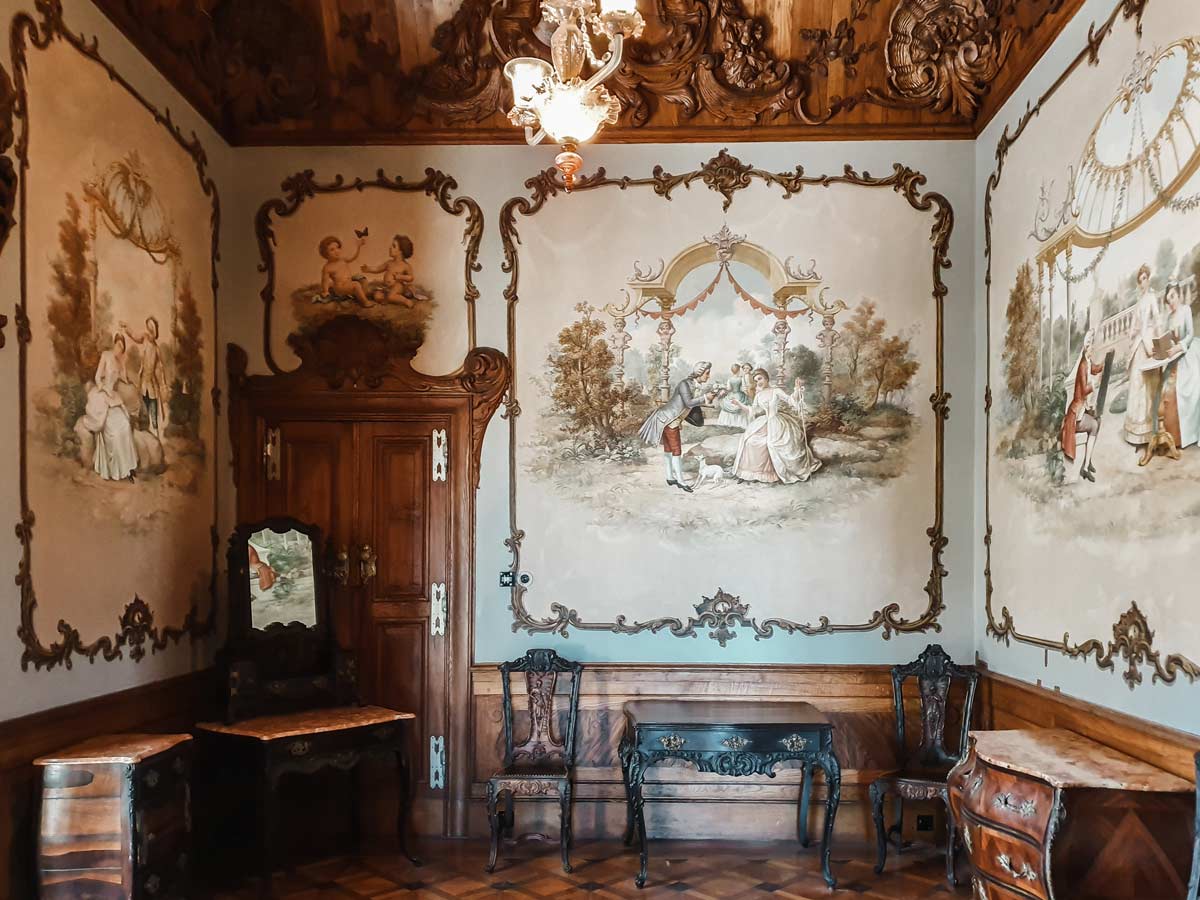 It's also worth mentioning that if at any point during your visit you get thirsty or hungry you can stop and grab something to drink or eat at the cafeteria located right next to the palace.
Pena National Palace and Park
After we finished our visit to Quinta, we headed out to the colorful Pena Palace.
Pena is located at the top of a hill in the Sintra Mountains and can't be reached on foot unless you're willing to walk for about an hour and 20 minutes. Therefore it's better to take the bus (434 route) or an uber.
We went for the 2nd option and it was not the best decision at the moment: two drivers canceled on us and we ended up waiting for more than an hour before a car finally picked us up. It didn't help that the road that surrounded Quinta da Regaleira was a one-way street.
So my recommendation for you is to simply take the public transport: the bus station is right outside the exit from the Quinta estate and you can get your ticket from the driver. We actually used the local bus as well to get to the train station after we finished visiting Pena Palace and Park.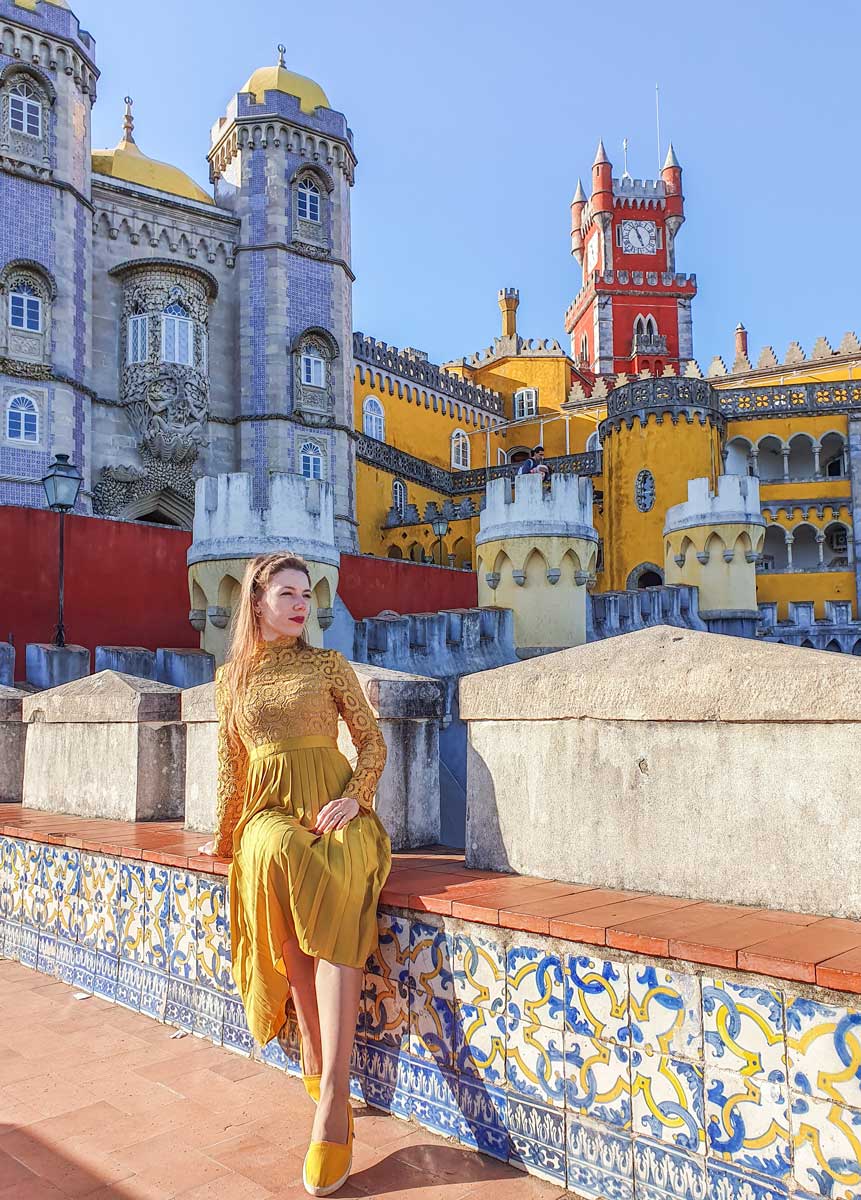 Once you arrive at Pena you'll need to buy a ticket if you haven't done so beforehand (you can get online tickets from here or here). There are several ticket machines near the entrance and you can use your credit card.
You can get a ticket for both the palace interior and the park or only one for the park (it will also grant you access to the exterior terraces of the palace). Evidently, I recommend you buy the ticket that will grant you access to both sights.
Also, the tickets are timed, but the time corresponds to the Pena Palace visit, not to the time of entry into the park. So don't wait around, because it will take around 30 more minutes to get to the palace from the entrance.
You can also get a transfer supplement or an audio guide with your ticket.
The transfer costs 3 euros and it allows you to ride a small bus that will take you from the entrance of the park right up to the palace. You need to keep the ticket to be able to use it on the return journey as well. We got the transfer supplement, but we only used it one way as we preferred to return on foot to explore the park a bit as well.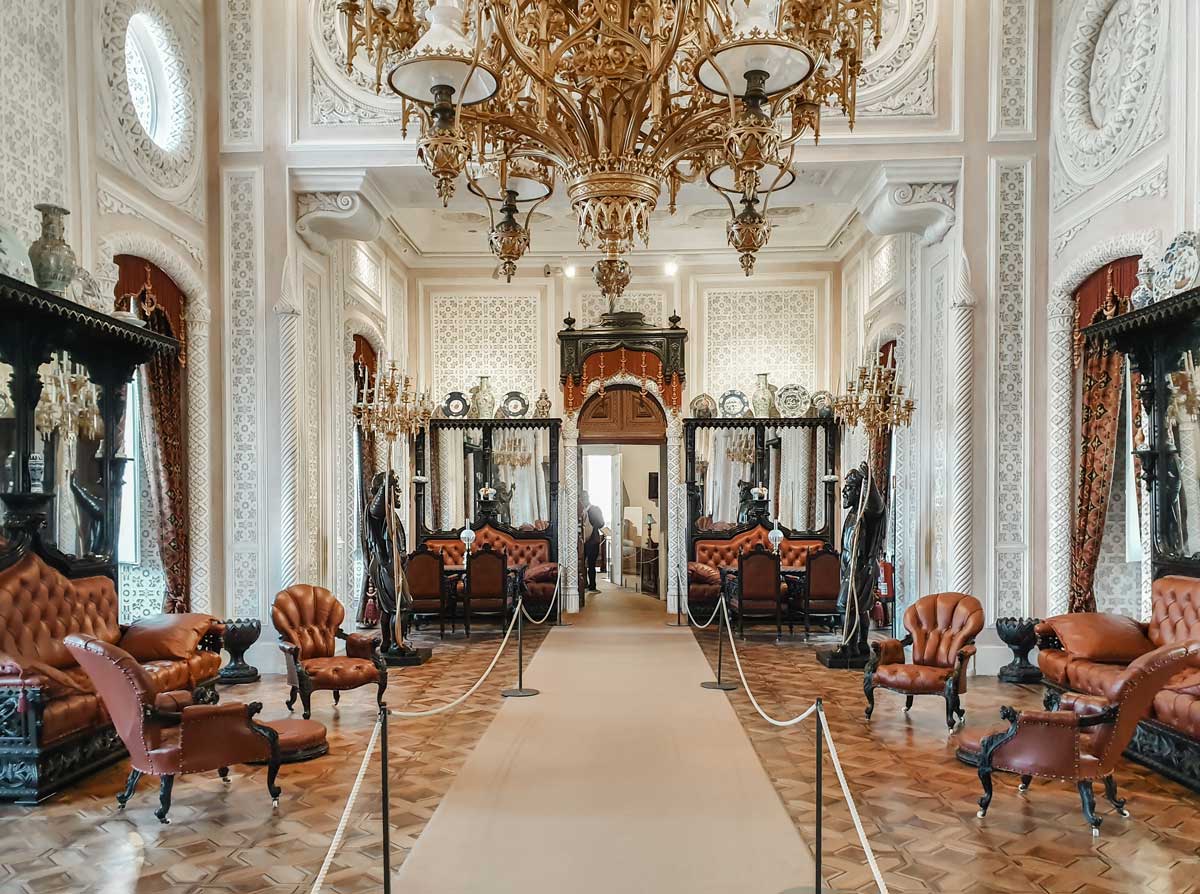 Once you get to the palace, you can do a tour of the exterior walls and admire the amazing views of the coastline, as well as visit its beautiful interior.
In contrast to the palace, we found the Pena park to be kinda neglected. It was still beautiful, don't get me wrong, but I feel it should be taken care of way better than it is. In various spots, it kinda looked overgrown and in ruins and it made me sad.
The park is way bigger than the Quinta one, so if you want to visit it all, make sure to save enough time for it. I'd recommend you visit it after the palace.
Cabo da Roca
If you have a bit of time left at the end of the day, I suggest you hop in an uber and go to Cabo da Roca, the most western point in Europe. I imagine it's a great spot to see the sunset, but sadly we didn't get the chance to see it this time. But it's definitely on my to-do list for next time!
The journey there from Sintra takes around 30 minutes (by car).
Where to stay in Sintra if you want to visit it for more than a day?
You initially thought of visiting Sintra as a day trip, but you now changed your mind and want to spend at least a night there? Don't worry I got you. Here are some great accommodation options:
Tivoli Palacio de Seteais: Choose the Tivoli Palacio de Setais if you want the full palace experience in Sintra. This 5-star accommodation is actually a former palace that was transformed into a luxury hotel in 1954. It has unparalleled views of both the Moorish Castle and Pena Palace.
Villa das Rosas: Lovely rooms and suites overlooking the garden in a 19th-century renovated villa. The property has a generous pool for its guests and offers a continental breakfast.
Sintra Green Chalet Bed & Breakfast: Great bed and breakfast located about 1km away from Sintra National Palace and Quinta da Regaleira.
Glamping Sintra: Get a different experience in these wooden tent-like structures. Each room has a private bathroom.
Chalet Saudade: Stay at a beautiful chalet, in the heart of Sintra.
Villa Estefania: Beautiful villa with views of the Castle of the Moors, just an 8-minute walk from the Sintra National Palace. Continental breakfast is included in the room rate.
---
As you can see, Sintra makes for a great day trip outside of Lisbon, so make sure you don't miss visiting it! And while it can be hard to choose only a few attractions to see, I hope my recommendation helped you plan your own trip.
Happy travels~
---
MORE INFO ABOUT PORTUGAL