8 great things to do in Abisko, Sweden in winter
Abisko is a tiny village, located in Swedish Lapland, 250 km within the Arctic Circle. It is known to be a prime spot to witness Aurora Borealis, but apart from that, the small village might not seem to offer much else to visitors. But that's actually simply not the case.
So here are 8 things to do in Abisko, Sweden during the winter season!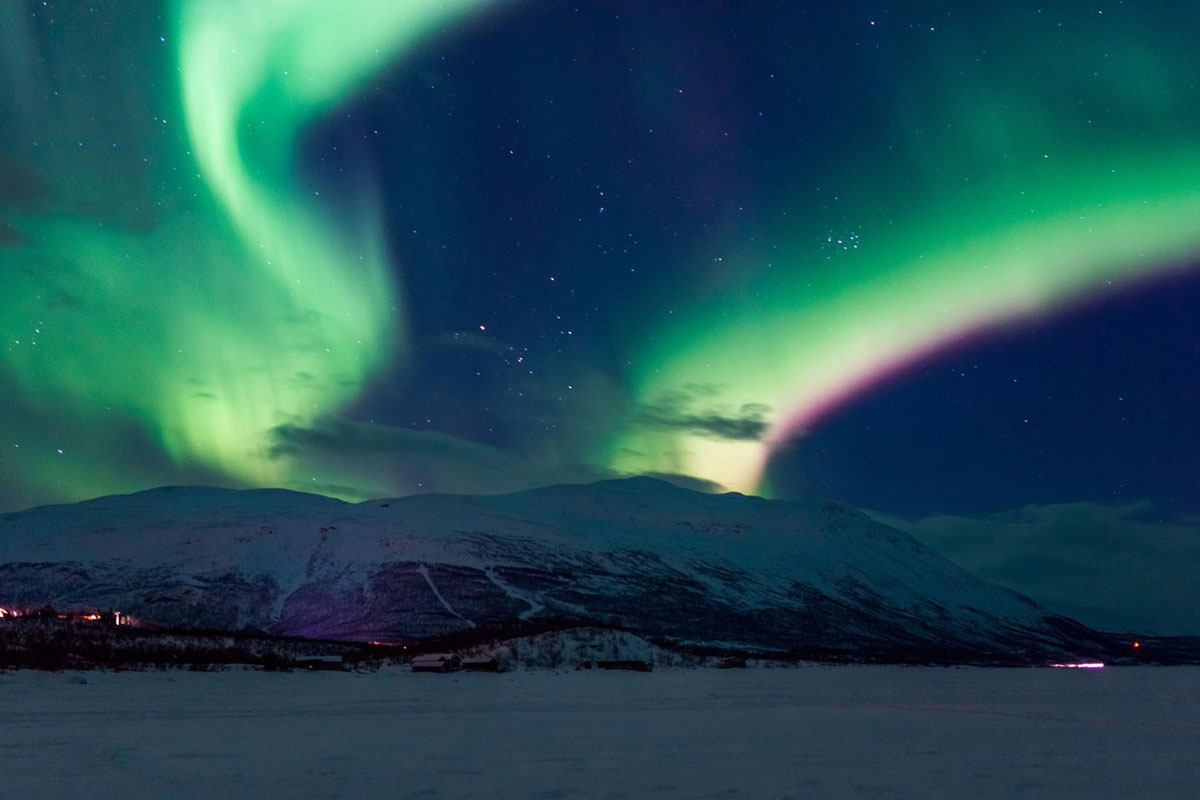 Disclosure: Some of the links in this post are affiliate links. If you click on them and make a purchase, I may receive a commission at no extra cost to you. Check my full disclaimer here.
01. See the Northern Lights
I cannot start a blog post about things to do in Abisko, Sweden without mentioning the reason why most people visit this place.
The arctic village is located near lake Tornetrask and has less than 100 inhabitants, which means there's little pollution there.
The atmospheric effect of the lake and the mountains around it contributed to the development of a microclimate in the area, which the locals named "the blue hole".
This means that Abisko often has clear nights, which is a very important requirement when you are trying to see the Aurora Borealis and it is the reason why the village is dubbed as one of the best spots to see this amazing phenomenon.
There are several companies offering Northern Lights tours, but if you don't have to budget for such an experience, then you'll be happy to know that in Abisko it's not actually necessary to book it in order to see the Aurora Borealis.
You can simply walk out on the frozen Tornetrask lake and you should be able to see the lights if the weather allows it. Check out my blog post on how to see the Northern Lights on a budget for more information.
I'd highly recommend using an Aurora forecast website or app to have an idea about how intense the solar activity could get. I found the SoftServeNews website pretty accurate in its predictions.
You can also use the live cameras of Lights Over Lapland to keep tabs on whether there is any sign of the Aurora before you get out for the night. That's what we did during our 4-nights stay in Abisko.
Having said all that, an Aurora chasing tour will definitely be more comfortable than going on your own, since you will usually be offered dinner and a fire to keep you warm. Winter overalls (trust me they make a difference) and a photographer guide are also included in most tours.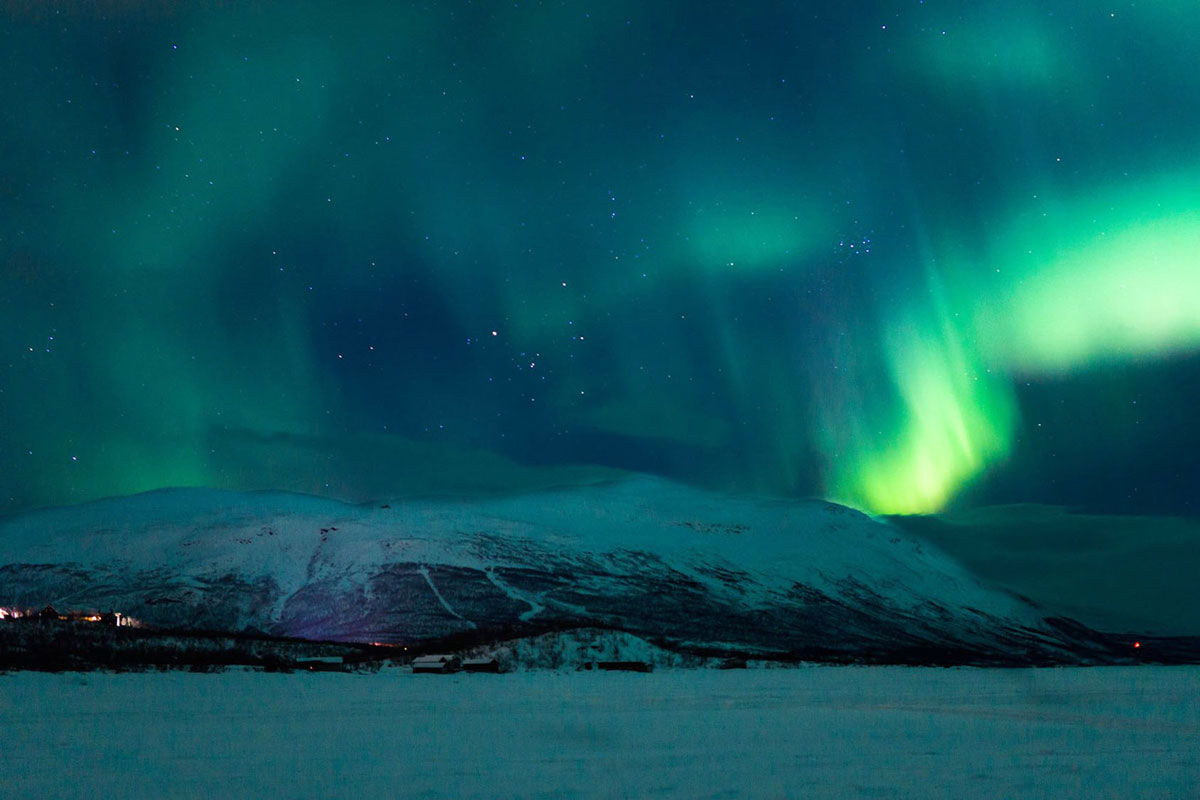 02. Book a photography tour
While photographing Aurora Borealis by yourself is a very fun experience (learn how to take pictures of the Northern Lights with my beginner-friendly guide), you can also opt for an Aurora photography tour.
If you don't already have a good camera and lens and the right accessories and you don't want to invest in some for a one-time-only use, this type of tour can actually be a great choice.
They will provide you with everything you need to take photos of the Aurora, from a camera to a tripod (you will need to bring your own memory card though).
The tour guides will also teach you how to use the camera and what settings to choose to get beautiful images of the lights.
There are day tours that you can book as well, focused on landscape and/or wildlife photography. A good example is this "Norway fjords photo tour" or this "Landscape photography adventure".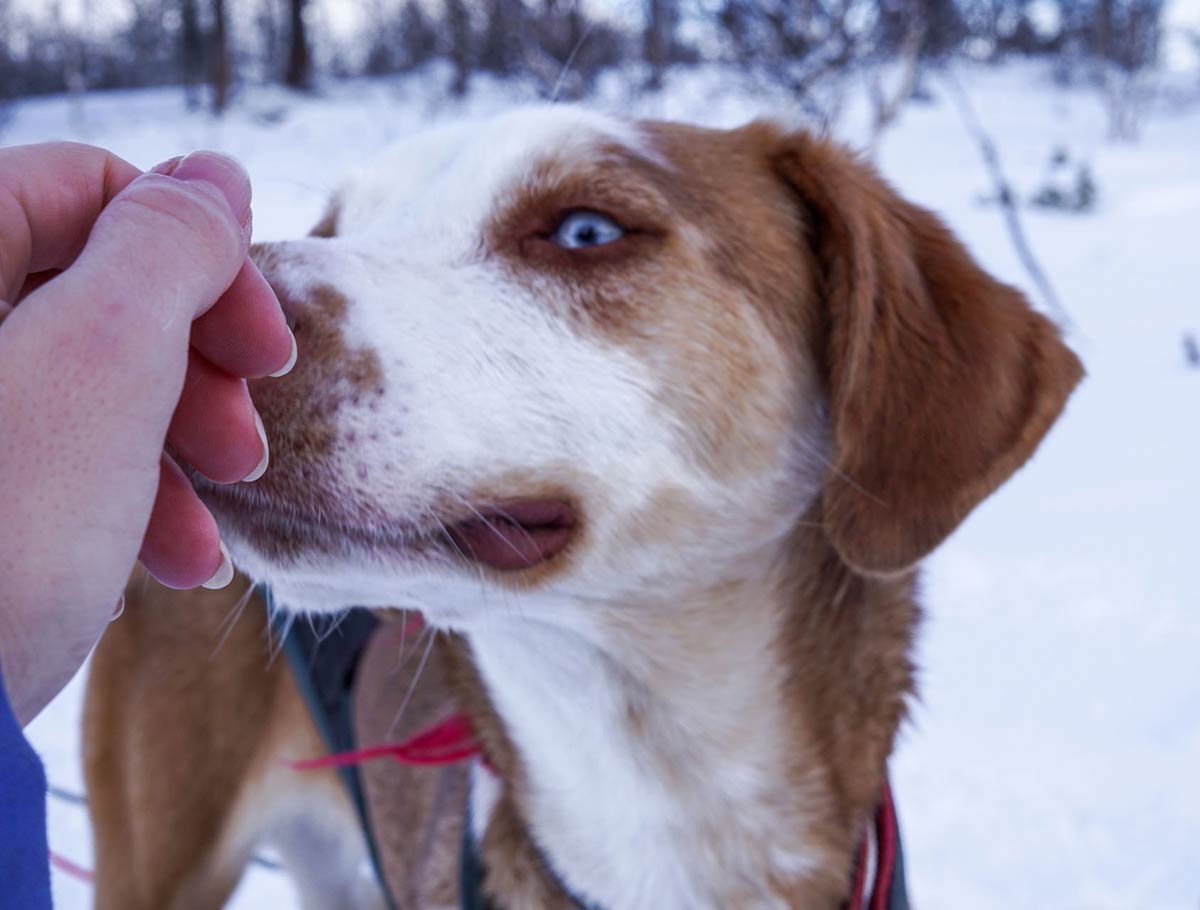 03. Take a dog sledding tour
The dog sledding ride was as wonderful and magical as seeing the Northern Lights themselves, making it one of the top things to do in Abisko.
The experience consisted of a ride to a lavvu (a tent with a similar design to a Native American tipi, used by the Sami people as a temporary dwelling) located in Abikso National Park and back.
Before we left, they provided us with optional special suits, boots, and gloves. We chose the suits and gloves.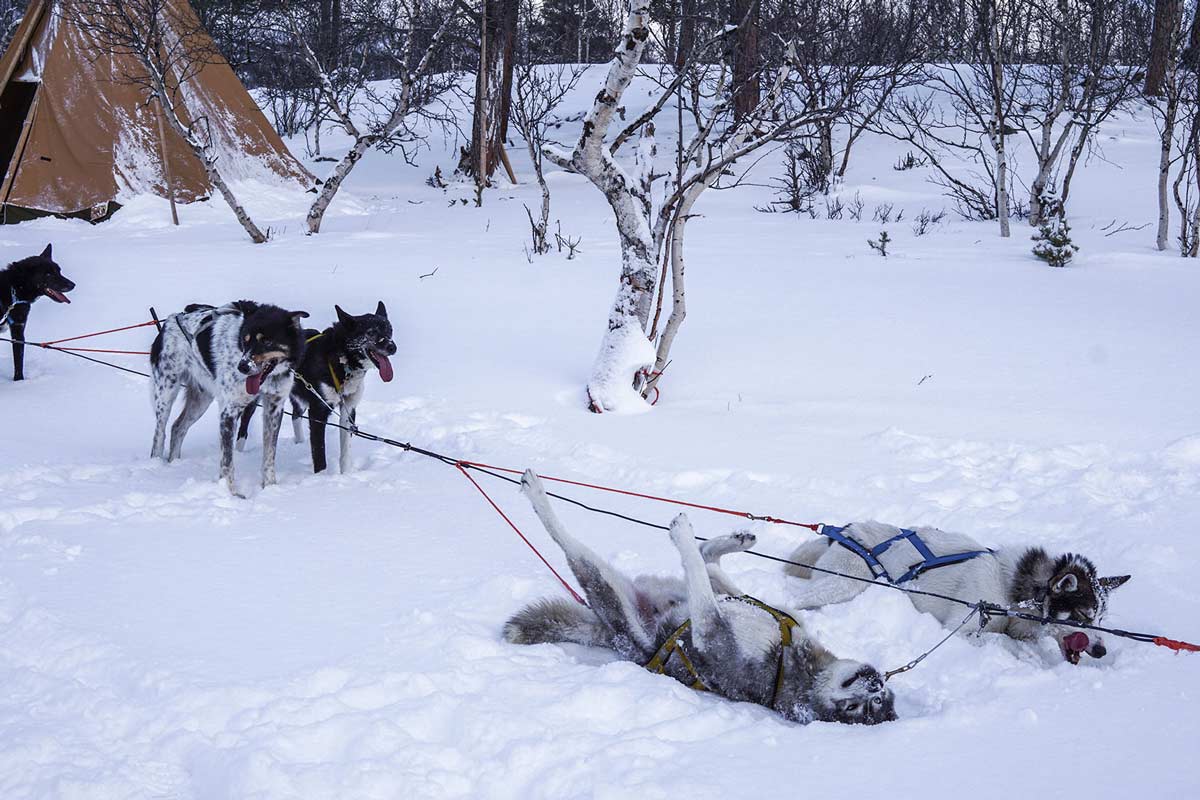 Once we arrived at the tent, we enjoyed a traditional Swedish Fika, a hot drink, and cookies. Our musher and guide were super nice and he brought our hot beverage outside since both I and my boyfriend could not step away from the dogs :)).
He told us a lot of things about them and dog sledding in general during the ride and the time we spent at the lavvu. He explained that most of the dogs were retired from racing, but they still needed the activity, so they were now doing tours.
We were told the story of the oldest dog on the team, as well as how the youngest one was training to become a lead dog (meaning one of the dogs at the front of the team, who sets the pace) and was learning from his more experienced partner.
We also met the celebrity of the group, Flora, which was a champion in racing the previous year.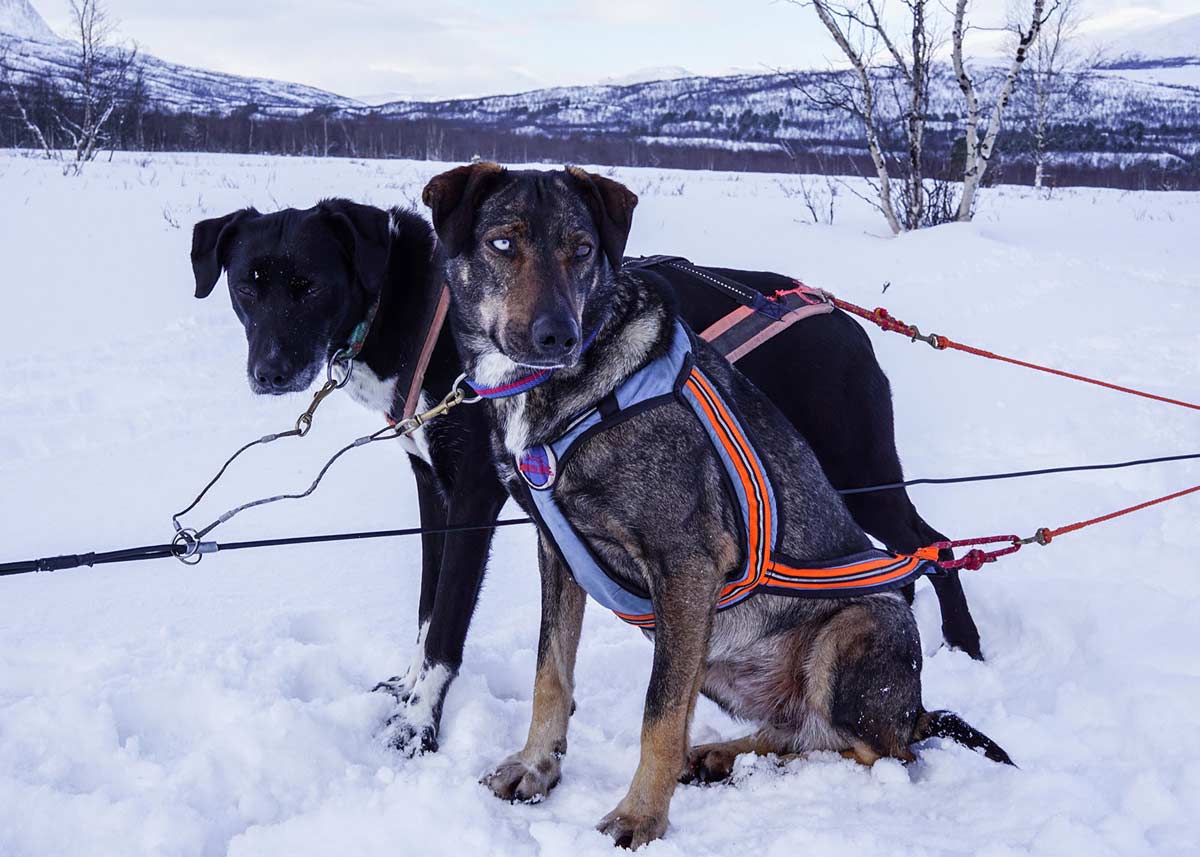 Our guide explained how the smartest dogs usually get to be leaders because their task is to focus on the commands they receive from the musher.
They always sit in front of the group directing the way, while the strongest dogs are at the back pulling most of the weight of the sleigh.
He also told us that because it was kinda 'hot' outside for the dogs at the time so they will occasionally eat snow to cool themselves off. Meanwhile, I was freezing in the many MANY layers that I had on me:)).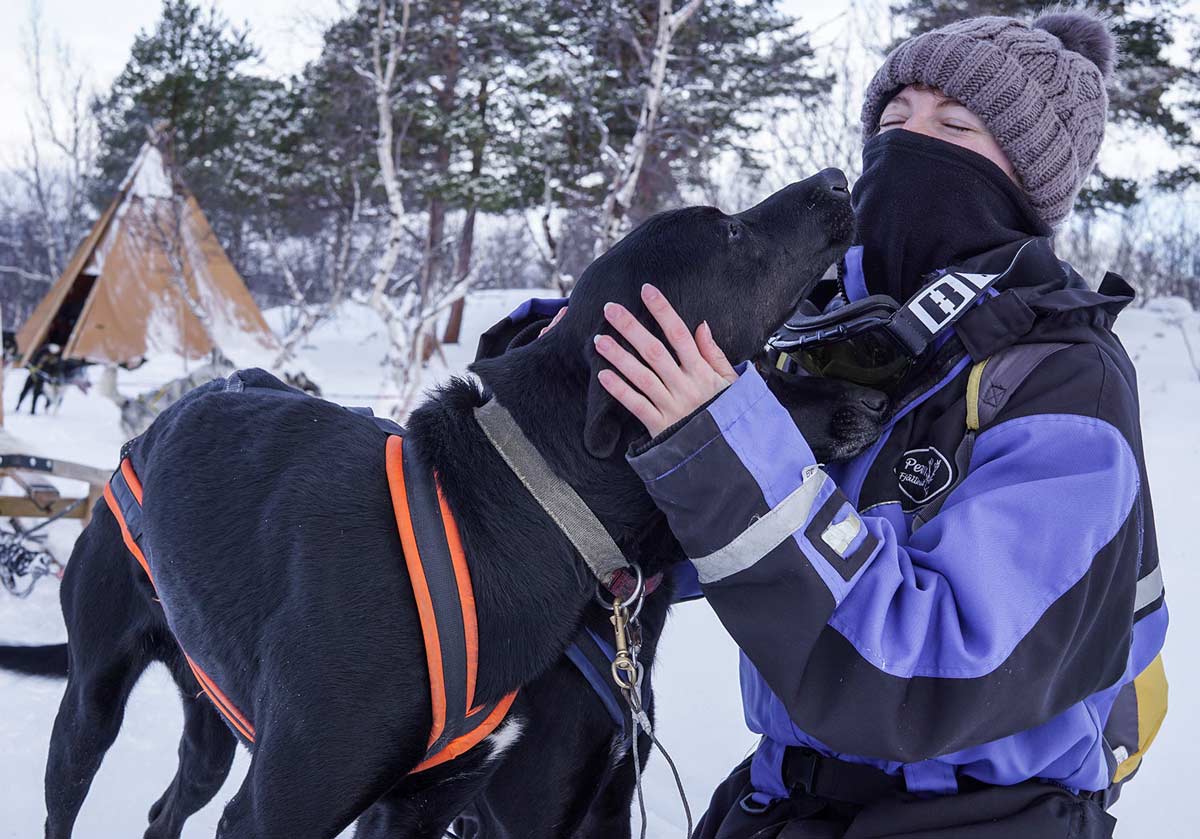 As a side note, I want to mention the fact that when animals are involved in touristic activities, I feel that we should be a bit careful with our choices and we should do our best to inform ourselves beforehand on the matter (for example by reading reviews).
We opted to book our dog sled ride with Kirunadogsled because they had very good reviews on Tripadvisor and I believe we made the right choice.
The dogs looked happy and healthy and one could easily see that the guides really cared about them. After the ride, they were fed at the kennels, so we were able to see that part as well.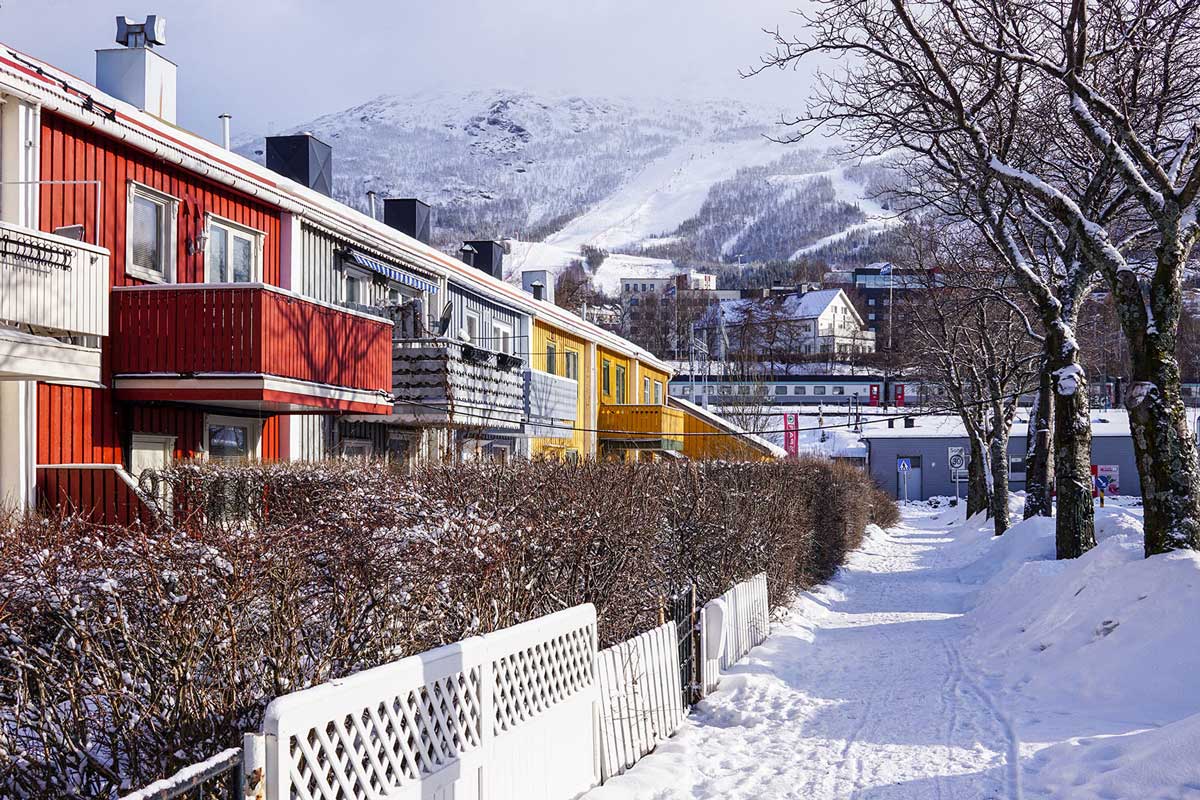 04. Visit Narvik, Norway (by train or by car)
Abisko is situated near the border with Norway, so you can take advantage of this and take the train for a short trip to Narvik, the closest Norwegian city.
The journey between the two takes about 1 hour and 40 minutes (Abisko Ostra – Narvik) and there are two trains per day in each direction; you can check here the up-to-date schedule of the trains.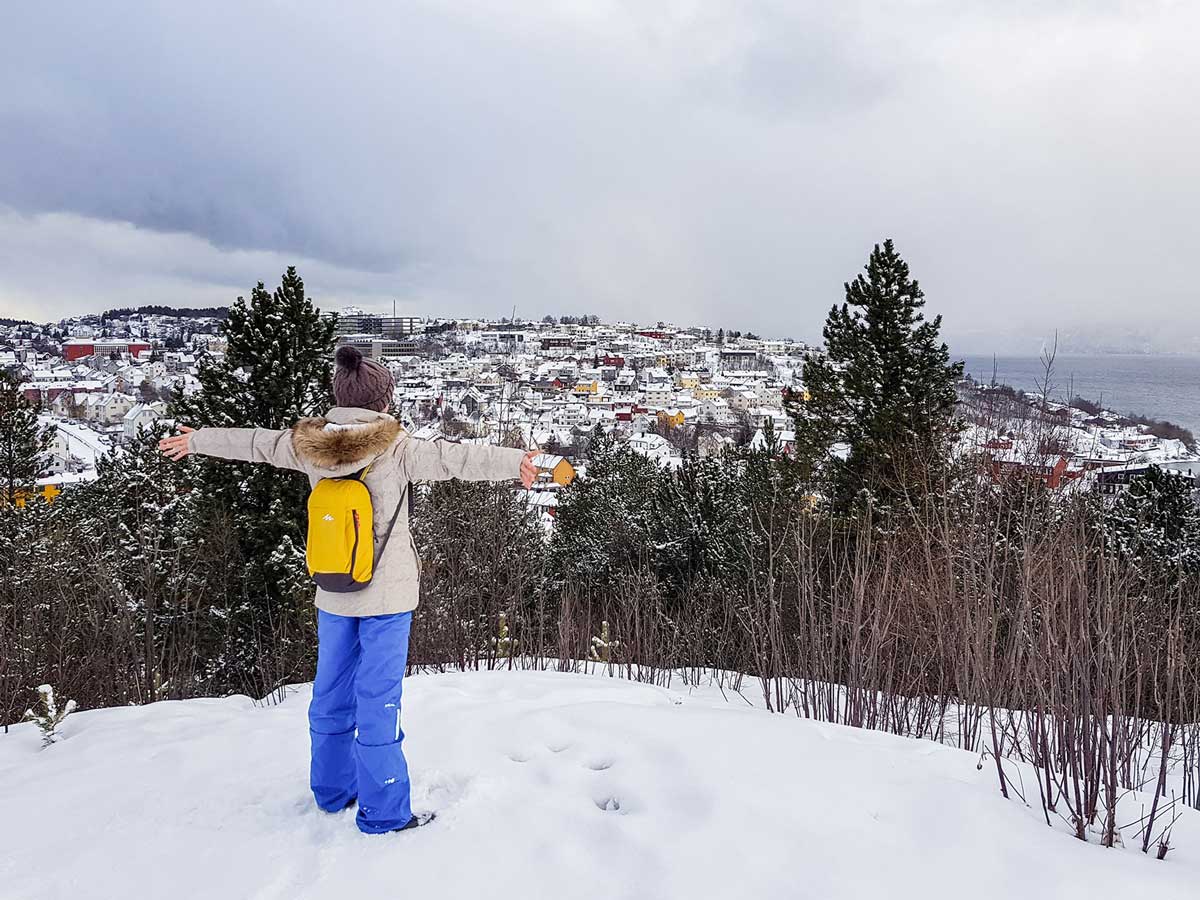 You can take the morning train (arriving in Narvik at around 12:47 PM) and return with the afternoon one (leaving for Abisko at 3:13 PM). This gives you about 2 and a half hours to explore Narvik. It's definitely not much, but it's enough to walk around the little town for a bit and to admire the beauty of its fjord.
Now if you arrived by plane and you rented a car in Kiruna, that's even better because you'll be able to explore Narvik for way longer.
Since we didn't have a driver's license in 2018 when we visited, we opted to visit by train and it was way worth it, even though I wish we could have stayed a little longer.
As soon as you pass the border, the landscape changes dramatically, and you instantly understand why is Norway so praised for its beauty.
If you opt to do this short day trip I suggest climbing the small hill near the train station for a good viewpoint from which you can admire the whole city and then go down to the fjord.
As soon as we arrived in Narvik, it slowly started snowing and everything looked magical – I'm a huge winter fan, so being in a place with so much snow was the best thing ever (apart from the cold that is:D).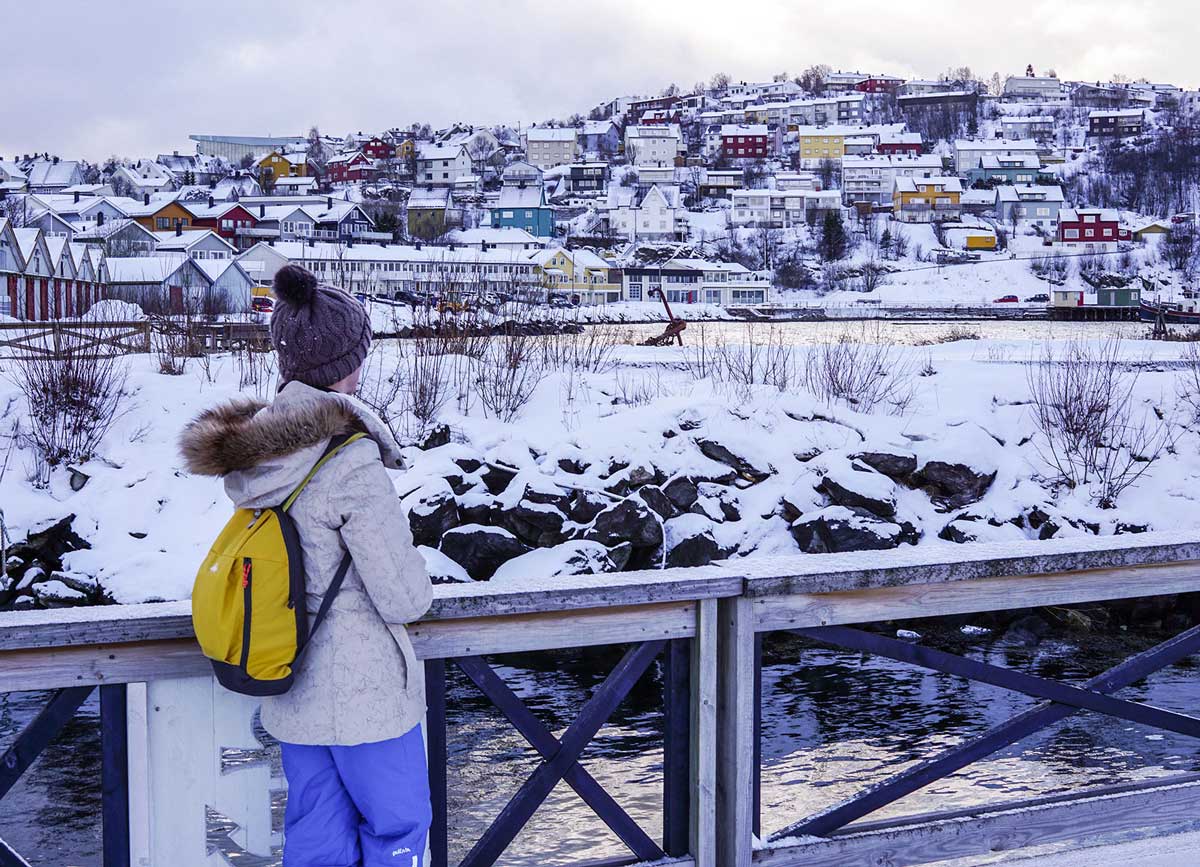 05. Visit the ice hotel in Kiruna
The Icehotel is a hotel rebuilt each year with snow and ice in the village of Jukkasjarvi, northern Sweden, about 17 km (11 miles) from Kiruna.
While you could technically visit it on a day trip by public transportation (it requires 3 different buses or 2 buses and the train), my advice is to go for it if you have a rental at your disposal or to book a tour.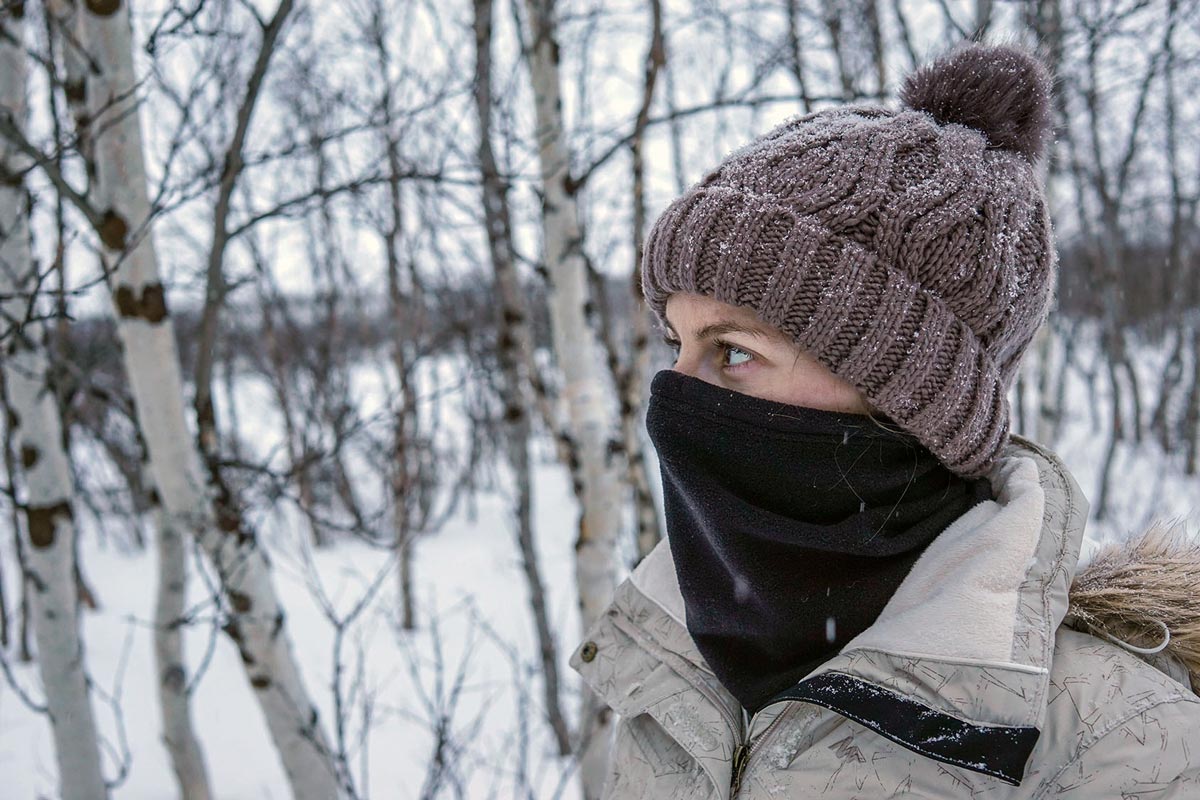 06. Take a snowshoes hike
Grab some snowshoes (most accommodations have some available for their guests) and go explore the surroundings of the village.
You can even adventure yourself in Abisko National Park, just make sure you know what you're doing and you've researched the trails and the park beforehand, as you wouldn't want to get lost in the wild.
Or you can opt for a guided snowshoe hiking tour in the park, where you'll be accompanied by a knowledgeable guide.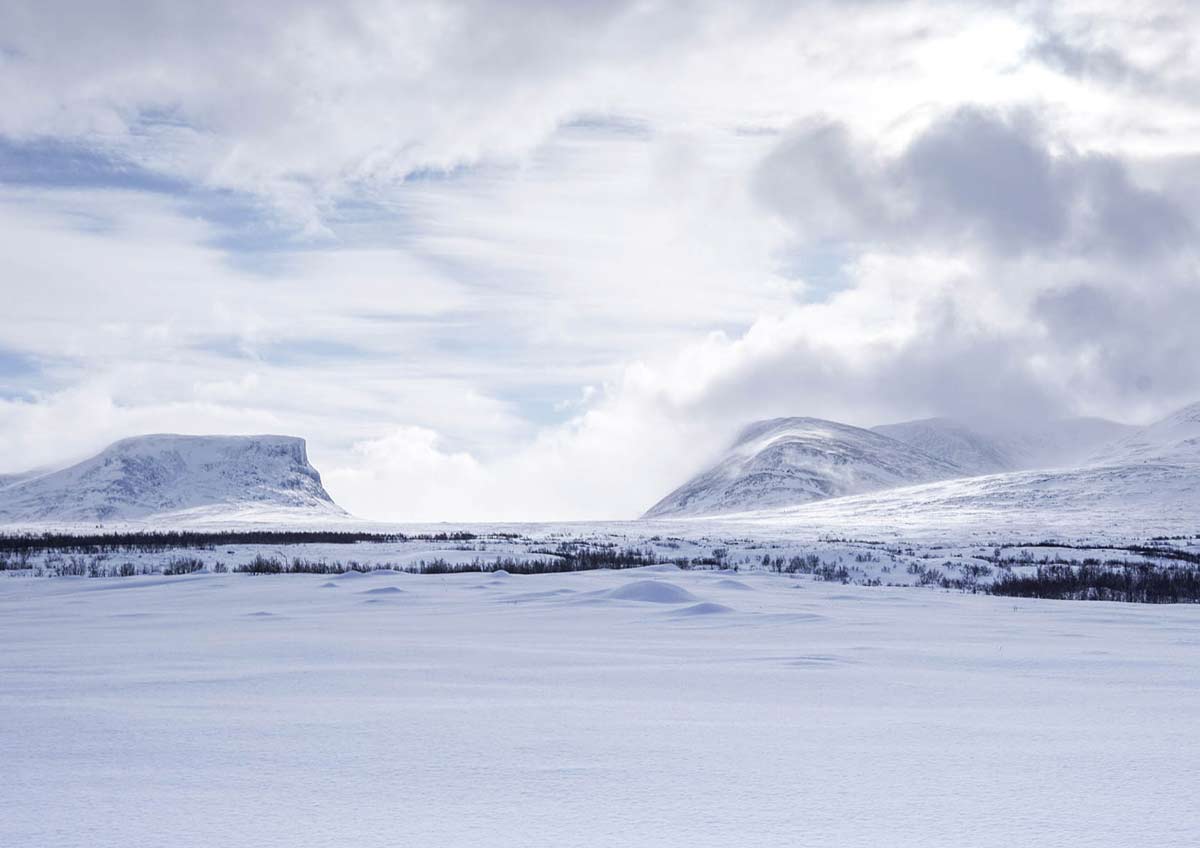 07. Drive a snowmobile or get a sleigh ride by snowmobile
You can opt for a snowmobile tour during which you'll be able to drive your own snowmobile. Most of these tours will take you to explore the amazing winter landscape of Abisko National Park and the beauty of the frozen Tornetrask lake.
You can share the snowmobile with your partner/friend or choose to ride a sleigh pulled by a snowmobile if you just want to enjoy the ride – in this case, the snowmobile is driven by a guide.
We went for the second option last minute and since were just the two of us, we had a small 2 person sleigh that had a windshield.
That was very good for us because boy it was cold and windy! Like with most tours, we also had traditional Fika included somewhere halfway, consisting of a cinnamon bun and a warm drink.
But to be honest I wish we opted for the self-drive snowmobile tour because that would have been more interactive or chosen something else entirely.
Don't get me wrong, there wasn't anything wrong with the tour, it just wasn't the right fit for us and we felt we could have used the money better.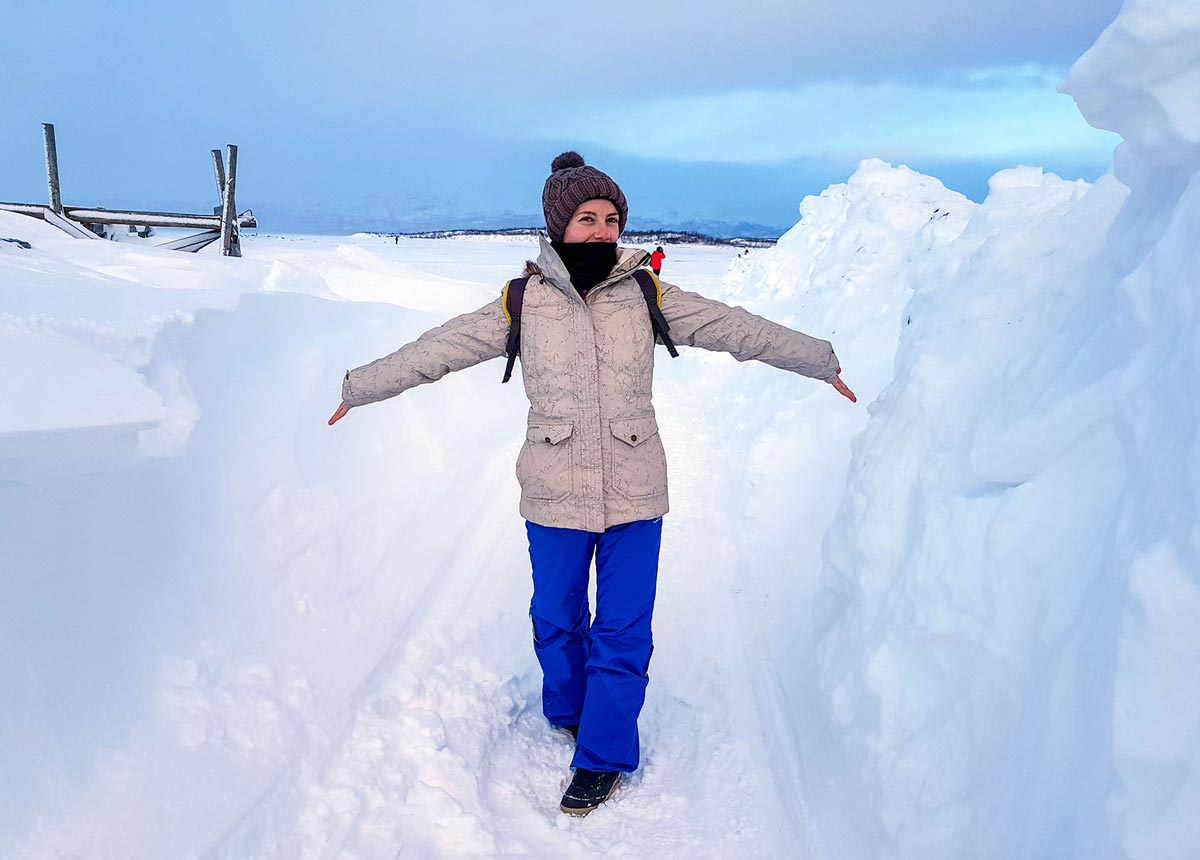 08. Go ice climbing
If you're feeling a bit adventurous, you can try your hand at ice climbing. This activity comes with a certified guide and it's a really good option for total beginners.
You'll be provided with the required ice-climbing equipment, as well as instructions every step of the way for a fun and safe outdoor experience.
---
So there you have it: 8 things to do in Abisko Sweden during the winter season. And if you can only do one activity, I'd highly suggest the dog sled ride, since you can see the Northern Lights even without booking an Aurora chasing tour.
It was an amazing experience and we loved every minute of it.
Happy travels~
---
MORE INFO ABOUT SWEDEN