How to visit Oia, Santorini if you're on a budget
Oia is Santorini's most beautiful and charming village, but it's also the most expensive spot on the entire island. And while it's true that many hotels are mostly catering to luxury travelers and honeymooners, you really don't need to break the bank to visit it.
In this blog post, I'll tell you the best things to do in Oia, if you are on a budget.
Plan your visit to Oia, Santorini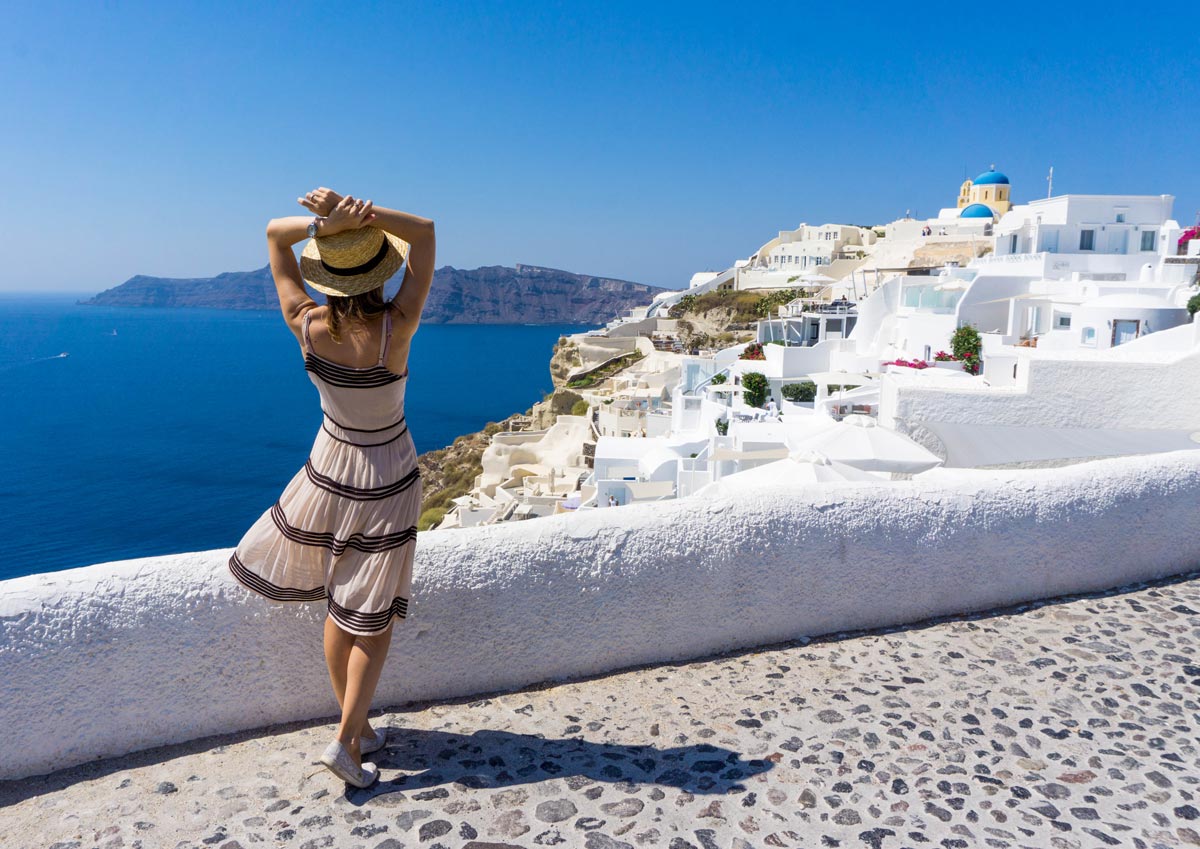 Disclosure: Some of the links in this post are affiliate links. If you click on them and make a purchase, I receive a commission at no extra cost to you. Check my full disclaimer here.
What is the village of Oia known for?
Chances are most of the Santorini (Thera) photographs you've seen before were taken in Oia. The small village is the most popular attraction on the island, being visited yearly by thousands of tourists. And you know how some places are a bit overrated?! Well, this ain't one of them!
Perch on high cliffs, Oia (pronounced "eea") has amazing views of the Caldera, which is the mostly submerged depression that was formed during the catastrophic Minoan volcanic eruption and it's the best place on the island to see the sunset (often dubbed as the most beautiful in the world). The village is also famous for its blue dome churches and architecture.
The typical Cycladic houses are whitewashed cave-like buildings. In Oia, most of them are luxury hotels, often having romantic pools overlooking the caldera or with sunset views, and are pretty expensive. However, you can also find some budget-friendly hotels in Santorini that even have private pools.
Honestly, staying at a hotel that has at least a caldera view is part of the whole Santorini experience. So if you can splurge a little for it, I guarantee you won't regret it!
During my short stay in Santorini, I stayed at Stelios Rooms, which is probably the most affordable option for a Caldera view room in Oia. The rooms are pretty simple decorated, but clean and comfortable, the owner is nice, and the location is great: on the main street.
But the selling point of the accommodation is by far the balcony with its fantastic view of the Caldera. By the way, make sure you book a Caldera view room, not a Sea view room since the latter has the view on the opposite side.
Best time to visit Oia
Oia is a destination that can be visited from spring until autumn. Usually, the shoulder season (April, May, and October) is a very good idea for a trip there, since the weather will be pleasant enough for sightseeing, yet the village will not be as busy as during summer. Prices for hotels will also be lower.
However, do expect some crowds nevertheless, especially in late May or early October since Santorini is a very popular island at the end of the day.
If you also want to swim and enjoy some time at the beach, then the best time to visit is early September.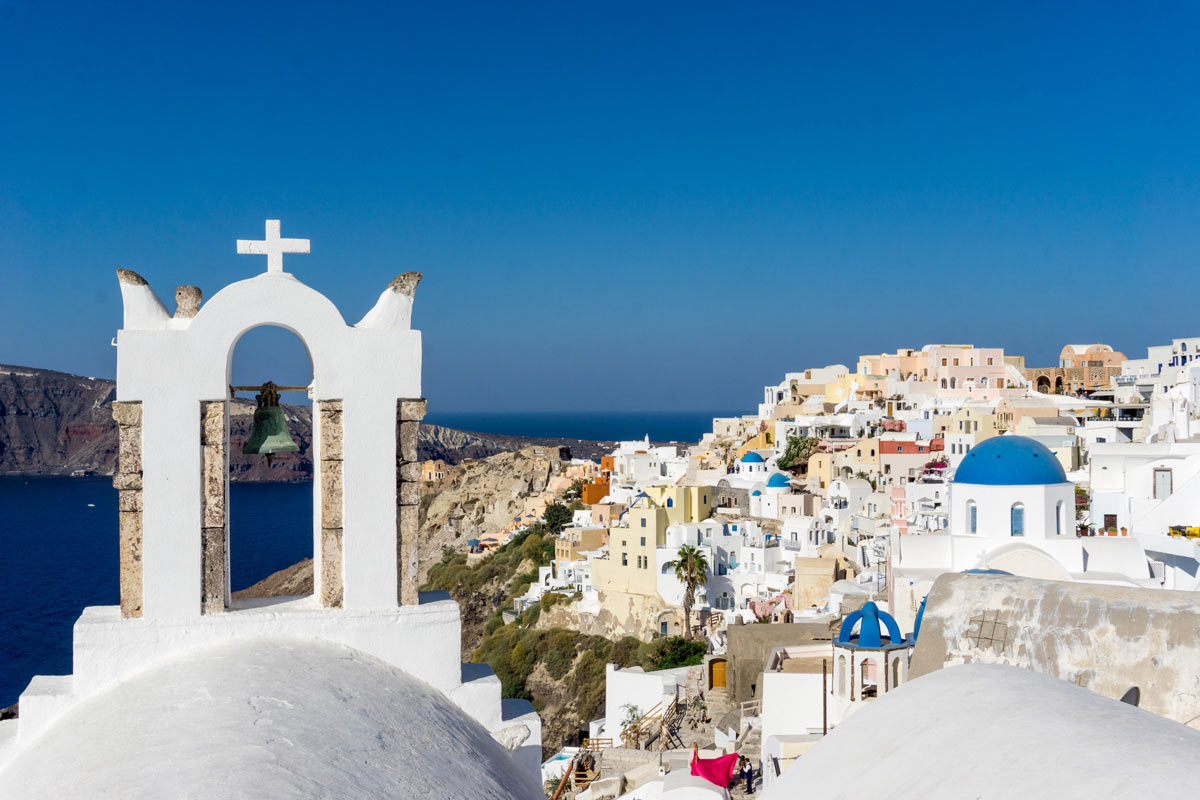 How to get to Oia?
To visit Oia, you first need to get to Santorini island and for this, you have two options:
Flying: Santorini is well connected with Athens by air (travel time is around 45-50 min) and during the summer many airlines also offer direct flights to the island from various parts of Europe.
Ferry: There are both fast ferries (Seajet), as well as standard ferries (Blue Ferries, Aegeon Pelagos, Zante Ferries) connecting Pireus port in Athens to Santorini.
Now while the fast ferries can bring you to the island in about 4h 45min, I wouldn't quite recommend them since the journeys usually tend to be bumpier. The boats are also closed-off and you'll generally not be able to see much during the ride.
Instead, I'd recommend the bigger, slower ferries that also have open decks from where you can admire the island as you approach it. For this, I'd recommend Blue Ferries: their boats leave Pireus early in the morning and take about 7h 45min to arrive in Santorini.
Since the journey is scheduled during the daytime, you will be able to enjoy views of the sea during the whole trip. It's also cheaper than riding a fast ferry.
So.. plane or ferry?
If you plan for a short stay in Santorini, I'd suggest you fly in order to maximize the time you'll spend on the island. But if you intend to spend a longer vacation there, then I'd recommend getting the ferry (given you don't have seasick).
Traveling to the islands by ferry is in my opinion part of the Greek vacation experience.
Apart from Santorini and Ios, I also used the ferry during our one week holiday to Crete, as well as to get from Italy to Corfu and I loved each ride, even though the disembarking in Corfu with Ventouris Ferries was not handled well at all: they basically ushered quite a few of us downstairs way before the ferry actually arrived. It was hot, hard to breathe and we were squeezed between cars. A girl even started to feel sick.
I never had that happen before with either Blue Ferries or Anek Lines, but as a word of precaution, don't descend too early even if they do allow you (we actually didn't know it was too early), especially if the ferry doesn't have a separate exit for passengers.
You can check the schedule of the ferries here.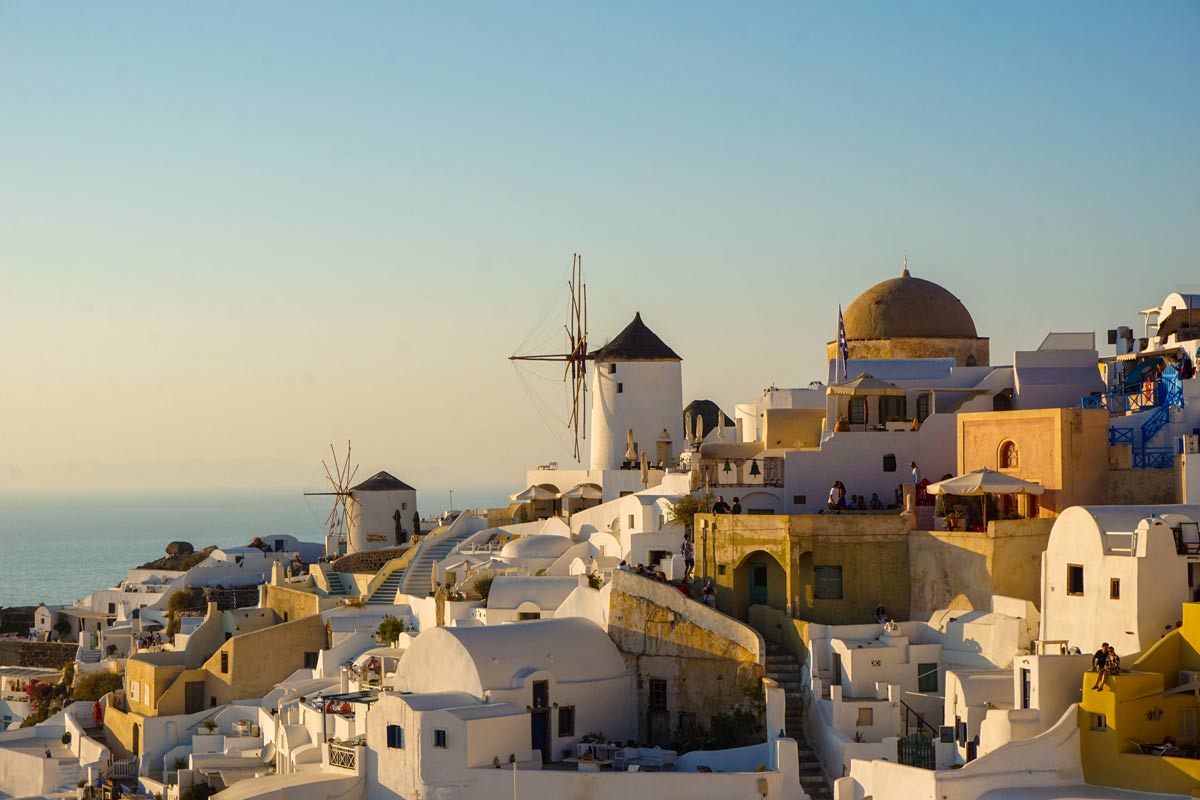 How to get to Oia from the airport/ferry port?
If you don't plan to rent a car, then the alternatives are riding the local buses (cheapest option), booking a transfer, or taking a taxi (more expensive).
If you opt for public transportation to reach Oia, you will have to change buses in Fira, the capital city of Santorini, since all bus routes start and end there.
Best 10 Things to Do in Oia on a Budget
01. Walk around the village
Cost: Free
One of the best things to do in Oia is to stroll around the village and discover every little, beautiful corner. This was by far my favorite thing to do there.
However, be careful not to enter on private property during your walk: because of the way that houses are built in Oia it is possible to end up on a private terrace, a rooftop, or a courtyard without realizing it. Usually, these areas should be gated, but it's not always the case.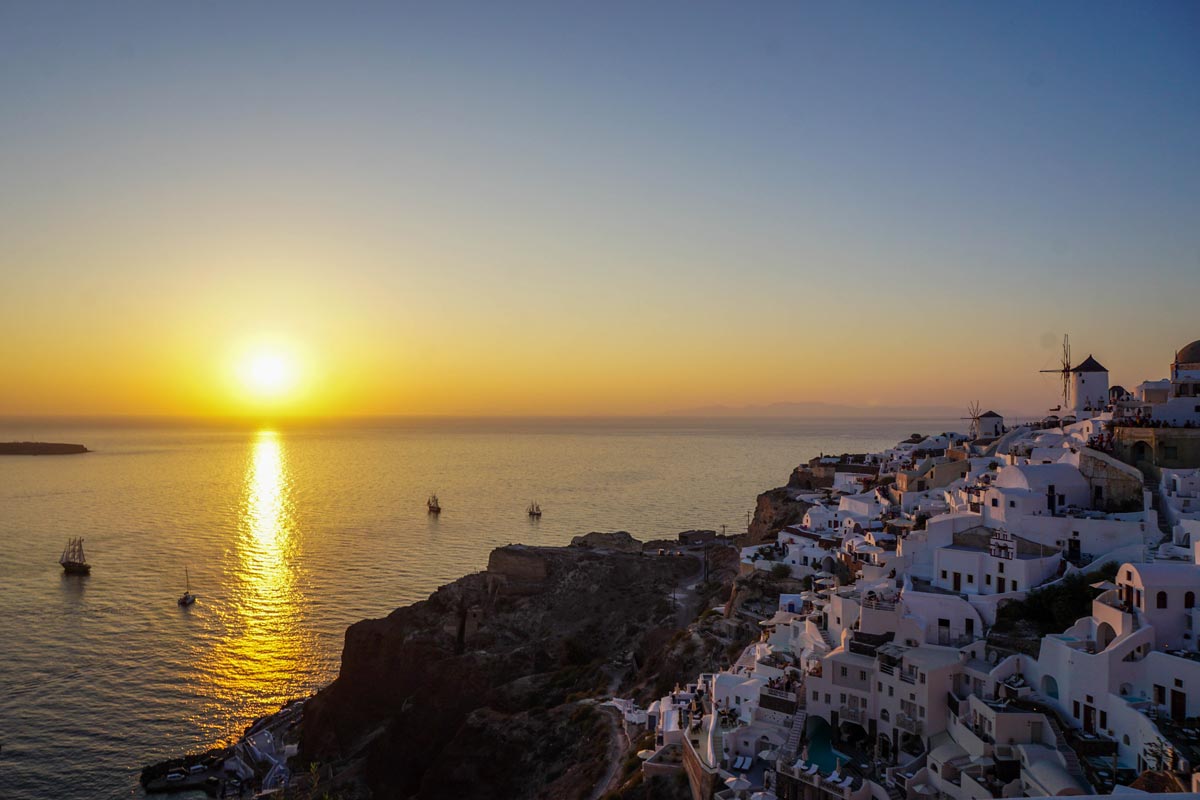 02. Go watch the sunset ..or sunrise!
Cost: Free
There's something magical indeed when the sun sets over the village and the buildings get a golden aura. But if you think that you're gonna enjoy this amazing view alone, think again! We visit Oia at the beginning of September and it got so crowded as the sunset approached that we barely found a place to stop from where we could both see the view and not bother other people.
So if this sounds like something you might not enjoy, then you could always go watch the sunrise instead. It will not be the same postcard-perfect view, but honestly.. any view is amazing in Santorini.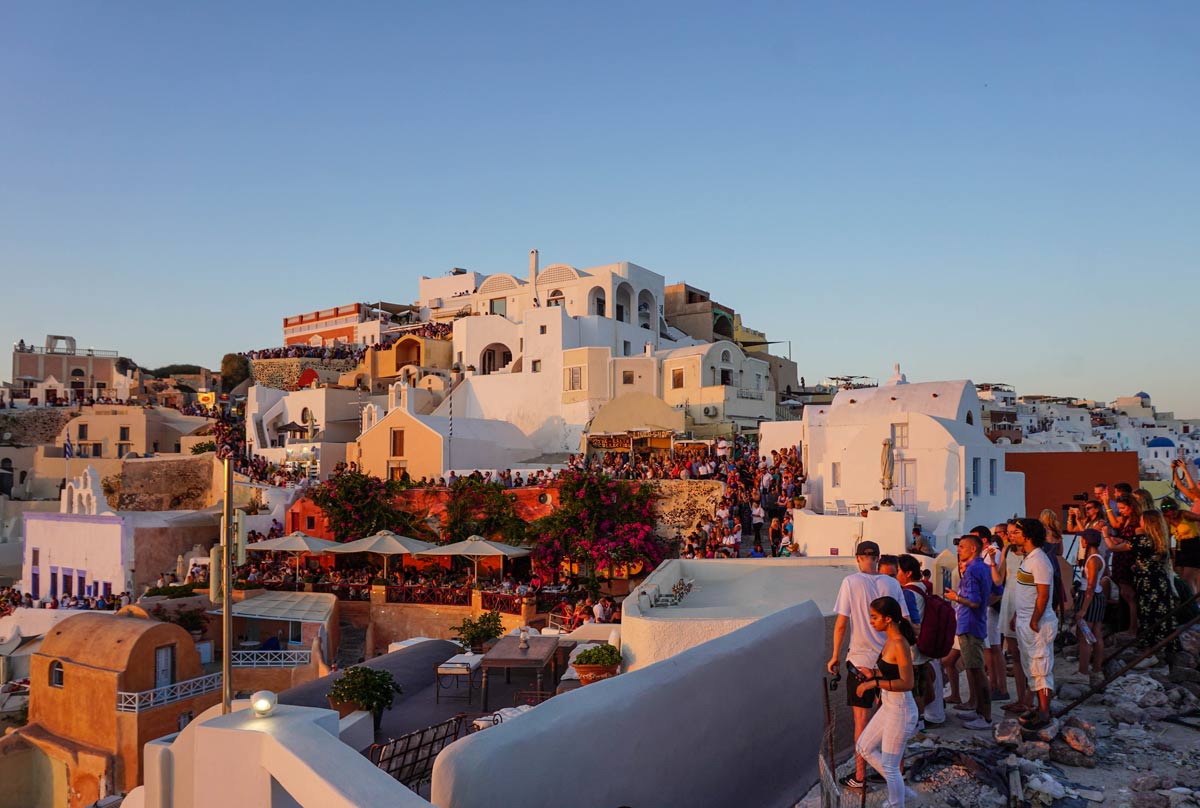 03. Hike to Fira
Cost: Free
Oia is connected to Fira by a 10km (approx. 6,2 miles) long trail that offers breathtaking views of the Caldera. While the panorama is totally worth the effort, make sure you start your trek early in the morning if you visit during the summer months, so as to beat the heat.
The trail takes around 4h to complete, depending on your pace and how many stops you make along the way and it's a combination of dirt paths with paved, pedestrian alleys.
04. Take pictures of the famous sights in Oia
Cost: Free
To be fair, every little corner in Oia is extremely photogenic, however, the three most famous photo spots in the village are:
The three blue domes: the iconic postcard view of the village
The ruins of the Byzantine castle: the fortress is known as Agios Nikolaos or castle of Oia and it's also a very good spot from where you can watch the famous sunset
Oia windmills
One thing about taking photos in Santorini: you shouldn't climb on top of churches or private homes (unless you've been given permission of course). Yes, people do it, but it's actually not allowed and you'll even see signs about this scattered around the village.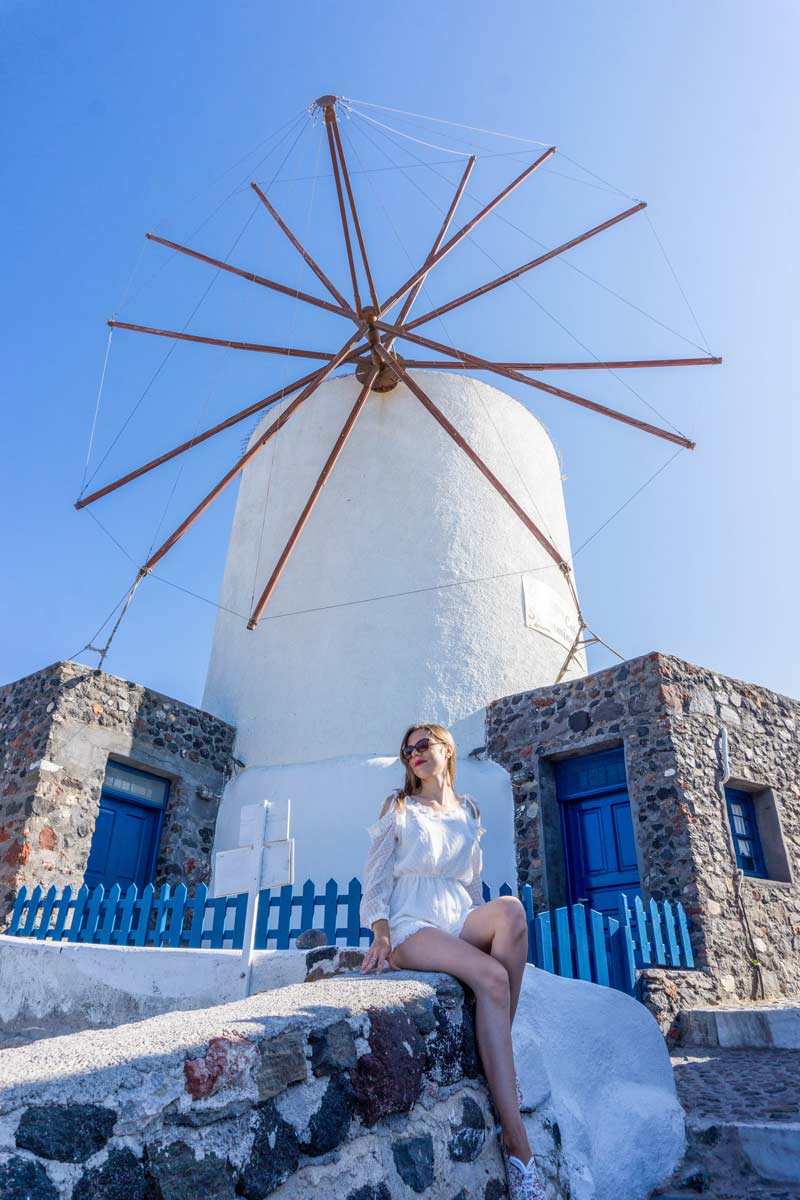 05. Cliff jump near Amoudi Bay
Cost: Free
The Amoudi Bay and Port is located on the northwestern tip of the island and can be reached by descending a long flight of stairs. It is a popular spot for swimming in Oia: just south of the port you can find a path that goes to Amoudi Beach.
However, this is not your typical beach, but rather a rough, vulcanic bit of coast, so make sure you bring water shoes with you.
Now, even if you don't plan to swim, you should still visit the old port, because aside from the fact that it's really picturesque, it's also a great spot where you can eat fresh seafood and fish.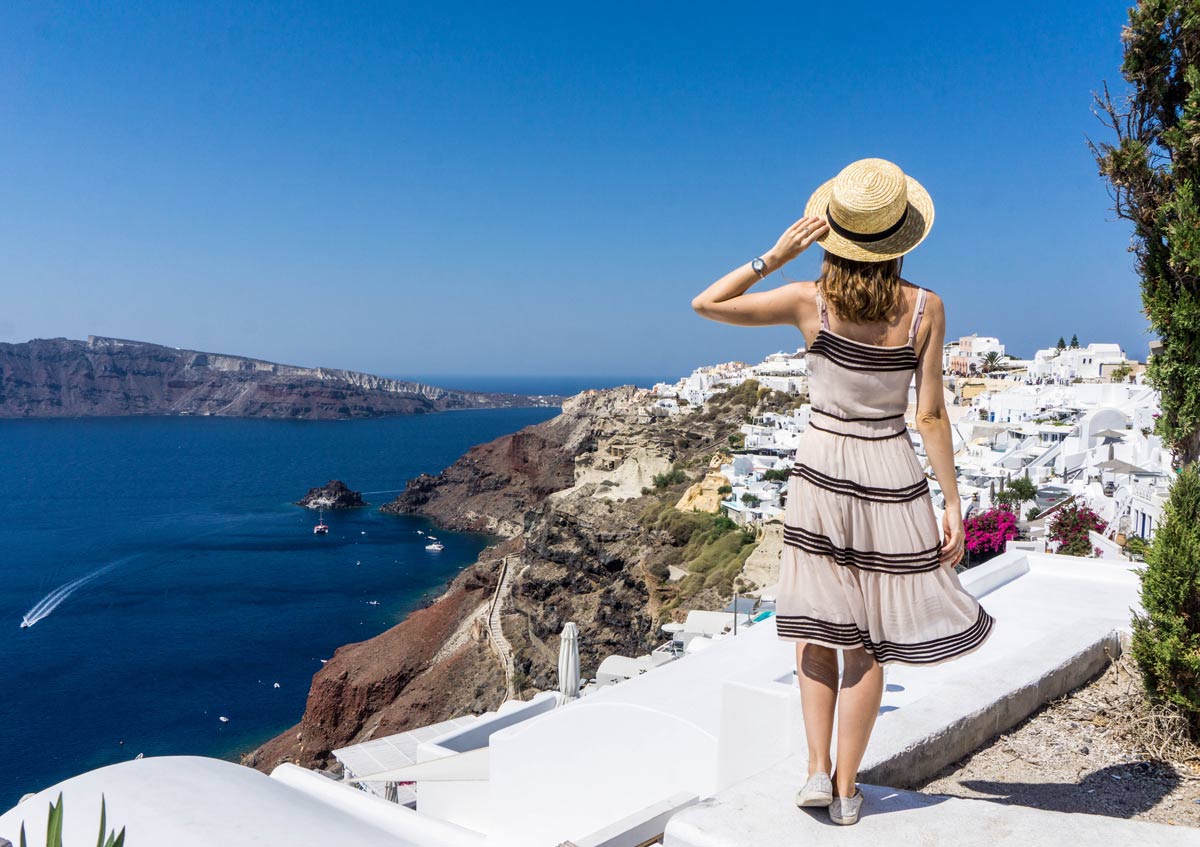 06. Take a boat trip to nearby Thirassia
Cost: 1-2 euros for the public boat or 26 euros for a boat tour
The quickest way to get to Thirassia island is by taking the small passenger boat from Amoudi port. The journey to Riva port averages around 10 minutes and it's really cheap. The boat usually runs several times a day starting in the morning, but make sure you check the return schedule before you leave.
You can also get to Thirassia by booking a boat tour like this one: Volcanic Islands Cruise with Hot Springs Visit. But be aware that the boat leaves from Athinios Port which is close to Fira.
So if you are worried that you're not gonna be on time by taking the bus, then you might want to book the 45 euro option of the trip that also includes hotel pickup and dropoff.
07. Book a sunset cruise
Cost: Starting at 132 USD
A great alternative to watching the sunset from the often overcrowded spots in Oia is to book a catamaran sunset cruise. The boat tour takes around 5 hours and includes a meal option, as well as transfers to and from the port.
Yes, you'll need to splurge a little bit more for this activity, but the views are so worth it.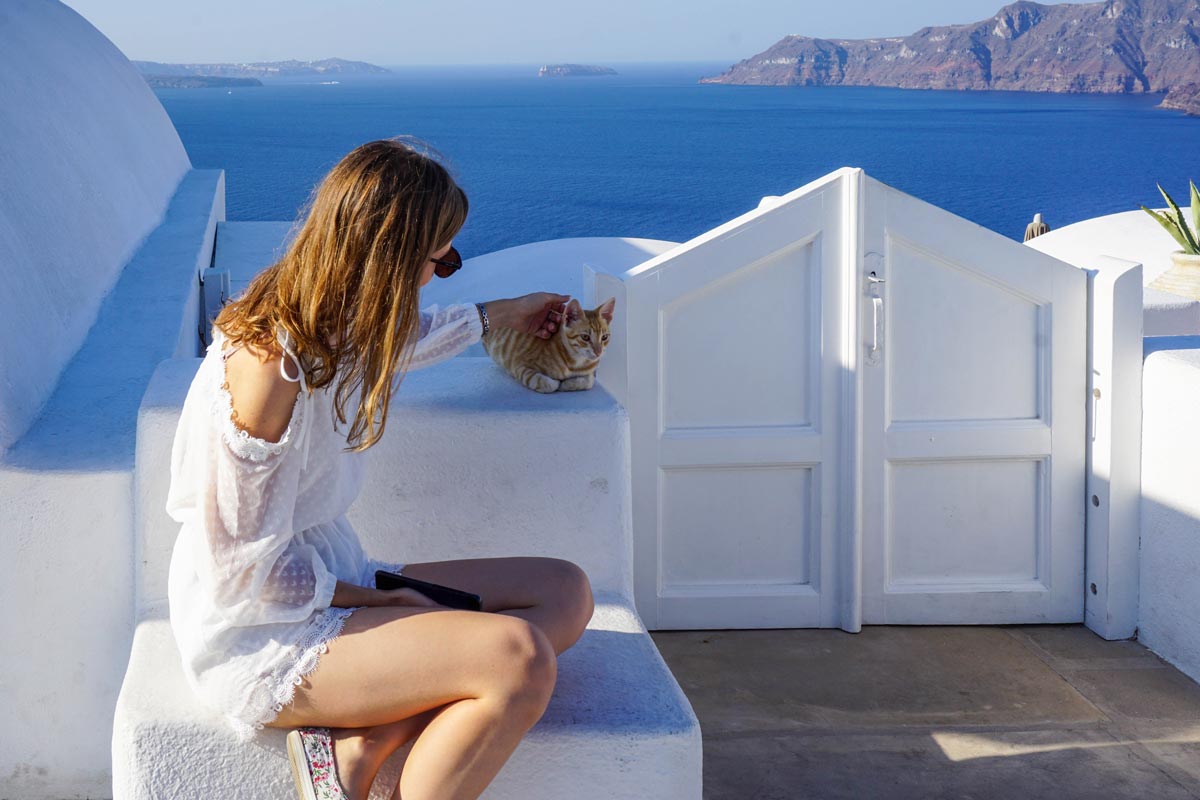 08. Relax by the pool
Cost: Starting at 10 euros
Relaxing by a pool while enjoying the beautiful Caldera views is one of the best things to do in Oia. But most of the hotels, while having lovely infinity pools, are also extremely expensive here.
However, you can still do all this even if you're on a budget: just head to Lioyerma Lounge Cafe Pool Bar. If you spend a minimum of 10 euros you'll get access to their pool with free loungers and umbrellas. You can also watch the sunset from there as the location is perched directly above Amoudi Bay and has beautiful views of the Aegean sea.
Their cocktails and snacks may not be the cheapest, but if you take into consideration the view and the fact that you get free pool access, you'll realize that the prices are actually reasonable.
09. Take in the views of Oia at night
Cost: Free
Oia is truly stunning during the daytime, but it also looks magical at night. If you stay here, you shouldn't miss the chance of taking a late walk around the village: you'll see a face of Oia that people visiting on a day trip don't.
Tip: Head to the castle of Agios Nikolaos for a good viewpoint of the whole coastline.
10. Sample the greek food
Cost: Starting at around 15 euros
Oia has its fair share of both mid-range and fancy restaurants, but that doesn't mean you won't also find reasonably priced greek tavernas there. I mean, you can't go to Greece and not have some gyros, saganaki, or souvlaki.
---
Santorini is one of the most beautiful Greek islands and Oia is definitely its crown jewel. And while the whitewashed village is known as a very expensive destination, that doesn't mean that it can't also be visited on a budget.
Hope this list of the 10 top things to do in Oia, gave you a few ideas in this regard.
Happy travels~
---
MORE INFO ABOUT GREECE