Are you in the planning phase of a new trip with your partner and you're wondering what are the best things to do in Croatia for couples? I've got you covered!
If you're looking for a breathtaking vacation destination, look no further than Croatia. This beautiful country is home to some of the most stunning scenery in Europe, including crystal-clear lakes, rolling hills, and a dramatic coastline.
There are also plenty of historical and cultural attractions to explore, making Croatia a perfect destination for any traveler, but even more so for couples, as they involve quite a bit of exploring (which is not always easy with a kid) and they're also really romantic.
So here are 10 of the best places to visit in Croatia! Some of them I already checked off myself together with my fiance, while some are still on my Croatia bucket list.
Disclosure: Some of the links in this post are affiliate links. If you click on them and make a purchase, I may receive a commission at no extra cost to you. Check my full disclaimer here.
Best things to do in Croatia for couples
1. Visit Dubrovnik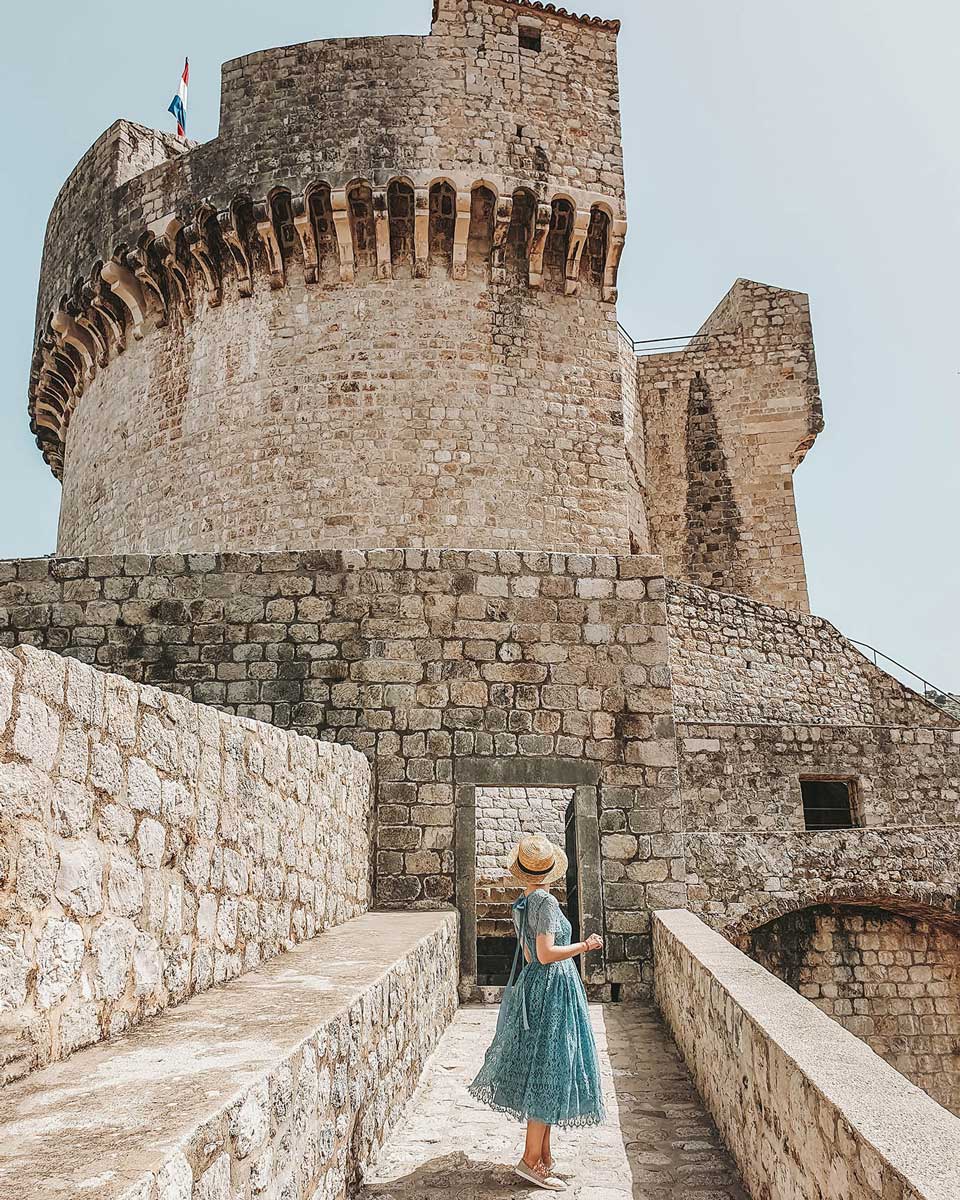 Dubrovnik is a city with tons of history and culture, and while it may be best known for its appearance in Game of Thrones, there are plenty of other things to see and do there.
However, since it's become so popular in recent years, the city can get quite crowded so it's easier to visit in two. Also, my suggestion is to go during the shoulder seasons, June and September. The weather is still pleasant enough, yet it isn't too busy.
The historic old town of Dubrovnik is one of the world's best-preserved medieval cities, and it's absolutely gorgeous, not to mention romantic. As a result, visiting it was at the top of my list of things to do in Croatia (spoiler alert: I'm a huge admirer of ancient architecture).
Here are some tips on things not to miss in Dubrovnik:
Walk on the defensive walls: The views from the walls are incredible and include both the old town and the sea. If you visit during the summer months, make sure to start your visit early as there's almost no shade up there and it can get unbearing hot.
Get lost on its tiny alleys: I could definitely spend hours wandering around the tiny alleys of Dubrovnik's Old Town. There's something about the city's medieval charm that just sucks you in and doesn't let you go.
Climb to the top of Fort Lovrijenac: If you're looking for some great views of Dubrovnik, head up to Fort Lawrence. It's not a difficult climb and it's definitely worth it. The fort is also included in the same ticket price as the defensive walls.
Take a boat ride: One of the best ways to see Dubrovnik is from the sea. There are many companies that offer boat trips around the city or out on its surrounding islands. You can buy tickets from the Old Port.
Relax at the beach: There are several beaches near Dubrovnik, but the one with the best view is hands down Banje Beach.
Visit nearby Lokrum Island: If you're looking for a beautiful and peaceful place to relax, Lokrum Island is the perfect destination. Located just a short boat ride away from Dubrovnik, this small island is home to stunning gardens.
Watch the sunset from Mount Srd: On Mount Srd, there is a viewing point known as Dubrava Observation Point: you can ride the Dubrovnik cable car up there to get stunning views of the ancient town below. Go at sunset for the most memorable experience.
Chase Game of Thrones filming locations: Game of Thrones fans will certainly find it fun to discover a few of the show's filming locations in Dubrovnik. The most famous is probably the Jesuit Staircase. I didn't even watch the show, and I still know it has something to do with "Shame!".
Have a drink at Buza Bar: What better way to end a day full of exploring than with a cocktail? Head to Buza Bar, an unique bar perched on the cliffs outside of the Dubrovnik Walls.
Also, if you want to get a taste of Croatia's neighboring countries, Dubrovnik is a perfect spot from where you can take day trips to both Kotor, Montenegro (~1h away by car) and Mostar, Bosnia and Herzegovina (~2.5h away by car).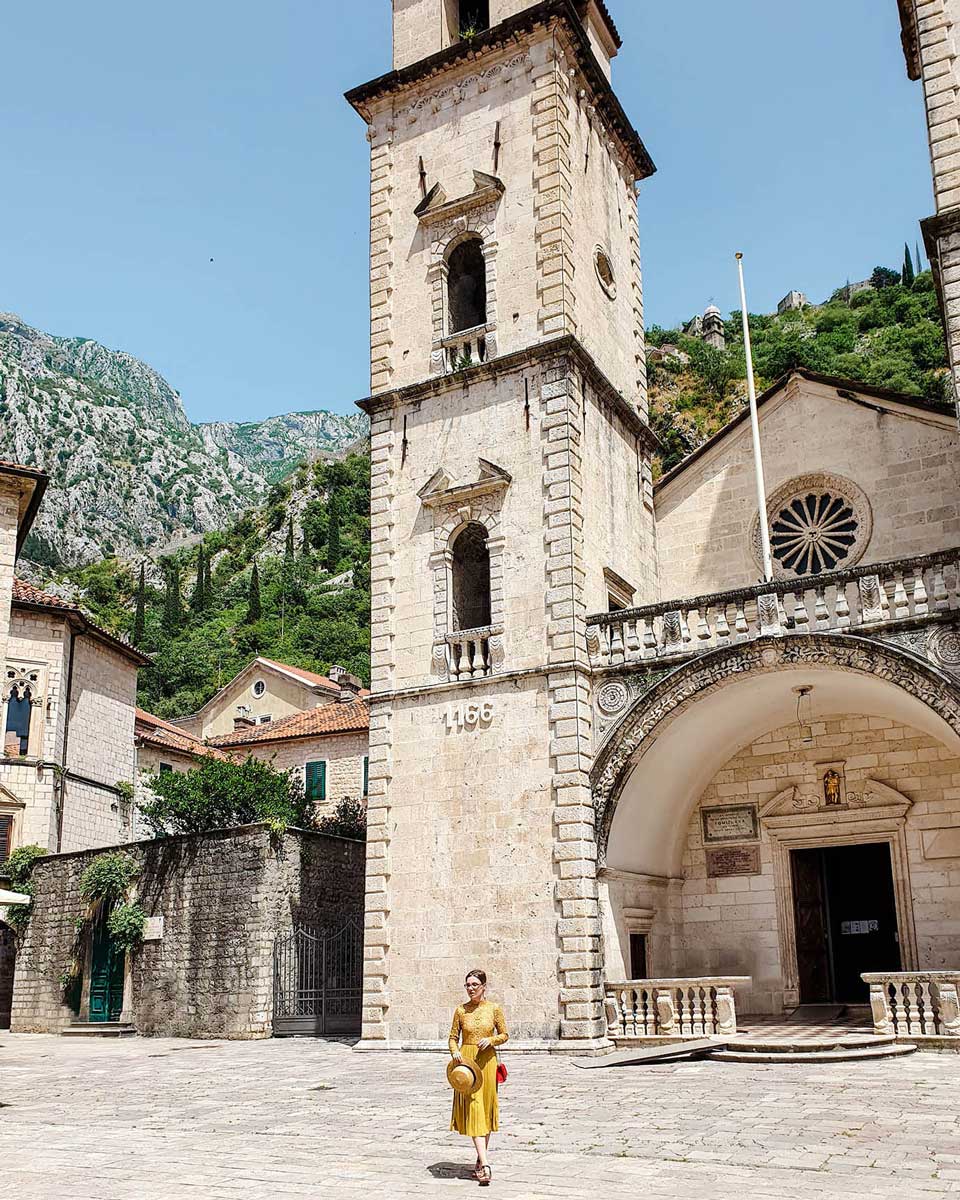 2. Go island hopping
Croatia is a country with a coastline that stretches over 1700 kilometers, so it's no surprise that island hopping is one of the most popular choice among honeymooners and couples in general.
There are countless islands to choose from, but here are some of the most known:
Brač has some of the best beaches in Croatia and is a great place to go if you want to enjoy some swimming and sunbathing. On Brac you'll also find the famous Zlatni Rat beach (Golden Horn).
Hvar is one of the most popular islands in Croatia and for good reason. It's home to beautiful beaches, crystal-clear waters, and charming villages.
Korčula is a great place to visit if you want to get away from the crowds because, despite the fact that it's well-known, it's still not as busy as other Croatian islands. It has a more rural feel to it and is known for its wine production.
Mljet island is the greenest island in Croatia and it's home to two beautiful salt lakes. It's a great place for nature lovers.
Krk is home to stunning beaches, crystal-clear waters, and charming villages. It's also a great place to go if you want to enjoy some swimming and sunbathing.
Vis was once used as an island restricted to military use only, but it has since opened its doors to tourism. It's best known for its beautiful beaches, but also has plenty of opportunities for outdoor activities such as hiking and scuba diving.
3. Discover Trogir's Old Town
Trogir is situated just north of Split, making it extremely easily accessible by either car or boat.
This quaint small town on the Dalmatian coast is best known for its picturesque setting and medieval architecture.
The best way to explore Trogir is by wandering through the narrow streets, where you'll find plenty of restaurants and shops to keep you busy all day long!
And if history isn't your thing, there are also some great beaches nearby where you can relax on a sunny day and work on your tan together with your loved one.
4. Wander through Plitvice Lakes National Park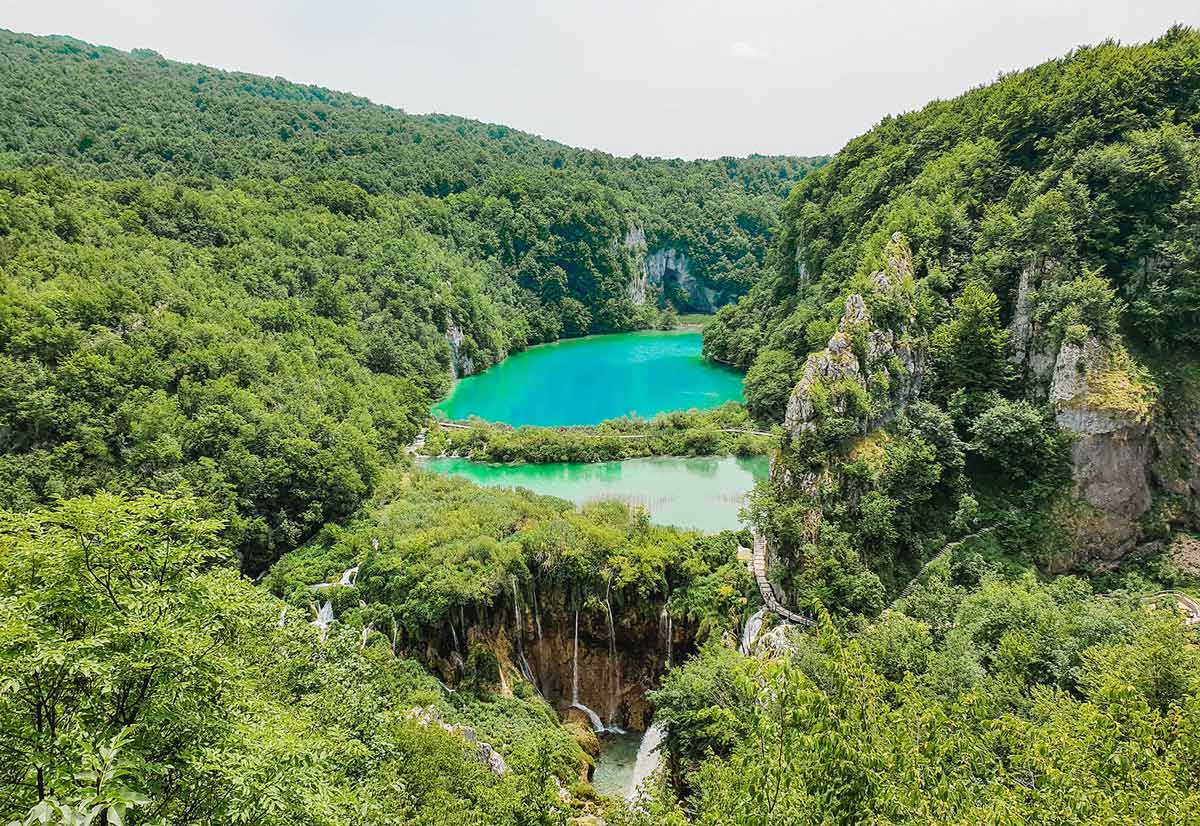 Plitvice Lakes National Park is a must-see if you're visiting Croatia. This UNESCO World Heritage Site is home to 16 terraced lakes, all of which are different colors (from green to blue to turquoise), and waterfalls that range from gentle trickles to thundering cascades.
The best way to experience the park is by hiking, and there are many different trails that cater to all levels of hikers. I'd recommend spending at least half a day in the park if not more.
Here are some useful tips if Plitvice Lakes National Park is on your Croatia itinerary:
Buy your ticket online: As a way to make sure that the natural beauty of Plitvice National Park is conserved, there is only a fixed number of tickets available each hour for the park. So it's better to buy your ticket ahead of time, online.
Rent a car: There are buses and many tours that take you from Zagreb, Zadar, or Split to Plitvice Lakes National Park, but I suggest renting a car instead so you can explore it at your own pace.
Start your day early in the morning: Plitvice is one of the most popular tourist destinations in Croatia, so it easily gets crowded, especially on the wooden board portions. So my advice is to spend the night before near the park and start your visit as early as possible in the morning.
This way you'll beat the crowds and tours arriving for a day trip to the lakes. And if you visit during the warm season, you'll also beat the heat, as you'll do most of your walking before it gets overbearingly hot. Check out my guide on the best way to visit Plitvice for more tips on exploring the park.
Choose the best available entrance depending on which path you want to take: There are two main entrances to the park (Entrance 1 and Entrance 2) plus an auxiliary one (Flora) and they are quite far apart. I recommend that you check which entrance is best for your planned route.
Wear proper footwear: Even though you'll do a lot of walking on wooden boards, the trails can be slippery sometimes, so make sure to wear shoes with good grip.
However, if you are short on time you can opt for Krka National Park instead. While Plitvice is bigger and has more to see, Krka is more accessible from Zadar or Split.
Until 2021, there was another difference between the two: you could swim at Krka waterfalls, but now this is not allowed anymore. The reason is to preserve natural resources and biodiversity.
5. Explore colorful Rovinj
I'm not gonna lie, I haven't been here yet myself, but it's really high on my list of places to visit in Croatia next time around.
From what my friends have told me, Rovinj is one of those towns where you can feel the Mediterranean vibe from every corner.
Its narrow streets are lined with colorful houses, there are plenty of churches to explore, and best of all: its location right on the Adriatic Sea makes for perfect sunsets views.
6. Visit the Blue Cave of Bisevo
The Blue Cave of Bisevo is one of Croatia's most popular attractions. This natural wonder is located on the small island of Bisevo, just a short boat ride away from the mainland.
The cave gets its name from the blue light that filters in through its underwater entrance around midday, creating an incredible effect.
In order to visit the Blue Cave, you can choose one of the boat tours from Split, Hvar, or Trogir.
It's definitely worth it, but note that it can get quite crowded: during high season boats even queue outside the cave and the visit will be pretty short (you are not allowed to stay inside more than 15 minutes anyway). Try to go during the off-season if you can.
7. Stroll through Diocletian's Palace in Split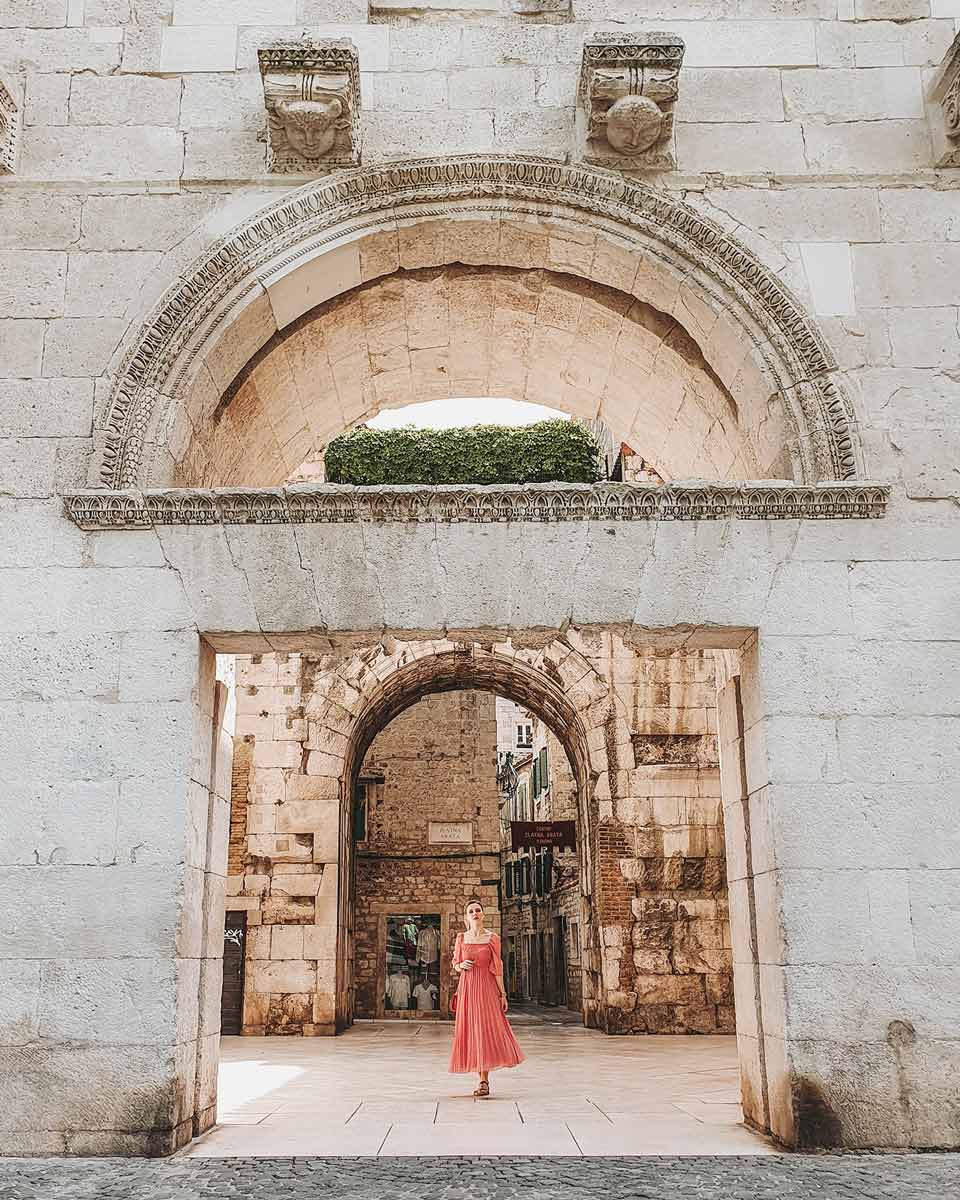 Split is the second-largest city in Croatia, best known for its stunning Old Town. It's a UNESCO World Heritage Site and it encompasses Diocletian's Palace.
This ancient palace is an impressive Roman structure, built between 295 and 305 AD by emperor Diocletian for his retirement. Its well-preserved ruins lie right in the middle of Split's vibrant old town and are the main attraction of the city.
The palace has been turned into shops, restaurants, and bars over time, but you can still see many of the old Roman ruins.
I'm usually all for preserving historic buildings, but in this case, I actually loved how people found a way of integrating the palace into their modern life by continuing to inhabit it.
My best recommendation while in Split is to just spend some time getting lost around the Old Town and Diocletian's Palace: it's a great way to discover all its hidden gems, you never know what you might find!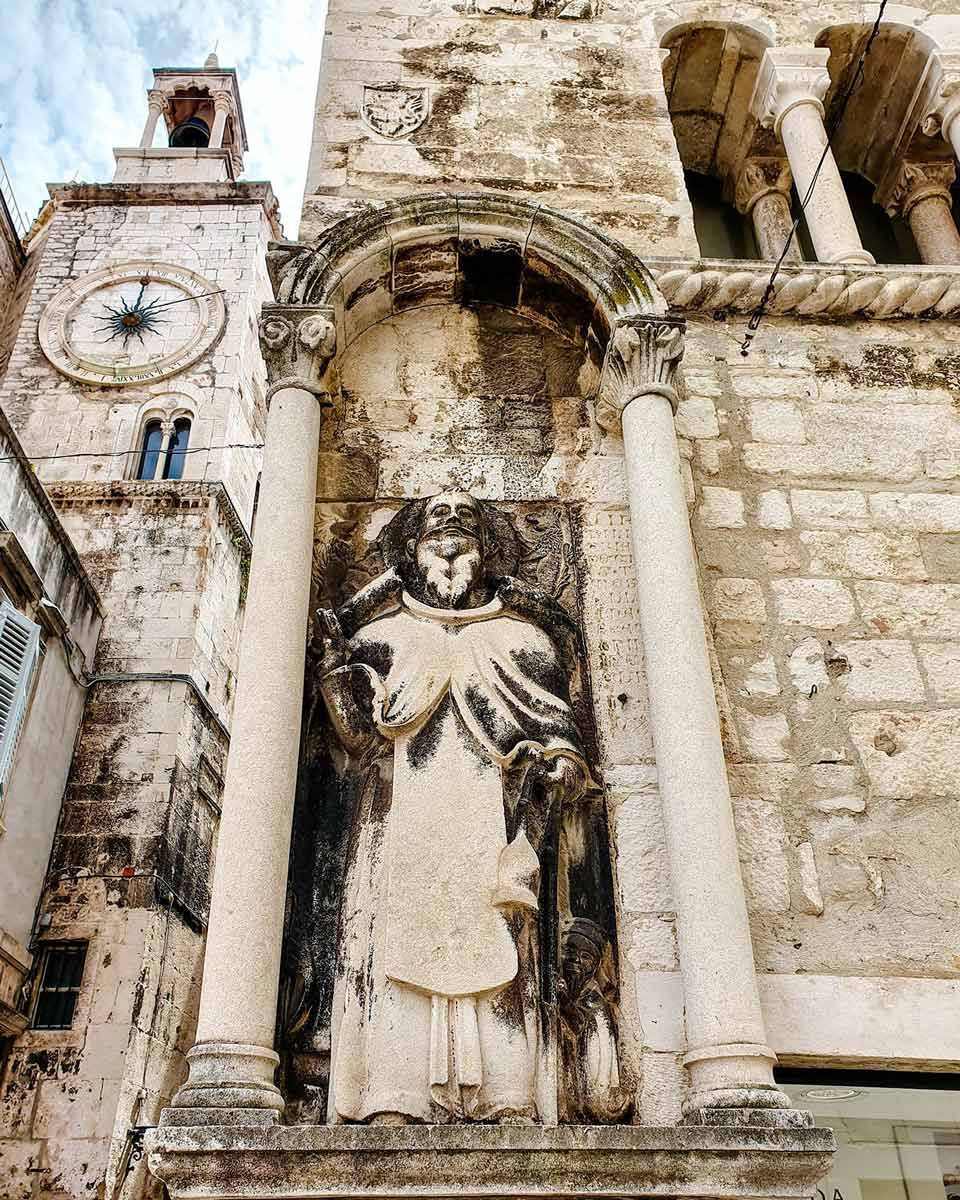 Also, don't miss the Riva promenade, which is a great place to relax and take in the views of the Adriatic Sea.
If you want to explore more of Split, there are plenty of other things to see and do in the city: for example, you can visit Marjan Hill for some amazing views or go check out one of the beaches.
Just like Dubrovnik, Split is also a good base for day trips: you can easily visit Trogir, which is just 20 minutes away by car, take a ferry or a catamaran to Brač island, or spend a day at Krka National Park.
8. Visit Pula Arena
The Pula Arena is a Roman amphitheater, designed to host gladiator fights, located in the city of Pula, Istria.
It was built during the reign of Emperor Vespasian, around the same time as the Colosseum in Rome. It's the sixth-largest surviving Roman amphitheater in the world and one of the best-preserved.
Today, the Pula Arena is a UNESCO World Heritage Site and is open to visitors year-round. There's an admission fee, but it's definitely worth it to see this amazing piece of history.
The amphitheater is also used as a venue for film festivals and concerts.
9. Listen to the sea sing in Zadar
Zadar is best known for its beautiful and romantic sunsets. Located on the Adriatic coast, the city offers stunning views of the sea and the nearby islands.
The best place to watch the sunset in Zadar is from the Sea Organ, which is located right by the harbor, on the new sea promenade (Riva).
The organ is made of a series of tubes that play music as the waves crash against them. It's definitely a unique experience and one you won't forget.
Tip: Go there at sunset and listen to the sea singing as you watch the sun go down (like in the Youtube Short below).
A bit further away from the Sea Organ, you'll find the Greetings to the Sunlight installation, which is made of three hundred solar panels placed on the same level as the stone-paved waterfront.
It is not just an art installation but also powers a portion of Zadar's waterfront for a third less than what it would cost to provide electricity from traditional sources.
Zadar is home to some interesting historical sites as well, such as the Roman Forum and the Church of St. Donatus, which was built in the 9th century. There's also plenty to do in Zadar, including sailing, diving, or relaxing at a beach.
The best way to get around Zadar is by foot, as the city is quite small. However, you can also rent a car from one of the local companies if you prefer.
10. Explore Zagreb
Zagreb is a beautiful city with a lot to offer visitors. Some of the best things to see and do here include visiting the Upper Town – which is home to some lovely churches and museums, exploring the lively markets in Dolac and Ban Jelacic Square, and strolling through the tree-lined streets of Tkalciceva.
The capital city of Croatia is also home to a number of beautiful parks, such as Maksimir Park and Zrinjevac. These make for a nice break from all the sightseeing, or you can just have a nice, romantic picnic in one of them.
Zagreb is best explored on foot, as its center is quite compact (despite being the largest city in Croatia) and easy to get around. However, there are also plenty of trams if you need to go further away from the center.
11. Visit every gelato shop you come across! 🙂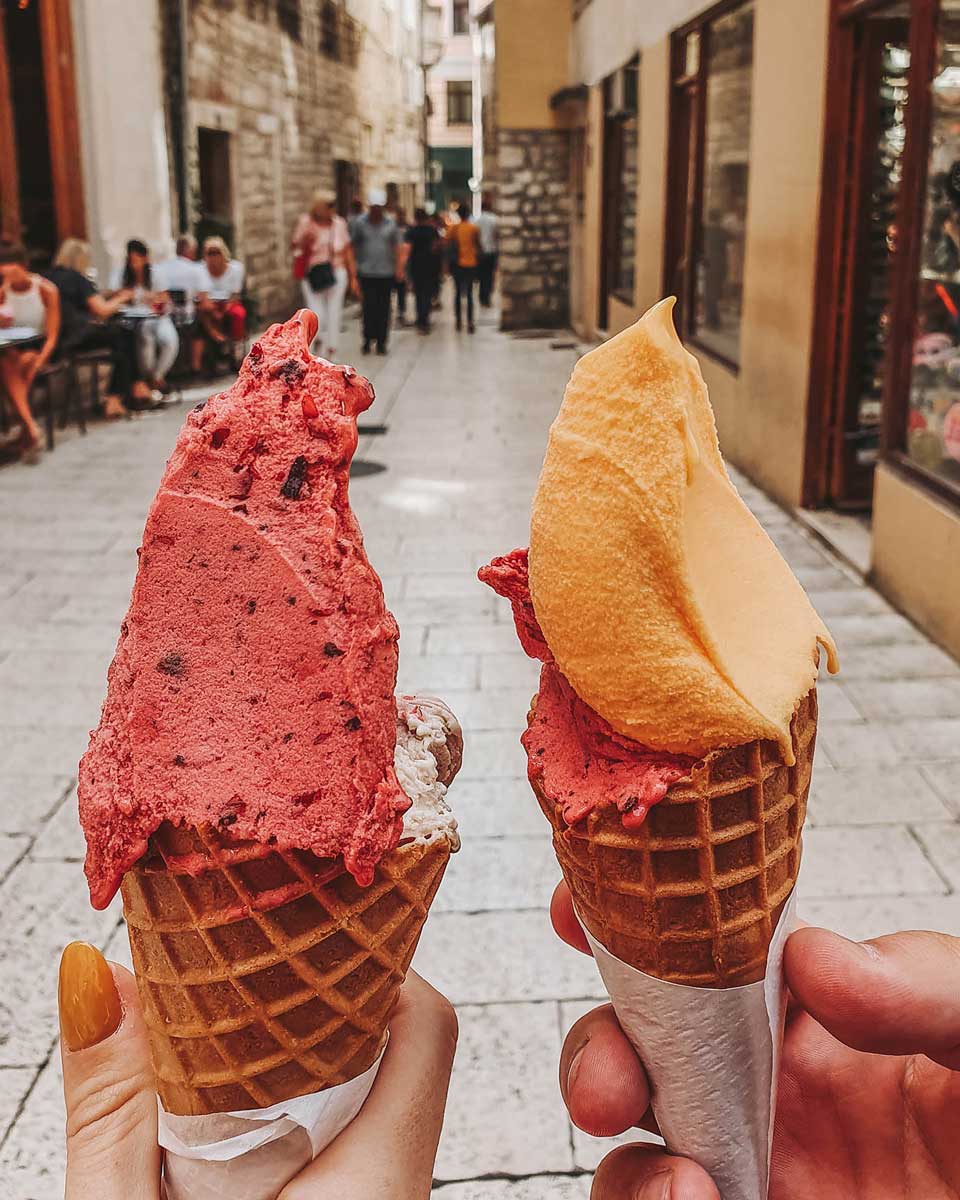 Yes, I know I'm writing a post about Croatia and not Italy, but I found the gelato in Croatia to be extremely tasty and fairly cheap.
And if you visit in the summer months, trying all the different gelato flavors will also help you cope with the heat.
Best things to do in Croatia for couples: Wrap up
Croatia is definitely a country that has something to offer to everyone. Whether you are interested in history, nature, food, or wine, there is a place for you to explore in Croatia.
I hope this post gave you a few ideas on the best places to visit in Croatia as a couple and if you're looking for more inspiration, be sure to check out my other posts about this beautiful country.
Have you been to Croatia? What were some of your favorite places to visit? Let me know in the comments below.
Happy travels~