Best 50 travel essentials for women
Are you preparing for your next vacation? If so, make sure to pack some of these essential items to help make your trip a little more comfortable and enjoyable.
From luggage accessories to toiletries and beauty articles, these are the top 50 things every woman should bring on her travels!
Disclosure: Some of the links in this post are affiliate links. If you click on them and make a purchase, I may receive a commission at no extra cost to you. Check my full disclaimer here.
Travel Essentials for Women: Luggage
01. Anti-theft backpack
A good anti-theft backpack is a good idea during any trip, but even more so if you are traveling solo since there's no one else that can also keep an eye out for your stuff.
Depending on your style and preferences, you can opt for a casual/sport looking backpack like the dark gray one or the black and gray one or go for a more stylish alternative like the cute multifunction one, which comes in several color options – would you have even guessed that it's an anti-theft backpack?
02. Luggage belt
If you are a heavy packer like me, then the luggage belt is the perfect item for you! It can keep your suitcase closed and secured even if the zipper fails during the trip.
Not only that but you can also use it to secure your small hand luggage to the handle of your main suitcase for easier handling (which is the primary reason why I bought one, myself).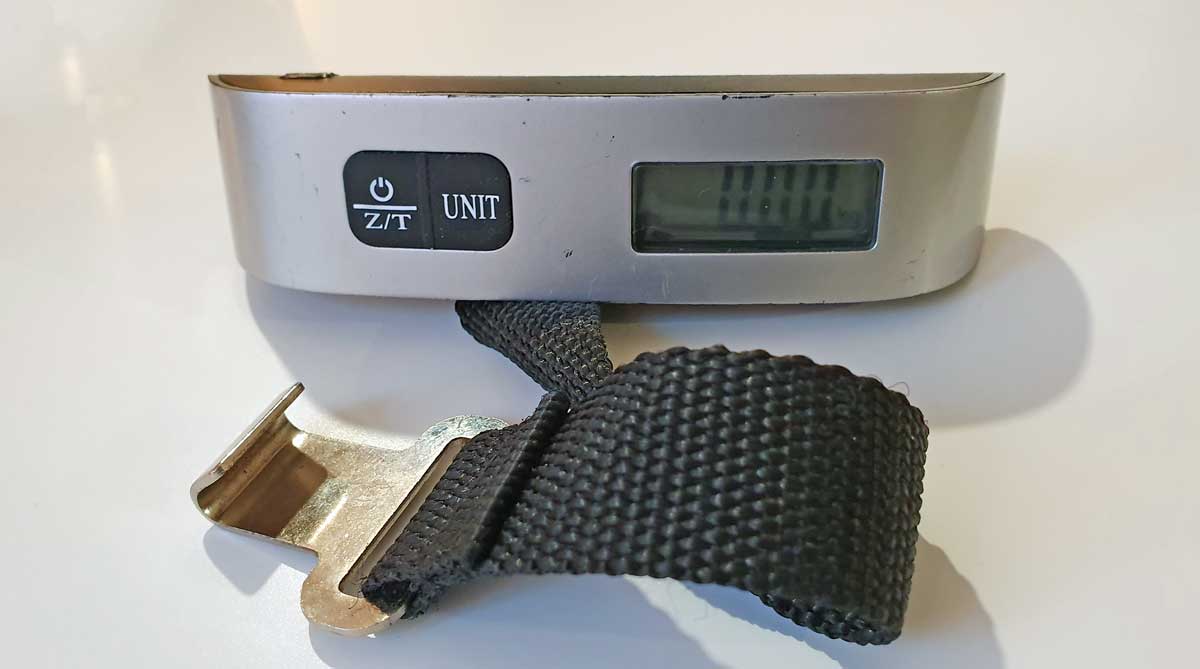 03. Luggage scale
No matter if I travel carry-on only or if I have checked luggage, I always like to weigh it beforehand in order to make sure that my suitcase respects the requirements of the airline.
Because there's nothing worse than having your luggage tagged as overweight at the airport when there's little you can do, except paying the hefty fees.
That's why I always use my trusty luggage scale to make sure I don't go overboard with either packing at home or buying souvenirs at my destination.
04. Luggage cover
Get a luggage cover to protect the exterior of your suitcase. And I recommend you pick one in bold colors or with a design that stands out.
This way, you will have an easy time spotting your luggage on the convertor belt and you will also avoid other people mistaking your suitcase for theirs. Win-win situation.
05. Luggage cup holder
If you're a coffee lover, then a luggage cup holder can become very handy during a long layover as you move around the airport. Because let's be honest, when we travel it feels like we don't have enough hands, so anything that helps you carry something without actually holding it, it's a plus.
Not only that, but you can also put other small items in it as well (I would advise against storing your wallet or passport in it though, they're way too valuable).
Travel Essentials for Women: Clothes & Accessories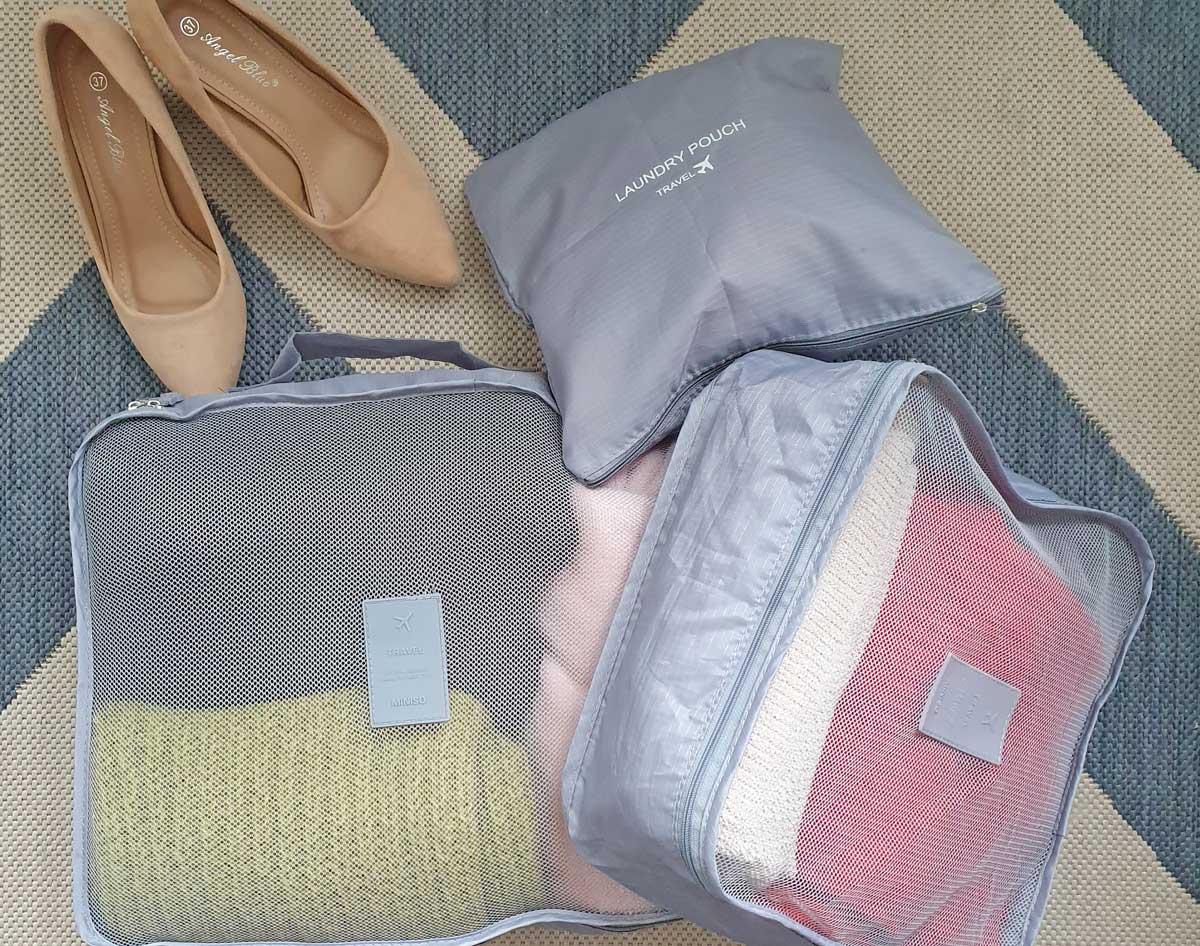 06. Packing cubes
If you read my post on how to pack a suitcase to maximize space, you probably know that I love using packing cubes. They're great at keeping my clothes organized, but they also help you pack more things because they keep everything compact.
And if your luggage is opened at security check, you don't have to worry about everything spilling all over the place.
07. Portable Ballet Flats
As someone who walks a lot while traveling and who at the same time often has issues with her feet hurting (especially my right one), I find the idea of a portable pair of ballet flats (compact enough to keep in my bag) a great backup solution!
And yes, they're primarily designed for weddings, but personally, I find them way more useful for traveling.
08. Period underwear or menstrual cup
Menstrual products have become more diverse during the last few years and some of the new options like the menstrual cup or the period underwear are really great for when you're traveling and you might not always have easy access to a bathroom.
Honestly, I don't really feel like the cup is for me, but many women swear by it once you adjust to it. However, I do like the extra peace of mind that period underwear gives me (I usually wear it in combination with other products to be extra safe, but you should also be able to wear it on its own).
But do pay attention to what period underwear you buy as it seems some can contain harmful substances! After researching quite a bit about the matter myself, I decided to go with Modibodi.
09. Bra Organizer Case
Bras are sometimes a bit difficult to pack properly, especially if they have wires. So why don't you avoid any headaches by buying a bra organizer case? You can also use it to store your underwear.
10. Jewelry organizer
If you like to wear jewelry, then you know how important it is to have a good organizer where you can store everything while traveling (bonus points if it's small and compact).
Because who wants to spend minutes on end trying to detangle their necklaces?!
11. Laundry bag
A laundry bag takes up so little space in your suitcase, yet it's so helpful with separating your worn, dirty clothes from your clean ones.
12. Flip flops to wear inside the hotel room
I don't know about you, but I hate walking only in my socks around the hotel room. For this reason, I always bring a pair of flip-flops with me every time I travel. I prefer them to traditional slippers because they occupy less space.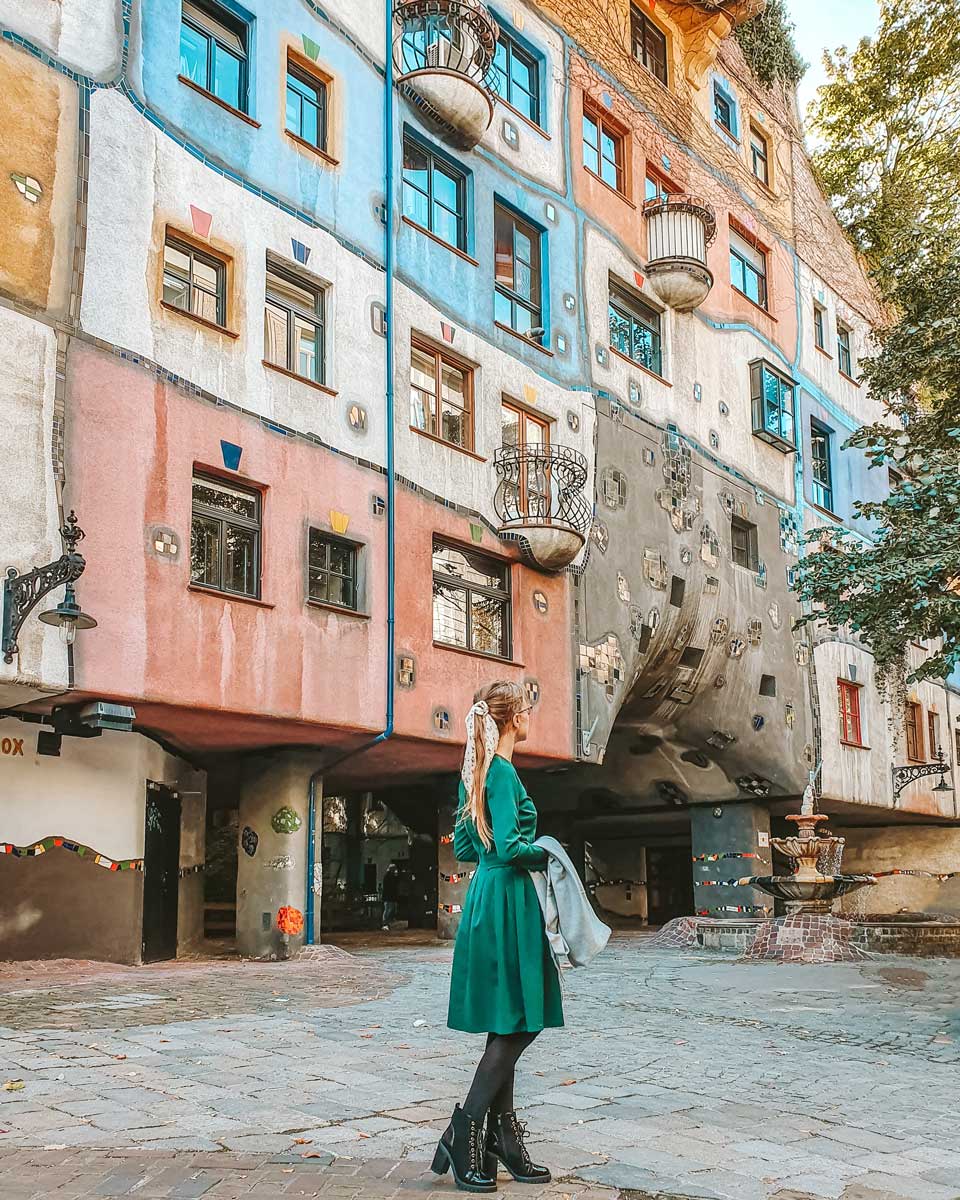 13. Blanket scarf
If you are like me and you easily get cold, then a great tip to be comfortable on the plane is to bring a blanket scarf. It doesn't take up any space in your luggage because you'll wear it and it can also be helpful at your destination if the weather is colder than you anticipated.
14. Compression bags
Sometimes, when you need to pack bulkier items like sweaters, then packing cubes might not be enough. So my recommendation is to use compression bags.
Just make sure you get a type that doesn't require a vacuum or a pump since you'll most likely don't have one at your disposal at your destination.
Travel Essentials for Women: Toiletries & Makeup
15. Reusable travel-size containers
Using reusable travel-size containers is a great way to reduce the weight and size of your toiletries bag and I really swear by them. Some kits even have label stickers that you can put on the recipients in order to identify the products way easier.
16. High-SPF sunscreen for your face
In this day and age, a high-SPF sunscreen to protect the skin on your face is a must. So make sure you don't ever leave without one in your bag.
17. Moisturizer
When you fly, it's almost a guarantee that your skin will get dry, so be prepared to counter this by packing a good moisturizer.
18. Nourishing lip balm
Since your lips can also get dry and chapped when you fly, don't forget to bring a nourishing lip balm to use on the plane.
19. Toiletries bag
Getting a good toiletries bag will keep both your makeup and toiletries organized and easy to move around with you as you use the products. It will also help protect the other items in your suitcase in the unfortunate event that anything spills.
20. Makeup remover wipes
Makeup remover wipes are great to use during both a long-haul flight, but also at your destination. Just make sure you don't rub your face too hard when removing your make-up. Also, try to look for alcohol-free ones.
21. Band aids
Band-aids can come in handy in many situations, but even more so if you are prone to blisters from too much walking.
22. Clear TSA-approved cosmetic bag
Instead of using sealable disposable bags every time I travel carry-on only, I like to buy my own clear cosmetic bag. Just make sure the size is TSA-approved.
You might get away with a slightly bigger bag, but don't overdo it or they might provide you with a standard bag at the security check and anything that doesn't fit it, will get in the trash can.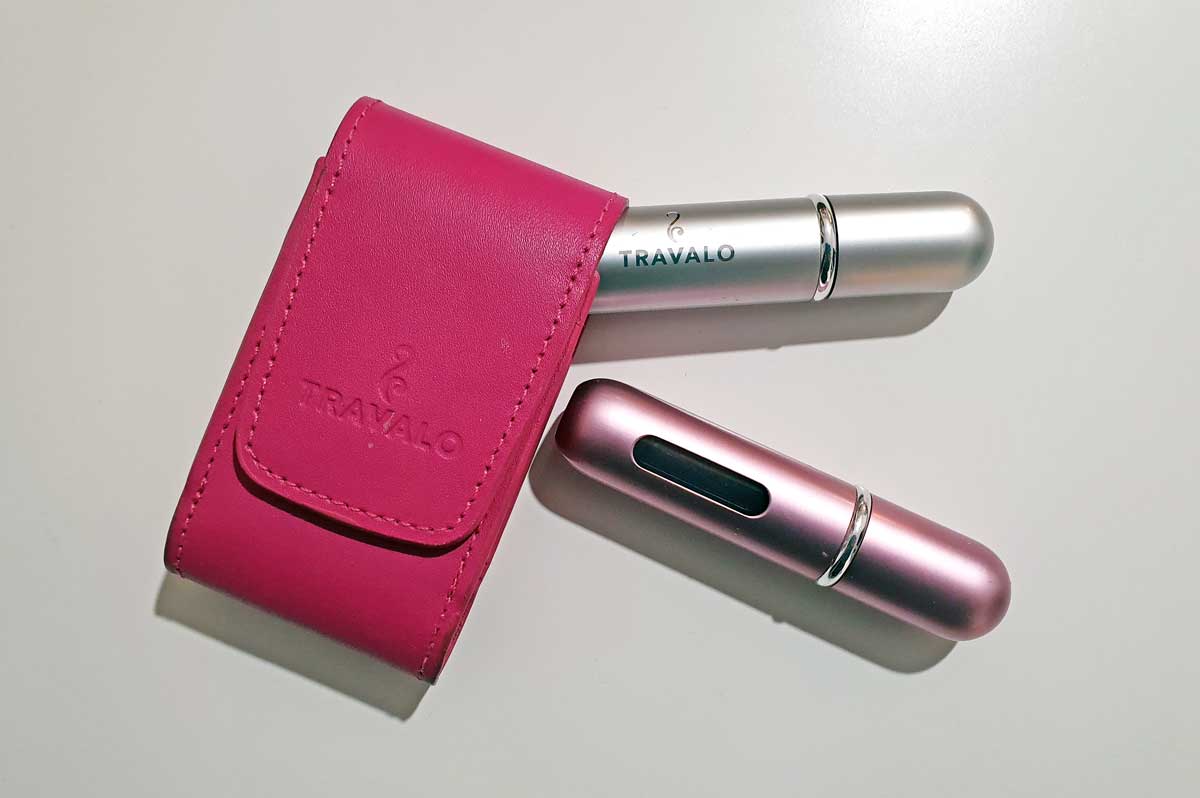 23. Refillable perfume atomizer
My set of 2 refillable perfume atomizers is one of my favorite things to have when I travel. I love it because I can bring with me my favorite perfumes without also packing heavy bottles. Mines are from Travalo, but there are many good options on the market as well.
Just make sure before you buy one that it's refillable. For convenience, I would also recommend one that has a small 'window' that allows you to see how much perfume it's left.
24. Travel-size hand sanitizer
Airports and planes are not the cleanest places, so it helps to have a small travel-size hand sanitizer at your disposal. Some you can even conveniently hang onto your purse or backpack.
25. Travel-size hair brush
My hair is pretty fine and it tangles really easily, so for me using the Tangle Teezer brush is kinda a must. But if you have seen it, you know it's not the most travel-friendly brush out there if you consider its size.
Thankfully, they also made a more compact one and even though I still love the original more, it works great for when I travel. So my advice to you is to find a good trave-sized hair brush that won't take up a lot of space in your toiletries bag.
26. Dry shampoo
Dry shampoo can be a lifesaver in some situations, especially if your hair tends to get oily quickly, so it's always a good idea to bring some with you on your travels. Just make sure you get a travel-sized one.
My favorite brand is Batiste, but there are a lot of other options as well, so don't be afraid to try them out until you find the perfect match for your hair.
27. Travel dental kit
Travel dental kits like this one are a great way to save up some space in your toiletries bag.
28. Powder foundation
When you travel carry-n only, you are limited in regards to how many liquids you can pack. A good way to get around this is to replace your liquid products with solids where you can.
For example, I use the Studio Fix Powder Foundation from MAC which allows me to pack it in my regular toiletries bag, instead of the clear TSA-approved bag.
29. Makeup brush holder
As you use your makeup brushes, they get 'dirty' with eyeshadow, so you don't want them rolling all over in your toiletries bag. Instead, I like to keep them in a separate brush holder. This way they'll also be protected.
30. Mini razor
Not only is this travel-sized razor great for saving some more space in your cosmetic bag, but it's also pretty adorable.
31. Revlon oil-absorbing face roller or blotting paper
When you spend a lot of time on the plane, your face tends to get oily. Revlon oil-absorbing face roller is a good product to tackle this problem. Another option is to use blotting paper.
Travel Essentials for Women: Tech
32. Portable charger
Phones these days have such big screens and we use them for so many things that their batteries drain extremely quickly. So having a good portable charger is kinda a must when you travel.
33. Noise-cancelling headphones
A good pair of noise-cancelling headphones can make a big difference if you want to get some rest during a flight (assuming you can sleep with your headphones on like me).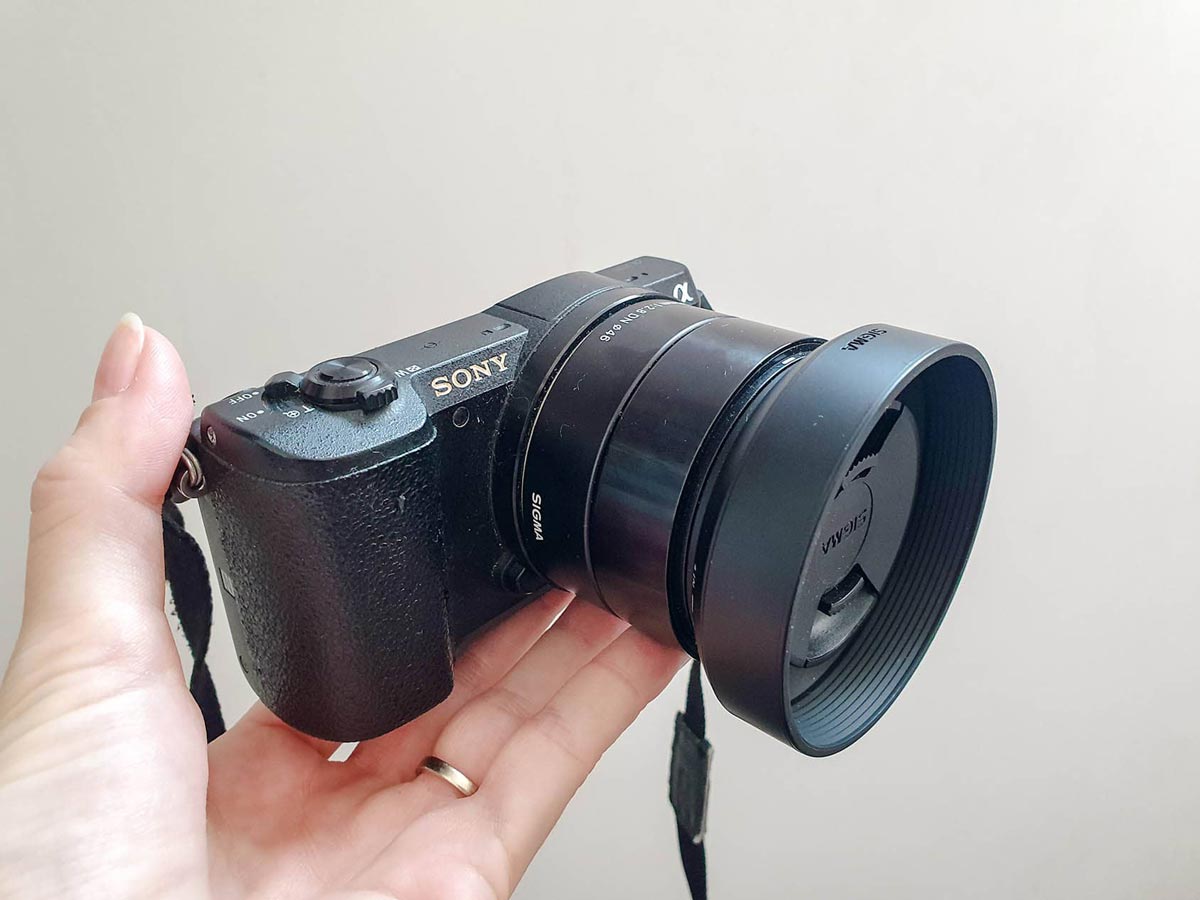 34. Mirrorless camera
When you travel, you don't want to carry around a heavy, bulky DSLR, but at the same time, you want good pictures to have as memories. While phones have come a long in regards to photography, a camera will still have to provide a better quality output most of the time.
That's why my absolute recommendation for a travel camera is a mirrorless one since they have the best of both worlds: they're smaller and more compact than DSLRs, but they can capture amazing photos in terms of quality.
My first mirrorless camera was a Sony Alpha 5100 (pictured), which has now been replaced by its older brother Sony Alpha 6000.
35. Air Tag/Tile Mate/Galaxy Smart Tag
Air Tags have become really popular during the lost luggage craziness that followed the pandemic. Basically, you put one in your suitcase and you can then track it on your phone.
Samsung users can use the Galaxy Smart Tag that the company designed to work with its Galaxy phones, while Tile Mate is the alternative option for other Android users.
36. Waterproof phone case
A waterproof phone case is a really neat solution when you are at the beach and you want to swim, but you worry about leaving your phone behind.
Just make sure you check for any defects before every use. My fiancee accidentally used one that had a small hole in it and we had to say goodbye to his phone.
37. Universal Plug Adaptor
A universal plug adapter is a very handy thing to have for when you travel to a country that either doesn't use the same voltage as you or uses a different plug type.
I recommend you get one that also has USB ports.
38. Extra memory cards
Having a few extra memory cards with you when you travel is always a good idea. I recommend you get some fast-writing ones, like this one from Lexar, which is also what I use on my mirrorless camera.
39. Multi-charging cable
Since the transition to USB-C ports, many of us have some devices that still charge with the old port type and some that use the new one. Not to mention that iPhones have a different charging port entirely. So a multi-charging cable is a good thing to have around.
40. Reusable zip ties
Reusable zip ties can come in handy for a lot of things from keeping your cables from becoming a big tangled mess to keeping your hair ties organized.
41. Phone stand
A small phone stand can be a great accessory to have when there's no in-flight entertainment. Just be aware that some airlines don't allow certain stands that mount on their airplanes' seats or windows.
Travel Essentials for Women: Important documents
42. Cards & passport holder
Getting a card and passport holder like this one is a good way to keep everything important in one place while in the airport.
By the way, I also wrote an entire blog post about the cutest passport holders for women so you might want to check it out as well.
43. Travel insurance
Travel insurance is something you always buy (or so you should!) and always hope you don't need to use it.
Travel Essentials for Women: Travel gadgets and accessories
44. Travel iron
If you wear a lot of dresses and other clothes that wrinkle easily then getting a travel-size iron or steam is a lifesaver.
45. Personal alarm
If you travel solo, then having a personal alarm can be a good idea from a safety point of view. But I really hope you'll NEVER have a reason to use it.
46. Hat clip
In summer I love wearing straw hats, but I always struggle with packing them. So I usually just take one and hang it on my backpack with a handy hat clip.
47. Portable door lock
Like with the personal alarm, having a portable door lock can give you more peace of mind and it's an extra step to take for your security.
48. Neck Pillow
We all know that plane seats are not very comfortable to sleep on. So make things a bit easier for yourself by bringing a neck pillow on your next long haul.
49. Sleep mask
Some airlines give you a small goodie bag on long flights that often contain a sleep mask. But I would recommend you buy a quality one yourself.
50. Collapsable water bottle
A collapsable water bottle doesn't take much space and can get really handy when you are out and about exploring.
---
No matter where you're going or how long you'll be there, with this list of the best 50 travel essentials for women, you can rest assured that you'll have everything you need (and more!) to enjoy your next vacation.
So what are you waiting for? Start packing!
---
YOU MIGHT ALSO LIKE