If you're looking for an amazing travel destination this spring then look no further than the colorful tulip fields in The Netherlands.
In this blog post, I will provide you with all the necessary information to plan your trip and enjoy the beautiful flower fields at their peak, just as I did.
Disclosure: Some of the links in this post are affiliate links. If you click on them and make a purchase, I may receive a commission at no extra cost to you. Check my full disclaimer here.
Tulips in Netherlands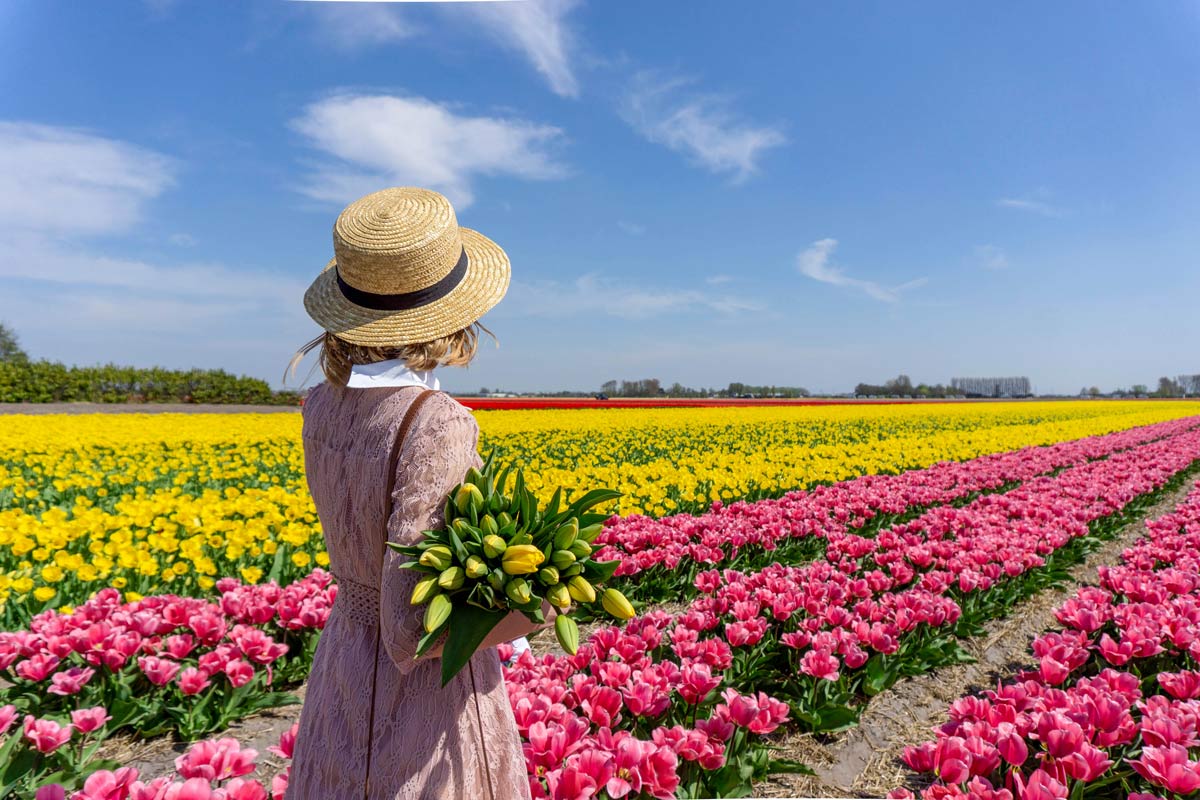 Where do tulips come from?
Even though nowadays when you say tulips, you immediately think of The Netherlands since it's well-known internationally as a huge exporter of bulbs, the flowers are actually not of Dutch origin.
They came from Central Asia and got introduced to Europe through the Ottoman Empire. Suleiman the Magnificent, in particular, loved the beautiful tulips and many were planted in the vast gardens of Constantinople (actual Istanbul).
Western diplomats to the court noticed and reported back home on the flowers, so they soon become a craze across Europe, which in The Netherlands got to be known as Tulip mania.
Why are there so many tulip fields in The Netherlands?
The answer is simple: the climate and soil of The Netherlands make it perfect for growing tulips. Due to its marine climate and location, winters here are usually mild, while summers are not too hot either.
Tulips also love sandy, well-drain soil and that can be found liberally in several regions of the country.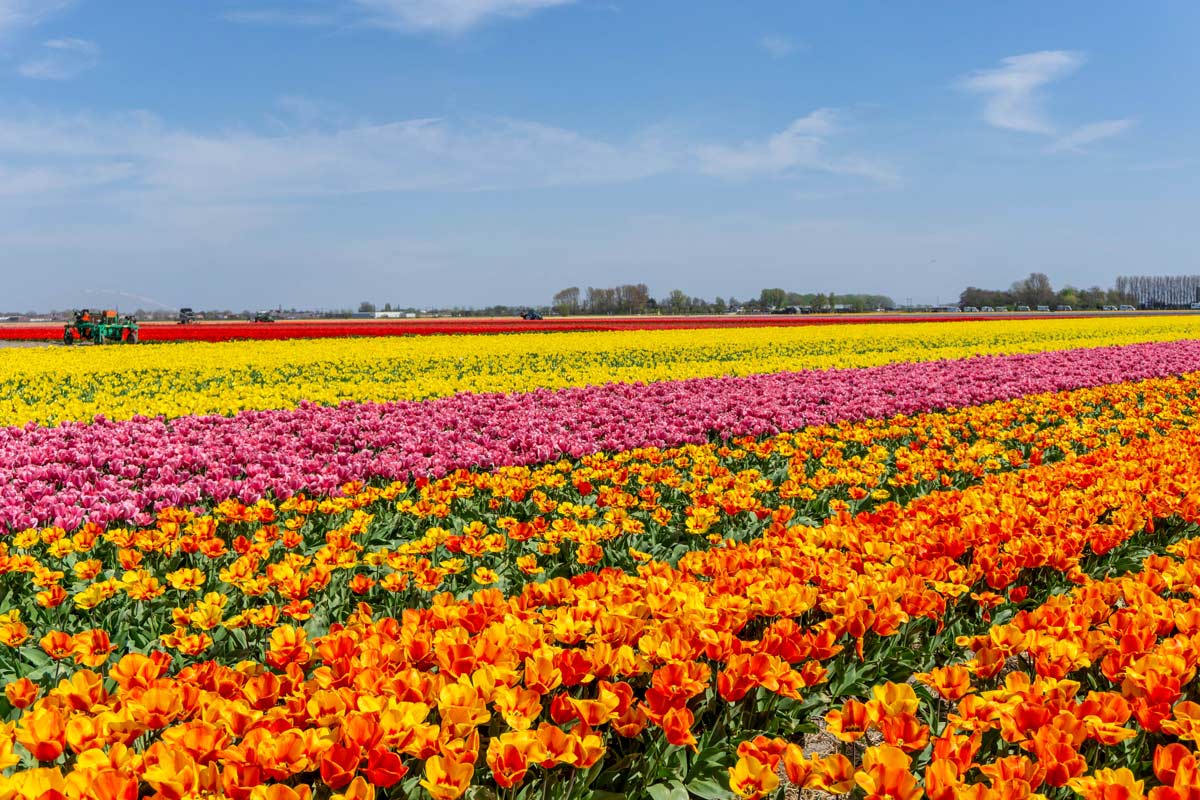 When can you see the Dutch tulip fields?
While the tulip season in The Netherlands runs from mid-March to mid-May, the best time to see them is during the month of April, in particular from the middle of the month until the end of April, when the flowers are in full bloom on the fields.
I'd recommend timing your trip around the 3rd weekend of April, or a bit earlier, given that there is no unusual weather for the time period. It's also worth checking out some past flower forecasts like these ones here.
They also post the current situation week by week, but that might not be as helpful, since most people usually book their trip a few weeks in advance anyway.
Because farmers grow the tulips for their bulbs, the flowers are cut after 2 or 3 weeks of flowering so that more energy can go to the tulip bulb, instead of being spent on the bloom.
Usually, around the beginning of May, most production flower fields are in the process of being headed (meaning the flowers are cut).
So in my opinion, it is better to plan your trip a bit earlier, than too late. If the weather is colder than normal, then you will not see many fields in full bloom, but if it's a warmer spring then you risk not seeing any tulip fields at all since the heading will start earlier than usual.
I went "tulips chasing" on the 18th and 19th of April 2019, as part of an 8-day trip in The Netherlands. The timing was perfect, the flowers were in full bloom at every field from the Lisse region that I visited.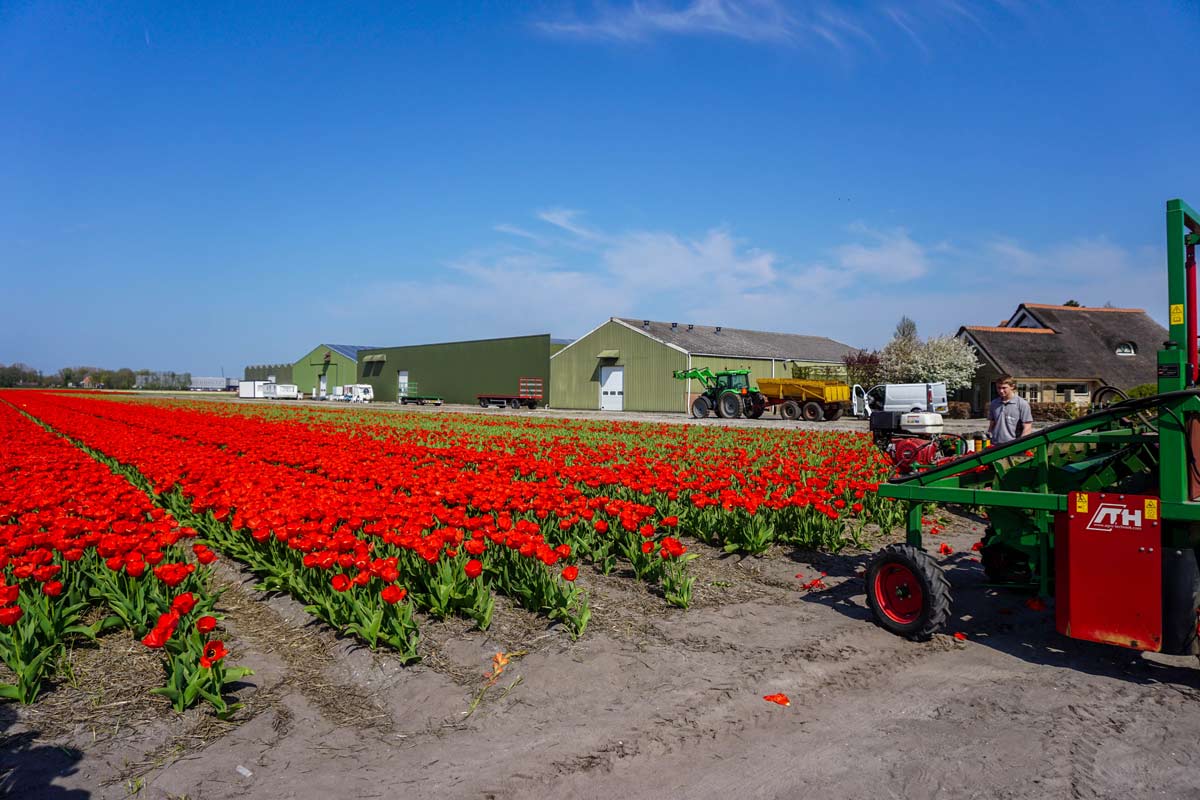 However, at one red tulip field, they already started heading the flowers (spring was a bit warmer than expected in 2019), which incidentally was actually lucky for us tourists, as we were allowed to enter a few meters into the field.
But more on the rules and etiquette of visiting the fields further below.
If you don't plan to see the tulip fields, then you don't have to be so strict with the dates of your trip. You can roughly guide yourself after Keukenhof's opening time period, which usually spans from the last week of March to mid-May.
Where are the tulips fields in The Netherlands?
Here are some of the best tulip fields regions in The Netherlands that you can visit:
Bollenstreek (Lisse tulips fields)
The tulip fields in the Bollenstreek region (the strip between the cities of Leiden and Haarlem) are some of the most famous and visited in The Netherlands.
This area, which is also known as the flower bulb region or the flower strip is located only 40 kilometers away from Amsterdam, and it's home to acres upon acres of colorful tulips.
You should know that right in the middle of Bollenstreek you'll find the city of Lisse, where the Keukenhof Gardens is located, making the region a perfect choice if you also want to pay it a visit.
This means that the tulip fields are easily accessible even without renting a car since many are scattered all around the park.
How to spend a day in the Bollenstreek region
Start your day early with a visit to Keukenhof Gardens since it tends to get crowded as the day goes by and then rent a bike from outside the park (you can now even reserve it online ahead of time!) and pick one of the tulip routes to see the production fields.
You can also book a bike tour with a local guide during which you will be able to learn more about the flowers and the history of the Bollenstreek area, as well as pick some tulips of your own and enjoy a delicious Dutch stroopwafel.
The bike rental spot is located near the entrance of the park, in the parking lot and aside from the normal bikes they also have tandem and kids' bikes for rent.
You will also be provided with a flyer marking the tulip field routes around Keukenhof or you can check them online here (I did routes 1, 2, and a small part of 3).
Another great option is to rent a Twizy (a small electric car for two) to explore the colorful flower fields. The beauty of this tiny car is the ease of parking since it can get challenging to park a normal-sized car on the narrow countryside Dutch roads without inconveniencing others.
My experience visiting the Bollenstreek region
The day we visited Keukenhof and the flower fields around it was quite an adventure for both me and my boyfriend, more so for me.
We left The Hague where we were based as early as we could and traveled by train to Leiden, where we got the bus to Keukenhof. As we entered the park early, it was pretty empty, but towards the end of our visit, things really began to change.
After we left Keukenhof we went straight to the bike-renting location and got a tandem bike for the day.
Why a tandem you may ask? Well, my boyfriend doesn't know how to ride a bike and one of the guys there assured me it should be just fine if I'm the one guiding the bike. Spoiler alert: Things didn't go as smoothly as I would have liked it.
It's important to know that I'm only about 160cm tall and weigh around 45kg. The bike, being a tandem was heavier than usual and the seat was too tall for me to reach the ground with my feet.
Also, my boyfriend didn't know how to ride an actual bike, but he did ride gym bikes and as such he tended to really press the pedals and sway too hard from one way to another.
This made it really difficult for me to control the bike's handlebars, but really funny to others that saw our struggles along the way :)).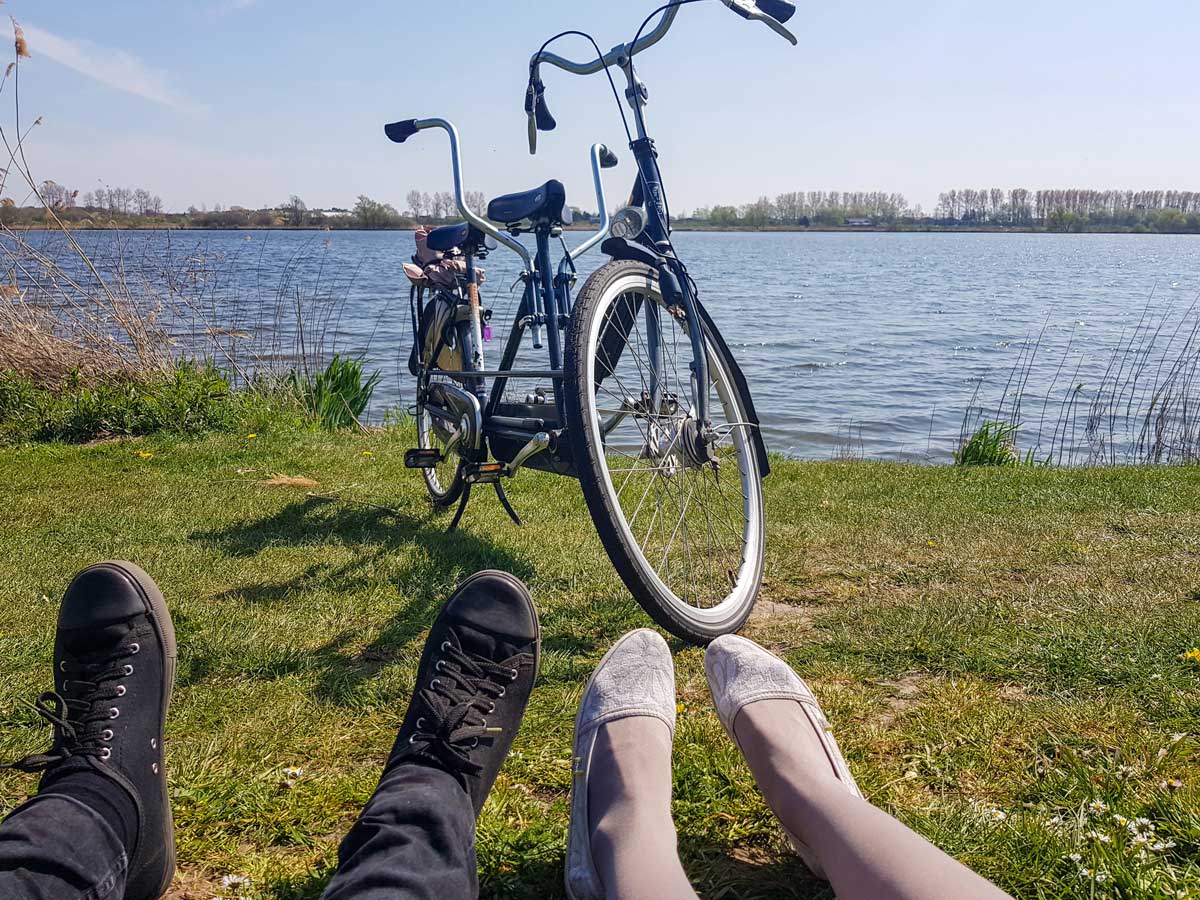 All in all, we had some really fun moments, some scares (like when a motorbike cut my way) and we saw lots of beautiful tulip fields. It was definitely an adventure to remember!
Where to stay in Bollenstreek
You can easily visit the flower bulb region from Amsterdam or another city like The Hague, Haarlem, or Leiden. We actually used The Hague as a base since we also wanted to visit Delft and Rotterdam.
We stayed in a one-bedroom apartment at Yokistay and we found it very comfortable, spacious, and clean. Be aware though that you need to climb a set of very narrow and steep stairs up to the apartment, which is not something easy to do with luggage.
However, you can also opt to stay right in the middle of all the tulip fun. Here are a few options:
De Groene Bollenschuur

B&B

– A renovated barn turned Bed & Breakfast in the middle of the tulip fields; it is located in Hillegom. 9.4 "Superb" rating on Booking.com.

Fleurdelis

Apartament

– Nice and comfortable one-bedroom in Lisse, about 3.5km away from Keukenhof. 9.1 "Superb" rating on Booking.com.

B&B Blossom

B&B

– Wonderful Bed & Breakfast in Lisse, just 2.6km away from Keukenhof, with views of the tulip fields. 9.4 "Superb" rating on Booking.com.
Flevoland
If you're looking for a more off-the-beaten-path experience, then I recommend visiting the blooming tulip fields in the province of Flevoland.
This region, which was only fairly recently reclaimed from the sea is located in the central part of the Netherlands and it's known for its vast fields full of colorful tulips.
Unlike the Bollenstreek region, which can get touristy during peak season, the tulip fields in Flevoland are usually much quieter and you might even have some of the fields all to yourself during your visit.
How to spend a day in the province of Flevoland
Rent a bike or a car and explore the different areas where the tulips are grown: you can find flower fields in Noordoostpolder as well as East and South Flevoland. A good start is to follow the roads that form the tulip Route.
If you visit by car, you shouldn't miss the chance to visit Giethoorn village, in the nearby Overijssel province.
Where to stay in Flevoland
De Buitenhof

B&B

– Nice countryside Bed & Breakfast located in Marknesse, Noordoostpolder region. 9.3 "Superb" rating on Booking.com.

Casa Batavia Bed & Breakfast

B&B

– A lovely property in Lelystad. 9.4 "Superb" rating on Booking.com.
De Kop van Noord-Holland
The flower fields in De Kop van Noord-Holland are located near the coast, making it a perfect destination if you want to combine your visit with a day at the beach.
Just like in Flevoland, the tulips of this region are spread out across a vast area, so it should be easy to find fields where you are the only tourist around.
How to spend a day in De Kop van Noord-Holland
Take the train from Amsterdam Sloterdijk to Schagen (travel time: about 50 minutes). There you can rent a bike and explore the flower fields nearby. You can also rent a car and drive to the fields.
Where to stay in Kop van Noord-Holland
Coast Holiday Appartements

Studios

– Modern studio with garden access in Dirkshorn; bikes available for rent. 8.7 "Fabulous" rating on Booking.com.

B&B Janssen # Schagen

Apartment

– Comfortable apartment in Schagen town. 9.0 "Superb" rating on Booking.com.
Other tulip fields regions
Zeeuws-Vlaanderen: a somewhat unknown region in the south of the Zeeland province, where you can see tulip fields.
Goeree-Overflakkee: an island about 45 minutes away by car from Rotterdam.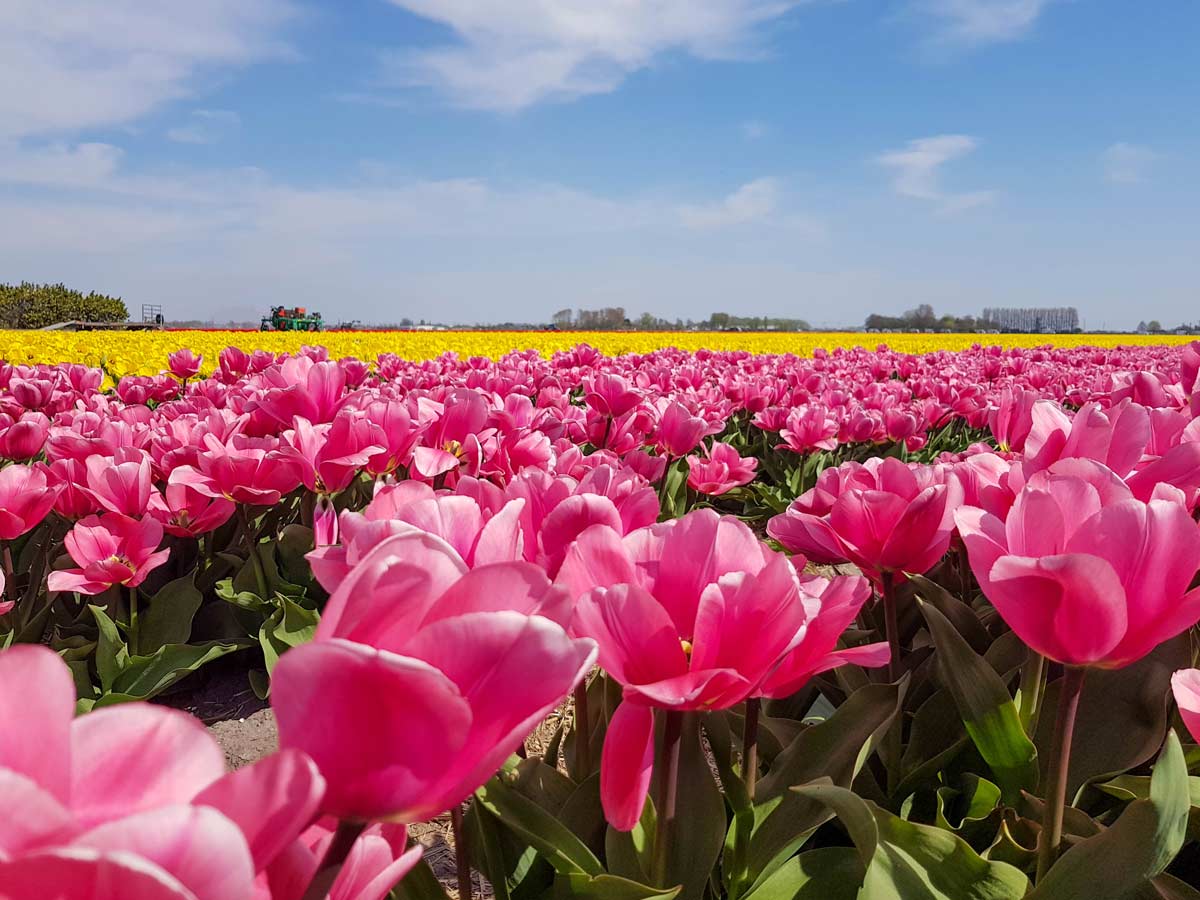 Rules and etiquette when visiting the flower fields in The Netherlands
When you visit one of the many tulip fields in The Netherlands, it's important to remember that you are a guest on private property.
This means that there are some rules and etiquette that you should follow while visiting. Some of the most important things to remember are:
Do not pick the tulips. Also do not damage or disturb the plants in any way.
Always respect any signs that are posted. Remember that these fields are private property and the farmer has the right to forbid access to the fields or to decide if he/she allows people to take photos.
Keep to the designated walking paths. Only enter a field if you've received the farmer's permission, otherwise, just stay at the edge.
Do not litter.
If you're driving a vehicle, make sure that you park in an appropriate spot and don't block the road or access to the fields.
I did read about how some farmers leave open rows between their tulips in order for people to be able to enter their fields and enjoy the flowers without damaging them in any way, but I didn't see any field like that during my tour of the fields in the bulb district.
If you do stumble onto such a field, however, consider yourself lucky and try to protect the flowers the best you can while you take photos.
How to take beautiful photos with the tulip fields?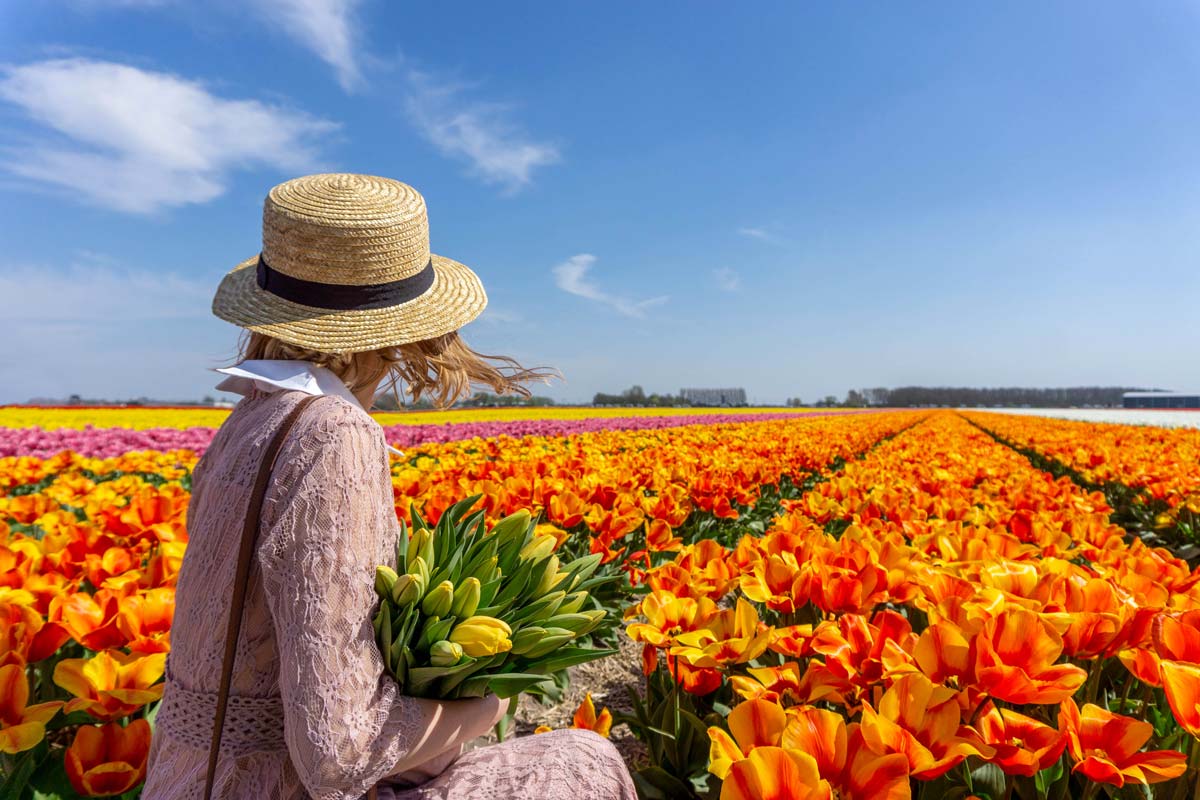 Production tulip fields
You can take photos of the production fields free of charge, but make sure you respect the rules and etiquette when doing so.
The safest bet is to not enter the fields to take your pic unless you've received permission from the farmer and to respect any signs in place.
Around Keukenhof, in the Bollenstreek region, there were many fields that forbid entering or were fenced, which is understandable since the area is more touristy and this raises the risk of the flower bulbs being damaged by people walking around them.
For the ones that didn't have any sign, I still refrained from entering since I was unsure if I'm allowed to and had no one to ask for permission. So I just got really creative with my angles at the edge of the field.
I did however enter a field where the farmer was present as he started heading the flowers.
Tulip farms in Netherlands
For a fee, you can take photos in the middle of a colorful field, at a tulip farm. You will also be given various props and accessories (flowers, bikes, baskets, clogs, watering cans, etc) that will add a bit of oomph to your pics.
The Fam Flower Farm is an example of such a location. Another is The Tulip Barn.
There's also the option of booking a tour like that includes a visit to both Keukenhof Gardens and De Tulperij flower farm.
Plucking gardens
Plucking gardens are a cheaper alternative to a photo shoot at a tulip farm, like the one I mentioned above.
These don't offer photography visits, rather you go there to pick some flowers. But you can also ask if it's ok to take pictures and more often than not they will wholeheartedly agree.
It was my last-minute solution for the fact that I kinda regretted not buying a ticket for a visit to the famflowerfam tulip farm beforehand and it turned out to be a really good idea.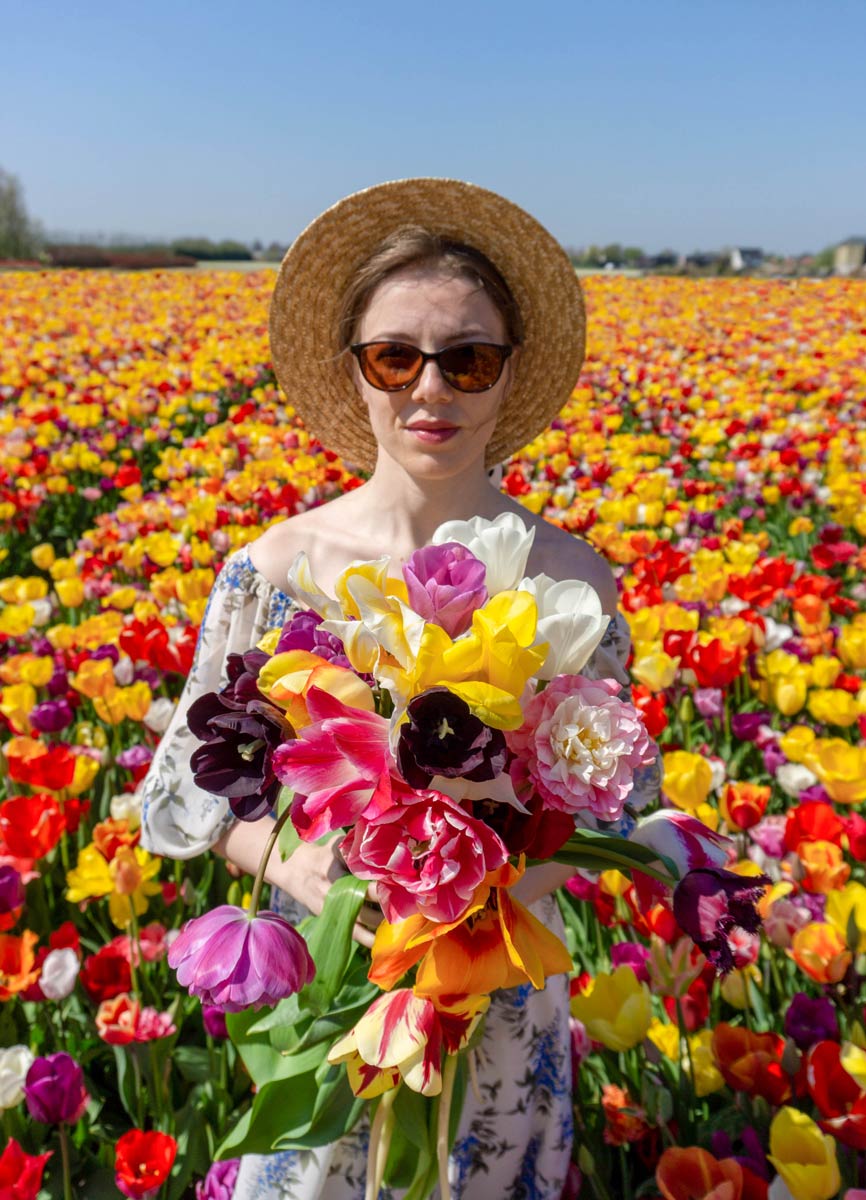 I went to Annemieke's Pluktuin picking garden near Hillegom where I got the chance to pick beautiful tulips, take photos in a multicolored field (I did ask for permission beforehand), and drink a tasty lemonade at the end.
How I got to Annemieke's pluktuin: I was staying in The Hague, so I chose to take the train to Haarlem in order to also visit the city and from there I rode bus 50 which took me right near the garden.
The journey took in total about 1h and 10 minutes. You can also travel via Leiden (train to Leiden, the same bus 50, but in the other direction).
Tulip farm De Tulperij near Lisse (it's close to Bollenstreek's tulip route no. 4) has a picking garden as well, but they also offer informative excursions about the tulip growing business.
Hanneke's Pluktuin is another picking garden, located in Flevoland, while in Noord-Holland you can find Pluktuin Bakkum and Floratuin. Floratuin offers guided tours on top of having a tulip-picking garden.
Visit Keukenhof Gardens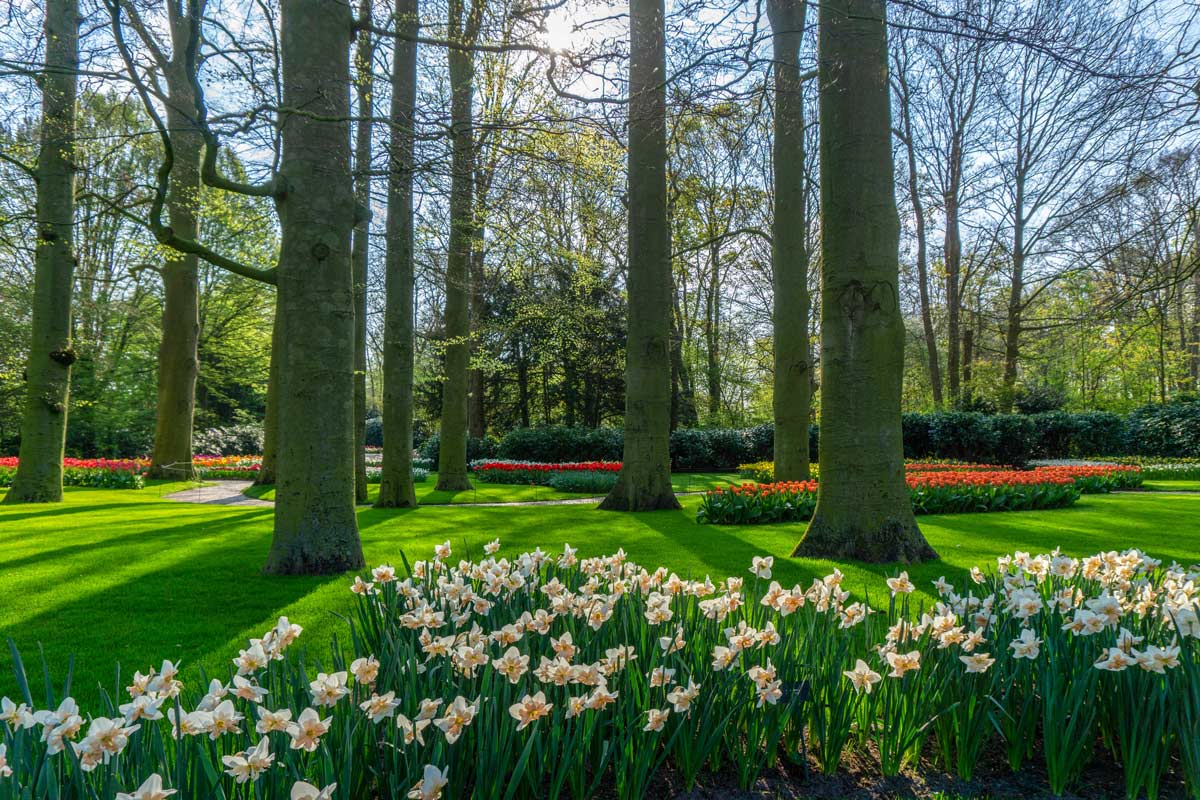 If you want to visit a place that's guaranteed to have tulips in bloom, then the Keukenhof Gardens is your best bet. This world-famous park is located in the city of Lisse, in the province of South Holland and it's home to more than 7 million flower bulbs, most of which are tulips.
The gardens are divided into different sections and you can expect to find flower displays of all shapes and sizes. There are also a few restaurants on-site, as well as some souvenir shops.
Keukenhof is huge, so make sure that you plan enough time for it: a rough estimate would be around 3h. I also recommend starting your visit as early as possible, because it tends to get crowded fast after 10:30 AM.
The park is usually open from the last week of March to mid-May, so make sure you check their website before booking your trip (you can also buy your ticket online from their site).
How to get to Keukenhof Gardens
You can visit the colorful Keukenhof park in the flower bulb region by car, public transportation, or tour.
Visiting Keukenhof by car
If you want to see Keukenhof Gardens and its surrounding tulip fields by car (check here the rates from Amsterdam Schipol airport), then I suggest you opt for a smaller vehicle.
This is because the countryside roads around the fields are really narrow and it's pretty difficult to find a parking space that will not inconvenience others.
Besides, some local farmers will not even allow cars to park in front of their fields to avoid traffic congestion.
How to get to Keukenhof Gardens by public transportation
The park is easily accessible by public transportation from several cities in The Netherlands. Here is how to reach Keukenhof Gardens:
from Amsterdam: take the metro to Europapein station, then bus 852 (Amsterdam RAI) to Keukenhof.
from Amsterdam Schiphol Airport: bus 858.
from The Hague: train to Leiden and from there you can take bus 854.
from Harleem: take bus 50 or 850 (route 850 has more stops).
Best tours to Keukenhof Gardens
There are many options to choose from if you want to visit Keukenhof by tour. Here are some recommendations:
The best flower parades and events
Flower Parade (Bloemencorso Bollenstreek)
The famous flower parade (Bloemencorso Bollenstreek) takes place in the bulb district, between the cities of Noordwijk and Haarlem.
Floats and vehicles beautifully decorated with colorful flowers line up to cover the 42-kilometer route to Haarlem which will take them past tulip fields and through villages and towns in the flower strip region.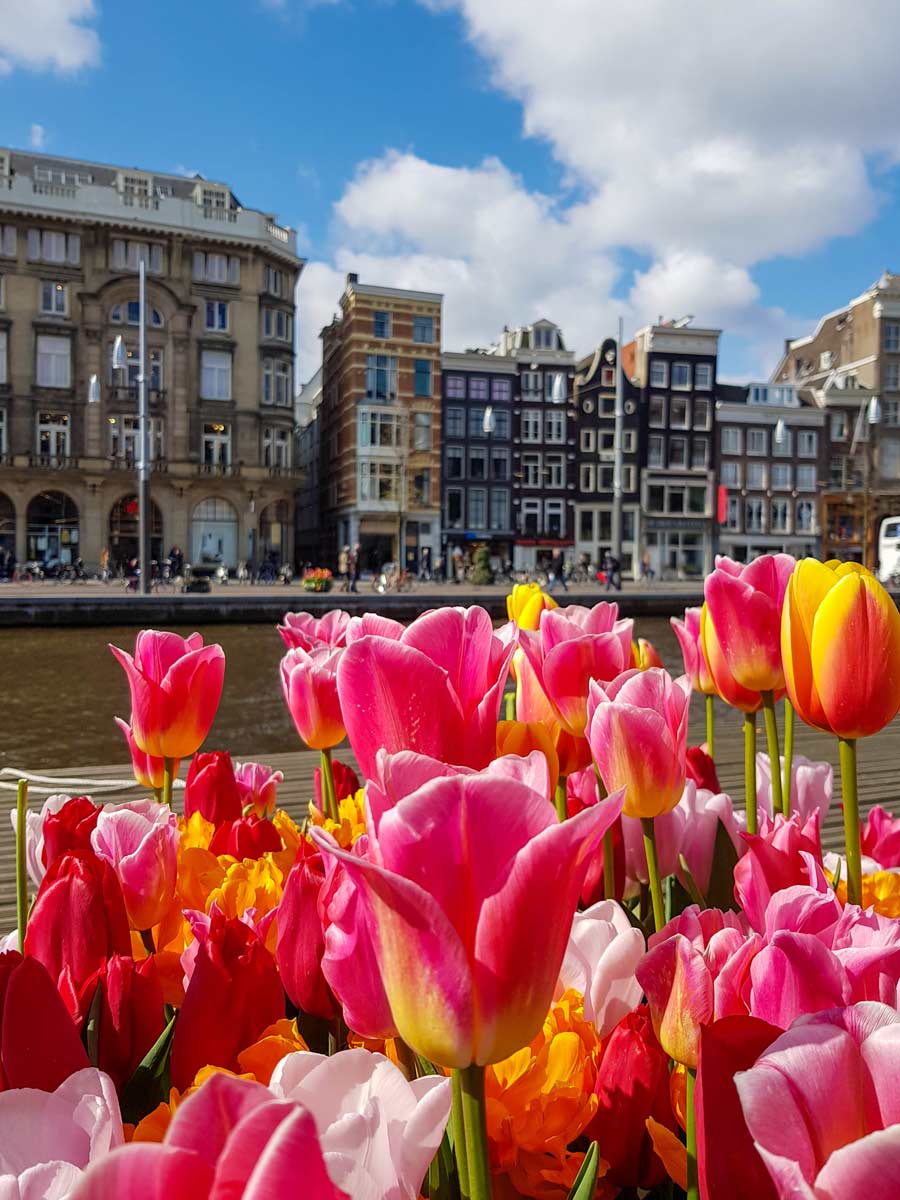 Amsterdam Tulip Festival
During the annual tulip festival in Amsterdam, beautiful blooming tulips will be set (usually in large pots) at different locations throughout the city. You'll easily be able to spot them either when walking around or while on a canal cruise tour.
Bloemendagen Anna Paulowna (Flower Days)
Bloemendagen Anna Paulowna is a free event in Anna Paulowna town (Noord-Holland) where people can admire many flower mosaics, moving pieces, and decorated streets and bridges.
Flower mosaics weekend (Lisse)
The Flower mosaics weekend is another free event, this time in the town of Lisse, near Keukenhof, where visitors can admire many beautifully detailed flower mosaics.
Other flower fields that you can see in The Netherlands
While the Dutch tulip fields are famous for their spectacular displays of vibrant colors during the month of April, it's not just tulips that can be seen in The Netherlands. Here's an estimation of which flowers to expect and around what times:
Crocuses officially open the flower season. You can see them from the first half of March until the end of the month.
They are followed by daffodils, hyacinths, and early tulips which are at their best around the first two weeks of April.
After the tulip season ends, the dahlias and carnations take over. Their blooming seasons last from June until the end of August.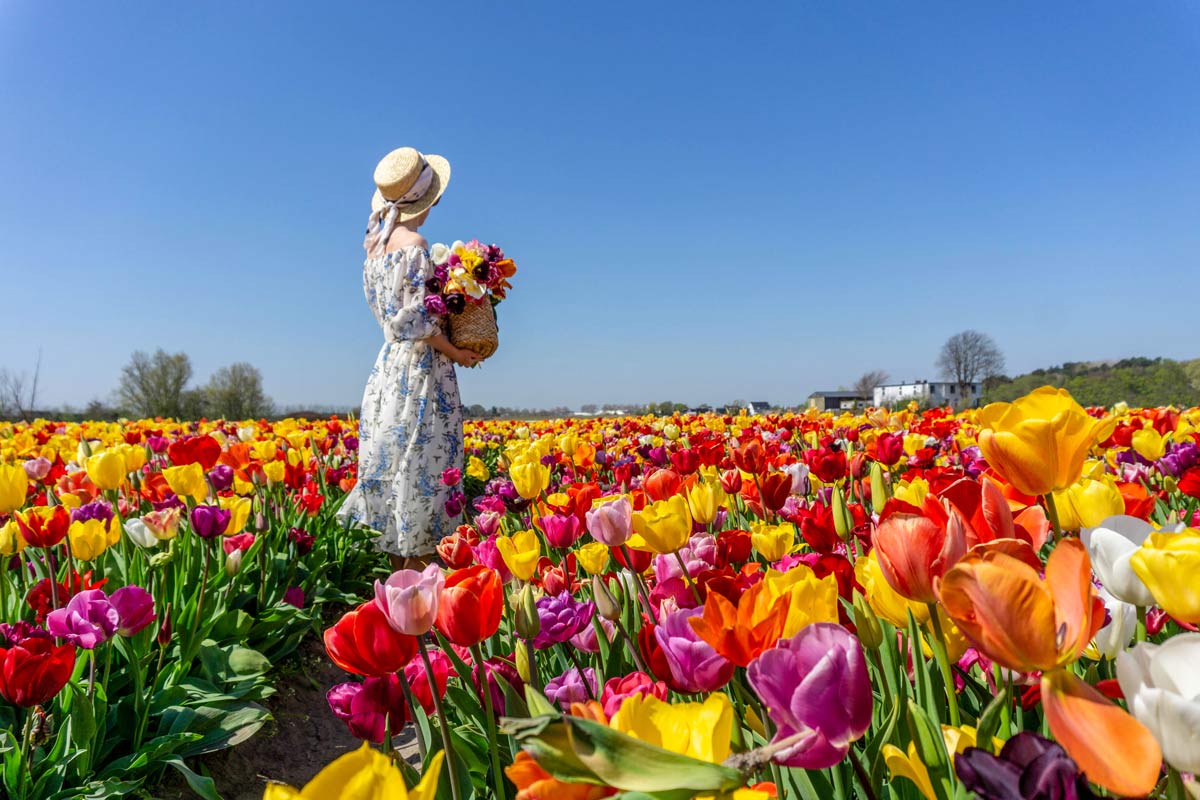 Don't buy tulip bulbs now
The right time to buy tulip bulbs is during fall when it's also the planting season, so don't go on a tulip bulb buying spree in spring, when you visit the fields.
While I understand it's hard to resist the temptation of buying at least a few bulbs (I was warned about this by a nice gentleman working at the Amsterdam Tulip Museum and still bought 2 packs of bulbs), at least don't get your hopes up that you'll get too many flowers, if any.
For example, I only got a few red tulips from the bulbs I bought.
And another warning: if you buy the multicolored bulbs bag sets that you'll see everywhere on sale, just expect that most tulips will be actually red. 🙂
The tulip fields in The Netherlands: Final thoughts
The colorful tulip fields in The Netherlands are a must-see for any traveler. There are several regions where you can find these beautiful flowers, and each of them has its own unique charm.
Be sure to also visit the famous Keukenhof Gardens and remember to follow the rules and etiquette so that everyone can enjoy this amazing sight. Thanks for reading and I hope you'll have a wonderful trip!