Unique accommodations in Romania
If you're like me and you're always looking for an interesting and unusual place to stay, look no further! Here are five unique places to rest your head while in Romania (my home country) tried and tested by yours truly.
Whether you're looking for a Scandinavian cabin with a view or an old estate, Romania has something to fit your needs. So, what are you waiting for? Start planning your trip today!
#01. La noi la munte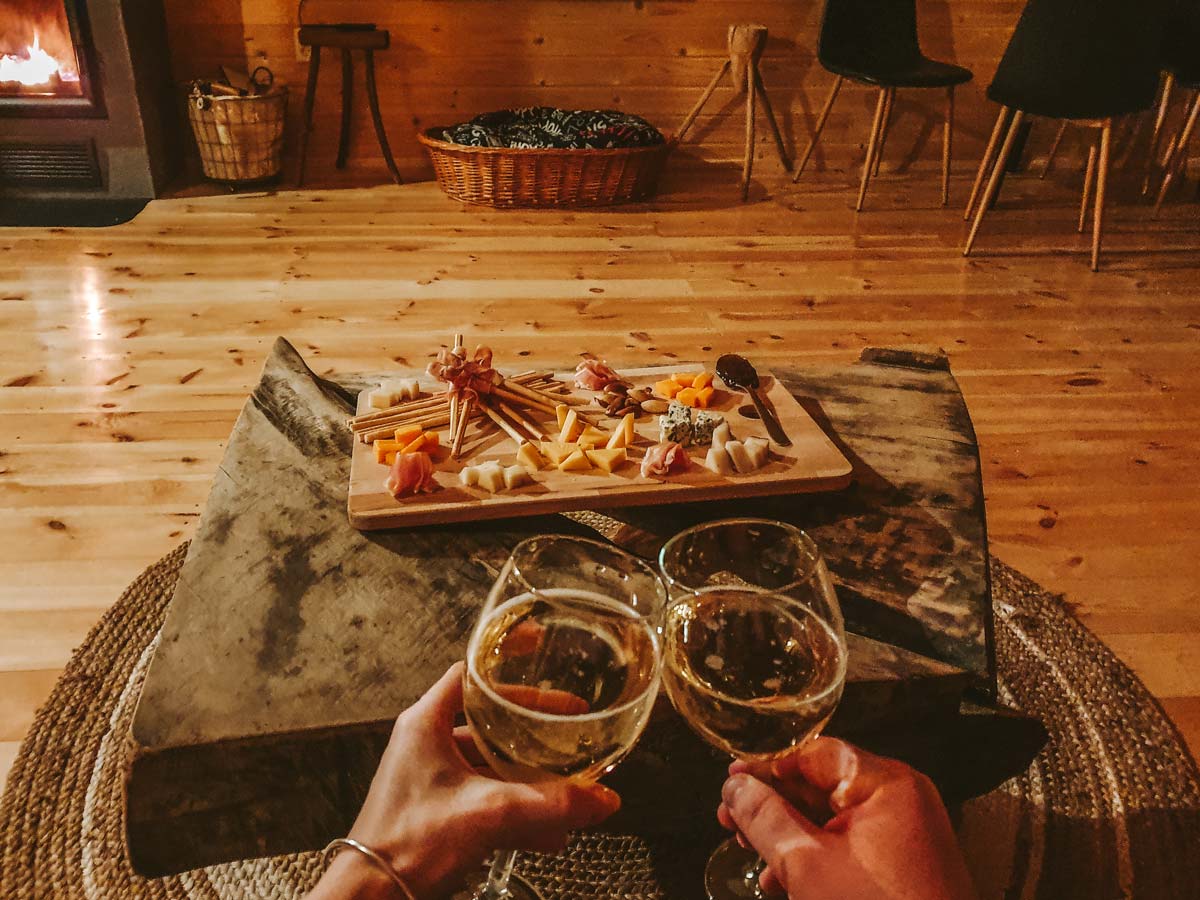 Disclosure: Some of the links in this post are affiliate links. If you click on them and make a purchase, I may receive a commission at no extra cost to you. Check my full disclaimer here.
La noi la munte has several Scandinavian cabins overlooking the stunning Apuseni mountains, their biggest selling point being huge windows that allow you to admire the beautiful views. They are located in Matisesti village, Alba county.
Each of the cabins has its own characteristics and while several are new, they also have a few old, traditional houses that have been restored and refurbished. The majority of the cabins are fitted with a fireplace.
Their 3 A-frame cabins and one of the traditional houses are located on a hilltop with an amazing panorama of the valley below, while the others are located in slightly different locations, but with equally beautiful views.
Pet owners traveling with their fluff balls will be thrilled to know that one of the cabins (Casa Nordica) accepts pets. We stayed there even if we didn't have our cats with us, but I'm seriously considering bringing them with us on a second trip. They would love those big windows!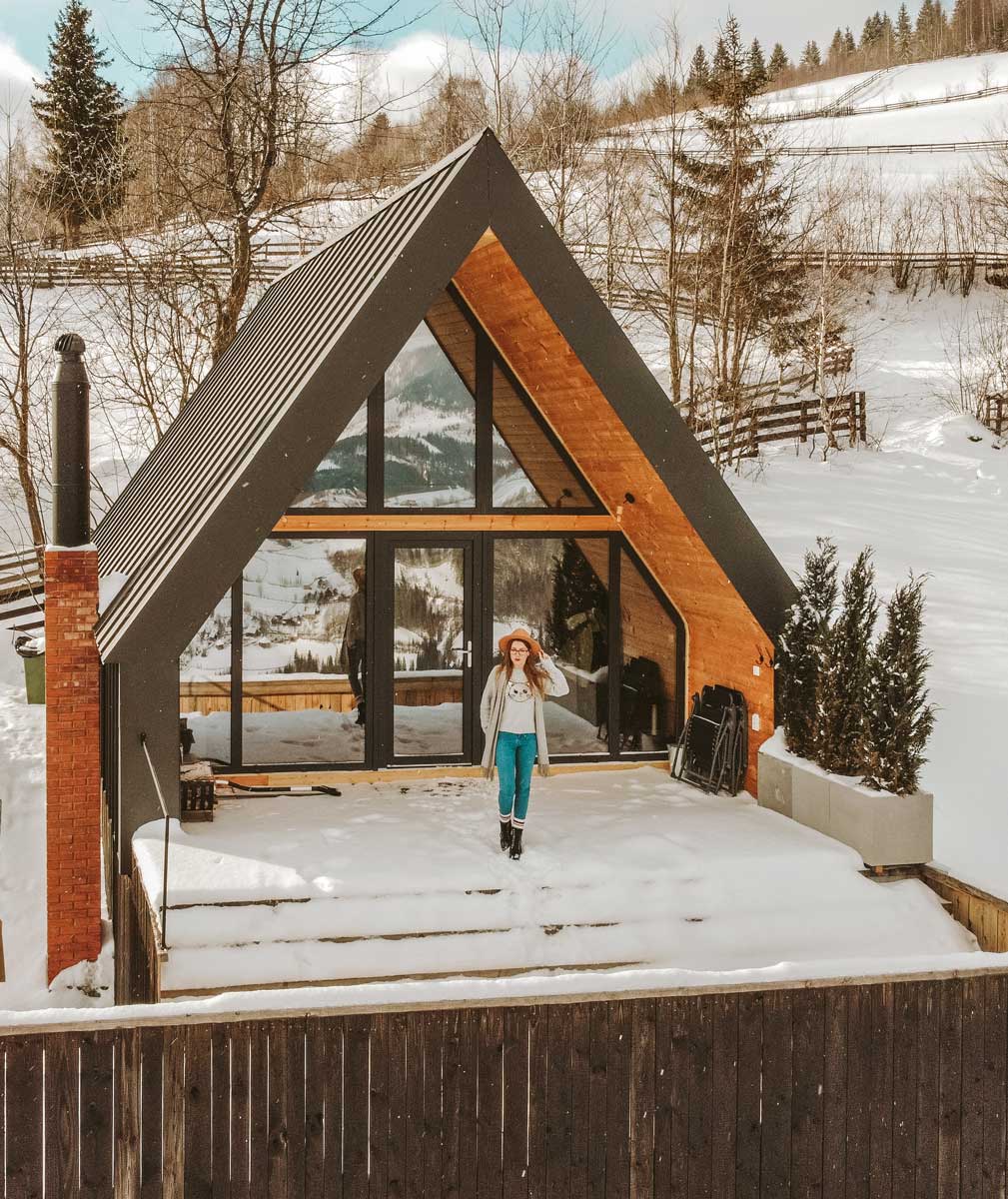 You should know there's no cell signal at the location, but all cabins have free wifi. If the weather is really bad, there can be problems with the electricity, but as we were staying there, they were installing a power generator to solve these potential issues.
The owners offer free transportation from the road where you can leave the car (they have a designated space for their guests) to the location of the cabins. This is especially important in winter since it's impossible to reach them without a 4×4 car equipped with snow chains.
Since the area is pretty remote, you might wonder what to do about food. Well, you can bring your own supplies as each of the cabins has a small kitchenette. Or you can talk with the owners which will put you in contact with some of the local people that can make some traditional dishes for you.
#02. Zabola Estate – Transylvania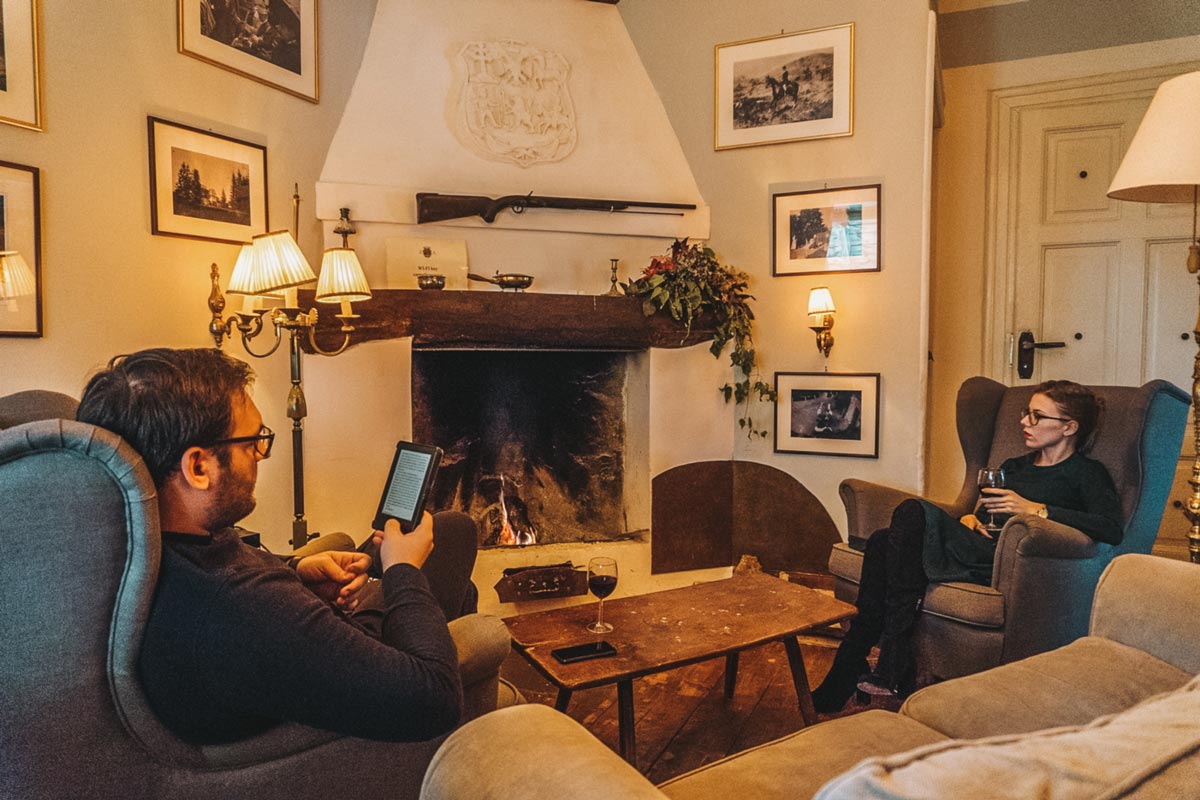 Zabola Estate – Transylvania is an old and beautiful estate in the eponymous village (also known as Zabala), Covasna country. It takes around 3 hours and 40 minutes to reach the property from Bucharest by car but can take longer depending on traffic conditions.
The estate offers several different rooms to guests, decorated in vintage style with attention to detail: for example, the dimming of the lights is hidden behind a photography frame. Some of the rooms have fireplaces and most have standing bathtubs inside the actual bedrooms, making up for a very romantic atmosphere.
There's a restaurant on-site (small warning: the prices are more on the expensive side) and a variety of activities that you can do during your stay at the estate:
horseback riding
carriage ride
bear watching
sauna in the woods
estate tour
5 o'clock tea
massage
dining in the woods
#03. Sunrise Glamping Retreat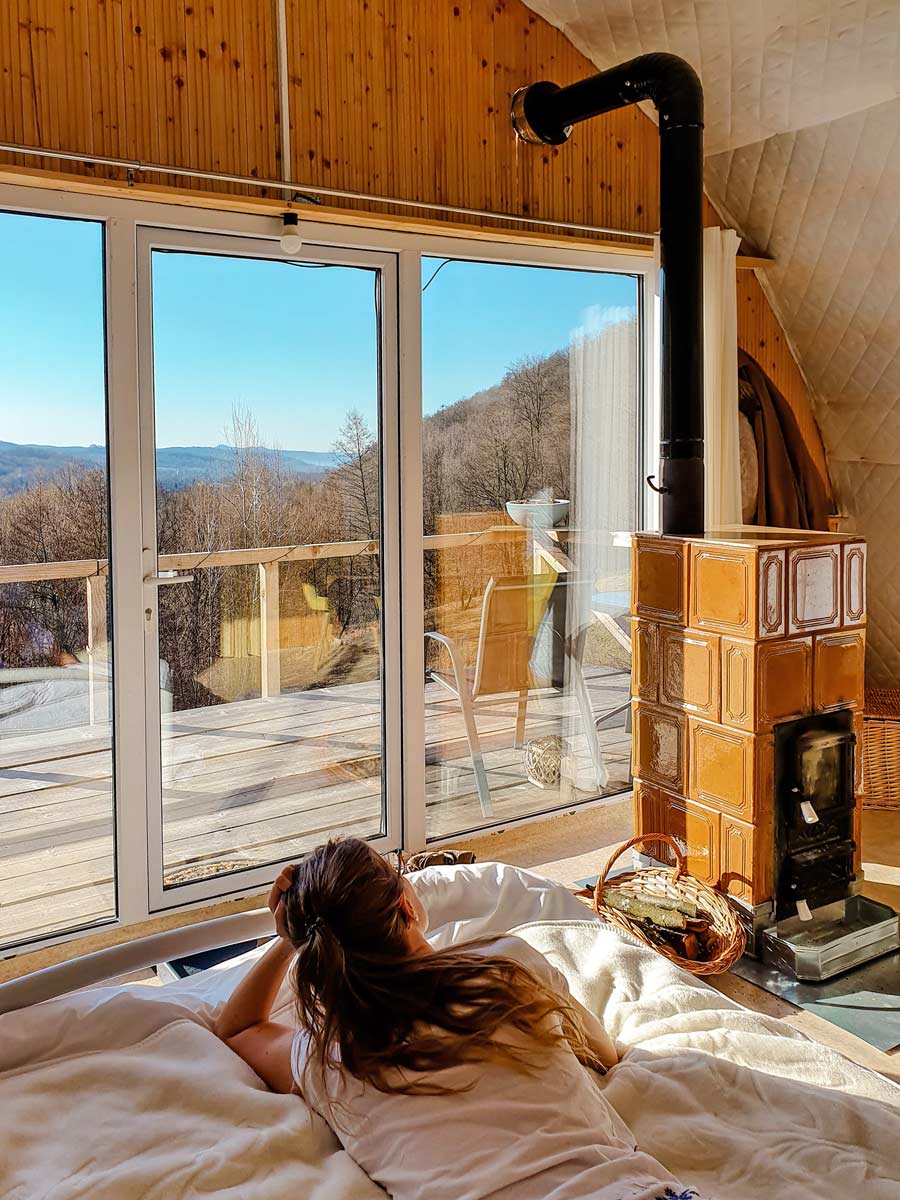 Sunrise Glamping Retreat offers accommodation in big, round tents overlooking a valley in Bradulet village, Arges county. Each of the tents has its own bathroom and a stove to keep the guests warm. On request, they can prepare you a traditional meal (obviously the choice is limited).
You should know that the last part of the road leading up to the tents is not made of asphalt and passes through a shallow water stream. It shouldn't be a problem for most cars, but ours is a bit lower and we felt like it touched a bit of the ground with its guard when we crossed the stream.
I would also advise you to bring some warm clothes if you visit in early spring or late autumn like we did because it gets pretty cold during the night as the fire subsides. It's still a tent after all.
#04. Alpin Lodge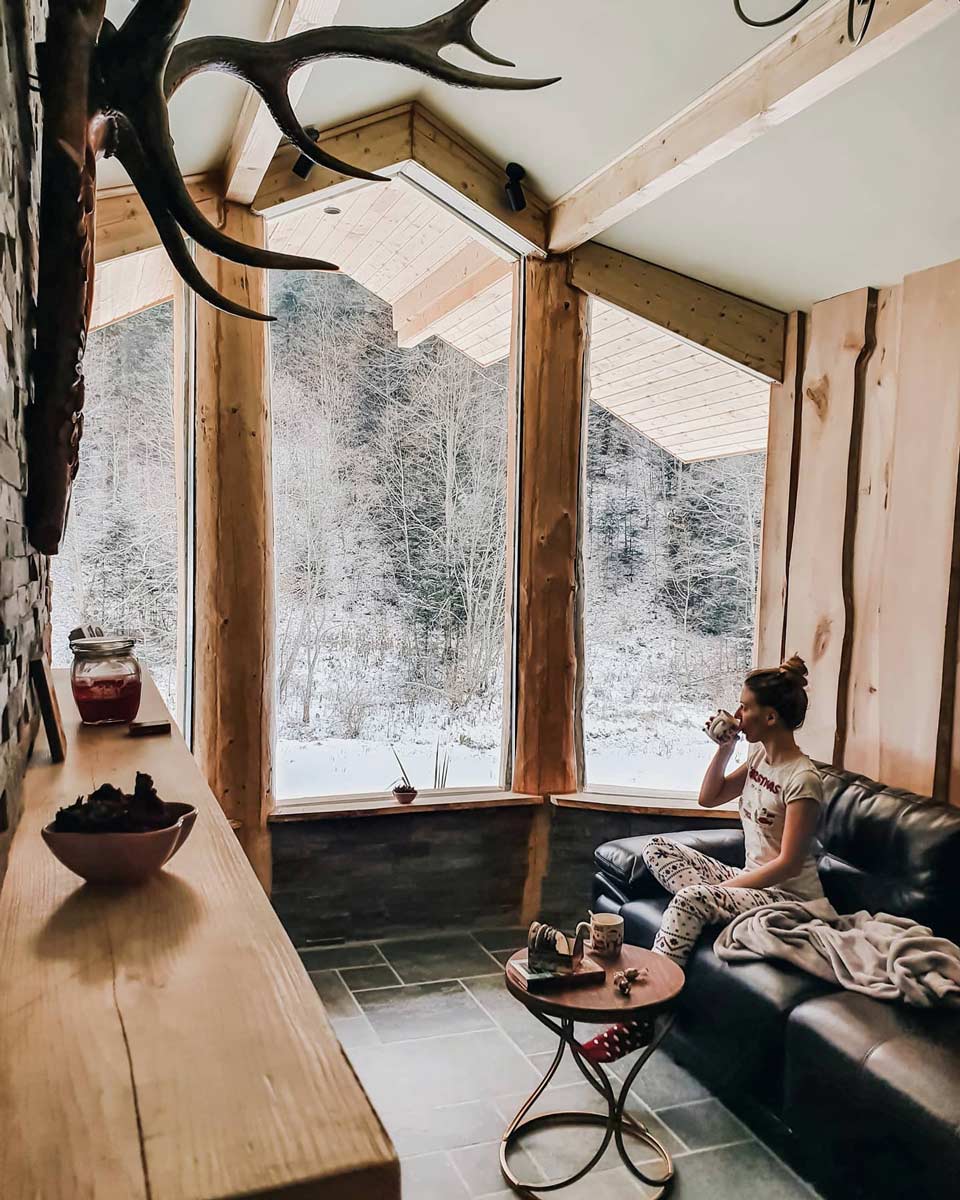 Alpin Lodge is a one-bedroom wooden cabin in Azuga, Prahova county. It's located on the edge of Azuga river, very close to Sorica ski slope. The journey by car from Bucharest is around 2h and 15 minutes, but you can also arrive by direct train, which is a huge plus for people not wanting to drive.
The selling points of the cabin are the huge windows in the living room and the reading corner in the bedroom. I actually loved this hut so much, that I stayed there twice, although I was lucky enough to experience snow only during one of the visits.
The cabin has an ethanol-based fireplace for a cozy atmosphere and you receive a bottle of the inflammable liquid to use for free during your stay. However, you can also purchase more if you want. You should know that the property only allows adults (no children).
#05. Stana lui Aidan
Stana lui Aidan is primarily a restaurant/farm, but they also have a traditional little house on the premises with hopes of building even more in the future, as well as a small wooden church. It is located in a lovely setting on the edge of a lake, near Ciurila village, Cluj Napoca county.
They have several animals on the premises including four beautiful dogs that they let out after the restaurant closes down. And speaking of the restaurant, the food they prepare is really good, so I highly encourage you to try some of their traditional dishes while you're there. The roe salad is absolutely amazing, trust me.
Stana lui Aidan can be a nice stop for people road-tripping around the Apuseni mountains or going to the Banat region. We too stayed for a night on our way to Oradea.
If you're looking for an interesting and unique place to stay in Romania, consider one of the five places I've highlighted. Whether you're looking for a romantic getaway or a chance to experience something new, these properties will not disappoint.
Do you enjoy staying in unusual places?
---
MORE INFO ABOUT ROMANIA