Most beautiful wedding venues in Santorini
If you are someone who deeply loves travel and you're just starting to plan your wedding, the thought of incorporating your passion into your special event might have already crossed your mind.
From small hints like a few decorations here and there to a full-on travel-themed wedding, there are plenty of ideas to choose from. But why don't you do something even more 'extreme', like a destination wedding?!
Destination weddings have got increasingly popular over the last few years. Just imagine getting married on your favorite beach, in a fairytale castle in Europe, or on a high cliff with the sea as your background.
Not only that but in some instances, this type of wedding can even be less costly than a traditional, at-home one. Hard to imagine, right?!
While the saying "the world is your oyster" really applies to destination weddings, some particular locations are favored over others. There are different reasons for that, but usually some of the most important are scenery, ease of planning (including the legal part), and costs.
The island of Santorini, Greece is one such location. Numerous couples tie the knot with the beautiful caldera as their witness every year. And there is a plethora of businesses that cater to weddings, so it's not too difficult to organize the event from a distance.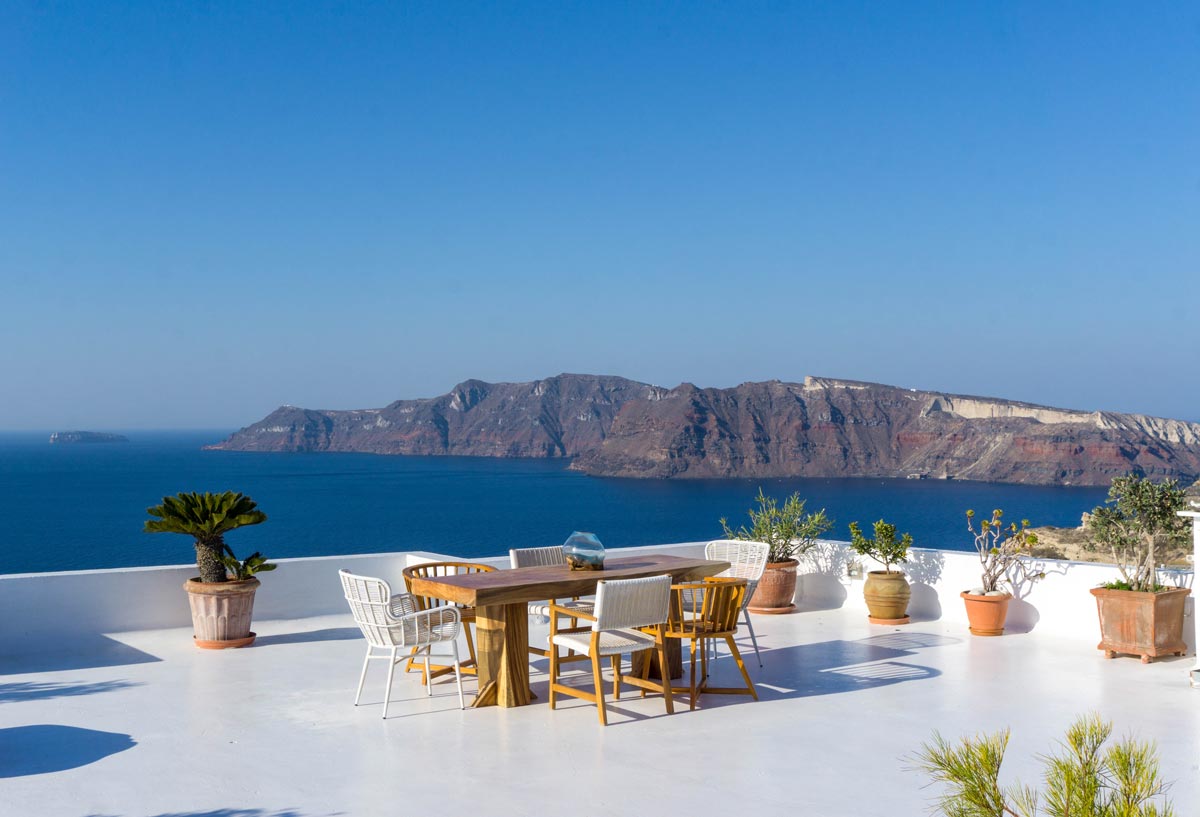 Things to know before choosing a wedding venue in Santorini
Your budget: Santorini is well known as an expensive destination and weddings are not cheap by definition. However, you'll be happy to know that there are options for a wide range of budgets on offer.
How big do you estimate your party to be: Due to Santorini's rather small size, but also to the topography of the island, you won't find a lot of big hotels or venues here. So the number of people that will attend the wedding usually factors a great deal in choosing the location.
Whether you want a legal wedding or just a symbolic one: If you opt for the former, then there is some paperwork to be done as well as some legal requirements you must comply with.
Legal wedding in Santorini vs symbolic
If you want an actual legal wedding in Santorini, then you should know that things are more complicated (for this reason, I'm inclined to recommend a symbolic ceremony) and I'll highly suggest hiring a wedding planner that will help you take care of the documents required by the Greek law as well the rest of the wedding preparations.
You should also be aware that you'll need to stick around after the wedding in order to register it at the local council. You have 4 days to do so otherwise it's invalidated.
However, with a symbolic civil wedding, you still get to do everything you would at a legal one, from vows to ring exchange, so there's really no difference between the two types of ceremonies.
When it's the best time to get married in Santorini?
The best time to get married in Santorini is from May to November. However, be aware that the weather can be very hot in summer and the island is also much more crowded.
Best Santorini Wedding Venues
Santorini Gem
Santorini Gem is located near the village of Pyrgos and it's a favorite for many couples looking to get married in Santorini.
You can either hold only the ceremony at the venue (the establishment has a beautiful terrace overviewing the caldera) or both the ceremony and the reception. You can check their current prices here.
The villa has a pool and offers accommodation for up to 8 people, so if your party is bigger than this, some of your guests will need to stay at a different hotel.
For the reception, there's the option of either eating inside a protected glass area (so your guests can still enjoy amazing sea views) or outside.
Due to the versatility of the venue, Santorini Gem can accommodate small wedding parties of 20 people to larger groups of 150-160 guests. But be aware that you can only opt for the buffet menu for big wedding parties as the seating capacity is limited.
Cavo Ventus
Located in Akrotiri, Cavo Ventus feels pretty private and disposes of 3 separate spaces for the event: the terrace for the ceremony, bar/dance area, and the seating/meal area.
Only 4 people can sleep inside the villa, so your guests will have to stay elsewhere, but the venue itself can accommodate big parties reasonably easily if you decide to also have the reception on location.
El Viento
Located in Megalochori, El Viento disposes of two terraces: an upper one for wedding ceremonies featuring amazing views of the caldera and a renovated windmill and a lower one where the reception can take place.
The venue can accommodate up to 80-100 people and it's not required to also book accommodation there.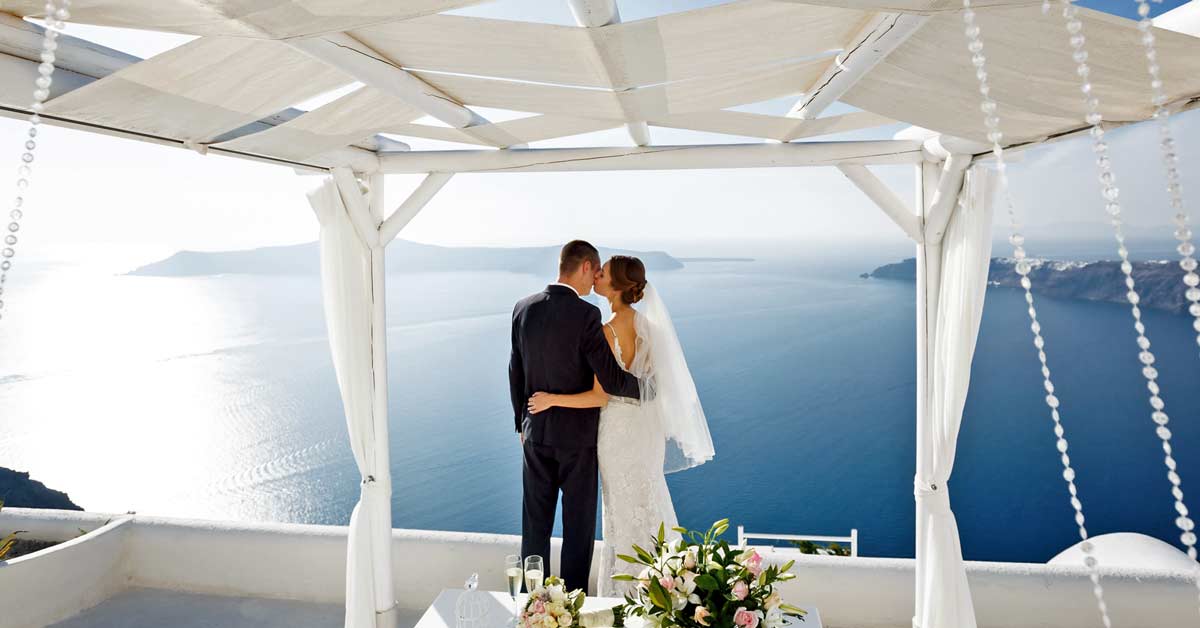 Le Ciel
Le Ciel is a beautiful venue with Caldera views in Imerovigli. It is possible to hold both the ceremony and the reception on site, but bear in mind that the minimum number of guests for booking the two is 30 people.
The restaurant of the venue offers indoor and outdoor seating and a bar.
Santo Winery
Santo Winery is located near Pyrgos village and can accommodate wedding parties of 10 to 100+ people (maximum seating is for 120 guests).
You can choose to have only your ceremony here (in fact many couples use Santo for the ceremony and Pyrgos restaurant for the reception as it's usually more budget-friendly this way) or both events.
Also, note that the fee for the ceremony depends on the number of guests you have and it includes free wine at the end.
Pyrgos Restaurant
Pyrgos restaurant is located in the village with the same name and it's a favorite of many as a place to hold the wedding reception (though it also has a terrace for ceremonies). The venue has several halls for rent of different capacities and disposes of both indoor and outdoor space.
Pyrgos is one of the few locations on the island that can accommodate really large parties, with the Central hall having a maximum capacity of 600 persons. The restaurant is also one of the cheapest options for the reception while at the same time offering great service and food.
Dana Villas
Dana Villas has amazing views of the Caldera and is a great choice for smaller, more intimate weddings, as they can only accommodate up to 24 people for the reception.
They recently added an infinity pool, so space can be a little bit tight if your party gravitates toward the maximum number of guests.
Another thing to note is that to access Dana Villas you'll need to walk down around 157 steps, something that may influence your decision if you have older guests coming.
Venetsanos Winery
Known as one of the oldest vineyards in Santorini, Venetsanos Winery is located in the area of Megalohori and it's a great choice for both small and bigger weddings.
Build on 4 levels, the venue has a seating capacity of 120 people (round tables) or 150 standing and commands spectacular views over the Caldera.
Rocabella
Rocabella is a lovely boutique hotel in Imerovigli village that can accommodate from very small parties to big ones of up to 150 people.
They have 4 locations on the premises (of different capacities) that can be used for both the ceremony and reception.
---
No matter what event venue you end up choosing, I hope you'll have a fantastic time and a magical wedding day that you'll remember forever. And before you go, make sure you check out my post on the best things to do in Oia on a budget.
Happy wedding~
---
MORE INFO ABOUT GREECE