Bali is a place that has something to offer to everyone. Whether you are looking for amazing landscapes, a lively atmosphere with nightlife and activities, or a relaxing getaway, the island will definitely not disappoint.
But with so many options, it can be a daunting task to choose where to stay during your vacation. So here is a breakdown of the most popular areas to stay in Bali, what each location has to offer, as well as some accommodation options.
By the way, I also recommend you read my Bali vs. Maldives comparison if you are hesitant between the two destinations.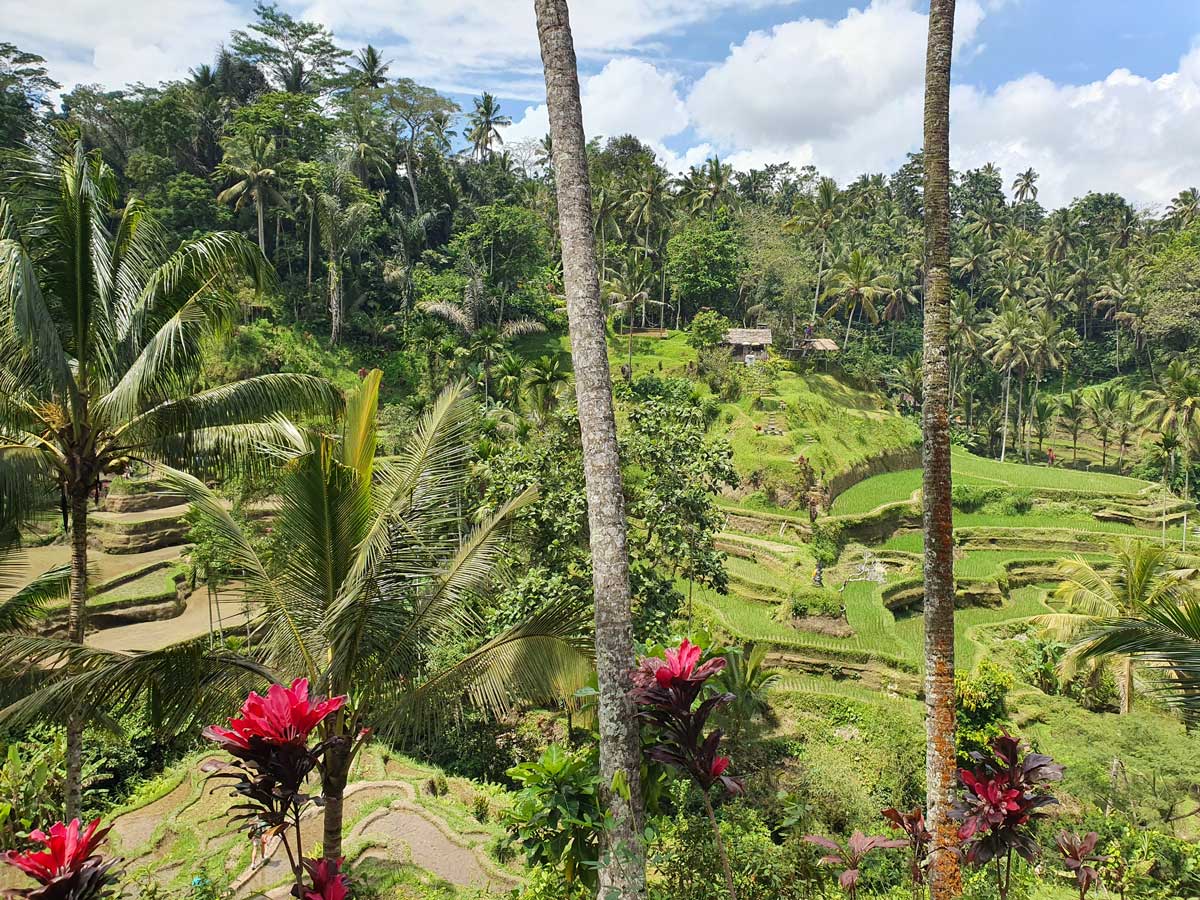 Disclosure: Some of the links in this post are affiliate links. If you click on them and make a purchase, I may receive a commission at no extra cost to you. Check my full disclaimer here.
Bali best areas to stay and hotel recommendations
Kuta
Kuta is one of the most well-known tourist areas in Bali and is preferred by many travel agencies offering vacation packages on the island. Kuta is close to the airport and has a lot of budget accommodation options (including hostels), as well as a well-developed party scene.
Therefore it can be a good fit for young beach goers who want to have fun, as well as tourists looking for an affordable beach vacation.
However, it can be a pretty busy and loud place, so if you want a relaxing holiday or a cultural experience, I would suggest skipping Kuta.
Where to stay in Kuta
$ Asta House offers really and I mean really affordable rooms within walking distance from the airport. Breakfast isn't included in the room rate, but you can opt for it for a really good price.
$$ Poppies Bali has chic cottages in central Kuta for those who want a bit of privacy. The property also offers an outdoor swimming pool to guests.
$$$ Amnaya Resort Kuta has spacious rooms, decorated in a rustic style, as well as an outdoor pool. The hotel is located just opposite Discovery Shopping Centre and it's also fairly close to the beach.
Seminyak
Seminyak is another beach location, a bit north of Kuta. The vibe however is a bit different, with Seminyak looking posher.
Here you will find good restaurants, premium beach clubs and lots of shops. There's also a wide range of accommodation options, so there should be something for every type of traveler.
Seminyak is a good place to base yourself if you mainly want a beach vacation with a mix of culture and natural beauty. This is because it's fairly close to Ubud, but also to Sanur from where you can take a boat to visit Nusa Penida.
However, Seminyak is still quite touristy, so if you want a more quiet place, then it may not be the best choice for you.
Where to stay in Seminyak
$ Kubu De Uma has very affordable, yet comfortable rooms at a very cheap price and within walking distance from the beach.
$$ Sampatti Villas offers lovely villas with private pools. An interesting feature (which actually made me book this accommodation myself) is the suspended bed above the private pool. During my stay there, I also really liked their customer service and the food.
$$$ The Legian Seminyak has spacious Balinese-style suites facing the Indian Ocean, so guests will be able to enjoy amazing sunset views. The hotel is centrally located in Seminyak and has a 3 tired infinity pool, spa, gym, and other amenities. Breakfast is included in the room rate.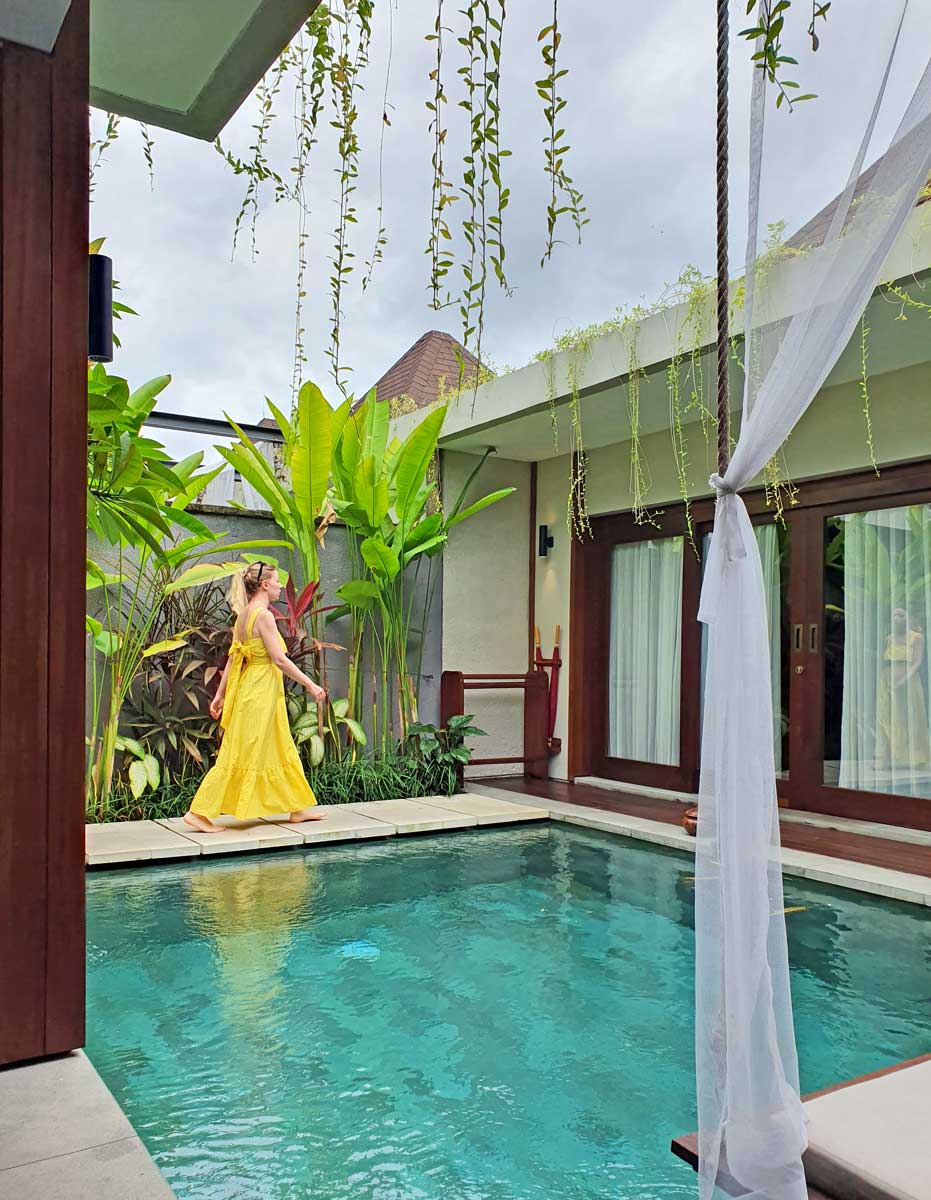 Canggu
Canggu is probably one of the busiest areas on Bali island. It is well known as a digital nomad hub, so it's most well suited for travelers looking to stay in Bali for longer periods of time, than for tourists on a short holiday.
Canggu has beautiful villas, co-working spaces, nice cafes and restaurants, and good nightlife.
Where to stay in Canggu
$ Pererenan Nengah Guest House Canggu has affordable rooms fairly close to the beach, surrounded by rice paddies. The property also has an outdoor pool.
$$ Premadhan Cottage Canggu offers Balinese-style villas and a shared outdoor pool. Some of the units also have a kitchenette and breakfast is included in the room rate.
$$$ Theanna Canggu has spacious, beautiful modern villas with private pools. The property has a spa, a restaurant, and a bar. It also offers free bikes and a convenient shuttle.
Amed
Amed is one of the best places for diving and snorkeling in Bali. And the great thing about this is that you don't even need a boat since both activities can be done right off the beach.
For example, one of the most popular snorkeling points on the island is the Japanese shipwreck, located only about 10 meters away from the main beach.
Aside from this, Amed also has amazing sunrises and beautiful views of Mount Agung. It is situated fairly close to two of the most visited landmarks in Bali: Lempuyang Temple and Tirta Gangga Water Palace.
Where to stay in Amed
$ D'uma Amed Homestay has affordable rooms with amazing views of Mount Agung and the rice fields nearby. Ground floor rooms also have kitchenettes.
$$ Villa Aska offers lovely two-bedroom villas with private pools, facing the ocean. The villas are located within walking distance of Lipeh Beach.
$$$ The Griya Villas and Spa offers beautiful and spacious villas with private pools and kitchenettes. The property has 2 restaurants that serve both Balinese and international dishes.
Ubud
Ubud is, no questions asked, a must for every traveler coming to Bali. As the cultural and artistic town of the island, Ubud has a lot to offer to visitors.
Think temples, rice terraces, good food, yoga classes, lush rain forests, and many more. Here, you can find a wide range of accommodation options from cheap hostels to luxurious villas.
Ubud is also pretty centrally located, so it makes for a very good base from where you can visit the rest of the island.
Where to stay in Ubud
$ Villa Kirani Ubud by Mahaputra has affordable suites and villas with private pools overviewing the nearby rice fields, fairly close to Ubud. Breakfast is included in the room rate and the villas also have kitchenettes.
$$ Airsania Ubud Antique Villas offers 3 beautifully crafted Balinese wooden villas, each with a private pool, overviewing the rice fields. The property is located within walking distance of central Ubud and breakfast is included in the room rate. They offer floating breakfast, flower baths, and different spa treatments on request. Airsania was probably my favorite accommodation during my stay in Bali.
$$$ Bisma Eight offers tastefully decorated suites and villas within walking distance from Ubud's main streets. The hotel has a lovely infinity pool overviewing the rainforest.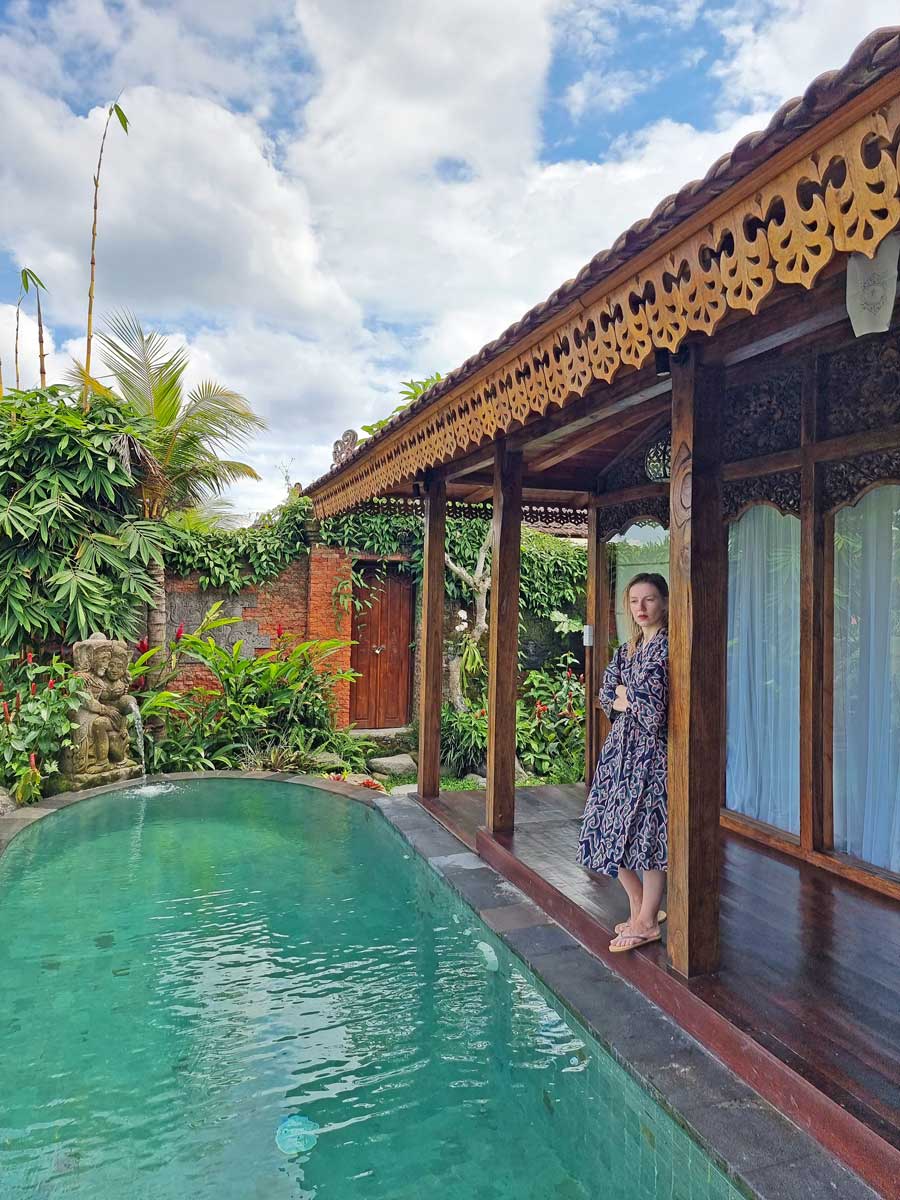 Tegalalang
Tegalalang is located north of Ubud and it is famous for its numerous rice fields. It is a good place to stay if you are looking for a quieter location, but still want to be fairly close to Ubud.
Here you'll also find several swings facing the rice fields or the rain forest which can be lots of fun and make for good photo opportunities.
Where to stay in Tegalalang
$ The Papas Villas has comfortable rooms and a shared infinity pool overviewing the rice fields and the rain forest. Breakfast is included in the room rate. They offer floating breakfast on request.
$$ Wooden Ganeca Villas offers intimate, wooden villas with a private pool overviewing the rice fields. The hotel is not exactly in Tegalalang, rather it's located a bit toward Ubud. There's no restaurant onsite, but you can find one just a few steps away from the villas.
$$$ Aksari Resort Ubud has lovely suites with balconies and villas with private pools overviewing the rain forest. Guests can enjoy a Jacuzzi and two infinity swimming pools, though the upper one is not very deep, so you can't really swim in it. There's also a spa on-site, a gym, a yoga hall, and two restaurants. They offer floating breakfast and have different flower bath options.
Munduk
Munduk is located in the northern part of Bali and while other areas of the island have truly become hot spots for tourism, it somehow managed to stay under the radar.
The region has many beautiful waterfalls, so it's a great place to stay for people wanting to hike and looking for natural beauty.
The most popular hike in the area is the Munduk waterfall trek, which takes around 3-4 hours to complete and connects 3 waterfalls: Laangan Melanting, Red Coral, and Munduk.
However, that's not all, since there are several other famous waterfalls that are simply easier to reach from Munduk than from other locations, like Banyumala or Sekumpul.
Do be aware that you will be charged in order to be able to reach most of these waterfalls. I'm not 100% sure, but in most cases, I think it's either for maintaining the path or the access road passes through someone's private property.
However, there are also instances where locals will insist you'll need a guide (which means extra money), even if you don't and other things like that. So do your research well before you visit!
As for the fee, it's usually around 20,000 – 50,000 IDR ($1.50 – $3.40), but it can be more as well. From my understanding, Sekumpul for example is kinda expensive to see.
Those who want some beautiful pictures to remember Bali by, should head to Wanagiri Hidden Hills, where they'll find several nests as well as swings overviewing Buyan Lake.
Other attractions close to Munduk are Handara Gate (it's actually the entry gate for a golf resort, but it gained popularity on Instagram as a photo spot) and Ulun Danu Beratan Temple.
Where to stay in Munduk
$ Da'Kayu Bali Homestay has really affordable rooms overviewing the rice terraces and the mountains around. Breakfast is included in the room rate.
$$ Gumi Ayu EcoHotel offers chic wooden huts in the lush forest of Munduk. Breakfast is included in the room rate. The property has a restaurant and a bar onsite.
$$$ Munduk Moding Plantation Nature Resort & Spa offers both suites and private villas with pools. But the real stars of the hotel are the two infinity pools overviewing the valley, one of which has warm water. There's also a Jacuzzi, a spa, and two reasonably priced restaurants on the property. Guests can enjoy a variety of free and paid activities like coffee plantation tours, learning how to make offerings and cooking classes.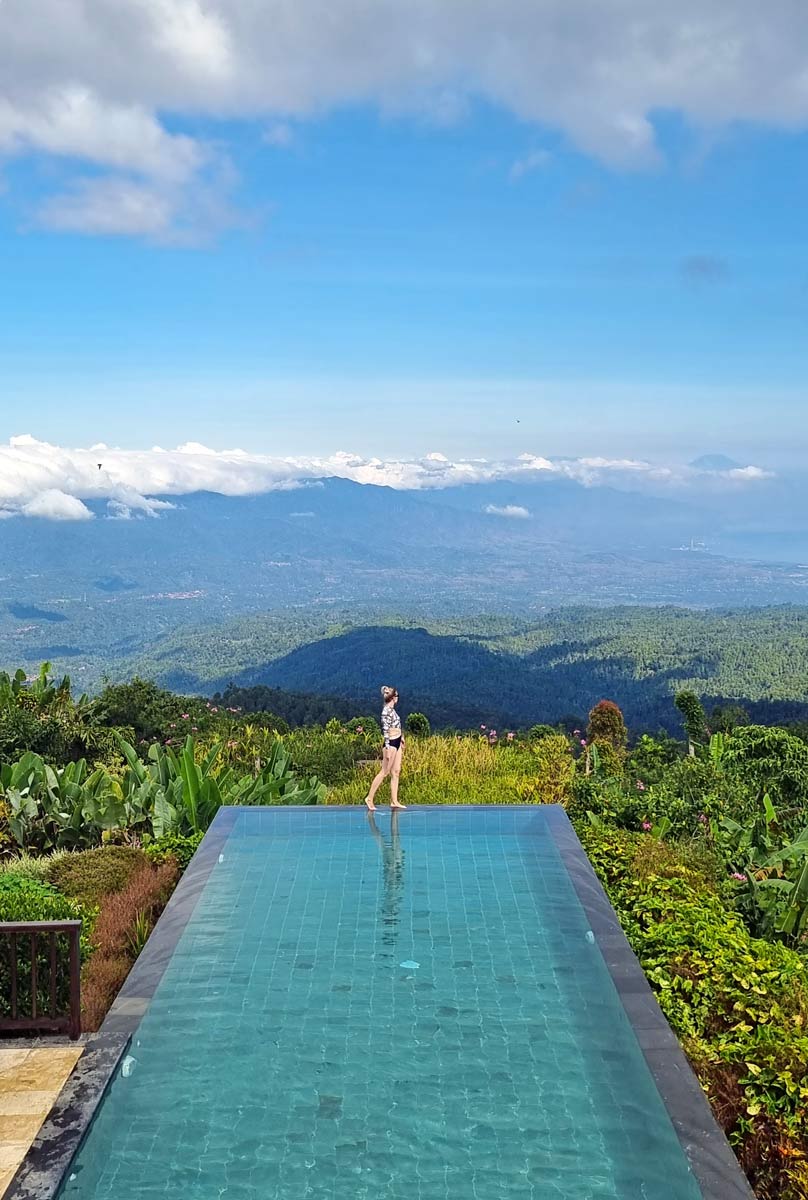 Where I stayed in Bali
If you are interested in knowing where I stayed during my trip to Bali, here are the areas included in my itinerary, as well as the hotels I chose:
Seminyak: 2 nights at Sampatti Villas.
Tegalalang: 3 nights at Wooden Ganeca Villas and 3 nights at Aksari Resort.
Munduk: 3 nights at Munduk Moding Plantation Nature Resort & Spa.
Ubud: 2 nights at Kirani Villa and 3 nights at Airsania.
Best places to stay in Bali FAQs
What is the best area to stay in Bali?
Ubud and the area around it is one of the best places to stay in Bali since it's located fairly central, so it's easy to do day trips to other parts of the island and it has a lot to offer as well: many temples, rain forests, rice paddies.
How many days in Bali is enough?
Planning to spend in Bali between one and two weeks is a good amount of time to discover what the island has to offer.
Is Bali an expensive place to visit?
In contrast with many other popular destinations, Bali is relatively cheaper. This is especially evident in accommodation prices, where you can find a range of options from budget-friendly hostels to luxury resorts at a fraction of the cost you might expect elsewhere. While certain touristy areas might have higher prices, overall, Bali offers great value for money.
Bali best places to stay: Wrap up
So, there you have it: my list of the best places to stay in Bali with pros and cons depending on your travel style and budget.
I hope you found this post helpful and that it has given you a good idea of where to stay on your future trip to the island.
Happy travels~